The eight-race F1 Virtual GP campaign will be but a distant memory by the time the actual 2020 Formula 1 season wraps up, and its results are almost certainly not going to impact the real-life championship in any meaningful way.
Yet though it was thought up as a fun distraction to tide fans over with real racing on hold, it established a regular core cast of grand prix drivers-turned-gamers, who took it increasingly seriously and – with some caveats – gave it the feel of an actual sporting contest.
While the entry list changed from race to race, the frontrunners remained largely the same, and pace trends carried over despite interferences from some unusual factors – be they corner-cutting penalties, a surprise qualifying in the wet or occasional technical problems that affected some much more than others.
Below, we select the top 10 Virtual GP regulars who gave the best account of themselves during the series. To treat this as a proper competition, we've elected not to give extra credit to those outside the motorsport world despite a relative lack of racing experience – for instance, as solid as Real Madrid's Thibaut Courtois looked during his outings for somebody who is a world-class goalkeeper rather than a racing driver in their day-to-day life, his zero points ultimately do not represent sufficient return to make the grade.
Because of the significant entry list rotation, only those who took part in three or more events qualify. This means no Arthur Leclerc or Christian Lundgaard, two junior racers who would've been shoo-ins to make the grade based on their respective two-race 'programmes'.
10. Antonio Giovinazzi
Alfa Romeo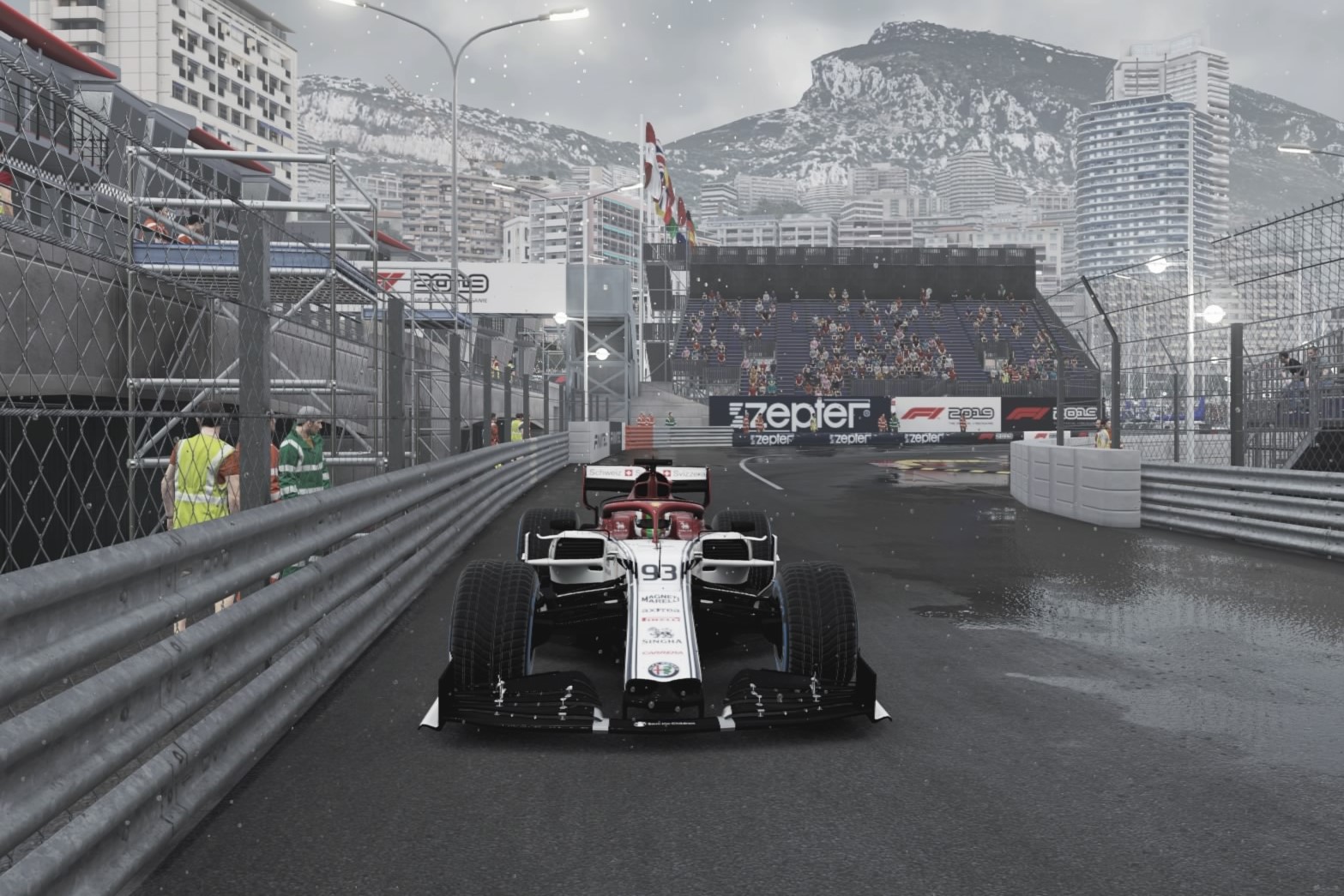 Unofficial standings: 13th, 16 points (5/8 starts)
Best qualifying: 6th, Monaco
Best finish: 5th, Australia
The final spot on this ranking went down to a Giovinazzi or Pietro Fittipaldi decision, and on several metrics it was the Haas test driver who could've easily clinched it.
Fittipaldi scored more points in the unofficial standings, and had the bigger high point in the campaign – a pole in what was a surprise wet Monaco qualifying, which led to the usual frontrunners suggesting that he'd used the walls to slingshot himself around the track, taking advantage of damage being disabled.
Whether that was the case or not, he maximised that particular scenario – but in other qualifying contests it was Giovinazzi who seemed to have more outright speed on the game. The Alfa Romeo man never quite established himself as one of the pacesetters (although he ran in the top four early on at Interlagos, before having a needless-looking big crash with Nicholas Latifi and instantly retiring), but reliably belonged in that second echelon right behind the top drivers.
He would've definitely accrued better results with a cleaner run, but he had more than his fair share of technical gremlins, including a disconnection in China, a costly game freeze in Monaco and just flat out missing the Baku race.
9. Louis Deletraz
Haas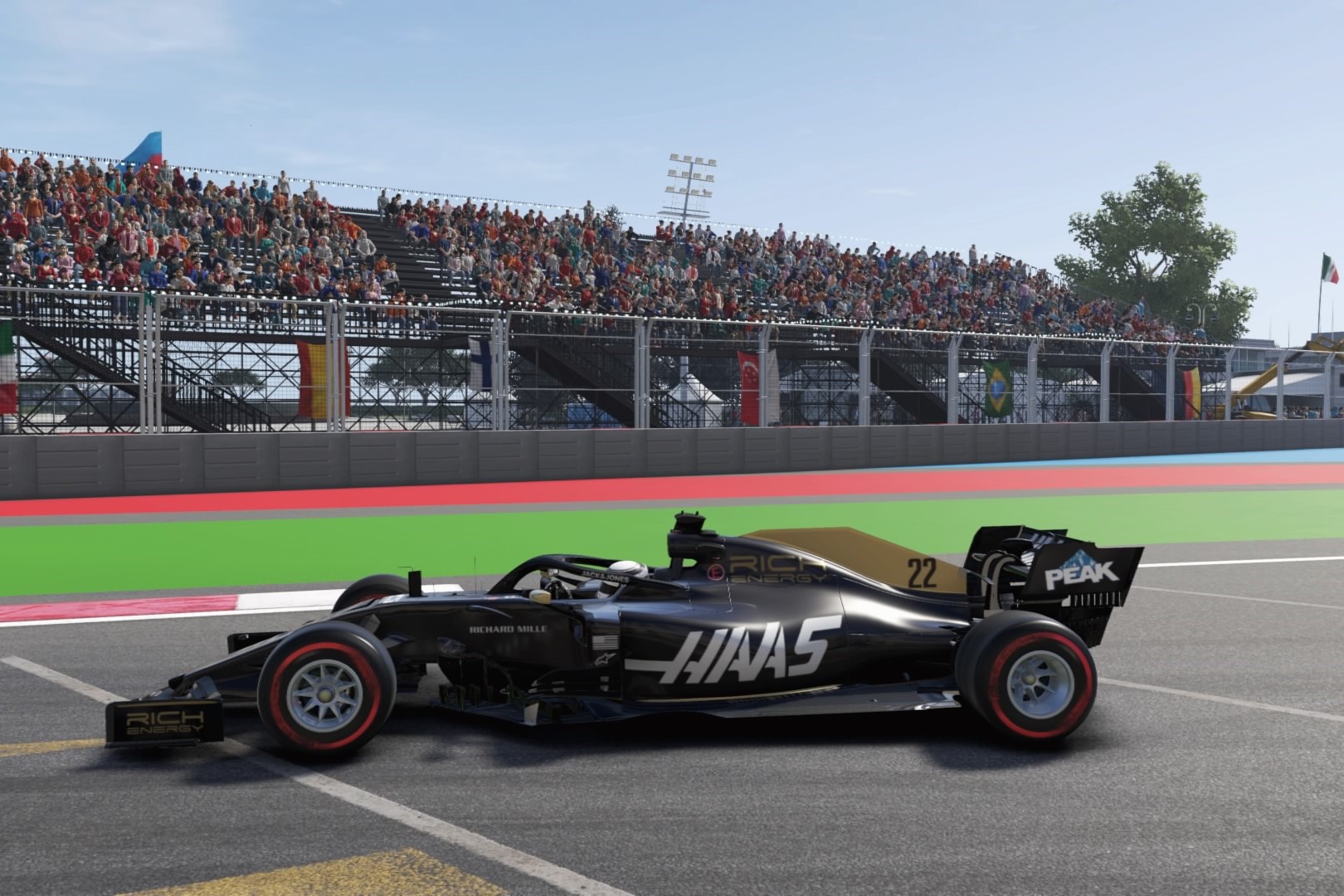 Unofficial standings: 12th, 18 points (6/8 starts)
Best qualifying: 3rd, Australia/China/Azerbaijan
Best finish: 7th, Australia/China
Deletraz's win in the virtual Le Mans 24 Hours with Williams Rebellion is by itself strong simracing pedigree, while a successful run in the F2/F3 virtual series suggests he's generally got the hang of the specific F1 2019 game, too. Yet in his six Virtual GP outings he never troubled the podium.
This was not entirely representative, as the Haas F1 reserve qualified in third place on three separate occasions. But each time he would lose ground off the start – in China he was muscled down to sixth and never really recovered, in Australia he spun two times while trying to take the fight to Stoffel Vandoorne and Giovinazzi, and in Baku he made a mess out of the stadium section, being subsequently dragged along by Lando Norris, tapped by team-mate Fittipaldi and hit into another spin by Charles Leclerc just a few corners later – completely undoing his race in a matter of seconds.
Still, the pace was clearly there – he never qualified outside the top 10 and would've been sure to score more points if he hadn't been pushing so hard to take on the established frontrunners.
8. Nicholas Latifi
Williams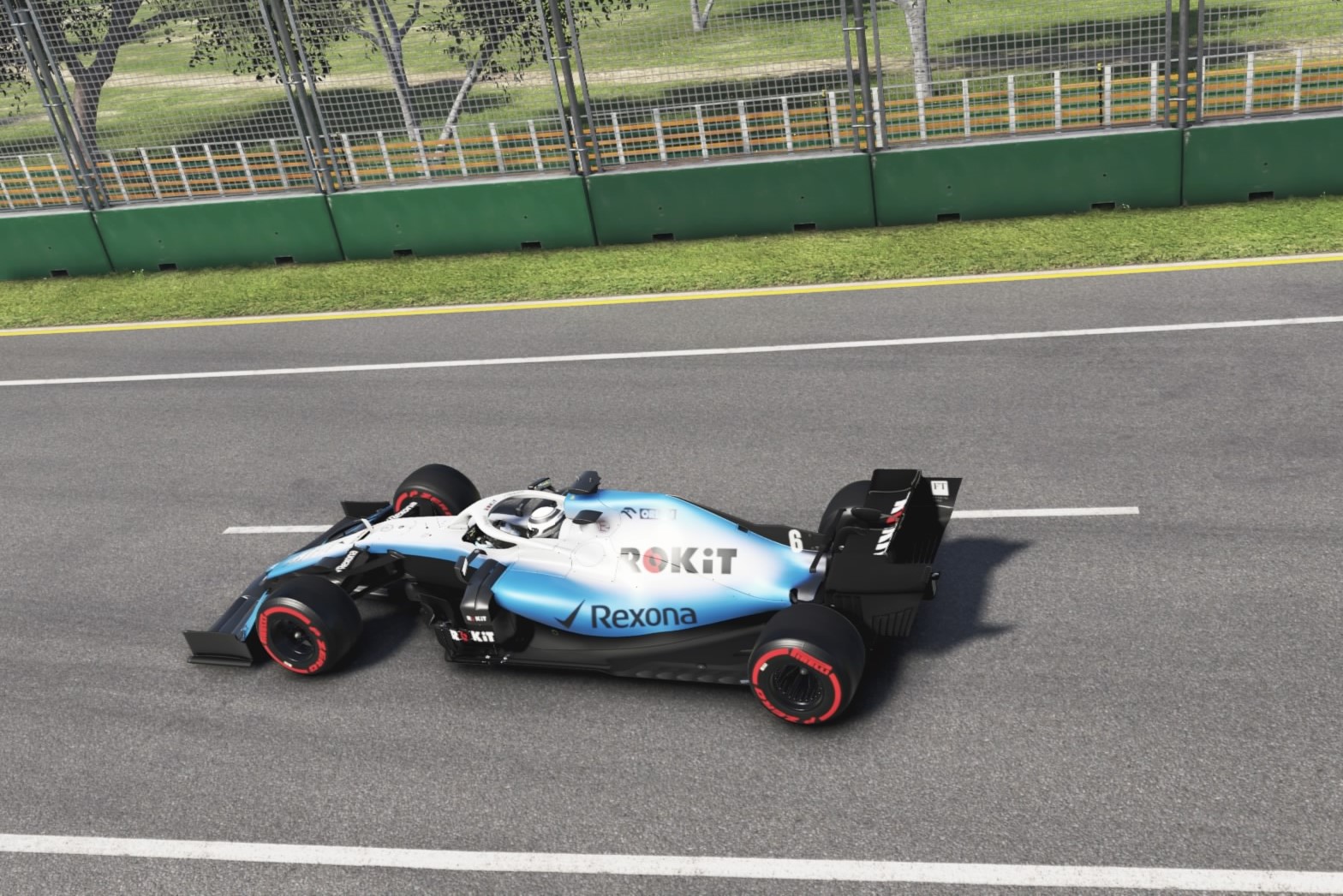 Unofficial standings: 7th, 39 points (8/8 starts)
Best qualifying: 3rd, Canada
Best finish: 5th, Spain
Given how chaotic and messy some of the Virtual Grands Prix have been, it is pretty remarkable that Latifi managed to place between fifth and 10th in every single one. But that simply conveyed his position in the pace rankings throughout the series – quick enough to be well clear of the guest drivers, but not quite up there with those F1 peers of his that really gelled with the game.
Russell's scores alone would've been enough to bring the unofficial Virtual GP constructors' title to Williams, but Latifi's regular points hauls made it a foregone conclusion, and he would pop up as rear gunner on occasion to his increasingly competitive team-mate.
And while more than a support role could've been possible, several chances at standout results went begging in collisions that were pretty clearly not his fault – with Esteban Gutierrez in the Bahrain opener, with Giovinazzi at Interlagos and with Gutierrez again in Canada.
At least he got to celebrate a Monaco podium in the other major F1 2019 competition, Veloce's Not the GP series.
7. Lando Norris
McLaren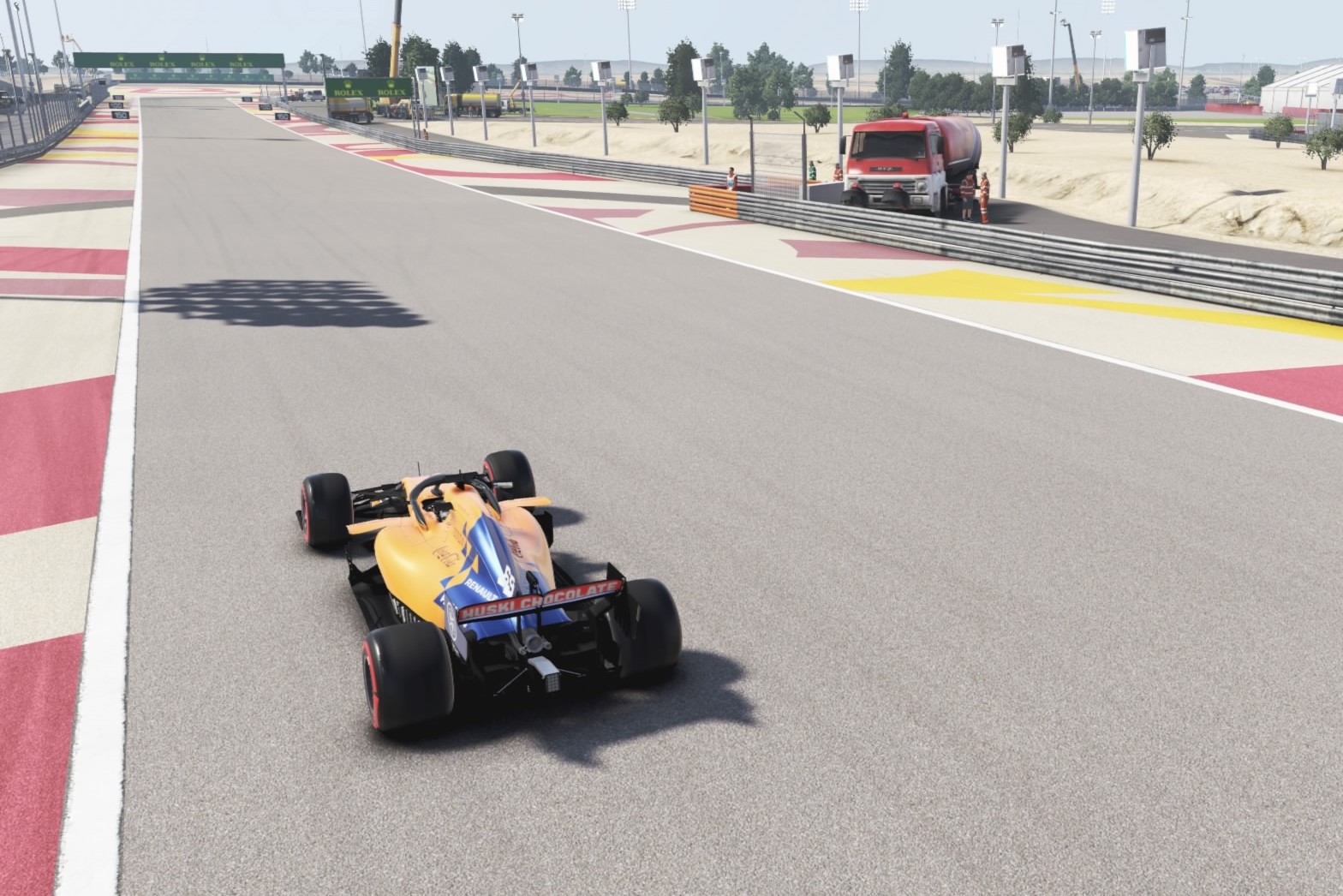 Unofficial standings: 8th, 31 points (5/8 starts)
Best qualifying: 9th, Azerbaijan
Best finish: 4th, Azerbaijan
While it is disappointing that a driver with so much experience and success in simracing failed even to get a Virtual GP podium, we perhaps shouldn't be surprised.
Regular technical problems meant Norris rarely had a straightforward event – only once in seven attempts did he start in the top 10 and twice he was unable even to start. What's more, as a driver with impressive simracing credentials, he was never likely to take to a less-hardcore platform like F1 2019 as seriously as some of his more inexperienced rivals.
But he was entertaining and played his part in making the Virtual F1 races popular and put in some fun cameo performances. His best finish was fourth in Baku after a charging race, while he somehow came out of the chaotic first race in Bahrain with fifth place after that famous collision with Jimmy Broadbent.
A good, fun support act rather than one of the main players. To see his true Esports credentials, you have to look elsewhere.
6. Guanyu Zhou
Renault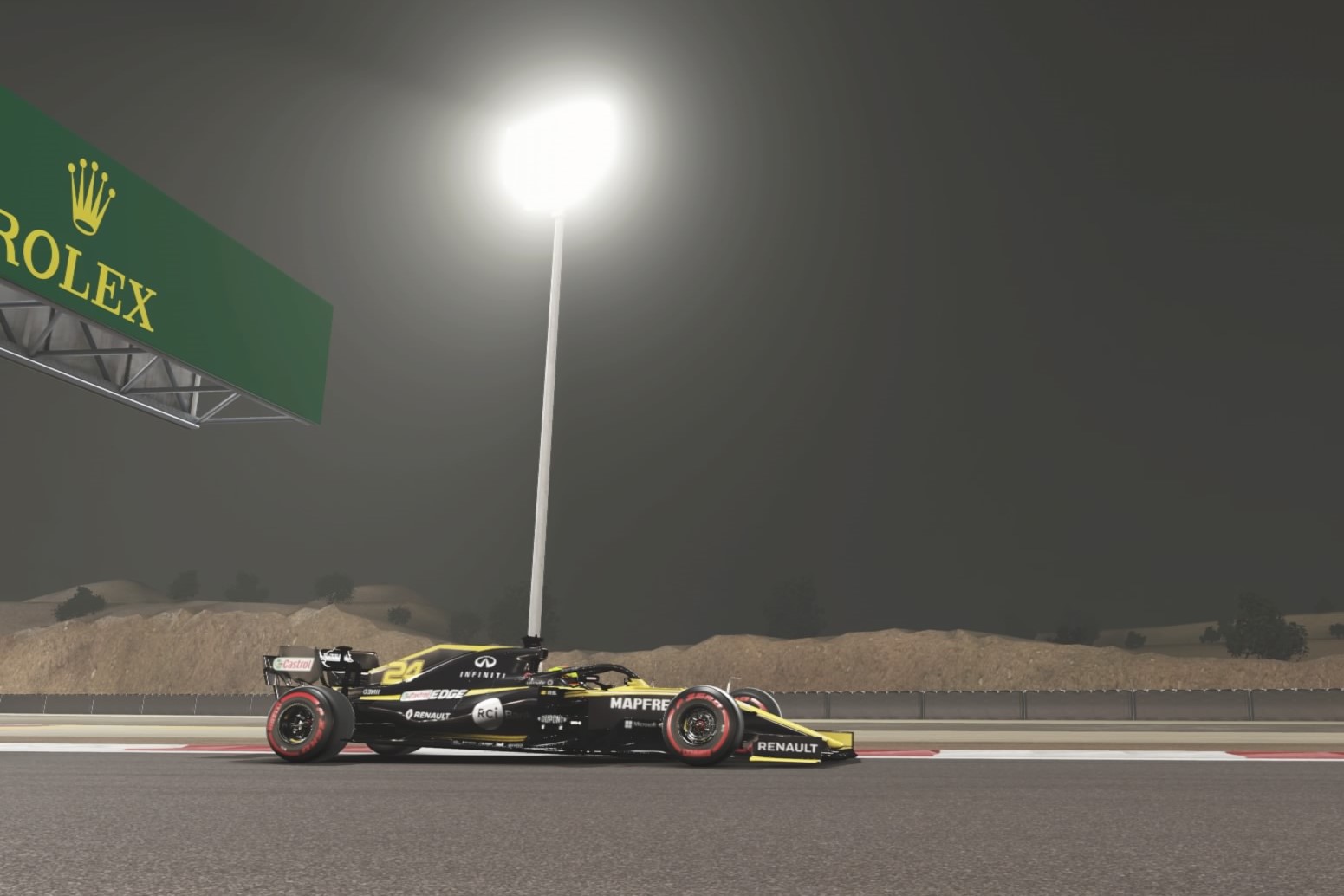 Unofficial standings: 6th, 48 points (3/8 starts)
Best qualifying: 3rd, Bahrain
Best finish: 1st, Bahrain

Zhou's win in the inaugural Virtual GP in Bahrain came before the series got its core cast of F1 regulars, but were he a week-in, week-out entry he could've probably featured as an outside contender for the unofficial title.
On his second outing in China, he stayed in touch with the Leclerc/Alex Albon battle for victory for much of the race, before losing time in a scrap for third place with Vandoorne. He lost the spot to the Mercedes F1 reserve on the road but was promoted back to the final podium spot by post-race penalties.
His run to sixth place in the Canada finale was a lower-key affair, as he was outqualified and outraced by fellow Renault protege Caio Collet (a newcomer to the series), albeit with the mitigating circumstance of early-race technical issues.
5. Esteban Gutierrez
Mercedes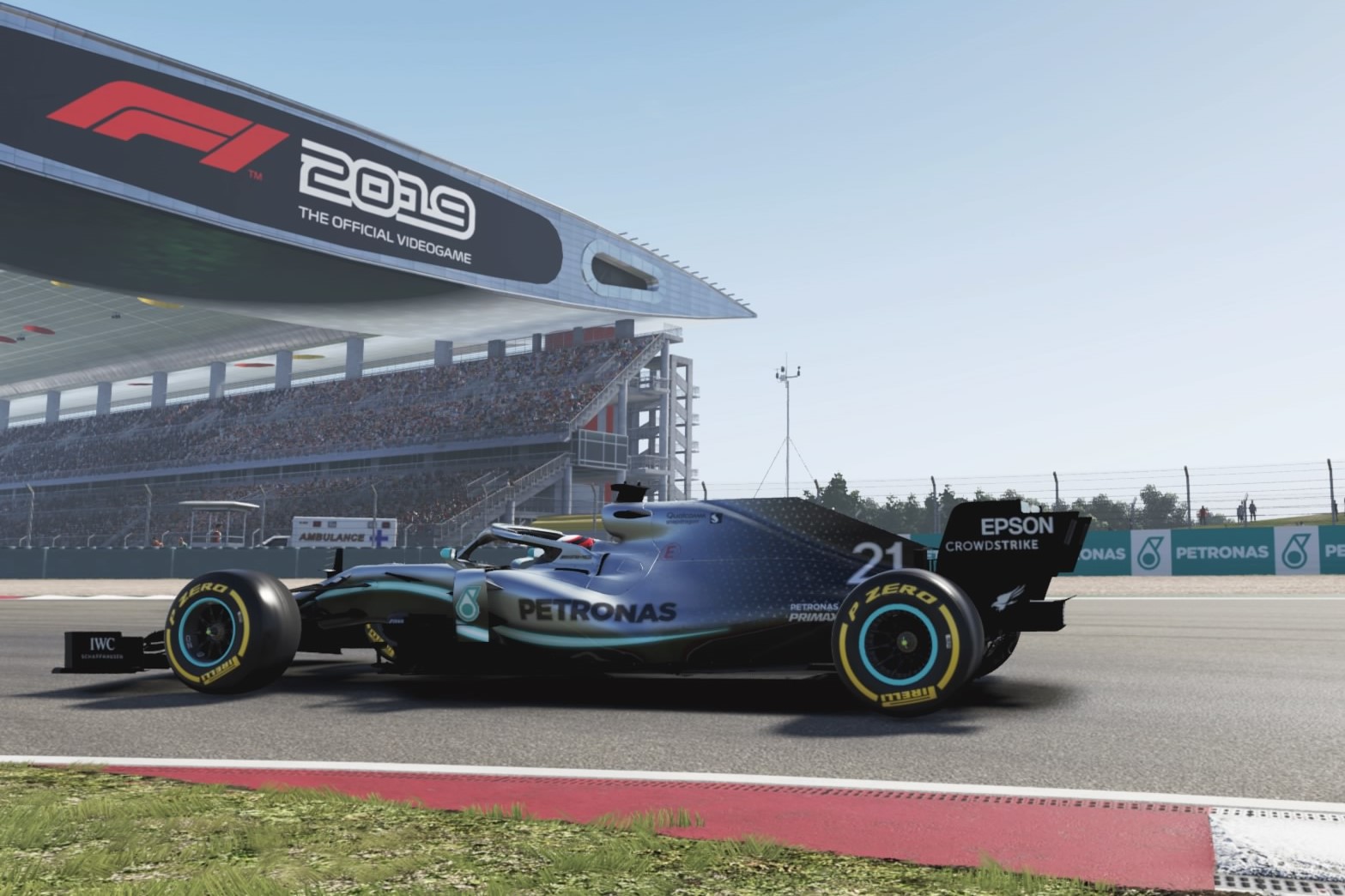 Unofficial standings: 4th, 82 points (7/8 starts)
Best qualifying: 2nd, Bahrain/Spain
Best finish: 2nd, Monaco

Gutierrez was one of only two drivers to enter all eight races, but the Mercedes driver turned early hints of promising pace into being a consistent podium finisher in the second half of the season.
What his campaign lacked was a serious tilt at victory or, unlike early-season team-mate Vandoorne, a pole position. His best shot might have come in the Bahrain opener, where he qualified second, but a poor start then wiping himself out on Latifi set him on a course to 10th place in the madness of that race.
After failing to take the start at Albert Park, he then delivered the first in a consistent run of strong finishes with sixth in China, followed by fifth at Interlagos before becoming a podium regular, peaking with second to Russell at Monaco after coming through from 10th on the grid.
A good campaign, but just lacking in that final bit of spark needed to hit the front.
4. Stoffel Vandoorne
Mercedes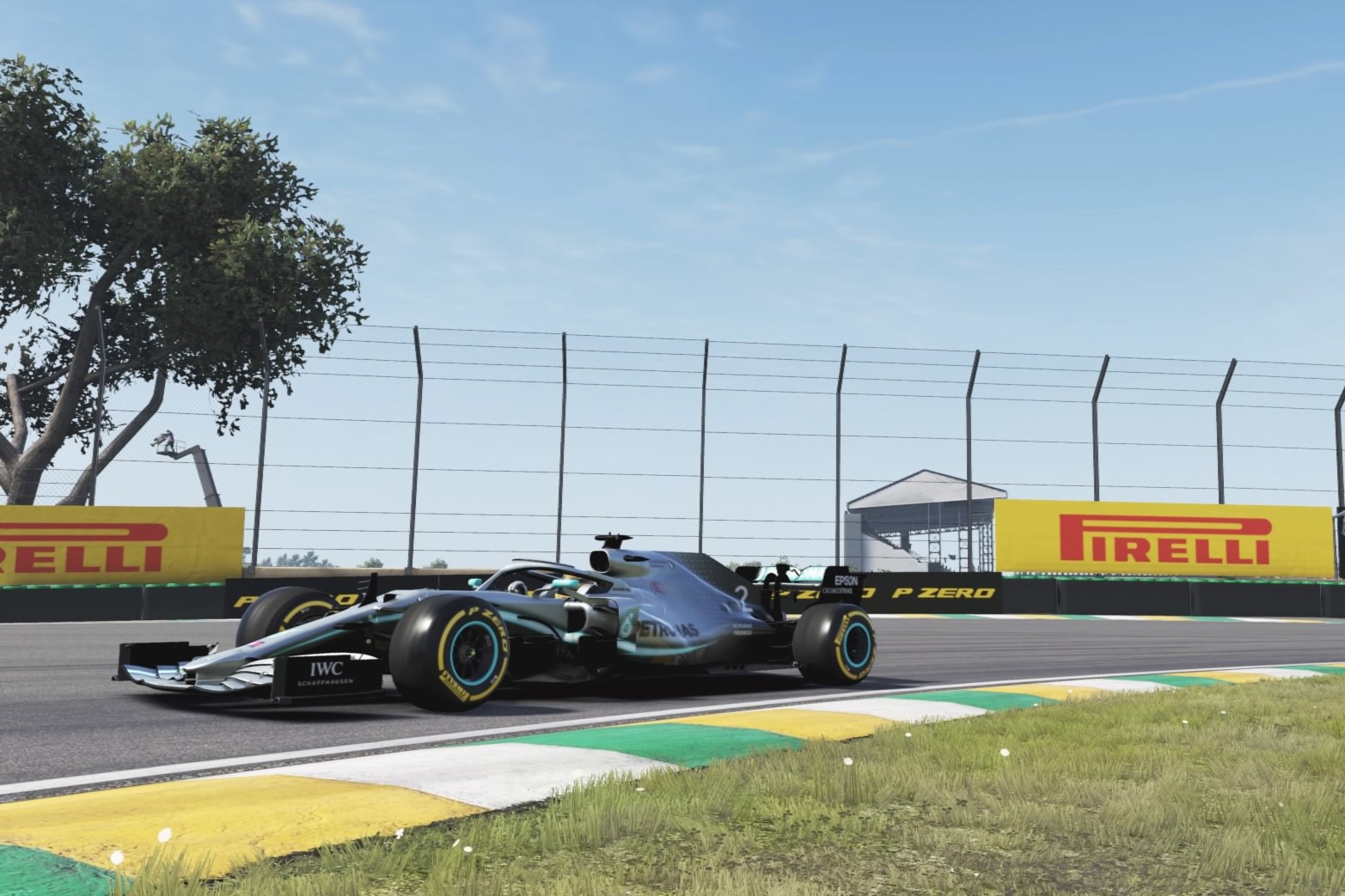 Unofficial standings: 5th, 49 points (4/8 starts)
Best qualifying: 1st, Brazil
Best finish: 2nd, Bahrain
Across The Race All-Star Series, the Formula E Race at Home Challenge (which he won) and his strong showing in the virtual Le Mans 24 Hours, Vandoorne has been a standout among the pros on the simracing scene during the lockdown.
And though F1 2019 is a far cry from the full-on sims he cut his teeth on, Vandoorne's outings in the Virtual GP series were no exception.
He finished second from 11th on the grid in the Bahrain opener and was a frontrunning presence in his three other outings, but a chance to convert pole at Interlagos into a win went begging when he had a poor getaway and was hooked into a spin in the very first metres of the race.
Had he continued, he would've stood as good a chance as anybody at ending the current F1 crop's Virtual GP win streak. And in any case, something felt right about Vandoorne figuring in grand prix racing again, even if only for a virtual detour.
3. Alex Albon
Red Bull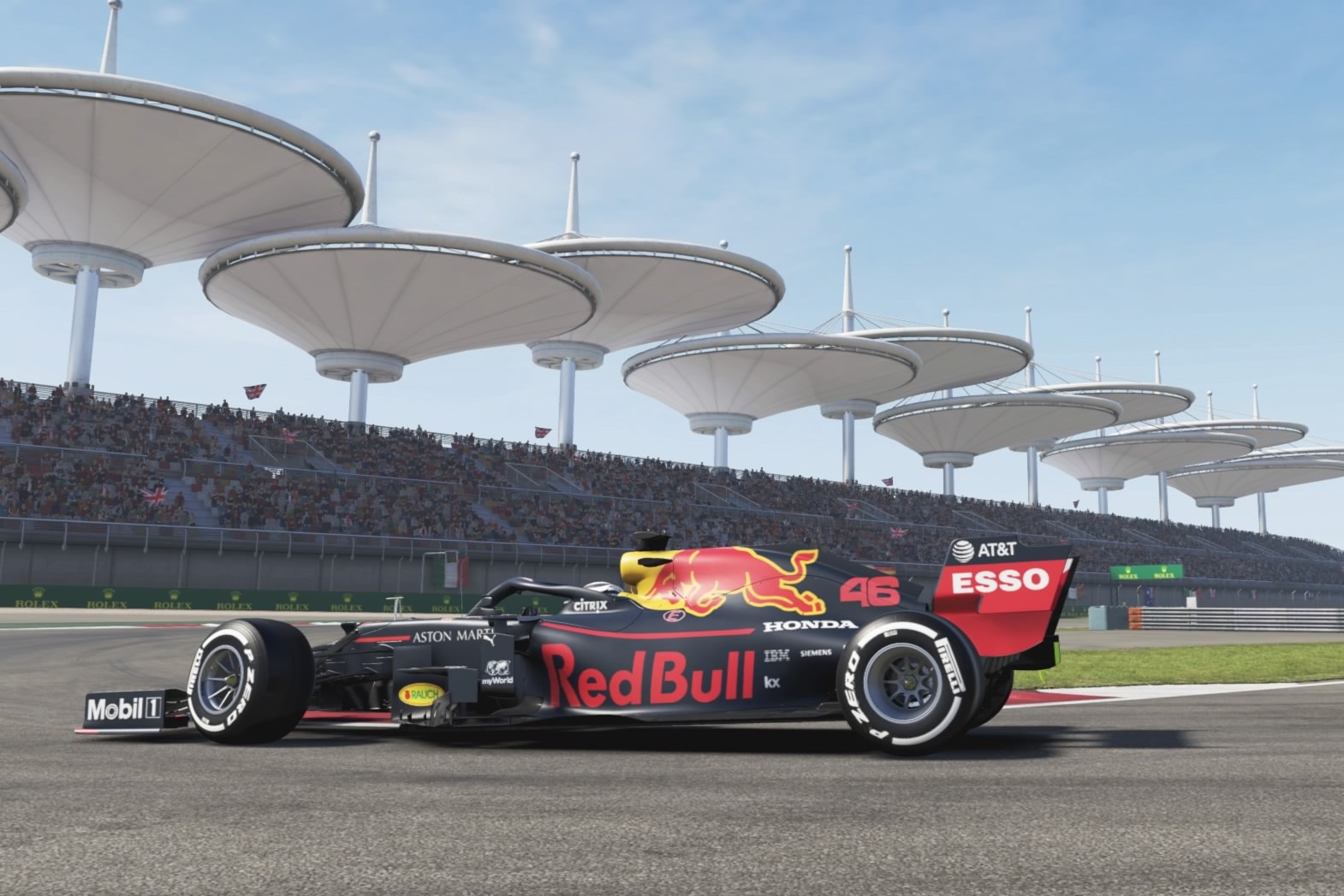 Unofficial standings: 2nd, 108 points (7/8 starts)
Best qualifying: 2nd, China/Azerbaijan/Canada
Best finish: 1st, Brazil

A consistent frontrunner but only a one-time winner, Albon's victory at Interlagos in the 'Dutch' Grand Prix was the most spectacular of the season after 26 changes of lead with Leclerc. But other than that, he was usually close but not quite at the level of Leclerc and Russell.
But he did end the season strongly, finishing second to Russell both in Azerbaijan and Canada. Although just behind on pace, he was close enough to give the Williams driver something to think about and overcame technical problems in the finale to take a second place that seemed unlikely given the lag he was battling at times.
His return of one win and three other podium finishes in seven outings was good, and he was part of some spectacular battles at times, although you can't help but feel the potential was there for an even better return.
2. Charles Leclerc
Ferrari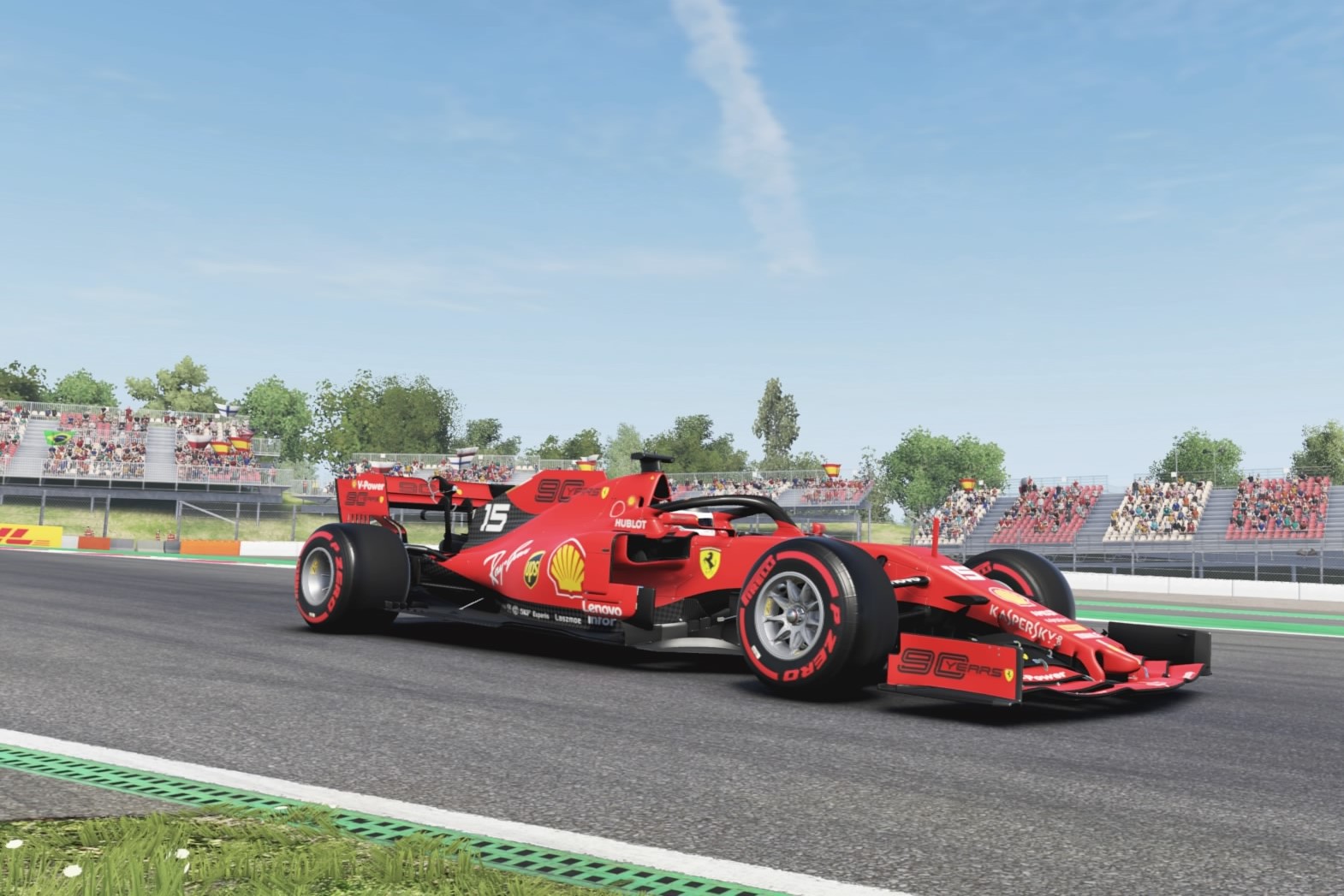 Unofficial standings: 3rd, 99 points (6/8 starts)
Best qualifying: 1st, Australia/China
Best finish: 1st, Australia/China
Leclerc was the dominant force initially in Virtual F1. Like Russell, he missed the first race but he then won the Vietnam and Chinese Grands Prix to establish himself as the star performer of the early-season.
He came close to winning the next two, but didn't prepare his strategy correctly at Interlagos and switching to mediums for the second stint cost him in his epic battle with Albon, before a penalty for exceeding track limits dropped him behind Russell. In Spain, he lost out to Russell thanks to a late corner-cutting penalty.
Thereafter, he wasn't quite on Russell's level, with a disastrous first few laps at Baku condemning him to a pointless outing that put him 22 points behind Russell with 26 remaining.
Missing the Montreal finale thanks to competing in Virtual Le Mans ended his vague chance of the title and also allowed Albon to beat him to second.
1. George Russell
Williams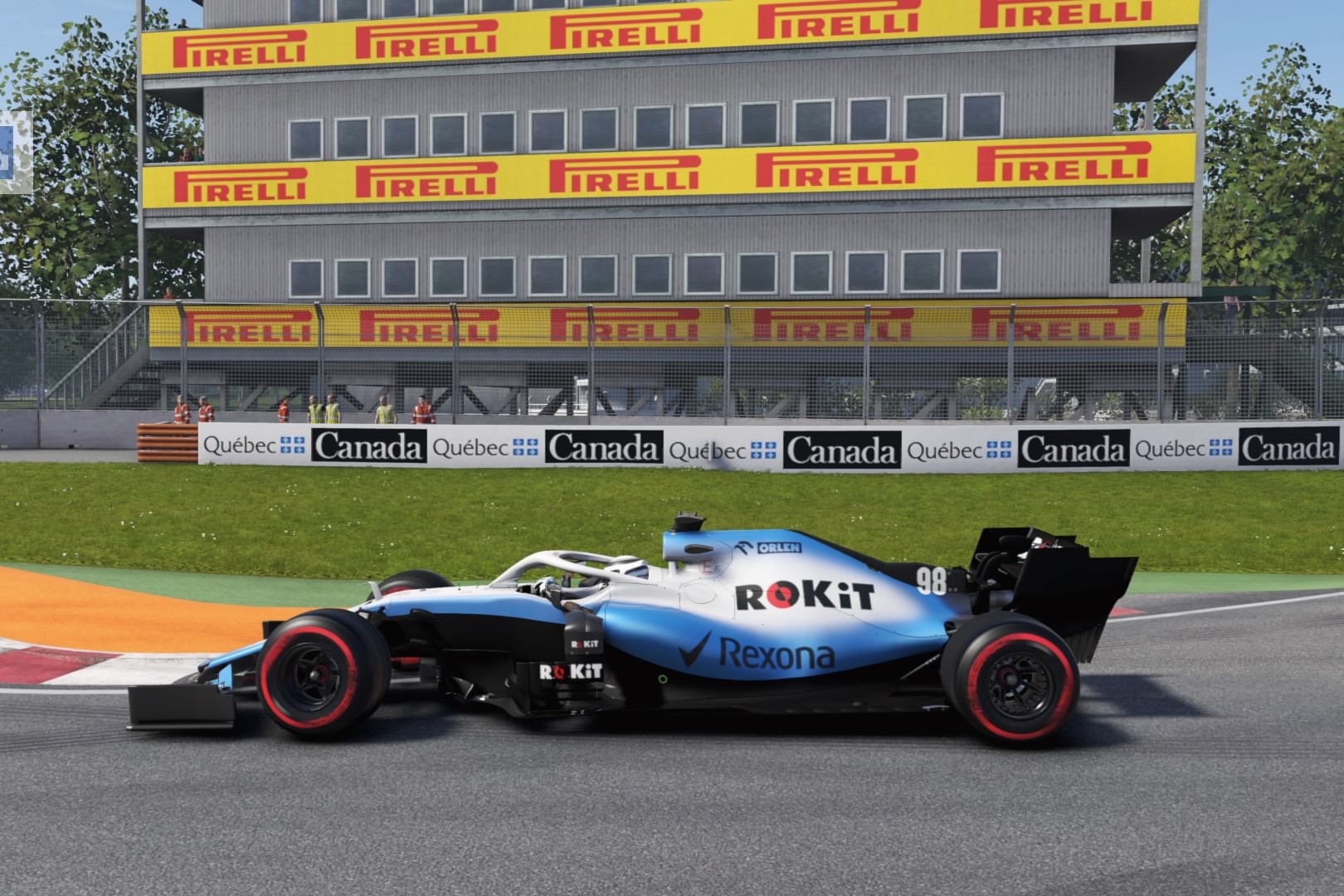 Unofficial standings: 1st, 147 points (7/8 starts)
Best qualifying: 1st, Spain/Azerbaijan/Canada
Best finish: 1st, Spain/Monaco/Azerbaijan/Canada
While he was brisk from his first appearance in race two at Albert Park, it took a few outings for Russell to get into his stride. Once he did, he emerged as the dominant force over the second half of the season.
After missing the opening race, Russell's first three outings were scruffy but showcased his growing pace as track position often went against him. But a hard-fought victory in Spain from pole position after briefly slipping to sixth on lap one then chasing down Charles Leclerc opened the floodgates.
That was the first of four straight wins, with Fittipaldi's shock wet-weather pole position at Monaco the only interruption to his hegemony.
His second-half dominance, which yielded the unofficial title, was a result of Russell's rigorous and professional approach, which allowed him to set lap times that compared to the pro racers – just a few hundredths slower than Williams stablemate Shanaka Clay's in qualifying at Montreal.