Formula 1's first-ever Virtual Grand Prix event was won by someone who may not be in its championship currently, but who is incredibly important to its future. From a long-term perspective, the best thing to come out of the event was it being won by Guanyu Zhou.
The Renault junior – upgraded to its F1 test and development driver this year after his maiden season with the marque was spent mostly on its simulator in 2019 – has proven he has the ability to cut it at Formula 2 level. But it's his nationality that makes him doubly attractive moving forward.
Zhou is part of a super important junior single-seater double act in Formula 2 with Mick Schumacher. Schumacher – son of seven-time F1 champion Michael – has already had an amazing amount of attention drawn to him throughout his young career, and his name alone will sell tickets for F1 in the future. If he can prove to his current affiliate Ferrari that he deserves an F1 seat with that team in the future, it would be both be a beautiful story adding to the Schumacher legacy and, to put it honestly, a big money-maker for F1.
On the other hand, Zhou is doing quite the opposite. Instead of building on an established fan base or name like Schumacher, he is breaching a new frontier. He is the only Chinese driver to make it to Formula 2, and is almost certainly destined for F1. Not only would that make F1 more attractive to the wealthy Chinese market, it would create more fans in the region and future-proof the Chinese Grand Prix on the calendar.
Currently, most Chinese fans support Daniel Ricciardo – who is surrounded by rumour about whether he'll stay at Renault in the future – but his stablemate Zhou should inspire the nation as one of its own to get behind and support as its first full F1 driver, providing he makes that leap.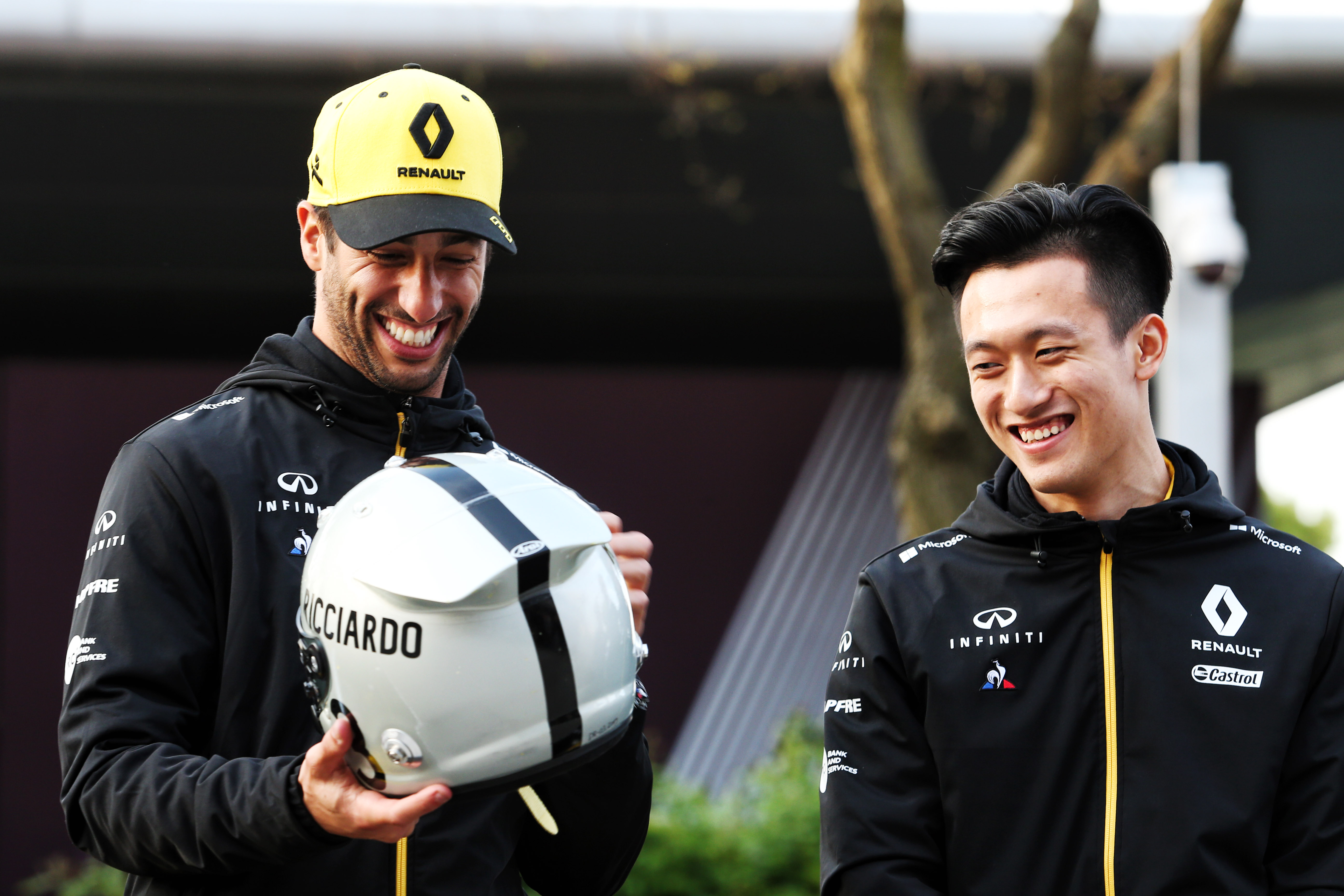 The signs certainly point in that direction as he is well-backed and has shown promise so far. After moving to England to compete in junior karting, he has worked his way up. He took third in the season Schumacher won the FIA Formula 3 title in 2018, but trounced Schumacher in F2 last year – in which Zhou was the best performing rookie, seventh in the championship with the prestigious UNI-Virtuosi Racing squad.
While Renault's future in F1 feels like it's been a question mark for the last few years where it has struggled to perform as a standalone marque after scaling down and ultimately ending its relationship with Red Bull, Zhou's win in last Sunday's Esports race can't have hurt it moving forward either. While there's no real-life Formula 1 to watch this year just yet, in the virtual world Renault has already achieved something it never would in reality in 2020 – it won a Formula 1 grand prix.
"I think for the Renault side they will be happy and on my side I was just happy to be racing," Zhou told The Race.
"Since I signed with Renault they have given me a lot of opportunities for me to promote myself and promote the team together. I was really happy with how we have worked together since last year with all the demo things and things like that. To win the first Esports feature race is also something great."
Another plus for F1 was that it got its first female race winner: Zhou's avatar in the F1 2019 game is female, as "that's pretty much the only Chinese character".
For F1, it was perfect. Its future Chinese driver has received a bucket-load of attention and praise for winning an F1 event, whereas he would have been in relative obscurity in Formula 2 otherwise. For Renault, it played its cards perfectly, placing Zhou in its car alongside golfer Ian Poulter for maximum exposure.
Plus, Poulter had a great coach in Zhou, and actually impressed with some overtaking manoeuvres before taking 14th.
"We were on the group chat, he was asking me questions and I would tell him to do pitstops and stuff," Zhou said of Poulter. "He got quite frustrated because he was overtaking people and they were pushing him off, and all I could hear was him shouting, it was quite annoying (Zhou laughs recalling this) because I was trying to concentrate and win the race! It was really funny."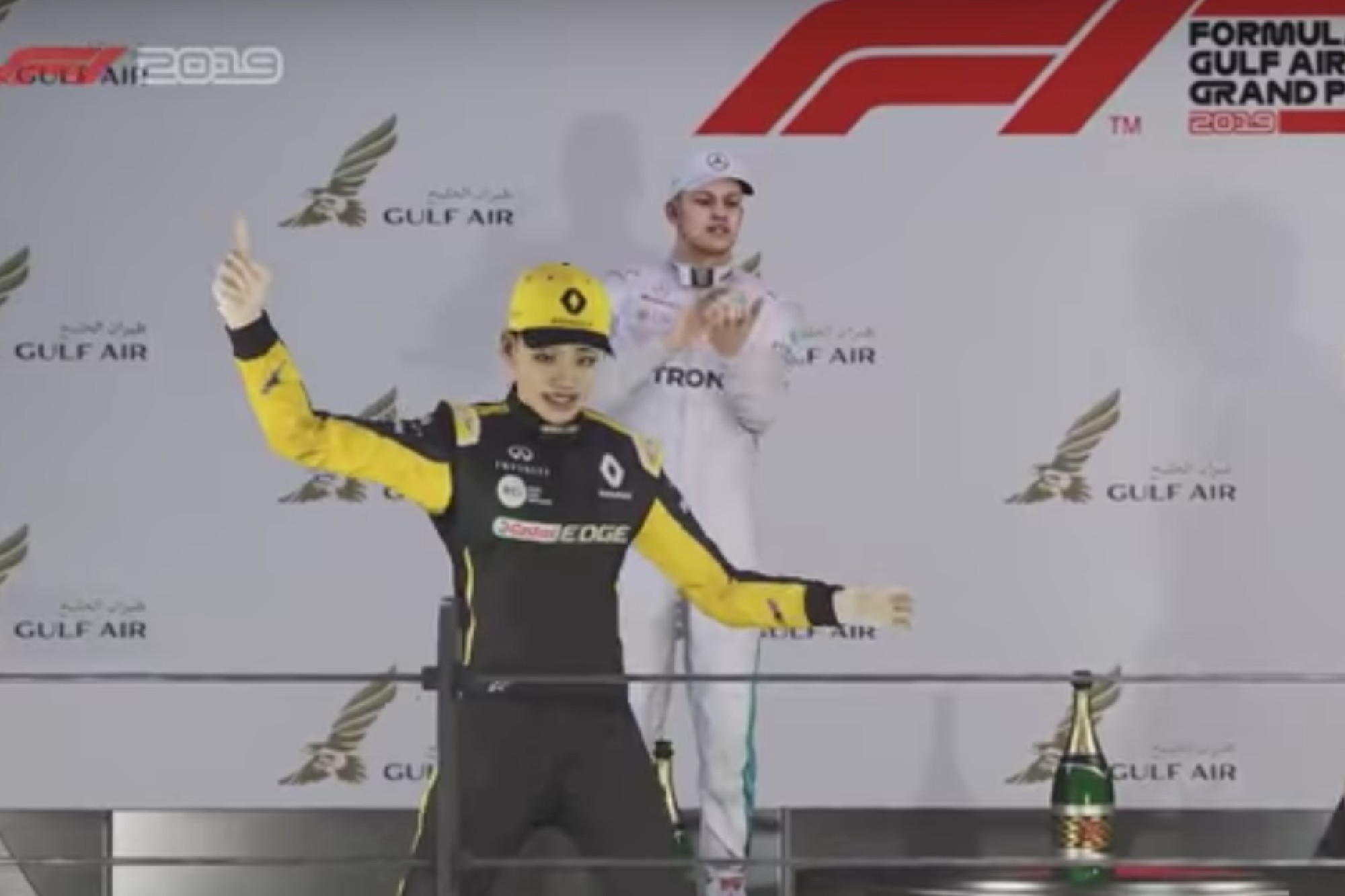 Another plus for F1 was that it got its first female race winner: Zhou's avatar in the F1 2019 game is female, as "that's pretty much the only Chinese character".
"There's two, the girl and a man, but the man looks fat and I thought 'there's no way I'm having that!'. That is not a racing driver, that's someone who's had too many Burger Kings!"
The great thing about avatars – like real-life motorsport – is that it really doesn't matter what the person under the helmet identifies as. Once the helmet is on, you look the same as everybody else and are treated as such.
Zhou was up into the lead at the end of the third lap, but Red Bull athlete and DTM driver Philipp Eng re-passed him on the run to Turn 1 on lap four. However, unbeknown to the viewer as the camera focused back in the pack, Zhou retook the position.
"It was a good move!" Zhou added. "The lap before I passed him into Turn 11 [on lap three] and then he got the DRS, so I decided not to defend because we had a decent gap from the cars behind so it was better not to fight when we didn't need to, to keep the gap. I thought I'd try and make the pass in the pitstop window or the second stint. But he passed me at Turn 1 [on lap four], which gave me DRS for Turn 4 and I passed him again."
It's hard to get upset and blame the producers of the broadcast for missing the crucial overtake when there were so many cars flying off the race track back in the pack, even if NASCAR dealt with a similar situation flawlessly in its eNASCAR iRacing Pro Invitational race. It was a shame for Zhou that the camera missed it, because once he had pitted and retook the lead, he drove away to a huge 11-second win, despite the race being shortened from its original 50-percent race distance. He managed a perfect strategy – despite conducting the event without an extra strategist.
"Some guys had Esports drivers, Esports strategy people with them because I saw them in the chatting lobby," Zhou explained. "People must have been taking it really serious.
"On my side, it was just me. Obviously before the race I spoke to the Renault Esports guys, and that's also a reason why I went for the medium tyre for qualifying. I didn't go soft. The plan was for a 50% race.
"So if I went medium, I could go one-stop. If I started on the softs, it would be two-stop and I would lose too much time. I think I had the same strategy as the top guys, [Nicholas] Latifi, me, both Ferrari drivers, The quick guys all had similar strategy."
While there's not much to celebrate in F1 or the world at the moment, F1 did get to find its silly side with its full Esports replacement race debut. But it also crowned a very important victor, a driver in Guanyu Zhou who has the potential to open many doors for F1 in the future, as well as become a solid fixture on the grid.