Formula 1, like all sports, seems trivial in a pandemic. It's not. It matters. It's an entertaining supplement to, or distraction from, reality. So how are fans meant to feel when reality gets so bad there's no F1, or sport, to turn to?
The butchery of the 2020 season amid the COVID-19 outbreak shows no signs of ending as the Azerbaijan Grand Prix became the latest race to be postponed on Monday. It continues a desperate narrative, but even in such disappointing times there are still reasons to smile. F1 gave fans one on Sunday night.
Right about now, we should be dissecting the fall-out of the Bahrain Grand Prix and savouring the second chapter in the epic tale of F1 2020. Well, we still can. Just not how anyone expected.
The inaugural round of F1's official Virtual Grand Prix Series took place on Sunday evening, the latest in a line of Esports events that have cropped up to fill the void as the motorsport world remains on an indefinite, extending hiatus.
Alongside two members of the 2020 grid, Lando Norris and Nicholas Latifi,  a host of ex-F1 racers showed up and there were cameos from Olympic legend Sir Chris Hoy, multiple Ryder Cup winner Ian Poulter and ex-One Direction singer Liam Payne.
However, the names of greater interest to the wider world were little more than footnotes in the event itself. This was an official F1 event and it was appropriate that one of the two 2020 drivers F1 was able to get to take part was the star of the show.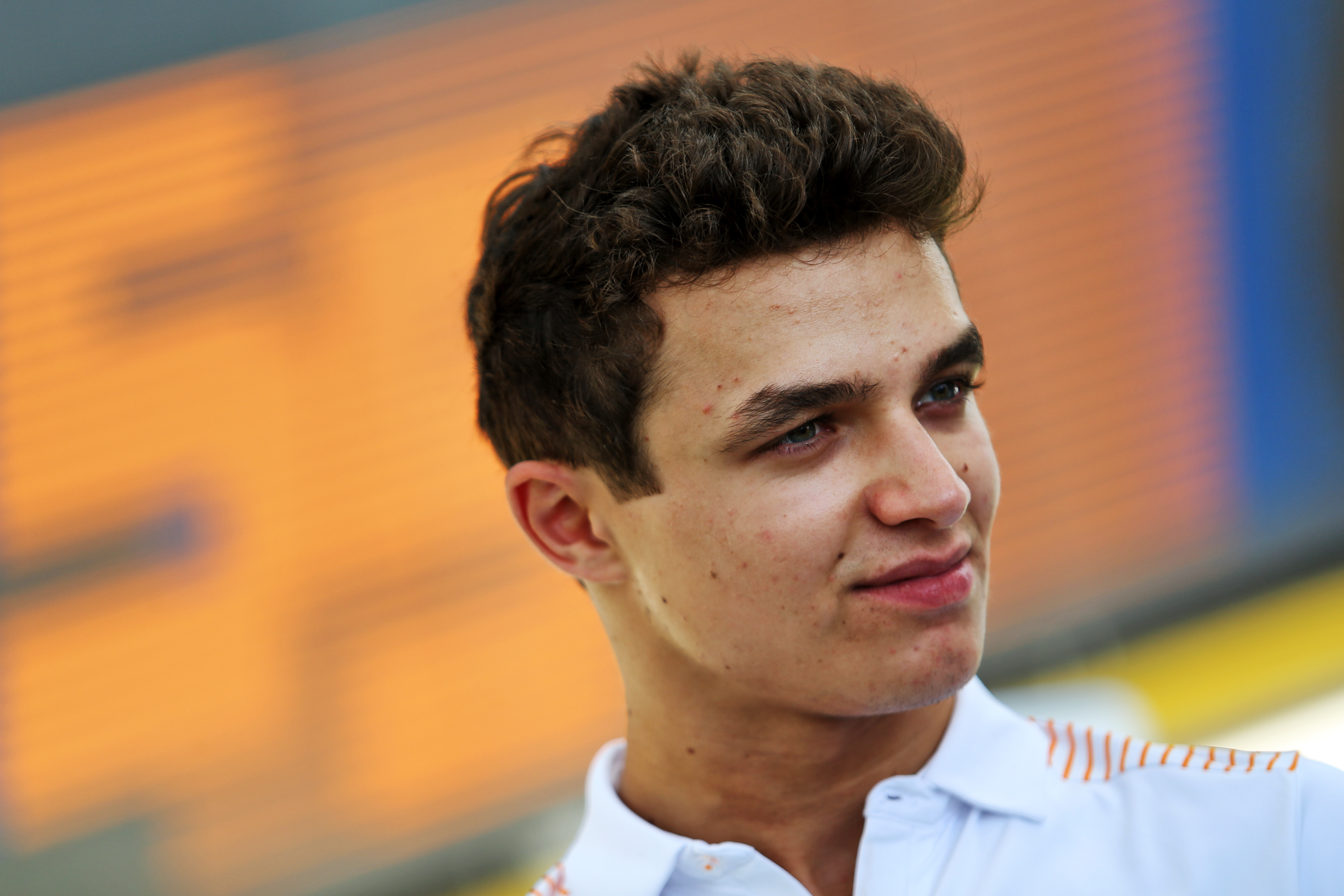 When this event runs again, F1 should try to find a way to incorporate Norris's exploits into the main broadcast. Streaming to around 100,000 followers on Twitch, he was a revelation as he battled to contain his obvious frustration at the game's apparent limitations.
Norris is an experienced sim racer but unlike Max Verstappen, who ruled himself out of the F1 event because he focuses on more professional online platforms, he was willing to embrace F1's own offering and add his own brand of entertainment to the mix as well.
As Norris waited for the game to begin, he rolled through his contacts and started calling them one-by-one and broadcasting the conversations – Verstappen among them, but also Williams driver George Russell, Antonio Felix da Costa, McLaren team-mate Carlos Sainz Jr, team CEO Zak Brown, head of strategy Randy Singh and Norris's performance engineer Andrew Jarvis.
"Don't brake into Turn 1," was Verstappen's advice. "Take everyone out.
"Then I would do one lap in reverse. And from there onwards I would just fully send into the pitwall."
There was also an apology from Norris to Brown: "There's been a few problems, my game shut down,  so I've not been able to qualify.
"But I'm going into the race starting last on the grid. I'm sorry about that. It's not a good picture for McLaren."
And this exchange with Russell, Norris's fellow F1 rookie from 2019:
Norris: "I'm starting last on the grid. I wanted to call the person with the most experience from last year starting on the back row of the grid."
Russell:  "You pull up to the grid, leave it in first, and then just fully send it into the first corner. Then P1 by Turn 2."
Norris: "At what point does Kubica get back past you?"
The only downside was Norris's Twitch stream was not part of the official broadcast, which has attracted more than one million views on YouTube.
Fortunately for the majority not enjoying Norris's own brand of comedy, the race was a chaotic and entertaining affair. There was a shunt on the run down to Turn 1, Johnny Herbert cut the first corner entirely to vault into the lead, and if the real-world stewards had to deal with that many incidents over a grand prix they'd probably combust.
Sure, Guanyu Zhou scampered clear after a pass for the lead the broadcast didn't pick up, but there were other highlights – such Stoffel Vandoorne's last-lap pass, crossed up and through the gravel to take second, and Norris's charge to fourth being undone with a final-corner clash with YouTuber Jimmy Broadbent.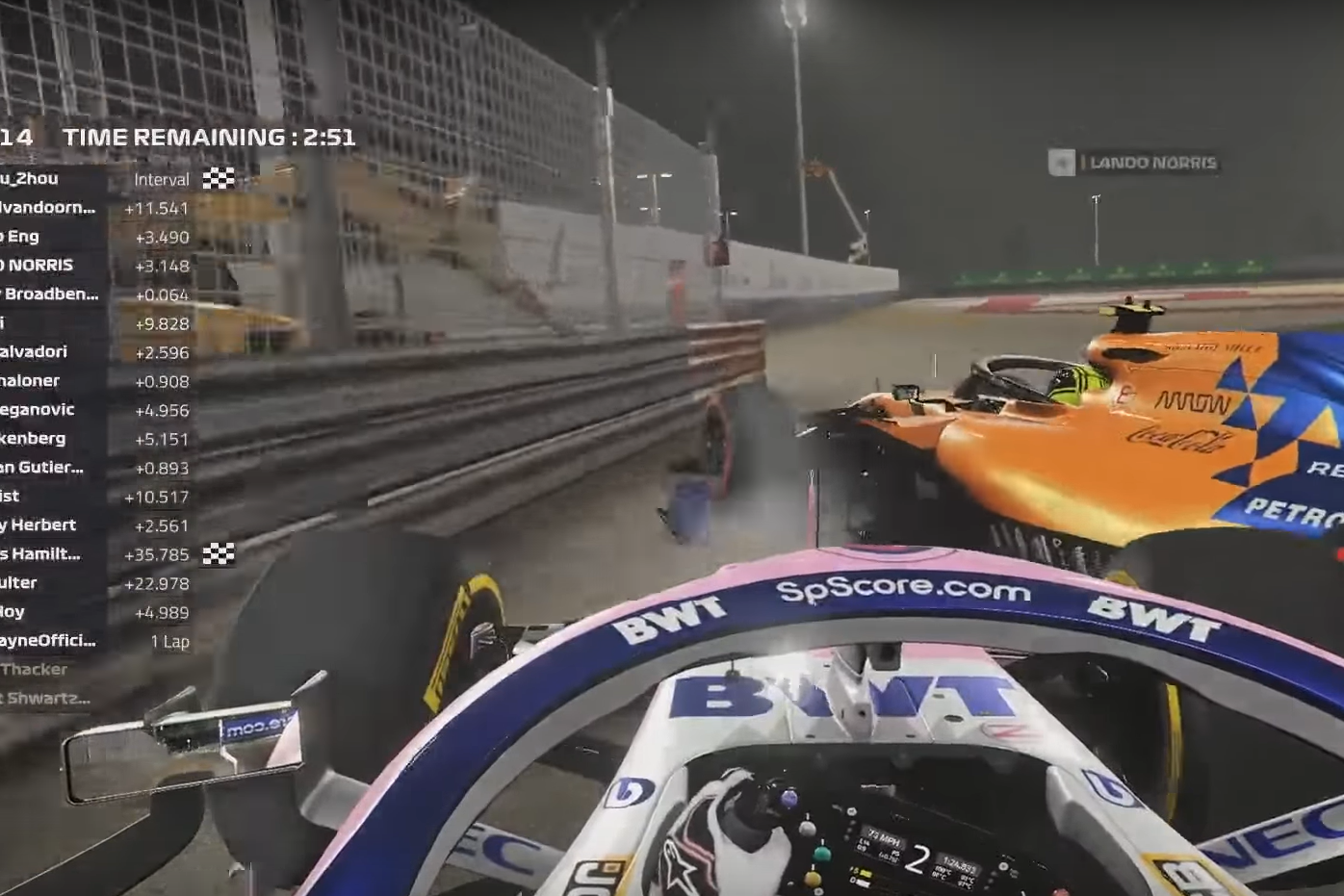 Amid the mayhem and the silliness was a professional broadcast (albeit one fighting a slightly patchy stream at times), some entertaining racing and a few virtuoso performances.
Above all else, it was light-hearted fun. It was not an advert for the professional part of the Esports genre. But in the current climate it ended up being exactly what it needed to be.
The proliferation of online-racing avenues over the last week risks over-saturating the market. Fans want their racing fix but there can be too much of a good thing, and definitely too much of the same thing. So it is sensible for the invested parties to think carefully about how they proceed.
Sunday's schedule was a case in point. Veloce Esports held its own Bahrain race, in conjunction with F1, on the same game and with a similar field just a couple of hours before, and attracted its own handsome audience.
That meant a quick follow-up was a recipe for fatigue. The quality of the Virtual GP event's entry was the lowest of the weekend's online single-seater events, with professional sim racers and a huge number of real-world drivers part of The Race's All-Star Esports Battle, and F1 personnel, a reduced pro-driver presence, online personalities and celebrities more frequent across the Veloce/F1 offerings.
There's no judgement there, just facts. And unless it changes significant from its first event, the Virtual GP series will not offer a professional race with a big mix of real-world drivers and the best sim racers around. But it doesn't need to, because where it ended up prevented any fatigue creeping in. In fact, it worked in F1's favour.
When F1 announced the Virtual GP series and made references to a number of present it drivers it was probably hoping for more than just two, and perhaps something closer to NASCAR's first official event, which featured Cup race winners and champions and a serious broadcast with Fox Sports's usual commentators.
Sport needs to mix with entertainment. Personalities are a big draw, and F1's Esports event mirrored its real-life brother in this regard. F1 could still do more to promote the professional side of Esports, but through luck or judgement the Virtual GP series has potentially found its own place on a crowded spectrum.
The first #VirtualGP was a 𝘀𝗺𝗮𝘀𝗵 hit 💥

From start to finish 👀#F1Esports 🎮 pic.twitter.com/Hum2EYZvRw

— Formula 1 (@F1) March 23, 2020
F1 should embrace where it has ended up, rather than try to force a message that this was online racing at its finest. It wasn't. That's why Verstappen wasn't involved: he takes Esports seriously. F1 produced something that was quite silly by comparison, but not in a way that was unbecoming.
COVID-19 has caused a lot misery and will dominate the news agenda for weeks, maybe months. It has fundamentally changed our lives and will continue to play a defining role in what we can and cannot enjoy.
Just when we need sport more than ever, it can't offer respite. Not in the normal way. But Esports can, from top-level competition to light-hearted fun.
F1 is more experienced in one of those than the other. This is the perfect time to embrace its sillier side.