Renault's Formula 1 test driver Guanyu Zhou won the inaugural Virtual Grand Prix series round 'in' Bahrain as Lando Norris's wild race was mostly conducted out of his control.
Ex-McLaren driver-turned-Mercedes reserve and Formula E racer Stoffel Vandoorne worked his way through to finish second after a robust late pass on poleman Philipp Eng, who had to settle for third.
Norris finished fifth after being turned into the wall from fourth at the final corner, having spent more than half the race with his car controlled by AI because he disconnected from the game.
F1's new Esports competition was launched to replace the real-world events cancelled or postponed by the coronavirus pandemic.
Using the championship's official video game on a computer platform, the planned 28-lap Sakhir race turned into a 14-lap encounter because of undisclosed "technical issues".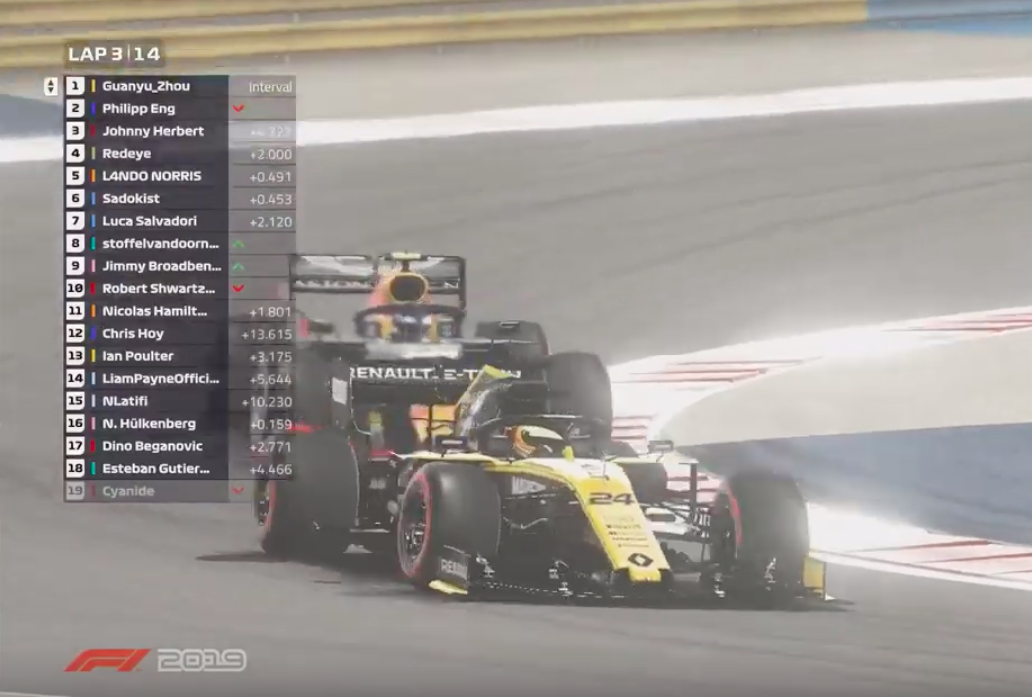 However, it was a mad-cap affair that started with a multi-car shunt on the run to Turn 1 that held up Nico Hulkenberg and Ferrari's Dino Beganovic.
At the front, Johnny Herbert cut the first corner entirely to vault into the lead, but that did not even last a lap as Eng lunged the ex-Benetton and Stewart driver into the penultimate corner.
A lurid slide from Herbert exiting the final turn then elevated Zhou to second, and Zhou hit the front before the end of the third lap when he passed Eng at the end of the back straight.
Zhou only vacated top spot when he made his mandatory trip to the pits, and the F2 racer eventually took the flag well clear of his opposition.
That period ended up being led by Vandoorne, who was down in ninth position at one stage early on before mounting an impressive rise through the order.
Vandoorne stole second on the penultimate lap, doing to Eng what the Red Bull man had done to Herbert on lap one, albeit with an armful of opposite lock as Vandoorne just about kept his car on-track when the pair made contact.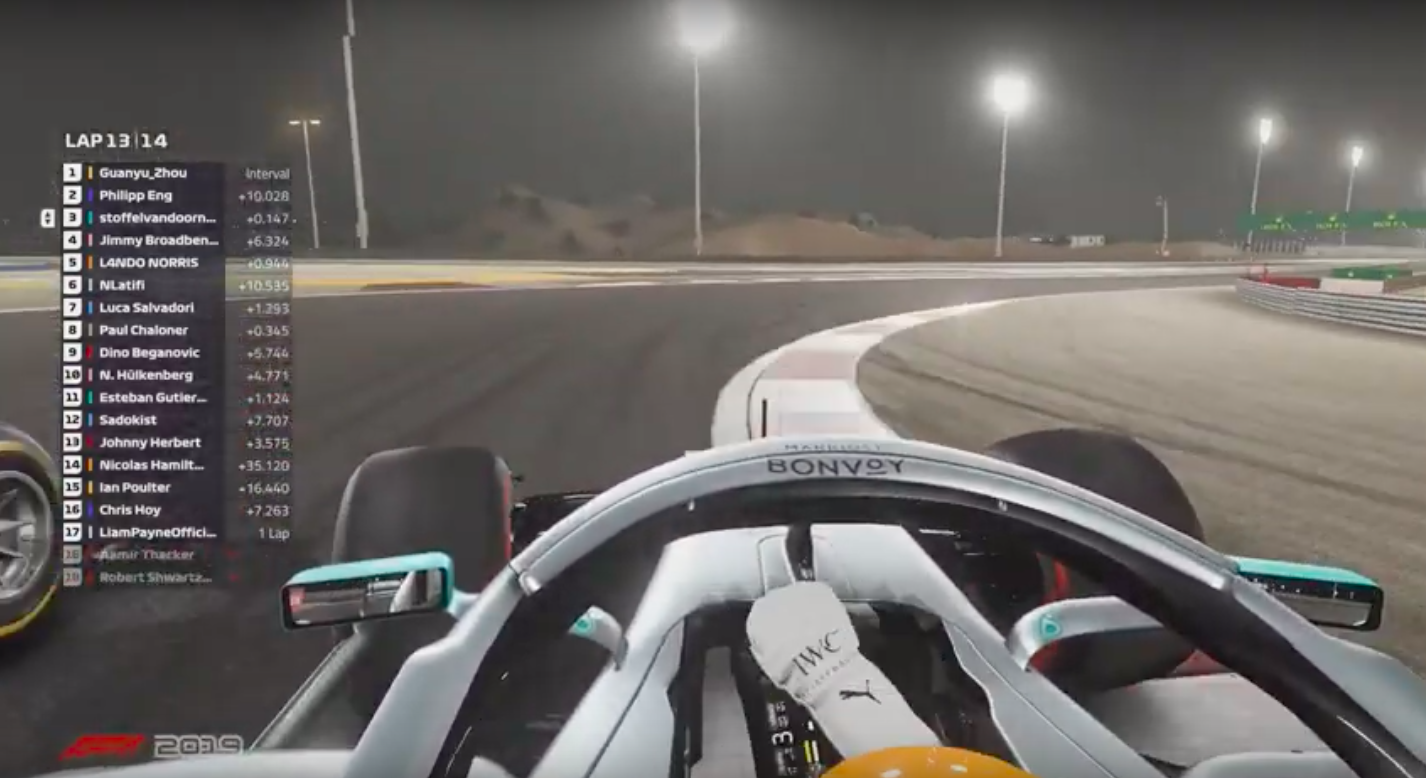 There was more drama behind the top three as Norris bid to cap a bizarre race with fourth postion.
The McLaren driver had connection issues, which he said was not the fault of his computer as he insisted to his near-100,000 watching audience on Twitch that "it's the game".
That meant he failed to take part in qualifying and also missed the start of the race as he rebooted his computer, but fortunately the way F1 2019 works online meant his car was controlled by AI.
Remarkably, Landobot – as he christened his 'driver' – carved its way up the order and was in sixth position when Norris was finally able to join the session on lap 10 of 14.
Norris dived into the pits for softs, and after emerging made rapid progress up to and including passing YouTuber Jimmy Broadbent for fourth after a titanic scrap.
However, Broadbent's bid to wrest the place back with a last-gasp attack went awry and the two collided on the run to the final corner, pitching Norris into the wall on the left-hand side.
Broadbent thus claimed fourth, with Norris fifth.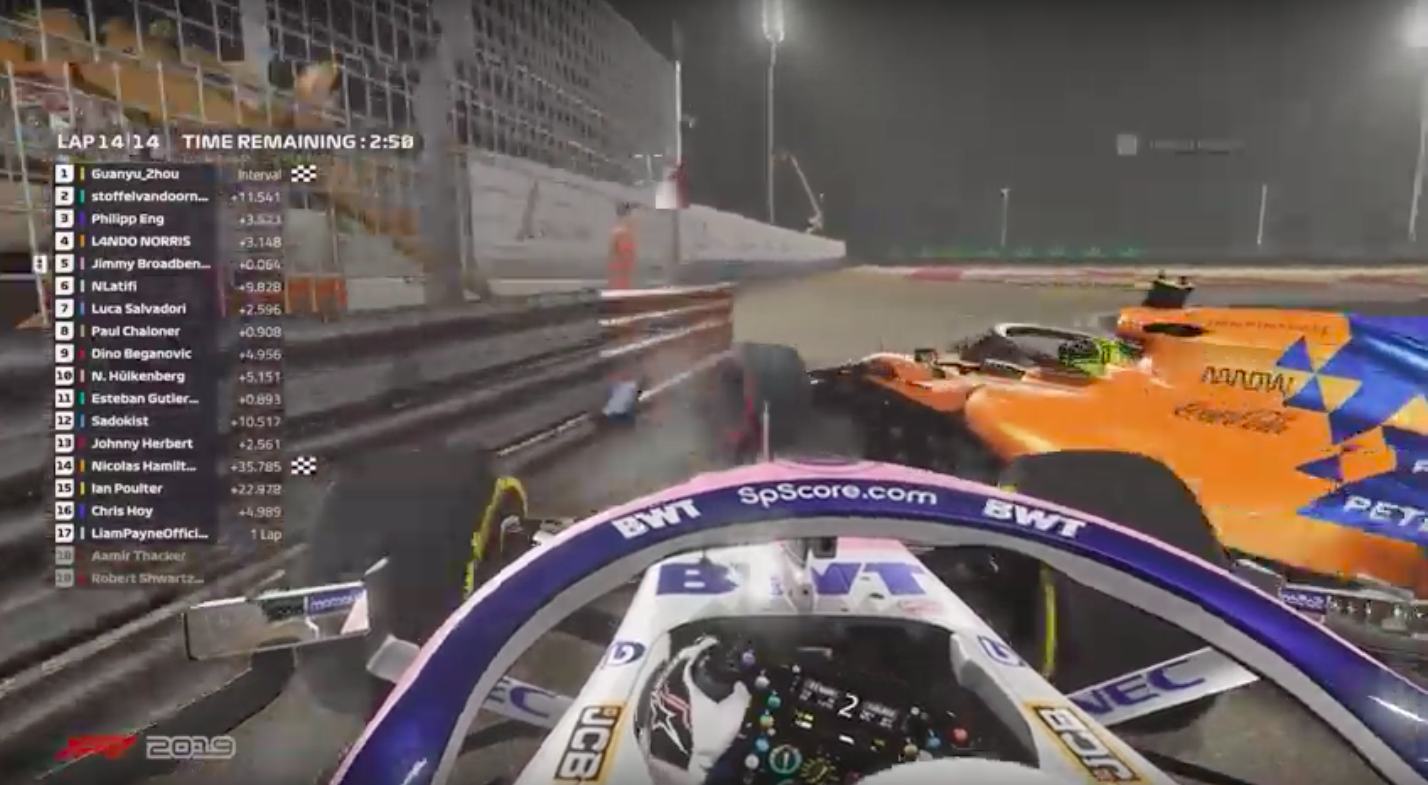 Norris's fellow 2020 F1 driver Nicholas Latifi was sixth for Williams on his F1 debut (which will not count officially as his F1 debut!) ahead of AlphaTauri's Luca Salvadori and streamer 'Redeye' from Haas.
Ferrari Driver Academy member Beganovic recovered from his lap-one to finish ninth ahead of Mercedes' Esteban Gutierrez, who emerged on top of a superb battle with Hulkenberg to steal the final point in 10th – except he didn't because F1 had already felt the need to stress before the race that this event did not count for world championship points.
Celebrity competitors Ian Poulter and Liam Payne had troubled races and both finished well down the order.