If Mercedes produces a consistent, frontrunning Formula 1 car in 2023, George Russell could be a formidable wildcard in the lead battle.
Though not quite the finished article, Russell has already shown plenty of glimpses that he is ready to dive into the challenge of fighting regularly for race wins in F1. He is already, on his day, capable of beating anybody. He believes last year's Brazilian Grand Prix victory serves as proof.
But this is not about what Russell can do on any given Sunday. A tiny improvement would make him a massive threat over a full season.
Mercedes didn't sign Russell because it felt he could be 99% a top-line driver. And Russell did not get where he is by accepting what he has already achieved. Both are laser-focused on improvement and unsurprisingly Russell acknowledges he can do better.
"I have been happy," Russell says of his racecraft in 2022. "The bits I look back on are the race with Max in Brazil, the race with Max in Barcelona as well. The overtakes I did in Montreal, in the hairpin. I've had a couple of battles with Lewis, Miami, I can think of.
"I've been pleased with how that's gone. Obviously, things can always be better. And I definitely can improve. And with experience, you will."
As we will get to, there is plenty of evidence to suggest Russell is more than capable of the kind of hard, decisive, and fair driving that often defines the very best. He had a generally excellent first year with Mercedes.
But there were a handful of notable incidents where he could indeed have done better in 2022. And if one considers how good Russell already is, that is a fascinating proposition.
In a messy Singapore Grand Prix, a race in which he had already awkwardly brushed Valtteri Bottas's Alfa Romeo sliding down an escape road, Russell clumsily squeezed Mick Schumacher's Haas on the run to Turn 1 in Singapore.
Russell admits that was probably "more out of frustration than anything" with how his weekend had fallen apart. It was not malicious, but it was slightly careless and summed up a scrappy couple of days – which he was not entirely responsible for by any means. But Russell acknowledges that is something he could have handled better, for it was a needless incident to get involved with.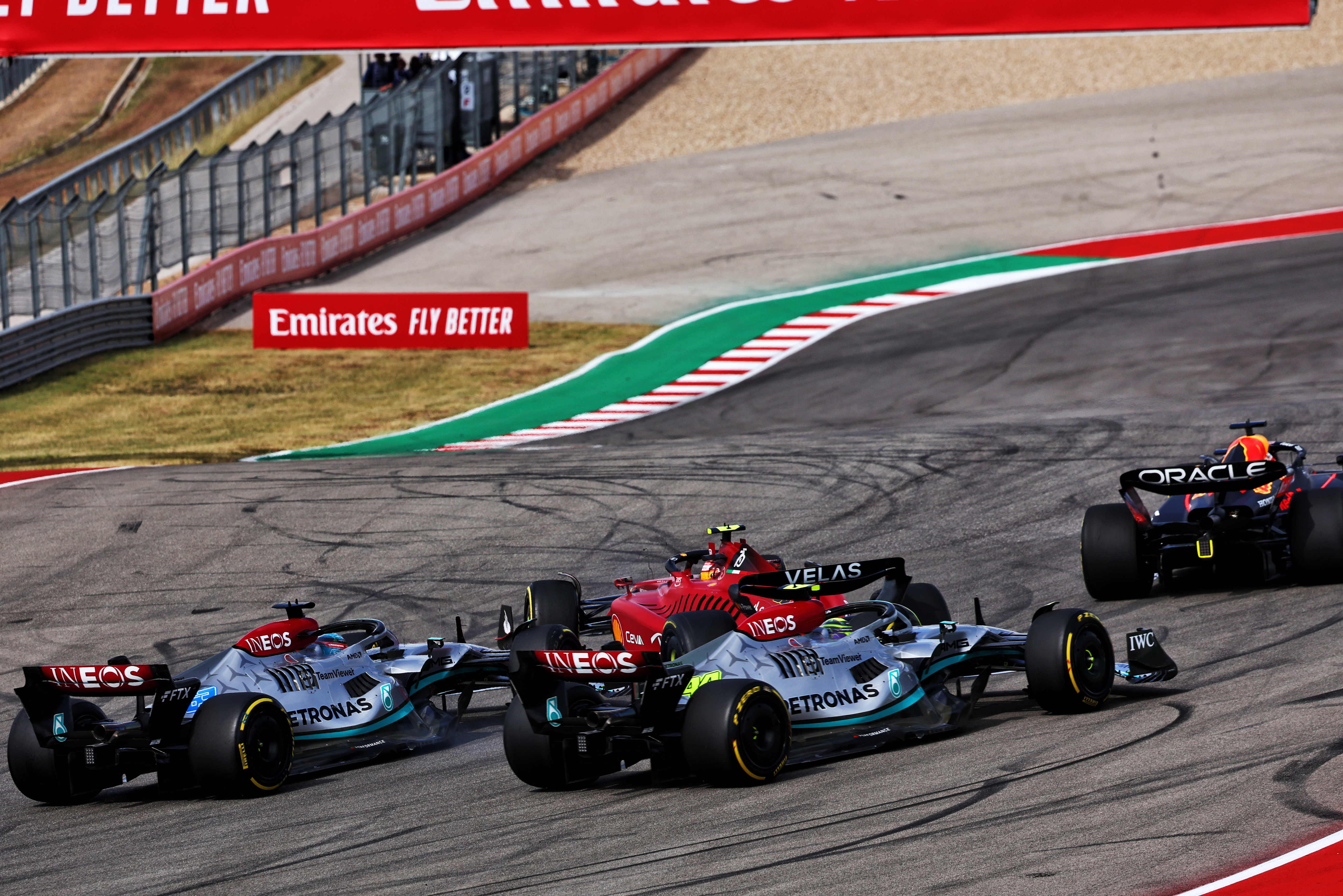 Another obvious incident was the first corner at the United States Grand Prix, where Russell clattered into the side of Carlos Sainz's Ferrari.
It remains a valid argument that Sainz's tightened trajectory on the exit of the corner, coming back across the track as he was focusing on a cutback against Max Verstappen, contributed to the clash. But Russell's trajectory was set as he had carried a bit too much speed in, so seemed likely to hit the Ferrari regardless.
So, it was his misjudgement, however small, and easily done in the circumstances. The best drivers rarely get caught up in such scrapes but equally every driver has their moments, especially when they start running closer to the front: think of Max Verstappen at a few races in 2018, or Charles Leclerc in Japan 2019 or Sakhir 2020. So, Russell should be afforded time to get used to it.
There were two other incidents of note worth addressing. One is the start crash in the British Grand Prix that ended with Zhou Guanyu violently barrel rolling over a barrier. Russell was a key part of that incident, having moved slowly to the left after a bad start and not noticed Pierre Gasly trying to squeeze through the gap between Russell and Zhou.
That gap disappeared as Russell moved over, they made contact, which pitched Russell into Zhou and flicked the Alfa Romeo upside down.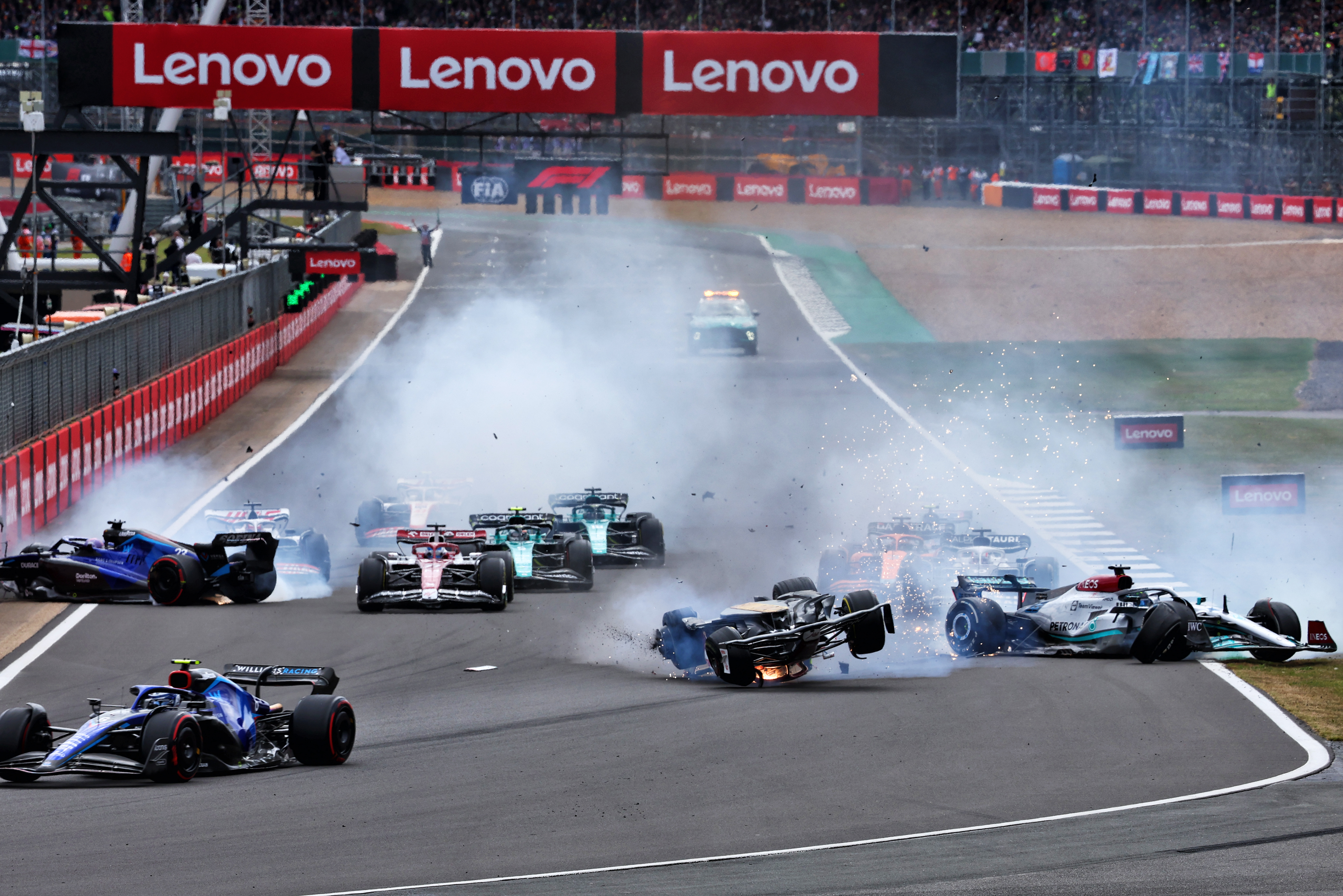 Better awareness from Russell could have prevented that but it was the kind of misjudgement that is easily made in such circumstances. To make it again would be more careless.
Another collision came in France when Russell lunged Sergio Perez's Red Bull into the chicane. It was a driver knowing they probably weren't going to get a clear-cut opportunity and trying to force the issue. There's no harm in that so long as it is not desperate, and nobody's race ends up ruined, even though it was a late move and contact was inevitable unless Perez backed out in a big way (which he did not have to do).
At least it bodes well for Mercedes that he is at least capable of being aggressive when the situation demands it. And Russell actually draws a slight parallel between the Perez and Sainz clashes, because each came down to picking the right moment.
"Maybe that's what I could have been better with Carlos, but equally with the incident with Checo in France when I lunged one down the inside, I was also pleased with that, because it felt like my one and only opportunity and I've got to go for it," he says.
"It wasn't reckless. Yes, we made contact but it was contact in a way that it's not going to crash us both out the race."
There was another Perez incident at the next race, coincidentally, as Russell fell foul of the driving standards rules that meant he was judged to be at fault for hitting Perez into a spin when the Red Bull tried to pass him around the outside of Turn 4 in Austria.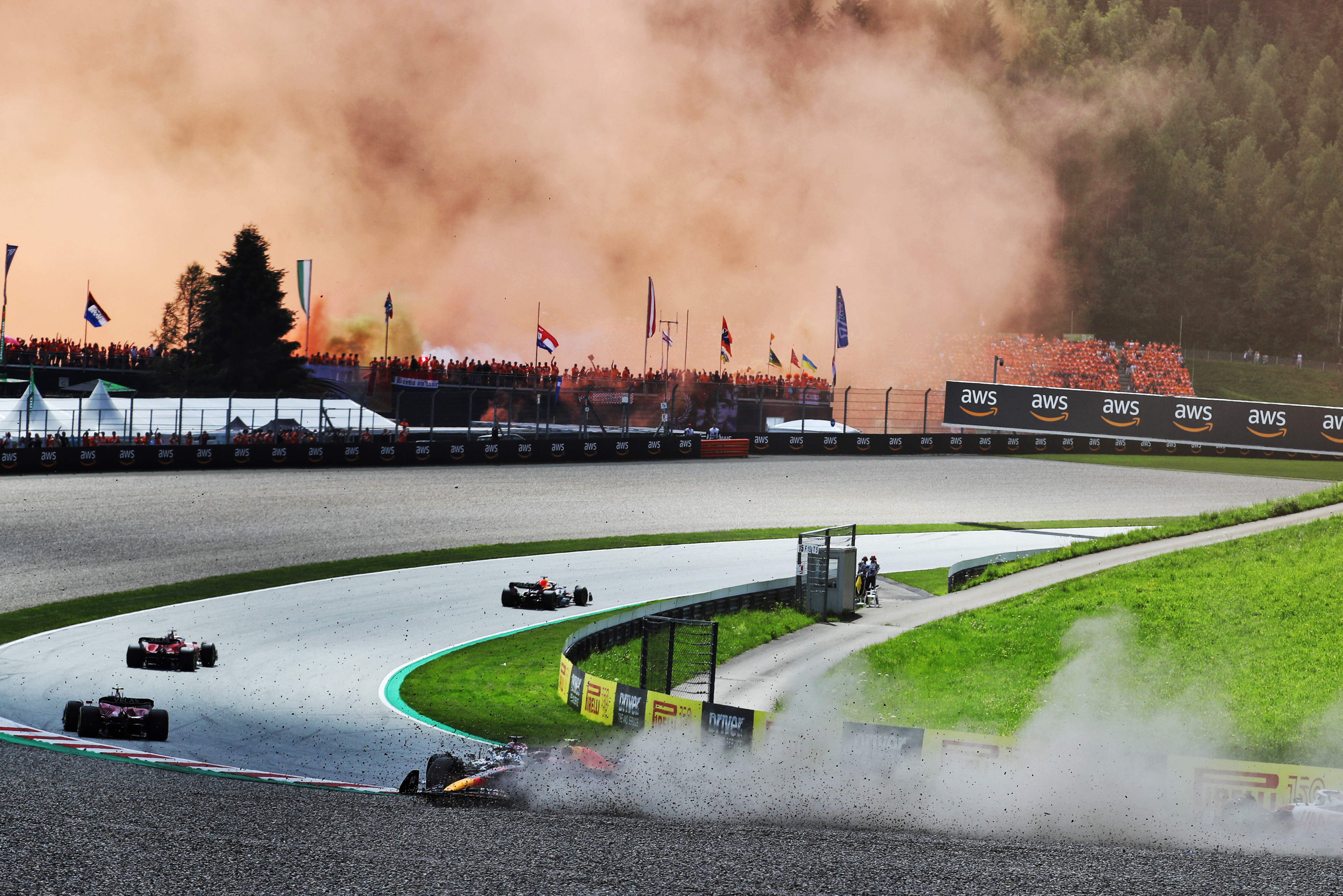 That kind of collision has been increasingly common over the years, though, as the track falls away and the car on the inside has a tendency to understeer wide. It makes this one less egregious although by the letter of the law Russell was to blame.
There's a counterpoint to be made to all of the above, though, which is quite simple. For each example picked here, there is another that shows Russell being exceptionally good in battle.
He got his elbows out in a perfectly-judged style in Spain, where he was able to go wheel-to-wheel with Verstappen for the first time. And although the Red Bull's DRS issues may have extended that fight longer than it should have gone on for, the part Russell played in keeping Verstappen at bay for as long as he did was splendid.
Particularly impressive there was the sequence of corners in which he was able to hang on around the outside at Turn 1, squeeze Verstappen on the exit of Turn 3, and then cleverly delay his turn-in for Turn 5 just enough to stop Verstappen being able to get a run on him on the short burst down to Turn 6.
At the end of the season he prevailed in a sprint race fight with Verstappen that was key to setting up his victory in the following day's grand prix. There, Russell played the advantage he had through the combination of soft tyres and the inherent strength of the Mercedes that weekend to audition a pass on Verstappen on one lap and then complete it the next.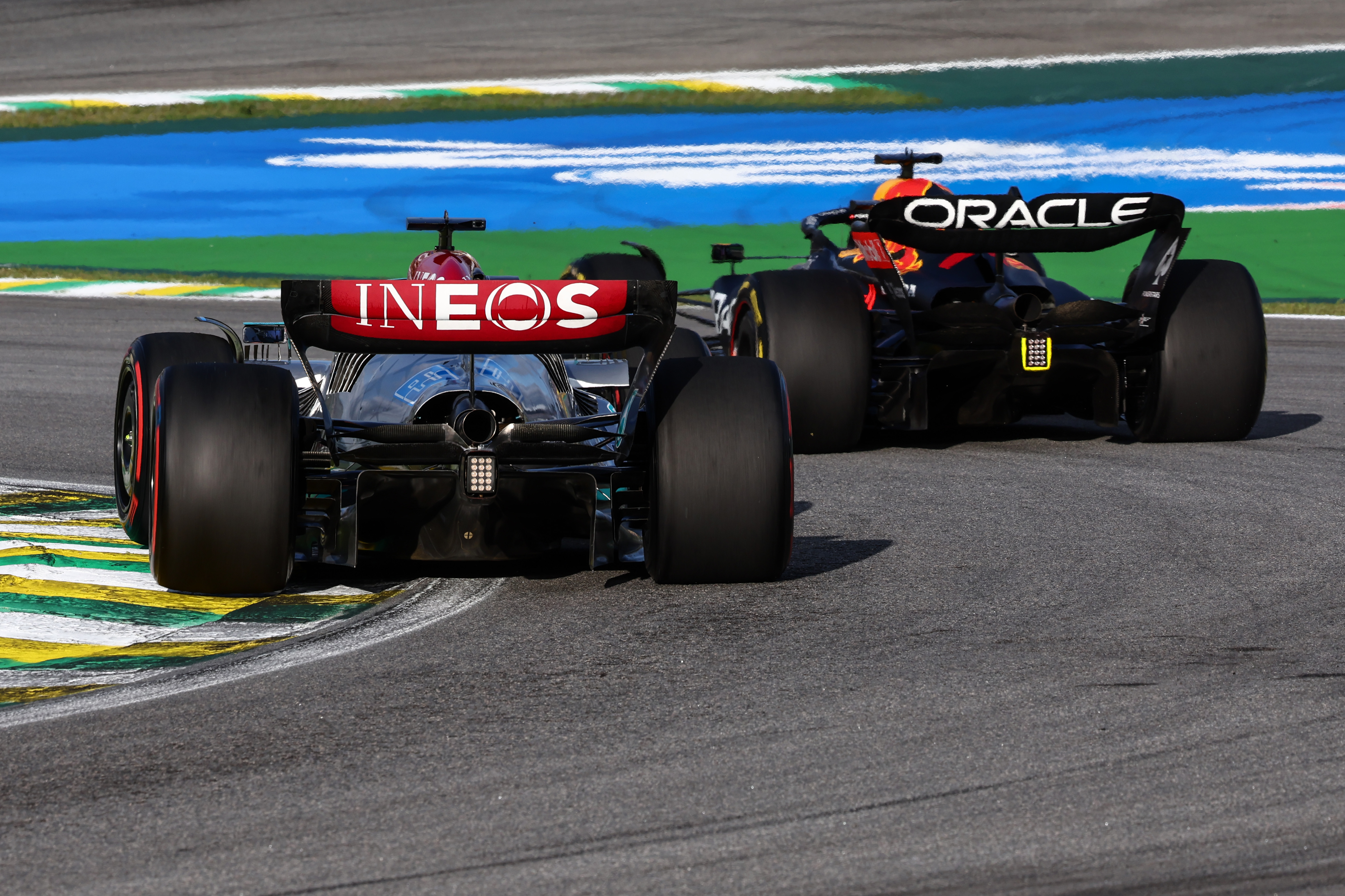 He was patient on that occasion, and clever, dummying a move into Turn 1 enough to force Verstappen to defend and compromise his exit, which allowed Russell to attack (unsuccessfully) into Turn 4. Next time round he tried to pass Verstappen on the outside of Turn 1, which Verstappen cut off by squirting the throttle in the middle of the Esses – but that just compromised his exit once again, allowing Russell another (unsuccessful) nibble at Turn 4 on the outside.
Third time's the charm: another dummy into Turn 1, another cover from Verstappen, and this time a perfectly judged run through Turn 3 to benefit from a bit of a tow and then use the DRS to finally sweep by on the outside before Turn 4.
"It's about picking your moments," says Russell.
"And I think in the sprint I was very happy with how I approached that because I could have been more decisive, more aggressive and got it done on the first occasion.
"But knowing that the car pace was there, and knowing the risk/reward, knowing it's the sprint race setting you up for Sunday, you've got to pick your moments."
It's not just the big moments either. Patience was the order of the day when Russell fought team-mate Hamilton in Miami early in the season, too. A late safety car handed Russell the chance to attack Hamilton on better tyres, and he had a few nibbles before finally getting past cleanly (although Hamilton tried to hold on and inadvertently ran Russell off-track, so very briefly stayed ahead before letting him by).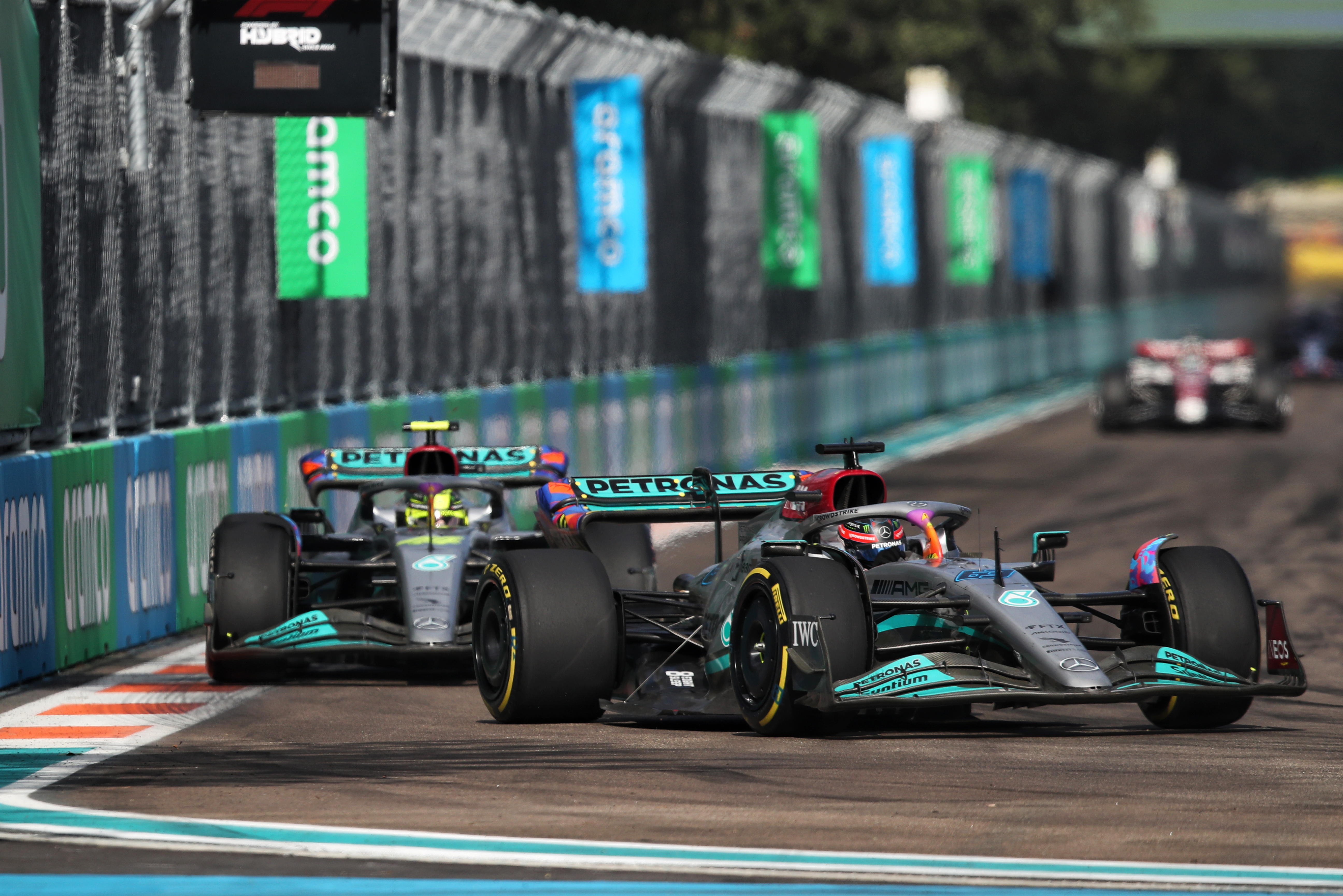 There are also opportunistic examples like nipping past Lando Norris as the McLaren slithered out of the pits in Monaco, diving inside Mick Schumacher into the hairpin in Canada on the opening lap, or squirting the throttle to make a move around the outside of Yuki Tsunoda through the Esses in awful conditions at Suzuka.
Russell is just as capable of swift, improvised overtakes to gain track position as he is going wheel-to-wheel with those at the front of the grid, which is something that usually separates the good and the very good grand prix drivers.
Another way to put it is that Russell doesn't need to do anything we haven't already seen evidence he can do.
The more experience he gets, the more comfortable he is at Mercedes, the more regularly he fights at the front – he just needs to produce his measured incisiveness on a regular basis.
"I've been very pleased with how it's been, but there are definitely scenarios which could have been slightly different this year," he says.
"And perhaps we would have been in contention for second in the championship.
"But I'm still pretty happy with how it's gone."
If he does sharpen the very few remaining rough edges, Russell will not risk any such 'what if?' moments in the future. He will just be a huge all-round threat.