When George Russell crossed the finish line in Brazil and became a Formula 1 grand prix winner, the emotions that burst to the surface included a sense of relief felt by a driver who had been quietly struggling – not just on-track, but off it.
"There's always a lot going on that is not seen," he says, sitting in Mercedes' hospitality unit a few days after his Interlagos triumph, with just a couple in attendance, including The Race.
"You put on a brave face every single race you go to. But we all have our good moments and our tough moments as human beings.
"And for us as a professional sports person, that often coincides with your performance."
The year that brought Russell his biggest opportunity in F1 also featured his biggest challenges.
Stepping up to the Mercedes team, besting the mighty Lewis Hamilton over the full season, and scoring his first grand prix victory all count towards a fruitful 2022 in which Russell proved his credentials as a potential world champion.
But beyond the highlights, the weight of expectation was heavy. Mercedes did not have the season it envisioned. Russell did not get the car he had hoped for.
As the Brazilian Grand Prix rolled around, Mercedes was sniffing around for a breakthrough win with a much-improved W13. This relative purple patch "was such a pivotal point of the year for us as a team, but also for me", says Russell. Hamilton was the team's form driver, chasing podiums and looking like the biggest victory threat, while Russell was two races from the end of a campaign that started extremely brightly but was ending on a low ebb.
A run of three "very scrappy" races in Singapore, Japan and the United States had at least been ended by a stronger Mexican Grand Prix, in which Russell was bested by Hamilton but only by a small margin. This had also gone some way to addressing some "psychological struggles" in this period, not helped by "quite a lot of abuse" online.
"You don't try and look at it, but it's impossible not to see," Russell says.
"All of the things put together with bad performances is quite a tough pill to swallow."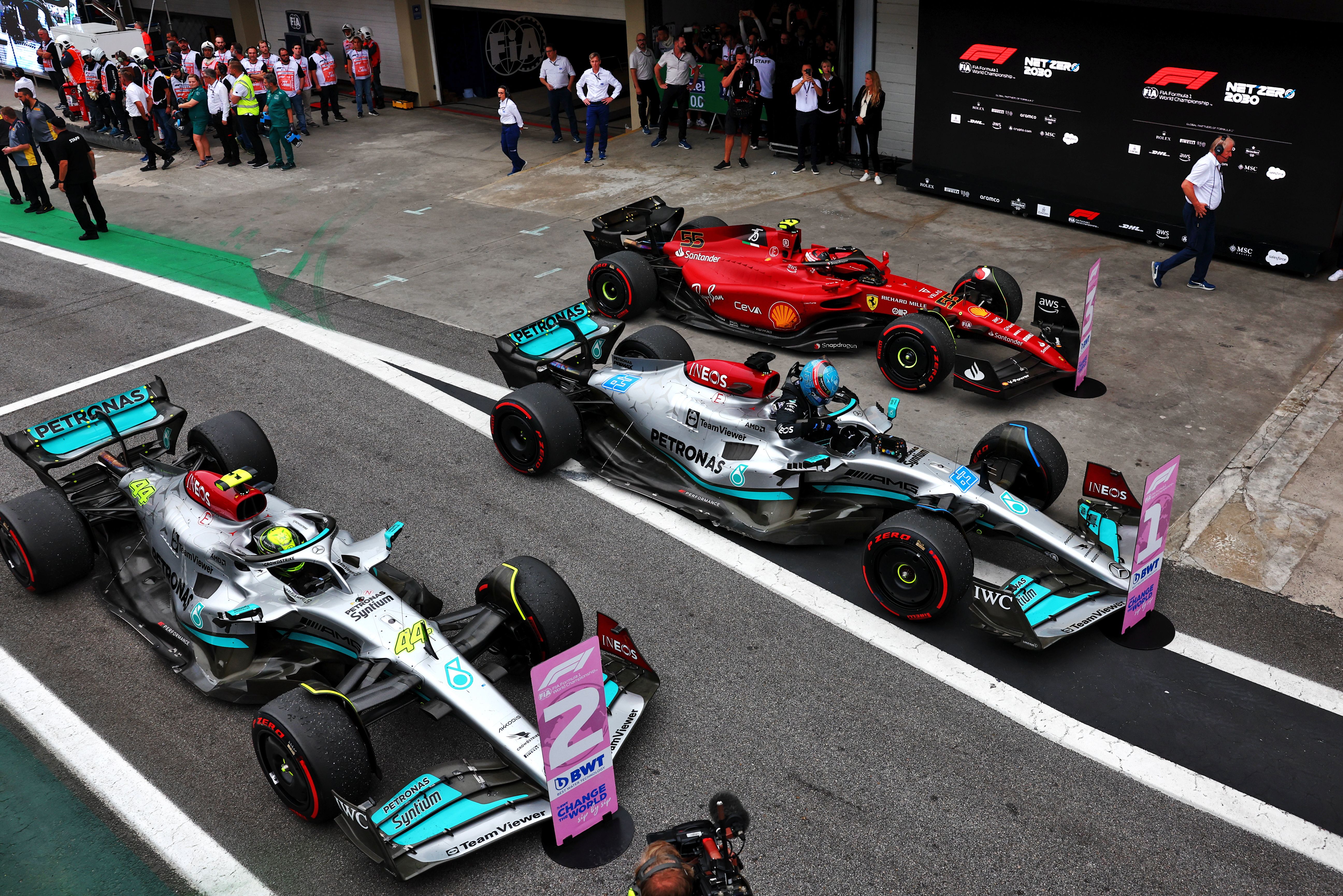 He had largely moved out of that headspace by the start of the Brazil weekend. A few days later, as he jubilantly celebrated, those feelings came "rushing back".
"So much had been going on over the space of the last five weeks – the difficult races, going to Singapore and Japan, spending a lot of time away, doing a lot of work back at the factory," he says.
"Then I was in Austin, Mexico, Vegas, back and forth, doing a huge amount of traveling and flying, and was quite mentally drained.
"I was working as hard as I could on track, off track, and in the simulator.
"It kind of felt like we put the work in, and the result was delivered. And that was such a release of all these emotions as well."
Among other things, the victory effectively guaranteed Russell would beat Hamilton in the championship.
It is only the third time Hamilton has been outscored by his team-mate, and while that result doesn't quite reflect the balance of the entire season – Hamilton was marginally the better of the two overall – it is still something Russell did extremely well to achieve.
He set himself on that course with an extremely impressive start to Mercedes life. The first third of the year was very strong but that was when the car was at its worst, so Russell's reward was a run of top-five finishes and occasionally a podium, and a clear edge on Hamilton in the championship as well as a run of seven races beating him.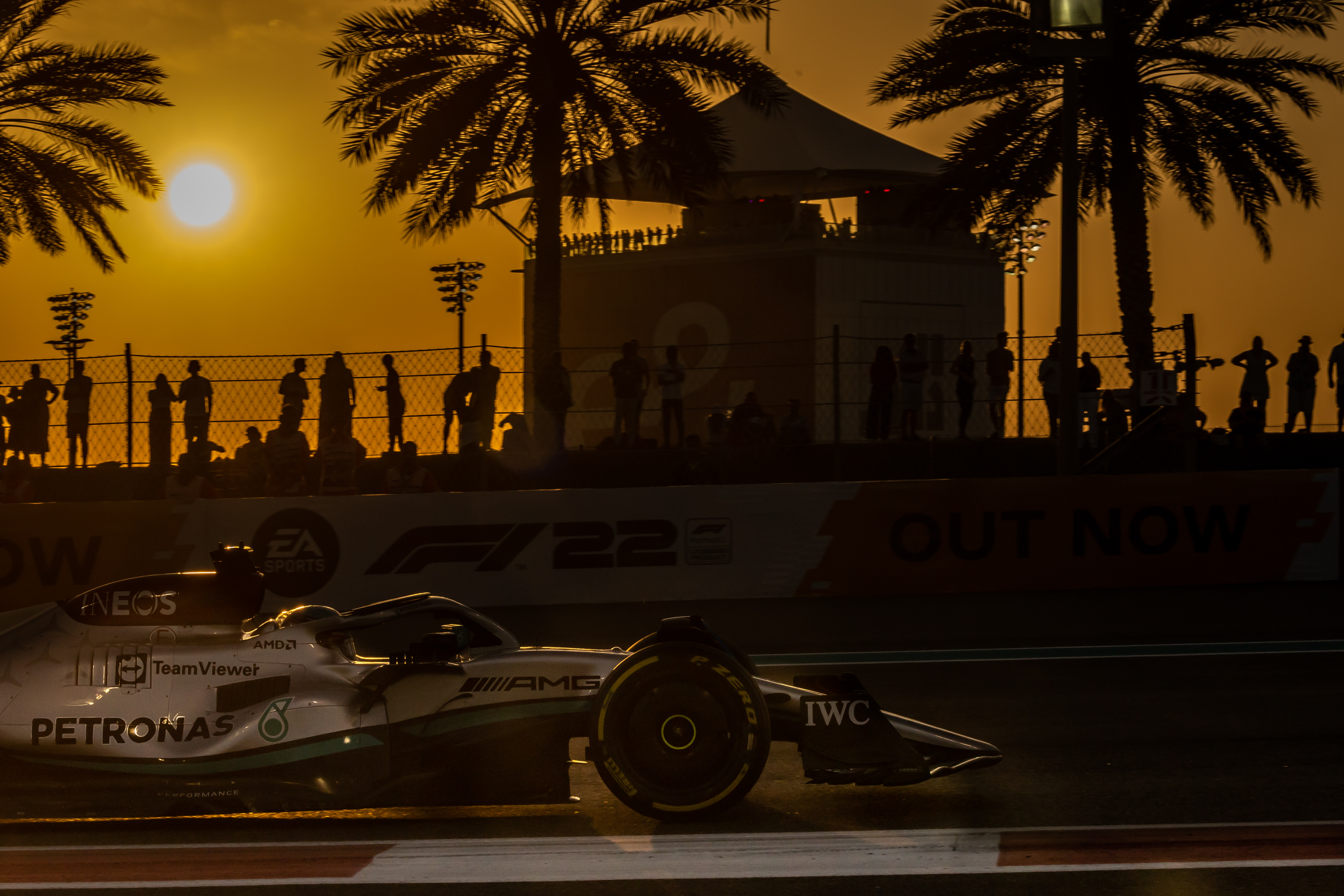 Russell was prepared for this to change, though. Having spent most of his junior career and his three seasons at Williams as the top dog in his team – some pre-season analysis Russell's team did suggested he finished the lead car 95% of the time in the last five years – he was very much the second driver at Mercedes, not with how he was treated but in terms of pedigree.
Hamilton is the most decorated driver in F1 history and still at the top of his game. So, Russell went into the season with a deliberate mental adjustment. He still thought he could beat Hamilton but he would try not to dwell on the inevitable moments he was defeated.
"I didn't worry, but I did have to sort of have a sitdown with myself," he says.
"I was sort of used to a certain level of outscoring them [past team-mates], or whatever you want to call it, but if it's 55/45 in my favour, even if I lose 45% of the time, that's going to still be incredibly successful against Lewis.
"So psychologically, you need to set yourself up for small failures. I'm not going to beat him every single session, every quali, every race. That's just absolutely not gonna happen.
"But having a year like we've had this year, is almost equivalent to maybe what the 95/5 split was for me previously.
"I never doubted myself. I always believed in myself. But if you go with the mindset 'I'm going to beat Lewis Hamilton 95% of the time', you're going to come away disappointed."
Sure enough, the tables turned. As the W13 was improved and Mercedes stopped with in-weekend experiments, Hamilton's peaky season normalised. He started to consistently beat Russell, sometimes by tiny margins, sometimes quite comprehensively.
Through the summer and into the second half of the year, Russell was second-best by a small but decisive margin. He concedes there were points Hamilton was "really pushing me and testing my limits". But he is also confident that there were opportunities in that run for him to finish ahead of Hamilton – which would have altered the perception of this phase of the season.
"I learned how I need to go about it when he is extraordinarily fast," says Russell.
"I still need to continue to focus on myself because I still maintain the belief that if I've got the car beneath me, and the set-up and the tyres in the right place, working how I want it to work, I can beat him and I can beat anyone else on this grid. And that's the belief you have to take.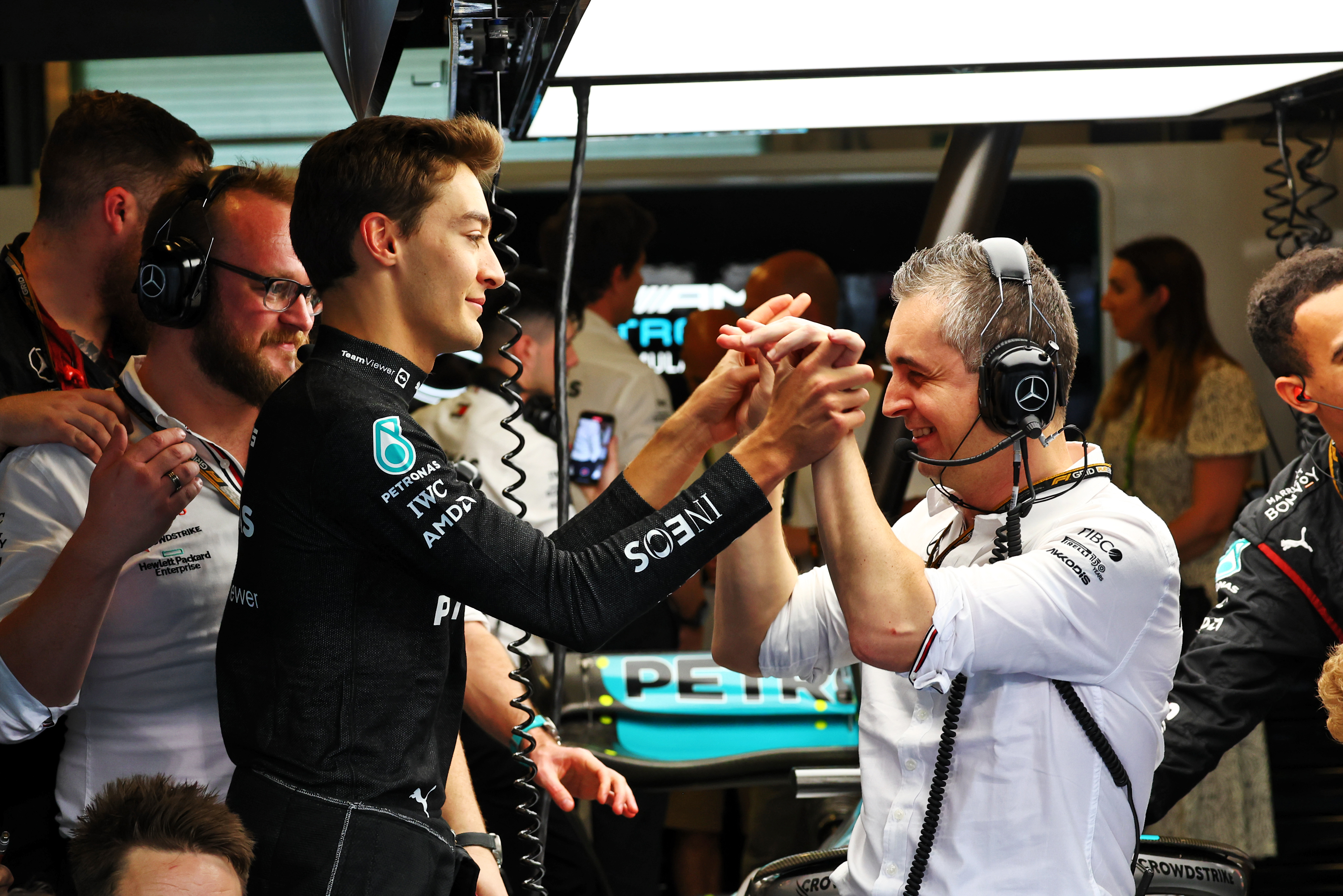 "Equally I look at those races and I think if little things went slightly differently, I could have been ahead. He outqualified me in Montreal but if I stayed on wets, I probably would have been ahead and then would have finished on the podium.
"It was Austria where I had a small collision with Checo, I probably would have been on the podium instead of Lewis there. Silverstone, who knows what could have happened, it was very tight there.
"It was just quite interesting how everything sort of seemed to flow in my direction at the start of the year, then it was probably that mid-phase where sort of things probably flowed more in his direction. Things sort of balanced out a little bit.
"But I look back on those times and I needed them to learn more about myself and see how I can further improve.
"That's why I'm so happy having Lewis as my team-mate because I feel like I'm at a really strong level, but he's pushing me to be even better."
What was harder for Russell to stomach was the run of three races before Brazil in which various things conspired to have a big impact on his results.
There was a mix of issues here – car problems, bad strategy, Russell's own errors – that made for a frustrating run. The worst individual performance was probably the Singapore Grand Prix, where a car issue "really compromised" him in qualifying but was followed up on Sunday with a messy race in which Russell misjudged moves on Valtteri Bottas (below) and Mick Schumacher.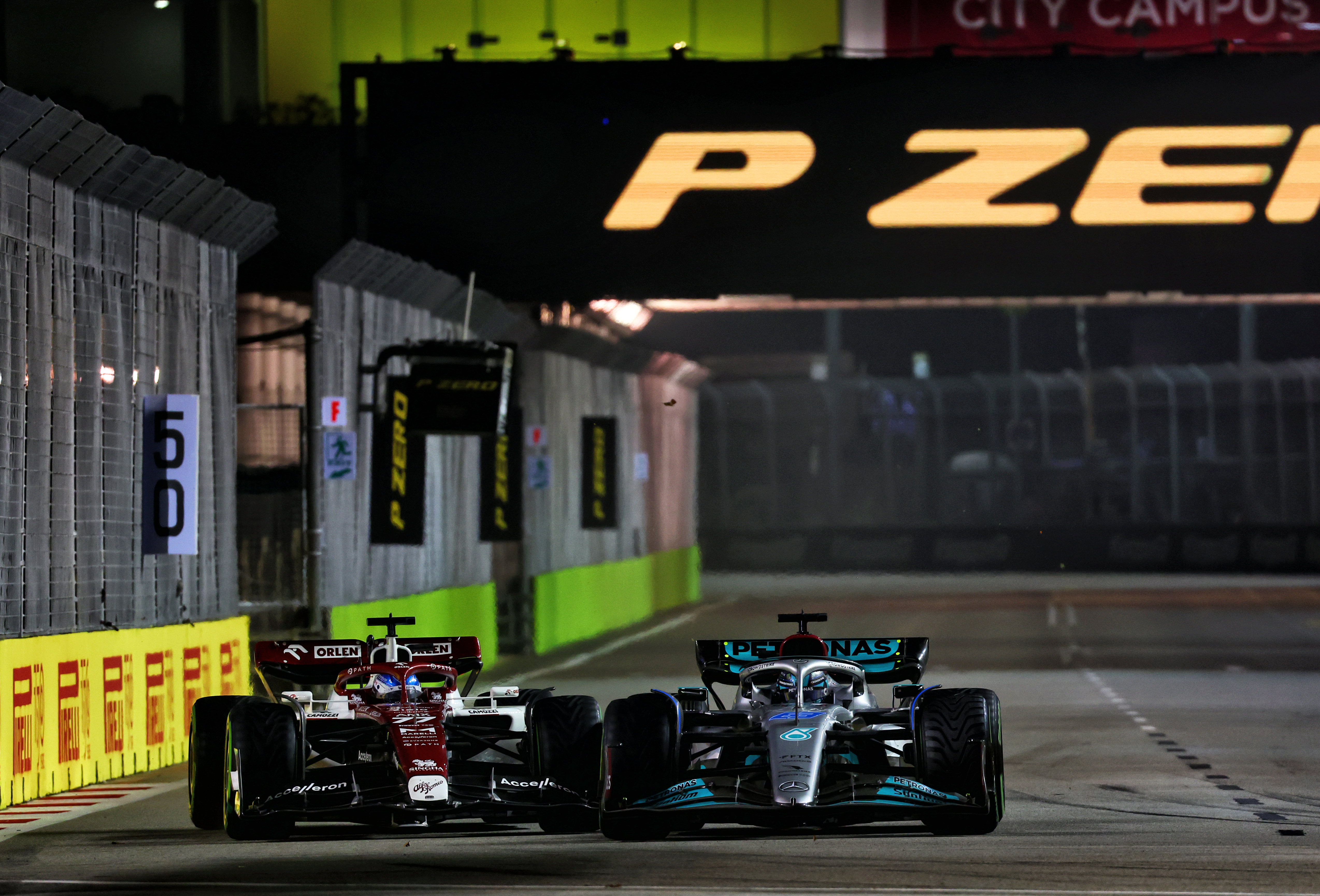 Russell owns up to that, as he feels it was "more out of frustration", whereas the Turn 1 incident with Carlos Sainz in Austin, where Russell hit the Ferrari into a spin at Turn 1 and damaged his own car in the process, "I just misjudged it".
But he feels this run was also a good lesson in how quickly a weekend can slip from your grasp.
"Singapore was just kind of unfortunate that it happened on a track where there's 24 corners, and you're braking a lot," he says.
"If I had the same car problem in Suzuka as such, or Silverstone, it would have been half the problem. And then it was a very difficult race given the conditions and no DRS.
"Japan probably wasn't my strongest weekend. But then we obviously had a bit of a mistake with the strategy. And I was on the back foot, and quite frustrated with how that race panned out.
"Austin, the pace was fine. But then I had the incident on lap one with Carlos as well as the incident with Mick [Schumacher] in Singapore.
"It definitely taught me that you do need all the basics and the fundamentals just to be right and correct to be able to achieve a good result. You only have to have one small, little problem, and it can transform your whole race weekend.
"Ultimately, that's what happened over the course of the three weekends."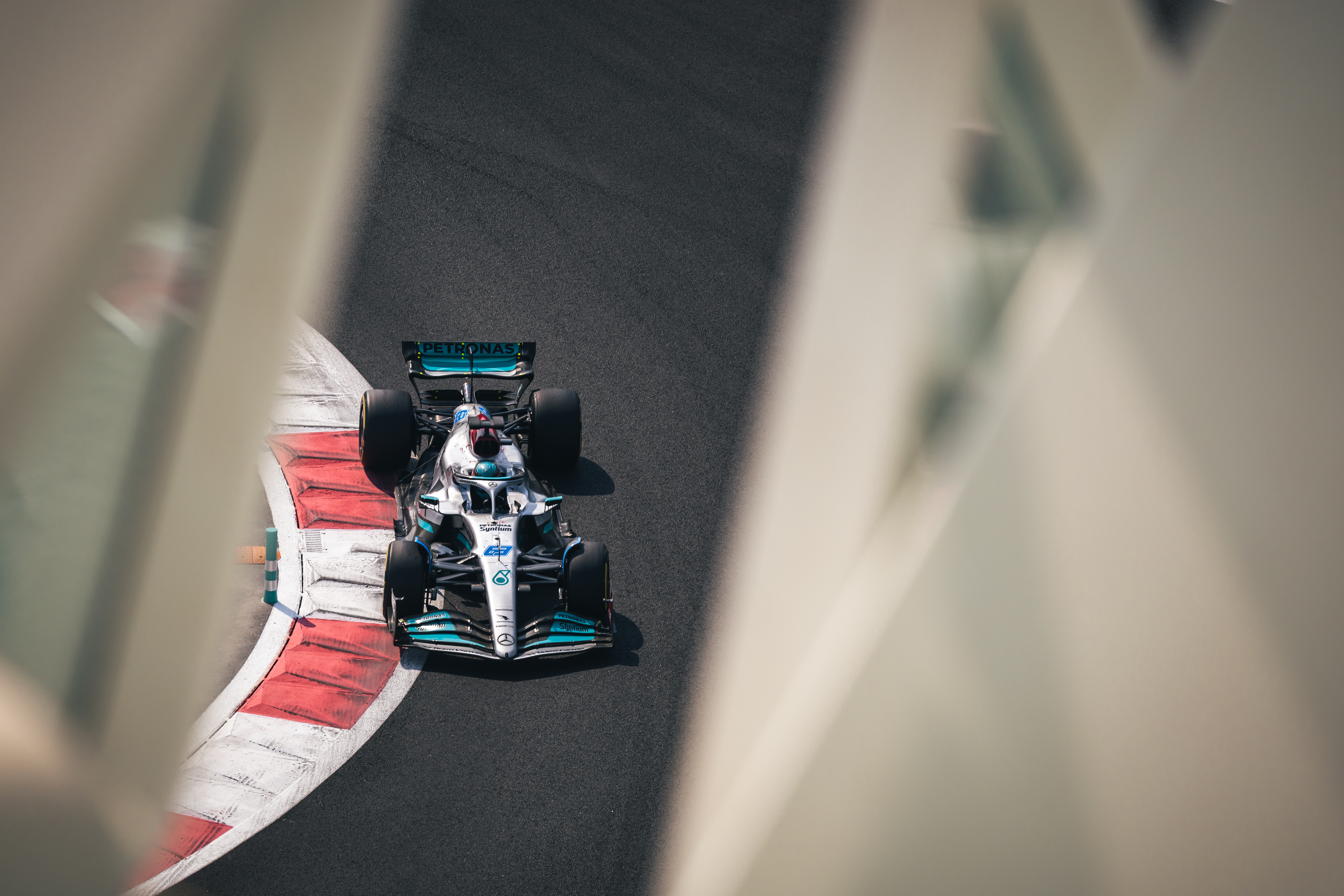 Returning to the subject of Russell's first victory, though, offers the perfect contrast to the small but significant frustrations that had blighted a few races before it.
Russell had shown the world two years earlier that, when the stars align, he could become a grand prix winner. A more serene first win would have come if Mercedes hadn't blundered at his pitstop in the 2020 Sakhir Grand Prix.
But, while that robbed Russell and F1 of a stunning story on his one-off appearance substituting for an unwell Hamilton, it would not have been as sweet.
"It would have been a little bit too easy and a bit strange to have won my first race in that manner," says Russell.
"Coming in last minute, jumping in and winning the race – of course, it would have made for a great story, but I didn't necessarily fight for it. It was sort of handed to me because of Lewis falling ill."
In Brazil, and a race that ended with a draining 12-lap sprint, heart rate sky-high, as Russell knew one mistake would allow Hamilton to steal the victory, the win was not handed to Russell at all.
Mercedes did end up having the fastest car – probably the only time all season that was clearly the case. And by beating Verstappen in a straight fight in the sprint race, Russell lined up on the grid on pole with the double world champion alongside him and a seven-time world champion in his mirrors.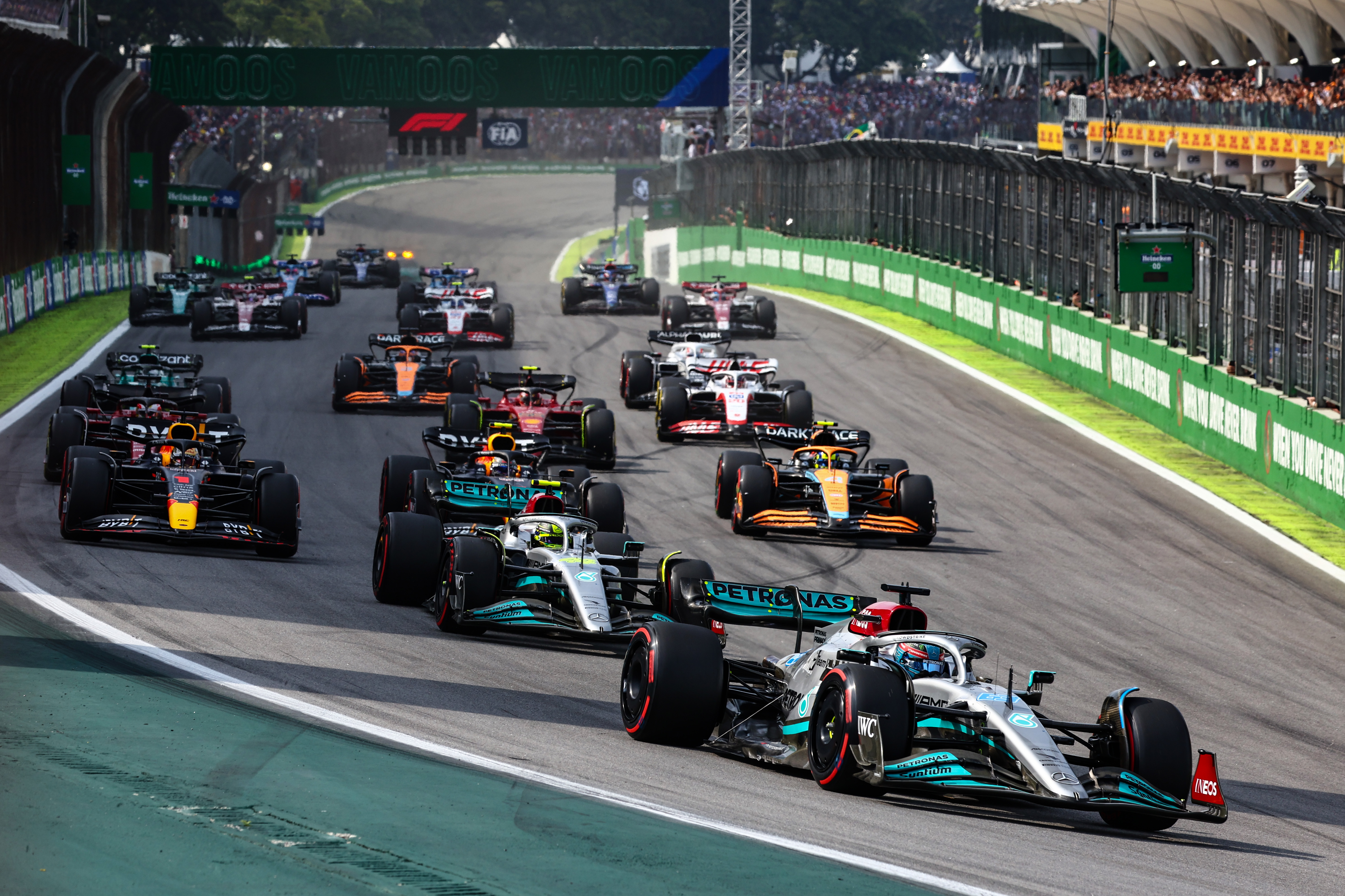 Yet Russell thought to himself: "There's no reason why I can't win this."
"I've always believed that if the car beneath me is working as I want for my driving style, on a given day I can beat anyone," he says.
"I knew based on the day before that the car was performing as I wanted. I was happy with the balance, the engine was performing well. I was happy with all the little things, happy with how we have to manage the tyres throughout the race.
"It's quite a strange feeling because I've only obviously led a handful of [F1] races now but the race I led the most was Bahrain and then Brazil.
"When you're out front and you've got a bit of a buffer behind, you're actually quite at peace because you've got no one in front of you, you're not under great pressure.
"So I've got opportunities to manage the tyres a little bit in this corner or manage the brakes a little bit there or manage the fuel levels. You're not under that pressure of someone right behind you that 'if I make one mistake, I'm gonna get eaten up' – sort of how it was in the last 10 laps."
The Hamilton/Verstappen clash at an early restart gave him that breathing space for much of the race, and for 60-odd laps of the 71 Russell didn't look at all under pressure.
Then a late safety car put Hamilton on his tail. Suddenly, all the parallels from Sakhir 2020 went out the window. This was uncharted territory for Russell, the first time he has ever been under that kind of pressure while leading a grand prix.
"The last 10 laps I knew if I make one mistake here, he'll be in DRS and who knows what will happen? I can't afford to manage the tyres, I just need to absolutely go for it," he says.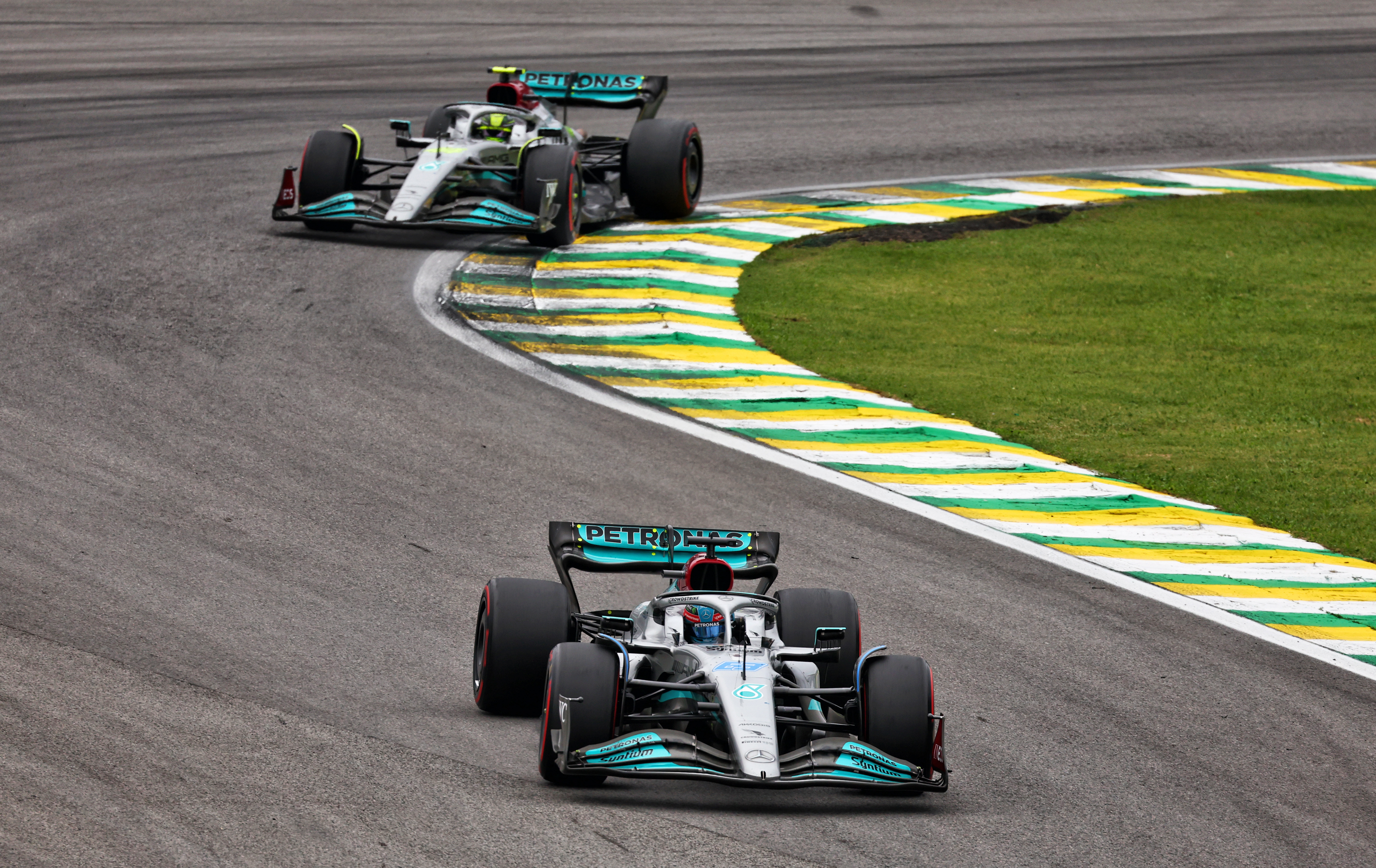 "The last 10 laps of that race were 100 times harder than what the first 60 laps were.
"I could do the first 60 laps every weekend, but those last 10 laps, the pace is so high and you just cannot afford a mistake."
These scenarios are where there was an asterisk against Russell. For all he had done to impress in winning junior categories and outperforming his machinery at Williams, the prospect of fighting at the front in F1 is a unique challenge. We can be confident in assuming how drivers will perform if given the opportunity but we can never know until they step up.
That's why Russell and Mercedes actually wanted this move in 2021 but Williams held them to the three-year deal that had been done when Russell was winning the F2 title in 2018. Russell feels that two years at Williams would have been ideal because in the third year, in hindsight, "I probably didn't gain that much".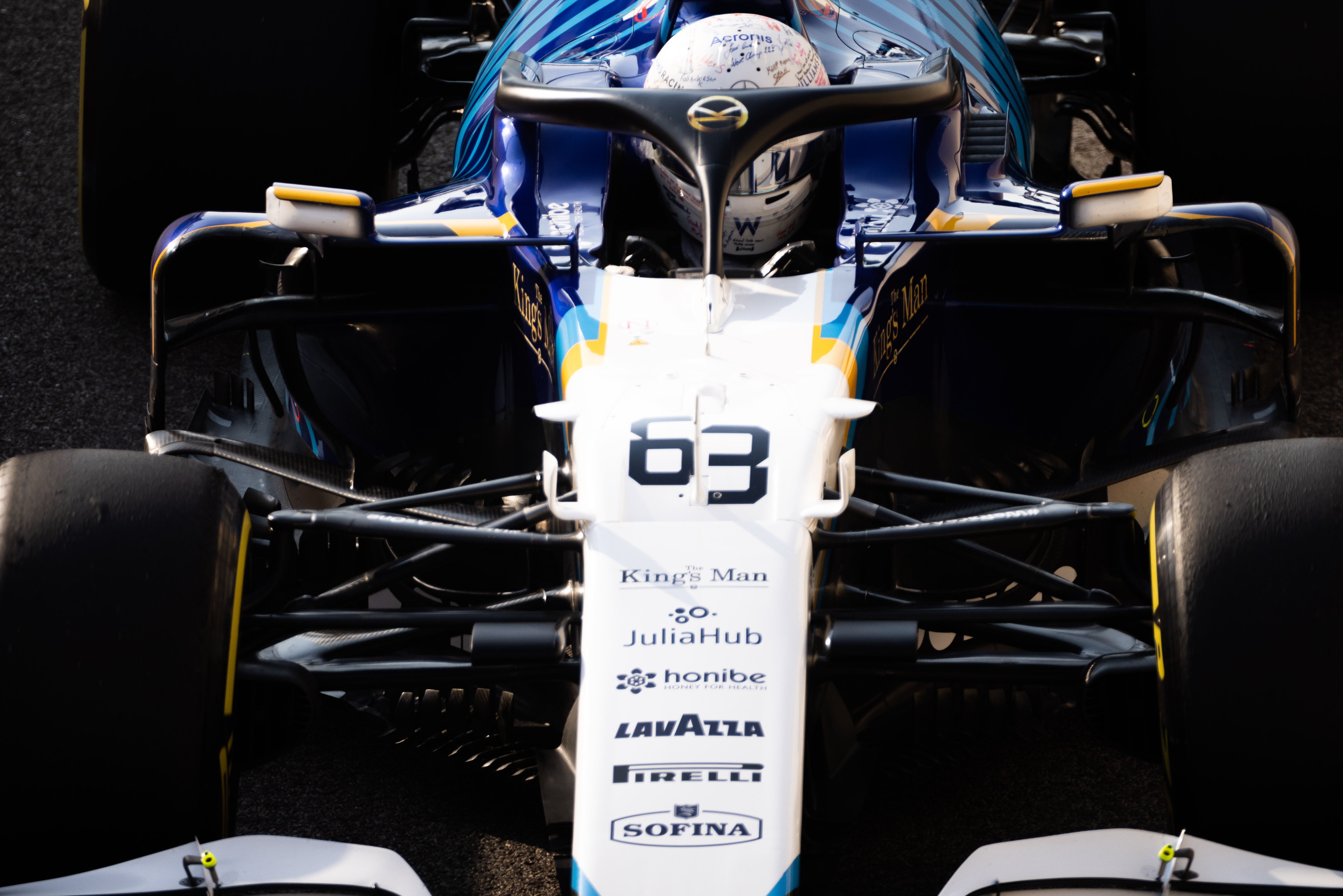 "I've learned a hell of a lot more this year than I learned in my final year at Williams," he says.
"When you're three years in the same environment, the same engineer, the same mechanics, pretty much the same car, you get to a certain point where you're always learning but there wasn't anything new coming to the car.
"There wasn't really anything extra to be learned because the process, how we approached weekends, they were all exactly the same."
In an ideal world Russell would have stepped straight out of that environment into a potential title challenge with Mercedes. Or at least would've had the machinery to mount one.
As it happens he has had an unexpected interim year, one in which he has had to face up to certain tests – like being team-mates with Hamilton, or having to overcome the mental challenges that accompany a dip in form – and grown as a driver, without having that extra element of being expected to fight for poles, wins and podiums every weekend.
If Mercedes gets its 2023 car right, that pressure will be there. But Russell should be in an even better position to support a team championship bid and maybe launch his own.
There was already a lot of confidence in the team that he could do that this year. But armed with all he has learned in 2022, there is no question that his own expectations have been raised – even though he views the task as the same.
"Every race I go to, I fight to do the best job possible, whether that is fighting for a victory as we were in Brazil, or fighting for last place as we were at Williams.
"If we do get to the first race next year, and we realise we've got a car that's capable of winning, I'm still gonna be approaching it exactly the same.
"Everything I do right now is for performance and to try and get the best performance possible.
"I think I've got enough experience now that I feel ready to fight for a championship and be able to handle the challenges and difficulties that come with it.
"Obviously the likes of Lewis and Max have more experience in that scenario. But if you go out and you put it on pole and win every race, you'll be world champion.
"You've just got to focus on smaller details, and it's in your own hands."