McLaren driver Carlos Sainz Jr has signed a two-year deal to replace Sebastian Vettel at the Ferrari Formula 1 team in 2021.
Sainz's appointment alongside Charles Leclerc from next season was expected to follow swiftly after Daniel Ricciardo's move to McLaren was announced this morning.
It is a legacy of the unexpected decision from Vettel and Ferrari not to renew their partnership and their announcement on Tuesday, which set off an explosive 48 hours in F1's driver market.
Sainz emerged as Ferrari's favoured candidate and once his current McLaren team identified Ricciardo as his replacement, Sainz was cleared to finalise a potentially career-defining move to Ferrari.
He is waiting to start the second season of a two-year deal with McLaren, and has secured the Ferrari move off the back of his most impressive championship to date in 2019.
Sainz finished sixth in the championship, best of the non-Ferrari and Mercedes drivers and Max Verstappen, and scored his first podium with third in place in the Brazilian Grand Prix.
"With five seasons already behind him, Carlos has proved to be very talented and has shown that he has the technical ability and the right attributes to make him an ideal fit with our family," said Ferrari team boss Mattia Binotto.
"We've embarked on a new cycle with the aim of getting back to the top in Formula 1.
"It will be a long journey, not without its difficulties, especially given the current financial and regulatory situation, which is undergoing a sudden change and will require this challenge to be tackled in a different way to the recent past.
"We believe that a driver pairing with the talent and personality of Charles and Carlos, the youngest in the past 50 years of the Scuderia, will be the best possible combination to help us reach the goals we have set ourselves."
Long-time Red Bull protege Sainz started his F1 career with its junior team Toro Rosso, but his ultimate future within the programme was in doubt early because of friction alongside Max Verstappen.
Verstappen was elevated to Red Bull's senior team in 2016 and Sainz continued at Toro Rosso, but a promotion never looked on the cards as Red Bull was hesitant to pair the two together again.
Sainz therefore pushed for an escape, and moved to Renault at the back end of the 2017 season, subsequently driving for the French manufacturer full-time in 2018 – on loan from Red Bull.
When Renault dropped him for 2019 to make room for Ricciardo, Red Bull opted to promote Pierre Gasly to replace the outgoing Australian and Sainz was released to join McLaren.
"I am very happy that I will be driving for Scuderia Ferrari in 2021 and I'm excited about my future with the team," said Sainz.
"I still have an important year ahead with McLaren Racing and I'm really looking forward to going racing again with them this season."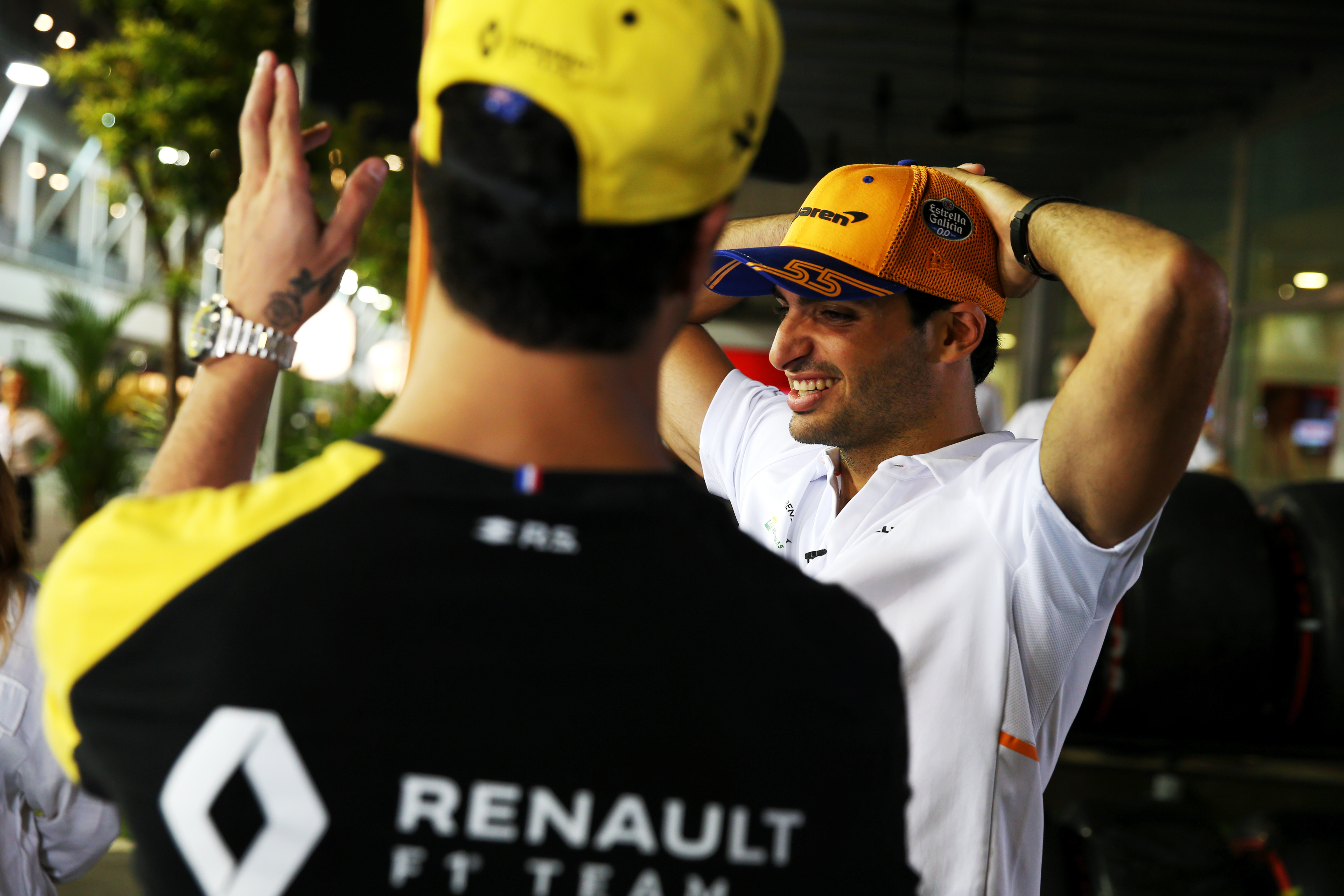 Sainz's move to Ferrari keeps his and Ricciardo's career paths intertwined, as Ricciardo will now take Sainz's place at McLaren.
McLaren will likely view that swap as a net victory as Ricciardo is a proven race winner with experience of Red Bull and the Renault works team.
But Sainz had a tremendous first year with the team in 2019, and his current bosses paid him a glowing tribute when they announced Ricciardo.
McLaren CEO Zak Brown said Sainz was "a real team player" who had done "an excellent job" in aiding McLaren's recovery in 2019.
Team principal Andreas Seidl said: "Carlos is a true professional, a pleasure to work with and we will continue to enjoy going racing with him this year.
"We all wish him good luck for the next stage in his career when he leaves McLaren."