McLaren has signed Daniel Ricciardo for the 2021 Formula 1 season, freeing up Carlos Sainz Jr to replace Sebastian Vettel at Ferrari.
The unexpected decision from Vettel and Ferrari not to renew their partnership set off an explosive 48 hours in F1's driver market.
It quickly emerged that Sainz was Ferrari's favoured option to replace the four-time world champion, instead of Ricciardo – who was overlooked by Ferrari in 2018 as well.
Sainz is in the second season of a two-year deal with McLaren, and it was widely reported that McLaren needed to give Sainz permission to agree a deal at Ferrari.
To do that McLaren wanted to lock down his replacement, which it identified as Ricciardo, a driver it tried to sign in 2018, rather than Vettel.
It has now announced Ricciardo has signed a multi-year deal and will partner Lando Norris at the team next season.
"Signing Daniel is another step forward in our long-term plan and will bring an exciting new dimension to the team, alongside Lando," said McLaren CEO Zak Brown.
"This is good news for our team, partners and of course our fans.
"I also want to pay tribute to Carlos for the excellent job he has been doing for McLaren in helping our performance recovery plan.
"He is a real team player and we wish him well for his future beyond McLaren."
I am so grateful for my time with @renaultf1team and the way I was accepted into the team. But we aren't done and I can't wait to get back on the grid this year. My next chapter isn't here yet, so let's finish this one strong. Merci pic.twitter.com/YFfzbwrgD7

— Daniel Ricciardo (@danielricciardo) May 14, 2020
McLaren will likely view swapping Sainz for Ricciardo as a net victory.
While Sainz had a tremendous first year with the team in 2019, finishing best of the non-Ferrari and Mercedes drivers and Max Verstappen, Ricciardo is a proven race winner with experience of Red Bull and the Renault works team.
He will provide a top-line benchmark for McLaren's car, and its young protege Lando Norris, who only has one season of F1 experience.
McLaren team boss Andreas Seidl said: "Daniel is a proven race-winner and his experience, commitment and energy will be a valuable addition to McLaren and our mission to return to the front of the field.
"With Daniel and Lando as team-mates, I believe we have two racers who will continue to excite our fans and help the team grow.
"Carlos is a true professional, a pleasure to work with and we will continue to enjoy going racing with him this year.
"We all wish him good luck for the next stage in his career when he leaves McLaren."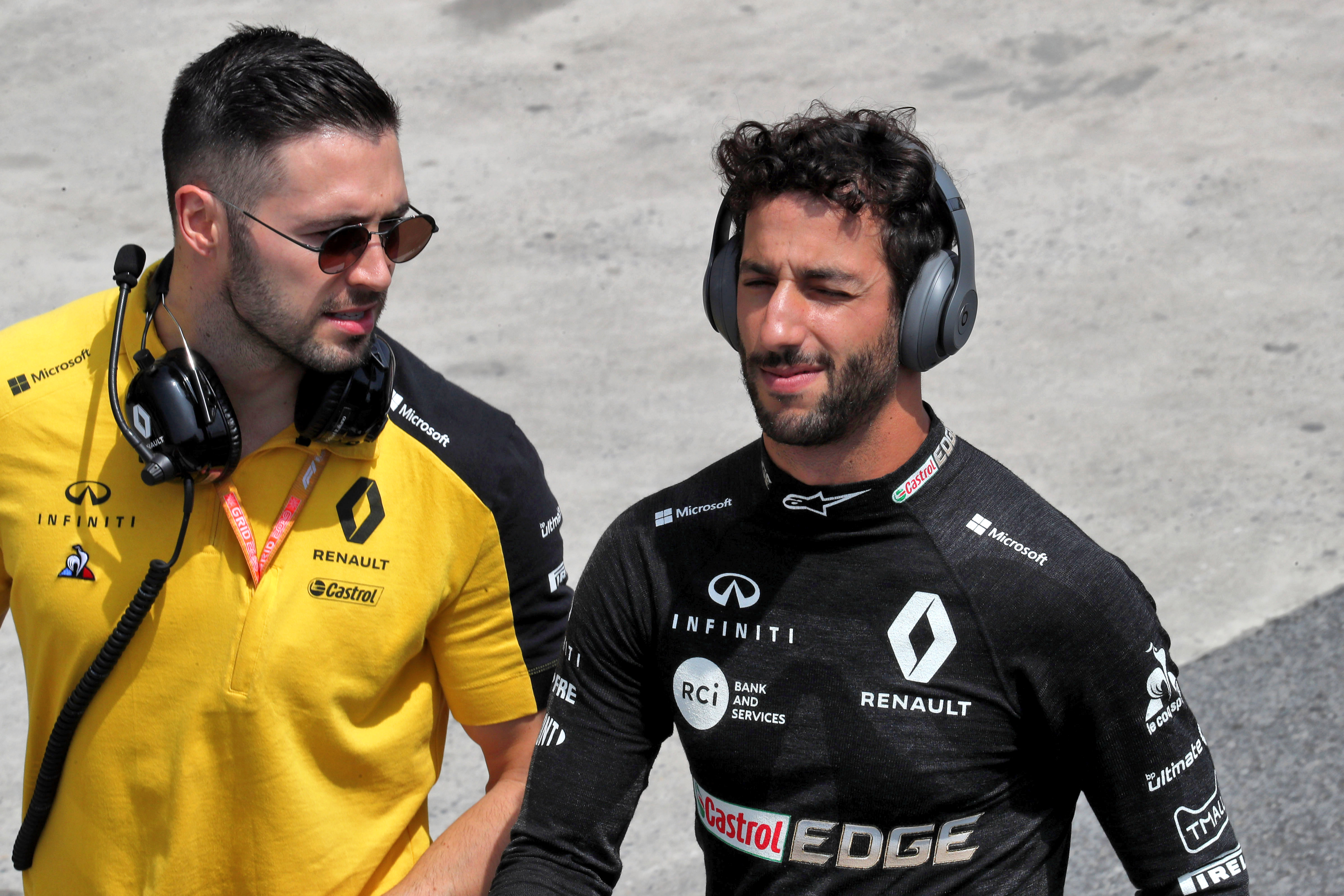 For Ricciardo, moving from Renault to its current customer team McLaren seems like a sideways step on paper.
However, McLaren offers Ricciardo a more stable and a more encouraging future, even though he is likely to be earning considerably less than his eye-watering Renault deal, worth more than £20m per year.
Its commitment to F1 is as strong as any team's, has a phenomenal track record and made good progress towards reviving those glory days in 2019, beating Renault in the constructors' championship.
In Andreas Seidl, McLaren also has a very well-respected team leader who, along with CEO Zak Brown, swiftly convinced its backers last year to invest in McLaren's infrastructure.
And an incoming, lower-than-expected budget cap in 2021, plus new technical rules, are viewed as the catalyst McLaren needs to make the step onto the level of Mercedes, Ferrari and Red Bull.
Conversely, Renault's future in F1 is in doubt as there was already a question mark over its ongoing participation prior to the coronavirus crisis.
While Renault has made positive noises about the security of its F1 programme, it was unlikely to have renewed Ricciardo's contract on the same lucrative financial terms.
More importantly, it has not generated the same confidence as McLaren about its on-track development.
Renault made good progress after rejoining F1 in 2016, and finished fourth in the championship in 2018 – but Ricciardo's first season with the team was a disappointment as it slumped to fifth in 2019.
Team boss Cyril Abiteboul has also overseen a significant shake-up of personnel over the last year. Abiteboul hoped Ricciardo would be convinced to stay with Renault by its performances early in 2020, but the suspension of the season has eliminated that opportunity.
Despite cautious optimism from Renault after pre-season testing, Ricciardo has opted to leave before driving the 2020 car in anger.
It is unclear who will replace Ricciardo at Renault.
Out-of-F1 former drivers Fernando Alonso and Nico Hulkenberg are both available, as of course is Vettel.
Earlier this year Renault boss Cyril Abiteboul reportedly refused to rule out moving for Vettel should he be available and Ricciardo opt to leave.
But he has also stated that drivers from Renault's roster of proteges, including Formula 2 racers Guanyu Zhou and Christian Lundgaard, would also be under consideration.
In a statement regarding Ricciardo's impending departure, Renault F1 managing director Cyril Abiteboul said: "In our sport, and particularly within the current extraordinary situation, reciprocated confidence, unity and commitment are, more than ever, critical values for a works team.
"I am confident that the 2020 season will allow us to accomplish even more together. Our ambitions and the strategy of Renault DP World F1 Team remain unchanged."