It's been a rollercoaster year for McLaren's Pato O'Ward, who will drive in his first official Formula 1 session this weekend in Abu Dhabi for FP1.
It perhaps sums up Pato O'Ward's year perfectly that he's had to wait until now, and that he wasn't able to drive in FP1 in his native Mexico which was long rumoured to be the plan. You only need to look at the rapturous admiration Sergio Perez receives in Mexico City to see why that could have been special.
The fact he was snubbed there is likely due to the complexity of the track and the issues the altitude throws up that McLaren's current drivers didn't want to step aside and their respective engineers wouldn't want them to either.
It was the latest blow for O'Ward in what has been the most bittersweet of seasons.
It began under the cloud of months of failed contract extension negotiations with Zak Brown culminating in O'Ward declaring publicly in February that he'd be willing to look around for other teams at the end of the season.
With team sponsor Arrow stepping in to help out, the "war" as O'Ward described it, was over in May at the Indy 500 where O'Ward signed a new contract through 2024 and was second and the top Chevy at the one track this year the Bowtie didn't have the ability to match Honda.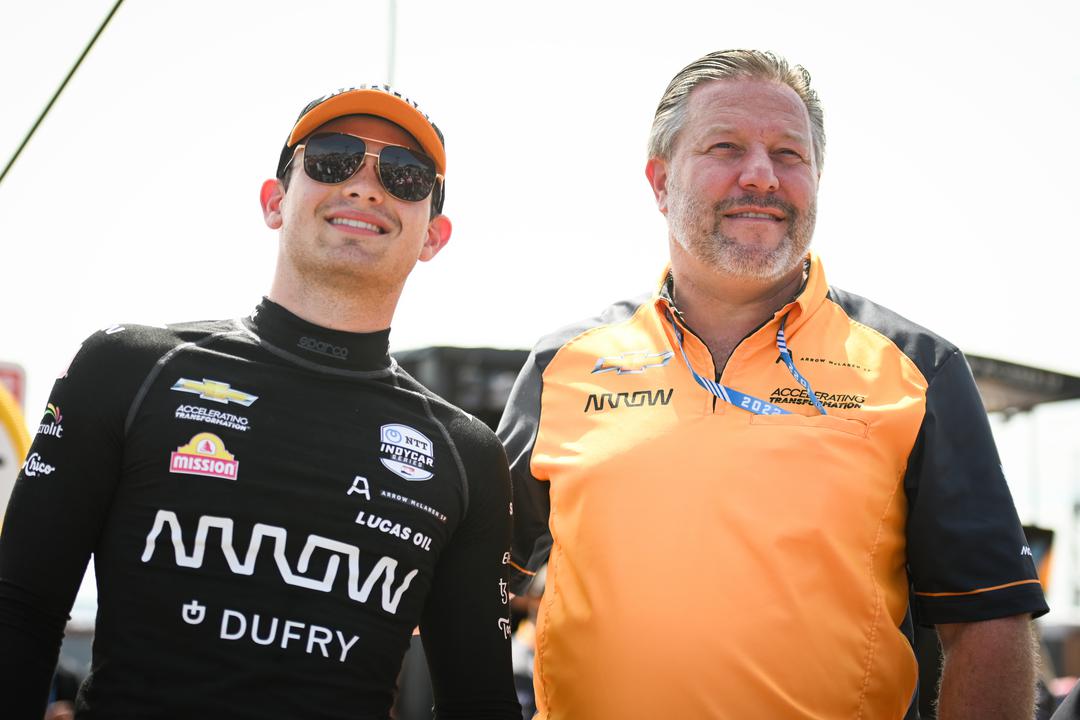 No sooner had the war with his own team ended, rumours of the squad chasing Alex Palou began. O'Ward's title aspirations began to unravel not long after mainly due to a number of reliability issues, an unavoidable Nashville incident and a rare error in the wet on dry tyres at the Indy road course.
By the last race of the year, he wasn't in the championship hunt, and not long after it was revealed Palou would get to test an F1 car with McLaren, potentially allowing the Spaniard to swoop in and jump ahead of O'Ward in the queue for IndyCar drivers waiting for an F1 seat.
O'Ward doesn't see it that way though, as he told The Race in an exclusive interview after driving the MCL36M in Barcelona and Austria and then the MP4/5B from 1990 at Laguna Seca earlier this month.
"I think it's just gonna make me better," says O'Ward of Palou coming into the McLaren fold.
"And I'm confident in my skills. So I'm definitely not worried about that.
"I just think it's going to elevate my performances even more, and, as it is going to be for him. So I think in the process it is going to probably make both of us stronger.
"I'm all for it. I've enjoyed it, I think Alex has as well. At the end of the day, I think it's just going to make me stronger and better in every area. Ultimately, it's just gonna help me, so I'm all for that."
O'Ward was hampered in his first outing in the MCL36M last month by poor weather in Barcelona but reckons he did enough to impress the team with the Austria test that allowed for more running. It's also a track he raced at in a one-off in F2 (pictured below) as part of his ridiculous failed Red Bull junior campaign of 2019.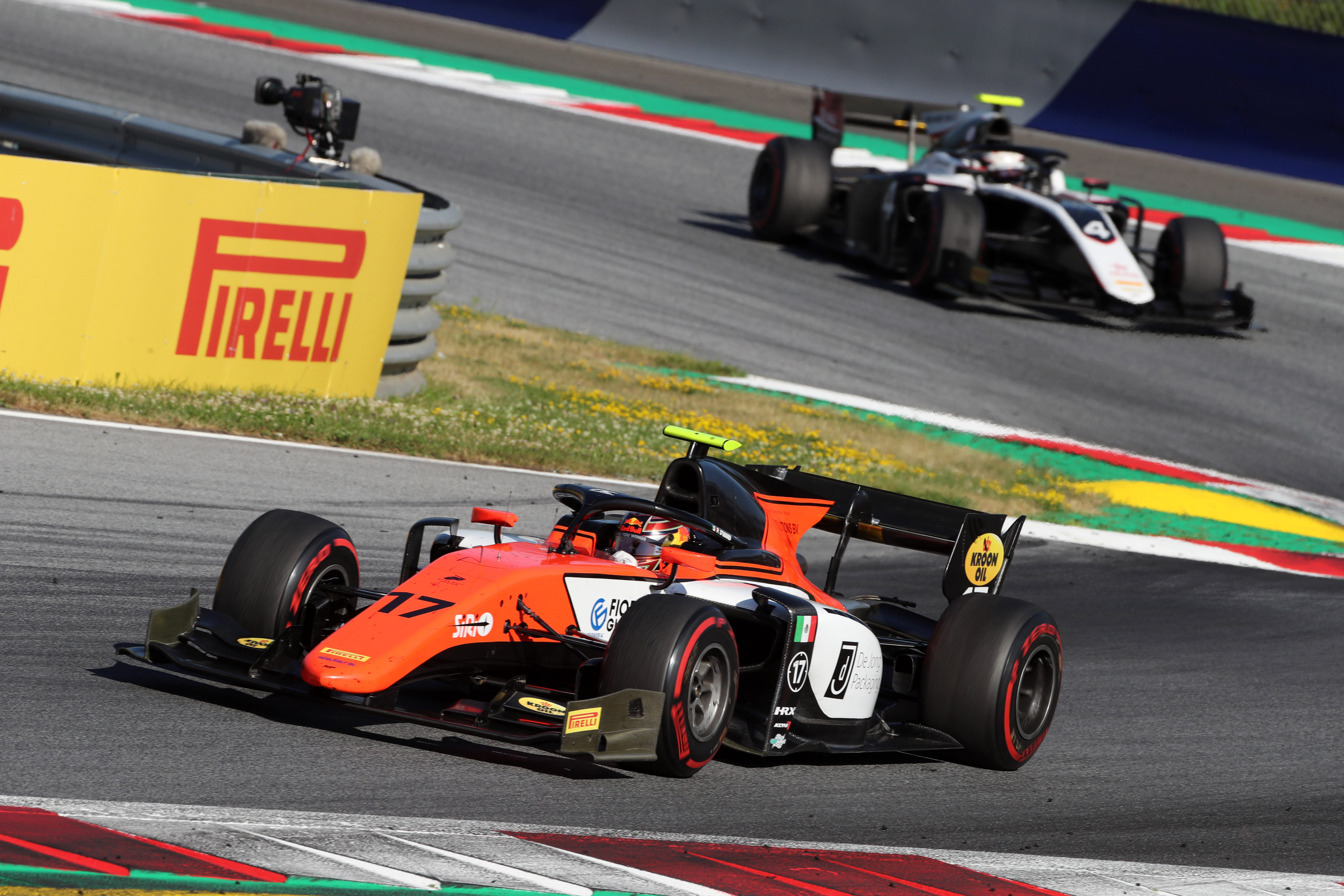 McLaren kept the data separate for the drivers so neither knows exactly what lap times they came up with. But with no benchmark in place for the conditions, the team was likely placing more value on the quality of feedback and progression anyway.
"I was really happy," O'Ward says of the tests.
"In Barcelona it was a bit more difficult for me. I couldn't really get in sync with the circuit. But, the team was very happy with my performance. I guess it was just more of a personal feeling.
"But in Austria, everything that I've learned and carried on from Barcelona, I started from there in Austria, and I got to a really nice spot, more in sync with the car.
"I guess that's probably the best way I can explain it and being able to push it and feel it out with heavy fuel, low fuel. So I'm really happy with my progress so far.
"I think the team has reciprocated those comments and I feel like we're very happy with how everything has been evolving and yeah, really pumped for my FP1 at the end of the year."
There will certainly be pressure on O'Ward's FP1 outing in Abu Dhabi – although Lando Norris is a much better benchmark for Palou to aim for than Daniel Ricciardo who O'Ward will drive alongside on Friday.
Palou did himself and the reputation of IndyCar drivers no disservice by getting within three tenths of Norris on comparable tyres at COTA.
But perhaps O'Ward can make himself look even better if he's able to impress versus an outgoing and frankly below-par Ricciardo.
O'Ward's quietly confident, and we've already seen an elevated mental game from the 23-year-old in 2022. Whether it was taking lessons from his public feud with his own team over his contract, overcoming the adversity of a season which should have delivered a title challenge or dealing with the added pressure of Palou coming along just when it looked like O'Ward was set to become next in line for McLaren should he impress.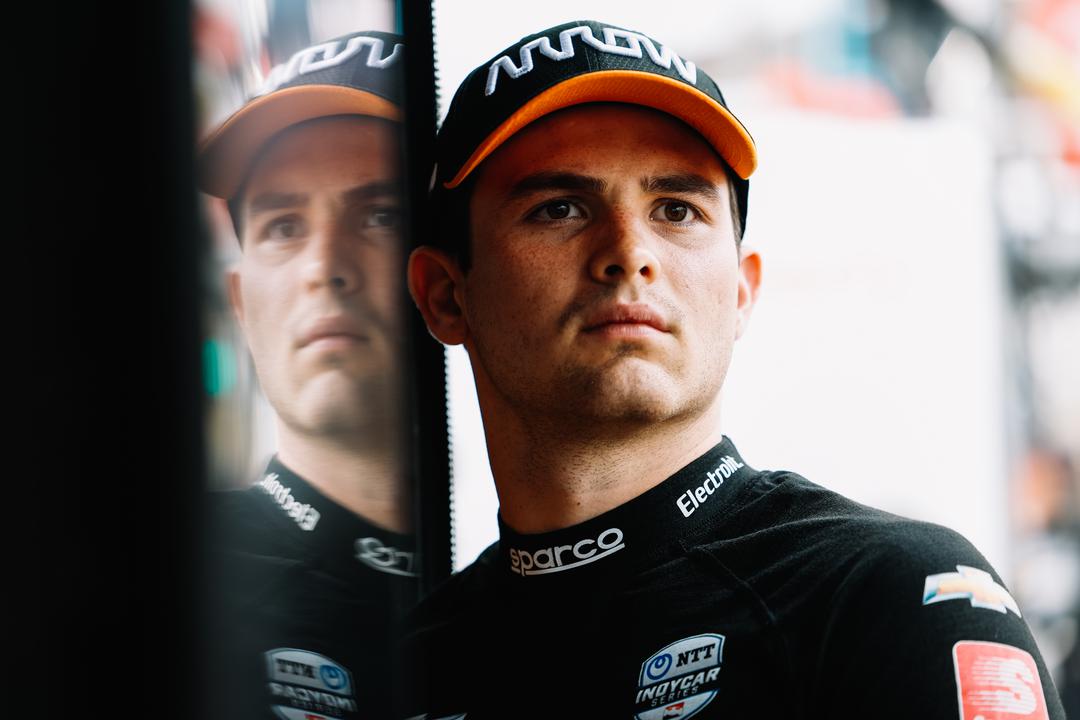 Perhaps it's easier for O'Ward because deep down, he knows how well he's done this year. On the ovals he was in the top two in three out of the five events this year and the top scorer, taking his career average start to 8.4 and his average finish to a frankly baffling 4.87. That's quite an average!
And before F1 fans shout about how irrelevant that is, he was the only driver to qualify in the top six on every road course this season, which is no mean feat in IndyCar's cutthroat qualifying system. He tied Josef Newgarden as the series' best average starter, but Newgarden made fewer Fast Six sessions on the road courses.
His qualifying prowess will be no surprise to anyone who has watched his onboards. His sometimes wild style has been necessary in the past two seasons because the Arrow McLaren SP car has been tough to drive and needs taking by the scruff of its neck.
It's been a lot more neutral this season and as The Race has said before, O'Ward has no issue with that. He's adaptable and gets the job done. He's done that this year, even if the results have masked that performance.
If you take the two mechanical failures, at Road America and Mid-Ohio where he was on pole for the latter, and award him at least the fifth place he deserved for those races, he immediately jumps from seventh to third.
He retired from ninth in Nashville too after being caught up in an accident, which would have boosted him well into the title fight. That would have changed the whole approach of the championship run-in, perhaps yielding some better results where the team didn't need to be so risky.
The mental strength he's summoned though, through multiple career rejections, ill fortune and adversity, has set him up well for his age and even if he can be the biggest kid on the grid sometimes when it comes to things like social media, his maturity when it comes to getting on with the job is really impressive.
"I think what I focus on, is, at the end of a weekend, or at the end of the year, you need to know that you give it your absolute total focus and your maximum," he adds.
"And whenever I don't maximise something, I'm the first one to beat myself up. And I just didn't find myself doing that, especially mid-to-the-end of the year.
"I was always positioning ourselves to have a great race and in fights, but things just kept going wrong. And at some point, you just kind of have to laugh at it and move on.
"Because there's no reason to dwell on it because it really is out of your control. So I think the most important thing is just focus on what you can control and absolutely maximise it. And you know, if things align, they will align.
"If they don't align then, well, move on.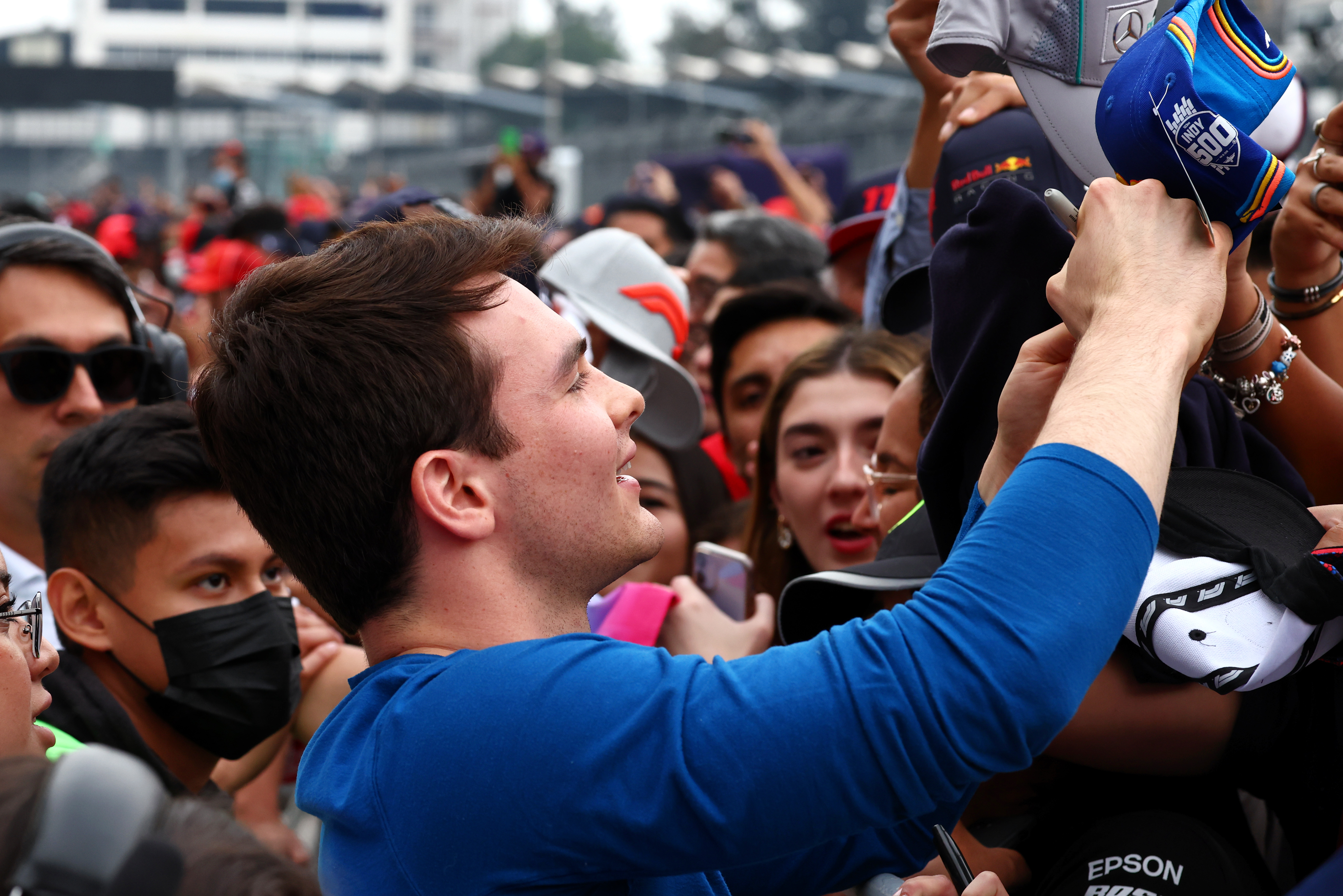 "I feel like I've grown and matured. Also, with the instances that I guess come naturally with this job in this career as a racing driver, or athlete, or whatever we want to call it with, contracts and meeting new people, and they're all things that make you grow as a person, as a professional.
"I feel like it was a lot of that this year, I think there was a lot of noise, and I was very proud of how I was able to quiet everything down pretty early on, and kept my head down and put ourselves into a position to fight for the championship.
"The start of the year definitely wasn't the best, just in all aspects, it was just very messy."
O'Ward feels like the end of last season, where he tested a McLaren F1 car in Abu Dhabi as a prize for winning in IndyCar that year, took a lot out of him amid the saga of his contract battle, and that he's much better prepared to deal with all aspects of this off-season which will include his FP1 debut at the season-ending Abu Dhabi Grand Prix, but also plenty of rest and time with his family because he "lives and breathes racing".
That aside, his team continues to add talent in different areas, and O'Ward will be further boosted by having an extra team-mate as Alexander Rossi joins – which he is "super, super happy and excited" about – alongside Felix Rosenqvist. Ace ex-Red Bull and Penske engineer Gavin Ward is also exciting the drivers as the new team boss.
With more data and a McLaren team more and more refined as it enters the fourth year of its IndyCar project, you have to feel that O'Ward has the potential to deliver a really strong year in 2023.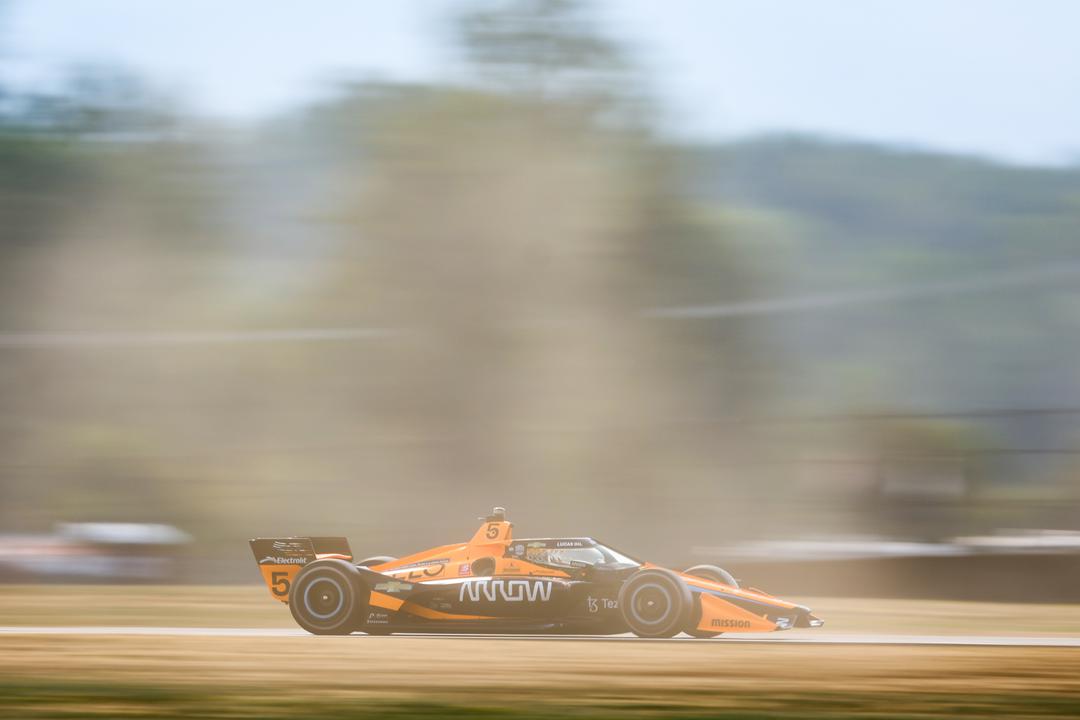 All of the ingredients were there this year had fortune favoured the brave. His adaptability behind the wheel, leadership outside of the car once his contract debacle was sorted and his developed mental armour all combine for a strong package.
Palou has one glaring lead in the fight with O'Ward in that he's won a championship. But O'Ward is every bit as capable of doing that too given the right machinery. 2023 will be a big year, where the team will also be looking to add the Indy 500 Zak Brown and O'Ward are so desperate to win.
But before all that, there's the small matter of driving a Formula 1 car, and impressing McLaren more than Palou did. That's no easy task but O'Ward believes in himself, and he's better prepared than he was for his first F1 test with the team 12 months ago.
This may well be a big factor in deciding the future of a driver who has already been through so much but continues to brush it off through a combination of unwavering self-defeat and pure performance.