Mid-Ohio qualifying might be the best example yet of how tough and treacherous IndyCar is as a championship.
The top three in the points all failed to make it out of IndyCar's equivalent of Q1. The reigning champion and winner of the event missed out on fighting for pole by 0.0010s. The numbers are truly astounding.
And yet, amid this level of competition, the driver on pole position – the ninth different pole winner of the season in as many races, we should add – has qualified in the top seven in the last six races.
That sort of consistency is remarkable given the series' jumbled results. And the fact that it's a driver you wouldn't have usually associated the word 'consistent' with.
Pato O'Ward – especially after his mental reset at Long Beach amid a contract negotiation stand off with his Arrow McLaren SP team he described as a "war" – has been in impeccable qualifying form.
In those six efforts he's been fifth three times and second once, while also taking pole here and a seventh at the Indianapolis 500.
People may remember some of the absolutely stupendous laps O'Ward has thrown together that have led to comparisons with naturally talented drivers like Juan Pablo Montoya – finding an onboard of O'Ward sawing at the wheel with tremendous car control would not be tough – but his level of consistency he is now displaying is perhaps under the radar in nature.
"I think it's experience, I think it's understanding the tyre, I think it's understanding what you need from the car in order to extract from it," O'Ward answered when The Race asked him what explains his recent run.
"There's a very fine line in getting that laptime or going over it that really makes your laptime tank, and I think that's the hardest thing, especially on the red [soft tyres].
"They can get away with a lot of hustle, but if you overdo it, then you're really into a pickle, and you will struggle for the rest of the lap.
"It's a hard line to find, but I think it's just been that, and I don't think I've mastered it at all. I think I'm getting better in just understanding it and kind of breaking down things rather than being like, 'oh, we want to make it to Q3'. Well, yeah, what's going to get you there?
"I think I'm still in the process of that and I will continue to be in that process for the rest of my career just because the tyre changes all the time, and the tracks change, things evolve.
"But it's just trying to perfect that is probably the best chance you can give yourself to qualify well."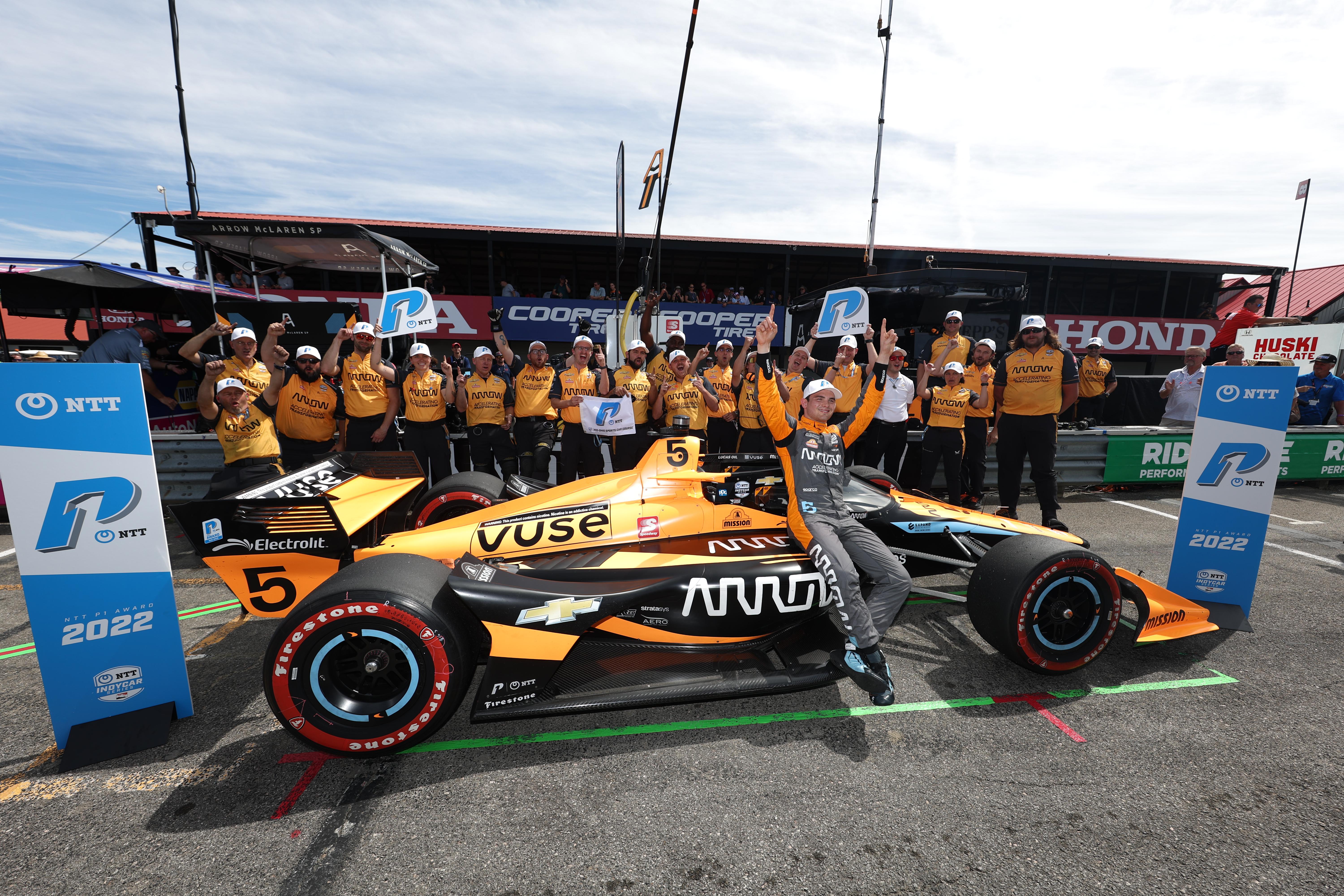 The team deserves a high level of credit, too. O'Ward's team-mate Felix Rosenqvist has been right up there, scoring seven top-eight results in eight qualifyings, with the outlier being 25th in Detroit that was caused by an impeding penalty brought about by the team through a lack of communication.
It's clear the team is finding its stride after a tough start to the year where O'Ward's contract dispute – resolved with a long-term deal signed ahead of the Indy 500 – and too many mistakes on Rosenqvist's car early on plagued its early season. Now it's on a really strong run.
It also gains access to ex-Red Bull engineer and aerodynamicist Gavin Ward this weekend. He hasn't had chance to yet stamp his mark after two days in the team. But Josef Newgarden's ex-engineer will surely be a welcome addition to a team entering its stride moving forward.
O'Ward's known and remembered for his breathtaking laps and car control, but the consistency he is showing underpins why he is currently fourth in the championship and why he's one of the favourites for the title as we reach the halfway point.
Even after a tough first few races and an engine failure last time out at Road America he's still only 45 points adrift and has the top three ahead of him in the points all starting outside the top 12 this weekend.
We may well be seeing a vital maturation in qualifying with O'Ward, and a team that is ready to make a real run at an IndyCar title.