Pato O'Ward looked pretty snug in his McLaren seat fit this week ahead of his maiden Formula 1 test in Abu Dhabi in December.
But there are misconceptions out there that he wouldn't look so at home in an F1 car when it comes to his driving style.
The truth is, those misconceptions are just wrong.
Sitting comfortably, @PatricioOWard? 👀 pic.twitter.com/NOz8oSo6P6

— McLaren (@McLarenF1) October 15, 2021
Part of it stems from countless onboards this season of the Arrow McLaren SP IndyCar he drives being sideways, or O'Ward applying massive amounts of correction to the steering wheel to fight oversteer.
NBC TV presenter Leigh Diffey has even taken to calling O'Ward "the ninja" due to these fast reactions in the car.
But with the positives that come from an exciting driving style – lots of attention, people seeing that you're fast and that you have great car control – there are downsides like the car being more on a knife-edge, the extra strain it puts on the tyres and the misconception that that is how O'Ward likes to drive.
However, this is just not the case. He doesn't always like to drive the car this way.
The team signed Juan Pablo Montoya to race the Indianapolis 500 this year but back before the season started he tested at Laguna Seca to get a feeling of the car with the aeroscreen before also racing the Indianapolis road course.
He said while laughing: "The first thing that amazed me about the test was Pato's steering input. You look at it and you think the sensor is broken. I'm like, you know it's not supposed to be like that?!"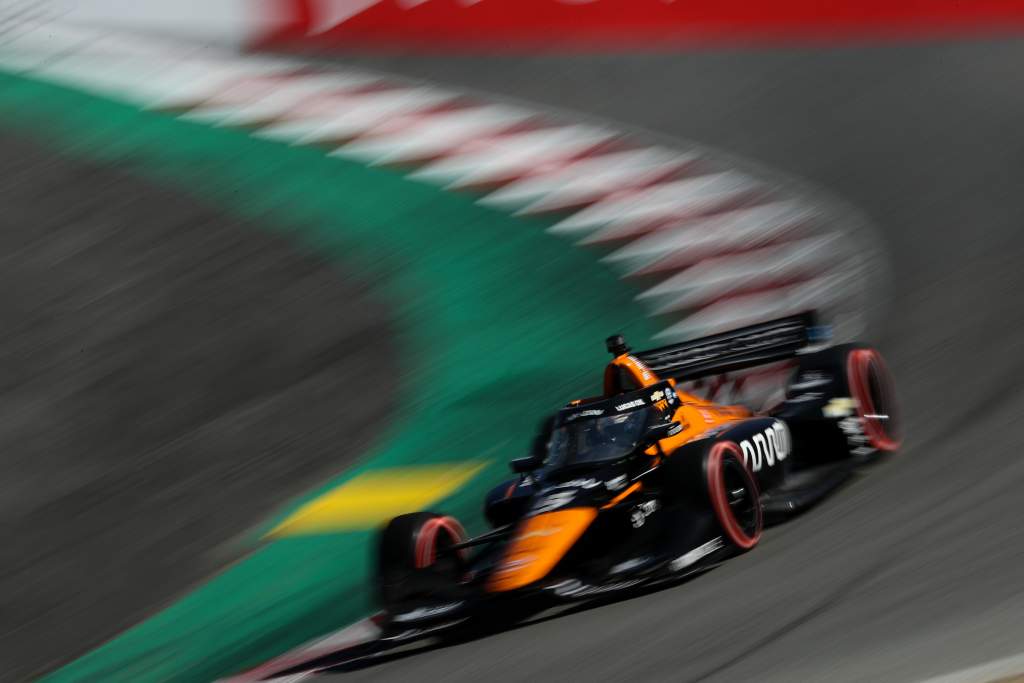 But O'Ward would be the first to agree there and tell you that the team is working on making the car more drivable. It's been the case all season.
He told The Race earlier this year: "I don't have an issue with having oversteer in cars, as people have seen!
"But that's how our car, the philosophy, is done. I've had to adapt in order to go quick.
"We have, I think, one of the hardest cars to drive in the paddock, but it is damn quick if you get a lap together.
"We don't have the right balance yet for racing, it's very hard on tyres. Everybody's like 'ahh, he needs to take care of tyres'.
"I can guarantee you that I am as gentle as I can, and if I am more gentle I am going to be two seconds off the pace."
This flamboyance has been even more obvious in 2021 due to the emergence of the eventual champion Alex Palou, who has one of the most neutral and serene set-ups and styles of any driver in IndyCar, and the fact that this style has won the championship places even more attention on the more aggressive take from O'Ward.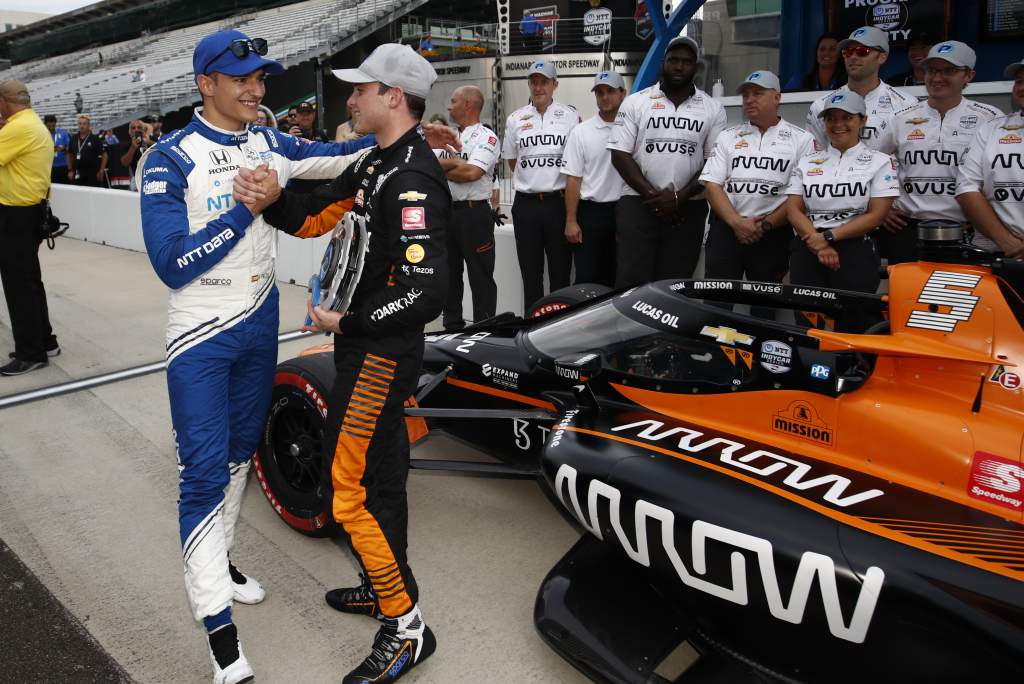 We've seen directly from O'Ward's team-mate – the incredibly talented Felix Rosenqvist who finished 21st in the championship this year (albeit missing two races through injury) – how hard the car is to drive. O'Ward was set for second in the championship until he was punted out in a poor move from Ed Jones at the start of the Long Beach season finale, which demoted him to third behind Josef Newgarden.
Moving on to the point about tyres, O'Ward has been criticised in areas for the amount of wear, but really this is not his fault.
"There was a lot of conversation about Pato driving too aggressively and burning rear tyres," AMSP president Taylor Kiel told The Race this week.
"I think a lot of that has to do with our set-up, so there's some work to do there."
It's something that you get the feeling O'Ward has fought with and taken personally all season. Not to the point where you would think it has affected his performance, but whenever his style, the car set-up or tyre wear is mentioned you get the feeling he has to go on the defensive about his own abilities.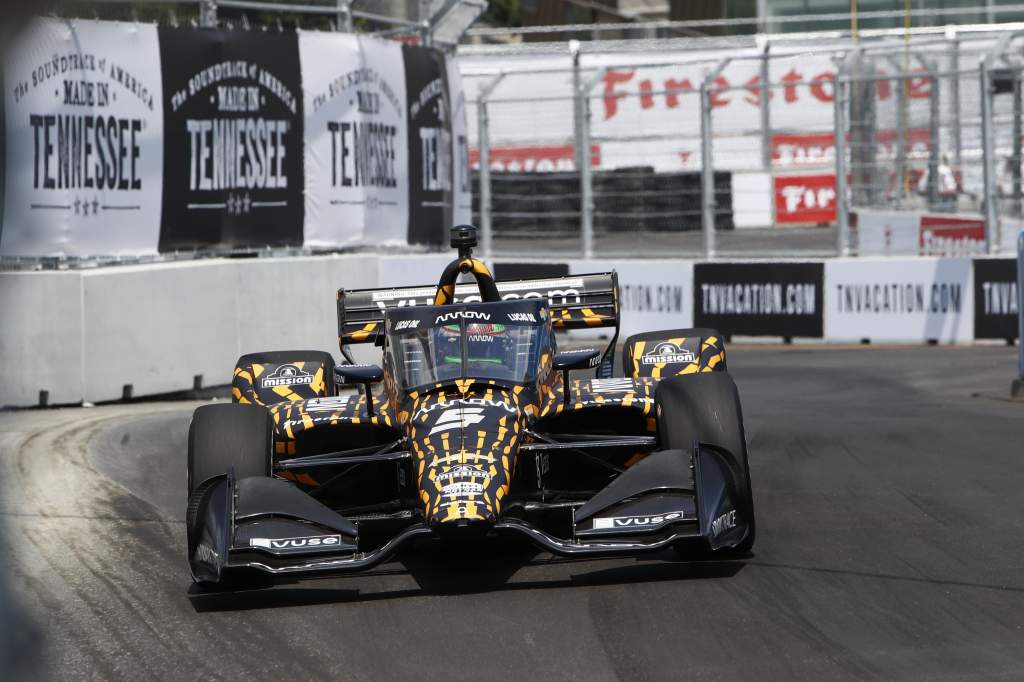 "I know, everybody hammers me that I'm terrible on tyres and blah, blah, blah," O'Ward told The Race IndyCar Podcast in August.
"But to be fairly honest, Felix came from a Ganassi car, and we're all very well aware that our car is not nice on tyres.
"I think we're getting better. But, the way that you drive an oval obviously is different to how you drive a road course.
"I think our package on ovals is certainly stronger compared to our road course, just in terms of actually being able to stay on pace, push the car, hustle the car but not kill tyres.
"That's something that we don't have in road courses and that's something that I see with the Andretti cars, with the Ganassi cars, the Penskes, they're able to really push and hustle the car.
"But the way that the car uses and extracts the time, and the life of the tyre, it's just nicer [at the other teams]. And we really use it.
"So I feel like that's where in qualifying we're strong, but sometimes we have to take it down a notch and we just don't have the rhythm because we need to take care of the tyres a little bit more extra than others."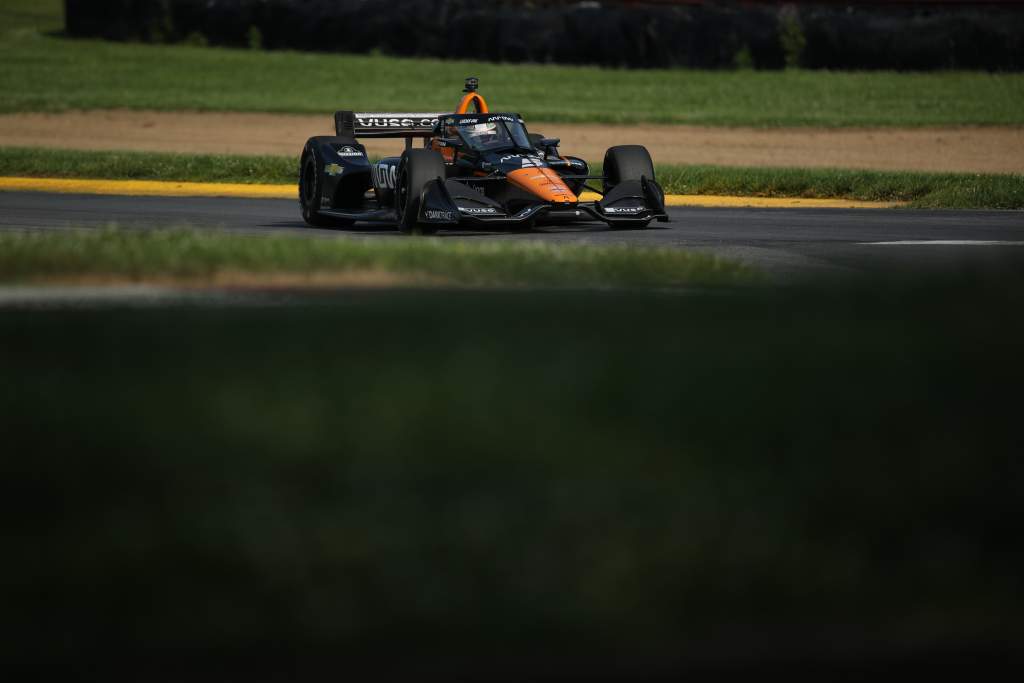 It's easy to see why O'Ward might take this personally. He's adapting to this aggressive car all the time, but that's the very thing people are saying he might struggle to do if he got an F1 chance: adapt. And that's because they think he wants to drive the car this spectacular way and that's just not the case.
Just because he's excelling with this exciting style, doesn't mean that's what he enjoys. He wants the car to come a bit more central and be easier to drive, but that's something AMSP has to work on in the off-season because making small changes to an IndyCar set-up affects the balance of the whole car.
Changes in direction have to be baked into the damping programme, the windtunnel work and the general philosophy of the car and you can't really do any of that during the season.
In many ways, that's similar to Formula 1 and given the chance, I see absolutely no reason O'Ward couldn't succeed there, certainly not because he can't adapt because I think that's what he's done best for the last two years!
There's only the catch-all reasons that might hinder him like not knowing the tracks and not having worked in a Formula 1 team properly before.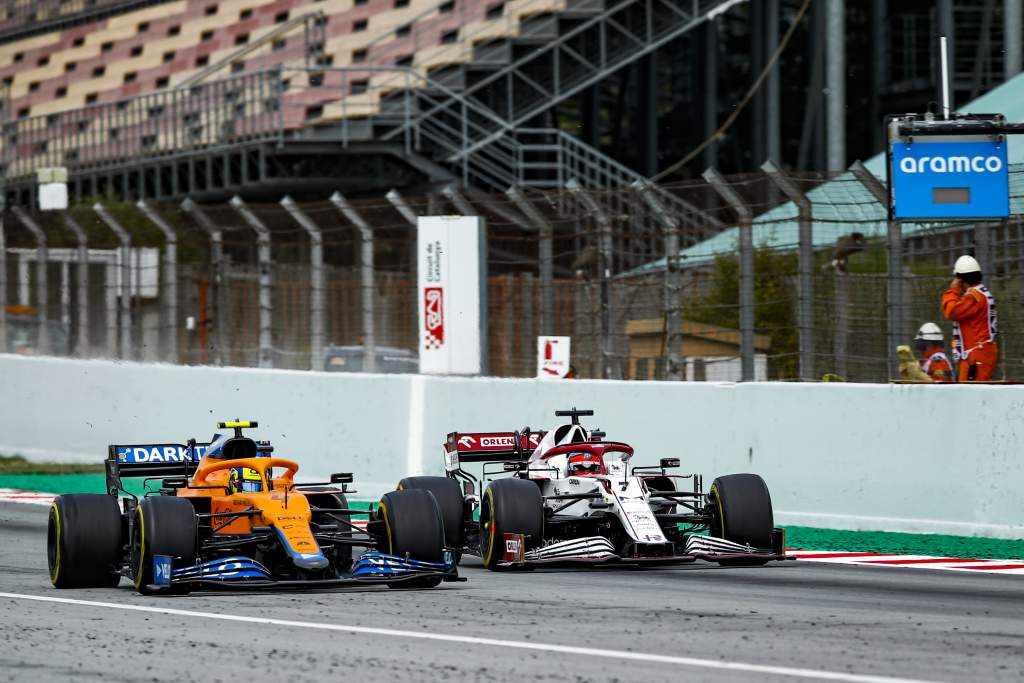 But those are the same challenges that would face anyone coming from the States, like Colton Herta, who is being closely linked to a drive in the championship if Andretti is able to take over what is currently the Alfa Romeo squad.
Herta looks much more likely to make an immediate move – O'Ward's F1 evaluation is coming up, but you feel a lot would need to happen for him to actually get the chance  in grand prix racing.
What's important though is to understand that O'Ward can adapt, he isn't always rough on his tyres and he has another area which could make him F1 ready, too.
In his two years at Arrow McLaren SP he has shown leadership. He might slip into being slightly negative on the radio, but that's born out of passion in the heat of the moment and off the track he is a real leader of this team.
The personnel love him, and given his relative inexperience, his forthright and direct approach to helping guide the squad forward has not gone unnoticed.
Perhaps going through the process of being picked up by Red Bull and being dangled the carrot of F1 and shipped off to F2 (pictured below) and Super Formula mid-season only to be unceremoniously dropped has given O'Ward a view of the world you can only really have when it has thrown you true adversity.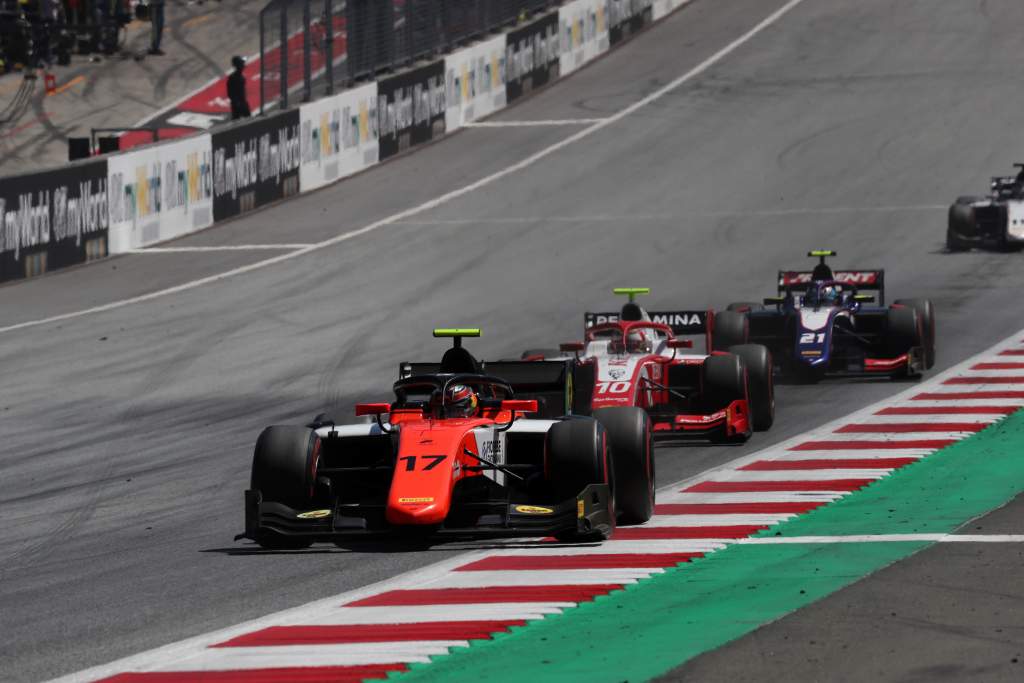 But whatever the reasons for it, at the age of 22 he's the undisputed "quarterback" at AMSP.
"Ultimately for us I think it was a good time to take some risk and bring in young drivers and Pato certainly fit the bill for us,' says Kiel recalling O'Ward coming into the team.
"He was young, exciting, quick, got a tonne of talent.
"Over the past two seasons [he's] really grown into a driving force for us. He's our quarterback, he's a leader within our team.
"He's pushing us, we're pushing him, it's been a great dynamic, so I would say from the beginning, this is what we had hoped for.
"And over the last two seasons, it's really come to fruition.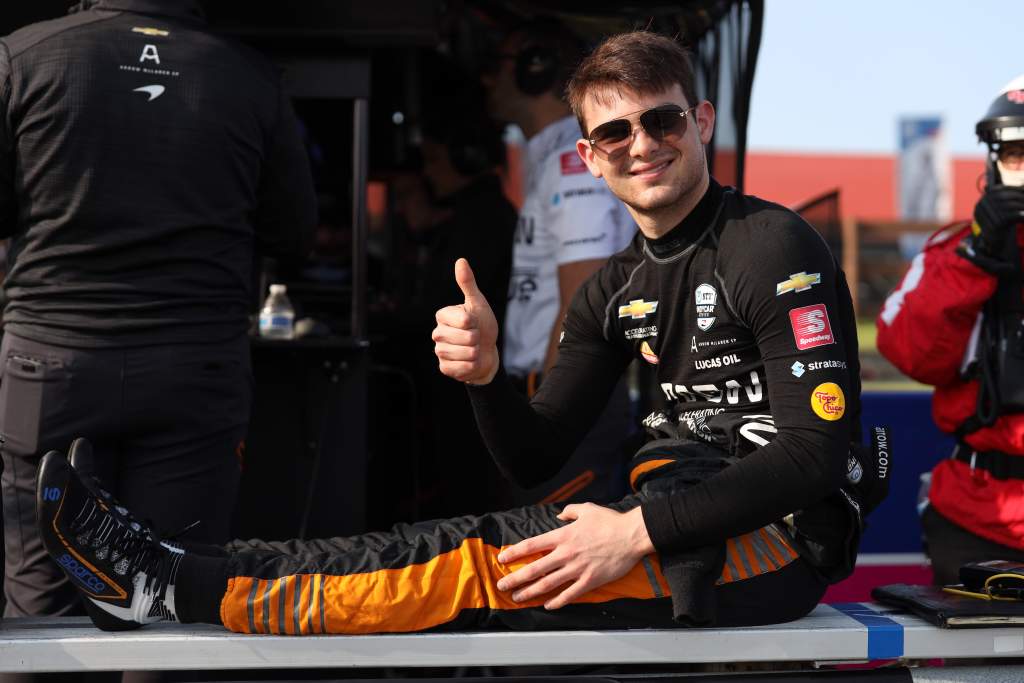 "The thing that excites me the most is certainly seeing his growth over the last two years, even seeing the growth of the team around him the last two years, and knowing how much we still have left in the tank.
"How many things that we can clean up on both sides to be better that that excites me going into the future for sure."
Kiel's right that there's a lot left to achieve between this partnership of O'Ward and AMSP, just like there is with Herta and Andretti, in IndyCar.
For the drivers, they have to decide if pausing their IndyCar careers on the precipice of championship success and a lucrative future in America is worth the potential risk of a season or two in F1 and being chewed up and spat out by the system.
Ultimately both have the fundamental abilities to make F1 work and only giving them the chance will prove if they are good enough or not.