Mercedes has achieved extraordinary successes since 2014, perhaps none as underestimated as toppling Red Bull as Formula 1's foremost car designer.
Mastering the new V6 turbo-hybrid engine formula provided a platform to mount championship challenges and signing Lewis Hamilton secured a driver to lead them.
But fail to build a good enough car and all Mercedes would have is the crucial missing link.
The works team scored its first victory in 2012 but was otherwise something of an also-ran among F1's best and brightest for the first three seasons of its existence.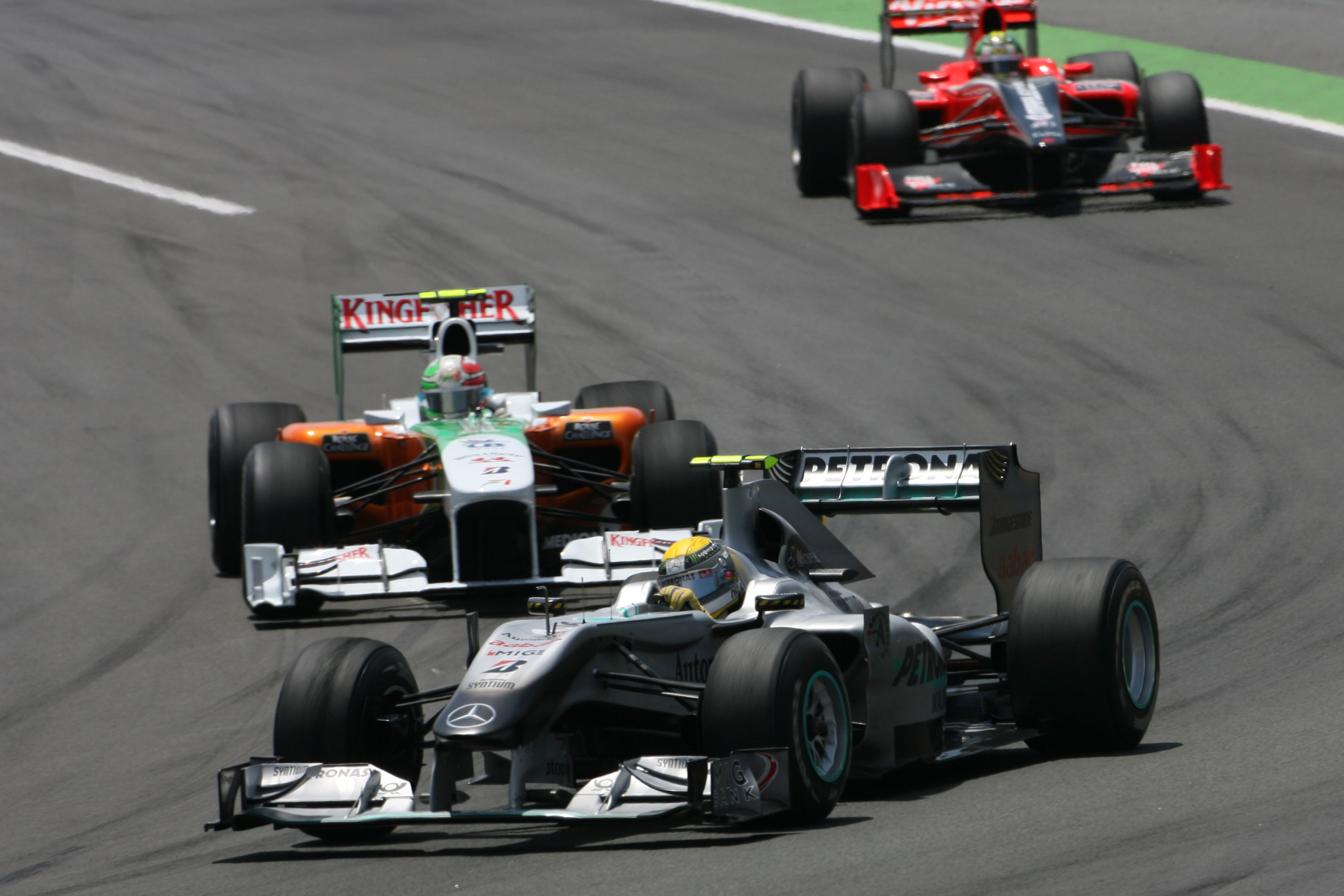 Transforming into a title winner in 2014 seems incomprehensible without the massive shift in engine rules that accompanied it, given how Mercedes replaced Red Bull as an untouchable leading force and won 16 of 19 races.
But there was an interim step from 2012 to 2013, and the importance of the Mercedes W04 cannot be overstated. Mercedes would not be on the brink of seven consecutive F1 title doubles without it.
"That car was the first car to have everything done the right way," says chief designer John Owen.
"We had the structures, the right people in the right places, and a single-minded philosophy of how we were going to approach the car and all its challenges and complexities."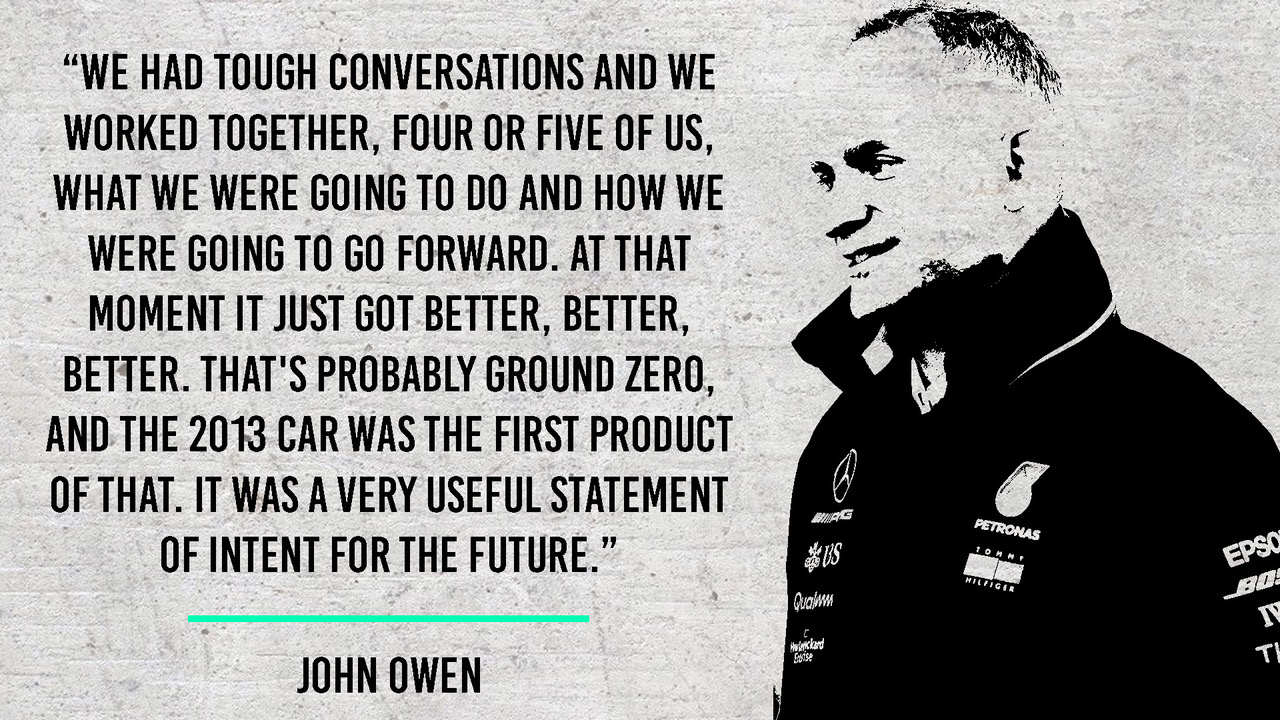 Mercedes leapt from a three-year low of fifth in 2012 with only 142 points to being Red Bull's biggest rival in 2013, scoring 360 points and beating Ferrari to the runner-up spot.
That's an enormous one-season swing with stable regulations but it was years in the making, the culmination of a crucial internal reconciliation and the team having the resources to go toe-to-toe with its intended rivals.
When Mercedes took over Brawn Grand Prix, on the surface it looked like the purchase of a turn-key title-winning operation. But Brawn's phoenix-like 2009 success was the result of immense Honda resources that had been ploughed in until the Japanese manufacturer decided to withdraw in 2008.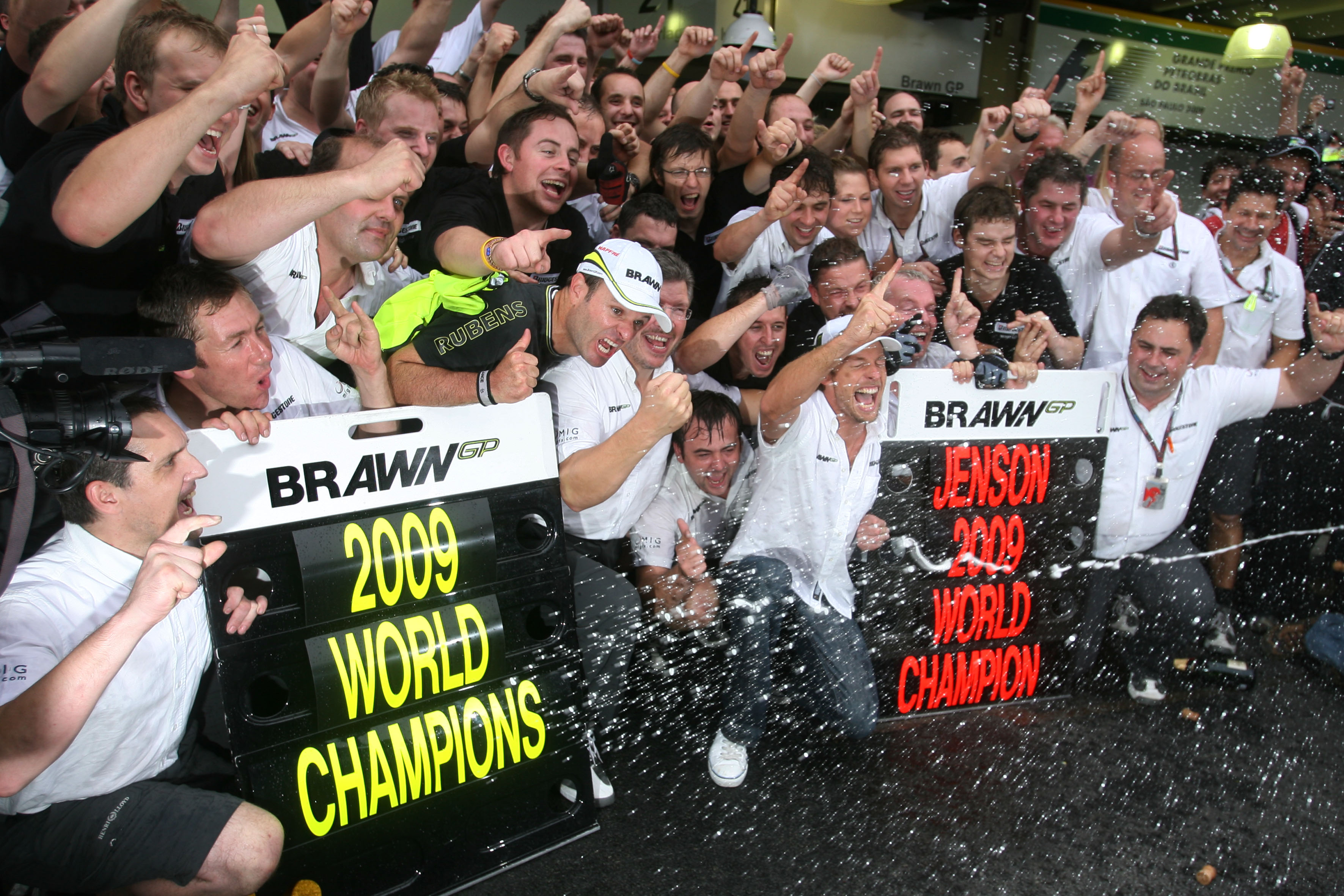 In the background the project escalated and escalated then suddenly slowed down. Brawn did enough to win in 2009 but when Mercedes took over its plan was based on the Resource Restriction Agreement that was meant to bring other big teams down to the level Brawn GP had naturally fallen to. In fact, Ross Brawn said he even had his first 2010 budget proposal cut by £29million.
But the RRA was applied…loosely. Mercedes fell back. Brawn claimed Mercedes considered pulling out over the winter of 2011/12 but instead committed to fresh investment. Toto Wolff's arrival helped – as he revealed Mercedes' budget was the same as Williams's (but with more expensive drivers).
With funds committed and new technical personnel like Geoff Willis and Aldo Costa joining, Mercedes also needed to get internal departments pulling in the same direction. That's what happened with the 2013 car.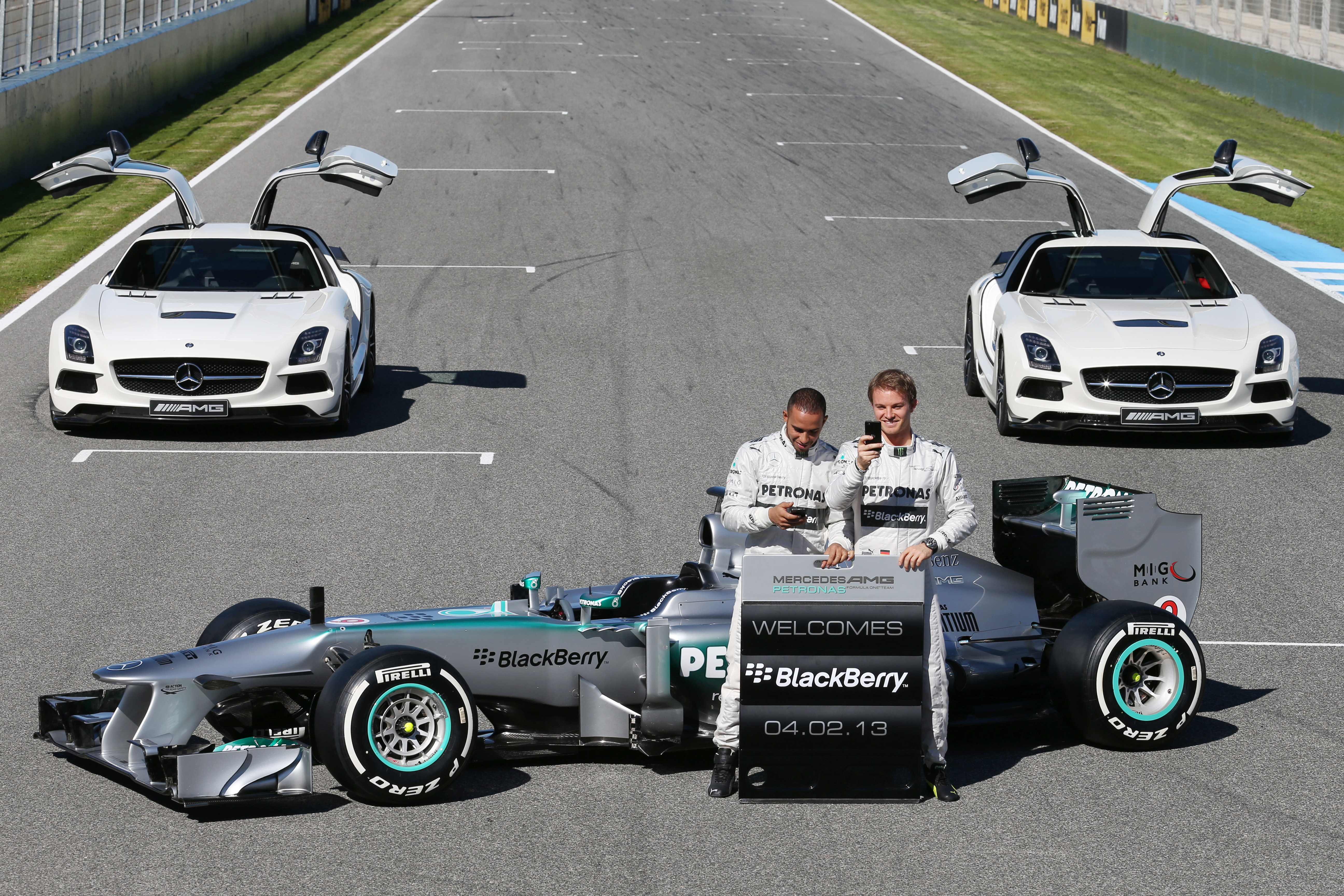 The W04 is Owen's favourite Mercedes, a car that represented a massive breakthrough. Though it had "lots of detail that's just the right compromise on all the right things and the round the back end it's a proper step forward", there were bits that "we didn't get around to finish".
But the design team had a "much more coherent view in the way we did things, guiding what we were going to do and what we weren't going to do".
Owen says that during 2012, the various elements of the car – tyres, aerodynamics, engines, trackside inputs, driver input – were still competing with one another. Various points were being made in the pursuit of improving individual areas while the global picture was ignored.
Mercedes' solution was to establish the Performance Group, which comprised the key performance members of the team. That would prioritise the pursuit of one direction, right or wrong. If it was right it worked well. If it was wrong, it was a lesson learned.
"We just got together and agreed what we were going to do amongst ourselves, we had tough conversations, and we all worked together, four or five of us, what we were going to do and how we were going to go forward," says Owen.
"At that moment it just got better, better, better. And that's probably ground zero, and the 2013 car was the first product of that. It was a very useful statement of intent for the future."
"It pains me when people aren't left alone to get on with their future project" :: Ross Brawn
However obvious that sounds, it was vital. "The problem that lots of teams have is that they don't work well as teams," says Owen. "Everybody's sort of pushing in their own direction. And the problem with that is it when things are not going well you don't really know which bit was a good bit and which was a bad bit.
"The thing that really changed for the team was certainly on the performance side all of us together just thrashed out what we were going to say is our direction, what assumptions we were going to make where we didn't have data. And we were all going to work in that direction.
"The 2013 car was the first example of 'wow, that as a process is really effective'. And now it is surprising to think we never thought like this before. But we've come across quite a few organisations over the years and realised it's quite a common thing.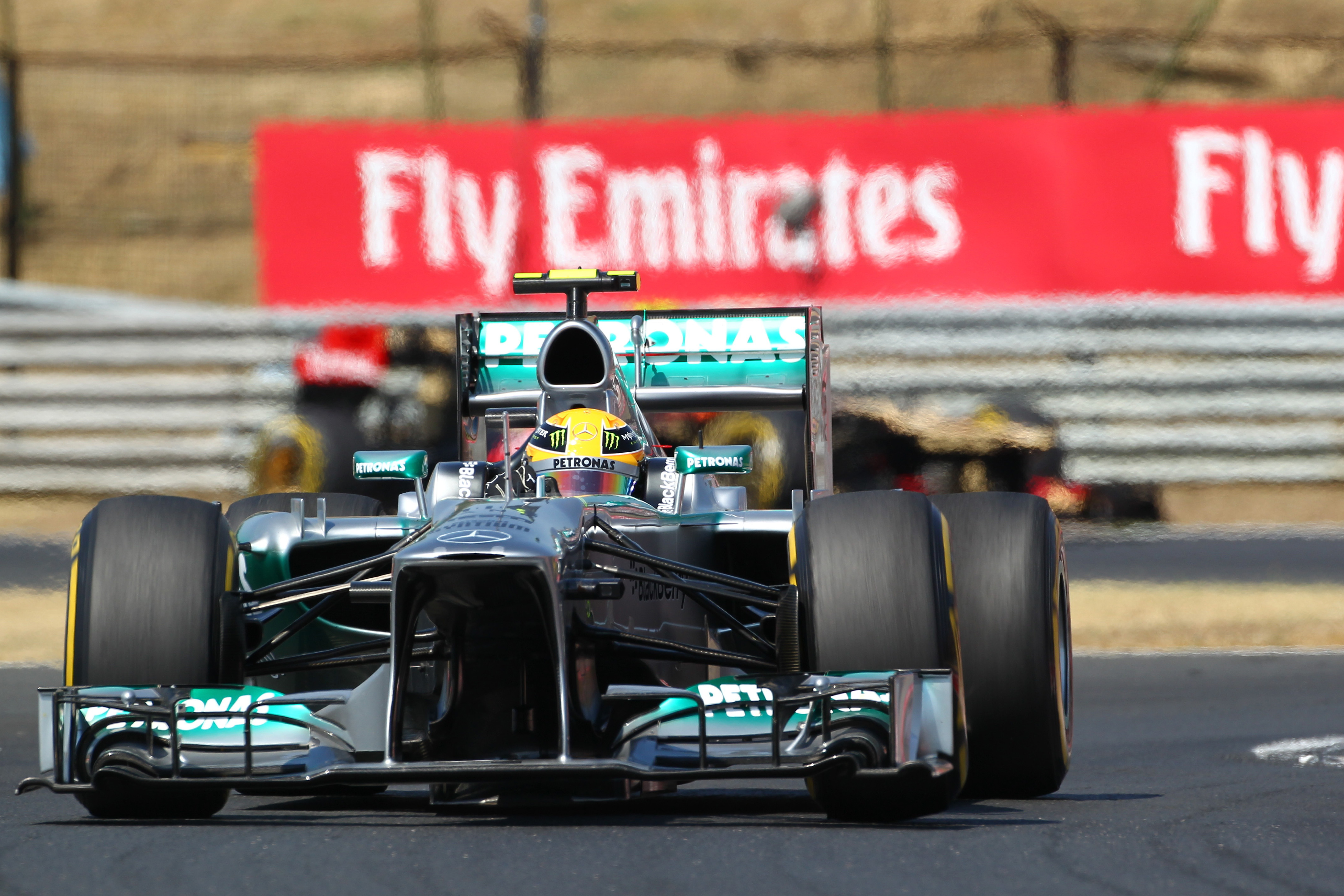 "It's not any sort of silver bullet, technical thing. It's just basically working together as a very strong coherent team. That's really where things really started to move at that point.
"Once everyone said we're focused in one direction, it was easy to make the right decisions."
Once Mercedes had made that breakthrough, the on-track step was significant. That coincided with Hamilton's arrival and Mercedes won three races in 2013, including Hamilton's first victory in Hungary before the summer break.
But Red Bull obliterated the opposition after the shutdown and Sebastian Vettel won nine races on the spin.
Mercedes was privately quite pleased as it became clear Red Bull worked on its car to the end. Because once W04's potential was clear, it had served its purpose and the 2013 season wasn't the priority.
"We didn't develop it that long into that year, and then we abandoned it and got working on 2014," confirms Owen. "It was very different with the engine architecture and integration into the car so a complete sort of tear-up really.
"It wasn't worth spending a large part of the year updating the 2013 car."
That was when full attention turned to 2014 but the genesis of W05 goes back several years.
Willis was employed as project leader of the chassis and was dedicated to that project from a very early point. He was given the project in the conceptual stage and over 12-18 months this was handed over to head of the engineering group Costa, who started to turn it into reality.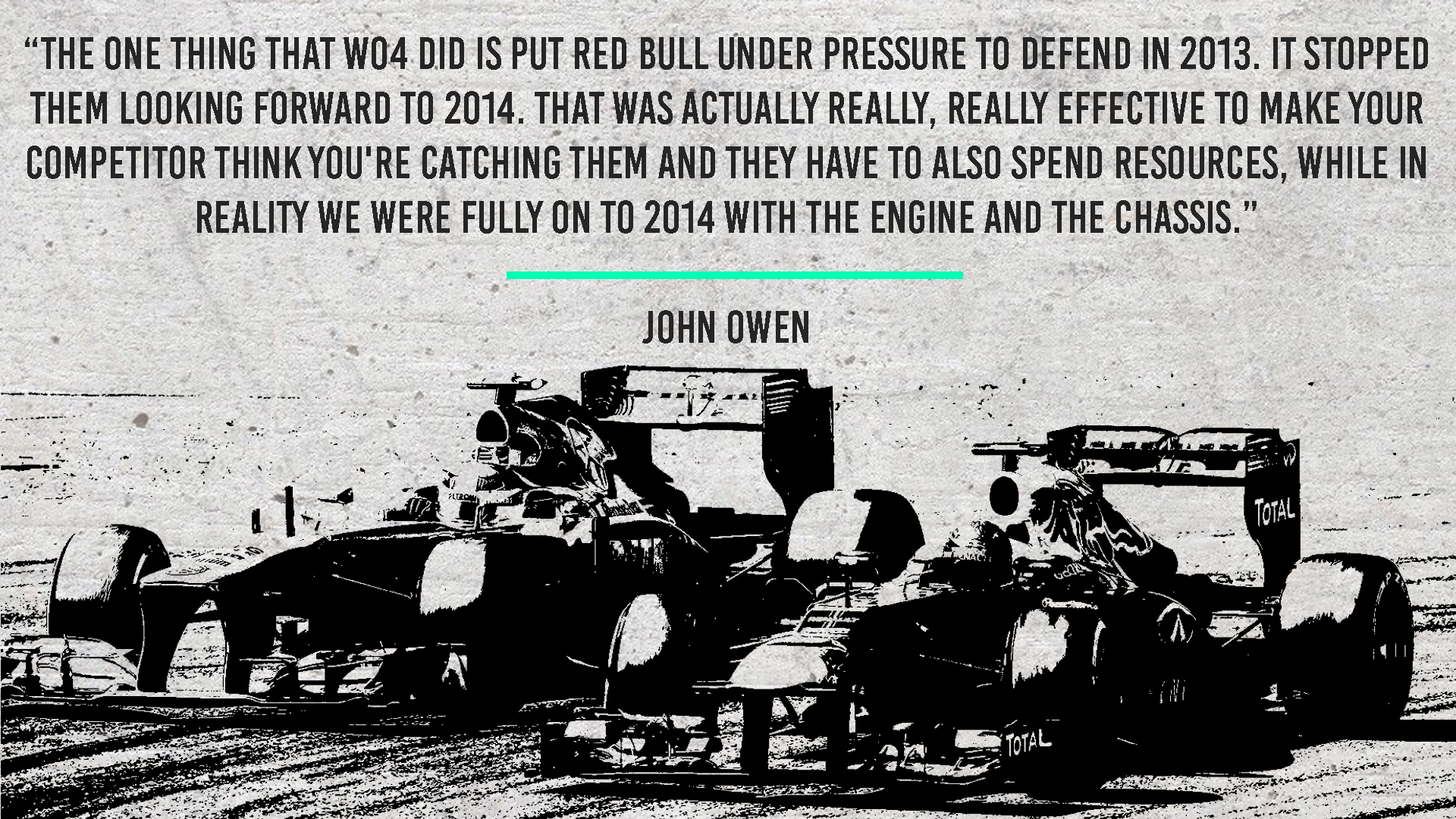 This was a deliberate strategy from Mercedes to have a very small number of people focused on long-term projects.
"Unless we have an earthquake and we are in a massive crisis, then they stay out of the daily mainstream tasks," wrote Brawn in his book. "It pains me when people aren't left alone to get on with their future project."
As time passed, more and more focus turned to 2014. Mercedes had fortnightly meetings, alternating between Brackley and Brixworth, with a handful of representatives from the engine and car projects attending to update on how they were doing. Left and right brain were in constant communication.
This was just as important on the chassis side as the engine. Building the car and engine in unison meant Mercedes maximised the rules for both – and the extent of the car changes for 2014 are often overlooked. The noses were lower significantly, the width of the front wing was reduced, and minimum weight increased by 48kg.
At the back of the car the lower beam wing was removed, the top box was reduced by 10% with a bigger DRS slot. Brake-by-wire systems were introduced on the rear brakes in parallel with increased energy recovery and the gearboxes were revised to have an extra forward ratio and last longer despite being placed under significantly more duress by the increased torque of the new hybrid engines.
"The schoolboy in me's going, 'Woah look at them race!'. The engineer was going 'oh shit, this is the last thing we need'" :: Andy Cowell
"The aerodynamics of the car changed a lot in 2014," says Owen. "Various bits and pieces were chopped off around the car. We lost the exhaust blowing that we had in 2013 so quite a big hit on the car side.
"So, the car project itself was actually really quite big and if you've got a certain number of aerodynamicists and a certain amount of windtunnel time it's important for you to understand where you deploy them. And if your vision is one of long-term success in the sport, you have to plan and look at the long-term.
"The way that W04 was running early in the year in 2013, we thought 'it's not slow, it's quite a decent car, and it might be second, it might be third – but it's not going to be first'.
"It's actually a big step forward so realistically we wanted to move our focus to 2014."
Red Bull didn't seem to have the same plan. Brawn writes that "Red Bull always seemed to be for the now, tomorrow and very short term", developed to the end of 2013, having also "appeared to put very little early effort into Renault to help them design a new engine".
Mercedes, so heavily invested in its 2014 car and engine builds for so long, was primed to take advantage.
"We now know from people who were working at Red Bull in 2013 who have since joined us that the one thing that W04 did is put them under pressure to defend in 2013," says Owen.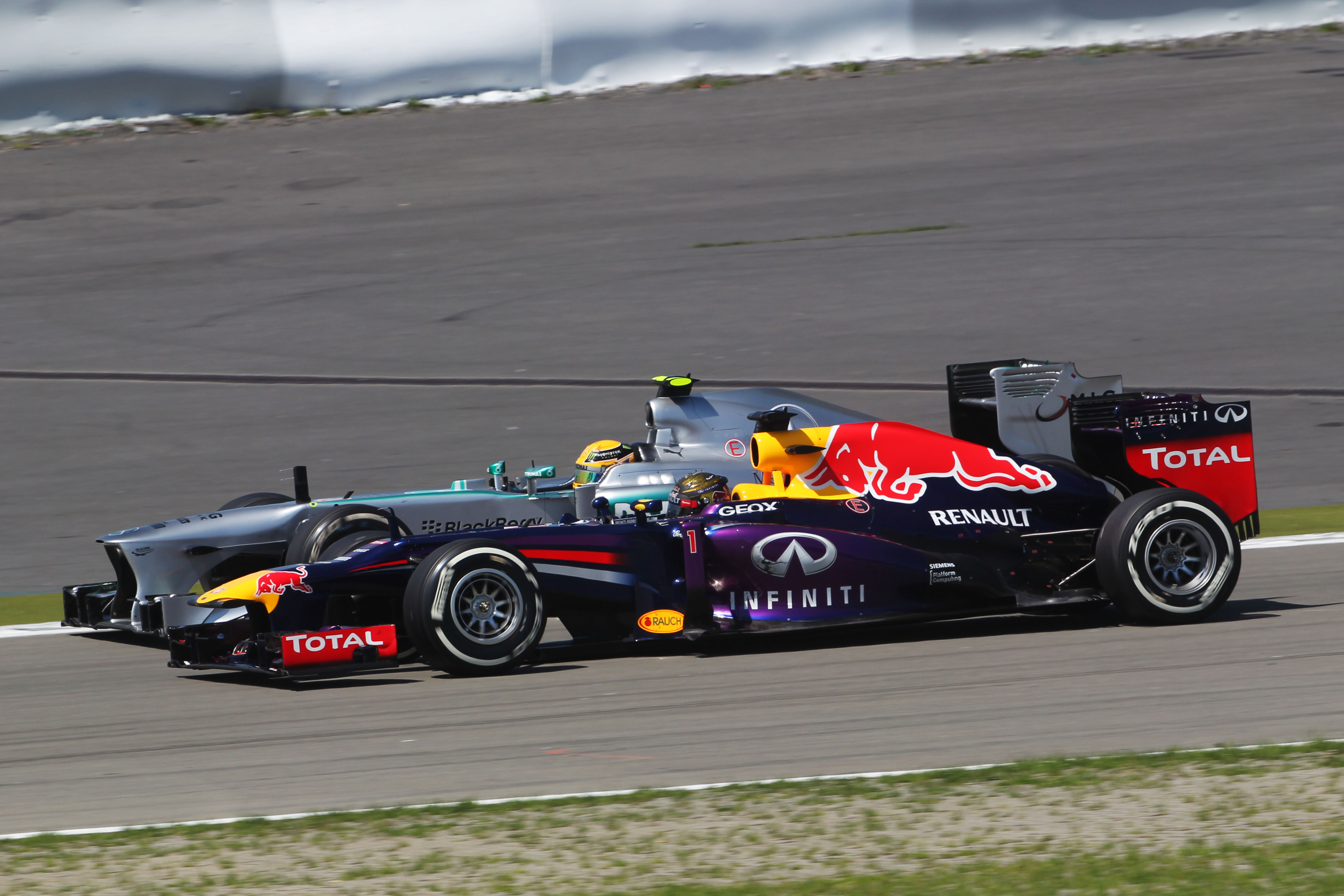 "It stopped them looking forward to 2014.
"That was actually really, really effective to make your competitor think you're catching them and they have to also spend resources, while in reality we were fully on to 2014 with the engine and the chassis."
If there was a tangible "epiphany" with the 2013 car it was that Mercedes understood how to make the tyres work for the first time. That set it up well for 2014 onwards although amusingly its confidence was not total, and the extent of its performance advantage after the rules changed was such that the drivers were taking it easy through the corners just to be safe.
That played a part in Mercedes' actual advantage early in 2014 not being fully known, even within the team.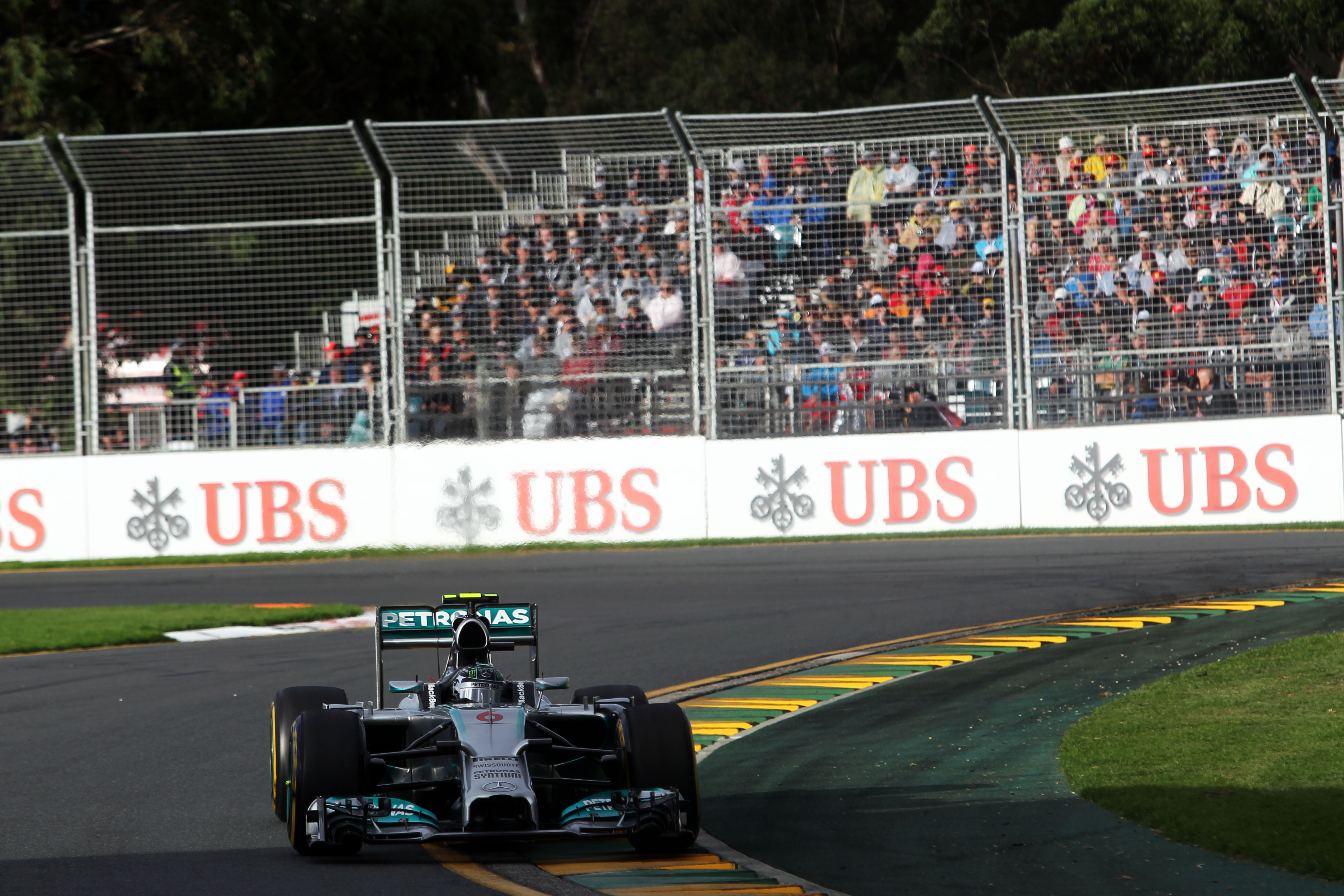 "Even when we turned the engine down it still went very quickly down the straights, so we would often sort of pootle round the corners," Owen admits.
"We were still a little bit nervous about our tyre life in those early years when we still weren't fully on top of tyres.
"We were quite happy in a way for the engine to be having the headlines because we didn't have to drive the car very quickly" :: John Owen
"So the power unit was great because it just allowed us to sort of really take it easy in the races through the corners and maintain good lap times.
"I don't think any one of us expected to have the margin we did have in 2014, I think our dream was that we would be closer to the front. We expected the status quo to be maintained, but we hoped we would be a bit closer.
"The advantage we had was not actually apparent to a lot of the team until Bahrain when the two drivers got into a little bit of a battle and pushed the car properly.
"At that point we realised just how big a margin we really had."
Bahrain 2014 was the first stunner of the V6 era and exactly what it needed after a controversial birth, thanks to Mercedes' domination of the opening two grands prix and criticisms emerging from some of F1's most significant names, including Vettel and Bernie Ecclestone.
Hamilton and Rosberg went at each other hammer and tong, duking it out all race. A late safety car compressed the field and on lap 46 Sergio Perez was just 1.7s off the lead in the Force India. One lap later he was 4.4s behind. By the flag 10 laps later: 24s.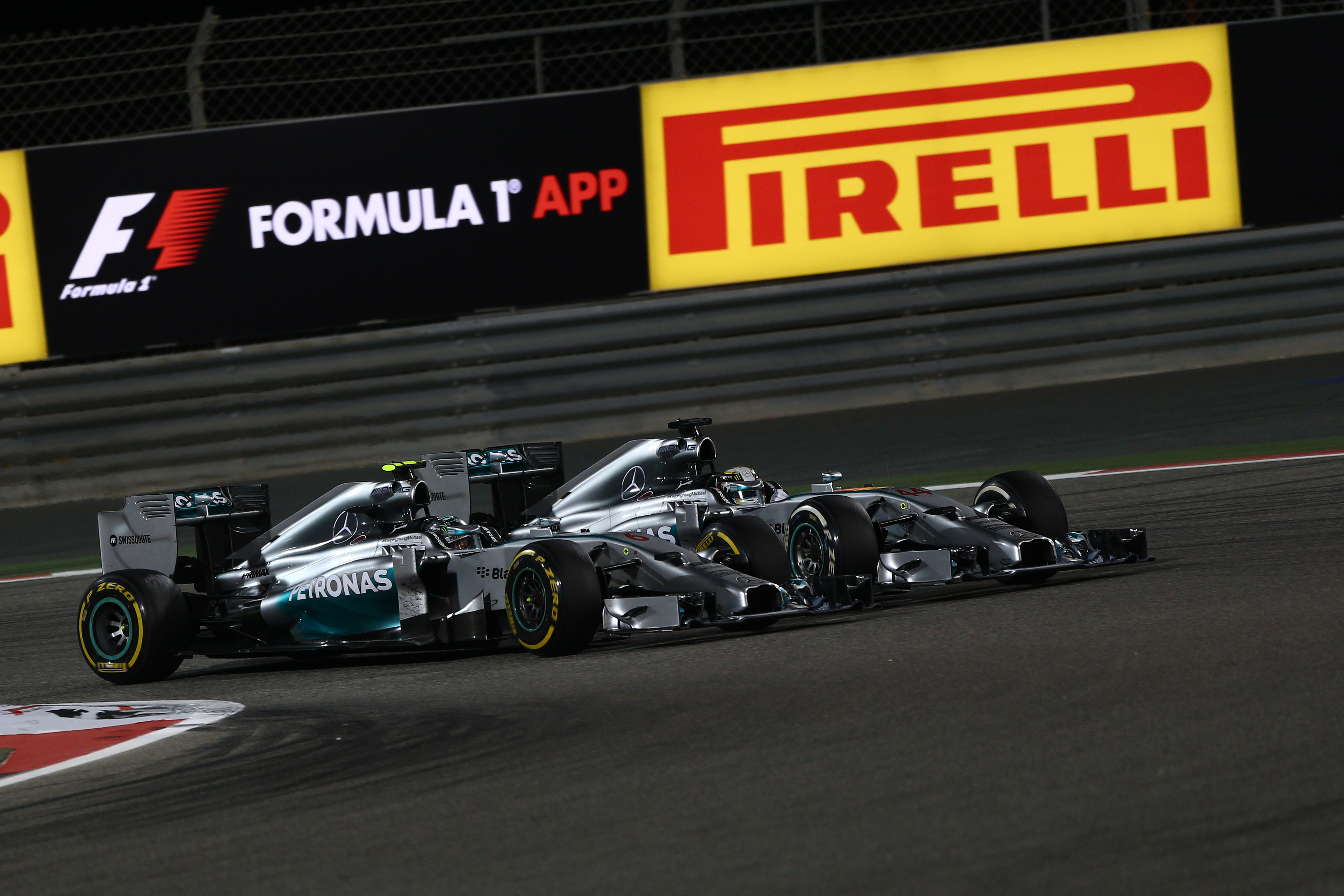 Mercedes had opened the taps and immense performance had come pouring out.
Then-Mercedes High Performance Powertrains boss Andy Cowell laughs when he reflects on the first time he saw his precious power units singing so loudly. He says the thought running through his mind as the two drivers took lumps out of each other was: "Turn it down! Arghhhhhhh!"
Cowell continues: "The schoolboy in me's going, 'Woah look at them race!' because that was exciting. The engineer was going 'oh shit, this is the last thing we need'."
2014 🇧🇭 #BahrainGP Timelapse #F1 #Formula1 pic.twitter.com/2Zr6QrQoH3

— F1Visualized (@f1visualized) March 22, 2020
Another example of the engine's superiority over its rivals was in Canada. Cowell's worst fears were realised when both cars suffered MGU-K failures at almost exactly the same time. Hamilton was quickly forced into retirement but Rosberg, incredibly, continued in the lead even with an absence of around 160bhp.
It was only right at the very end that victory was snatched from his grasp by Red Bull's Daniel Ricciardo, but it showed that even a down-on-power Mercedes could fight the opposition – the chassis was clearly excellent as well.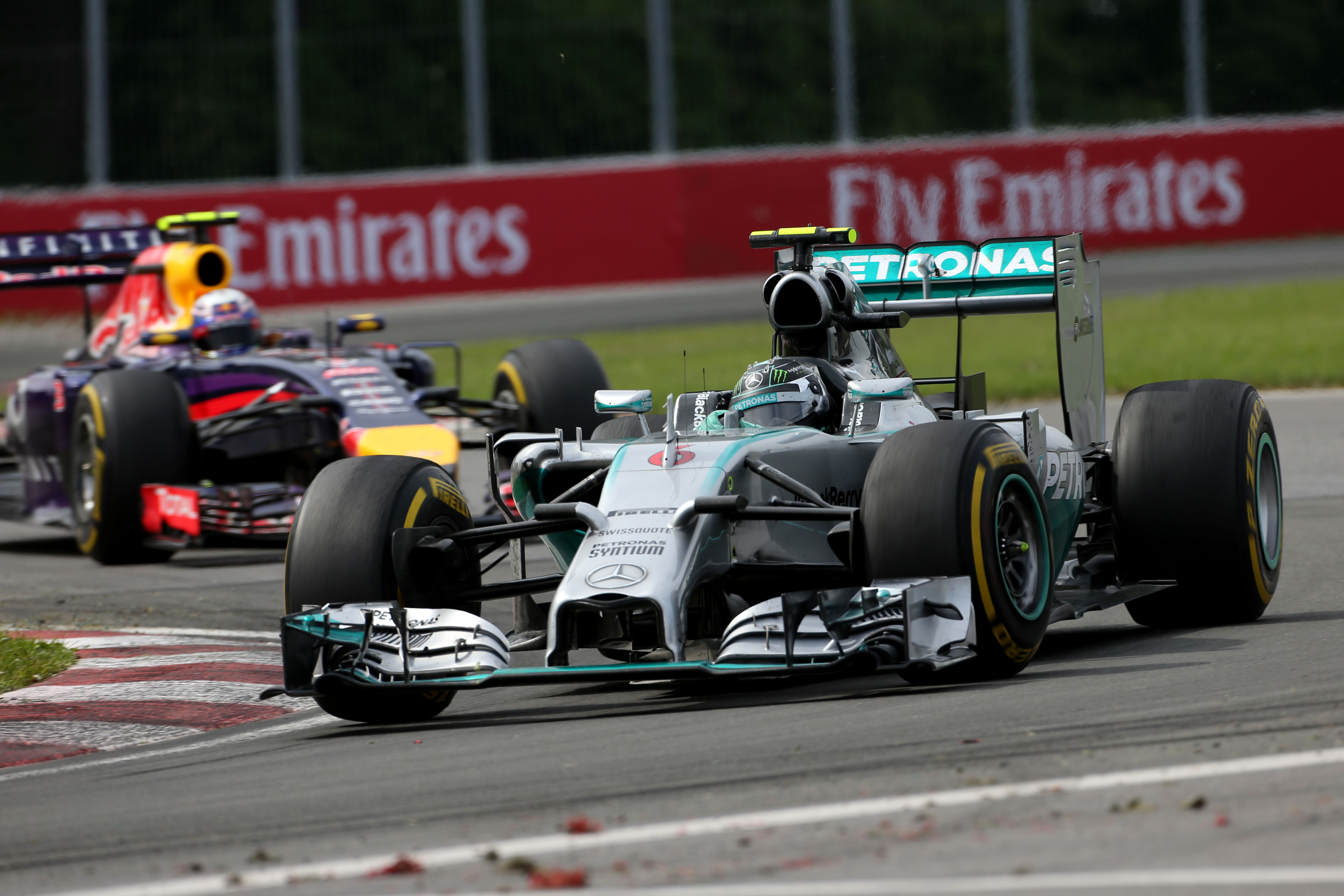 But Cowell insists Mercedes had a good idea of the ultimate potential of the package well before then.
"I think we already knew where we were, we just hadn't shown it," he says.
"We were spending more time working out what performance level we should run going into qualifying. We wanted to make sure we're on the front row, but we didn't want it to be too big a gap to the second row.
"James Vowles and myself spent a lot of time working out what mode should we run in, so we kind of knew where we were against the others, because we imagined they got it wound up to 11."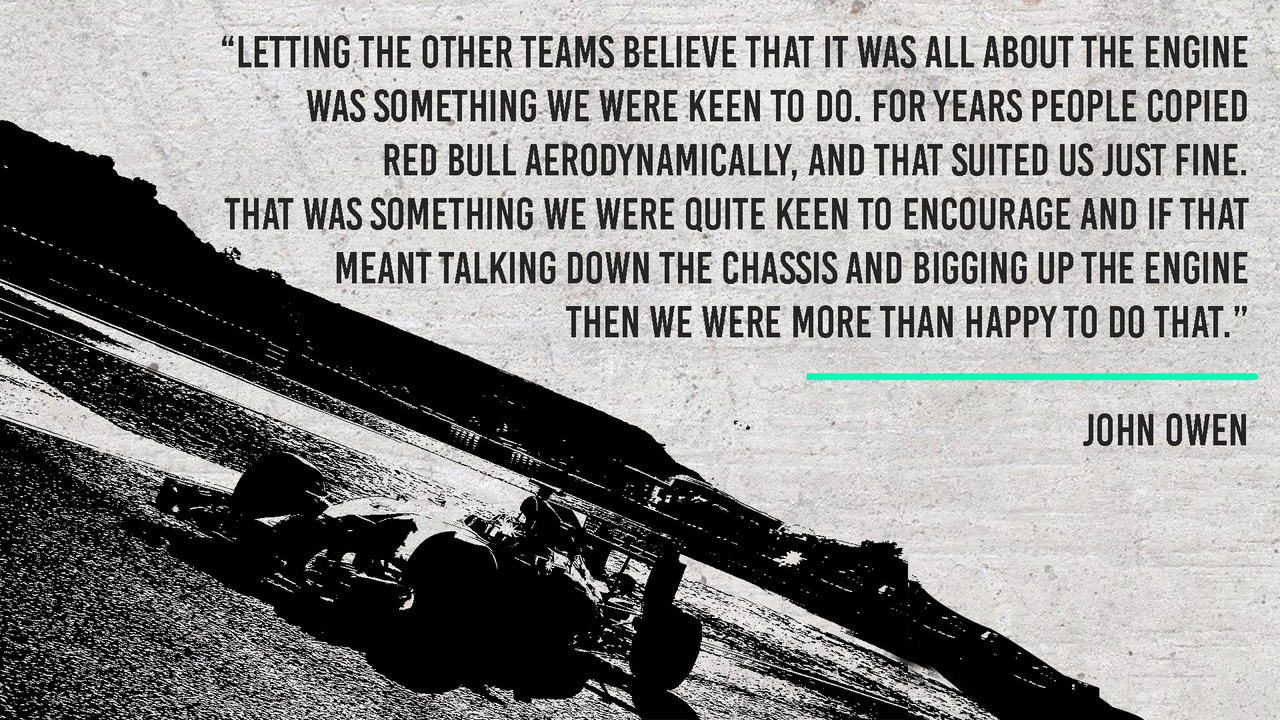 As Mercedes swept all before it across the opening races, it was clear that Ferrari and Renault were toiling by comparison. Ferrari's car was also not looking particularly great, even in the hands of Fernando Alonso.
But Red Bull, fresh from four consecutive title doubles, was given the benefit of the doubt. And the easy conclusion was that Mercedes was winning simply because of the engine rules.
Mercedes was heading to the front of the grid regardless, though. In the years that have followed 2014, it has become clearer that it really is car AND engine – a process that began in 2014 when Mercedes produced the undisputed best package. Not just the "least bad" power unit.
The side-benefit to the performance of W05 not being stressed early on, in addition to making it easier to conserve the engine and tyres, was that Mercedes was able to validate that its car was "actually quite decent" without broadcasting that to the wider world.
And there was "no frustration" internally that the engine was winning the plaudits. Partly because Brackley recognised the brilliance of the product Brixworth created. But also because letting rivals think it was all the engine quickly became a deliberate ploy.
"We were quite happy in a way for the engine to be having the headlines because we didn't have to drive the car very quickly," Owen confirms.
"You could imagine some of the guys here on the chassis side might have felt a little bit sad, but to be honest it was an active policy by us. Because the thing about the chassis is all its performance items are on show for everybody else to copy.
"Whereas the power unit, nobody really knows how the power unit is that powerful, what combustion technology you've got. They can only speculate. But it's all inside the engine, there's nothing you can see really on the outside.
"So, letting the other teams believe that it was all about the engine was something we were keen to do.
"For years people copied Red Bull aerodynamically, they all did a Red Bull copy and that suited us just fine. That was something we were quite keen to encourage and if that meant talking down the chassis and bigging up the engine then we were more than happy to do that."
Mercedes was revelling in its new-found design confidence as it approached the challenge of 2014 and came up with what Owen describes "some pretty adventurous suspension", which left him a little worried how it would react under braking at the front end. This was an important aspect of the W05's aero concept and required a very narrow span front lower wishbone, which Owen confesses "didn't really look like it should work".
"The whole front end aerodynamic treatment that we were doing, we felt was pretty good," he says. "That wasn't to say that we were arrogantly assuming we had the best solution because there's always a better solution but we were reasonably comfortable with it and it definitely suited us to make everybody believe it was all down to the engine.
"We're not trying to lie to anyone but equally we were quite happy they were getting the wrong end of the stick and we certainly weren't going to try and correct them on that!"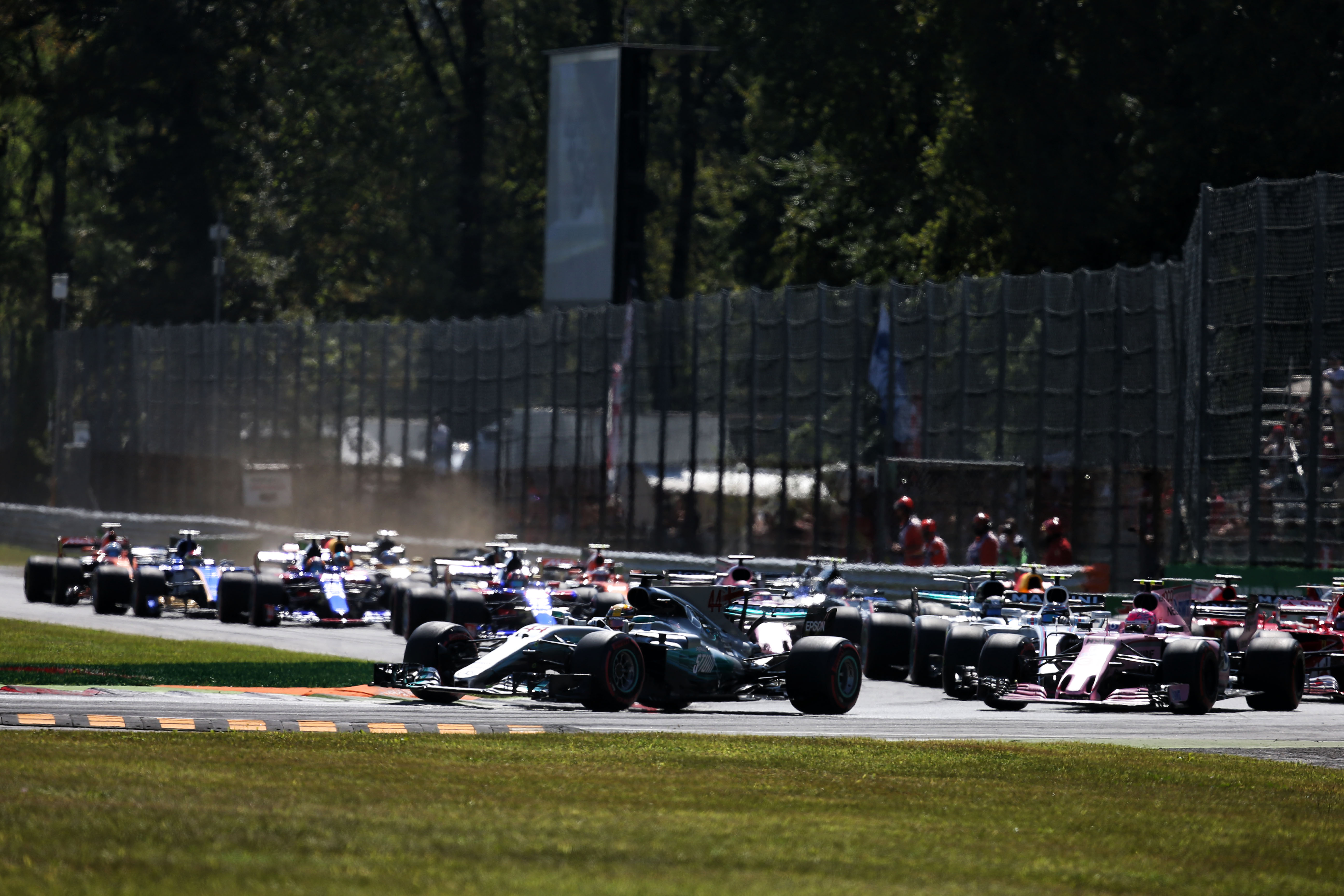 Given Mercedes remained on top when major new aero rules came in for 2017, and the fact the high-rake Red Bull concept has still yet to surpass Mercedes' philosophy even now in 2020, it's curious to ponder how long rivals continued to underestimate the quality of the chassis side of the operation – and whether that led some teams down blind alleys.
What's certain is that Mercedes' efforts to conceal the effectiveness of its car extended beyond 2014.
Across the early years of the engine era Mercedes would run lower wing levels than its rivals "to make the engine look better on the straights".
"People would look at speed traps and talk about the engine, and I think even when the Ferrari engine was sort of similar on performance we would tend to a lower wing level," says Owen.
"These are all funny things to say now because this era of Formula 1's kind of coming to an end and everybody's very much copying our aero philosophy now, with the different front end approach to noses and hopefully they don't catch up.
"It was important to keep people on the wrong path as much as we could do and that's a good thing to do. So, no frustration!"
The world has woken up now. Title after title, across aero rule changes no less, and retaliation in the face of rejuvenated efforts from Red Bull and Ferrari have blatantly broadcast the fact that Mercedes builds quick race cars, not just powerful engines.
Spectacular attention-grabbing innovations like the dual-axis steering system have since earned the chassis side of the operation plenty of plaudits of its own.
The Mercedes era is twinned with the V6 formula for good reason, but like the engines that have underpinned the team's success the car design philosophy has very, very deep roots. It is part of why the team rose to prominence and a huge factor in how it has stayed on top and continues to get better.
History will reflect very kindly on both Brackley and Brixworth, rightly crediting them as two halves of one whole. As Mercedes persists in reaping the rewards of that, so its rivals continue to chase shadows as they come to terms with how far they've fallen behind.