There were plenty of excuses to write about Mercedes' Formula 1 success in 2020.
But the initial inspiration for what proved to be one of the most enthusiastically-received articles of The Race's first season wasn't the record seventh consecutive constructors' title or any of Lewis Hamilton's achievements.
It was the prospect of Mercedes notching up the comparatively unheralded stat of 100 F1 hybrid era wins that prompted Scott Mitchell to pitch an article about the origins of that success.
Mercedes subsequently offered us remarkable exclusive access to some of the key figures behind its rise to F1 power, and their tales informed a feature series plus associated podcast and video beginning with the feature reproduced below as another of our 2020 highlights.
---
Seven constructors' titles, a century of victories (and counting), all manner of records and the unofficial naming rights to an entire era of Formula 1 – Mercedes' dominance of the V6 turbo-hybrid formula has been total. Securing an unprecedented seventh consecutive teams' championship with a one-two finish at Imola, where Lewis Hamilton clocked the 100th Mercedes race win since 2014, seemed a fitting way to reach the latest incredible milestones.
To some, it furthers the narrative that Mercedes has been on easy street in this engine era. Wind back the clocks to how it all began and Mercedes simply started early, was well prepared, avoided the problems that engulfed its opponents and swept all before it. Then never stopped. Those who believe that don't know how close the all-conquering engine programme of 2014, which started all we see today, had come to crisis just a few months before.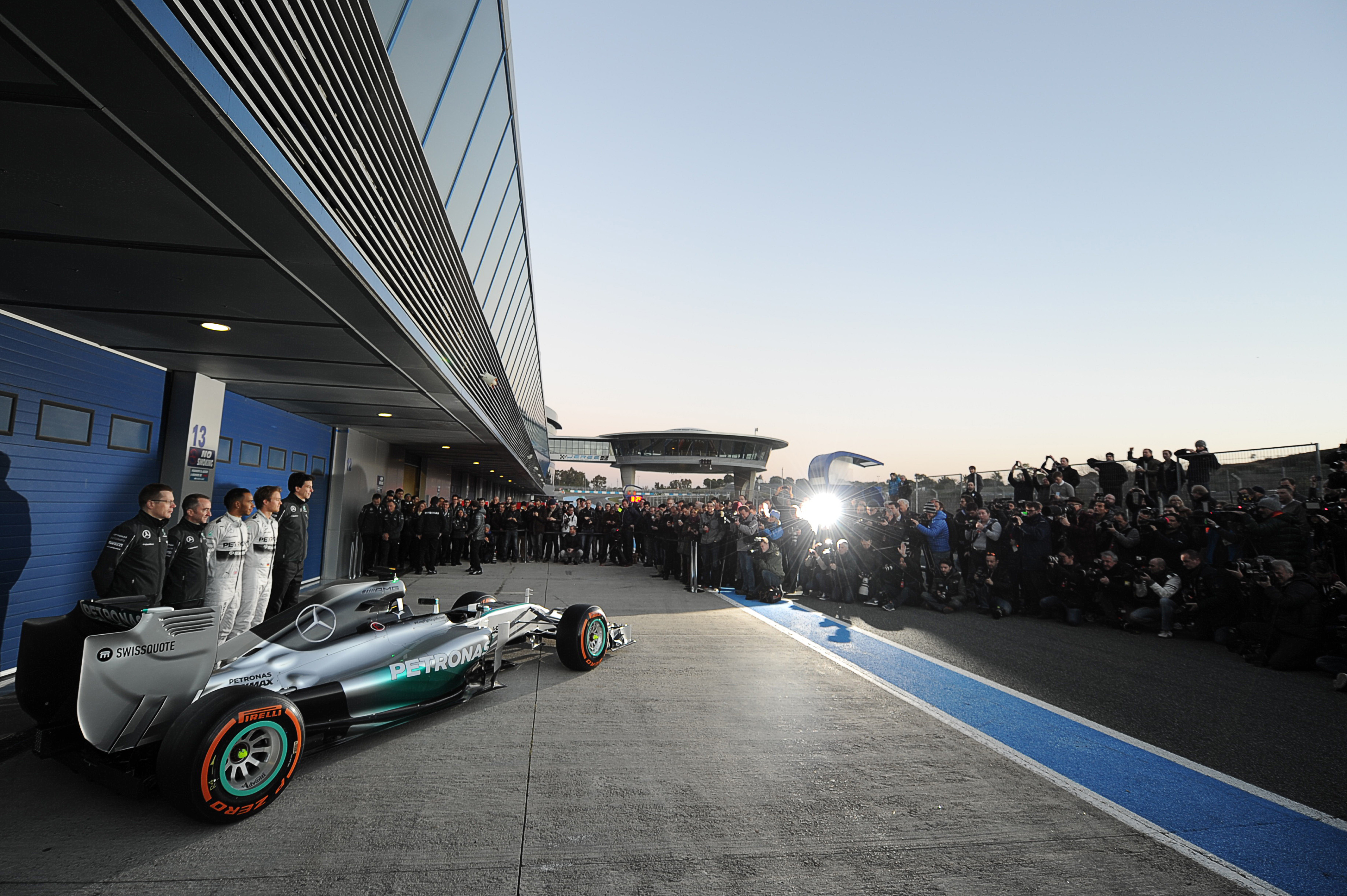 As the simplistic assessment of how the Mercedes era began is recited to Andy Cowell, Mercedes' former engine chief, he starts to smile and shake his head.
"That is a wholly wrong perception," Cowell, managing director of Mercedes High Performance Powertrains from the start of 2013 until earlier this year, tells The Race.
"I suspect all the manufacturers went through the same issues, the same challenges, because the technical regulations were the same and science is the same regardless of the country that you're operating in. And the new bits were new to everyone.
"We all went through the same suite of issues."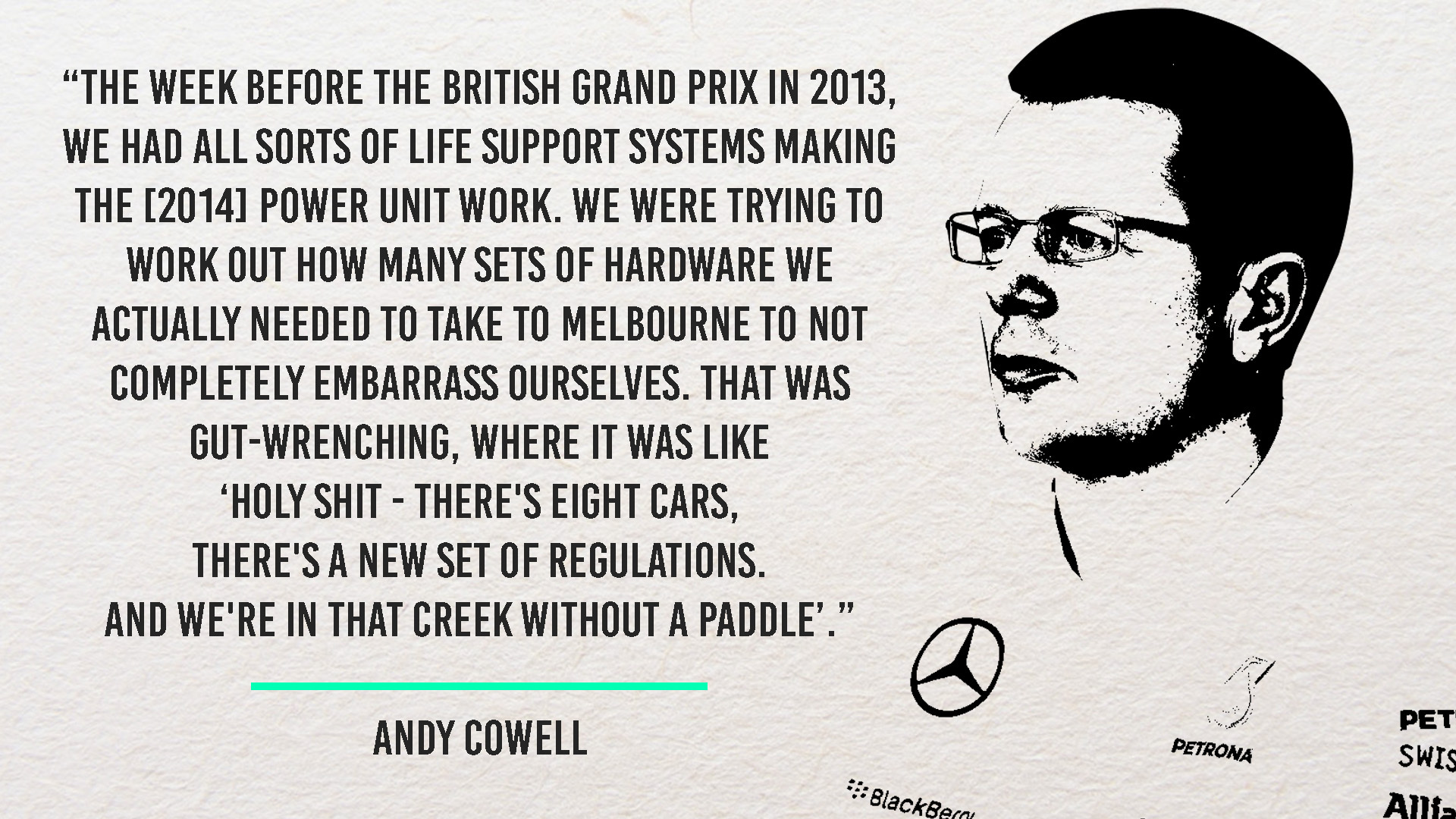 Yet they emerged the other side in completely different conditions. Mercedes won 16 of the 19 grands prix in 2014 en route to its first title double, with Red Bull and Renault picking up a trio of victories when the Silver Arrows faltered. Ferrari failed to win at all. Honda's comeback one year later was disastrous.
Had Mercedes not responded to its own issues during the build-up to 2014 the way it did, its tallies would probably look different – for the inaugural year of this engine era and the years that have followed.
"The, 'oh, Crikey' moment, the big 'oh, Crikey' moment, – and I'm coming up with a polite phrase there – was the week before the British Grand Prix in 2013," says Cowell.
"We use a quality gate process to track our projects. And every single time we have a quality gate, they're red because we're always trying to do more than possible. That's what you do in motorsport, and you just about get it right the evening before.
"But this particular quality gate we were all sat there going, 'This is the brightest red quality gate we've ever had'. We've now signed up Williams to join us for 2014, because we suspect that McLaren will be departing in 2015. So, we've got four teams expecting the power unit. The investment that had gone into the capability of Brackley was manifesting itself with a good season in 2013, winning races and taking the fight to Red Bull. And we couldn't do a power curve. We've got all sorts of life support systems making the power unit work.
"We'd got this vision of eight cars in Melbourne wanting this power unit, trying to work out how many sets of hardware we actually needed to take to not completely embarrass ourselves. And then realising we need to start making it in about two months time.
"That was one of those gut-wrenching quality gates, where it was like 'holy shit'. There's eight cars, there's a new set of regulations. And we're in that creek without a paddle."
This behind-the-scenes 'brink of crisis' moment is just one aspect that makes the origin story of Mercedes' current success so fascinating. Everybody remembers the first Jerez test in 2014 – cars not firing up, cars not making it out of the pitlane, cars being loaded onto flat-bed trucks and returned to the garage. Mercedes' motivation the previous summer was the grim prospect of suffering all of that – but when it counted.
At a company meeting on the Friday of the 2013 British GP, Mercedes admitted internally it was "in trouble". Cowell recalls that as the tipping point where the response would determine whether Mercedes could scale the mountain in front of it, or be defeated.
"Just imagine eight Mercedes/Brixworth-powered cars parked on the side of the track in Melbourne," Cowell remembers saying. "That feels awful, doesn't it?
"On the other hand, the others are in trouble as well. We've got an opportunity to shine. Big regulation changes don't come along that often in the powertrain world. So, come on let's grab hold of this opportunity and do something amazing."
In reaction, Mercedes ceased its non-essential activities and switched the end goal from 'winning the championship' to 'being ready for Australia'. Staff agreed to do an extra 10 hours of work a week and were redeployed to more critical areas.
"It was an emergency footing," says Cowell. "There were many other events on the journey to that point and from that point that impacted individual departments and individual people.
"But I think that one point is a point that the majority of people that were in the business at that time would recognise as a key point in the journey."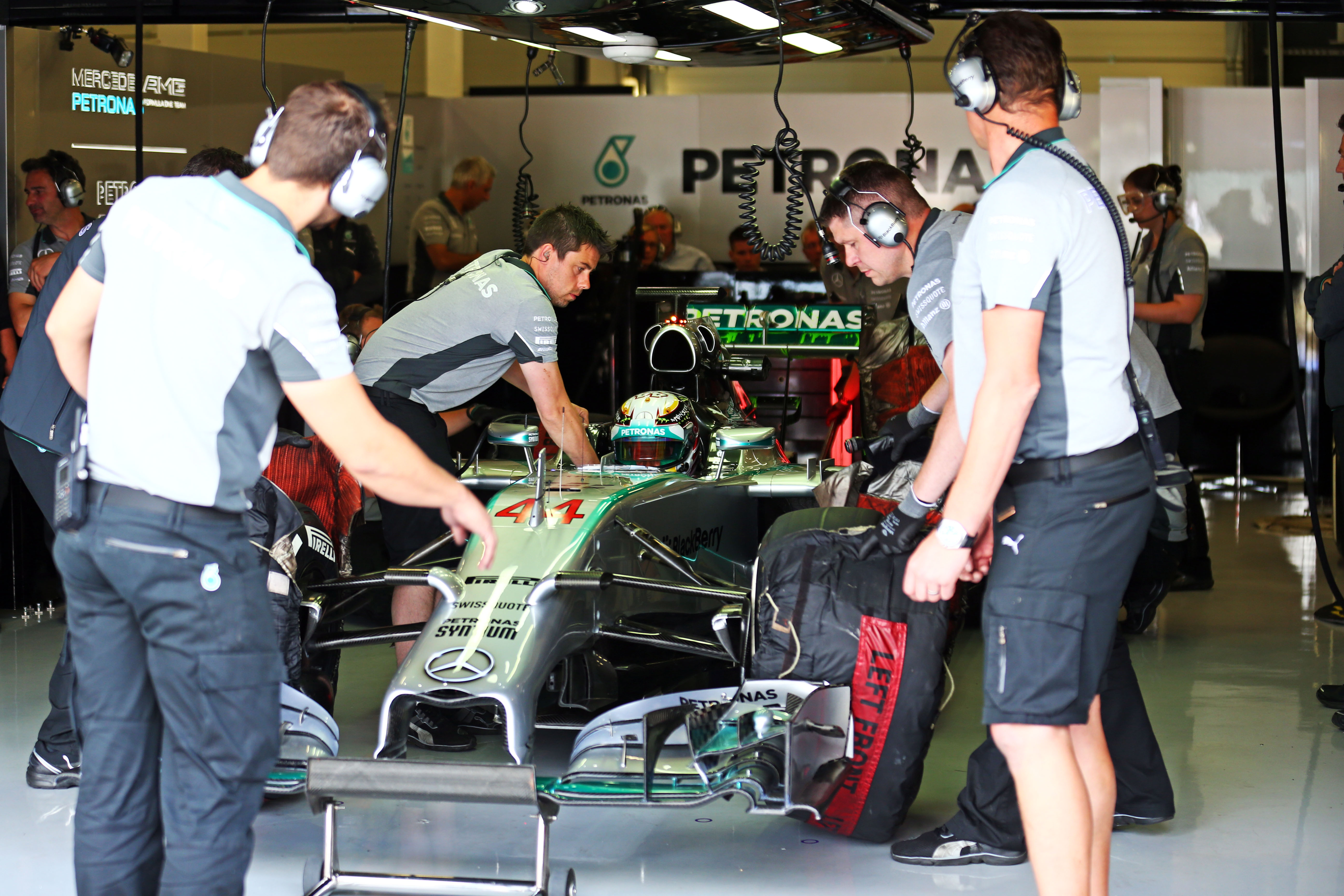 Reacting to setbacks is an underlying theme of the genesis of the Mercedes era. Picking out its ground zero is trickier. The extent of its preparations was such that Mercedes produced a single-cylinder prototype when F1 was planning for its turbo era to come in the form of inline-four engines – a decision the championship originally made at the end of 2010.
And Cowell admits that Mercedes made a conscious effort to start as early as it could. But that brought its own setbacks as F1's regulations changed form in the summer of 2011 to the V6 turbo-hybrids we now know – "and some of us love!" points out Cowell – and were shunted back a year to 2014.
"We listened to the fact there were going to be new regulations, and we did something about it," says Cowell.
"We had one extra journey to practice. We had a single-cylinder running early on, which we had to adapt because we didn't get all the parameters exactly as the regulations came out.
"We did a four-cylinder engine that we'd got head castings for and a crankcase ready for, which we threw in the skip!
"When it changed from the inline-four to the V6…yeah, we went home, we were grumpy, we had a glass of wine. But we dusted ourselves down and we came back the very next day, and we said 'We're going to have a V6 running before Christmas'. And we did have a V6 mule engine running before Christmas.
"So, we reacted with action."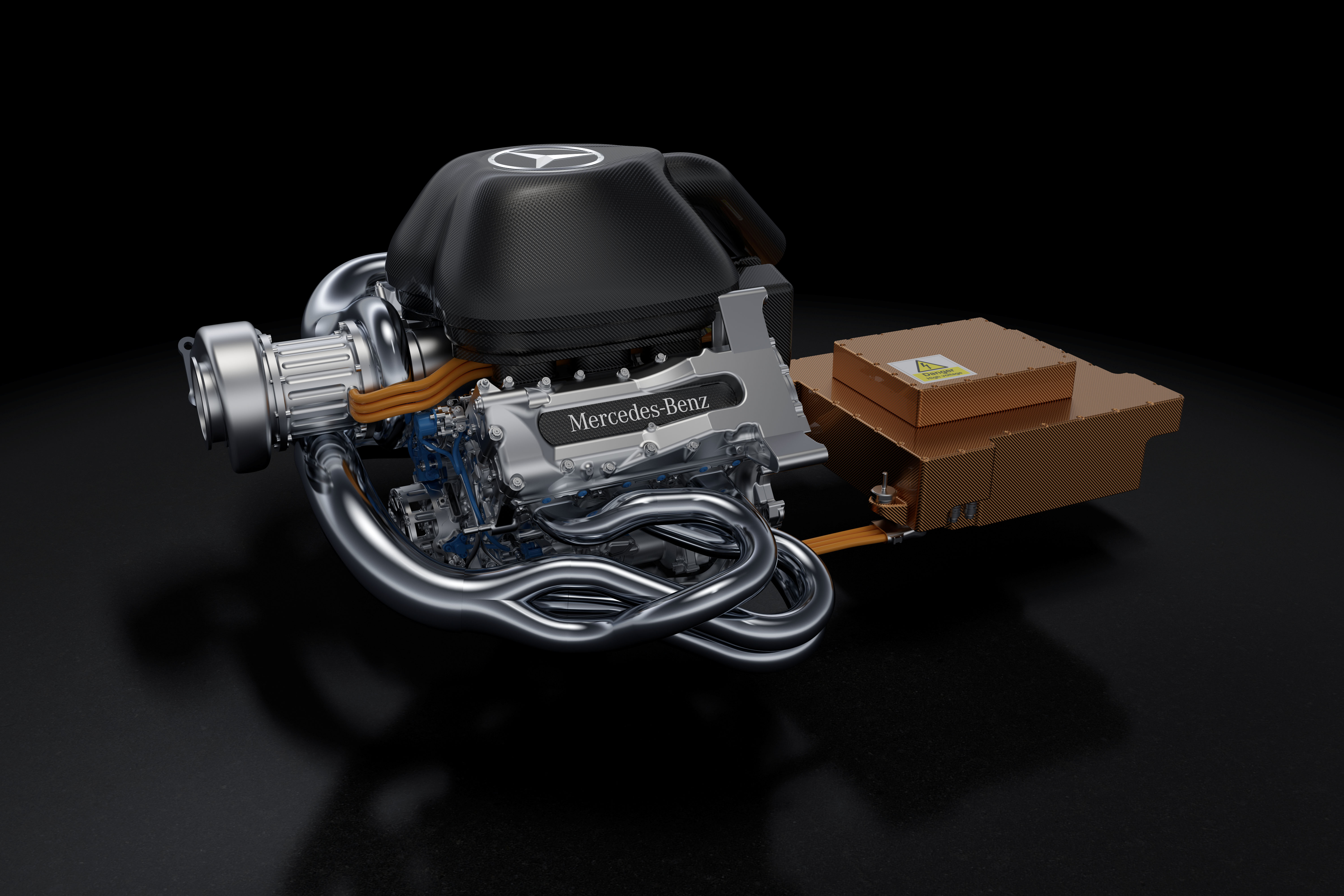 Mercedes was able to do this because it had invested a lot in F1's hybrid direction already, under the leadership of Cowell's predecessors as managing director Ola Kallenius (now Daimler's CEO) and then Thomas Fuhr.
Its mastery of the original KERS system meant it was in good shape, because the Brixworth division had been prepped to produce that technology in-house. Battery, inverter and electric machine knowledge was known, which gave Mercedes' operations and engineering group the confidence to commit to its own turbocharger design. Cowell says it meant "99% of the key ingredients were in our hands".
"The innovation timescale was more compressed because of that capability that was already in the factory, and because of the ambition and the 'come on let's give it a go' attitude," says Cowell.
"We did an additional V6 iteration compared with everybody else."
It meant the quality and quantity of work Mercedes could get through trumped that of its rivals. The ambition of the project cannot be understated, from the commitment to splitting the turbo and compressor arrangement – at the request of the chassis side – and making it work, to the approach HPP took through its development cycle.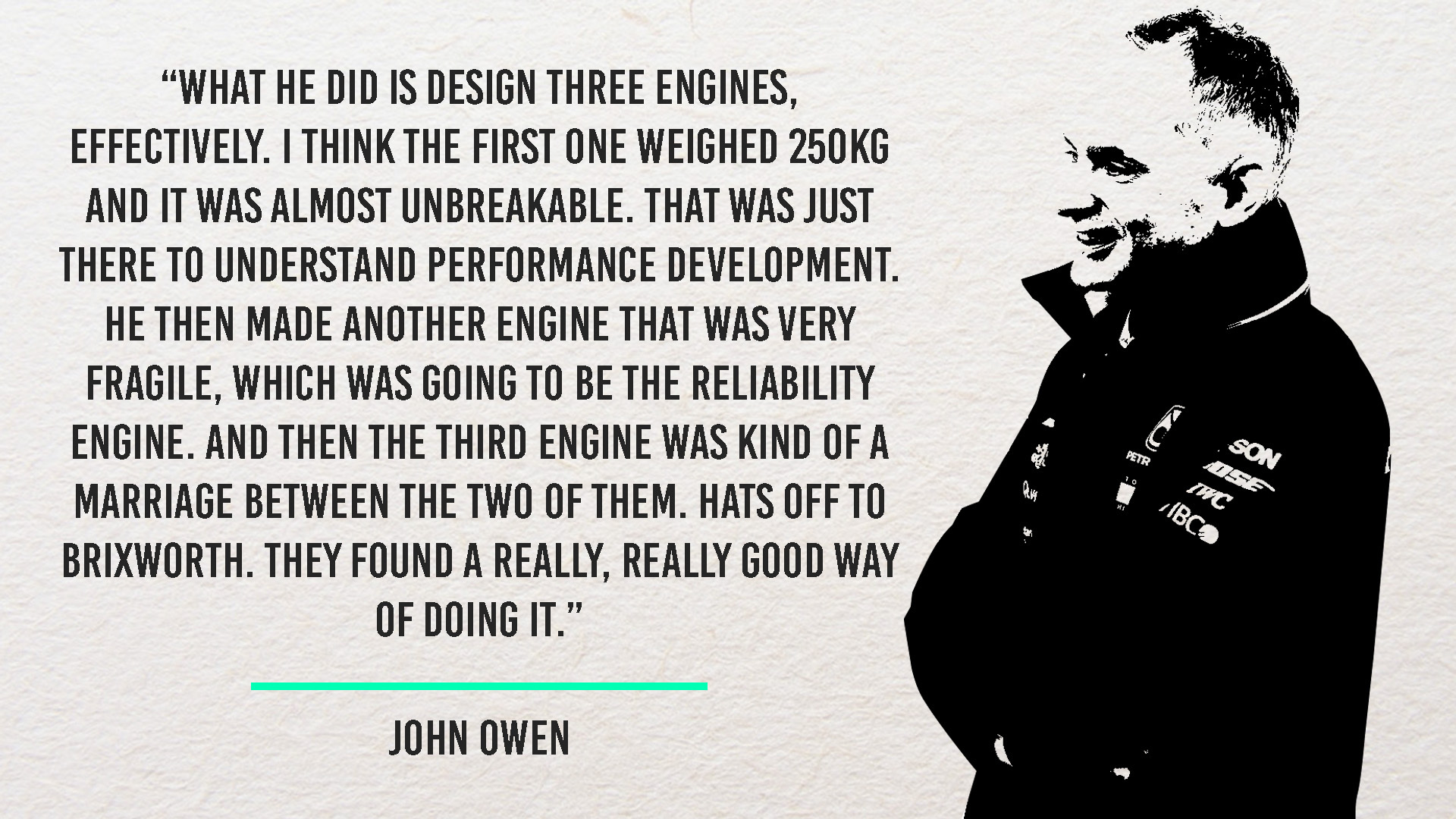 Mercedes' chief designer John Owen tells The Race that not only was Cowell "very brave to indulge in the packaging" of the turbo-hybrid engine, he also had an ingenious but labour-intensive idea for the process.
"What he did is design three engines, effectively," says Owen. "I think it weighed 250 kilos from memory, the first one. And it was an engine that was almost unbreakable. That was just there to understand performance development.
"He then made another engine that was very fragile, which was going to be the reliability engine, where they didn't do much performance work.
"And then the third engine was kind of a marriage between the two of them, which is the one we took racing.
"Hats off to Brixworth for a very clever strategy there, I think they found a really, really good way of doing it. We heard other teams sort of tried to build their power unit for both performance and reliability and suffered the problems of lots of time spent with the engine broken and not being able to develop it.
"That was a really good call that they made. That's why we were good on that side."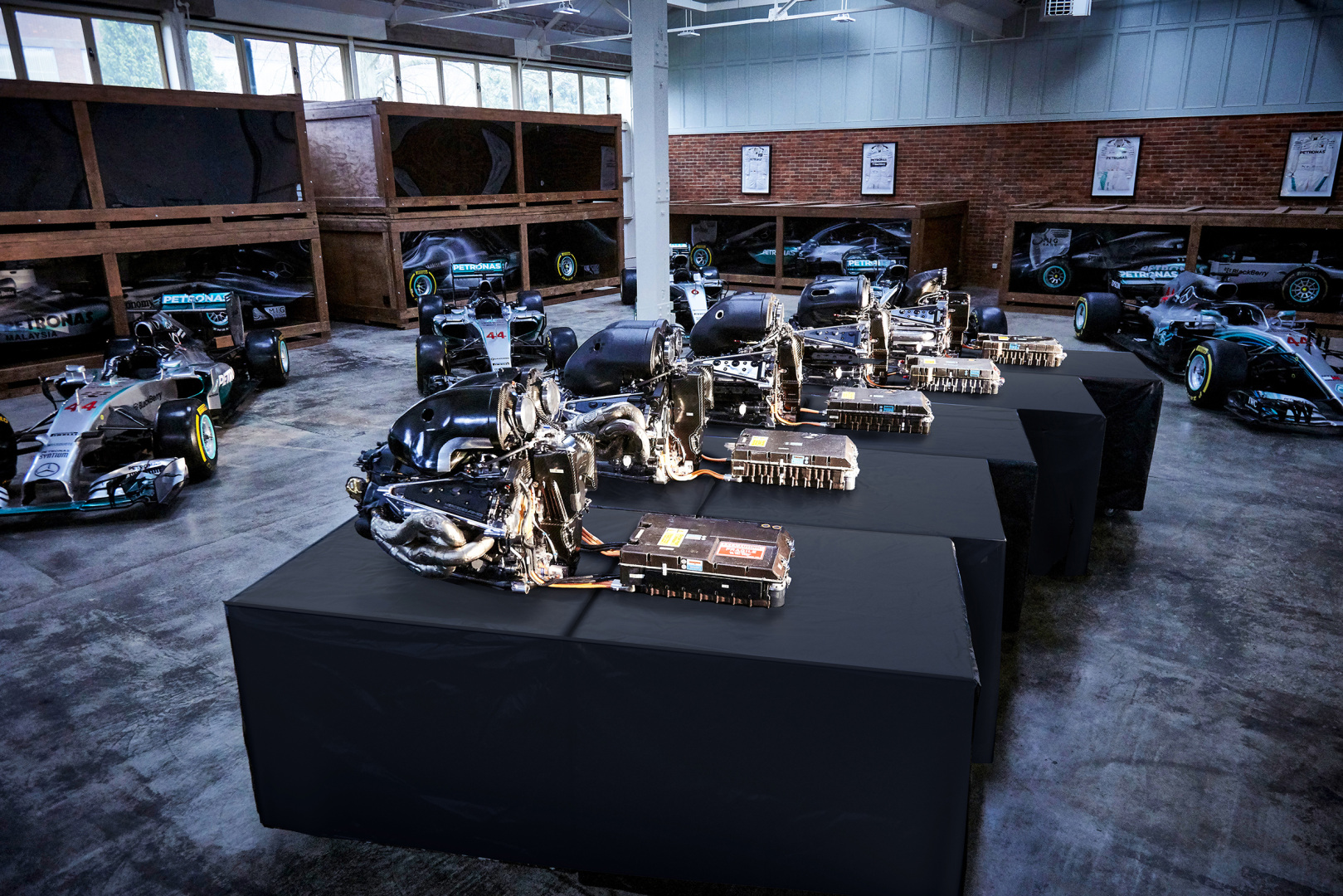 Cowell sidesteps the responsibility for that decision, saying it was "not my plan, that was the plan that 20 to 30 leaders came up with at Brixworth and Brackley". It was a key manifestation of a very, very well-integrated approach from Mercedes' chassis and engine departments. But it was also a drain on human resources, requiring longer hours at the factory to make it happen.
The "unbreakable" engine shocked then-Mercedes boss Ross Brawn when he first saw it. Cowell's priority was to ensure that the engine's internals – pistons, conrods, bearing shells, etc. – were neatly detailed because they were of a style Mercedes wanted to race with. But everything 'around' it didn't need to be pretty. The front cover, says Cowell, was so heavy it needed "several large men to lift it on".
"When Ross saw it he was like…how are we going to fit that in the car?! How on this planet are we gonna fit that in the car?" laughs Cowell.
"Melbourne 2014 wasn't going to move to the right. We knew that. The number of hours to that point were fixed and it just got more and more anxious" :: Andy Cowell
"I said, well, that's the next journey."
Which is where Mercedes' process got tougher, and any theory of immunity to the challenges of the new rules crumbles.
The split-engines approach, which we'll short-change by calling Point B of Mercedes' masterplan, meant it could do its performance work without being affected by reliability and develop reliability without holding back performance development. The two streams then merged at the end, which we'll call Point C – giving Mercedes the most powerful, most reliable engine of 2014 and the early years of the engine era.
But getting from Point B to Point C was not the work of a moment. It was with this race variant that Mercedes' summer of discontent became apparent, with October/November deadline to get the final version fired up and, more pressingly, the need to share the engine's design with the customers.
"We were having to release the designs of our Melbourne 2014 prized possession," says Cowell, "and the device that we were learning from would only spend an hour in the test cell before it was heading off to intensive care for a full rebuild!
"That puts a huge drain on the engineering machine that's trying to learn, but doesn't want to commit to the spec to go racing with, and the operations machine instead of being asked to make 10 of a variant, then having to make 20 because we've blown all the first ones up.
"When bits are breaking, it puts huge pressure on every single department from a capacity perspective, engineering to solve the problems instead of releasing drawings, purchasing to buy more bits, manufacturing to make more bits, taking apart what they only just put together – and often it's partly taken itself apart, which makes this assembly of the other bits even harder.
"Test cells also need development as well as the power unit. When it's something completely new like that power unit was, the test cell couldn't develop and get mature as well as the power unit.
"And Melbourne 2014 wasn't going to move to the right. We knew that. The number of hours to that point were fixed and it just got more and more anxious."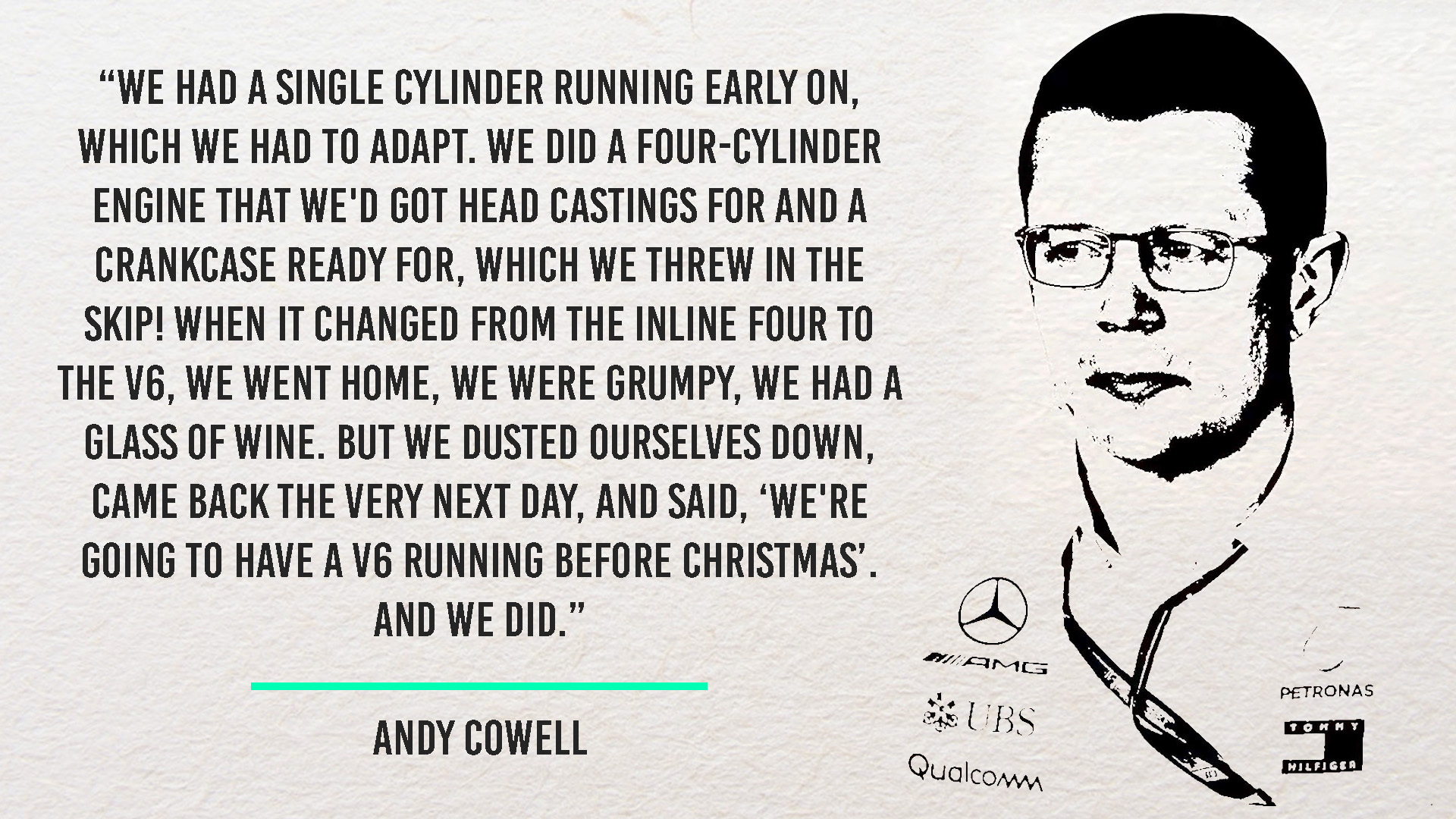 Being strict worked in the long run. Even though it required Cowell to threaten taking a sharp set of garden shears to any of the 'life support' systems that were being hooked up to the race variant in the vital throes of reliability work.
"It's OK to have fuel going in, air going in and a nice strong shaft coming out the back with lots of power going through it," Cowell told his staff. "But everything else, forget it."
So the next stage of validation was to run the engine in the factory as if it was in a car, using a wireless telemetry link to observe all the data while it was run on the transient dyno. That taught Mercedes a lot about the installation and how temperatures would shift under engine covers, by exposing a lot of the issues.
Time and time again Mercedes would encounter a reliability problem and have to restart these learning loops, while also not getting the full learning out of each variant before committing to the next – because of the time pressures. It was a conscious decision to combine computer simulation with punishing physical tests of the hardware and "finding out what we don't know about".
There was a lot. "We'd had some spectacular failures on pass off on the dyno," says Cowell.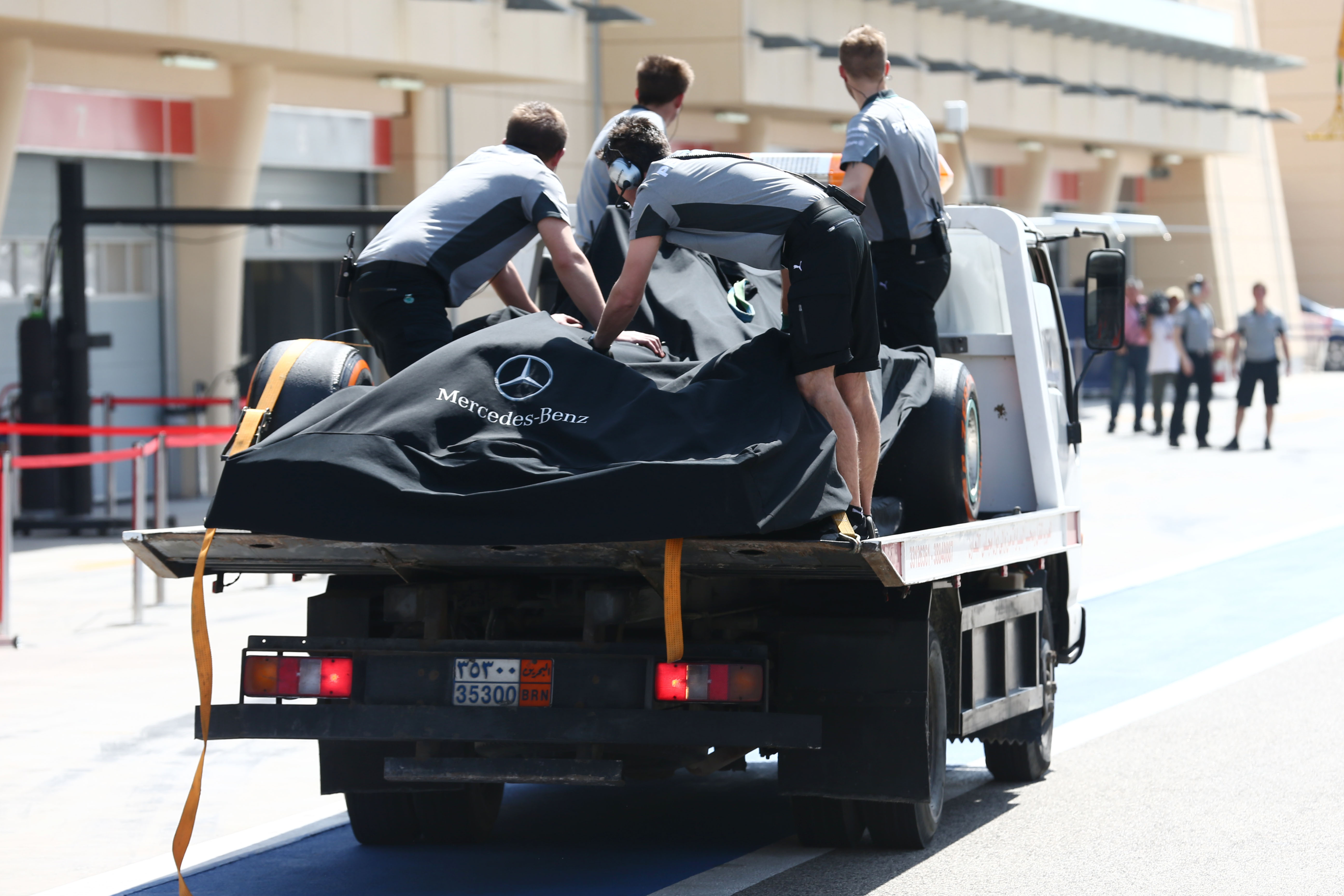 "The first race engine the crank gear came off the front and broke into many pieces and took out the whole timing drive at the front of the engine before it got to 50 kilometres of life."
So much focus was being put on reliability, and hardware being deployed to that side of the operation to fix problems, that Mercedes could have decided that the performance level reached in the summer of 2013 would be the base level for Melbourne. Older, tired hardware gave limited opportunities for useful learning before it let go, but the performance side feasted on the scraps.
There was a performance update in December that could be applied to the power unit without needing a new cylinder head. Cowell describes it as "relatively small component changes but a decent performance update". The snag was it required a spend that hadn't been accounted for, and that meant flying to Stuttgart to pitch for the funding.
The response? "Yeah, go for it," Cowell smiles. "That was enjoyable."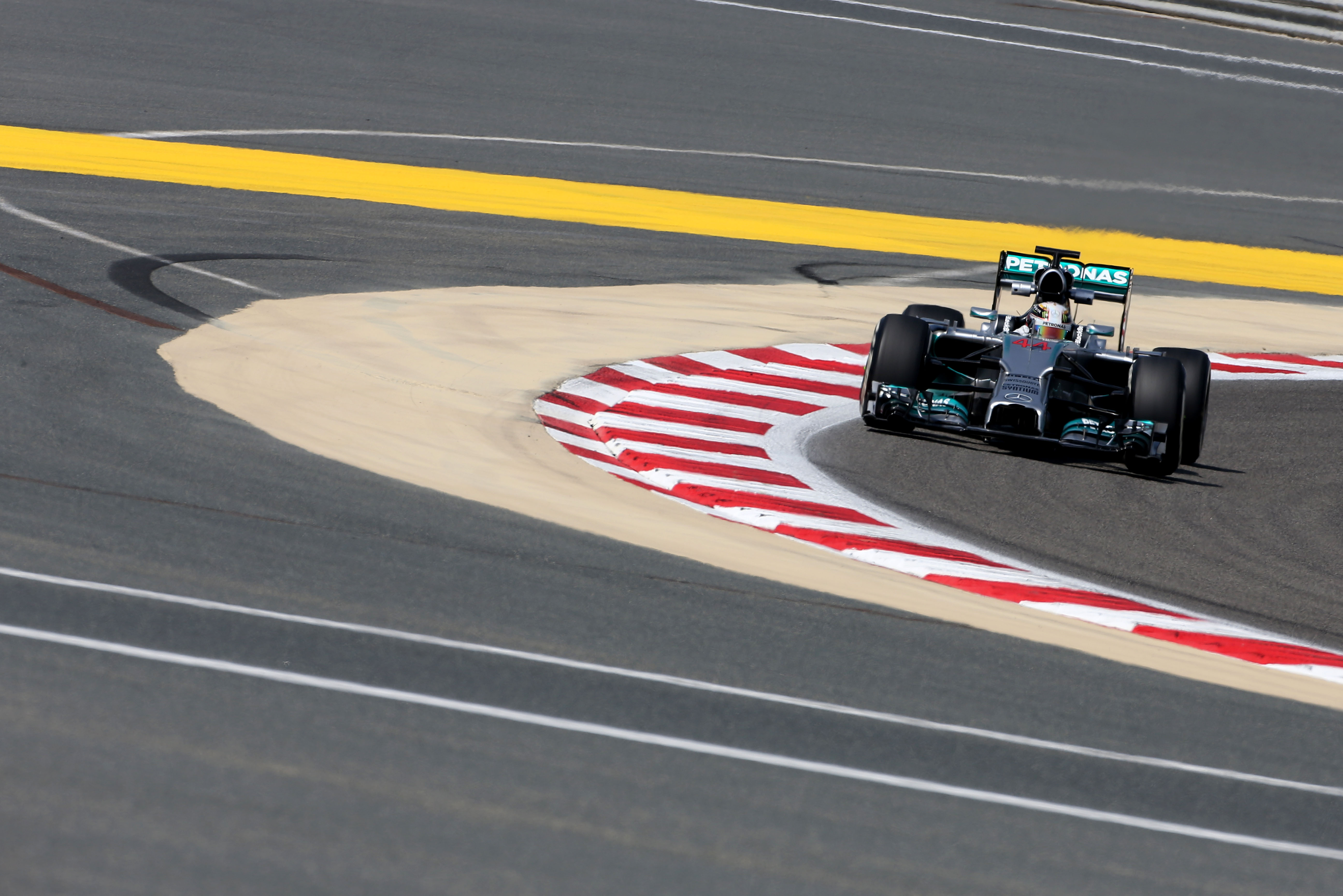 A couple of months later, in Bahrain testing, Mercedes struck gold again: "It was the first or second day. At lunchtime we literally wound in a performance update, which was one of the biggest performance updates I've ever seen."
Advancements in power and reliability didn't mean Mercedes turned up to pre-season testing where it wanted to be, let alone Melbourne. At Jerez, Mercedes rolled its cars out on time but its customer McLaren didn't because a wiring loom had a coupe of wires the wrong way around. Lewis Hamilton suffered a broken front wing on day one which resulted in a big crash and cost valuable running time. Throughout testing, Mercedes wasn't immune to electrical glitches and engine failures.
Ferrari also caught Mercedes' eye, clocking a decent number of laps and also doing pitstops and live pullaways. Mercedes couldn't do that. It hadn't done the calibration work. So Ferrari was looking half-decent, if a little down on power.
"Pretty much every system was not tested to the degree that we'd like, which is why every race was a new experience " :: Cowell
As testing continued though, Mercedes edged ahead. The mileage increased, the lap times dropped. It was becoming clear that the Mercedes engine was the benchmark but it was married to a handy chassis. Then in Bahrain, the best engine got even better. By the time testing finished Mercedes-powered cars had topped 11 of the 12 test days and were leagues clear in the mileage stakes. But the team still wasn't ready.
Among the lingering concerns was potential gearbox fragility, according to Owen, with the spike of torque as a cylinder fires that "twists up the gearbox". On the V6 turbo-hybrids, the effect was "at least four times worse, if not five times" than the preceding V8s.
That meant the gearbox, revised to include an eighth forward gear ratio for 2014, was "a lot, lot bigger and heavier". And it had to last an extra race compared to 2013 as well. From a structural perspective, Cowell adds that the turbocharger on the Mercedes is tucked inside the crankcase whereas on some of the other power unit manufacturers that turbocharger is poking out the back.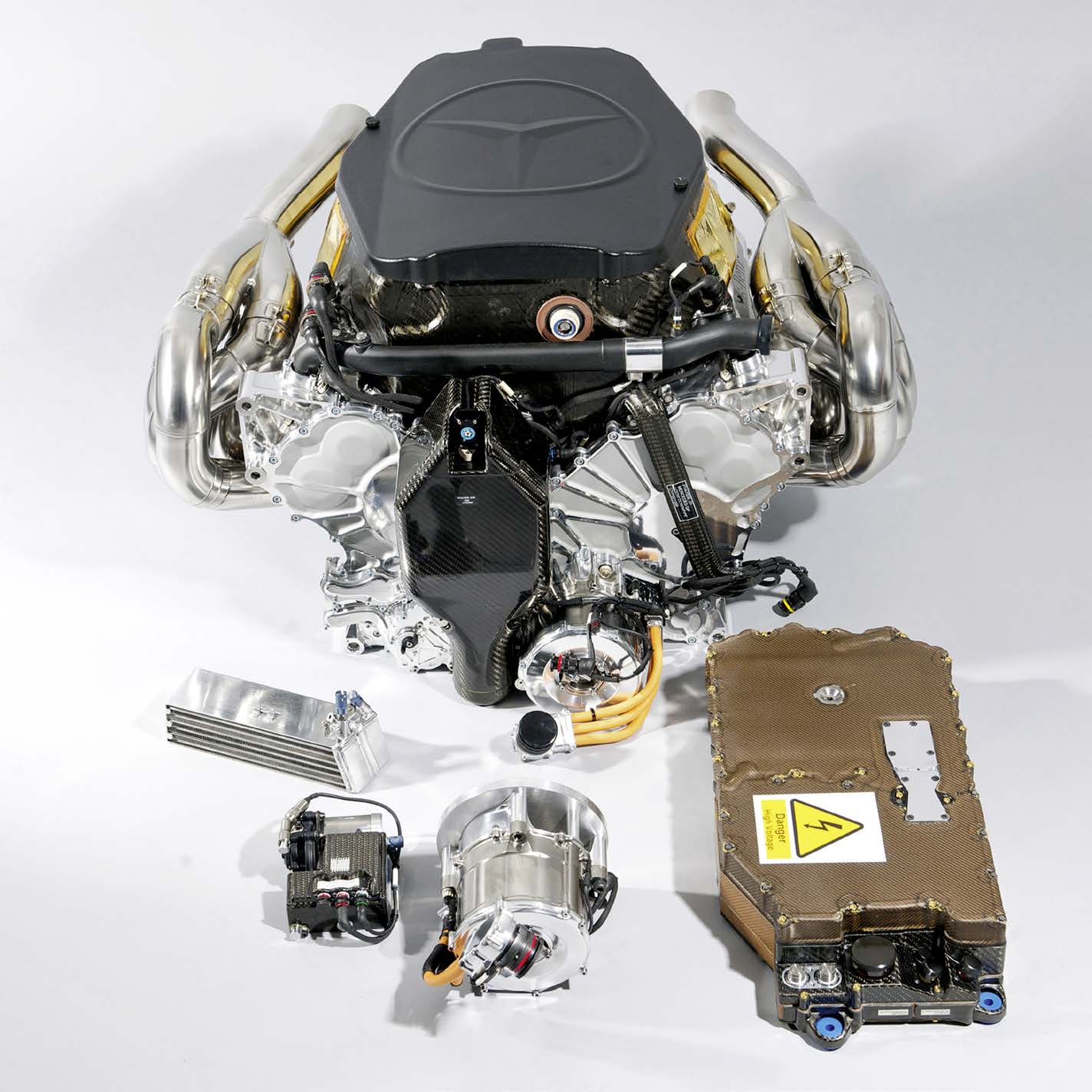 "So you've got a red hot lump to somehow wrap your gearbox around and still maintain some structure in that," says Cowell.
Owen adds that for the Brackley side: "That's always a worry because you haven't made the engine. And you haven't mated it to the gearbox, so you did worry if the gearbox is gonna survive it.
"We did take some gearbox issues in 2014, I think a lot of the teams did as they learned these things. But that was a concern."
And the engine itself was still a colossal unknown. Cowell recalls the concern heading to Melbourne being: "Crikey how many more of those young failures are we going to experience for the first time on the other side of the planet from where the factory is? We're not going to be able to work some magic overnight here, we're just gonna have to load another one in.
"And are we going to get to the embarrassing point where there isn't another one to load in the car, and the car's in the garage because we've let the side down because everything's blown up?
"There were many systems, the internal combustion engine was unknown, a crank gear coming off early in life, MGU-K failures, MGU-H failures, turbocharger bearing issues, control electronics issues, lots of modified boards going into the ERS module…
"Pretty much every system was not tested to the degree that we'd like. I think all of that added up does make it the most uncertain start of a season. Which is why every race was a new experience to be honest."
Mercedes' reliability concerns were founded when Hamilton's season opener was ruined almost instantly because of a coil drop tube problem. But Nico Rosberg won at a canter and the two would go on to dominate the season, with Hamilton prevailing in the title battle, and Mercedes crushed its opposition in the constructors' championship.
So those new experiences turned out kinder for Mercedes than most as reaped the rewards of its intense, flawed, clever, frustrated preparations, and the trials and tribulations that took Mercedes to the brink of questioning if it was possible – then deciding emphatically that it was.
"That made 2013 an exciting year, which to the outside world made 2014 look like a glorious success," says Cowell.
"We were just the least bad."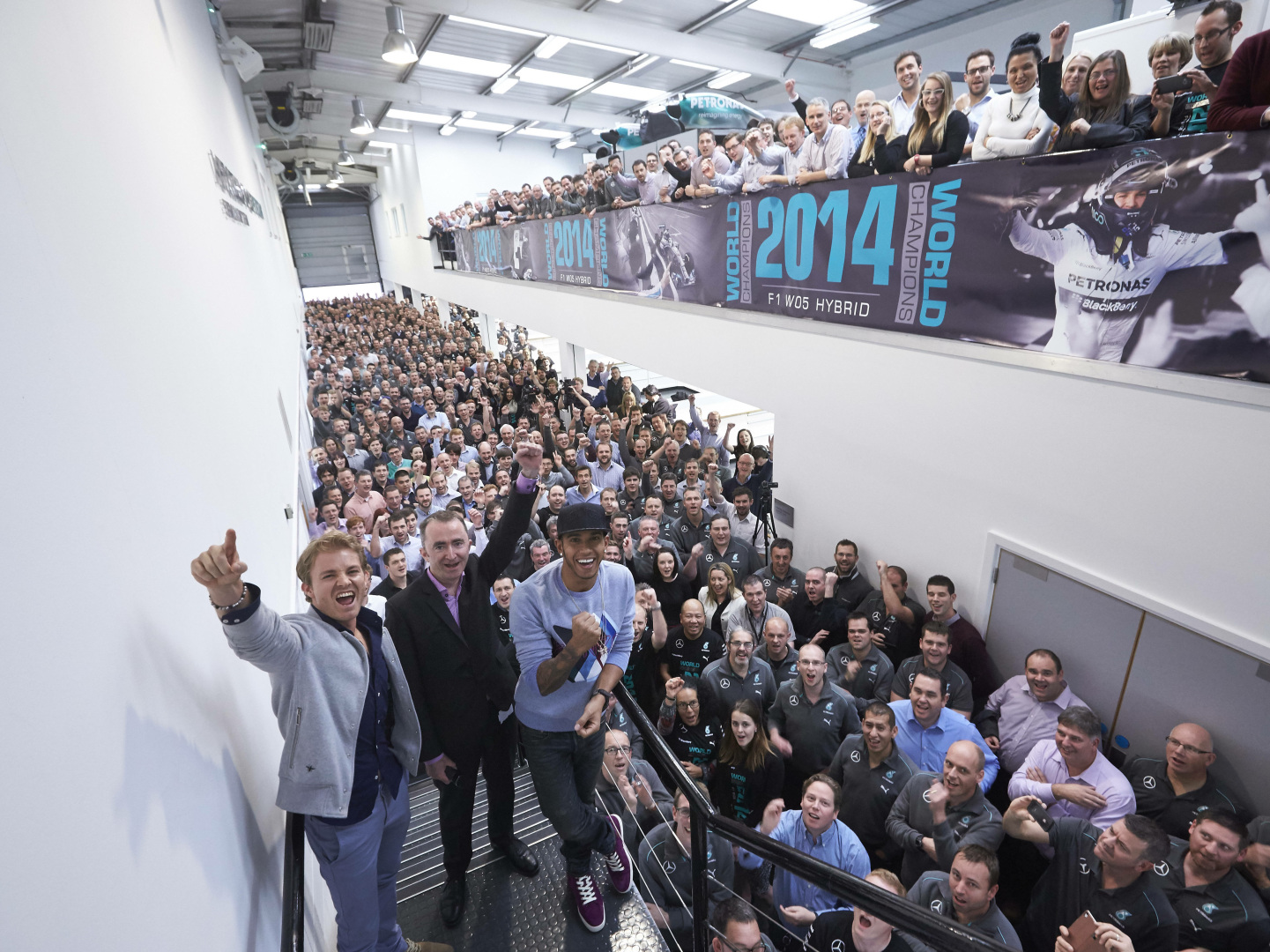 Mercedes has continued in that vein for seven seasons now, which makes the fears approaching the dawn of this engine era seem rather silly with hindsight. But they were real.
From the early investment in infrastructure and expertise to the crunch meeting in which Mercedes felt it was a crossroads between triumph and despair, there were plenty of opportunities for Mercedes to trip over the new rules in the way its rivals did.
A mega engine still needed to be mated to a championship-quality chassis of course, or else the customers could have trumped the works team in 2014. And Mercedes would have been vulnerable to the recovering Red Bull and Ferrari in the years that followed.
The history made at Imola last weekend tells you how good a job Mercedes did, and has continued to do, in building a car worthy of the engine that took so long to master.
But that's another story – which you can now read here.