At a glance, there's a relative similarity to the career trajectories that took Lewis Hamilton and Michael Schumacher to an equal spot atop Formula 1's all-time winners' list with 91 grand prix victories apiece.
Early success with one team – for Hamilton the McLaren team that guided him to F1, for Schumacher the Benetton squad that pounced quickly to snatch him from Jordan – followed by a move to a rising rival that they made their own during a dominant era. Ferrari in Schumacher's case, Mercedes for Hamilton.
But looking at some of the key wins that shaped their tallies of 91 each shows plenty of difference in how these two F1 legends made achieved their records.
List compiled by Edd Straw, Mark Hughes, Scott Mitchell and Matt Beer.
The rain-master wins
Superiority in the wet is a traditional hallmark of the all-time greats, and both Schumacher and Hamilton have had days when they've made their rivals look lost in wet conditions.
Schumacher arguably has the stronger rainmaster reputation. That's helped a touch by F1 being more willing to let races start and run on very wet tracks at times early in his era, and because he had fewer rivals who could be considered rain specialists. The wet track mastery of Sebastian Vettel's early F1 career is often overlooked now, and Hamilton's also had Max Verstappen to deal with in recent years.
Many of Schumacher's wet race triumphs rested on brilliant judgement for when to change tyre types – such as his very first at Spa in 1992, when he spotted that Benetton team-mate Martin Brundle's wet tyres were blistering as he rejoined behind the sister car after going off.
The pace advantage Schumacher held over the field in the wet in 1997 in Monaco and Belgium was almost ridiculous. He also unleashed wet-weather wins at key psychological times in title fights: overcoming Mika Hakkinen at a wet Nurburgring in early 2000 just as McLaren was regaining momentum, effectively settling the 2003 championship fight with his Indianapolis win, and turning the tables on Fernando Alonso and Renault at Shanghai in 2006. That proved to be Schumacher's last F1 win, and that time it ultimately didn't precede a title victory.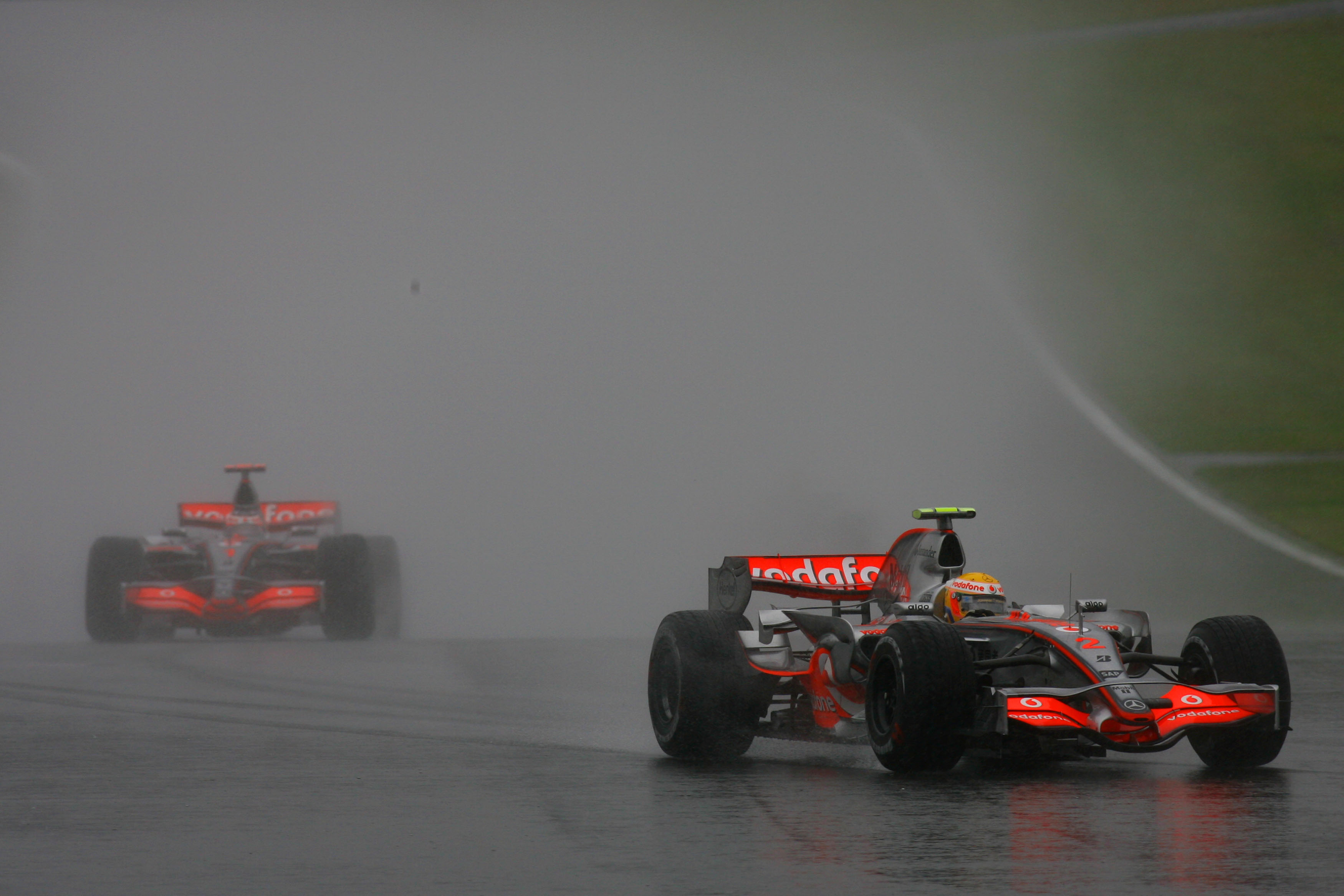 Hamilton's first statement of intent in the wet came at Fuji in 2007, on a day McLaren team-mate Alonso crashed heavily in pursuit and victory appeared to put Hamilton firmly on course for the title in his rookie year.
Recovering from an early brush with the barrier and consequent puncture in Monaco in 2008 was another key rain success for Hamilton, while more recently he dominated in the wet in Brazil in 2016 – though Verstappen's passing moves on the way to third pinched some of the limelight.
Key Schumacher wet win – Spain 1996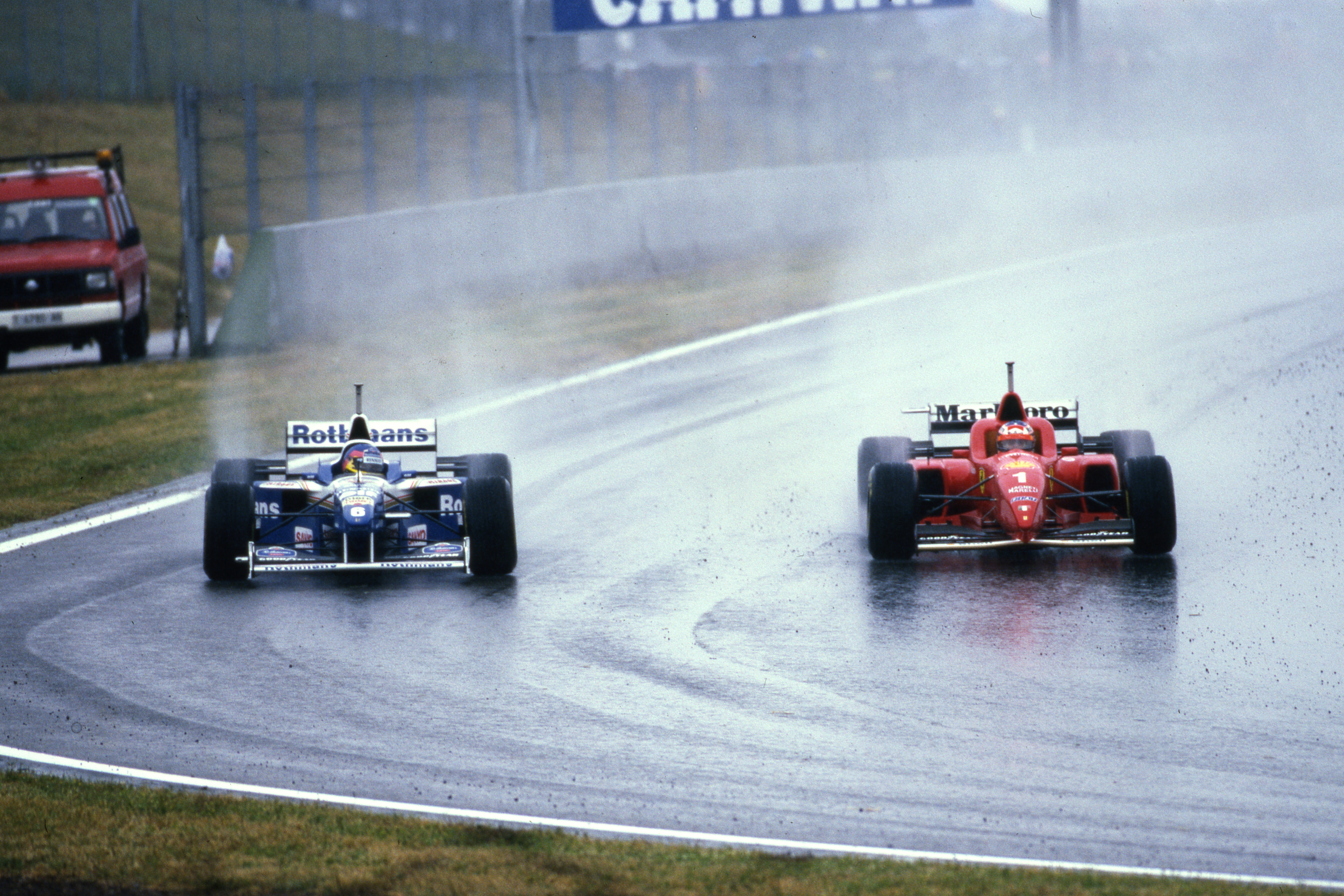 In the dry, Schumacher's bulbous Ferrari was a second slower than front row pair Damon Hill and Jacques Villeneuve's Williams, and he then made a terrible start to the saturated race.
But not only did he fight through to the lead by lap 12, he then pulled away from the chasing Villeneuve and Jean Alesi at a frankly ludicrous 4s per lap.
A late misfire made no difference and he looked like he was enjoying himself as he power-slid to an unforgettable first win for a Ferrari team still far from competitive pace in normally circumstances.
Key Hamilton wet win – Britain 2008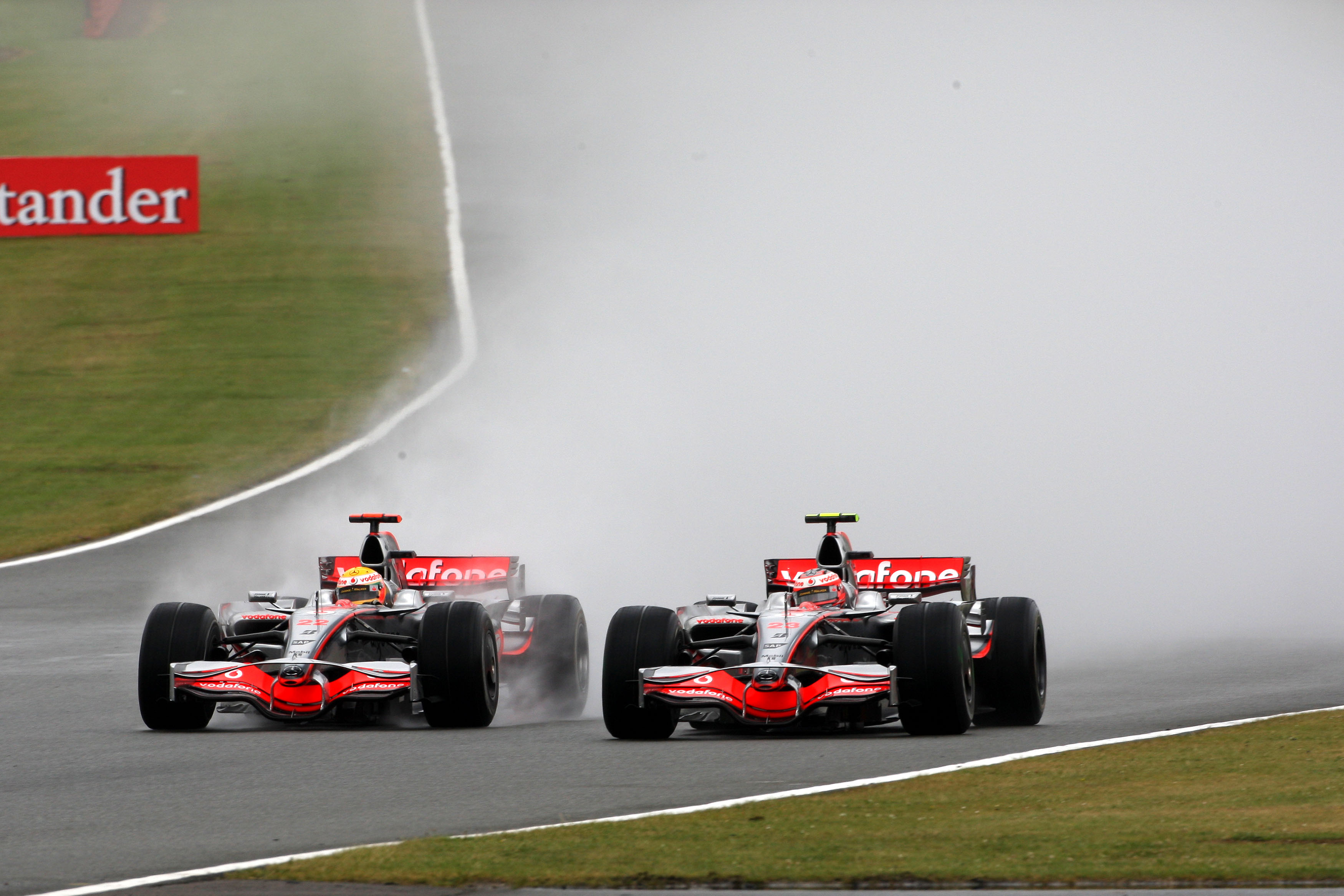 On the back foot in the title fight against Felipe Massa at this point and only fourth on the grid at home as his McLaren team-mate Heikki Kovalainen took pole, Hamilton needed a big British GP race day.
He certainly produced one. A combination of bold passes, the right tyre calls and crushing pace in the worst of the rain meant he took the most dominant win of his career, winning by a minute for his first home success.
His mastery of the situation was put into perspective by the fates of his main rivals – Kimi Raikkonen (who had been challenging Hamilton before being left on old wets by Ferrari just before the rain increased) and Kovalainen lapped in fourth and fifth, Massa spinning five times on his way to last place.
UNDERDOG WINS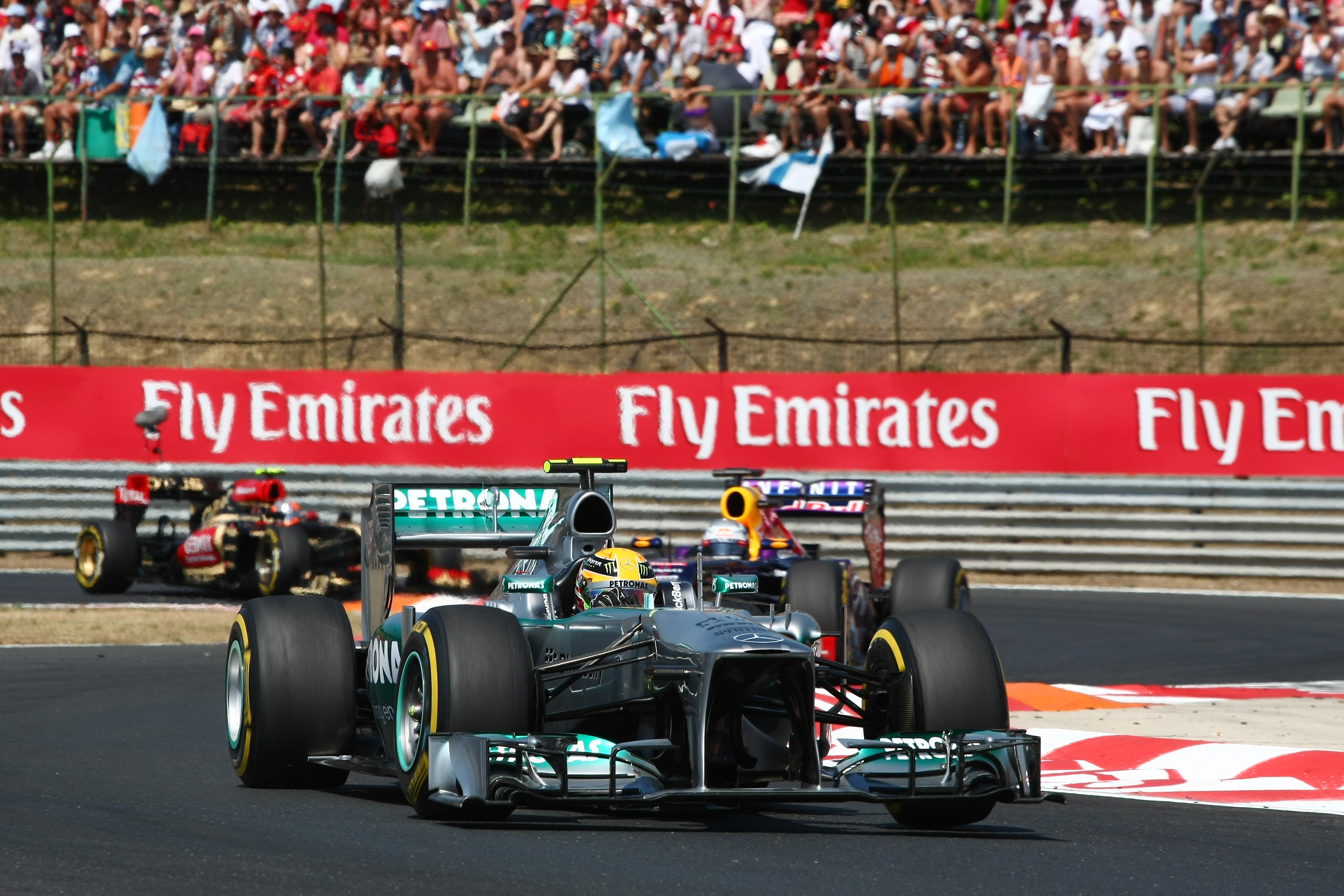 Schumacher definitely spent a higher proportion of his F1 career in what could be termed underdog situations.
Benetton was not in Williams and McLaren's league until the 1994 rule changes, and by 1995 the Williams was generally the faster car again. And though Ferrari was in title fights from 1997-99, you'd be hard-pressed to argue it was actually the quickest package on many occasions prior to the dominant era kicking off in the 2000s. At a push, you could make a case for Schumacher being in an underdog scenario for up to a third of his race wins.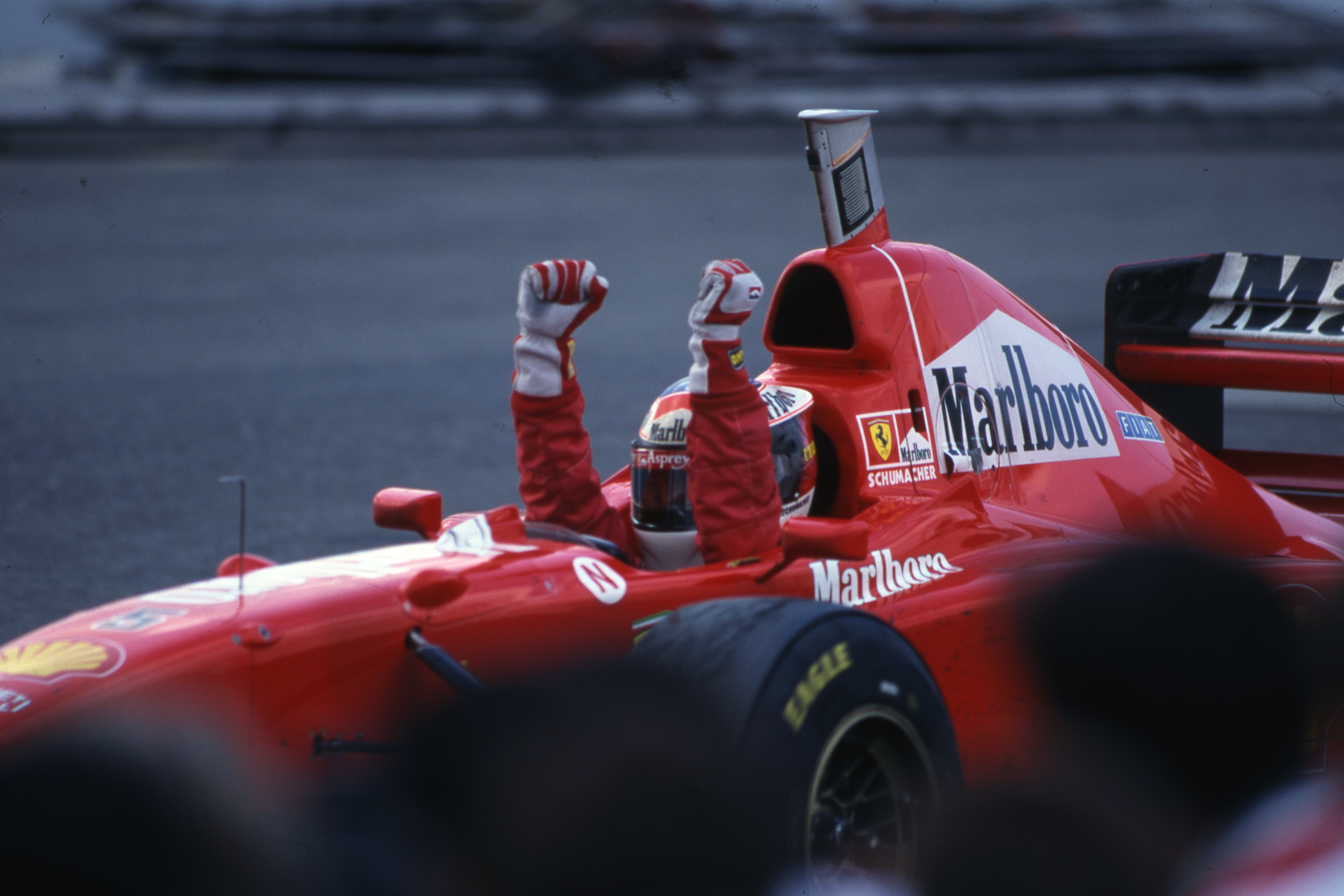 Though McLaren was in decline in Hamilton's final years there, there weren't many spells when it was in the state Ferrari had been when Schumacher arrived, and Mercedes was at least on the up when Hamilton joined for 2013.
But that's certainly not to say that Hamilton has always won with the fastest car – as Scott Mitchell has explored elsewhere. Instead he's made Mercedes look even more dominant than it already was by overcoming rivals even on days when Ferrari or Red Bull actually had the faster package.
Spain 2017 against Vettel, Germany in 2018 from 14th on the grid, Italy that year against Raikkonen and Mexico last season in a damaged car with rivals closing in were all days Hamilton made the difference.
Key Schumacher underdog win – Portugal 1993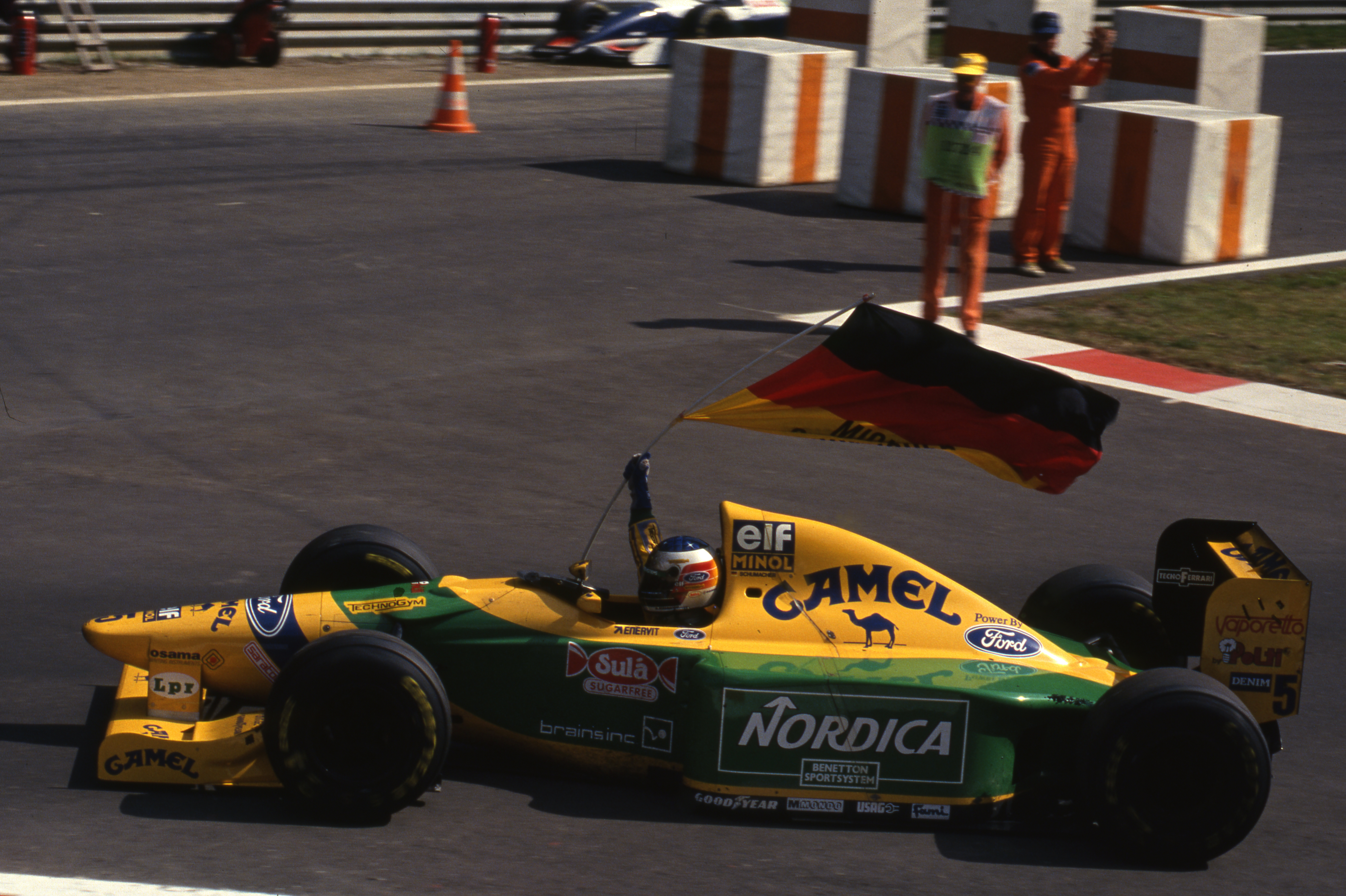 We've chosen this one because it was Schumacher's last win as a true surprise underdog in terms of being a rising star with a team that wasn't a regular winner. Six months later, Benetton would be dominating and Schumacher was on the way to a first championship.
But at Estoril in September 1993, he was still the intriguing future prospect in the shadow of Ayrton Senna and Alain Prost.
Amid Prost announcing his retirement (and clinching his fourth title) and Senna signing for Williams, Schumacher's against-the-odds win was far from the weekend's biggest story.
With fast-starter Alesi's slow Ferrari bunching the lead group up, Schumacher sprung his surprise – using his spare car after having struggled all weekend up to then – with strong pace after an early tyre stop that allowed him to leap to the front when the other leaders came in much later. Schumacher then absorbed pressure from Prost while counfounding rivals' expectations that he'd need to pit again.
Key Hamilton underdog win – Hungary 2009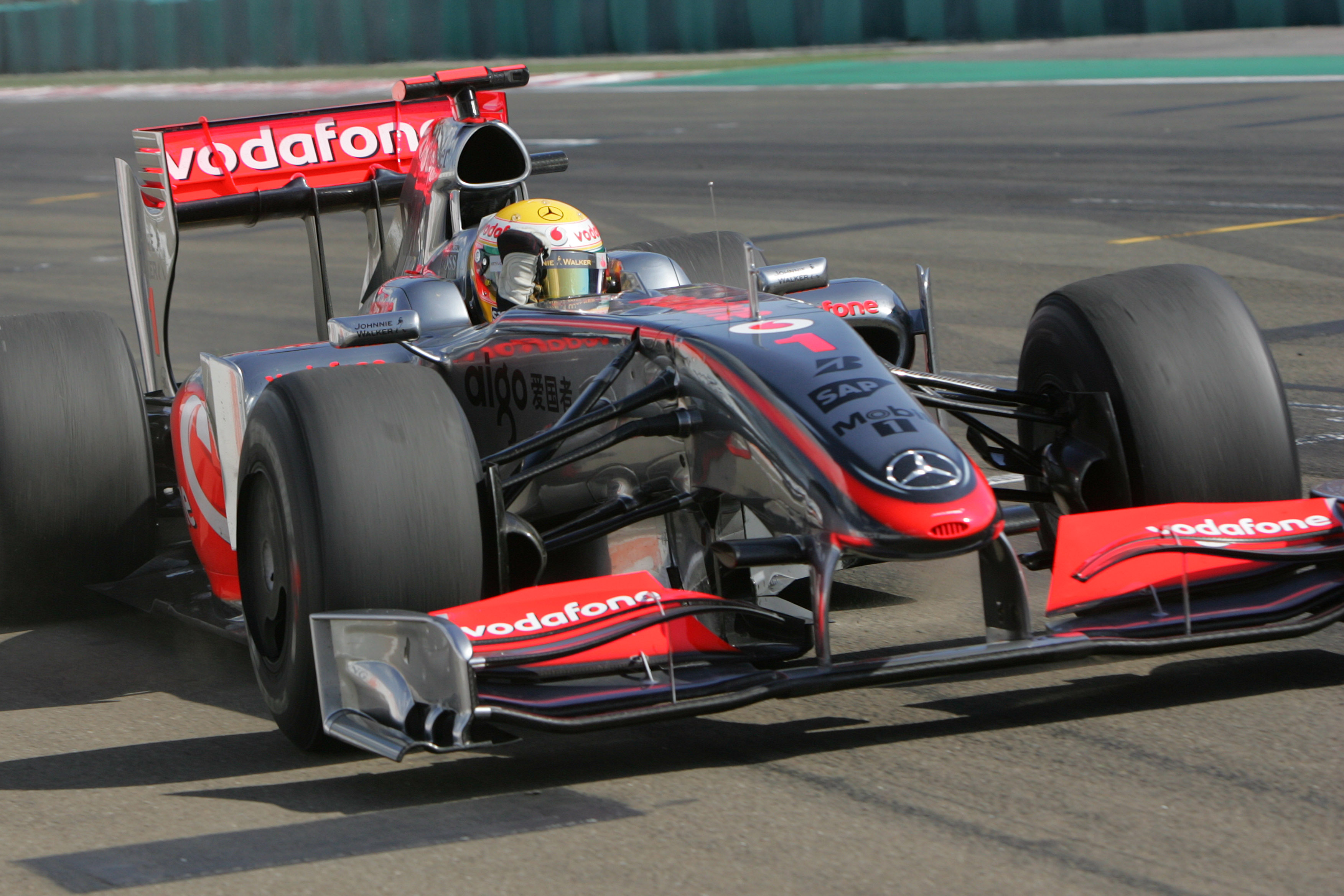 Hamilton's Hungary win was ultimately dominant. The underdog element came from the fact he'd scored just nine points up to that point and had finished 12th, 13th, 16th and 18th in the preceding five races.
McLaren came into 2009 underprepared for the massive aerodynamic rule changes, having pushed to the very last moment with upgrades in its ultra-tight 2008 title fight with Ferrari. Not being among the teams to spot the double diffuser loophole hurt too.
The outcome was Hamilton beginning his first title defence struggling to even score, until upgrades came good and he pulled off the Hungary turnaround from fourth on the grid – with a little help from his McLaren-Mercedes' KERS.
That started his march back from an embarrassing 11th in the championship to his more respectable eventual fifth place, adding another win in Singapore as the car continued to improve too.
DOMINANT WINS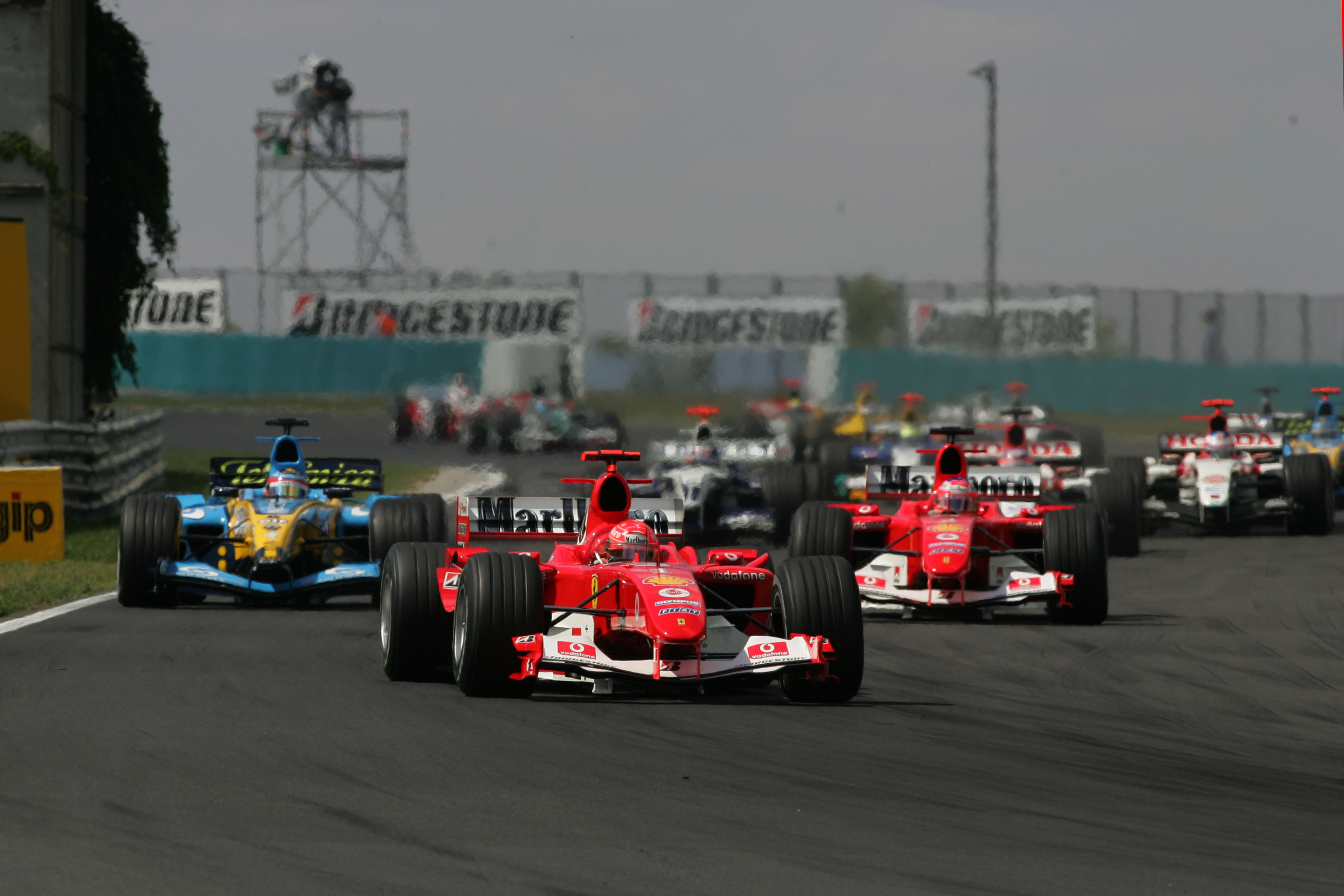 When Ferrari turned up with a car a class apart and Schumacher had Rubens Barrichello as his team-mate, it generally needed something to go wrong for Schumacher for him to be defeated. And the same is true now for Hamilton with Valtteri Bottas alongside him at Mercedes.
The conservative nature of modern F1 race pace means Hamilton's superiority is rarely reflected in his winning margins these days, so his Silverstone 2008 win in the rain stands as his biggest gap over the field at 1m08s.
For Schumacher winning by a lap in Brazil in 1994 after Senna's pursuit ended in a spin is his biggest win on paper, but you could group most of 2004 into the 'dominant win' category too – 12 wins from the first 13 grands prix, and few of them with much meaningful opposition, despite Jenson Button and BAR's determined efforts.
Key Schumacher dominant win – Monaco 1994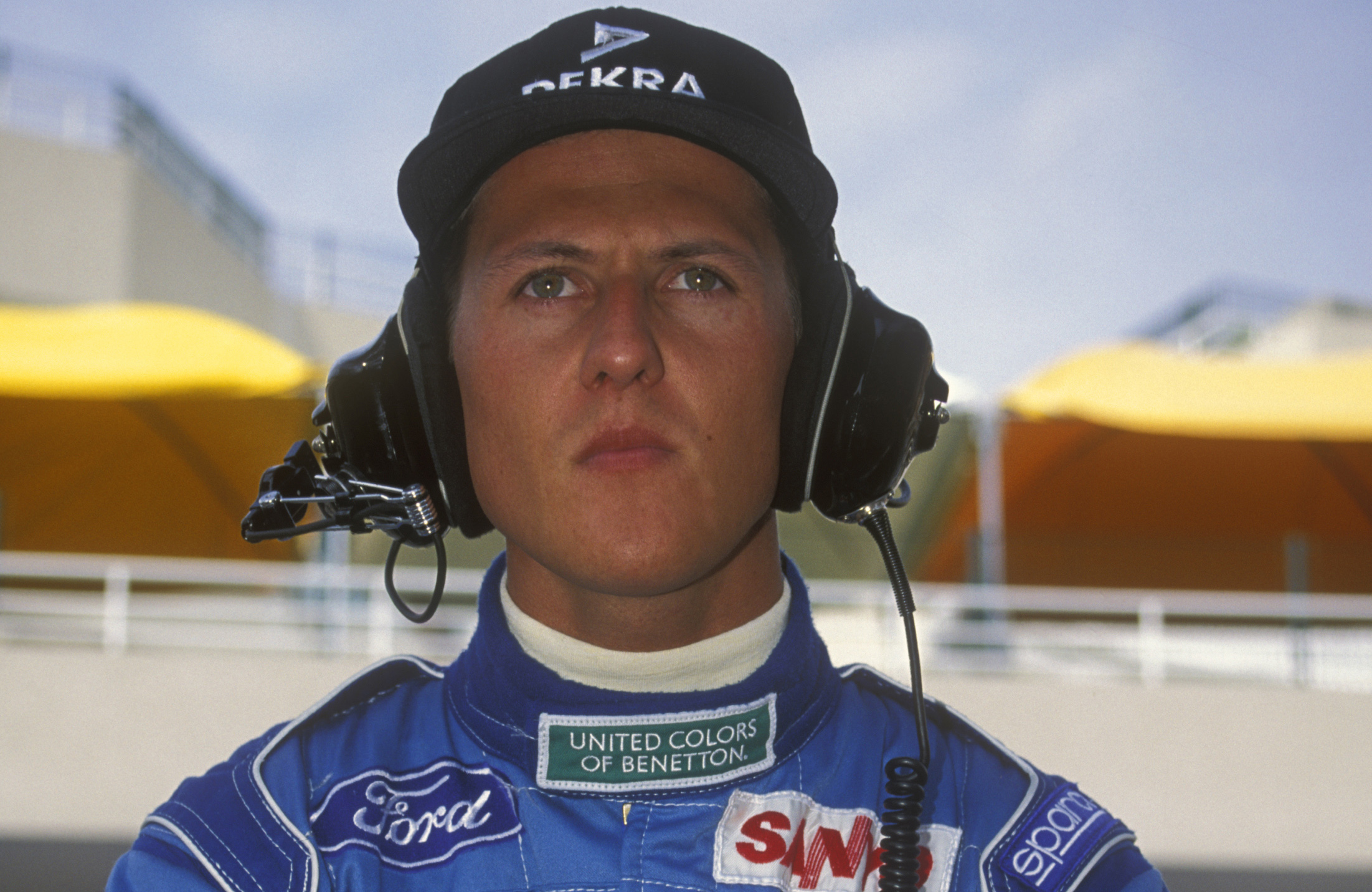 The fact the 1994 title fight was even in a position to come down to a contentious final-round collision was entirely down to the controversies that led to Schumacher and Benetton's disqualifications and bans that year (plus Hill's career-high brilliance in the wet at Suzuka).
In normal circumstances, much of the season was similar to Monaco – Schumacher in a class of his own, cruising away from the field as he pleased and looking like the title would be sealed with months to spare.
His Monaco win felt particularly significant as it was F1's first race after the loss of Senna. As the paddock reeled from that and Roland Ratzenberger's death, plus Karl Wendlinger's serious practice accident, it looked like there was little hope of a competitive future as the men who'd become Schumacher's main 1990s rivals Hill and Mika Hakkinen collided at the first corner and Schumacher ran away unchallenged.
Key Hamilton dominant win – Spain 2020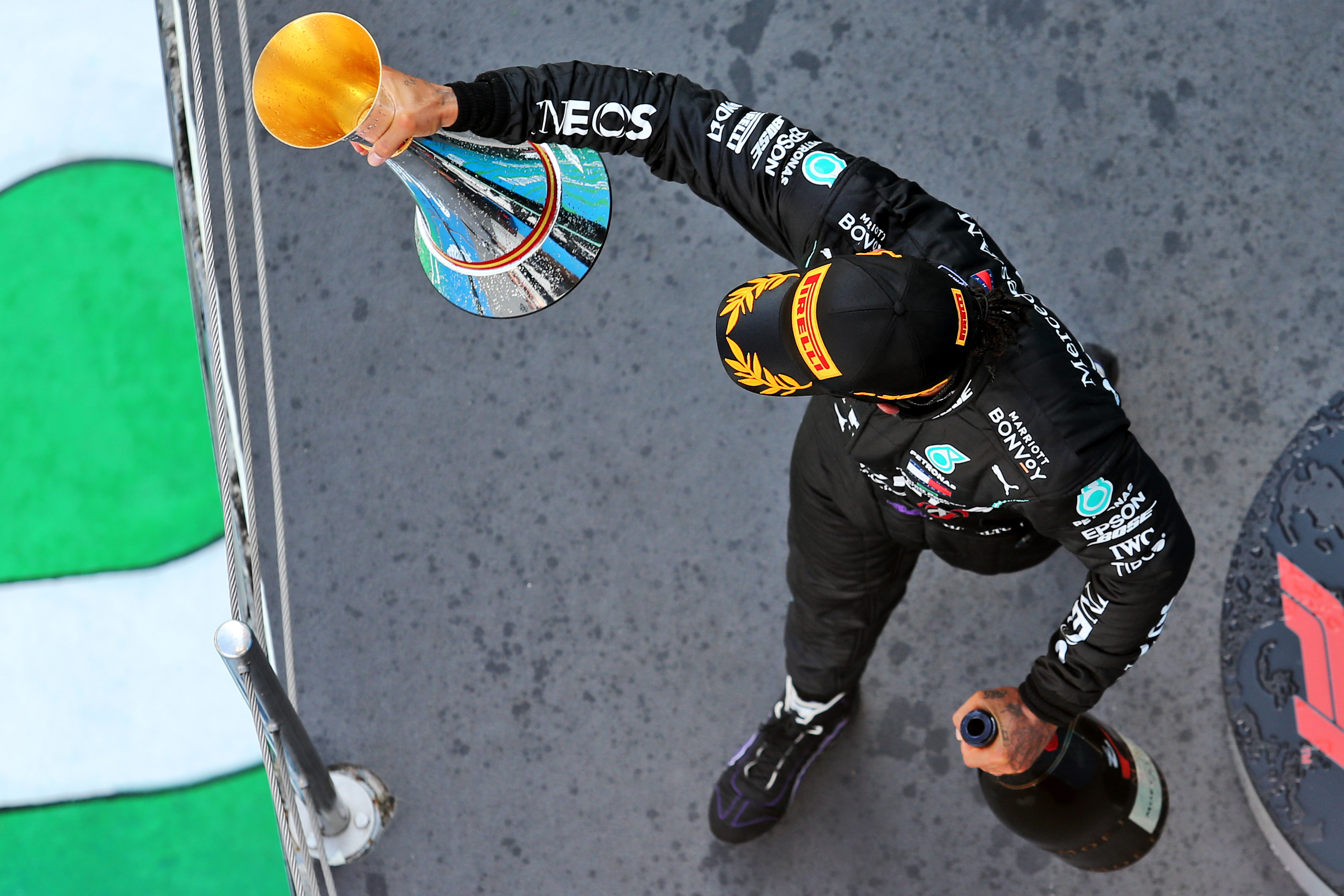 From the outside, one of the most tedious grands prix of another season in which Hamilton is cruising to the championship.
Inside the cockpit, an incredible study in focus and knowing when to push and when to conserve as Hamilton out-thought and out-drove Verstappen and Bottas to take a truly brilliant win on a day when the tyre situation should've created a huge headache.
'Questionable' wins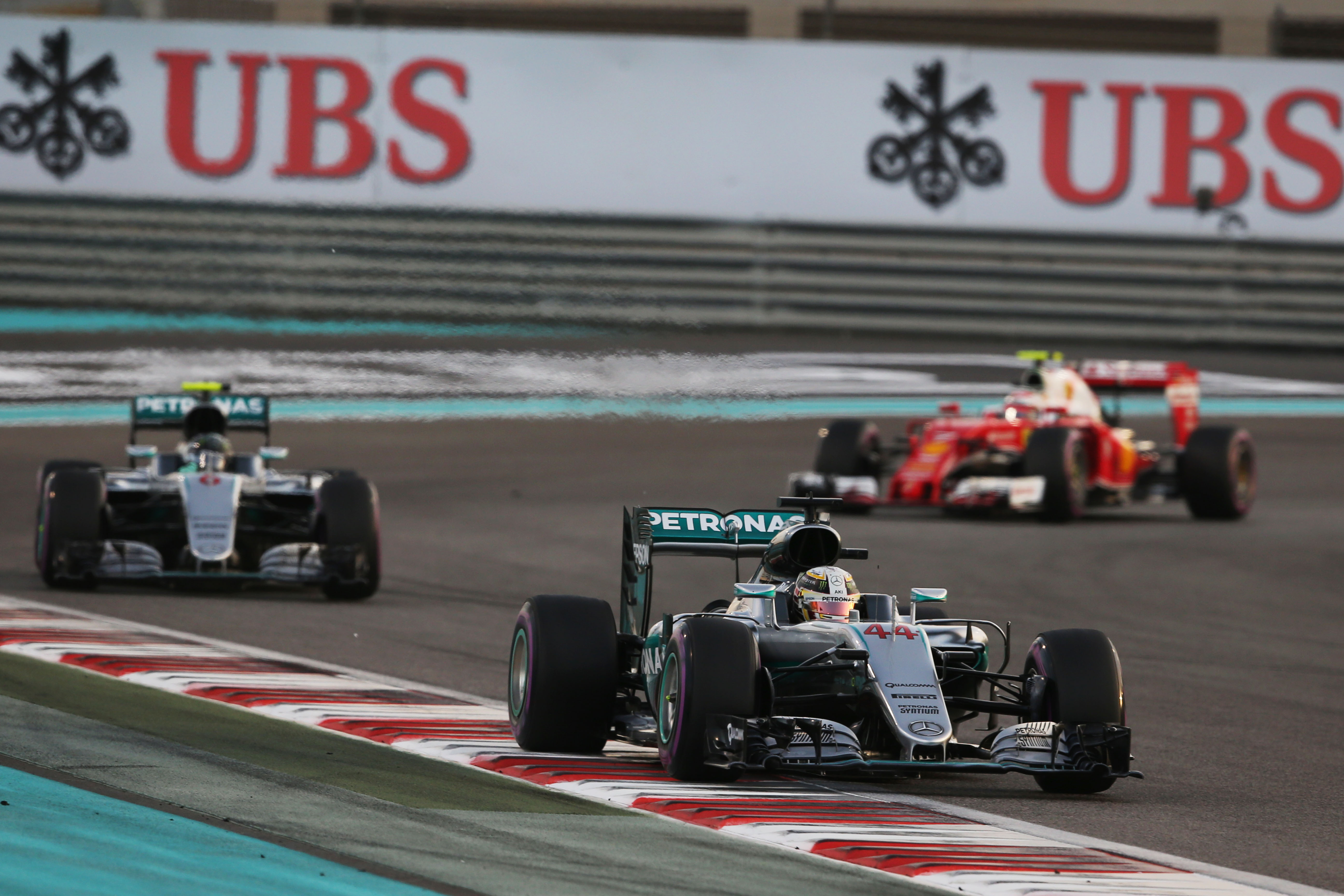 Hamilton is the least controversial of the big three modern F1 legends, steering clear of the debates over driving ethics that dogged Senna and Schumacher.
That's not to say Hamilton's wheel-to-wheel racing has been entirely blemish-free. But Senna and Schumacher both triggered era-defining debates over what should be considered acceptable, and Hamilton's misdemeanours have never got near that territory.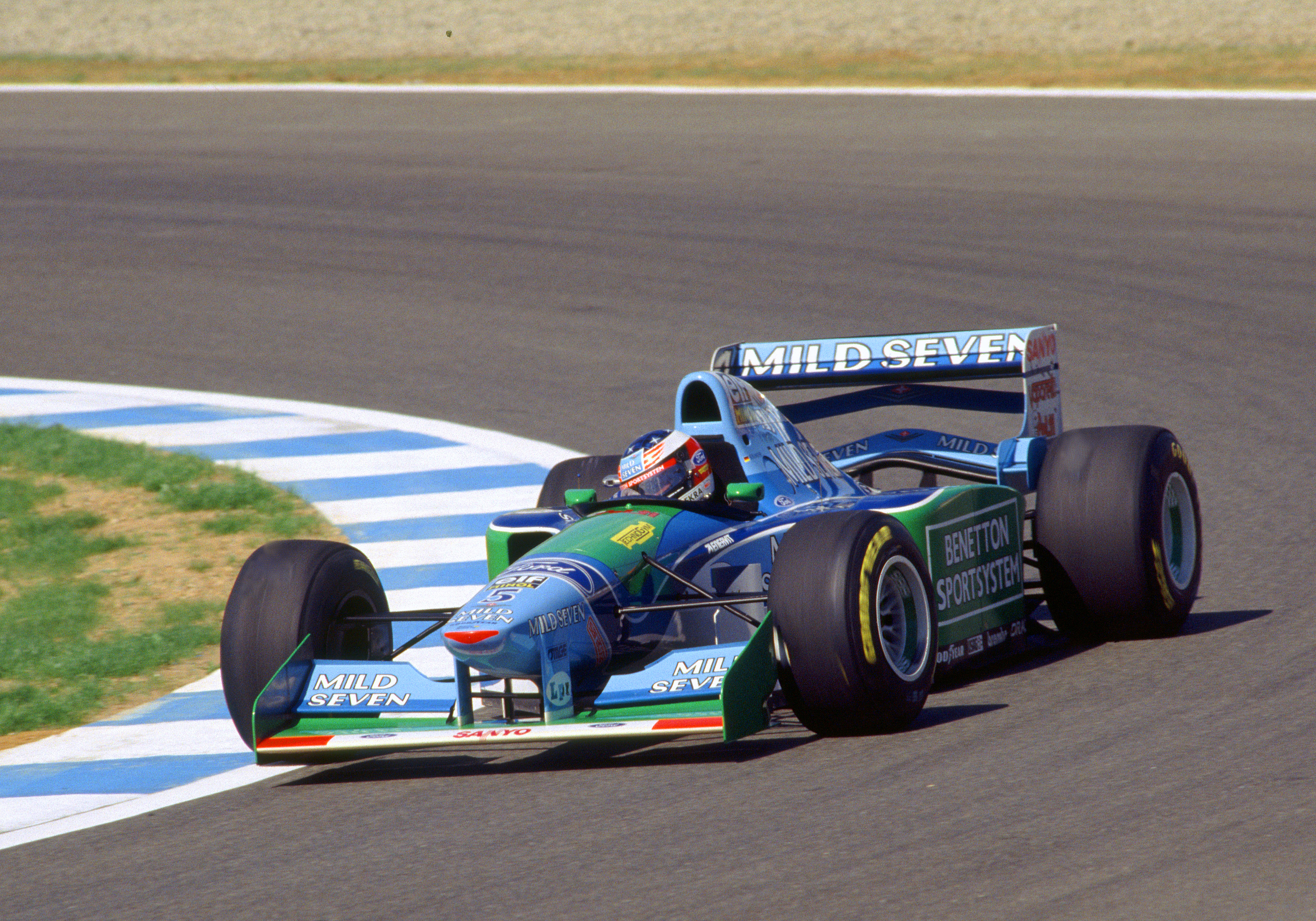 Senna's raising of suspicions about the Benetton's legality after watching from trackside at Aida – having been taken out at the start by Nicola Larini – spurred the initial legality question marks that hung over the team and Schumacher throughout that season.
That plus the Adelaide collision with Hill set a tone that left many 1990s F1 fans in the dilemma of acknowledging Schumacher was the era's greatest, but wrestling with concerns over his driving ethics and whether those around him were pushing technical grey areas too far.
Hamilton has far fewer question marks over his wins, though his 2007 season was clouded by the McLaren/Ferrari spying affair – in which he was effectively a bystander, but which did lead to enormous penalties for his team.
The clearest case of a rules issue hanging over one of his wins was Monza 2015, when Mercedes was referred to the stewards for running tyre pressures below Pirelli's stipulations but ultimately allowed to keep its victory.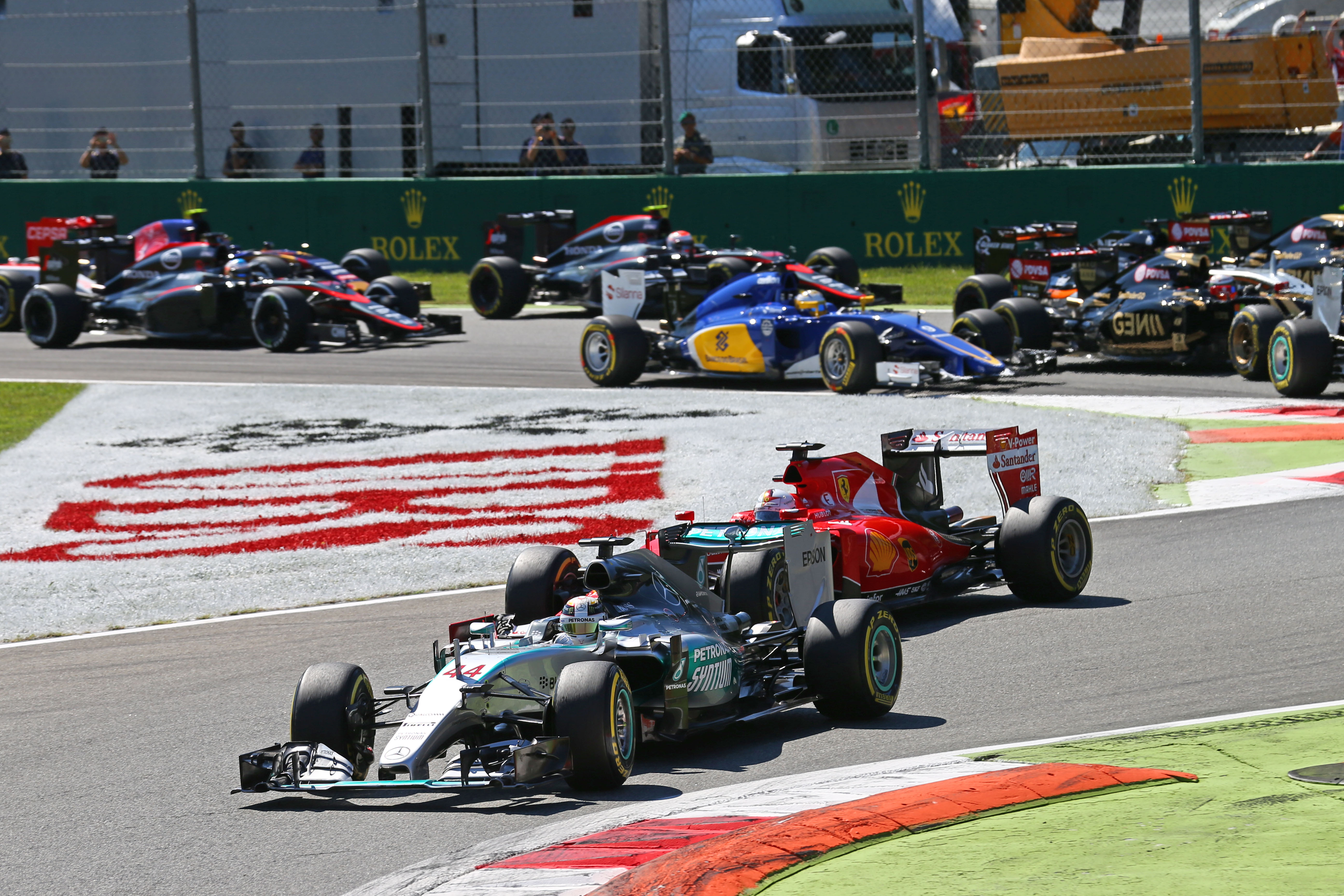 Though there was plenty of controversy around Hamilton's relationship with Nico Rosberg at Mercedes, their issues with each other didn't tend to factor into Hamilton's wins – bar perhaps spurring him on at times.
The exceptions were Hamilton coming off best in their last-lap collision in Austria in 2016, and then doing his best to back Rosberg into the pack in that year's finale in a vain attempt to deny his team-mate the title.
Key 'questionable' Schumacher win: Canada 1998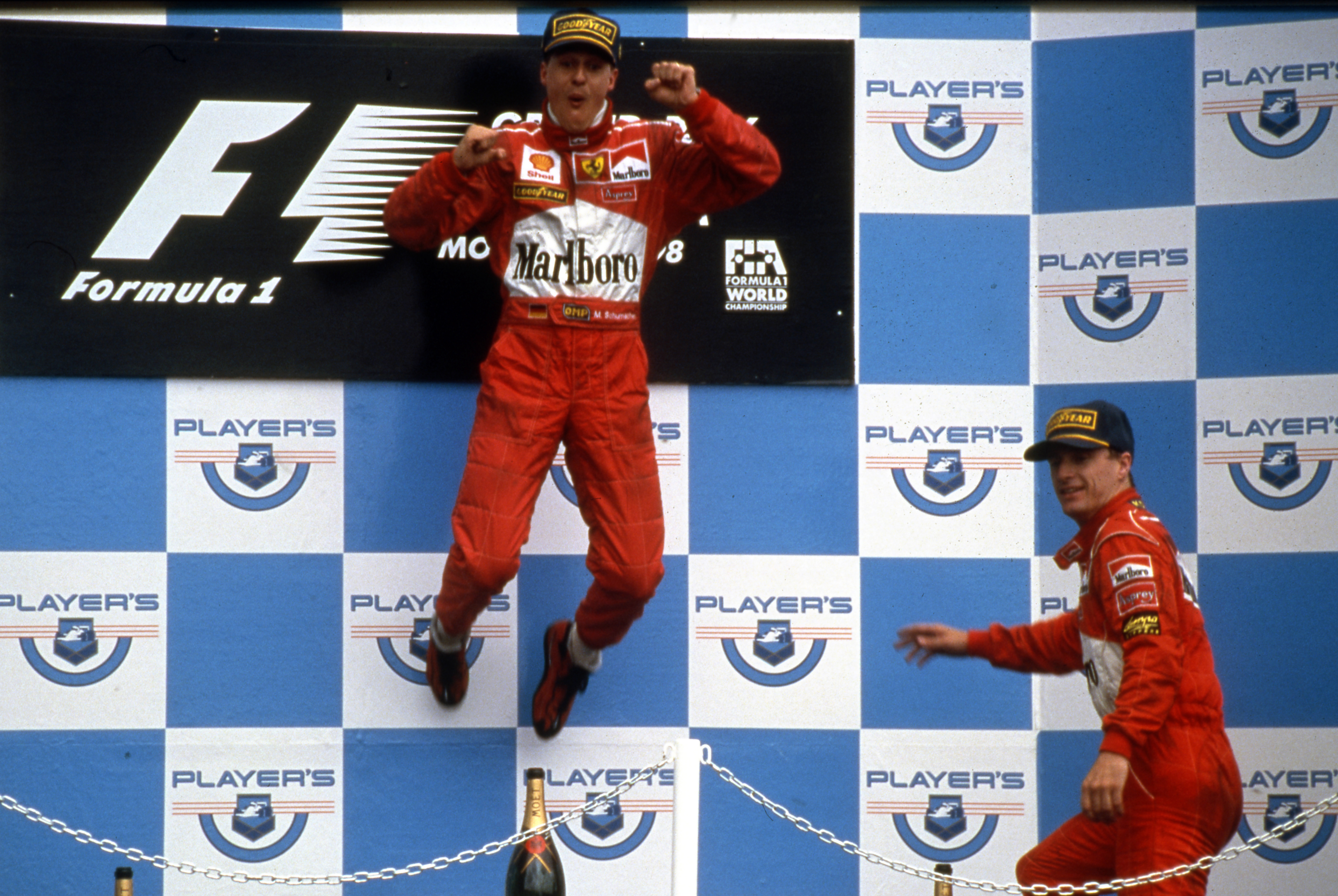 A typical Schumacher case in that you couldn't begrudge him victory as he'd been driving brilliantly, but there were dubious moments on the way that caused controversy.
He was helped by both McLarens breaking down, but still had to overcome a 10-second stop/go penalty to beat Giancarlo Fisichella's Benetton to victory.
That penalty was for Schumacher ushering Heinz-Harald Frentzen's Williams into the gravel as he rejoined from his first pitstop in a rather brusque manner.
Schumacher's recovery drive also involved a hairy dice with Damon Hill.
Williams felt the 10s penalty was insufficient for Schumacher's clash with Frentzen, but its protest was rejected.
Key 'questionable' Hamilton win: Hungary 2007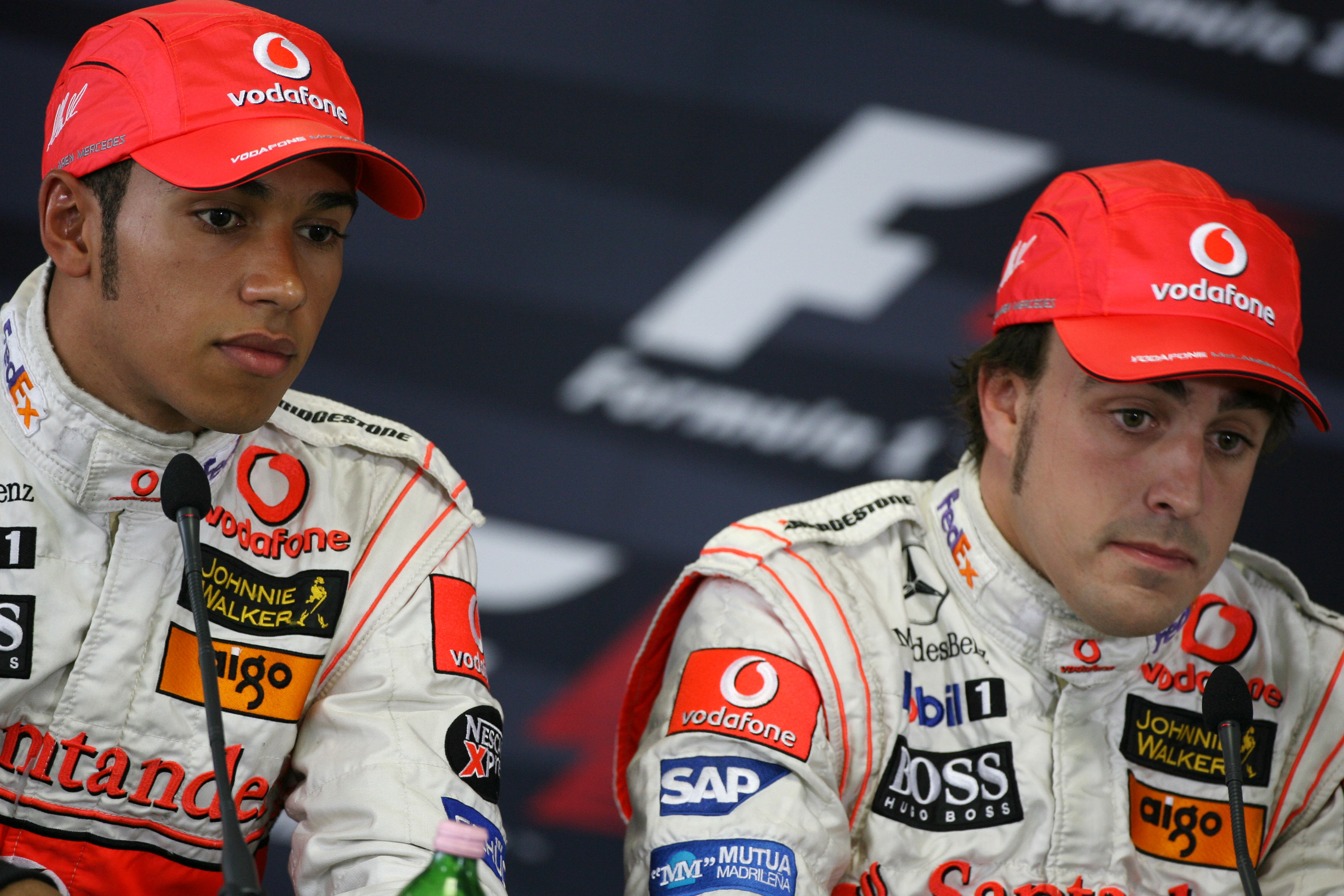 At the height of tensions between Hamilton and Alonso at McLaren, Hamilton disregarded a team instruction to let Alonso past him at the start of Q3.
Alonso retaliated by waiting in his pitbox when they came in mid-session and delaying Hamilton long enough to prevent him getting a final flying lap.
The pole Alonso consequently snatched became sixth on the grid when he was penalised for his actions, with McLaren also being barred from scoring constructors' points in the race, then told it couldn't have a representative on the podium because it was appealing the points element of the penalty.
Hamilton was elevated to pole and beat Kimi Raikkonen to the race win, with Alonso only managing fourth.
Hard-charging wins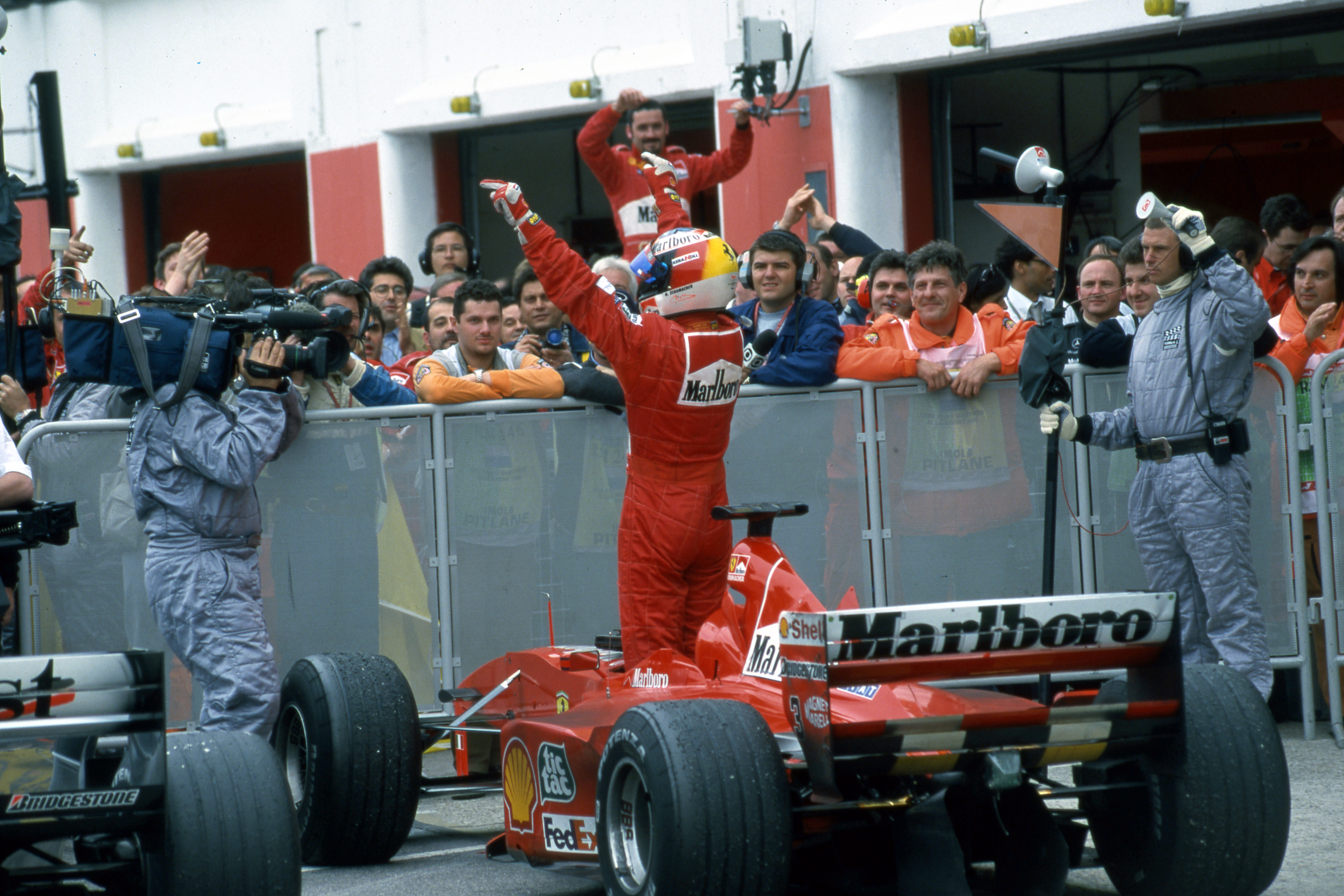 Whether coming from behind in a race, or making an impossible strategy work through sheer pace or high-speed tyre management, both Schumacher and Hamilton have excelled at hard-fought victories.
Schumacher's controversial Montreal 1998 win was – incidents aside – at heart a classic example of his ability to dig ever deeper and find impossible pace. His relationship with Ross Brawn was key to this – Brawn able to identify situations where being able to unleash that Schumacher magic speed could make an unlikely strategy work.
The mid-race switch to a three-stop strategy in the 1998 Hungarian GP, where Brawn casually asked Schumacher for "19 qualifying laps" and to pull out a 25s lead in that time, was a classic example. And the extraordinary laps between his rival pitting and Schumacher coming in that set up his defeat of Hakkinen at Imola in 2000 and Alonso at the Nurburgring in 2006 were further evidence.
He took plenty of wins by charging from behind too, such as hunting down runaway leader Jean Alesi not once but twice at the Nurburgring in 1995 when making three stops to his Ferrari rival's one, and coming back from going off the road dodging his brother and Barrichello's massive Melbourne 2002 start accident to dominate that race.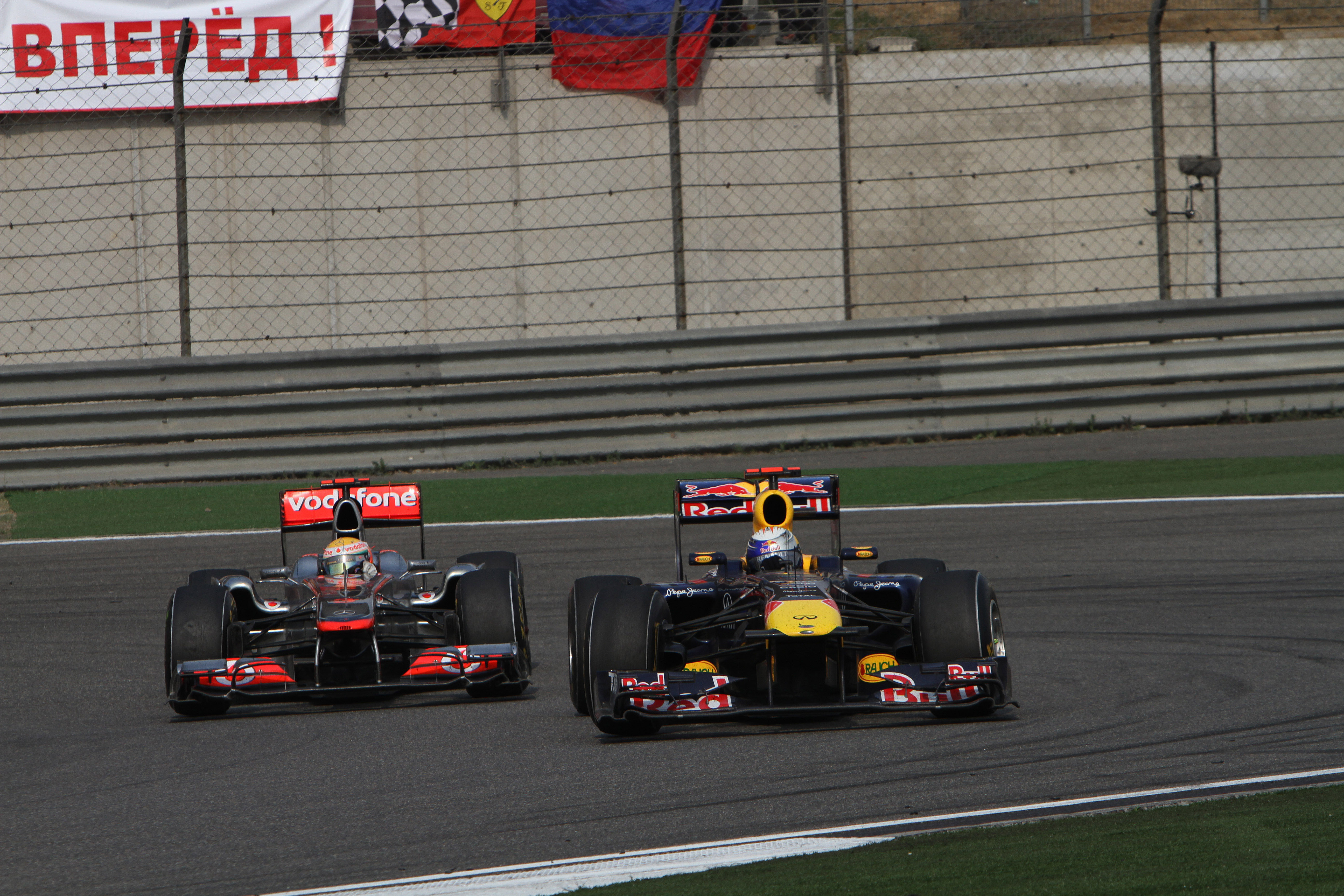 The Pirelli era has given Hamilton a very different set of challenges, but he's taken wins both by charging on fresh tyres – like using a three-stop plan to beat Vettel and Red Bull at Shanghai in 2011 – and more recently by getting unmatchable pace out of the Pirellis with no ill effects when others grained them.
A decent percentage of his Mercedes era wins have been irresistible charges from qualifying or race situations that had put him behind, including his 2014 and '15 British GP wins, and his 2015 title-clinching battle with Rosberg and the Red Bulls at Austin, where his race-long pursuit and ultimate defeat of Vettel three years earlier had been a fine way to take his last McLaren win.
Key Schumacher charging win: Aida 1995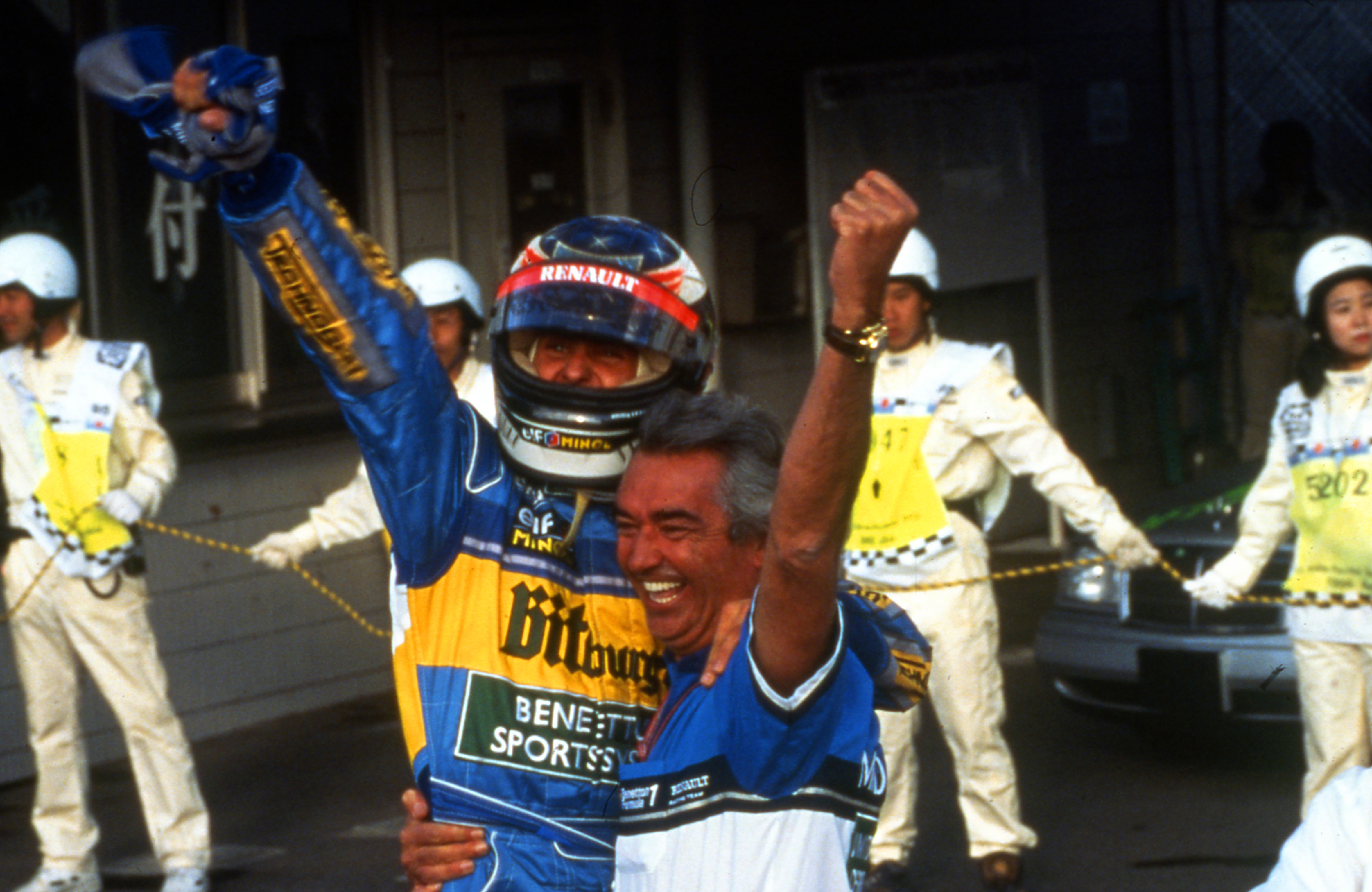 Given that 18 laps into this 83-lap race, Schumacher was fourth, 15s behind leader David Coulthard, due to stop three times compared when Coulthard had switched to a two-stop, and didn't especially need to win given he had a 27-point lead over title rival Hill with only 30 left on the table, this didn't look like a Schumacher victory brewing.
But the Schumacher magic pace effect was about to be unleashed. Early brushes with Hill meant he had to come back from fifth place, but once he bought himself clear air, he was unstoppable.
Coulthard and Williams's tactical shift looked complacent as Schumacher – particularly in the 10 laps between Coulthard's second stop and his third – scorched away and built enough of an advantage to ensure he'd seal his second and final title with Benetton via a victory.
Key Hamilton charging win: Barcelona 2017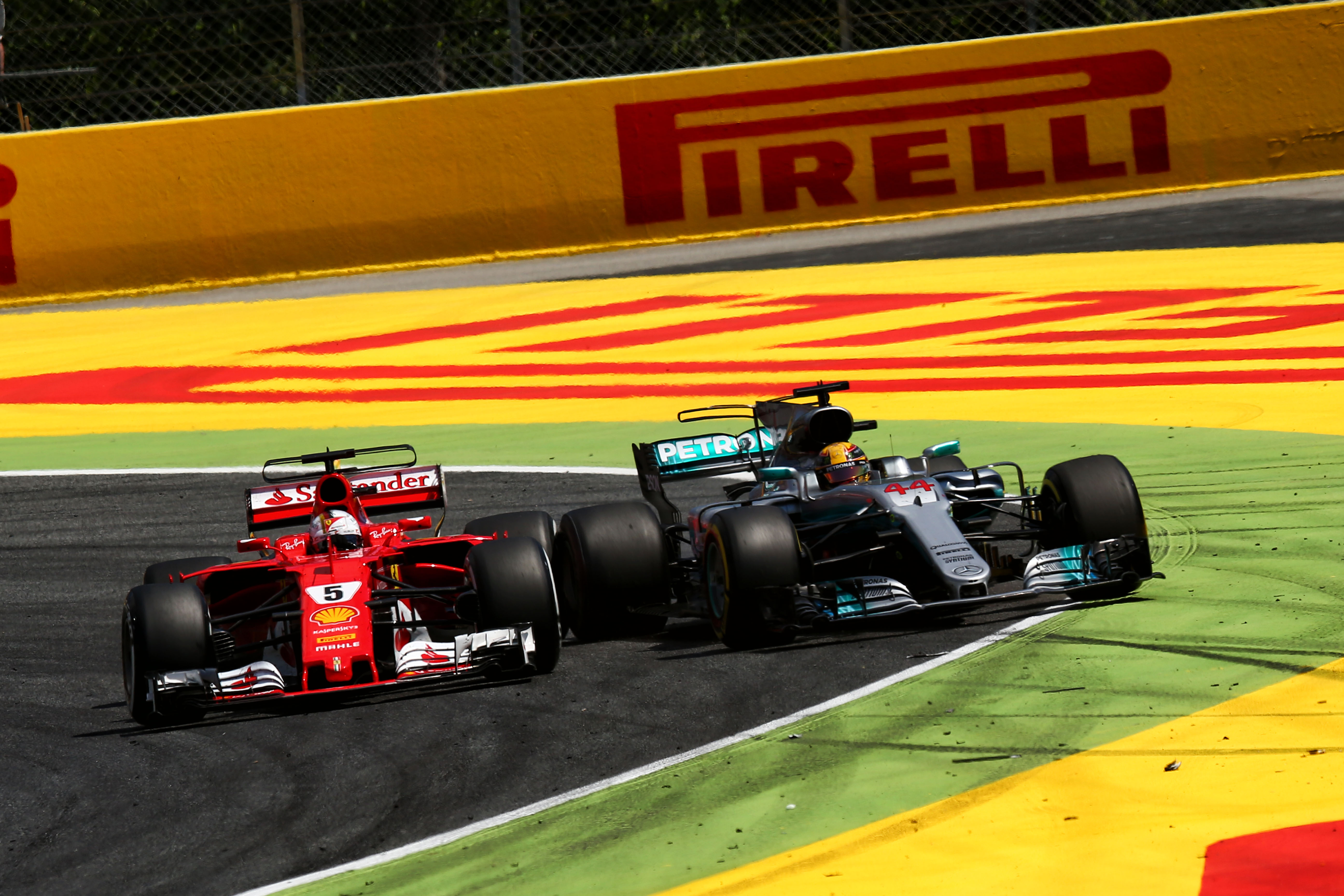 As Ferrari took the fight properly to Mercedes in 2017, it seemed Hamilton vs Vettel might become an all-time classic rivalry.
This was one of their best dices, and Hamilton had to work extremely hard to win it after Vettel jumped him off the line.
Running longer, and Mercedes making Bottas run even longer and get in early-stopper Vettel's way a touch, didn't allow Hamilton to quite get back ahead in the first sequence.
But a swift switch to softs under a VSC reset the battle, with Vettel pitting for mediums a lap later and then coming under heavy pressure.
Hamilton's first outside-line move was rebuffed with some wheel-banging and a trip over the run-off, before he made the pass work at the second attempt and snatched the win.
Wins under pressure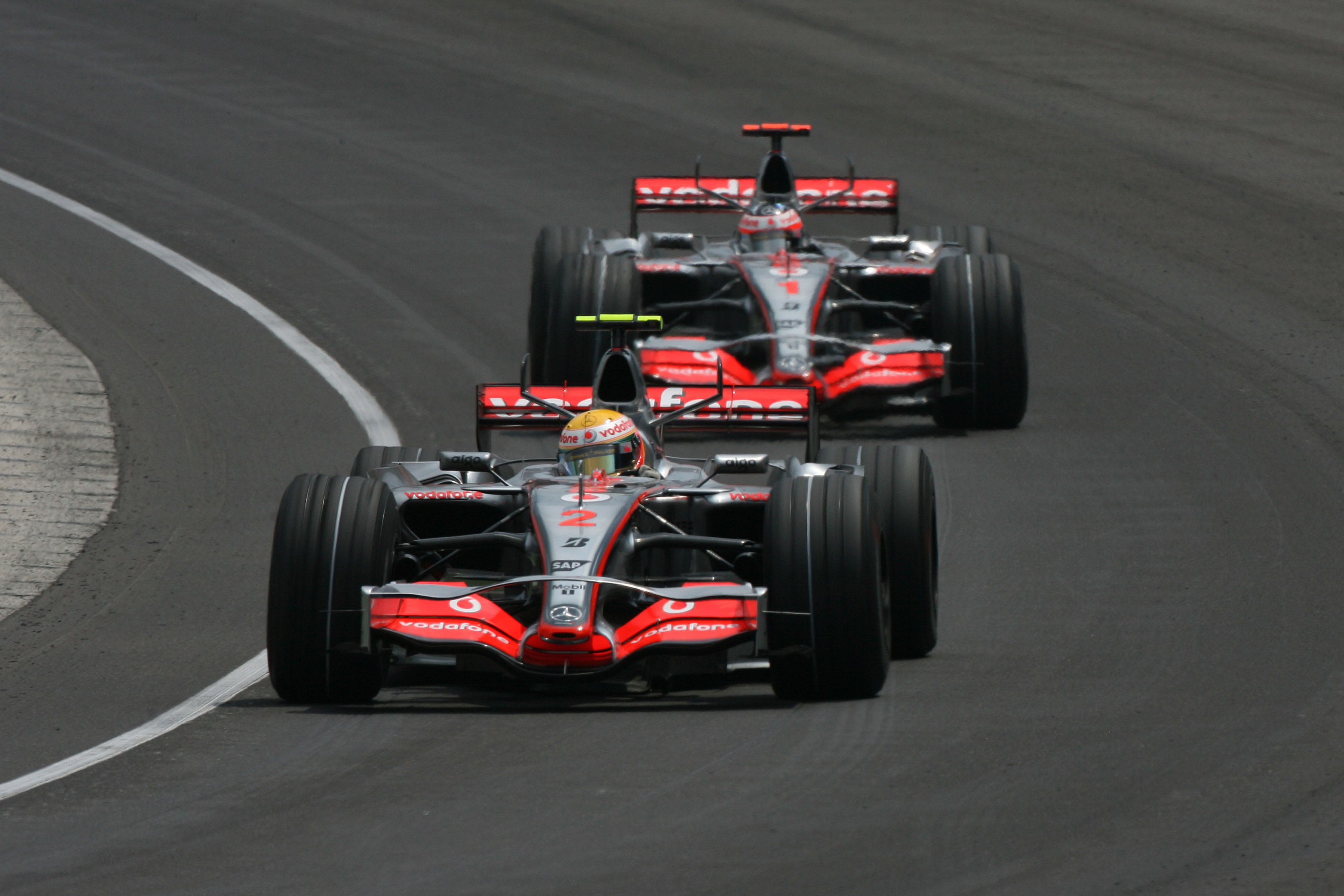 Both have had spells in cars too dominant to be put under genuine pressure, although Schumacher had enough times when Williams or McLaren were faster than his Ferrari, Michelins were stronger than his Bridgestones, or Williams's mighty BMW engine made his brother or Montoya a handful to hold off.
He had a strange habit of those wins coming at Imola: resisting Coulthard's McLaren in 1999, Raikkonen's McLaren in 2003 (on the day his mother died, creating a far deeper pressure) and Alonso's Renault in a 2006 reverse of their famously tight 2005 battle.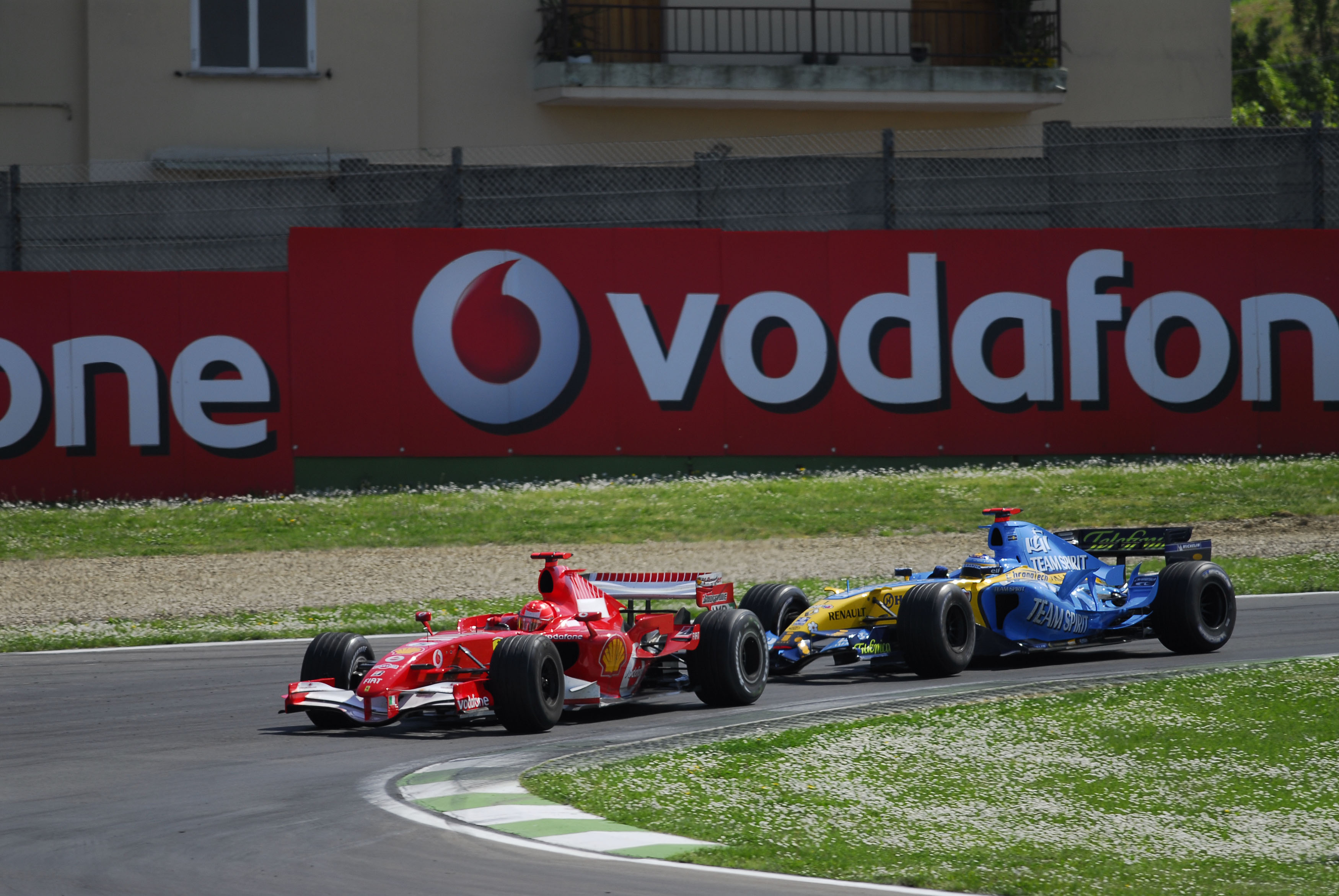 Hamilton's second career F1 win was achieved under massive and contentious pressure, as he narrowly held off disgruntled McLaren team-mate Alonso at Indianapolis in 2007.
Most of his other McLaren wins were achieved by bigger margins, but Hungary 2012 was a notable exception – as Lotus's habit of mastering tyre wear better than its rivals meant first Romain Grosjean and then Raikkonen kept him on his toes right to the flag.
In the Mercedes era, Rosberg gave Hamilton late-race headaches on a respectable number of occasions. Their epic wheel-to-wheel dicing in Bahrain 2014, and Rosberg's fruitless late chase of Hamilton on softer tyres in Spain that year stand out.
Key Schumacher pressure win – Montreal 2003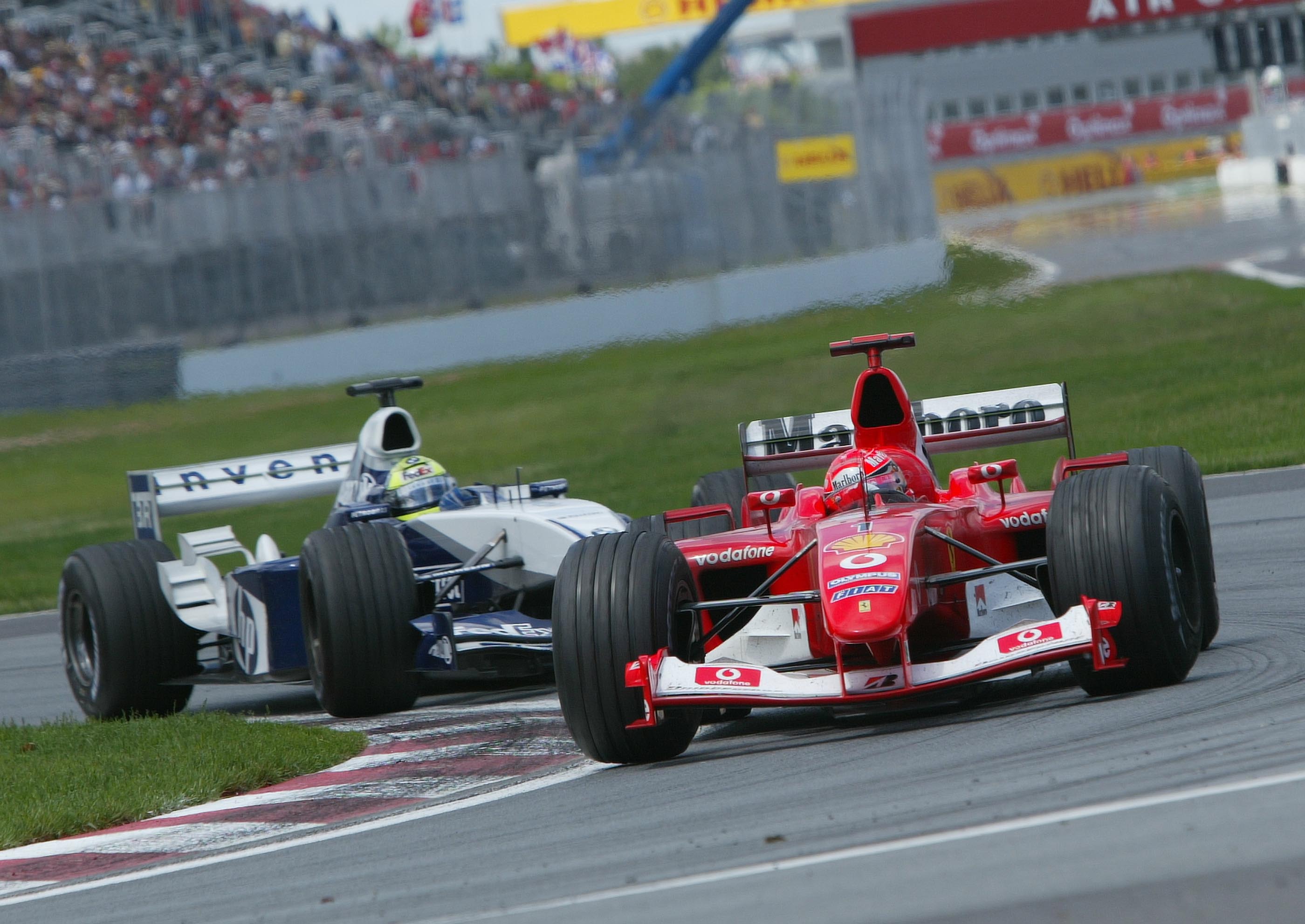 Jumping brother Ralf's Williams at the first stops put Michael into the Canadian GP lead, but he was never able to shake his sibling's powerful BMW-engined car off for the rest of the race.
To make matters harder, Michael's Ferrari began to suffer from bad brake fade, and the queue behind him grew as Montoya charged back after an early spin and Alonso benefitted from taking fresh tyres later than anyone else to make it a four-car train led by a car struggling to slow for corners.
Nothing could shift Schumacher, though, as he led home a podium trio covered by 1.3.
Key Hamilton pressure win – Monaco 2019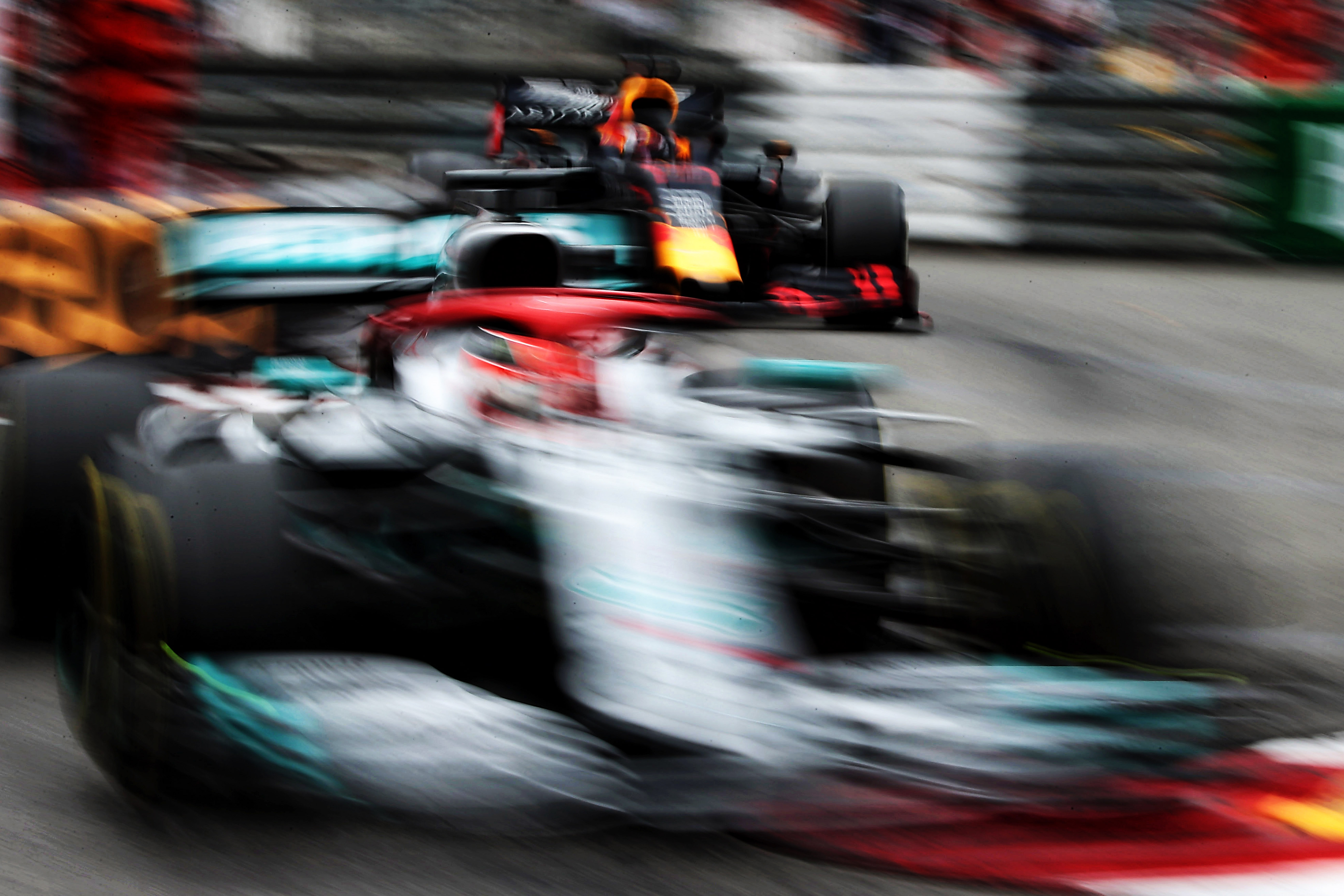 Holding off pressure in a Mercedes around Monaco in 2019 doesn't sound on paper like the most taxing way to win.
But this was in the week of Niki Lauda's death, which hit Hamilton and everyone else at Mercedes hard.
And Hamilton withstood over 60 laps of pressure from Max Verstappen while trying to manage softer tyres than the chasing pack, in a battle that included some late wheelbanging at the chicane.
Yes, Verstappen was facing a 5s time penalty for an unsafe release into Bottas's path, but the Red Bull's pace advantage over Hamilton was such that it would've been easily negated had he got ahead. Hamilton had to work for this one, physically and mentally.