Ultimately, the cold Eifel Grand Prix wasn't as random as it threatened to be – performance rather than chance continued to hold sway and so Lewis Hamilton took that Schumacher-equalling victory.
It was made easier for him by Valtteri Bottas' retirement but the Finn – who led the early going from pole – had likely already lost the win thanks to a huge, flat-spotting lock-up and early stop that put him at a strategy disadvantage.
Up on the makeshift podium, it was a genuinely moving moment, given all that has happened, when Mick Schumacher sidled up to Lewis and presented him with one of Michael's helmets.
Max Verstappen, who qualified closer to the Mercedes than at any other time this season in the first race after the Honda pull-out announcement, gave chase but never looked a genuine threat on race day.
He did, however, give himself and Red Bull the consolation of the extra championship point for fastest lap on the very last lap.
Race day wasn't as cold as forecast – though most drivers would probably not believe that, given their numb fingers and feet. Daniel Ricciardo, who finally gave Renault a podium with a typically tenacious drive to third, had two layers of fireproof socks on. "Are you even allowed two socks?" joked Hamilton, as Ricciardo pleaded not to be protested.
"I came out of that corner thinking: 'Good on you, man. I'm impressed'" :: Lewis Hamilton
But the track was 15-degrees C or thereabouts all race, rather than the 8-9 degrees that had been expected. That meant that although the tyres were still tricky to bring up to temperature, and there was some graining of the left-front, the problem was not as serious as had been feared and the race didn't hinge upon who did and didn't solve that problem.
There was lots of potential for first corner mayhem given the late-brake-inviting layout, cold tyres and track. For a brief second it looked like the drama was going to be between the two Mercedes drivers as Hamilton outdragged Bottas off the line well enough to claim the inside for Turn 1.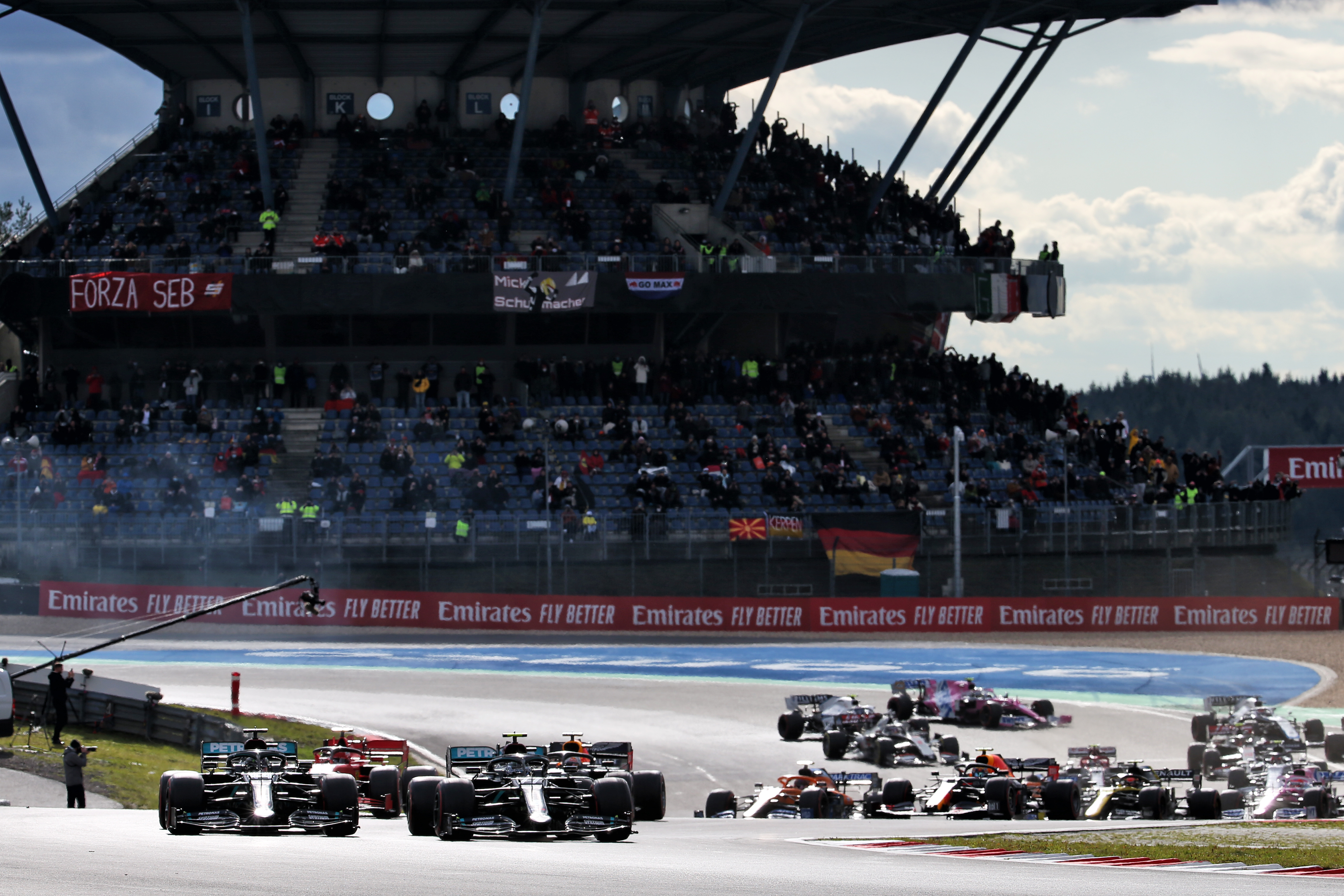 Bottas wasn't in a surrender sort of mood and hung on around the outside, the pair of them understeering well off the track on the exit, but Bottas still sufficiently alongside to be on the inside for the left-hander that follows.
"I tried to give as much room as possible and then he was in my blind spot," related Hamilton. "I moved wide to the outside but he came back and he did an amazing job and I remember coming out of that corner thinking: 'Good on you, man. I'm impressed. That was good.'"
As Hamilton hung on round the outside of Turn 2, hard on the power, the snap of oversteer he got let Bottas off the hook and almost allowed Verstappen an opportunity to nip up the inside for second. That would be as close as Max got all day, though.
This trio had masses of pace in hand over the field and would almost certainly have lapped everyone else in a straight running of the race without safety cars and VSCs.
Bottas for now was up and gone, the first crucial part of the winning jigsaw in place as he quickly eased himself well clear of his team-mate who after losing out in that opening sequence immediately put his Plan B into action – that of trying to keep his tyres in shape better than Bottas, so as to run a longer first stint and get onto younger, faster tyres for the next one.
At the controlled pace Hamilton was running, just enough to keep Bottas less than 2s up the road, Verstappen was able to comfortably hang on. But not much more. The Red Bull was losing around 0.25s on the straights and Max was making it up in the turns, but without knowing what the Mercedes had in hand.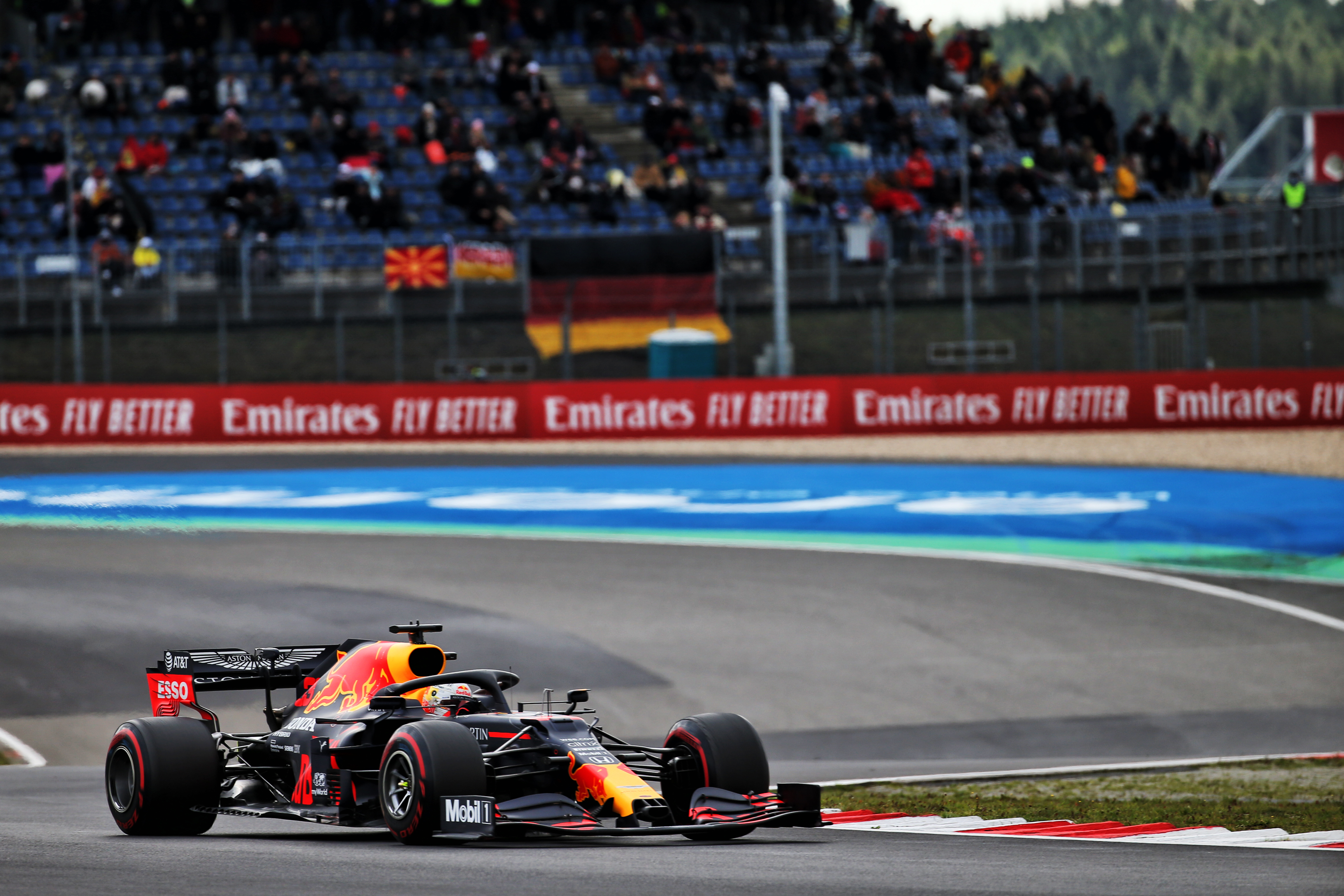 Red Bull's subtle aero upgrade was working well, with Verstappen noting that it was actually great news it was understeering during qualifying, as it meant the team had cured its rear end instability.
With Friday practice fogged-off for everyone, Red Bull didn't get a chance to tune that understeer out and the front tyres had given their best by the third sector of his best Q3 lap, yet even so Verstappen qualified within 0.2s of Bottas's pole and only just fell short of shading Hamilton.
How much was the upgrade and how much was it the Mercedes not getting the tyres quite in their sweet spot will probably become clearer in the coming races.
Charles Leclerc and Ricciardo initially headed the next group, though they were almost taken out into Turn 3 on the first lap by a locked-up Alex Albon, who desperately jinked hard left to avoid them but in the process badly flat-spotted his front-left.
Bottas on the strategic back foot against a predator like Hamilton? One couldn't help feeling he'd already lost
The concertina effect played out at the back and Kimi Raikkonen, in his record-breaking 323rd grand prix, having qualified one place off the back in the Alfa Romeo, had to take to the run-off, losing the places he'd just made up.
Albon's damaged tyre was soon down to the canvas and he was brought in as early as lap seven, rejoining at the back, from where his attempted comeback drive was interrupted by a clumsy collision with Daniil Kvyat that crippled the AlphaTauri and incurred a 5s penalty for Albon that he never got to take as the radiator was pierced by debris, forcing his retirement. Not what the doctor ordered for his future prospects.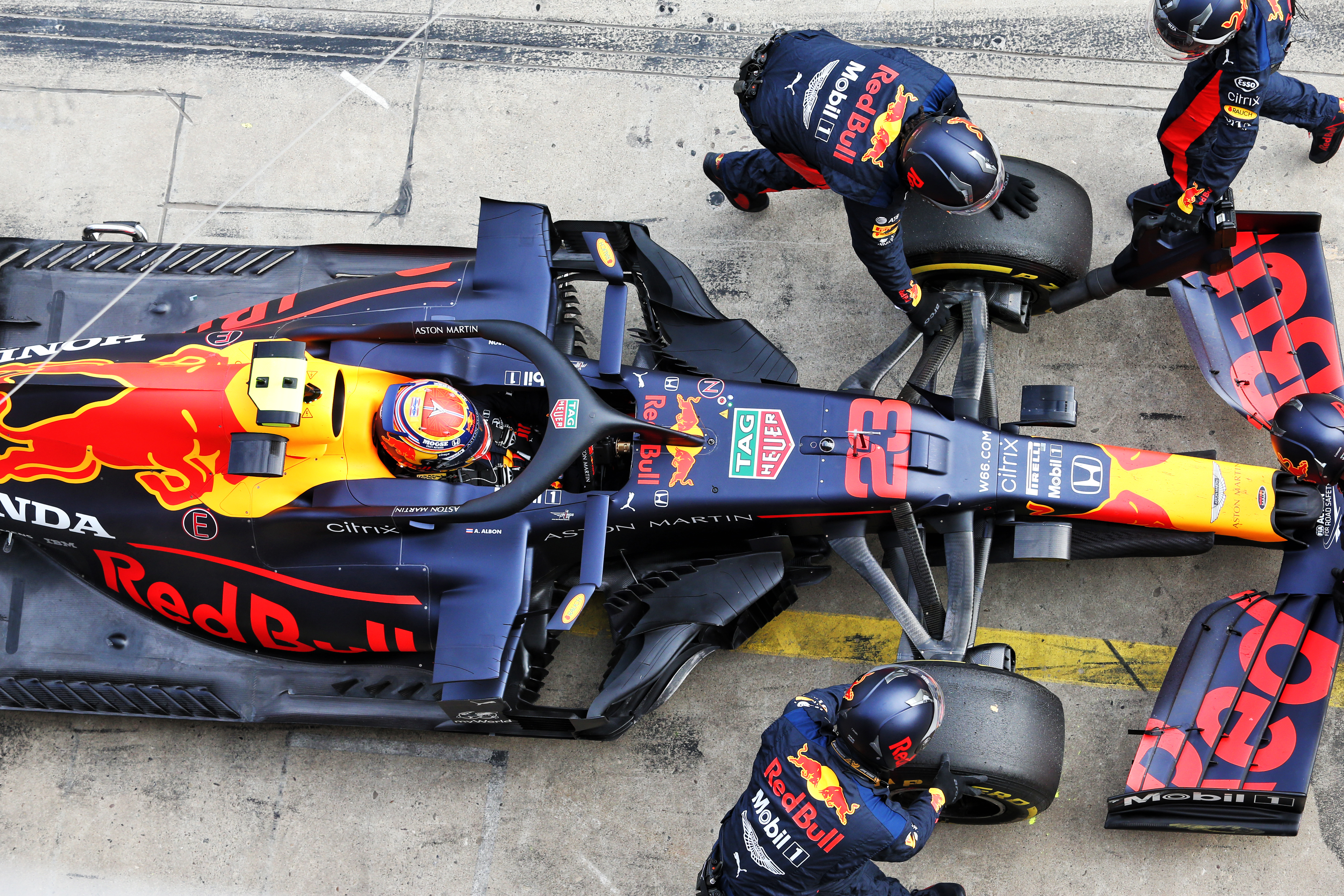 A madly dicing midfield pack behind Ricciardo/Leclerc shook itself out into the order of Lando Norris, Sergio Perez, Esteban Ocon and Carlos Sainz Jr. That was the first stint order foundation laid out.
Within that, Leclerc, having over-qualified the Ferrari fourth, sank down to the car's natural level as his front softs grained badly.
He was superb in defending from Ricciardo's attacks for a few laps but it was inevitable the Renault would pass, precluding an early stop for Leclerc and a switch to a two-stop strategy – which freed Norris, Perez, Ocon and Sainz to leapfrog way ahead of him, all of them faster on race day than the Ferrari they'd qualified behind.
The way the race played out, Leclerc found himself in a long-running struggle with his friend Pierre Gasly a few places back.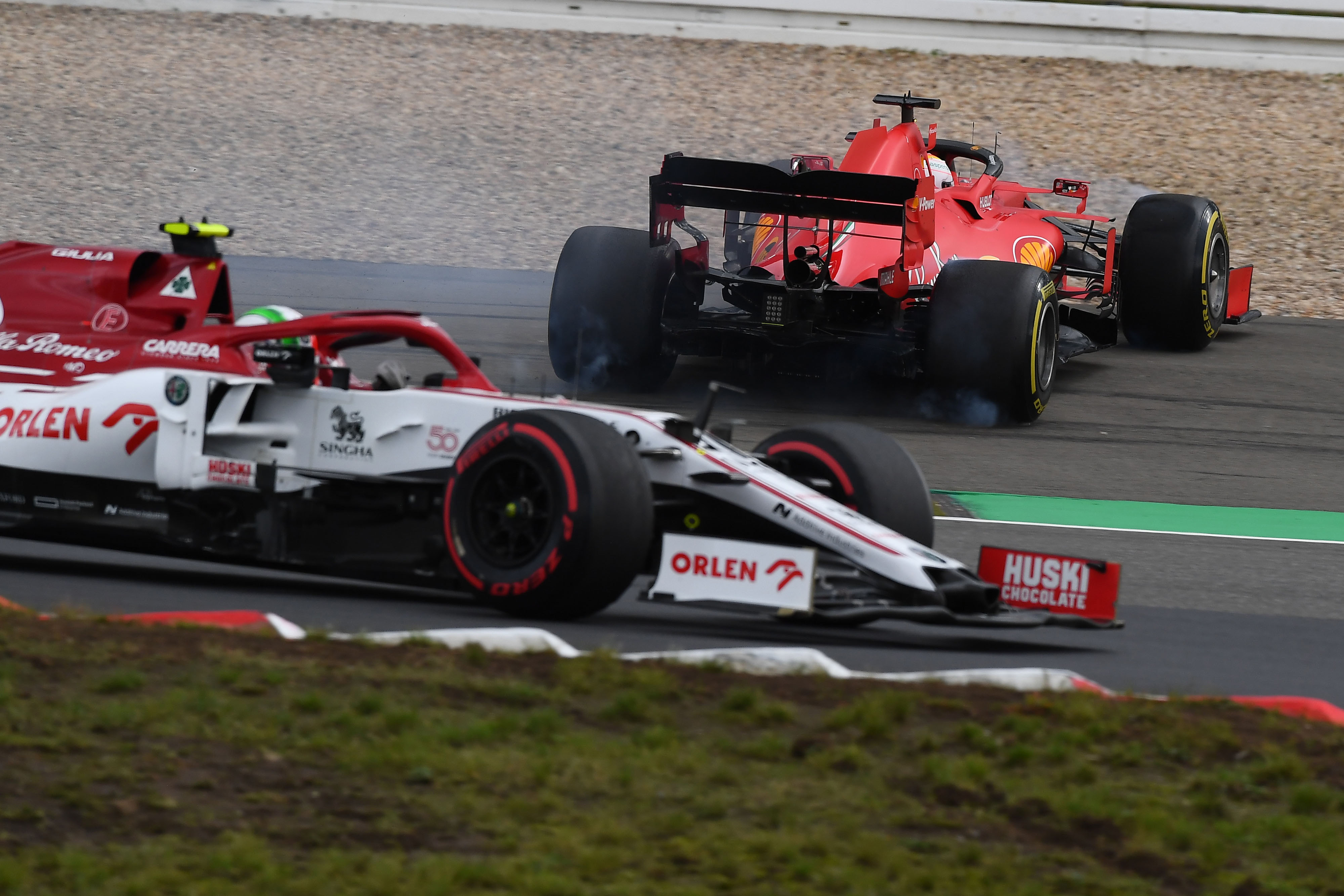 In the other Ferrari, Sebastian Vettel on his medium tyres – having been unable to make Q3 – could find no grip at all and was bottled up behind Antonio Giovinazzi even once the tyres came in after about three laps. It was in trying to find a way by the Alfa that Vettel spun, braking for Turn 1 going into lap 11. This was to have repercussions.
There was by this time some light drizzle there. Maybe that had something to do with it, maybe it was just the sudden loss of downforce acting on the Ferrari as Vettel swung across the Alfa's wake, trying to dummy Giovinazzi.
Whatever, the spin was enough to flat-spot the Ferrari's tyres and he'd be in for a set of the rarely-seen hards at the end of the lap, rejoining near the back. A lap later and he put a DRS pass on George Russell. Raikkonen tried to follow the Ferrari through past the Williams, diving down its inside.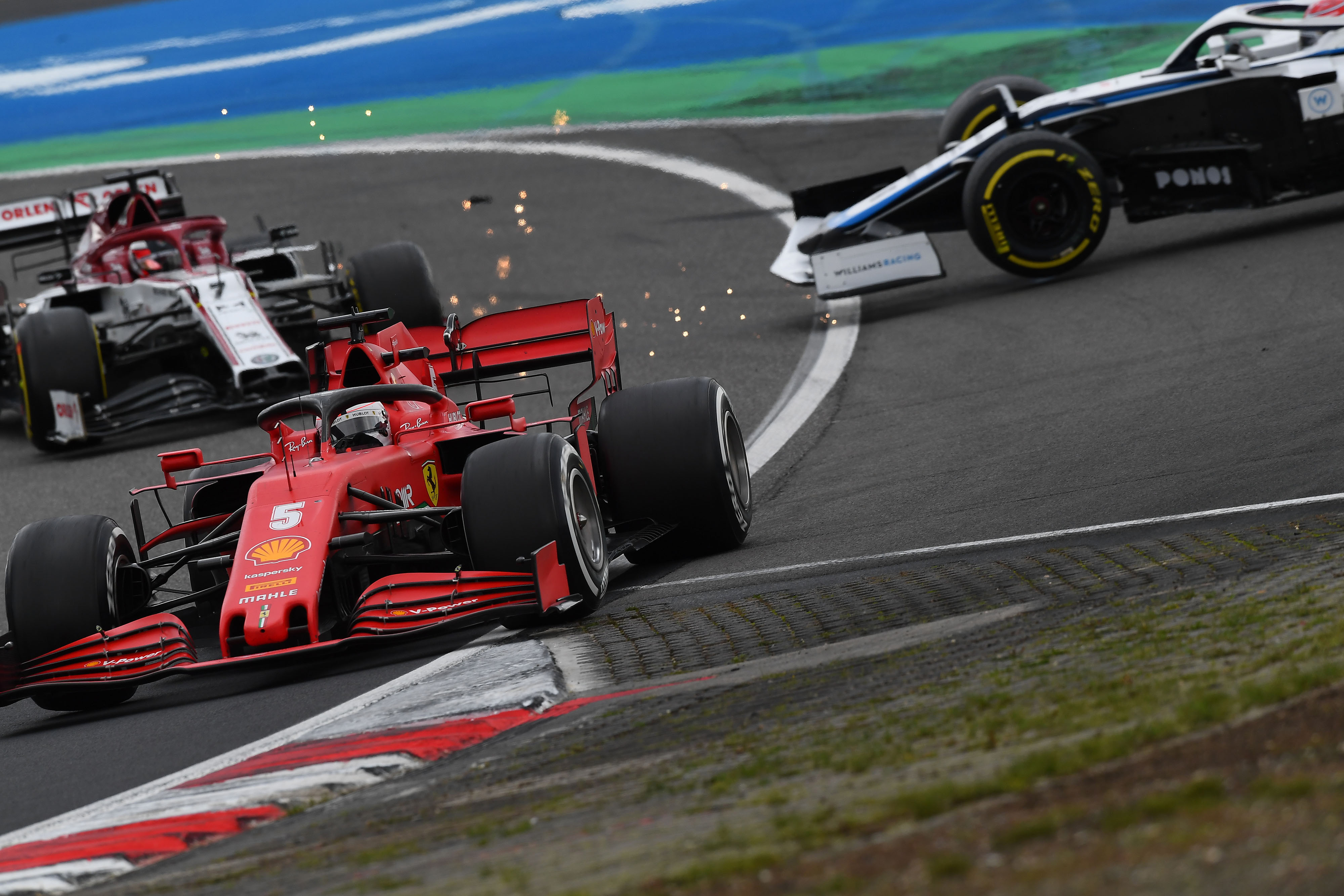 As he put the power down coming out, the rear of the Alfa stepped out, its left-rear wheel interlocking with Russell's right-rear, tipping the Williams onto its side and destroying its suspension. George tried to limp it back to the pits…
Meanwhile the battle between the Mercedes was becoming interesting. Hamilton had noticed that Bottas was beginning to struggle a little getting on the power and in the last six laps the gap had come down from 1.8s to 1s as Valtteri began to feel the onset of front graining.
Bottas was responding to Hamilton's attack and into the 13th lap braked late into Turn 1, still lightly coated by that drizzle. The front right locked horribly, running Bottas out wide and flatspotting the tyre. Hamilton pounced, completing the move around Turn 2 to take the lead.
Hulkenberg had risen up to the lower midfield and for a time was lapping at Perez pace
Bottas made his way to the pits for a new set of mediums to replace the flatspotted softs. In hindsight, he'd just blown his possible chance of winning the race.
But in that moment, he still felt all was not lost. Anything earlier than a lap 20 stop in the 60-lap race meant for certain you'd be on a two-stop, which was theoretically slower. But only by a few seconds.
Bottas now reckoned he might use a committed two-stop to push hard for the rest of the race and take it to the one-stopping Hamilton. Maybe he could have, but Bottas on the strategic back foot against a predator like Hamilton? One couldn't help feeling he'd already lost – and that was only made more certain when Russell pulled off to the side, unable to make it back, and the race was put under the VSC on lap 16 to allow the Williams to be retrieved.
This of course allowed Hamilton and Verstappen to make cheap pitstops (with around 11s less time loss to the field than under racing conditions). Even if lap 16 was many laps earlier than they'd planned to run, those 11s could not be surrendered. Whichever of Hamilton or Verstappen hadn't stopped would have been beaten by the one that did.
As they both pitted, so they stole those 11s from Bottas, putting him out of victory contention. Not that it mattered, for a few laps later a suspected electrical problem caused the MGU-H to stop working. The car was retired to prevent damage to the engine and MGU-H.
Hamilton's record-equalling win was assured from the moment that VSC was triggered, but had been highly likely since he'd pressured Bottas into that lock-up.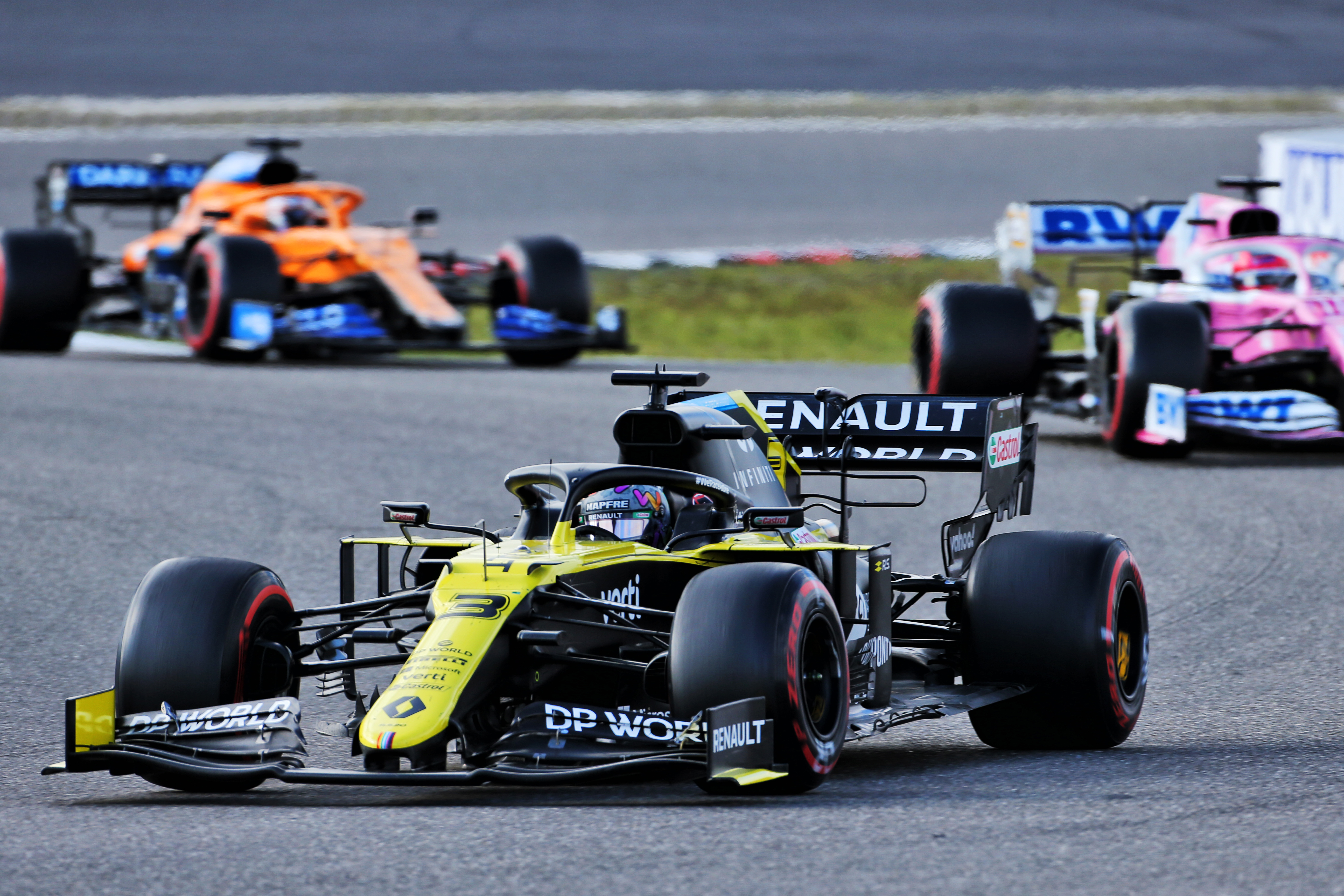 The VSC formed a Y in the strategic battle of Ricciardo, Norris and Perez for best of the rest and a bonus podium place. Ricciardo opted to come in, the others stayed out for track position. That 11s saving by pitting under the VSC ensured Ricciardo would still be in front of them after they'd made their stops, but the longer they could delay those first stops, the faster they were going to be relative to the old-tyred Ricciardo when they rejoined.
Perez eventually went for the undercut on Norris on the 28th lap. The McLaren driver responded and rejoined still ahead, but his Renault power unit was already very sick even before he pitted. An ignition problem meant a big power loss and unburned fuel was shooting down the exhausts.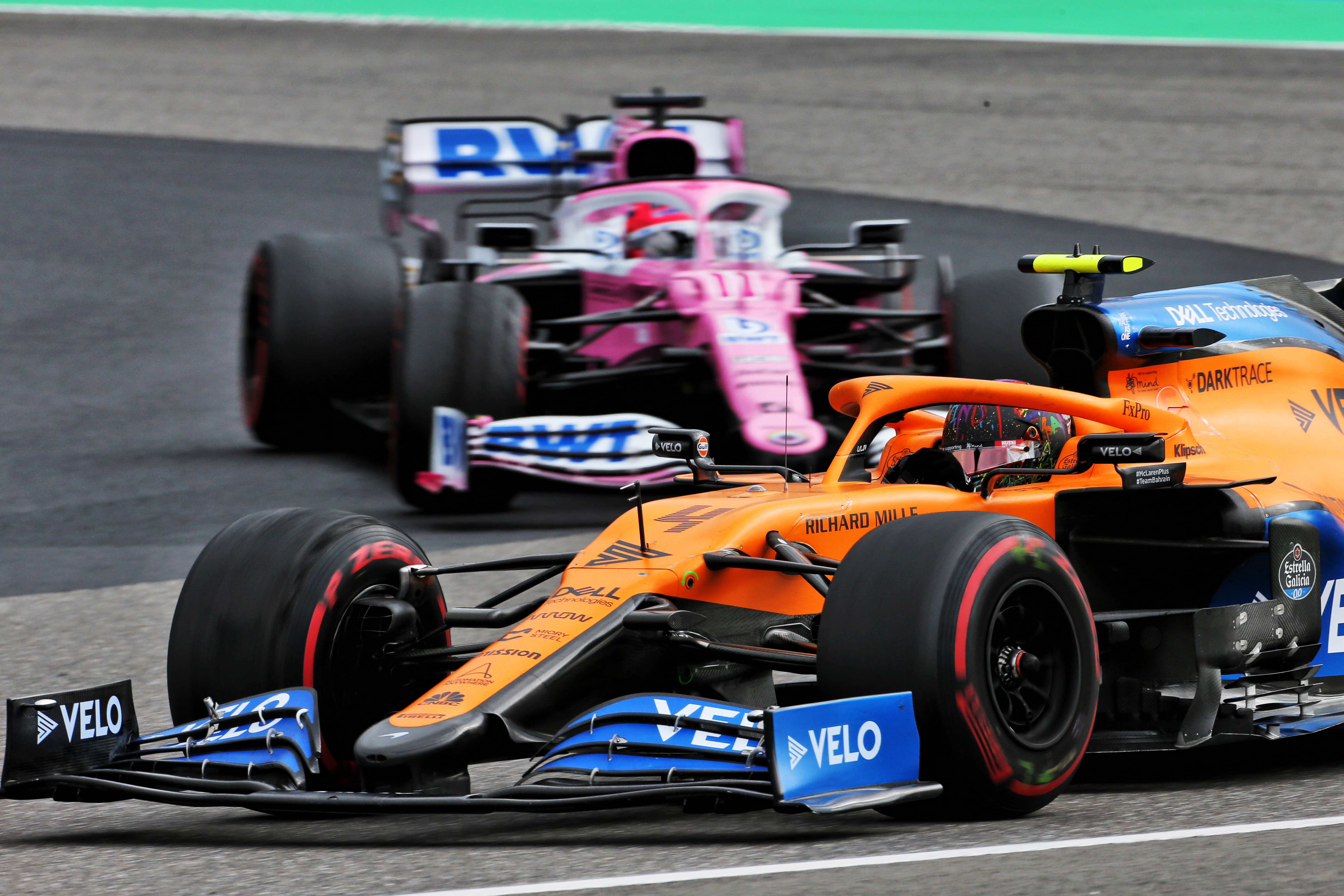 He was easy meat for Perez, who then set off after Ricciardo on tyres 12 laps newer. He was 15s behind with half the race still to go. Two stealth drivers in what are now very evenly matched cars following the Renault's recent upgrades. It was going to be a fascinating match.
Behind them, Ocon had retired from the fray with a hydraulics leak, moving Sainz – at no point happy with with the new-spec McLaren – up a place.
Meanwhile, the other Racing Point, the one driven by the supersub Nico Hulkenberg, was making great progress as Nico got his eye in. From last on the grid, he'd risen up to the lower midfield and for a time was lapping at Perez pace.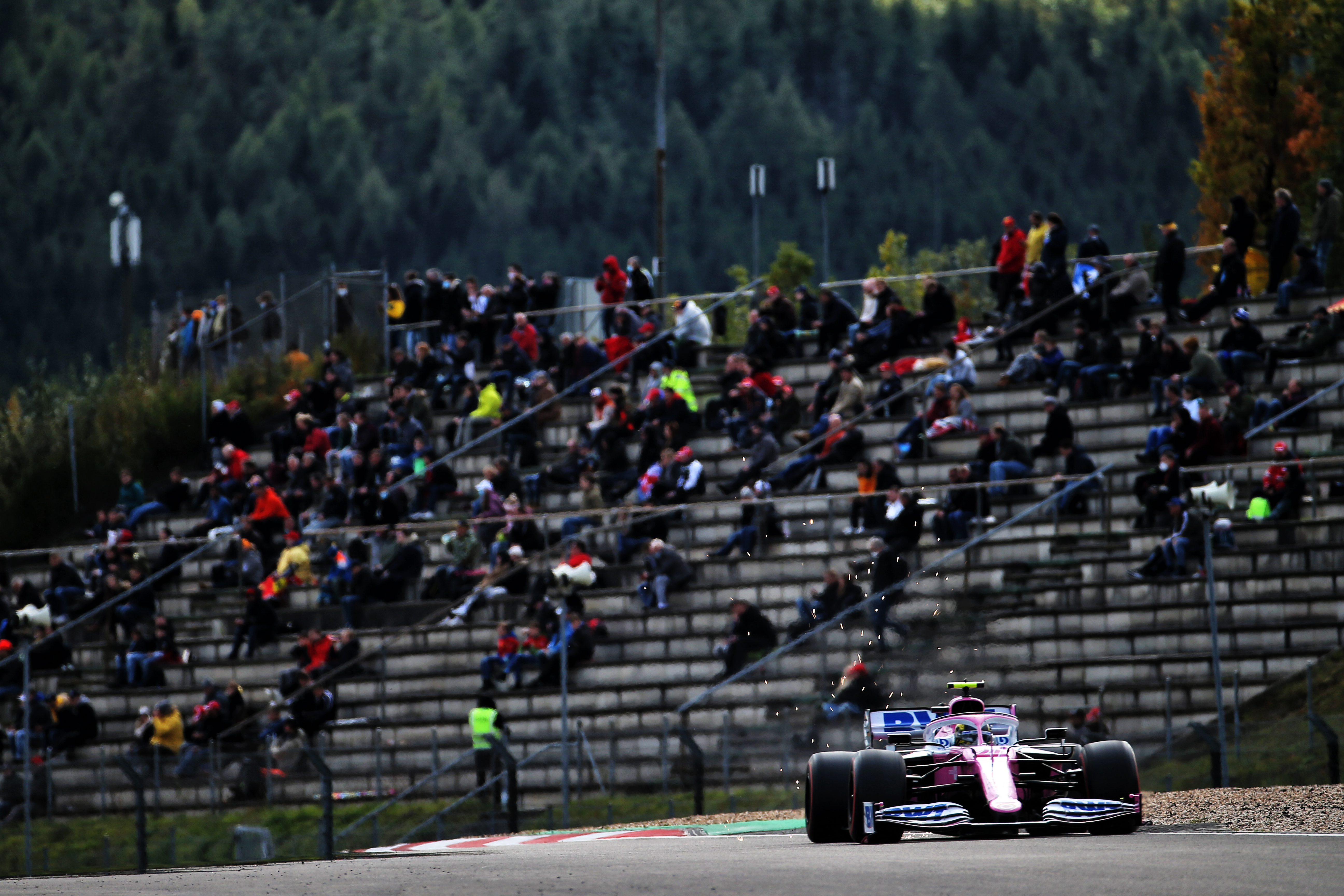 He was about to receive a favour from fate too. Vettel ahead of him had just made a second stop (unable to get the early-fitted hards to the end) when there was a safety car. Norris' engine had finally died between Turns 6 and 7 on the 43rd lap and he'd pulled it to the side. But that fuel in the hot exhausts began a fire. Hulkenberg got a near-free pitstop and converted to two-stop.
He wasn't the only one. Mercedes and Red Bull, just covering each other, with a lap on most of the field, had gone way past the point of a second stop.
Had Red Bull converted Verstappen to a two, Mercedes would have done the same, and retained the lead, such was Hamilton's margin of over 8s. They'd stalemated themselves into staying with the one-stop.
Except now there was a safety car – and they'd be too vulnerable on the restart if they didn't pit. In they came, on went the softs.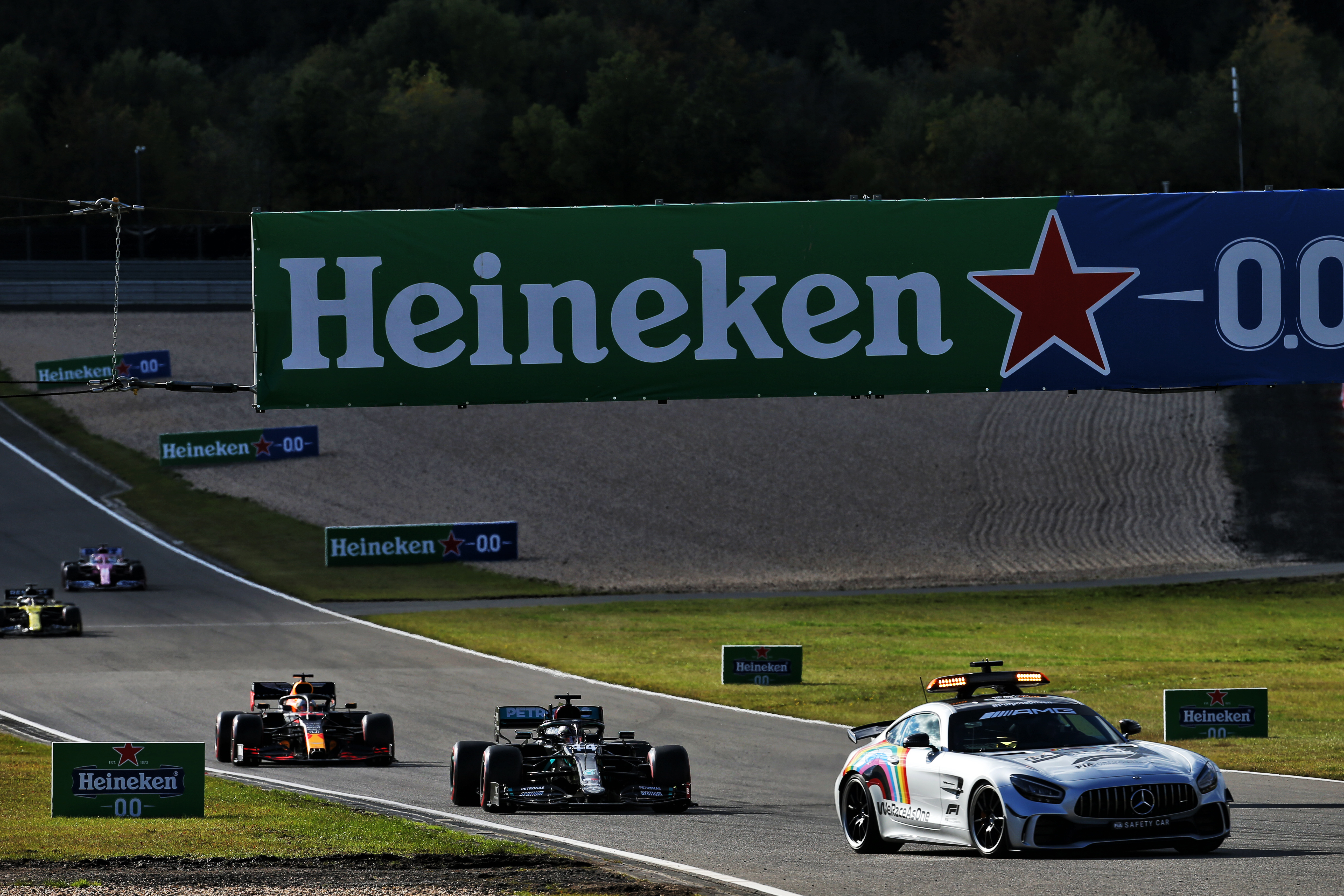 For Ricciardo, this was great news. Perez had been just 10s behind and lapping up to 1s faster. Now Daniel got a free pitstop. Perez pitted too. The safety car had wiped out his 10s deficit to Ricciardo but had also put them on the same fresh tyres. Just behind Perez was the enduring Sainz, last of the unlapped runners.
One car staying out was Romain Grosjean's Haas, which bumped him all the way up to seventh as those ahead of him pitted. He'd fitted hards on lap 28 and reckoned on getting to the end.
The safety car allowed all the lapped runners – which was a big long queue by this stage of the race – to unlap themselves and to catch up to the back of the pack. This extended the SC period to six laps – much to the annoyance of Hamilton and Verstappen who were worried about their tyres losing temperature.
"Now I have two special helmets from Michael in my small living room" :: Lewis Hamilton
As the safety car came in there were 10 laps to go. Hamilton mastered the restart, Verstappen got crossed up out the final turn, requiring him to defend from an attacking Ricciardo all the way down the straight as Perez, Sainz and Leclerc watched from close behind.
Gasly and Hulkenberg were able to nail the old-tyred Grosjean. Giovinazzi couldn't quite do so.
Perez took half a look up the inside of Ricciardo into Turn 5 but couldn't quite make it work and remained fourth.
With his soft tyres quickly fired up, Hamilton sprinted away from Verstappen. Ricciardo eased out a gap over Perez to secure his podium. Sainz just hung on.
Gasly on his fresh tyres deprived his race-long nemesis Leclerc of sixth place. Hulkenberg took eighth from a starting position of 20th ahead of the determined Grosjean, fending off Giovinazzi to the end.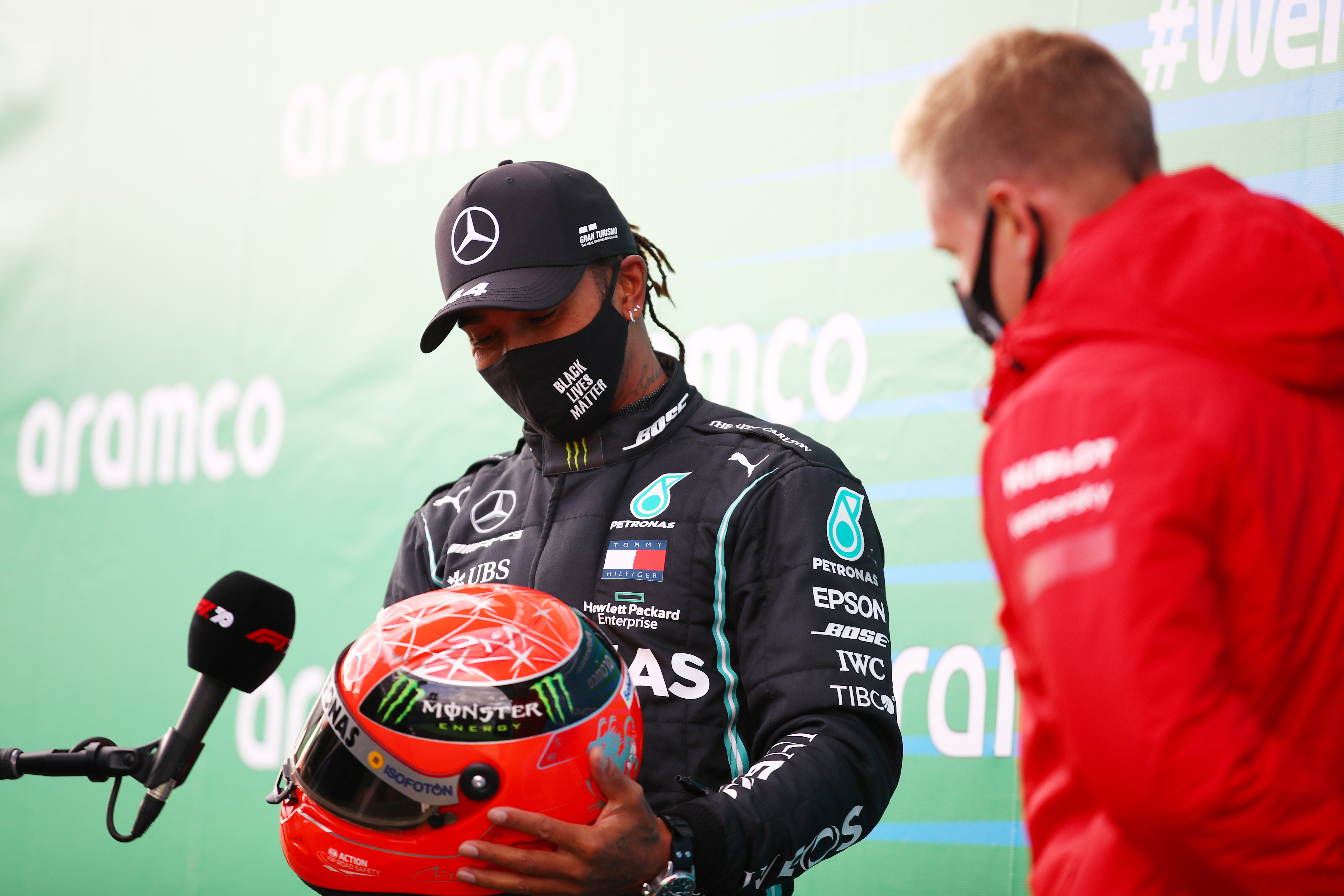 A recollection from the record-equalling winner.
"It was Abu Dhabi 2012 [Schumacher's final race]. I went over to the Mercedes hospitality and met with Michael and we exchanged helmets and that for me was a moment that I will never forget, to stand with someone who I grow up watching on TV and having the honour of exchanging jerseys or helmets, it's what us sportsmen do and it's the highest sign of respect that I can think you can really show.
"So to have the legend of the sport do that with me was really special.
"But to have his family honour me today, I'm just incredibly humbled.
"His son is such a great bright talent and just a really genuine human being so Michael's obviously raised a great man in him and I look forward to seeing how his career will look moving forwards.
"But now I have two special helmets from Michael in my small living room."