McLaren's careful appraisal of Daniel Ricciardo's underwhelming and now prematurely-ending two-year spell contained a blunt admission: "We just couldn't make it work."
It was never meant to be something that had to be made to work. But that is what the Ricciardo/McLaren alliance quickly descended into in 2021 and things have got worse, not better, in 2022.
Being ousted one year early, after so many months of talk about valid contracts, is not a good look for Ricciardo or McLaren. His struggles have invited plenty of talk about McLaren's treatment of him.
But Ricciardo's 2022 decline is what undermines any argument McLaren has behaved unfairly. Because Ricciardo knows he has underperformed. And while there is a degree of that on McLaren's side as well – the 2022 car has obvious problems and McLaren started the year particularly poorly – Ricciardo is further from what McLaren expected than where the team is against its own expectations.
Ricciardo's strongest allies will argue that on the one day McLaren gave him a winning car, he won. But that's proved to be a huge exception in personal performance terms, and is also slightly inaccurate. For Norris was the fractionally faster driver that weekend (and told not to attack Ricciardo in the second half of the race when running first and second), and at the very next race the McLaren was quick enough to win and Norris was the one who almost did it.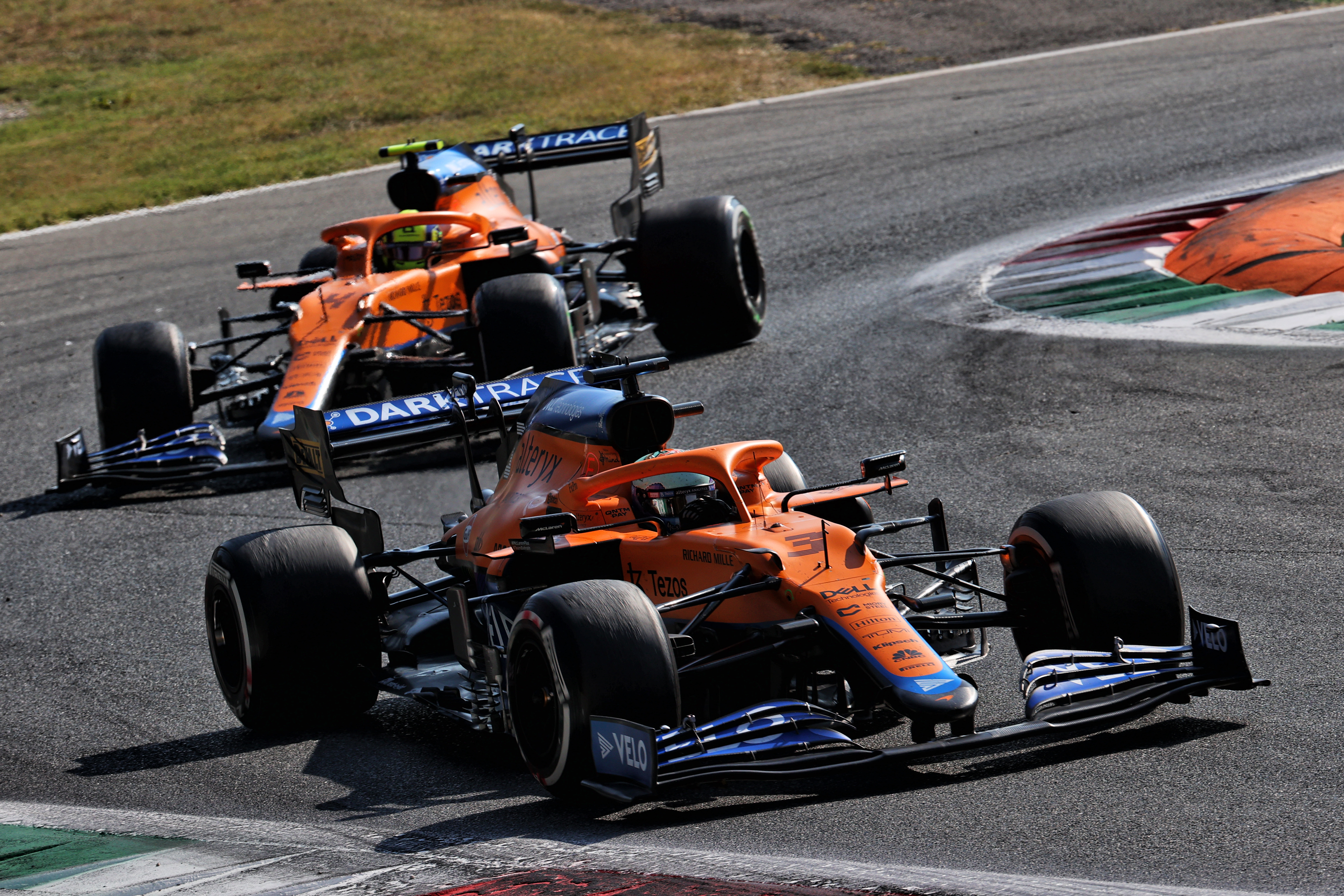 What Monza showed is that Ricciardo is still an immensely formidable racing driver. It was his racecraft that got him ahead of Norris in the sprint race and into the lead in the grand prix itself. And it's not the race performances that have let him down at McLaren, it's the striking lack of one-lap pace.
"There was a huge commitment and effort to make this work," says McLaren team boss Andreas Seidl. "The same happened from Daniel's side.
"It's also clear that regarding internal challenges or the internal situation that you don't give a live commentary of all the conversations we've been having.
"You have an open and honest dialogue internally which we always had. That's what happened there.
"We tried everything we could from both sides. We just couldn't make it work. Which is also my responsibility, being in charge of the team."
So, Monza 2021 didn't really prove anything beyond underlining what McLaren could have if Ricciardo was matching Norris more often. And it's the Norris comparison that kills any real attempt to argue Ricciardo has been chronically undermined.
With a car that is still only scrapping for best-of-the-rest status in the midfield, McLaren is letting Ricciardo down to a degree. But no more than it is letting Norris down. And the tale of the tape shows that Norris is performing better within the team's enduring limitations. This despite Ricciardo being the big money, experienced, race-winning signing.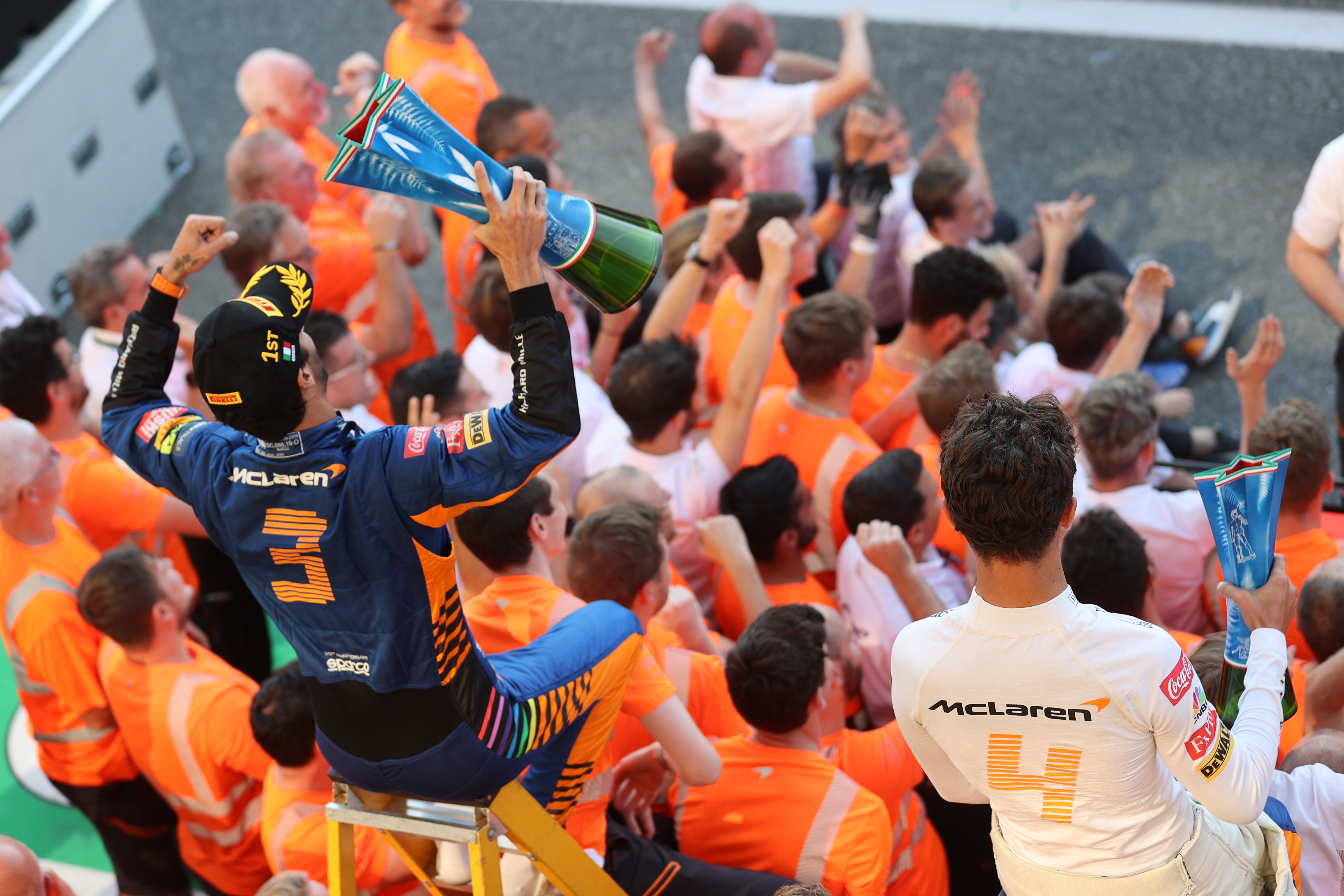 There is an argument that McLaren has built a car for Norris and can't give Ricciardo what he wants. But this has never quite tallied with the fact that Norris and Ricciardo give similar feedback on what they dislike about the car, nor the fact Norris has had to adapt his driving to the MCL36. It isn't what he naturally prefers either.
One question that has occasionally been asked is what if Norris is a megastar? Well, McLaren basically says…so what?
"Lando is clearly one of the superstars of the sport," McLaren Racing CEO Zak Brown concedes.
"[But] the goal is to have two drivers that can race each other hard as you see in George Russell and Lewis Hamilton [at Mercedes], or Carlos and Charles [the Ferrari team-mates]. Even Sergio and Max [at Red Bull].
"So, I don't see why we shouldn't be able to field two very competitive cars. Certainly, Lando sets the bar very high. But there's no reason why someone shouldn't be able to run as strong as him."
Brown has always been the blunt part of the McLaren leadership and if Ricciardo's ever been close to being called out, it's probably by something Brown said. What Brown says is typically abrasive, but the message is clear: regardless of how special a driver the person on the other side of the garage is, the team-mate needs to be closer than Ricciardo has been.
It's true that a prodigious Norris career would eventually reflect slightly better on Ricciardo, but he's still below the standard required to even be a support act to Norris. And that is not what McLaren is paying him to be anyway. Presently, Ricciardo is costing McLaren fourth in the championship. Why should McLaren continue to pay over the odds for that?
Besides, it's largely irrelevant whether the McLaren is a weird car to drive. Norris can/has learned to drive it. Carlos Sainz could drive it – often quicker than Norris, and when he couldn't he was certainly closer than Ricciardo is.
It is possible these problematic traits have since been exaggerated with the 2021 car and even more so with the new technical rules. It's also possible that with a different car or better car, Ricciardo would be thriving at McLaren. But these are hypotheticals that move away from the core fact that Ricciardo isn't doing what McLaren needs him to do.
This is the car McLaren has produced/is producing and it's capable of consistent points finishes and even the odd podium. Ricciardo isn't getting those results. It all comes back to his underperforming. And he has admitted from a very early stage, in 2021 and in 2022, that there is a problem he can't quite crack.
So, what were the options? One argument would be that Ricciardo deserves to see out his full contract. And that McLaren is wrong to throw in the towel. But this is a naive view. It could genuinely cost McLaren another season and would do Ricciardo no favours either if the patterns repeated for a third year.
The struggles have continued despite every effort from both sides to improve – from McLaren incorporating technical elements into its 2022 design specifically because of what Ricciardo wanted, to Ricciardo putting in countless hours with the engineering team and on the simulator.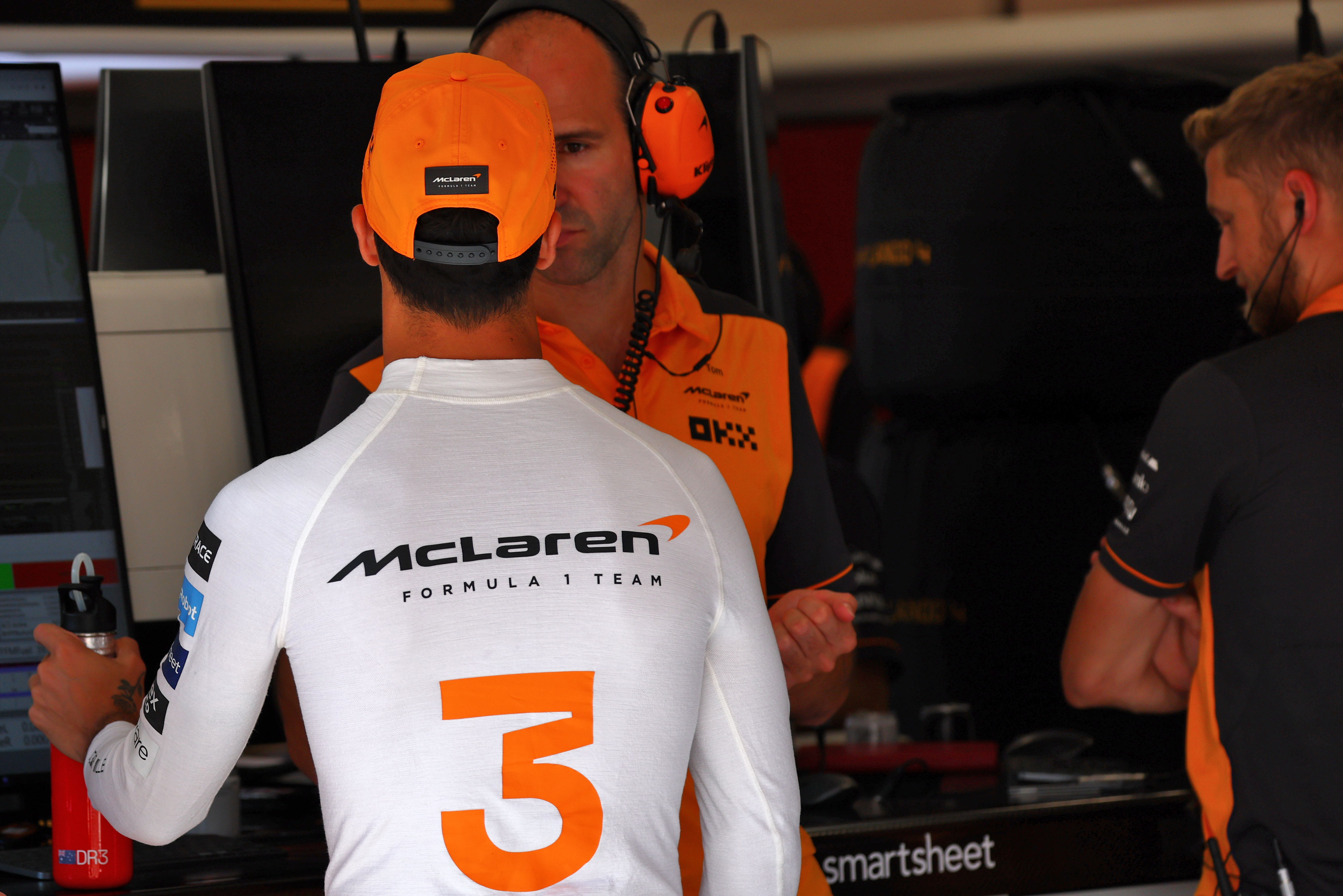 Eventually, it would be mad for both to persevere simply out of hope. That's actually what it felt like it descended into this year and that's no good for either party.
At some point, it has to be deeply damaging for Ricciardo to just keep getting pummelled with no real explanation why or solution on how to stop it happening and watch all his hard-earned credit be stripped away. In that sense, McLaren's proactiveness to cut the cord may have done Ricciardo a favour.
For whatever reason, neither McLaren nor Ricciardo could pinpoint a definitive path to progress. The hope was they could chip away at the deficit. That hasn't happened.
"For a Formula 1 driver pulling off [top] performances he needs to be fully one with the car," says Seidl.
"If you remember all the comments Daniel made about his challenges, we simply didn't manage to make him feel as comfortable as Lando did. Especially when it came to pushing the car to its absolute limit.
"We put in a lot of effort, commitment on the team's side and the car side to see what we could do to help him. He put in a lot of effort with sessions with the engineers, sim sessions and so on.
"We still didn't manage to unlock these missing percentages to Lando."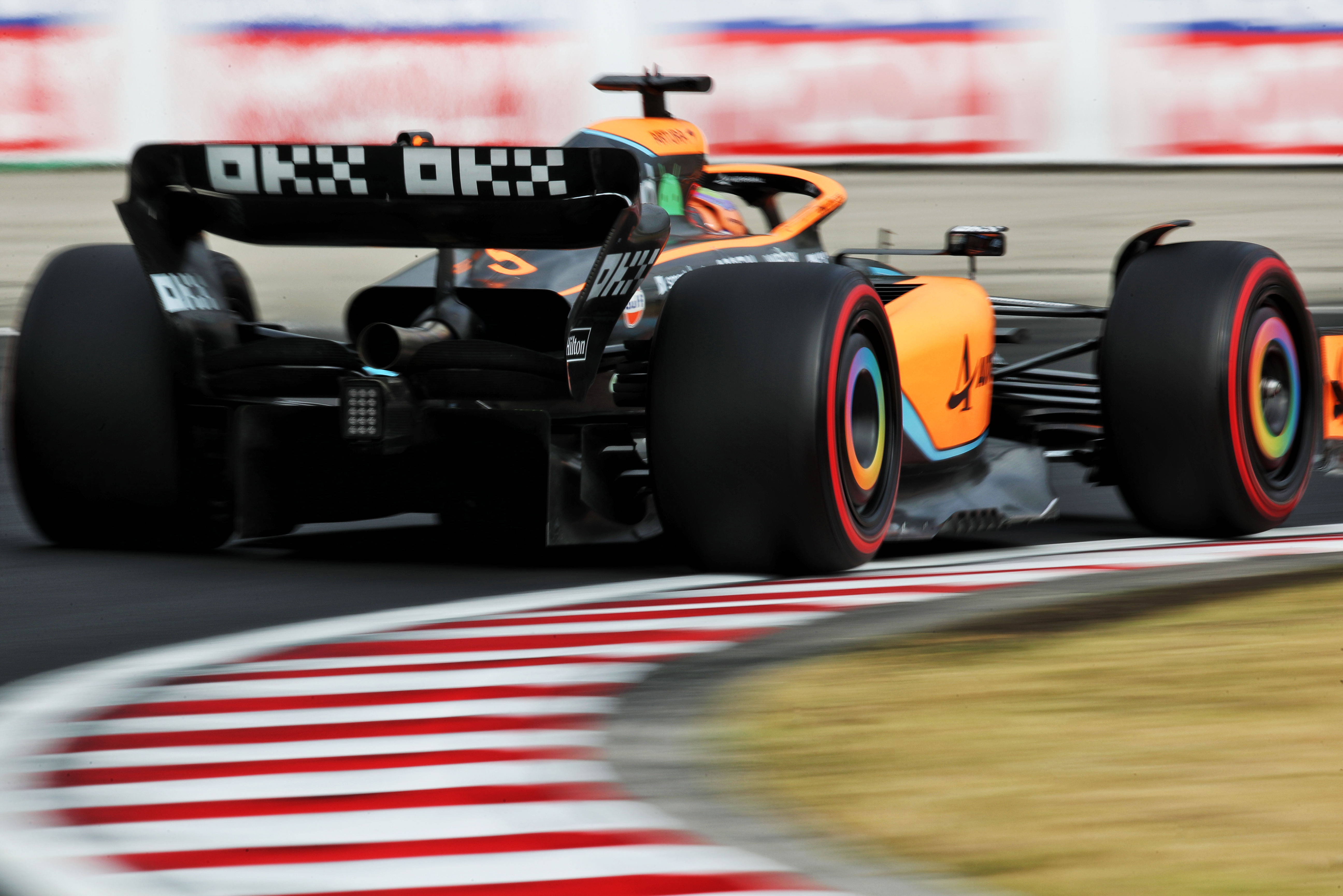 So, McLaren became convinced it was better to try someone else. That will be Oscar Piastri, a highly-rated young driver without the depths of experience that couldn't help Ricciardo in an unusual McLaren – but also without the baked-in driving traits that clearly help Ricciardo back.
Piastri is a gamble and binning off Ricciardo is expensive. Even with that in mind, McLaren believed the best option was to cut its losses. Brutal? Yes. Unfair? No. McLaren has still had to honour Ricciardo's contract after all – that's kind of the point of a pay-off. It hasn't tried a sneaky getaround.
"We had continuous dialogue throughout the season in order to make sure we knew from both sides where we were exactly," says Seidl when asked by The Race for an idea of the timeline of the eventual decision that McLaren needed to replace Ricciardo.
"That was important on this first half of the season. In the end that led us, seeing we still couldn't achieve the results we wanted to achieve, to the decision we wanted to make a change. That led to this mutual agreement."
Ricciardo's been paid very well by McLaren and not lived up to expectations. He has been repeatedly protected (particularly by Seidl), praised by McLaren for his work ethic and contribution off-track, and will be fairly compensated for his early departure. He is free to race elsewhere.
So, McLaren has not done Ricciardo dirty, not in his two-year stint nor it seems in how it has handled his exit.
It's true that the team has instigated the process of ending Ricciardo's contract early, something Ricciardo would not have done willingly. He probably wanted to fight on.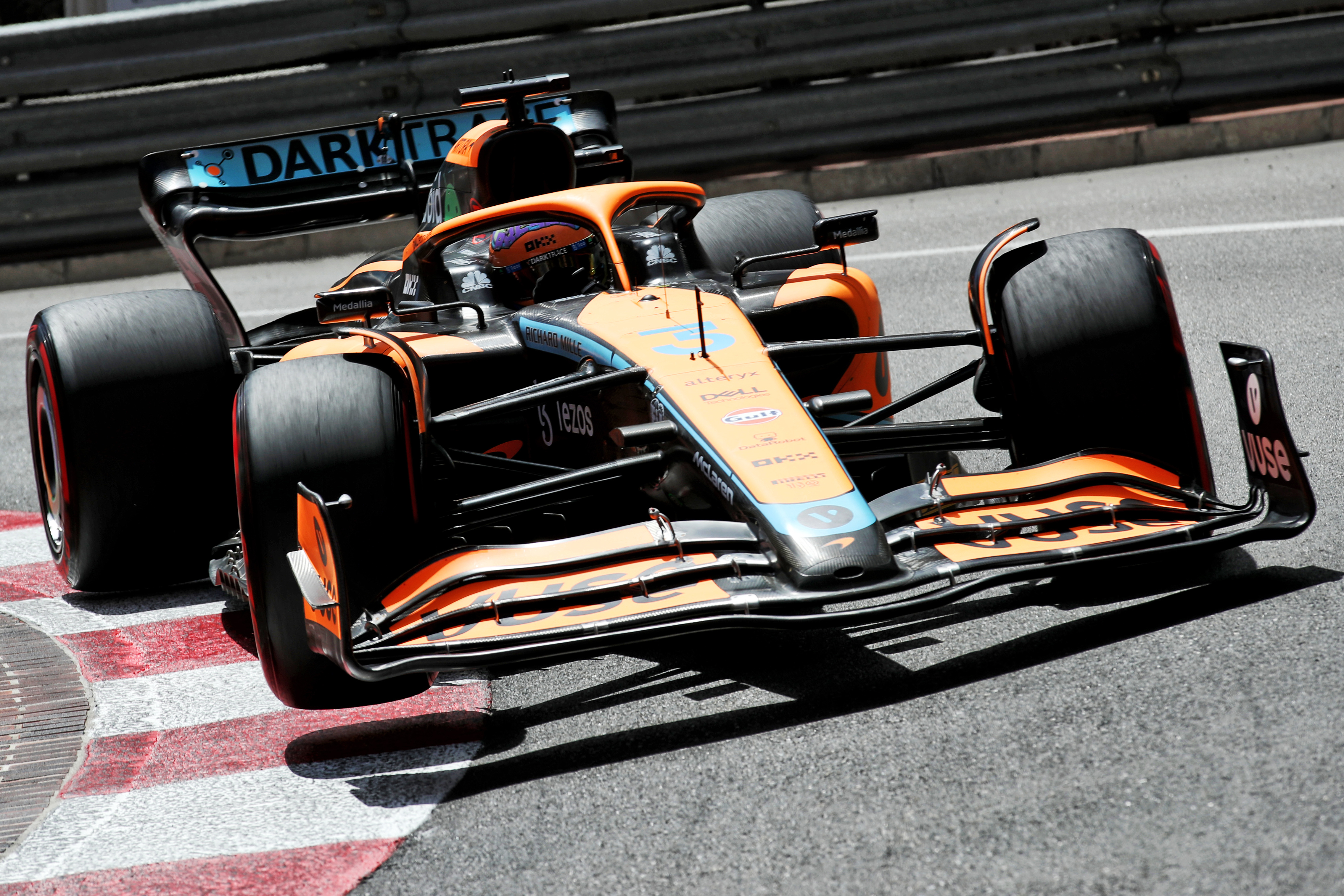 So maybe McLaren did give up on Ricciardo before he gave up on McLaren (or himself). But that does not equal a betrayal on McLaren's part.
When faced with the reality that McLaren did want this to end, Ricciardo begrudgingly accepted it on the condition he got what was owed, knowing that his lack of performance is behind the early split. Just as McLaren accepts it has a stake in this failure too.
"When I look back at these 18 months it was not like Daniel needed something completely different from Lando," says Seidl. "Both were quite aligned with the weaknesses.
"And I want to make it clear as well in the time we spent with Daniel we appreciate a lot everything he brought to the team, all his positivity and experience. It helped us make the next step as a team.
"He was great in the days where he didn't get the car from us he deserved to have. We haven't forgotten the difficult start we had this year.
That was very important and positive to see. It hasn't changed anything about the respect I have for him.
"It's just unfortunate we didn't make it work together. And it's a shared responsibility."