McLaren CEO Zak Brown is 'very hopeful' Daniel Ricciardo will continue to race in Formula 1 next year despite dropping him for 2023, with the terms of the termination not preventing the Australian from doing so.
Ricciardo had a solid contract for 2023 and control of any break clauses, meaning that his departure from the team required a termination agreement.
While the details remain confidential, this is certain to have included a substantial payoff and will not prevent Ricciardo racing elsewhere next year.
Although Ricciardo's stock has fallen in F1 after 18 difficult months with McLaren, there are a number of vacancies that could appeal to him – notably the Alpine seat vacated by Fernando Alonso and that Oscar Piastri has forsaken to pursue a McLaren drive.
Brown made it clear that McLaren has no intention of preventing Ricciardo from racing in F1 next season as part of what is presented as an amicable split.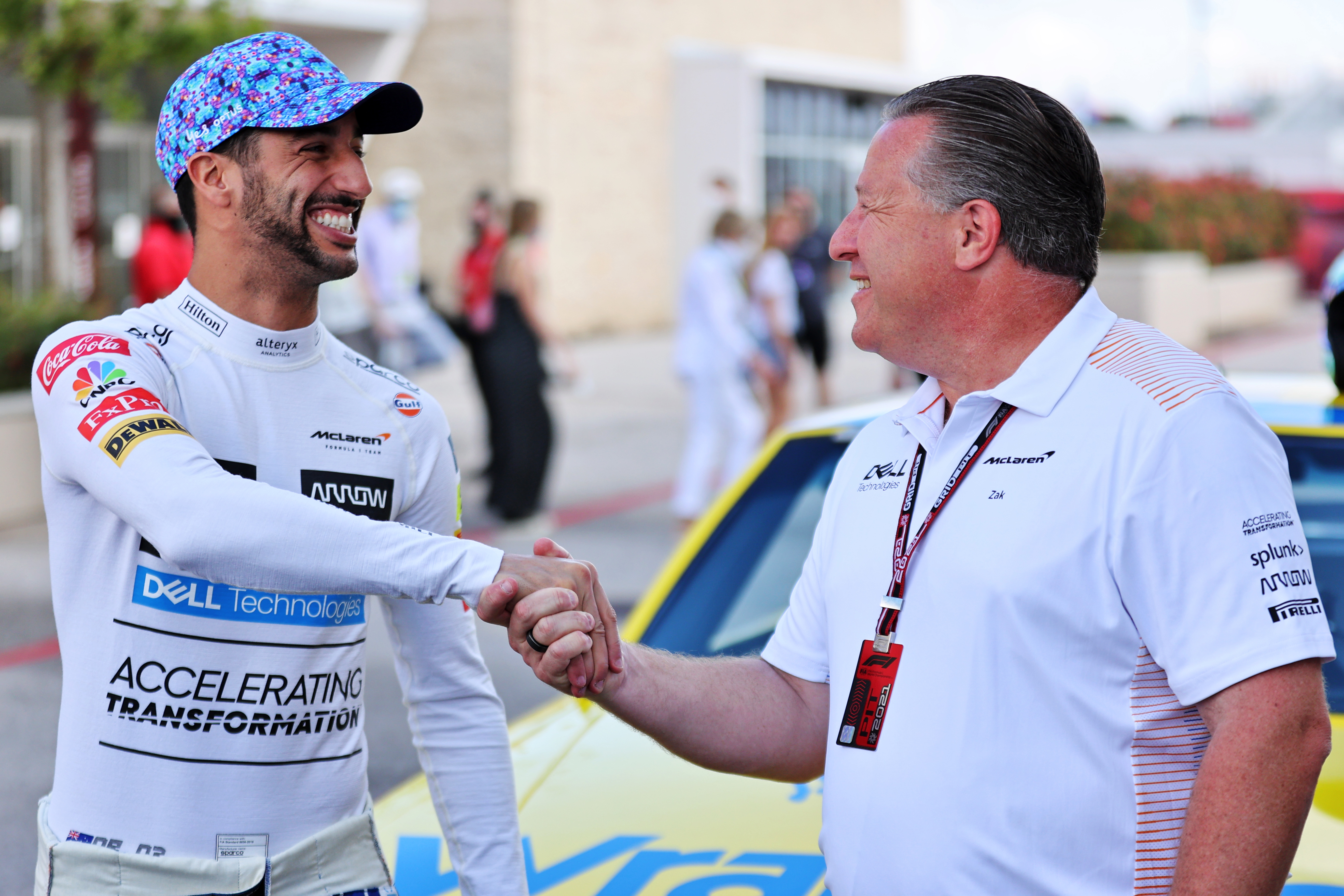 "It was never a discussion between Andreas [Seidl, team principal] and I, nor Daniel, to consider not allowing him to race in any other form of motorsport next year," said Brown.
"And we hope he does. He's a friend of the family and always will be.
"Restricting a racing driver from racing cars is nothing that McLaren would ever do."
McLaren would not comment on financial terms and whether or not there would be any reduction in the compensation paid to Ricciardo if he were to race on in F1.
When Ferrari dropped Kimi Raikkonen for 2010 despite him having a firm contract, it paid him in the region of $25million even though he competed in the World Rally Championship.
But had Raikkonen raced in F1 in 2010, something that was on the cards given he was in talks with McLaren before it signed Jenson Button instead, he would have received a reduced payment.
It's possible Ricciardo could have a similar mechanism in his agreement, but given his strong negotiating position and his publicly-stated desire to continue to race for McLaren next year, he might be free to race on without any change to his compensation.
But what is clear is that there is nothing emphatically preventing Ricciardo competing in F1 next year, assuming Ricciardo wants to do so.
Although Brown was cautious not to speak on Ricciardo's behalf, he did indicate the Australian does want to continue in F1.
"You'll see a recurring theme that we're not going to get into contractual details other than we have an amicable and agreeable solution," said Brown when asked if Ricciardo would be paid a reduced amount by McLaren if he races on in F1.
"We are very hopeful that Daniel will be on the grid next year. We don't have any knowledge of what his plans may be – other than his desire to be on the grid.
"We're hopeful from a sporting standpoint that he is."
Brown also did not rule out Ricciardo racing for McLaren outside of F1 in the future. He revealed in a later media call that the team had talked with Ricciardo about the possibilities of racing with McLaren outside of F1.
McLaren also competes in IndyCar, Extreme E and, as of next season, Formula E – where it currently has a gap alongside first signing Rene Rast.
But Brown made it clear that Ricciardo's lead priority is to remain in F1 next year.
"We are Daniel Ricciardo fans, we do have other racing activities, and if that was something that was of interest to Daniel we would welcome those conversations," said Brown.
"I'll let him speak for himself but I believe he's very focused on F1 at the moment."