Frontier Developments has finally filled the gap of an officially licensed Formula 1 management game over 20 years after a game last fit that niche.
That means F1 Manager 2022, by the virtue of advancements in technology, in many ways is automatically better than anything that came before it.
That doesn't mean it's beyond critique though, especially as it is comparable to Playsport Games' Motorsport Manager PC game which came out in 2016. There are more than just passing similarities between the two games and if you've ever played Motorsport Manager then you will be very familiar with the menu layouts and the micro-managing needed during race weekends in F1 Manager 2022.
If you haven't given the Motorsport Manager series a go though then you can choose to have a tutorial at the start of the game. Or you can just jump straight in, pick one of the 10 teams to take over and go head first into the 2022 season.
If you're new to this genre of games and are playing on a console, then you'll find navigating the menus to be more cumbersome than playing on PC with a mouse and keyboard.
What was repeatedly stressed by Frontier ahead of release was the term 'authenticity'. There's no doubting their attempts at that with the on-track presentation as the game replicates, not just the FOM TV graphics, but also the camera angles used including trackside ones as well as a handful of selectable onboards.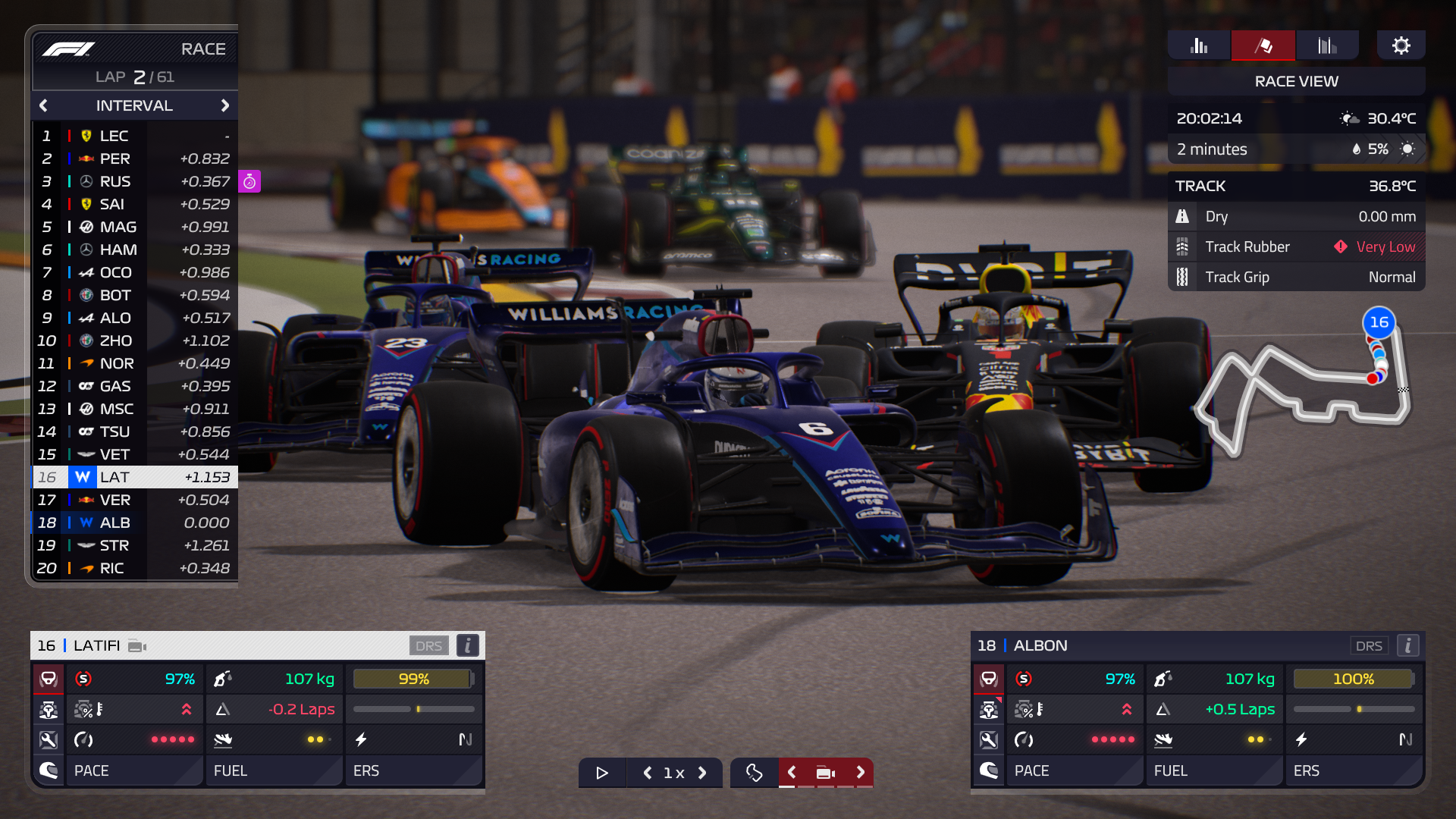 You'll also hear David Croft and Karun Chandhok introducing each session and providing a bit of analysis on what's happened previously. Even during a race, you'll get brief snippets of commentary from Croft, accompanied by a replay you can choose to watch, whenever there's some action on the circuit such as a lock-up, crash or a positional change for one of your drivers.
Graphically the game is impressive for a management title and pre-release the game has generated quite a lot of hype from some of the early screenshots that have been shared. In motion, though the game isn't nearly as stunning.
There are sudden and violent steering inputs from the drivers when pulling out to overtake another driver and in general, the motion of the cars is not as smooth as you would get if you watched a race replay from a normal racing game. That's not a huge shock though if you've ever played or watched a video of a Football Manager game since the animations of players are a lot stiffer in that series than they are in FIFA.
What is harder to excuse is the animations of crashes. The ones involving multiple cars are better produced, even if they all look eerily similar to one another. It's the single car crashes which don't look at all believable. Almost all of them see a driver plough straight on into a barrier without even appearing to brake. You're also supposed to believe that, most of the time, the driver is able to carry on and only suffered front wing damage.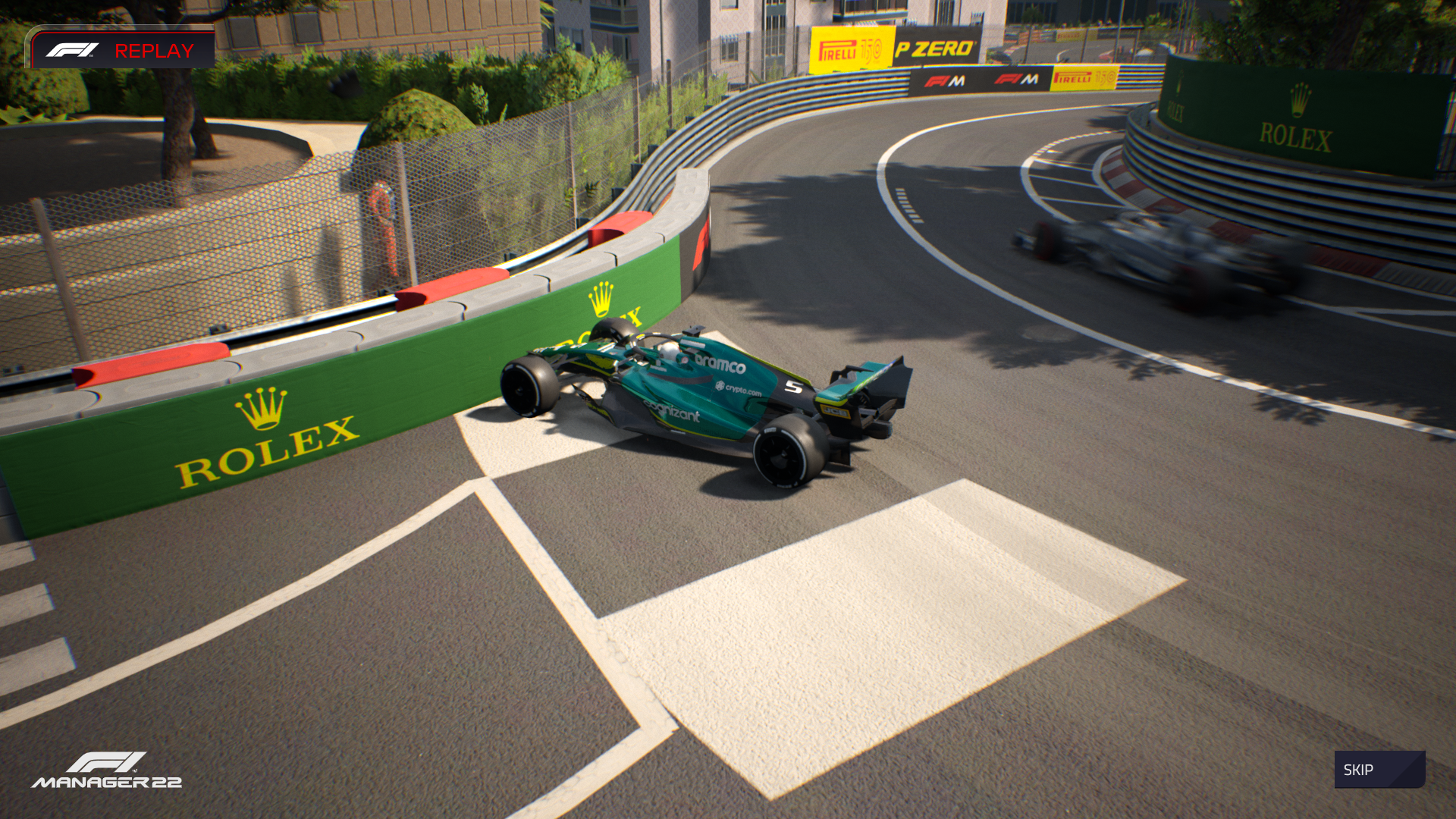 Some questionable animations aside, taking charge of your team during races can be immensely fun. Emphasis on the word 'can', since that isn't always the case in the same way that not all real-life grands prix are overflowing with action.
But an Azerbaijan Grand Prix that included three safety car periods, both Red Bulls failing to finish and Valtteri Bottas taking the bottom step of the podium with Kevin Magnussen in fourth – stands out as a highlight and shows just how engaging this game can be when the on-track action lives up to its potential.
Possibly the decision to manage Williams and abandon development on the current car before the end of the first season made the races less exciting than if there was more at stake on a personal level.
But that's where the off-track portion of the game comes into its play and is just as important, if not even more, than what happens during the race weekends. The main recurring jobs you'll have will be to design or research new parts, manufacture newly designed parts and scout for potential new personnel.
The real-life CFD and windtunnel testing limits are in the game although are subject to change through rule changes. That's not the only thing that can change as during the first season in this particular playthrough, both a low-speed focused wing regulation change, as well as a reduction to the cost cap by $5million, were both passed.
Beyond that the prize money distribution, the number of powertrain components a team is allowed to use per season and even the points system can change. In actual fact, the one rule change for 2023 that was voted on but didn't get majority support in The Race's simulation was the return of double points for the final race. The fastest lap bonus point can be scrapped and a pole position bonus point can be voted in.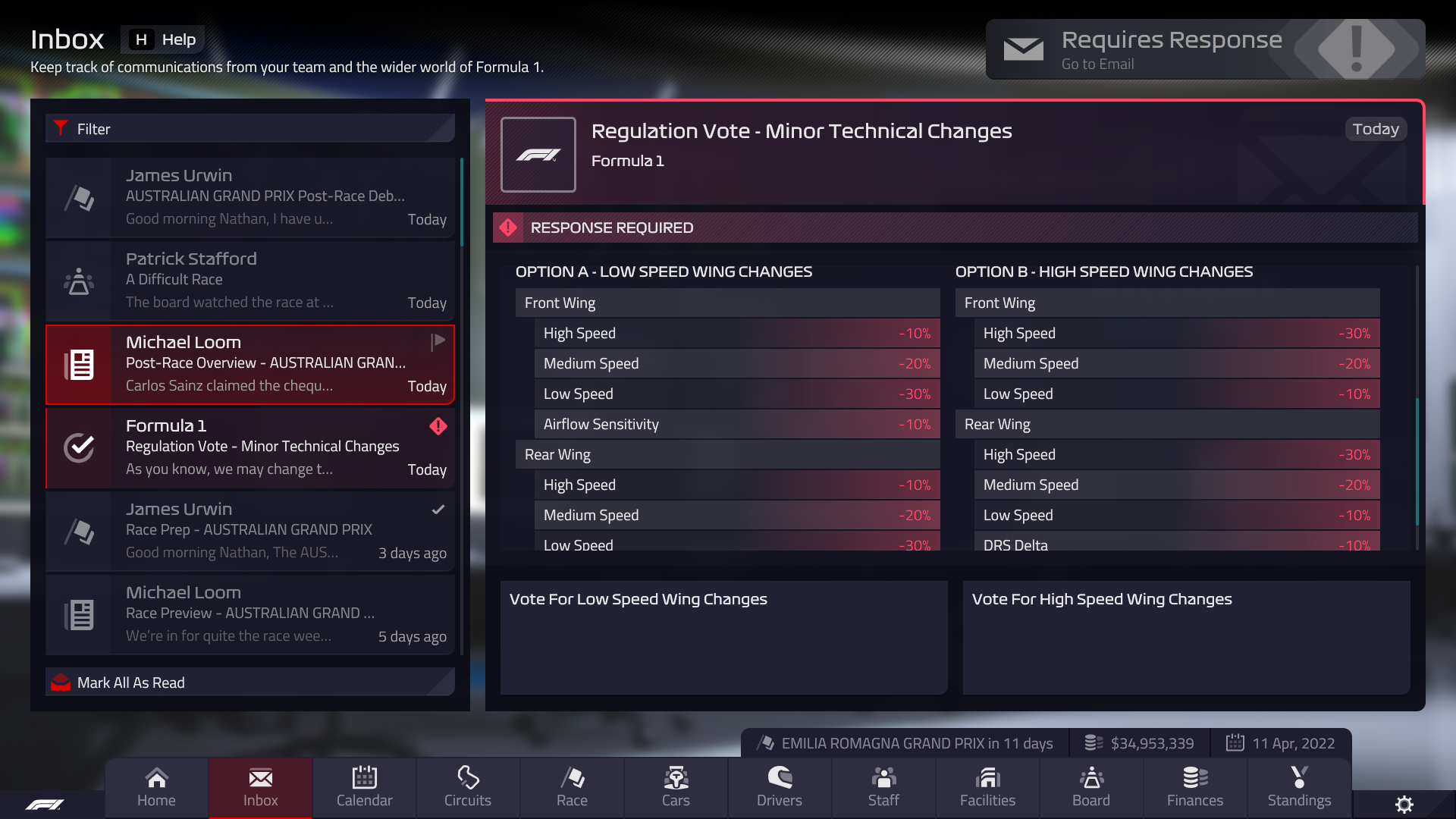 That is as far as the rule changes go though. So if you're expecting anything much more impactful such as the introduction of spec parts or something much more left-field like reversed starting grids or sprinklers, all of which were in Motorsport Manager, then you'll be disappointed. To be fair to Frontier though, that's likely an inevitable consequence of having the Formula 1 license.
On the other hand, you do get to see the 10 real-life Formula 1 teams change significantly. Even after just one season, Pierre Gasly had moved to Alpine, Fernando Alonso to Alfa Romeo, Sebastian Vettel and Zhou Guanyu are now team-mates at AlphaTauri and Yuki Tsunoda moved to Aston Martin. Not to mention that Stoffel Vandoorne moved to Haas to become its reserve driver.
It's not just drivers that move teams as each team also employs a technical chief, head of aerodynamics and two race engineers. A standout change there is Simone Resta, who starts the game as the technical chief for Haas, moving to McLaren for the second season.
The impacts of these backroom staff changes aren't as immediately obvious but Ferrari's head of aerodynamics choosing to retire from F1, forcing it into getting a lower-rated replacement, means the Scuderia should be on a downwards trajectory.
That's more a theory than a concrete answer though since the amount of time it takes to get through just one season is significant enough that we're still only in our second year in the career mode even after 14 hours of play time.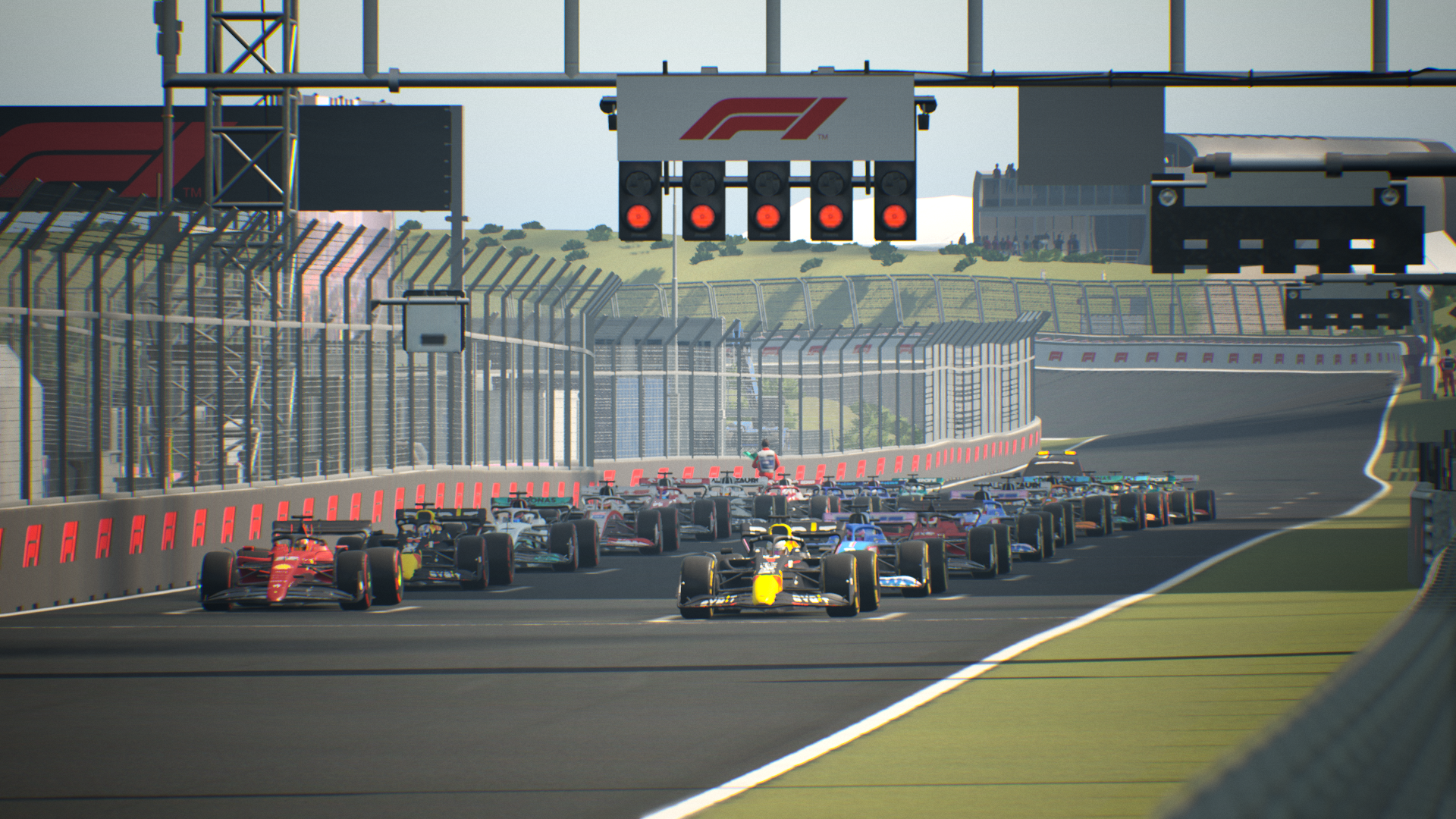 The amount of time you'll need to sink into F1 Manager 2022 to really get anything from it is substantial. Unlike in older F1 management games, you can't just simulate an entire grand prix weekend and get given a set of race results.
You have to sit through each race yourself and even if you let the game simulate practice and qualifying for you and then power through each race at 16 times speed with minimal micro-managing during it, you're still talking a minimum of 15 minutes from the start of one grand prix to the start of the next.
Over the course of a 22-race season that's nearly six hours at an absolute minimum. But you would be compromising yourself if you didn't take part in practice and take the time to fine-tune a car set-up, as anyone who's played Motorsport Manager will be familiar with.
If you take part in practice for each grand prix then you can roughly triple the time it would take to do a season, so somewhere in the region of 18 hours. That's even if you pay very little attention to the racing action and just speed up time during each race.
Playing F1 Manager 2022 for multiple seasons will be a serious commitment. Not to say that won't appeal to plenty of people, as the legions of people who sink countless hours into the Football Manager series proves, but at least in Football Manager you can make each match take a much shorter amount of time and you can even go on holiday and let the game play out the entire season for you if you want.
Given how uncompetitive Williams was for the second half of the year, some way to speed through to the much more interesting second season would've been appreciated. Or maybe even the option to change teams, which is something you can do in Motorsport Manager and Football Manager but not in this game.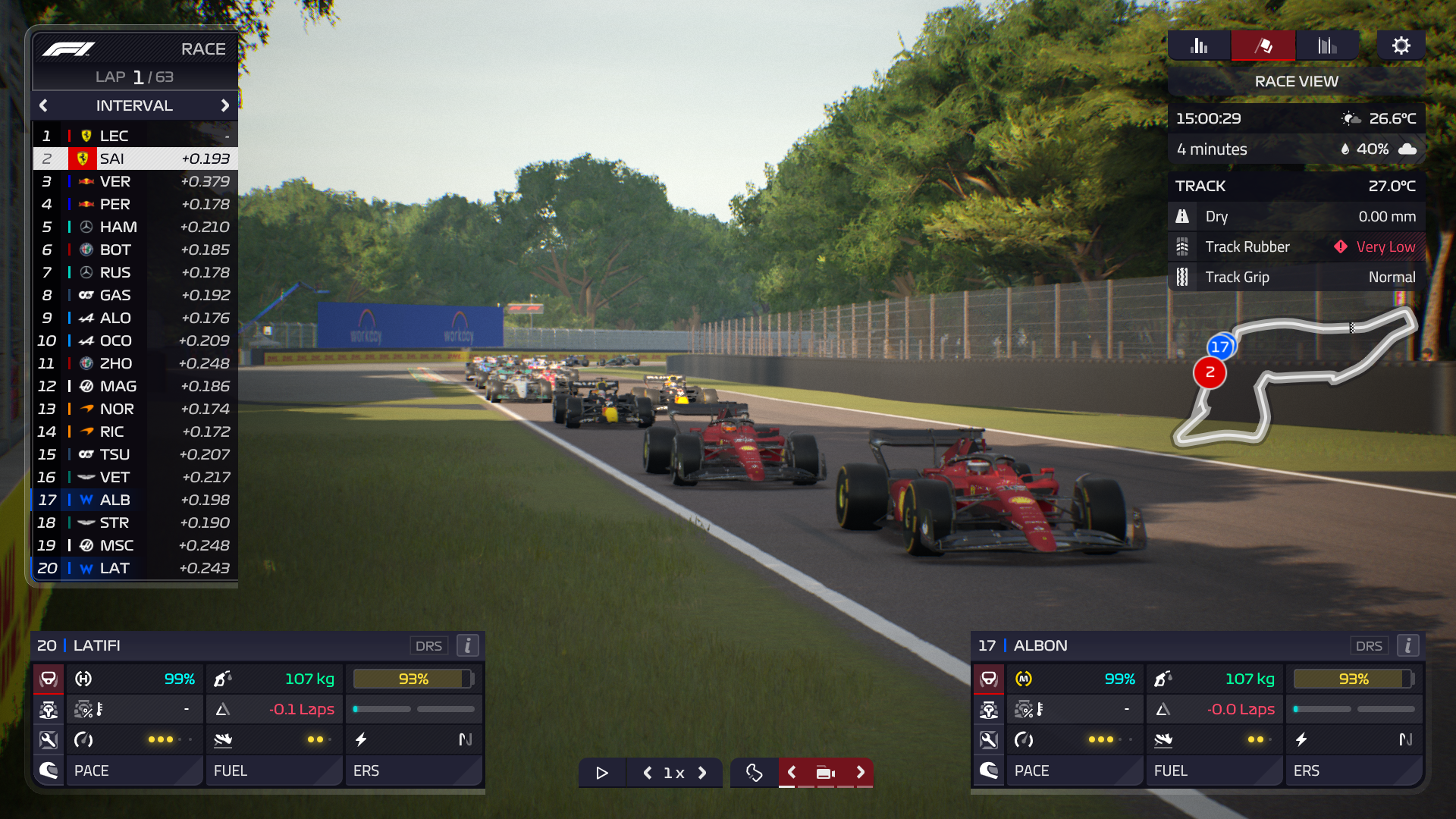 Another feature in Football Manager is the ability to watch match highlights after each game has ended, whereas in F1 Manager 2022 you have to either watch the highlight during the brief time it gives you the option to, or you never get to see it.
There are some slight issues like the omission of sprint races, how seemingly easy it is to turn a profit and the fact that, at the very least during our move into the second season, the ratings of the four different engines didn't change at all. That said it didn't stop us from moving Williams away from Mercedes engines and towards the more powerful ones from Red Bull Powertrains.
When the stars align though and provided you're an F1 fan with plenty of time to pour into F1 Manager 2022, this game can be truly captivating.
For example; watching Pierre Gasly hold onto second place in a rain-affected Japanese Grand Prix by not using the intermediates and just going onto the full wets. Or Max Verstappen starting from the back of the field in Singapore before making his way up the order and ultimately crashing into his team-mate and being forced to retire.
F1 Manager 2022 doesn't have the same level of freedom and range of possibilities as Motorsport Manager, isn't as granular as Football Manager, and requires much more time to be invested into it than in previous officially licensed F1 management games.
If the idea of an officially licensed F1 management game sounds like it will appeal to you, then it more than likely will. It is by no means perfect, but that doesn't stop us from having fun trying to turn a backmarker team into a championship contender and watching what the Formula 1 world throws up around us both on and off track.