The battle for seventh in Formula 1's constructors' championship raging between Williams, Haas, Alfa Romeo and AlphaTauri is low-profile but high stakes given there's potentially a $30million-plus swing in prize money between 10th and seventh.
Williams is in a strong position, with a tally of 21 points and a nine-point advantage over Haas. However, with seven races to go there is still potential for any of the three chasing teams to climb to the front of the group.
---
Points
7 Williams - 21
8 Haas - 12
9 Alfa Romeo - 10
10 AlphaTauri - 5
---
A combination of the development war, track characteristics and driver performance could swing this battle in any direction.
Why Williams knows it's at risk
Everyone at Williams has good reason to be looking nervously over their shoulders given the chasing pack still have some cards to play in this fight.
Williams accepted it would probably not be that competitive in Singapore after recent highs, and knows that with its own focus turned to 2024 a long time ago there is nothing in the pipeline to improve its prospects beyond what this current car is capable of.
So, when AlphaTauri and Haas showed obvious top 10 pace in Singapore, Alex Albon had a real air of 'it is what it is' around him.
"This fight in the midfield is well and truly on," he said. "We can't take our foot off the gas, but at the same time we don't have any upgrades coming.
"It's the reality of it. We're going to go to Mexico and Vegas, and we're going to be strong again. And they're going to be strong on these low-speed circuits.
"We all have our advantages and disadvantages."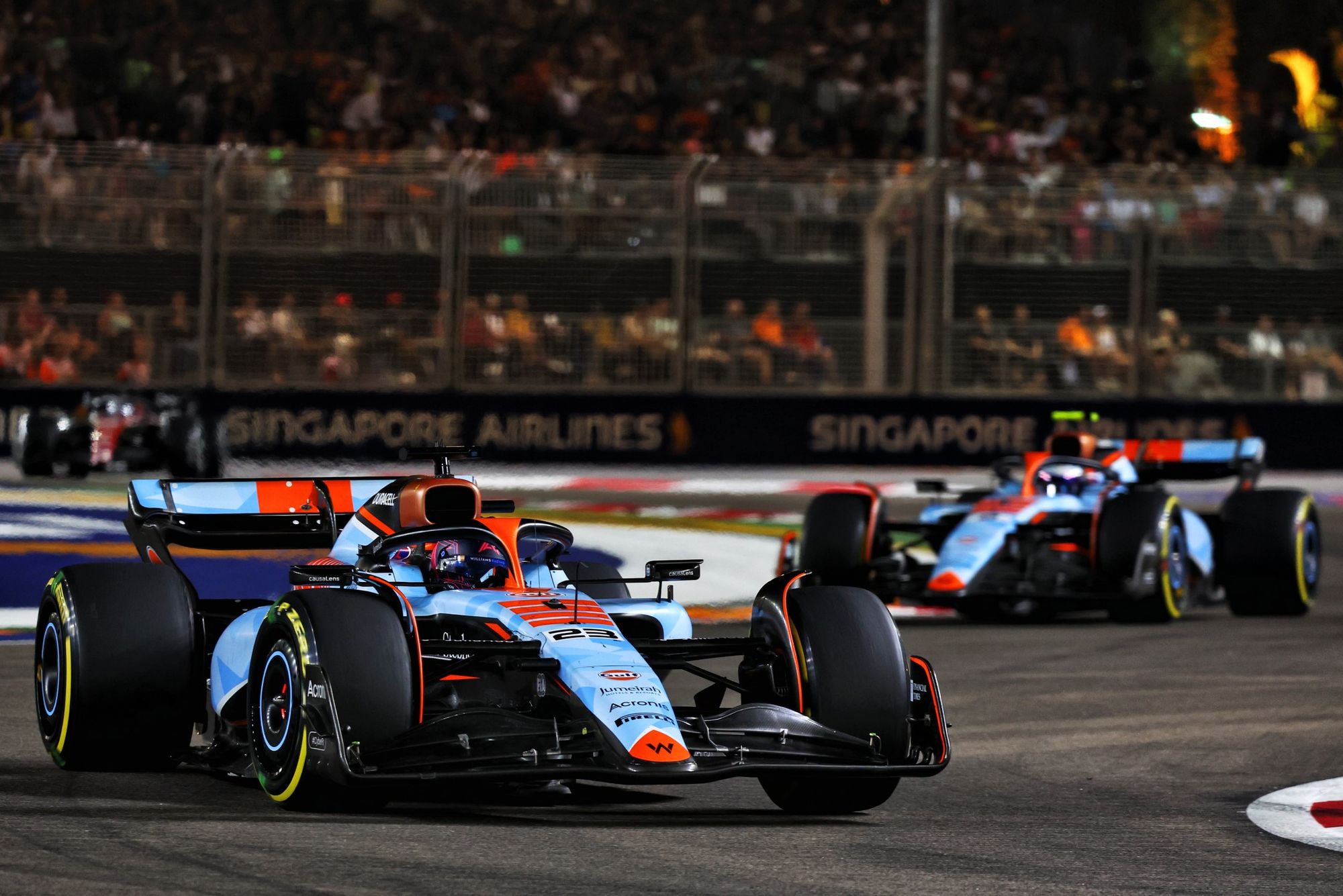 What encouraged Williams a little more in Singapore was the race pace. It took heart from the fact Albon did actually fight for a top 10 place before he was unfairly biffed into the wall by Red Bull's Sergio Perez. So, while it did have some of its advantage chipped away at, the damage was minimal – and there was a performance-related silver lining too.
If Williams really can fight for points on a track that does not suit the car, there is every reason to believe there will be one or two more points hauls to fight for before the end of the season. As Albon says, the high-speed Mexico and Vegas races might well be the best chances. Brazil could be an opportunity as well.
Williams probably needs either one big result or one or two small scores to feel a little more confident. What it has already might just be enough, but it is definitely at risk of either a big step from rival teams or simply a chaotic race where others end up in the right place at the right time.
A brand new Haas coming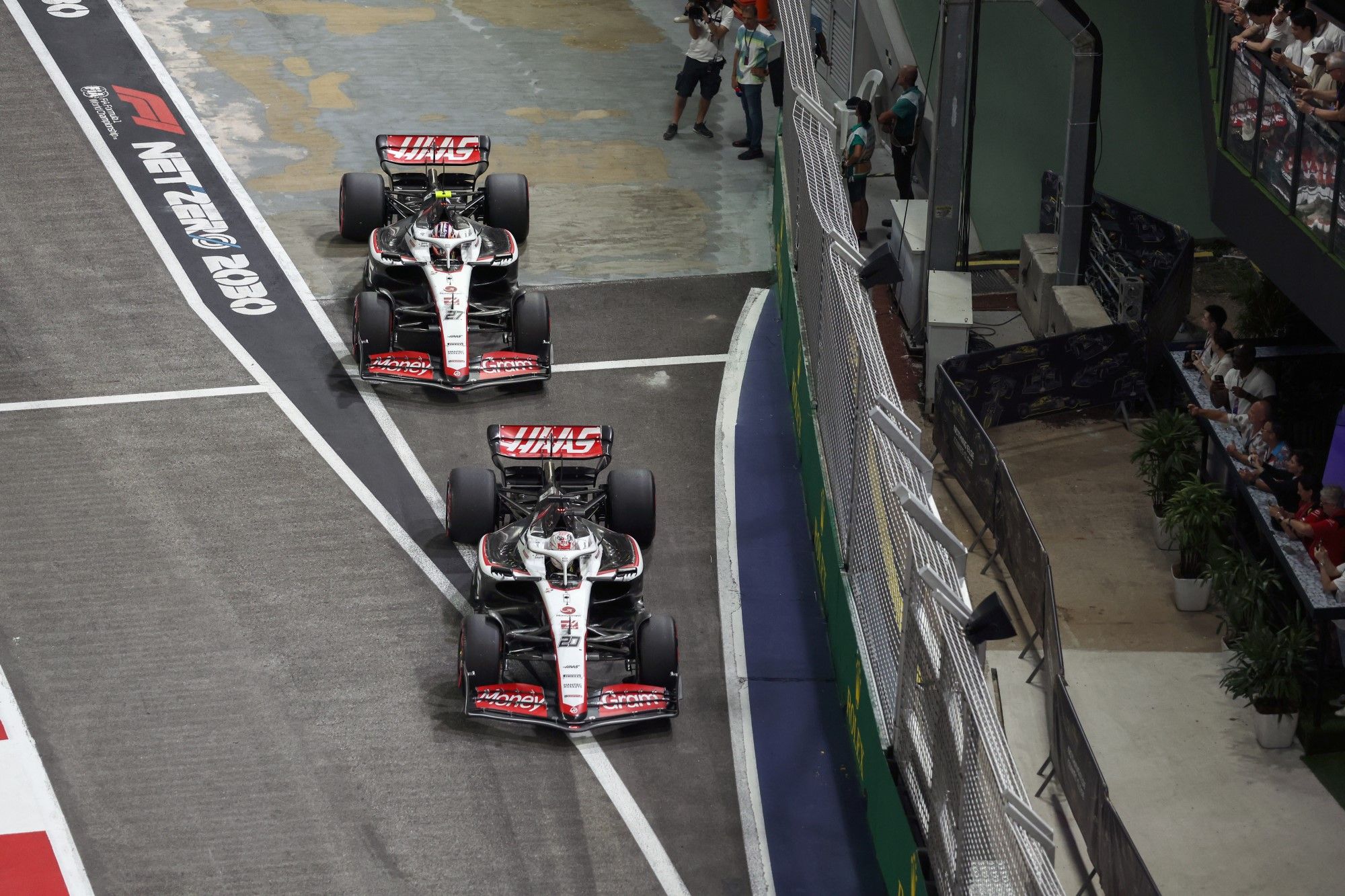 The relief on Kevin Magnussen's face was clear to see after he finished 10th in Singapore. One point doesn't transform his or Haas's season but with light at the end of the tunnel in the form of a major car upgrade coming at the United States Grand Prix, this was a welcome boost as the team perseveres with its compromised current car.
Cutting the deficit from 10 points to nine looks like nothing on paper but it is a 10% reduction. Chipping away like that could be enough by Abu Dhabi. Or it could put Haas in the ballpark for a bigger score to suddenly leapfrog Williams in one go.
As Magnussen put it: "It [the point] could easily make the difference. You've always just got to take what you can."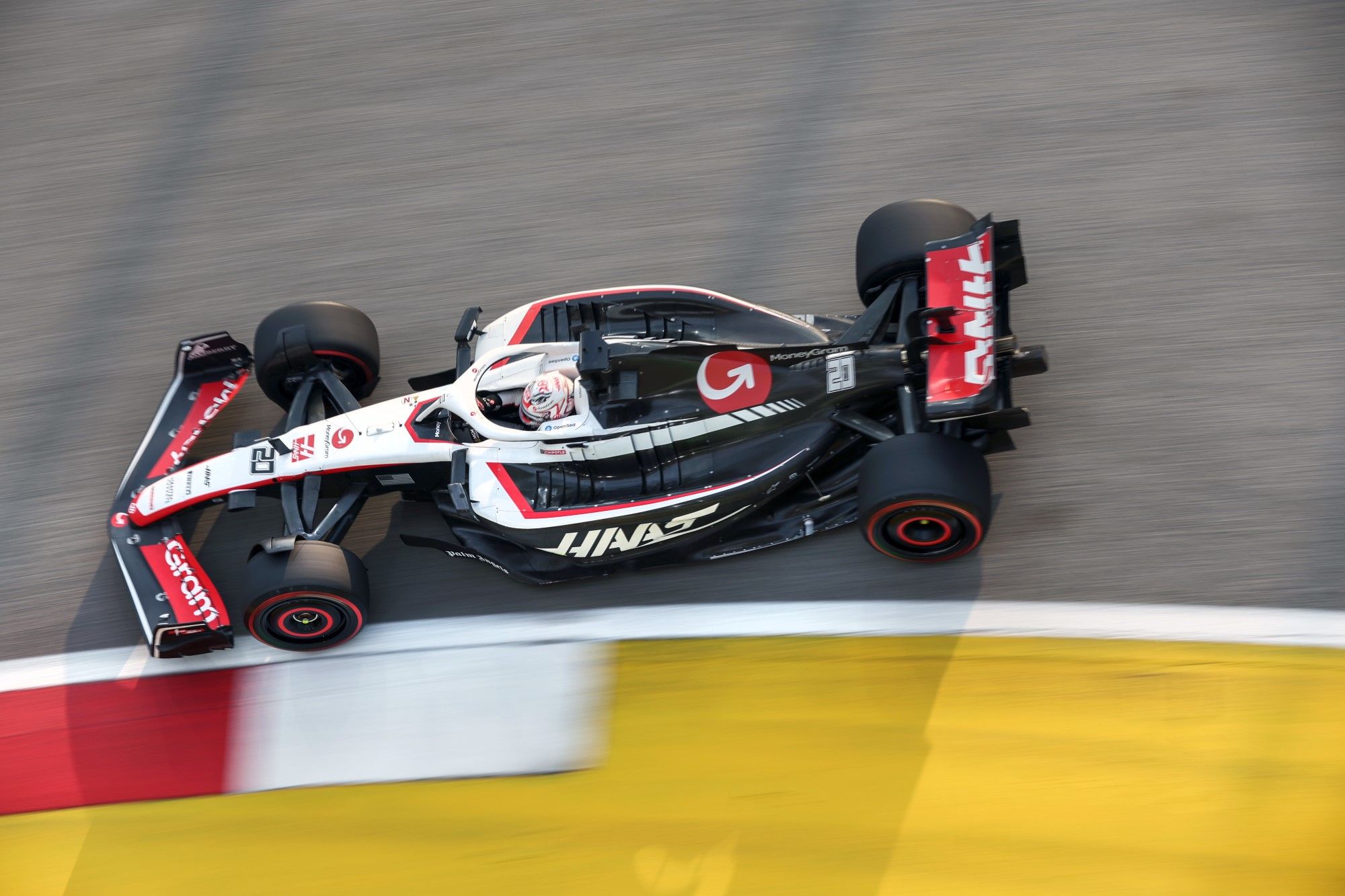 Neither Haas driver has been in a position to do that much this year. But that might change if the Red Bull-inspired Austin upgrade works as well as Haas hopes. Until then there is a degree of hanging in there to do.
Magnussen and Hulkenberg doubt that Japan will suit their car, for example, and Qatar could be difficult with tyre management too, after the Singapore track layout mitigated the car's weaknesses enough to get track position then do a good job to scrap for a point in the race.
And that point has at least breathed a little life into Haas, which had sounded quite pessimistic just one race prior.
AlphaTauri's big gains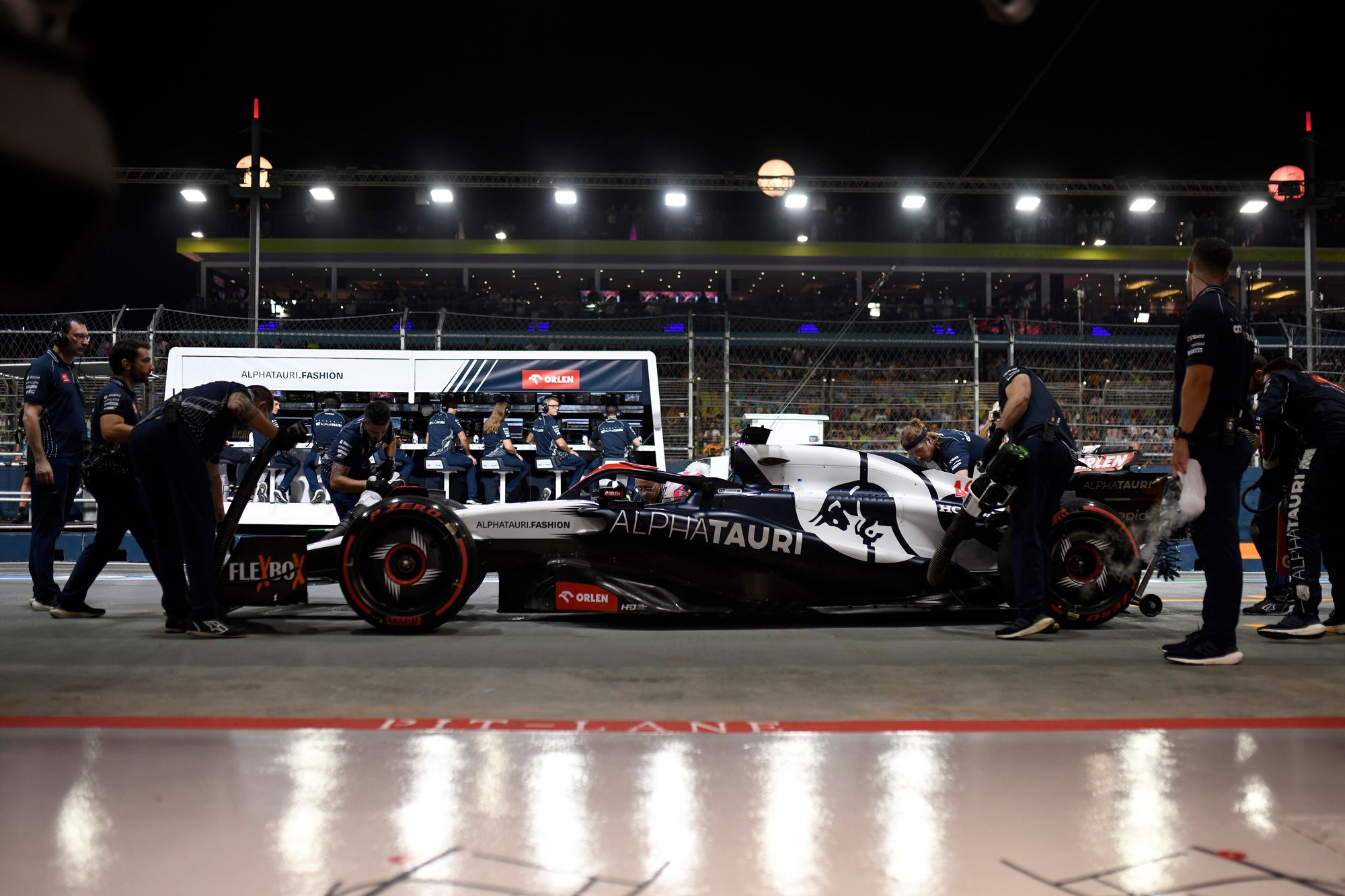 Liam Lawson's first Formula 1 points finish with ninth place was the headline-grabber for AlphaTauri in Singapore. But Yuki Tsunoda's misfortunes served to bury the lede for the team in the constructors' championship battle.
Glance at the laptimes in Q1 and you will see Tsunoda set the pace. Now, that doesn't mean the AlphaTauri would have been a pole position threat had he not fallen in Q2 thanks to a combination of being impeded on his first run then a mistake on his second, but it shows the AT04 could have qualified even more strongly. And Tsunoda was, as you would expect, the quicker driver, with Lawson never matching Tsunoda's Q1 laptime.
That performance level was thanks to a major upgrade package focused on a comprehensively revised floor, modified sidepod inlet and new Coke/engine cover. A new rear wing is also due to appear at Suzuka.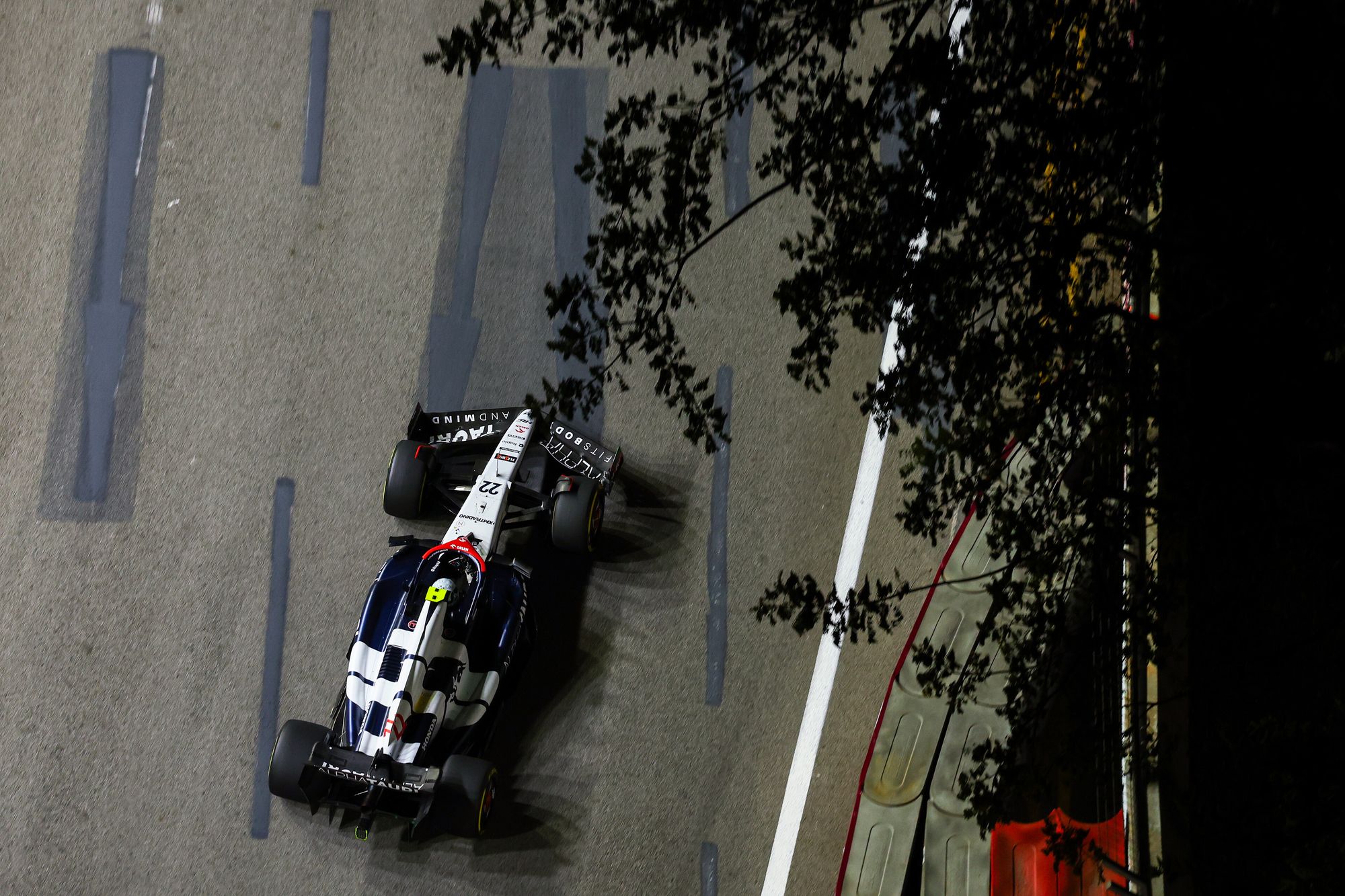 Tsunoda is confident the changes have not only added performance by adding downforce, but also that it's improved the characteristics of a car that's struggled for stability in the late-entry phase of low- and medium-speed corners. The team is confident it is a genuine step forward.
"Primarily, it's load, but at the same time we've been working on improving the stability of the car on entry all year," said AlphaTauri technical director Jody Egginton of the update. "That's been our underlying weakness and it takes it a step forward there as well.
"But it's also important to be putting load onto the car without putting any drag on the car and we've been quite successful there because efficiency is becoming a bigger and bigger topic. We've only run it at a high rear wing level here, we've got a new wing for Japan, which will combine with it.
"So I'm reasonably confident it should show a step forward at a more conventional circuit."
AlphaTauri has the most work to do if it is to become a threat in the battle at the front given it has only scored five points all year. But the Singapore upgrade's success offers tentative hope that it could have a car that's now good enough to be a Q3 threat on a regular basis, or at the very least establish itself as the fastest car in the rear group. If that's the case then it has the potential to be he heaviest scorer of the four teams in the run-in.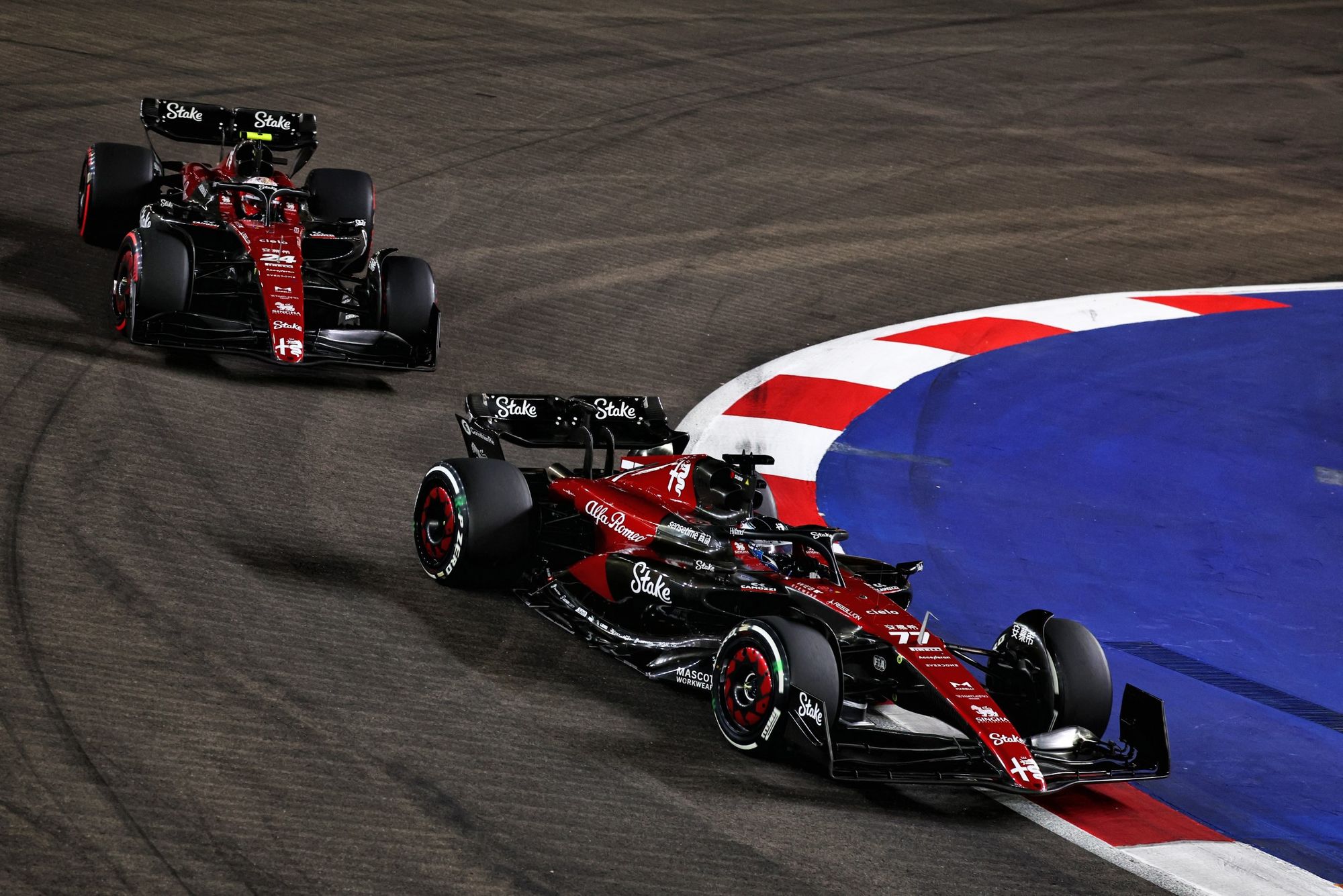 Given Alfa Romeo has managed just one point over the last seven grand prix weekends and both cars were eliminated in Q1 in Singapore despite a significant upgrade package, it's tempting to count it out in the battle for seventh. But there is hidden potential.
The Alfa Romeo C43 featured a new floor, as well as modified rear brake ducts, realigned rear suspension covers and updated front-wing flaps in Singapore. Valtteri Bottas said ahead of the weekend that he was "expecting a bigger impact at Suzuka, because with the new floor we have there are more gains in high-speed corners", albeit with the caveat that he also expected a step in Singapore. Yet it proved to be the slowest car in qualifying. So what went wrong?
"With the upgrade, we did some set-up work across the cars in FP1, then converged towards a configuration on both in FP2 and everything started to go reasonably well," said head of trackside engineering Xevi Pujolar. "But we were a bit too aggressive and we had to take a step back."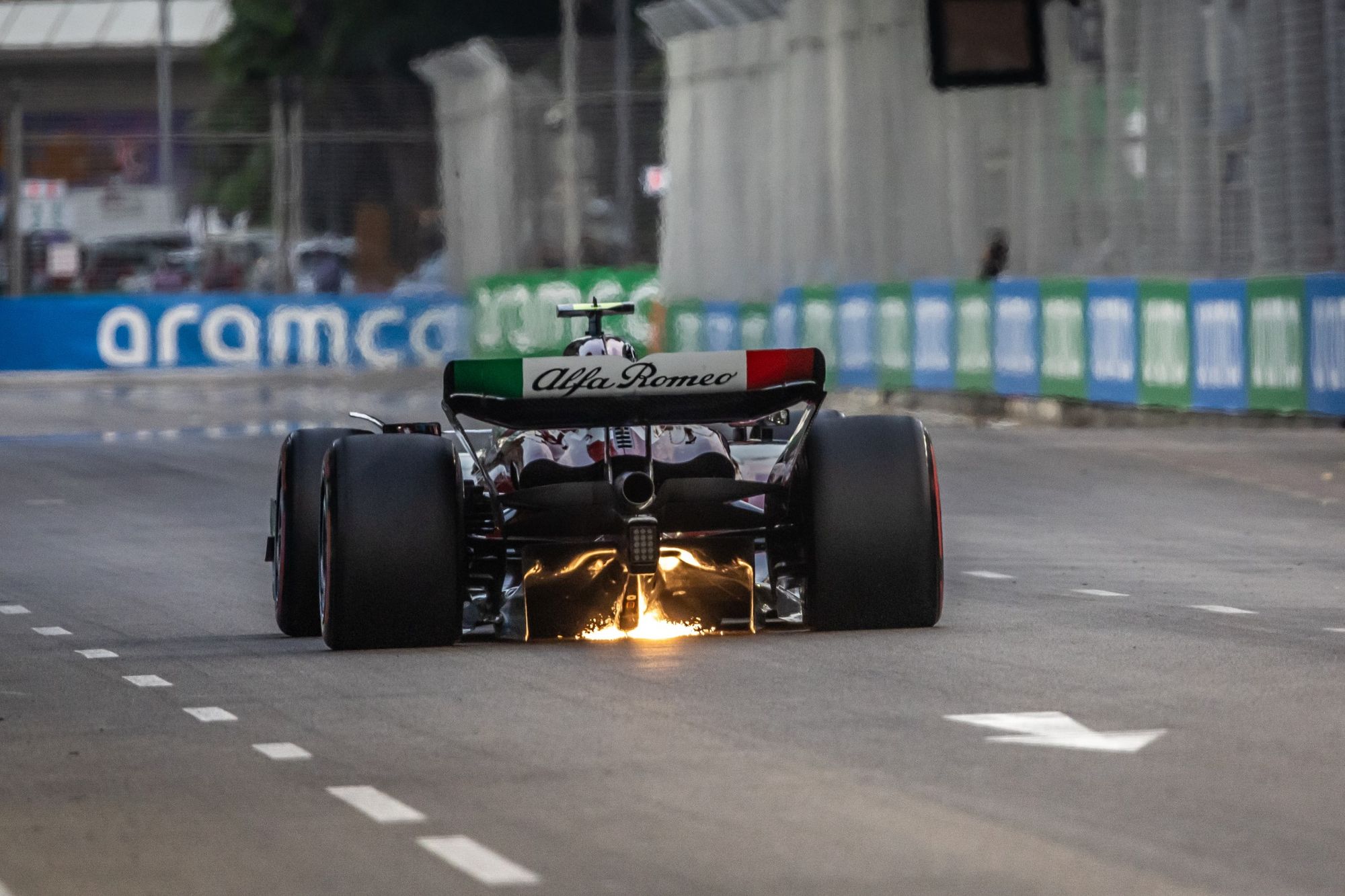 That step back involved running the car at a higher ride height because of concerns the car was bottoming out enough to put it in trouble with plank-wear levels. Changes for FP3, then into qualifying, weren't enough to re-optimise the car and it lacked grip in qualifying. But Zhou Guanyu, who started from the pits after the team broke parc ferme to make more set-up changes, showed encouraging pace and was briefly in points contention.
"The grip in the lower-speed was better and the driver was more confident attacking the corner," said Pujolar of Zhou's race. "Everything was coming more towards what we expected."
This weekend's Japanese Grand Prix will be an acid test in terms of whether the Sauber team can repeat last year's trick of a late-season upgrade that gives it a significant boost.
"Suzuka is a completely different track and with what we learned in Singapore and also what we have seen in the package, it will have stronger performance in Suzuka," said Pujolar.
"AlphaTauri is strong, Haas was strong here in quali and also the race and Williams is also there, everybody is very close in performance. If, with what we've learned, we can use this knowledge and bounce back at Suzuka, we've still got enough races to recover the positions [in the battle for seventh]."