We continue our series looking back at the most evocative numbers in Formula 1 history with the number eight; one that dazzled and disappointed depending on whose car it was attached to…
The number eight might elicit a shrug of indifference from the average Formula 1 fan. It lacks the prestige of one, the swashbuckling associations of 27 and the legend of red five. Think of number eight and you think of… what exactly?
You might say Fernando Alonso, who carried it 53 times and took his breakthrough 2003 Hungarian Grand Prix victory for Renault using it. He also had a run at the title in his first Ferrari season in 2010 as number eight, winning three times. Or maybe it's another maiden win, Nico Rosberg's in China 2012? Either way, it's feeding on scraps.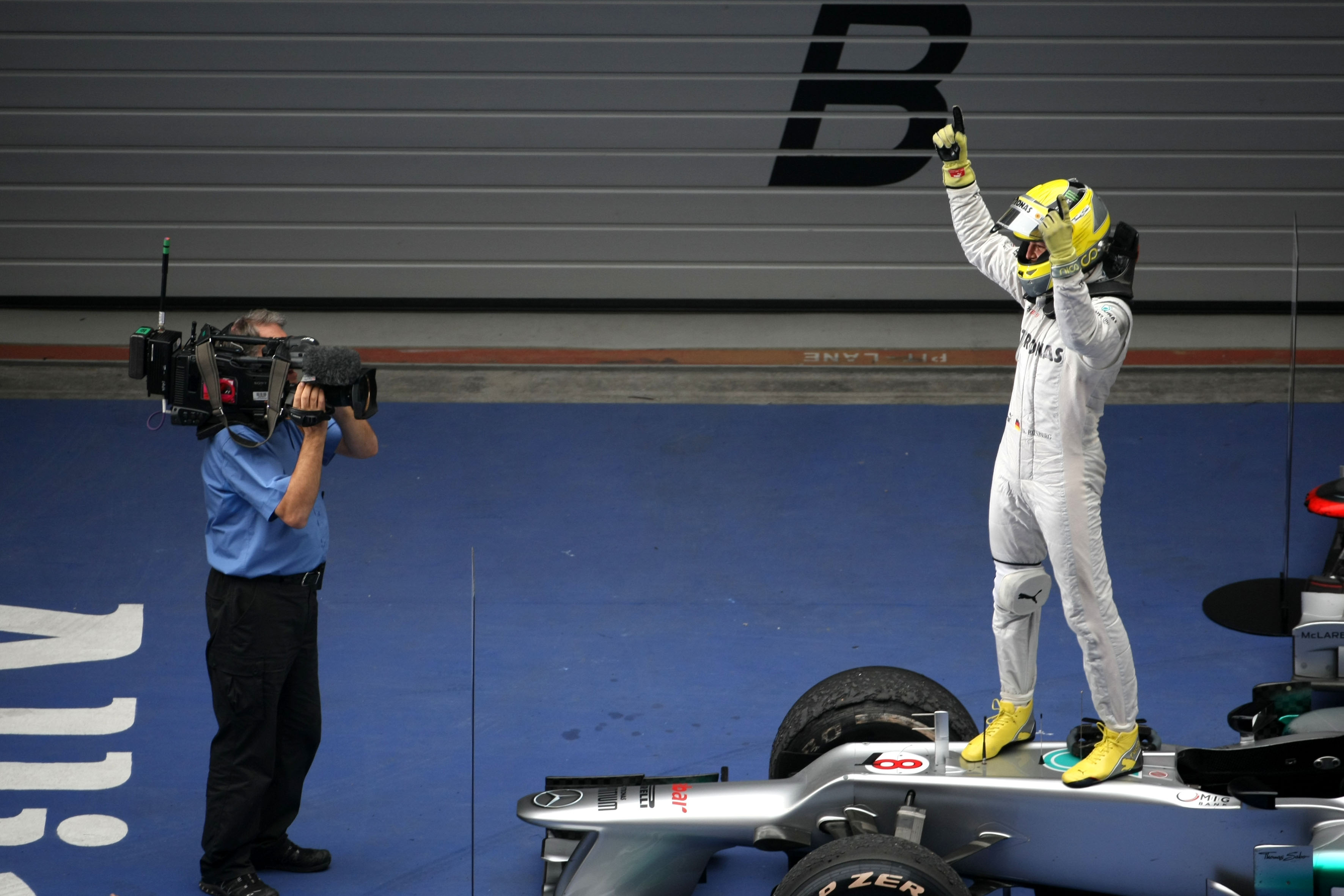 Eight is one of those designations that has been there and done that, but not in sufficient numbers to become one a big story in the history of the world championship.
But because of that it has so many fascinating cameos that make it worth looking into, even if its most frequent finishing position is, appropriately enough, the fourth place of a podium near-miss.
It's for that reason that, while it's not a great, sprawling novel of a number, it's more an infuriating collection of short stories, combining breathtaking masterpieces with plenty of filler.
Arguably number eight's greatest distinction is that no number has been used so often by a single driver in world championship history. Romain Grosjean has carried it a remarkable 145 times, which is the vast majority of his F1 career. He had it for his debut run of seven races in 2009, then returned to it from 2013 onwards.
While Grosjean is mocked by many for his mistakes, he's a formidable driver when things are right and on his Lotus in the second half of that 2013 season he put in some stunning performances with the eight – particularly at Suzuka, where he led on merit.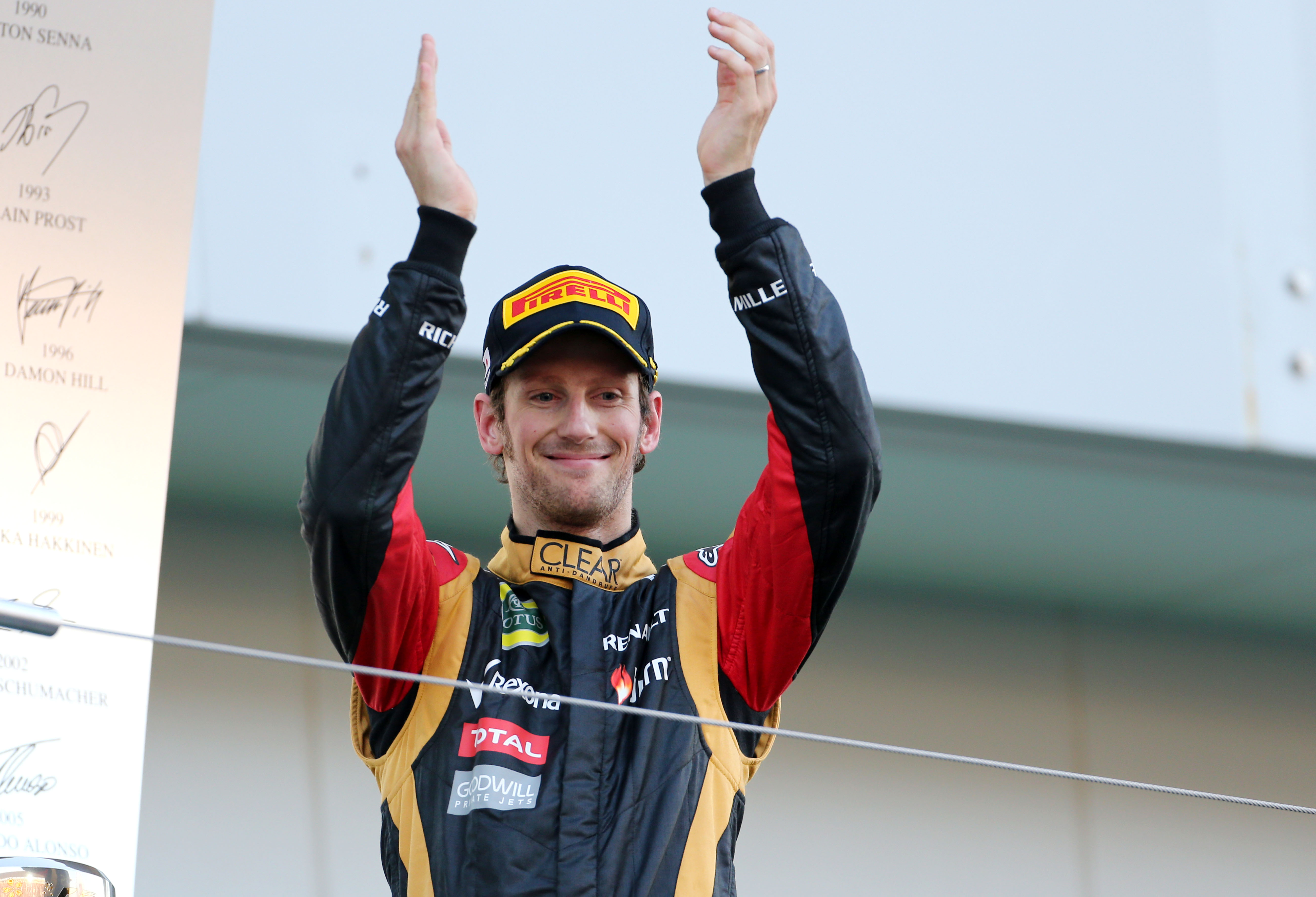 Then there's eight's finest hour. The red and white McLaren, sluggish off the line, cuts inside Michael Schumacher's Benetton before slingshotting around the jet-black Sauber of Karl Wendlinger at a speed that defied the rain then diving up the inside of Damon Hill's Williams. Alain Prost was the last to fall, dispatched with a scrabbling move under braking at the hairpin.
That's right, eight was there for the most famous lap of all, Ayrton Senna's opening tour at Donington Park in 1993. Poignantly, Senna also carried it for his final win at Adelaide later that year.
It's typical of the character of eight, there for great moments but falling short of sustained greatness – a number perhaps with delusions of grandeur. But even so, it did twice take the world championship, the first coming with Niki Lauda in 1984.
Having run number eight to his comeback victory at Long Beach in 1982, another moment of fame for it, he pipped McLaren team-mate Alain Prost to the crown by that famous half-a-point in  '84. Of course, this is because the number eight's most enduring association was with McLaren, which carried 7/8 on and off under the pre-1996 numbering system and even occasionally after it.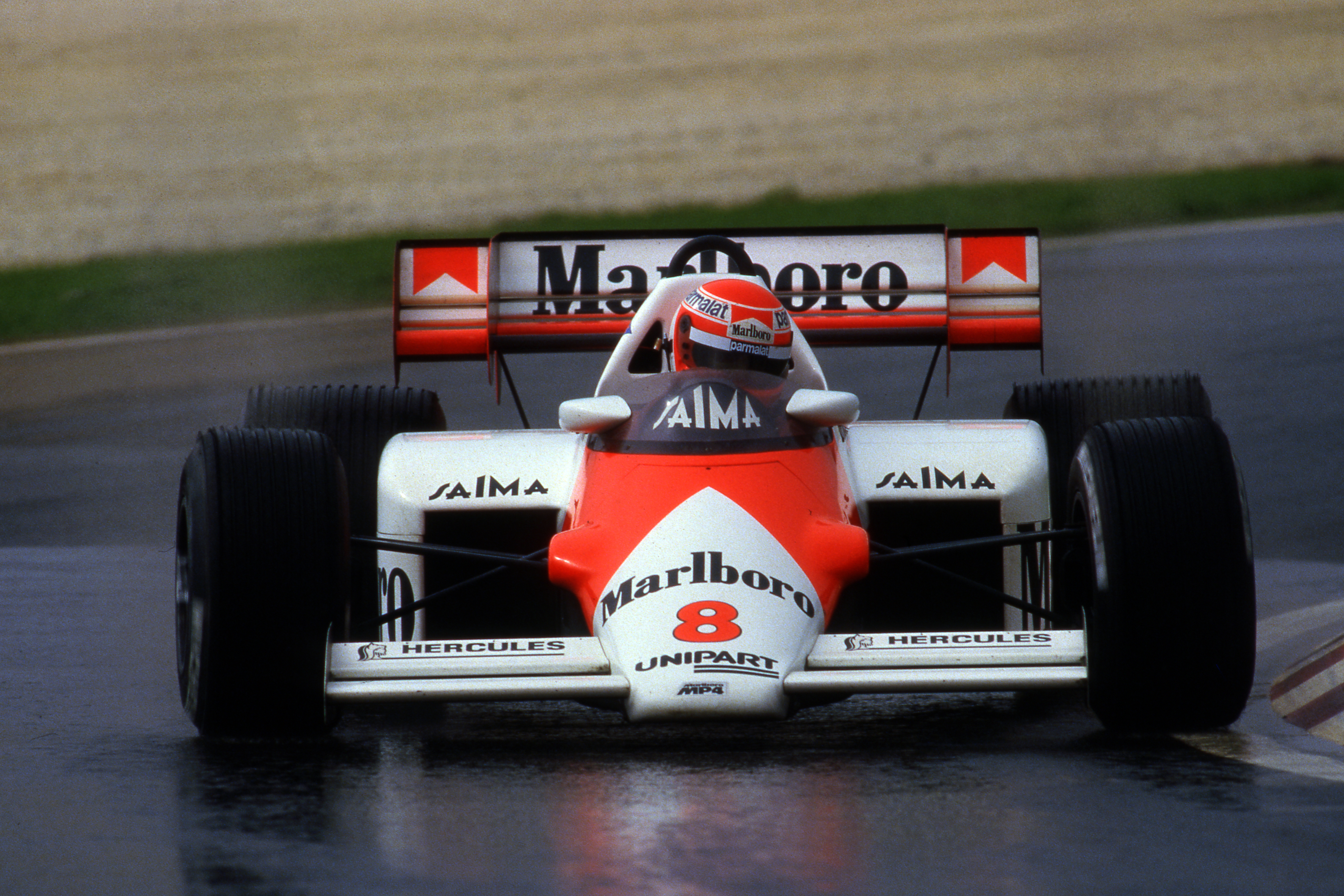 In 1998, another McLaren driver – Mika Hakkinen – gave the eight its second world title. But again, when you picture the smooth, economical but lightning fast Finn in that era it's the silver McLaren that you see, not the number.
There were also contributions to other titles, including Giuseppe Farina's in 1950 when he ran it on his Alfa Romeo to, you've guessed it, fourth place at Spa.
It then claimed one of only three shared victories in world championship history in the 1951 French GP after Juan Manuel Fangio took over Luigi Fagioli's #8 Alfa Romeo. In doing so, eight earned the distinction of being on the car in which the oldest driver (Fagioli was 53) won a world championship race even though Fangio had done the heavy lifting. Fangio, of course, went on to win the title, as did Alberto Ascari a year later after winning the same race with the number.
Fangio also won the 1955 Dutch Grand Prix for Mercedes as eight, while Jack Brabham ran it on his Cooper a total of four times in his back-to-back title years of 1959 and '60. Even Jim Clark had a go, winning three races as number eight including two on his way to the 1963 title.
It's entirely in keeping with number eight that it so often made such cameos and had these brushes with greatness. Graham Hill, Jackie Stewart and Emerson Fittipaldi also won races with eight, albeit not in their title years, while even Mario Andretti and Jody Scheckter had one outing carrying it.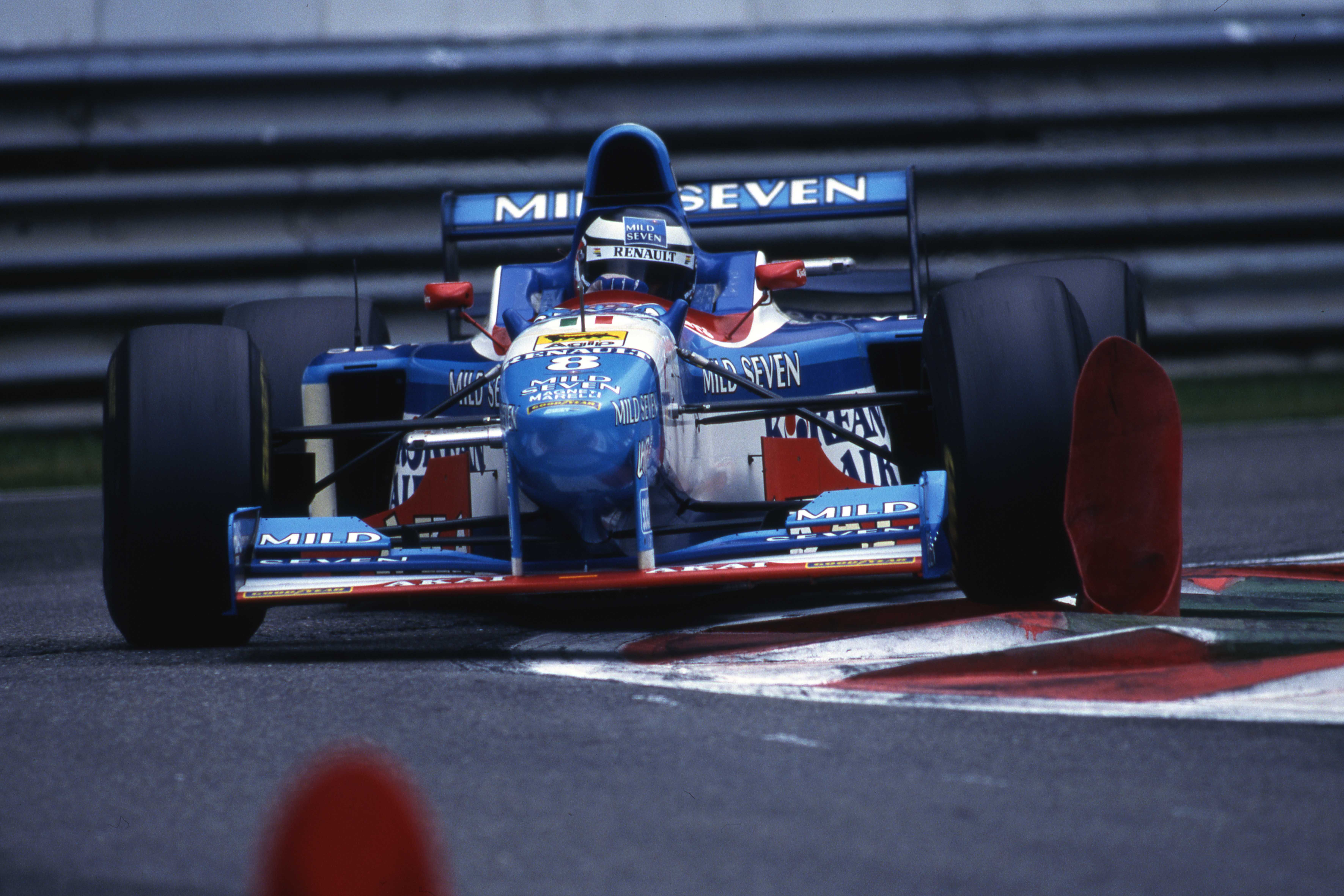 But eight also turned up for some other memorable wins. Carlos Pace only triumphed once in F1 before his loss in a plane crash, but his victory at Interlagos – a track that now bears his name – in 1975 is one of the most celebrated in world championship history. Lorenzo Bandini, too, took his sole win in Austria 1964 with it.
And in more recent times, the popular Gerhard Berger claimed his final win in Benetton number eight at Hockenheim in 1997. That was a particularly stirring win at a circuit where Berger excelled. He'd missed the previous three races – giving a certain Alex Wurz his first F1 outings – with illness and also suffered the loss of his father. Many declared him washed up, but he dominated from pole position, repassing Giancarlo Fisichella's Jordan for the lead after briefly slipping behind thanks to opting for a two-stop strategy compared to the Italian's one-stop.
Jordan also had its moments having taken over the number, with Heinz-Harald Frentzen bagging two wins in 1999 in putting together an unlikely world championship bid. For more on that, listen to our recent episode of the Bring Back V10s podcast.
Eight is a number that has enjoyed so many tastes of greatness. Appropriately enough, the much-missed Stirling Moss also ran it to a famous win in the 1958 Casablanca Grand Prix, one of a string of British successes for eight that included Peter Collins' at Spa in '56 and Tony Brooks' at the Nurburgring.
It's perhaps on the Vanwall that it's easiest to picture number eight – bold and white on the rear bodywork or at a jaunty angle on the nose. This, of course, back in the days when it was easier to see numbers – especially those as unapologetic as on the Vanwall.
But despite turning up with so many great drivers, you're just as likely to see the number on the nearly men – those with ability but who never quite broke through. Drivers like Stefano Modena, Andrea de Cesaris and Hans-Joachim Stuck, or perhaps even Oscar Galvez, after whom the Buenos Aires circuit was named, who started just one race and scored two points for fifth on home soil in 1953 bearing the number.
Eight is just that kind of number. Perhaps that is why it's so appropriate that it's F1's most enduring number and has been overwhelmingly attached to a driver as capable of glorious highs and devastating lows as Grosjean.