Sir Stirling Moss' passing at the age of 90 after a long illness means motorsport bids farewell to one of its all-time greatest practitioners.
There are many who still consider him the greatest, regardless of the fact that he never won a world championship. Enzo Ferrari, right up to the time of his death in 1988, maintained that in any discussion of the greatest of all time, he would propose only two names: Tazio Nuvolari and Moss. This was all the more significant given that Moss never drove for Ferrari, but was invariably the thorn in its side.
But Moss' legend was about more than just his sheer brilliance; he was the embodiment of a unique time in motor racing as the sport's whole centre of gravity moved from continental Europe, where it had resided ever since it was invented, to Britain – previously something of a motor racing backwater.
He sprung from the post-war British rationing 'make-do' Formula 500 category for tiny motorcycle-engined junior single-seaters. The movement initiated by this formula spread like a speed virus, its takeover of F1 rubber-stamped by the mid-engined Coopers winning the 1959 and '60 world titles, ushering in the British domination of F1 that continues to this day. It was the era that brought with it not only Moss but Bernie Ecclestone and John Cooper, the cornerstones.
But Moss' epic talent meant his career ascension outstripped even the spread of that movement. Making his championship-status grand prix debut as a 22-year-old in 1951 at the wheel of an F2 HWM, his speed in a series of uncompetitive British cars over the next couple of seasons brought him into serious contention for a drive with the Mercedes team, returning to the sport in 1954 to take up where it had left off pre-war.
In the end, Mercedes decided Moss wasn't yet experienced enough for this gig and suggested he get a full season of F1 under his belt first. His subsequent form in a privately-entered Maserati 250F in '54 was quite sensational – and he might quite conceivably have won the Italian Grand Prix were it not for a split oil tank. In a less modern car, he was running ahead of both the recognised superstars of F1 – Juan Manuel Fangio and Alberto Ascari – when the problem struck. He was a shoe-in at Mercedes alongside Fangio for '55.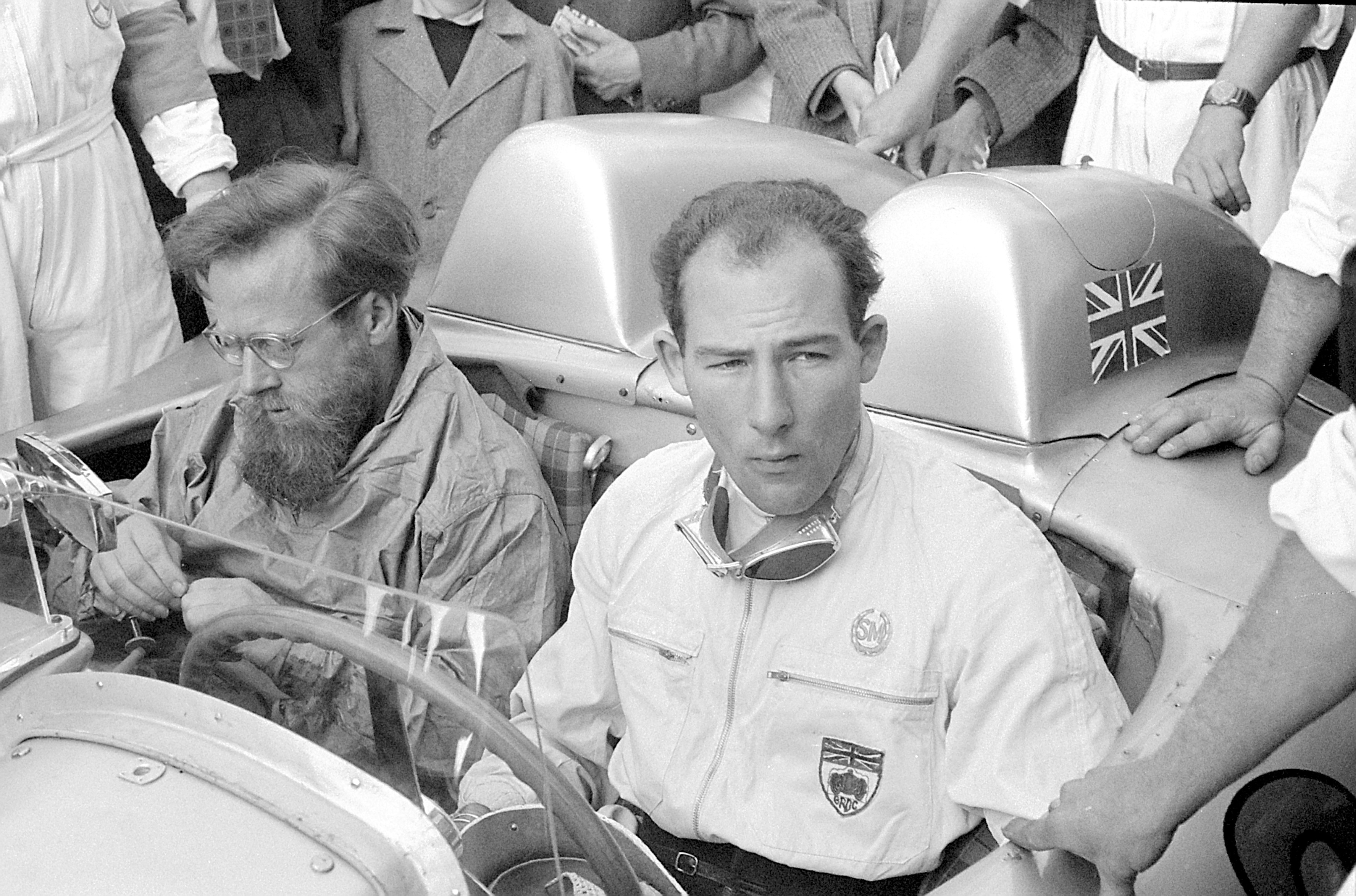 His career was littered with so many epic drives that it's difficult to know where to begin. But it began to take on legendary tones one sunny day in May '55 when he drove his Mercedes 300SLR to a resounding victory in the Mille Miglia, 1000 miles of flat-out genius-level driving through Italian countryside, villages and mountain roads.
In a sportscar Moss could invariably outperform even the great Fangio. In F1 he wasn't quite yet at the great Argentinian's level by 1955. He considered Fangio the maestro and remained convinced that this was the greatest driver of all time. But Moss was fully capable of following in his wheeltracks. This, in fact, caused something of an internal ruffling of feathers at Zandvoort, as Fangio afterwards complained he was being pushed harder than he would've liked by his junior team mate. Thereafter there was a team policy of how many seconds apart they should run if they were 1-2.
At Aintree for that year's British Grand Prix, Moss shaved pole position from Fangio for the first time, setting in place a duel between them, decided in Moss' favour as they came to lap a backmarker. Moss took his first grand prix victory, ostensibly waving Fangio through but keeping his foot flat to the floor. Afterwards Fangio dismissed suggestions that he'd allowed Moss to win on his home ground, but Stirling was never quite sure.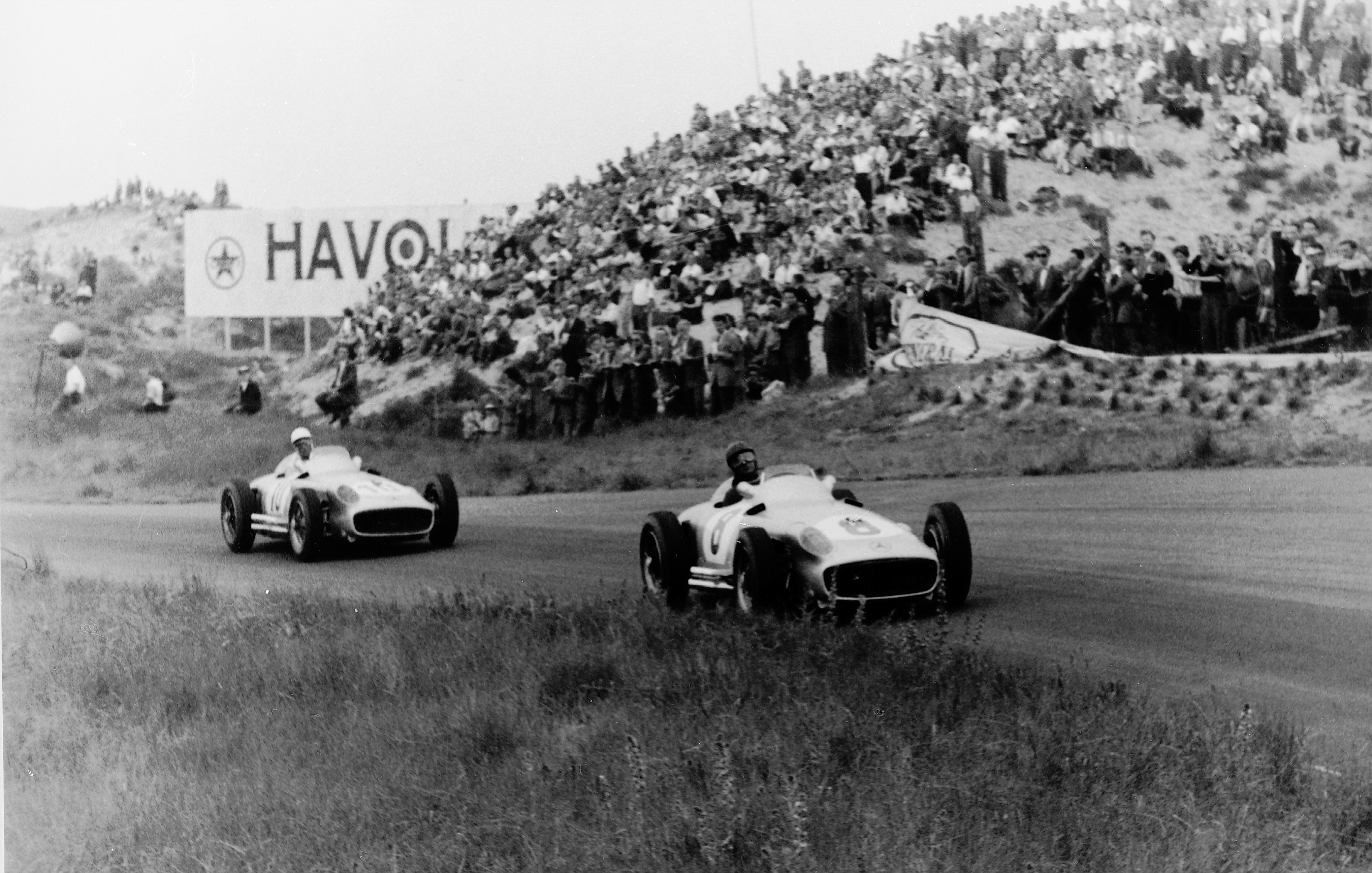 But he was only just getting started. As Mercedes pulled out of motorsport in the wake of the 1955 Le Mans disaster, Moss' career continued to soar. His dominant performance for Maserati at Monaco '56 left Fangio increasingly – and untypically – ragged in his forlorn chase. He won again in the Maserati at Monza.
Patriotism always featured big for Moss and he was attracted to Tony Vandervell's quest to create a winning British F1 car, the Vanwall. He and Tony Brooks took it to a shared victory in that year's British Grand Prix and a few weeks later Moss made one of the greatest drives in F1 history by winning around the 16-mile mountainous Pescara circuit, taking the flag over two minutes clear of Fangio's Maserati.
In 1958 Moss' four victories helped Vanwall take the inaugural world constructors' championship, though he lost out on the drivers title by one point to Ferrari's Mike Hawthorn (who'd won only one race). It was the closest Moss would ever come to the world crown, but his greatest days were still ahead of him. In considering that '58 season, Moss' sportsmanship in standing as a witness for Hawthorn in an appeal against disqualification at Oporto for an alleged driving offence helped overturn the penalty – which in turn ensured Hawthorn took the title at Moss' expense. "It would've been wrong," insisted Moss to the question of whether he should've held his counsel.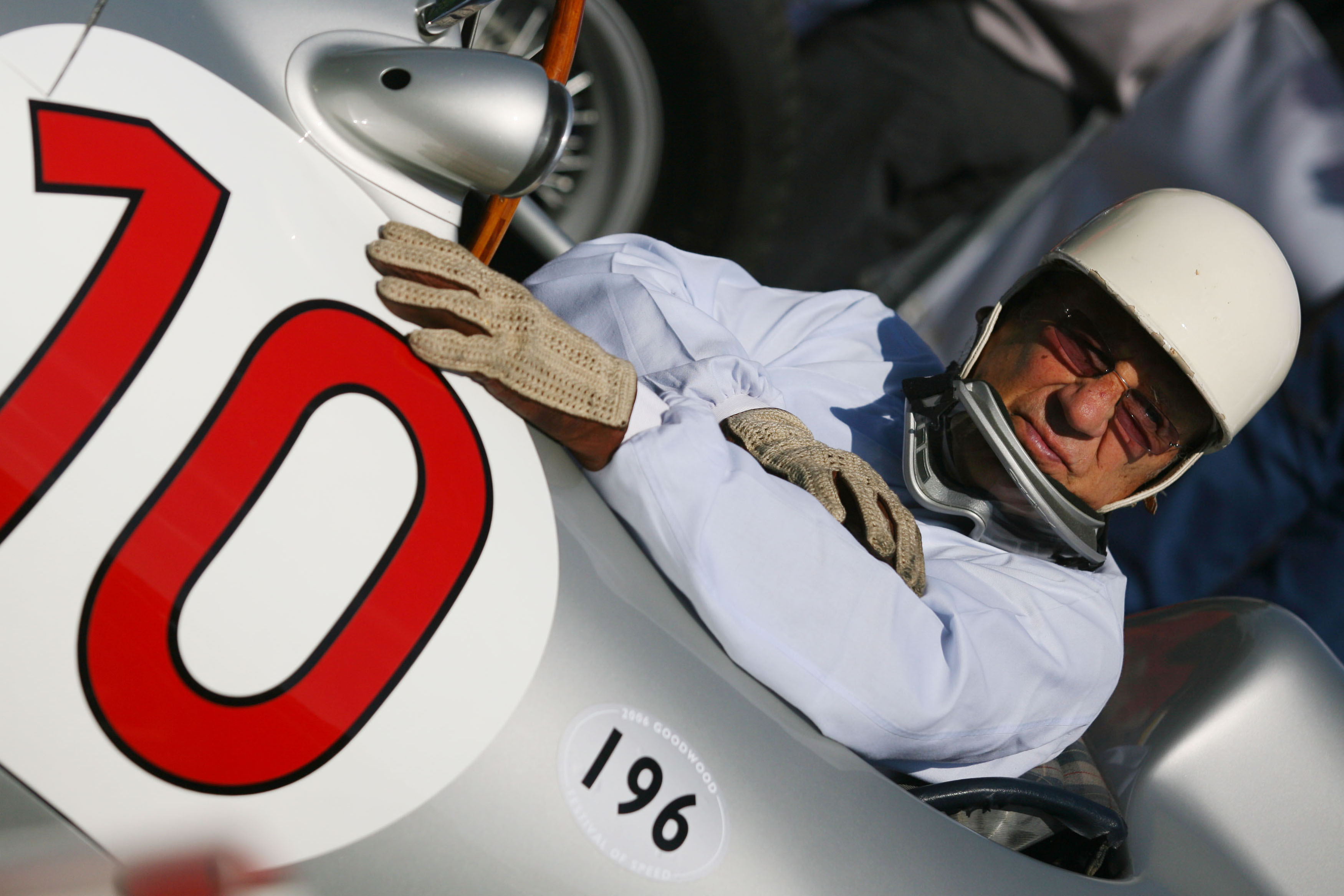 Moss would later say that 1958 season would cure him of any obsession he may have had about becoming world champion. Once Fangio had retired (mid-season that year) Moss' stature as the greatest driver of his time was uncontested. Between 1958 and his own injury-induced retirement in 1962, Moss stood head and shoulders above any of his peers – as they were often quick to recognise. After having retired from a race and stood trackside observing Moss in action, Bruce McLaren would say, 'He's doing things none of the rest of us could dream of.'
After Vanwall's withdrawal at the end of '58, Moss would revel in the role of underdog, usually driving the privately-entered cars of his friend Rob Walker, for whom he'd already won the 1958 Argentinian GP, an epoch-changing result in an uprated F2 Cooper, the first rock fall of the mid-engined avalanche. In a non-works Cooper in 1959 and Lotuses in '60-61, Moss in Walker's cars were invariably F1's performance gold standard even if poor reliability in '59 and injury in '60 lost him the '59-60 titles to the works Cooper of Jack Brabham. We're talking here only of F1 just to limit the scope, but some of his sportscar victories – notably at the Nurburgring for Aston Martin in '59 – were otherworldly.
It was a horrendously dangerous time to be racing and he broke his back at Spa 1960 after the Lotus broke a wheel hub. Rescuers were bemused to find that the unconscious driver's limbs were moving as if to try to extricate himself. Moss had told his biographer Ken Purdy that after reading of Dick Seaman's death in the 1939 Belgian Grand Prix, when he lay unconscious but otherwise not seriously injured in a burning car, he had resolved always to try to get out, no matter what…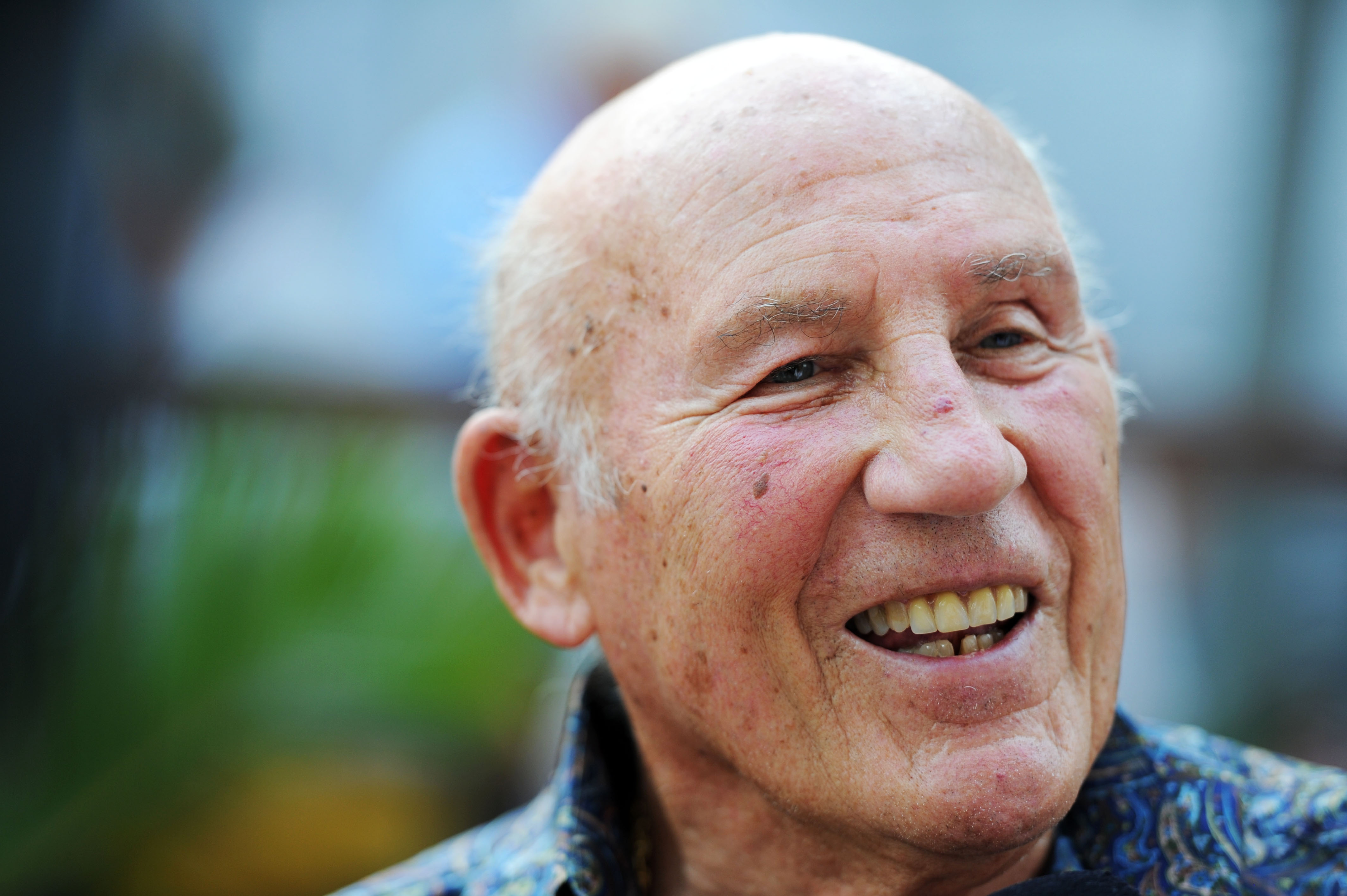 Moss always had a carefree, cheery manner but behind that façade the waters ran very deep, during his driving days at least. He didn't consider anything impossible – and this attitude was truly formidable when in the service of a talent such as his. He told Purdy during this time that it was his firm belief that, if he dedicated his life to it, he could succeed in walking on water…. This went beyond just competitive spirit.
Arguably his two greatest drives came in his final full season of '61: his victories at Monaco and the Nurburgring in an underpowered Lotus against the faster sharknose Ferraris (around 25% more powerful) were staggering demonstrations of virtuosity.
It all came to an end Easter Monday, Goodwood 1962. His running off the circuit onto the grass (possibly wrong-footed as he second-guessed Graham Hill's line as he went to overtake) and subsequent heavy collision with the earth bank left his life hanging in the balance for weeks. He made a recovery to health but that magic physiological equilibrium had somehow been disturbed. In trying a car at Goodwood a year later he lapped in competitive times but felt that actions that had previously been subconscious he was now having to make deliberately. If he couldn't be the Moss he had been behind the wheel, he didn't want to be some paler version.
How many people have ever flown that high? And if there are one or two, how many of them so captured the imagination of even those with no particular knowledge of the sport? He was a special phenomenon and his deeds form a crucial part of our sport's very foundations. Saying Godspeed Sir Stirling doesn't sound quite right. For God itself might not have aspired to the speed of Stirling Moss.