As we begin our series looking at the stories behind the most evocative Formula 1 race numbers, we can only start with the most iconic of them all: 27.
Patrick Tambay pulled up at his third place grid slot for the 1983 San Marino Grand Prix at Imola – where someone had painted the message, 'Patrick, win for Gilles'.
Even in the cockpit, preparing to start a grand prix, the emotion hit him hard.
Tambay carried his late friend Villeneuve's racing number of 27, having taken over his Ferrari seat in the wake of Villeneuve's fatal accident in qualifying for the previous year's Belgian Grand Prix.
Villeneuve's dramatic style had won the hearts of the tifosi and the message they had relayed to Tambay on the grid related to events of 12 months earlier at Imola when Villeneuve had been cheated out of victory by the team-mate he trusted, Didier Pironi.
The fans wanted Tambay to right that wrong. He'd already won one race in emotionally-charged circumstances – at Hockenheim in '82, in the wake of Pironi's career-ending crash in practice. Now he was about to win another, just as the fans had asked.
"Something strange was going on out there," he later related of his victory drive, and he wasn't just referring to Riccardo Patrese's late spin that paved his way.
"At one stage in the race, I was losing focus a little, then there was a loud bang and something pushed my helmet. I've no idea what it was but it woke me up. Maybe it was Gilles…"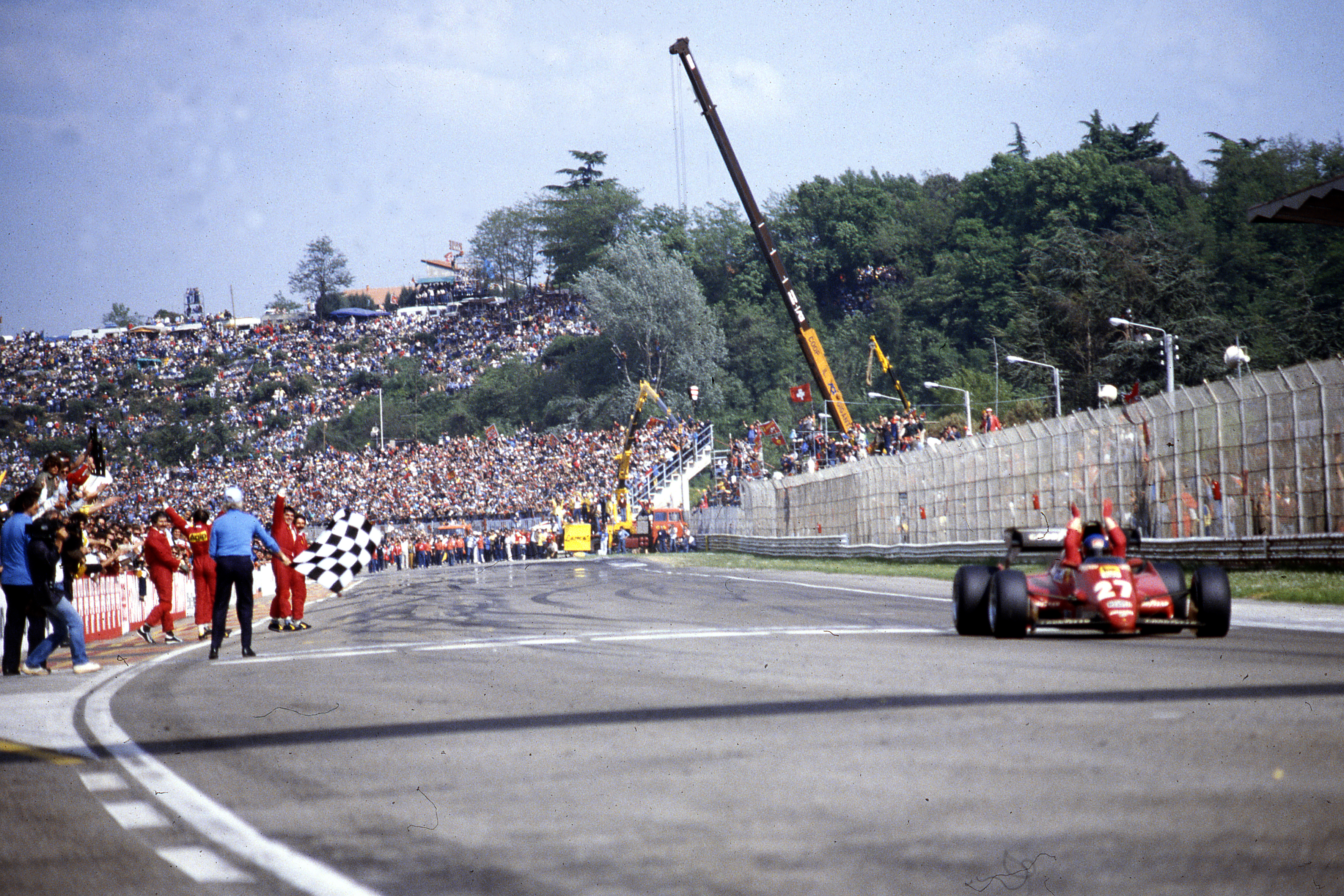 Of all the stories associated with the racing number 27 that's perhaps the best. But the number first really came to F1 prominence a few years earlier with Alan Jones.
Long Beach 1978 and Jones is aggressively hustling the little Williams FW06, number 27, applying relentless pressure to the second place Ferrari of Carlos Reutemann and creating something of a sensation.
For years Frank Williams' team has operated on the margins, hanging onto its place on the grid by his dodging of the bailiffs and running no-hope cars for second string drivers. But this, just three races into the new season, is something different.
Williams and Alan Jones together are emerging as a force, as contenders demanding to be taken seriously, the angles at which he's pitching the car through the California streets a visual cue that he means business.
It wasn't to be on this day, as he gradually lost fuel pressure, but Jones and Williams had served warning, having been challenging the car that eventually won the race. It was the beginning of a wonderful adventure over the next few years, culminating in the 1980 world championship title.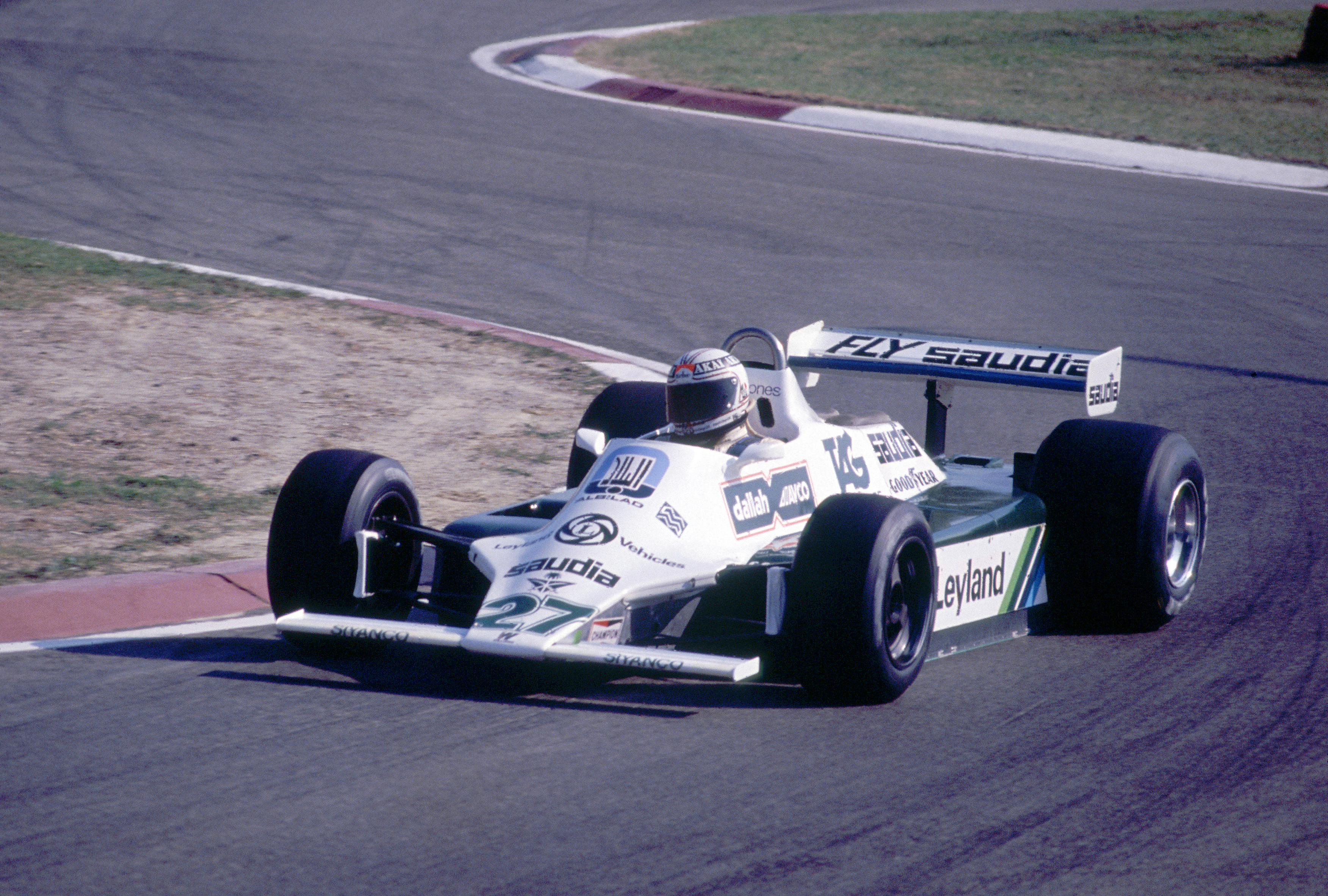 The iconic sliding skirts Williams FW07, Jones in plain white helmet with red pinstriping, broad shoulders filling a cockpit narrowed to maximise the width of the ground effect sidepods, big number 27 on the nose, driven with controlled take-no-prisoners aggression: that was F1's gold standard in 1979-80.
The stipulation that the world champion run with number 1 ensured that Williams's race numbers were exchanged with those of the previous champion Ferrari for 1981.
Villeneuve was about to lend that evocative number even more drama than had Jones. This was the year of Ferrari's first turbocharged car, the 126C. It was an immensely accelerative tractor with about a quarter of the downforce of the best DFV-engined cars, but significantly more power.
In the freakishly gifted hands of Villeneuve, it was frequently a physics-defying vision, a car being taken by the scruff of its neck to perform deeds it had no idea were possible.
But it was more than just that, more than just 'how is that possible?' feats of winning consecutive races at Monaco and Jarama in a car that had no business being anywhere near the front. It was seeing in the raw the joyful spirit that was the accomplice of the talent – even when things didn't go right for him. Driving in the Montreal rain with half the front wing knocked upright, impeding his vision – and yet still he finished third.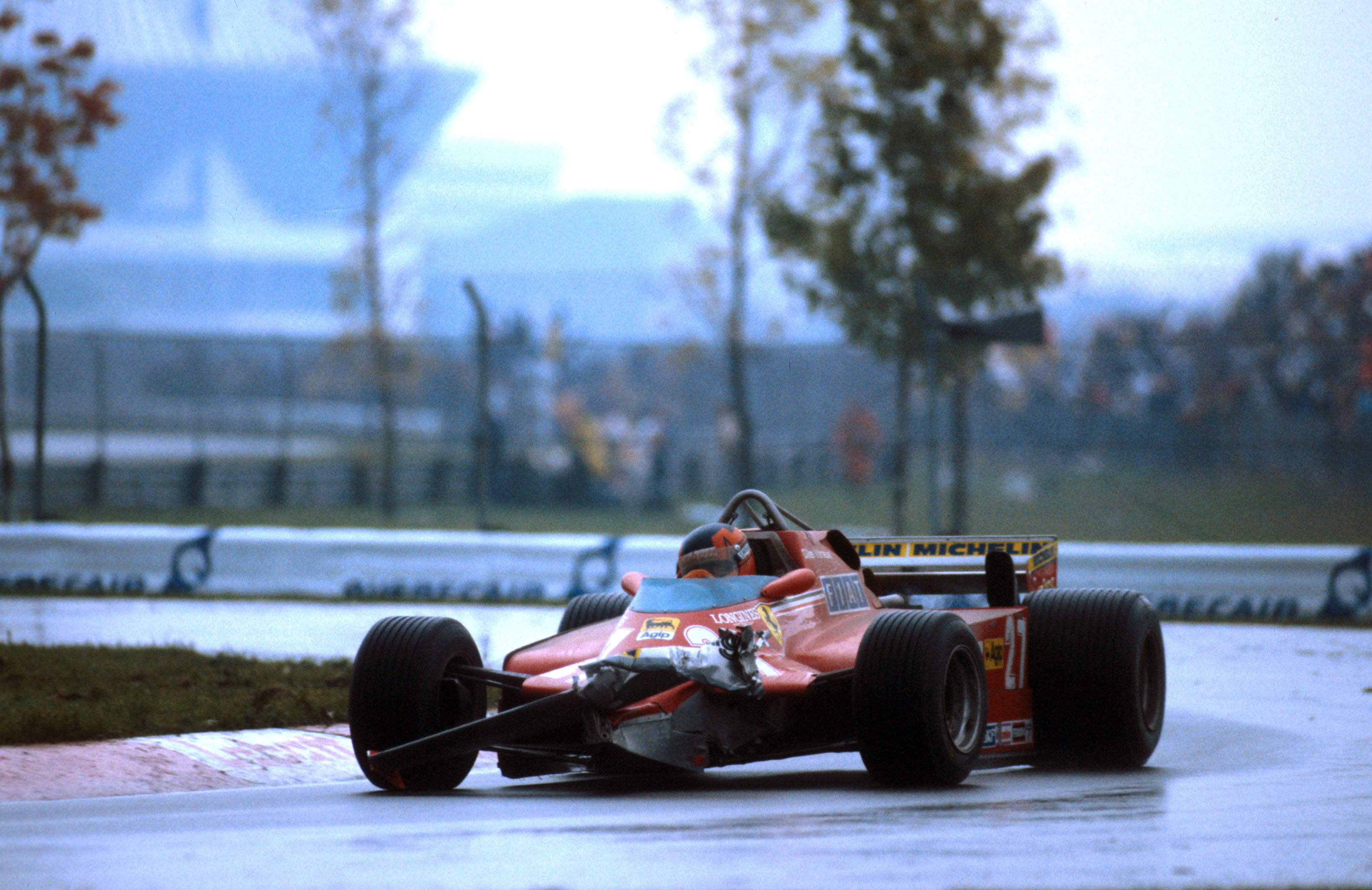 If only Ferrari could create a sanitary chassis, we thought. For 1982 that's exactly what it did… surely number 27 was set to win its second title in three years. Except there was number 28, the sister car driven by Pironi who contrived to 'steal' the San Marino Grand Prix from Villeneuve in a disingenuous way, incurring a fury in Villeneuve towards the man he'd thought was his friend. He was in a tormented state of mind two weeks later when he crashed to his death trying to beat Pironi's qualifying time.
It says a lot about the power of the number, and the feats Villeneuve produced while racing it – that it is 27 we associate with his career, even though he started far more races running number 12.
Tambay took over the drive from his late friend two races later, still carrying that now-hallowed number – and those two wins at Hockenheim '82 and Imola '83 could not have been more emotionally-charged.
Tambay was replaced at Ferrari for '84 by Michele Alboreto, who would carry the number with honour for the next five years, for a time leading the championship in 1985, the year in which he produced a quite sensational drive at Monaco that would've been worthy of Villeneuve.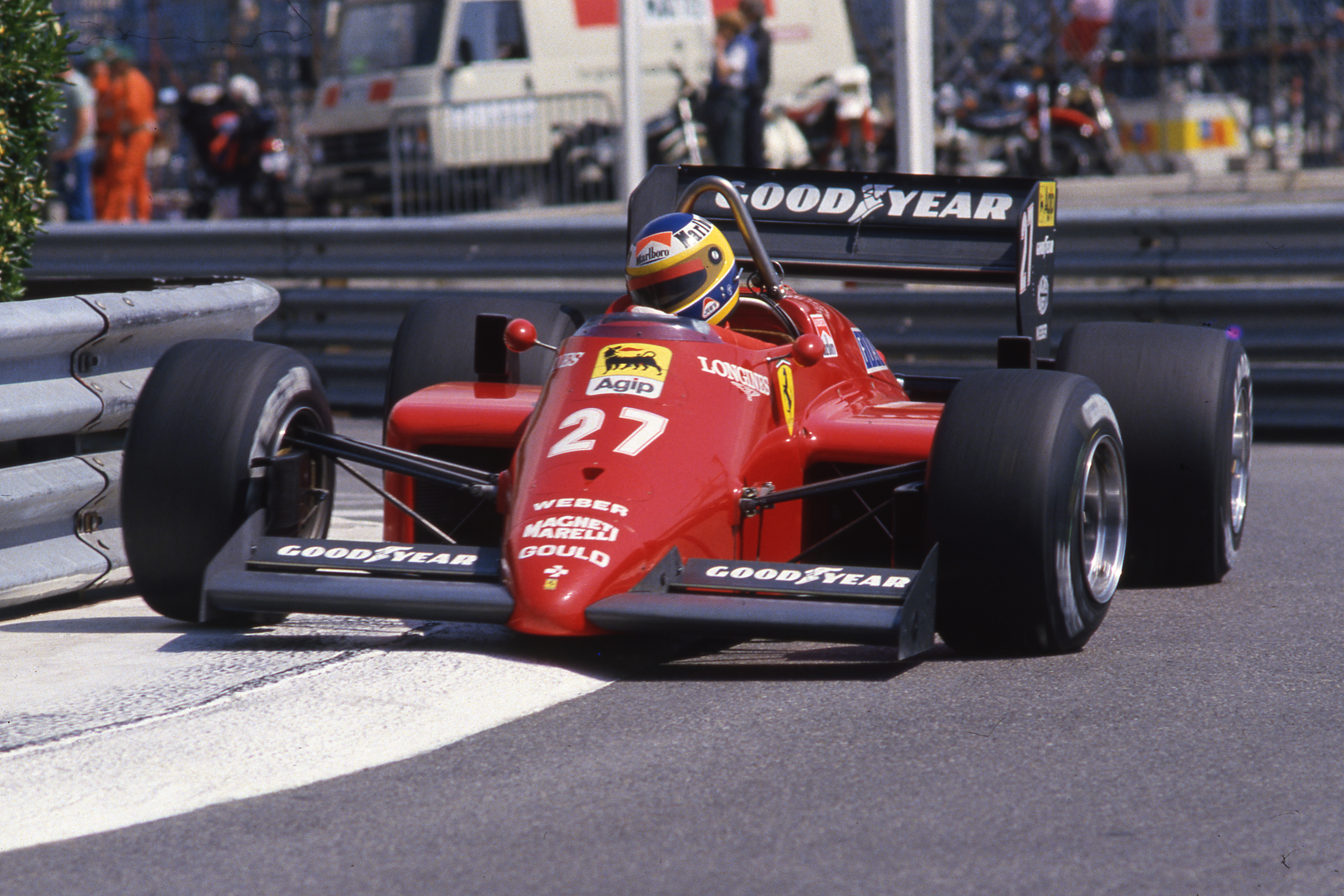 Alboreto's 1989 replacement at Ferrari, Nigel Mansell, made a suitably dramatic debut, at Rio in the new paddleshift Ferrari 640, number 27 upon its pretty nose.
The car had been hopelessly unreliable through winter testing and in the practice sessions for this race. Mansell had even booked early flights out of Brazil in the full expectation that he'd be an early retirement.
But remarkably it held together when it mattered as he drove to a sensational victory, repaying the faith shown in him by the late Enzo Ferrari who'd passed away a few months earlier but not before having made Mansell his final recruit.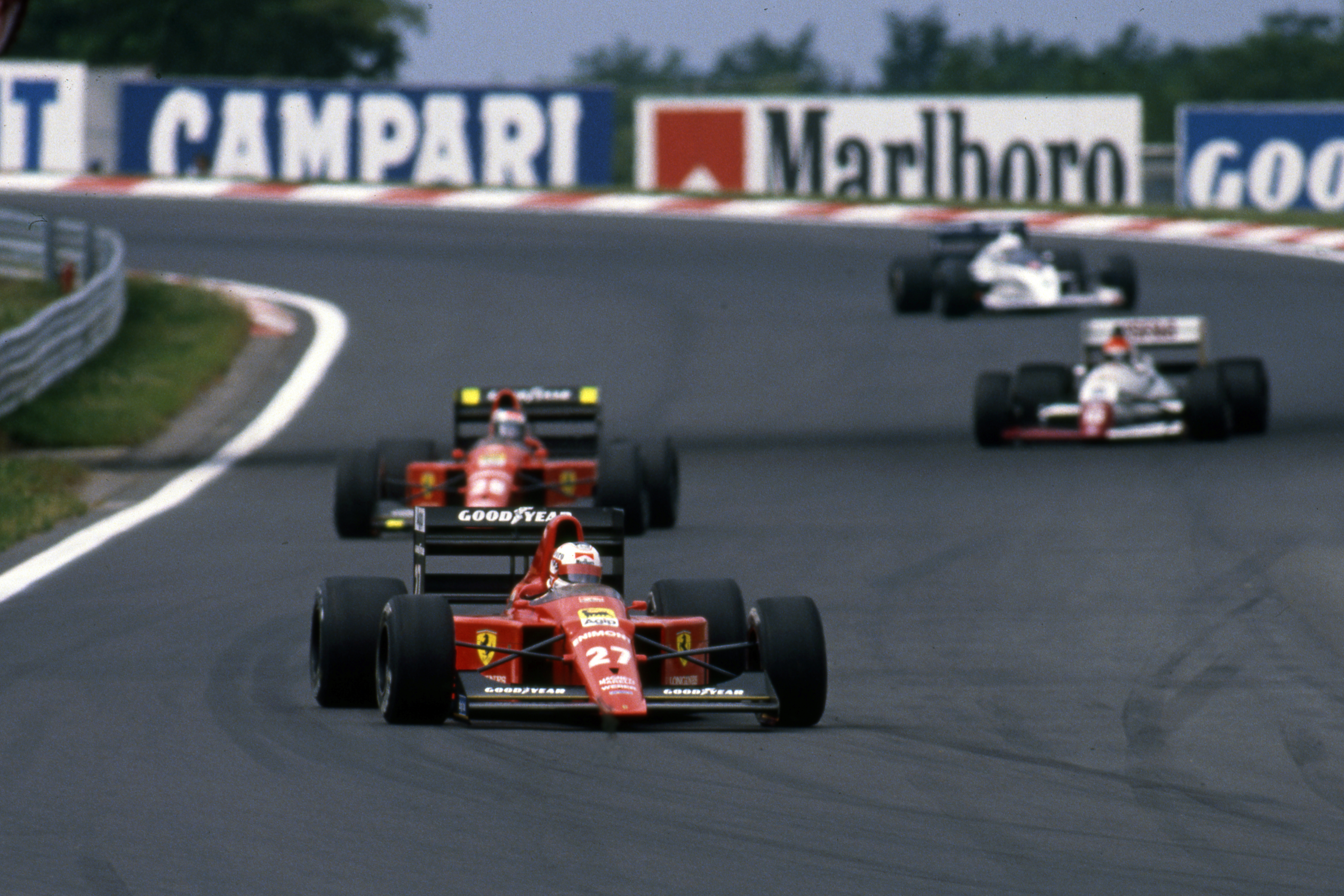 Mansell was yet-more dramatic in victory at the Hungaroring that year. From a mid-grid starting position he fought his way to the front on a track at which passing was supposedly impossible – passing leader Ayrton Senna in an outrageous manoeuvre as they came to lap Stefan Johansson.
But for 1990, the 1989 world champion Alain Prost transferred from McLaren to Ferrari, bringing his number 1 with him, and thereby allocating Mansell number 2. Thus 27 transferred to McLaren where it was assigned to Senna's car.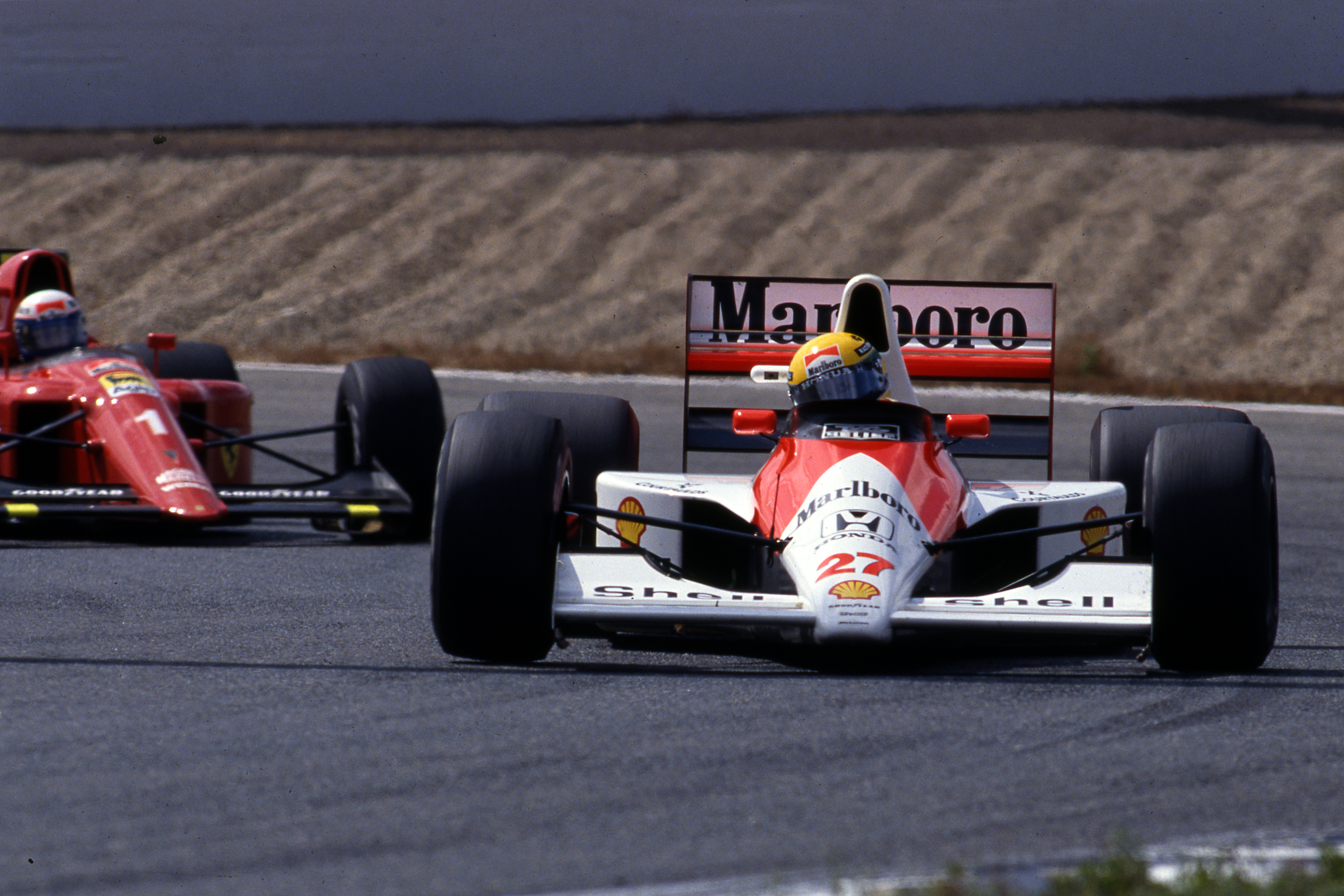 Senna was running the number as he won his second world championship with nine dazzling victories. It was on the tip of the McLaren's nose as it crashed into the back of Prost's Ferrari after Senna had chosen not to lift off, in retribution for the previous year, linking two of the most controversial title deciders in the sport's history. It had taken a decade for 27 to win its second championship, but it had been an incredible journey.
As Senna took the number 1 for '91, so 27 reverted to Ferrari where it was used by Prost in his final, winless season with the team. So 27 had graced the cars of, among others, Jones, Villeneuve, Mansell, Senna and now Prost. Quite a line up.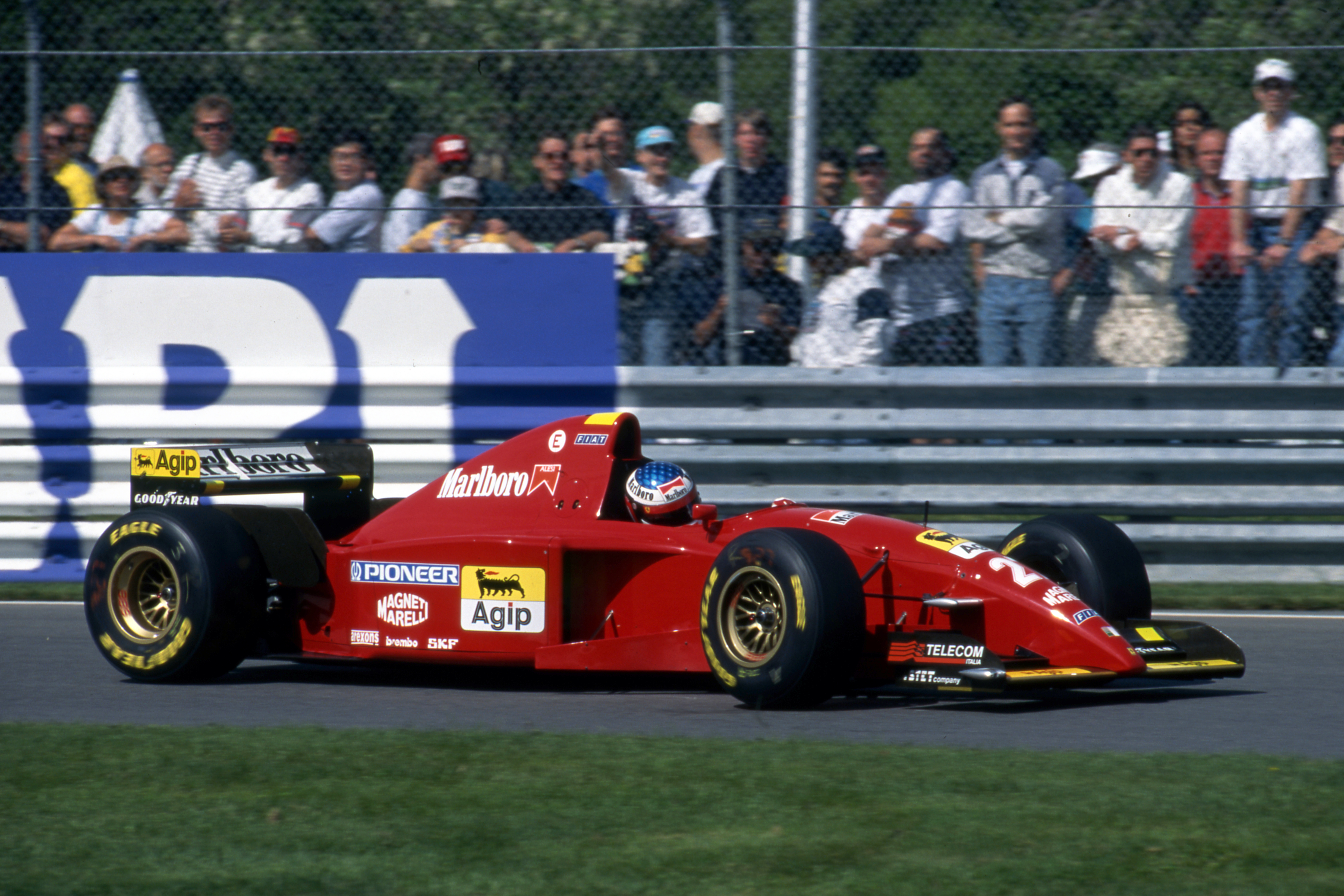 The number was on Jean Alesi's Ferrari from '92 to '95, Jean frequently bringing misty-eyed comparisons with Villeneuve in his attacking style. It was apt that he should win his only grand prix at Villeneuve's home track of Montreal, in '95, carrying that revered number.
It was a suitably fairytale sign-off for the number, which wouldn't grace F1 again until the new system of driver-chosen numbers came in 2014, when Nico Hulkenberg opted for it – but not for any fevered historical reasons, as he explained: "It's my birthday dates together: 19.8 – and it's simply a cool number." It really is.