Melbourne hosts its 25th Australian Grand Prix this weekend, it's the 23rd time that race has been the season-opener.
While not the best venue for wheel-to-wheel racing, Albert Park has earned a reputation for drama and has been the scene of some of the most intriguing opening rounds of F1 seasons.
So it features quite strongly in our countdown of the 10 best F1 openers, but doesn't dominate…
10. 2009 Australian Grand Prix – Melbourne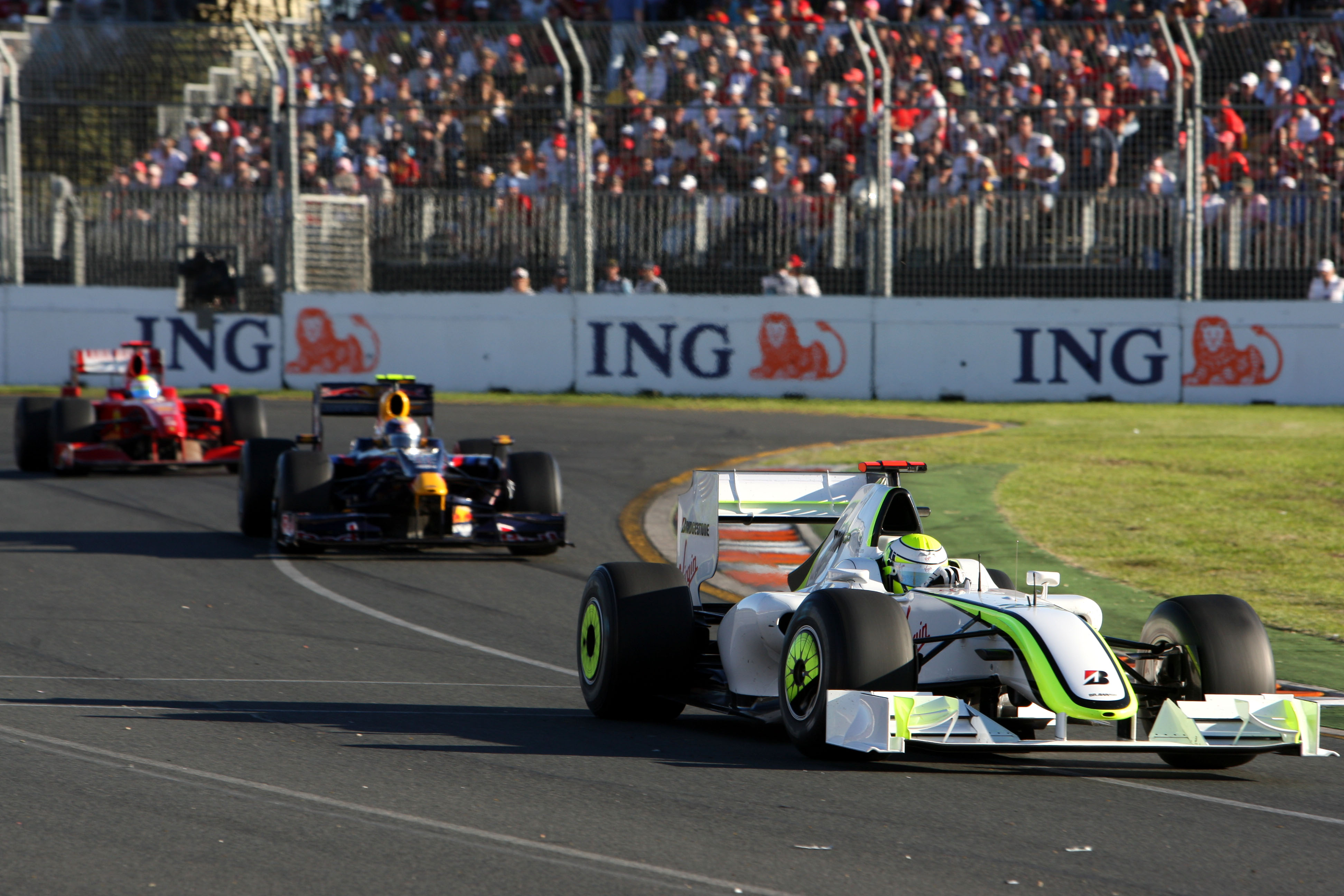 As ultimately quite a comfortable win for Jenson Button and Brawn GP, this one makes the list not so much for the excitement of the race – though it was a highly eventful one – but for the sheer fairytale surprise value of how the field had been turned inside out over the winter.
A combination of 2008's big guns failing to prepare adequately for the 2009 aerodynamic rule changes while hurling developments at their current cars during the previous year's title battle and Brawn, Toyota and Williams hitting upon the double diffuser loophole combined to create a huge pecking order shake-up.
And it was the hurriedly resurrected team now known as Brawn, created from the ashes of Honda's abandoned factory F1 programme, that mastered that combination of circumstances best of all.
Testing had hinted at its supremacy but it still seemed to be too bizarre to be true until Button and team-mate Rubens Barrichello came to Melbourne and filled the front row.
While Button controlled the race throughout, Barrichello recovered from an awful start to take second via multiple collisions.
Red Bull had kept Button in its sights with Sebastian Vettel, until a tangle with charging BMW driver Robert Kubica in the closing laps eliminated both and let Barrichello complete the Brawn 1-2.
The final podium spot was settled in slightly surreal fashion too. Toyota's Jarno Trulli took the place on the road (from 19th on the grid) but was penalised for allegedly passing Lewis Hamilton's McLaren under the safety car. Defending champion Hamilton (from 18th on the grid) was therefore handed third – until being excluded at a subsequent inquiry because he and team manager Dave Ryan were adjudged to have misled the stewards and withheld the information that McLaren had told Hamilton to let Trulli past.
9. South African GP 1993 – Kyalami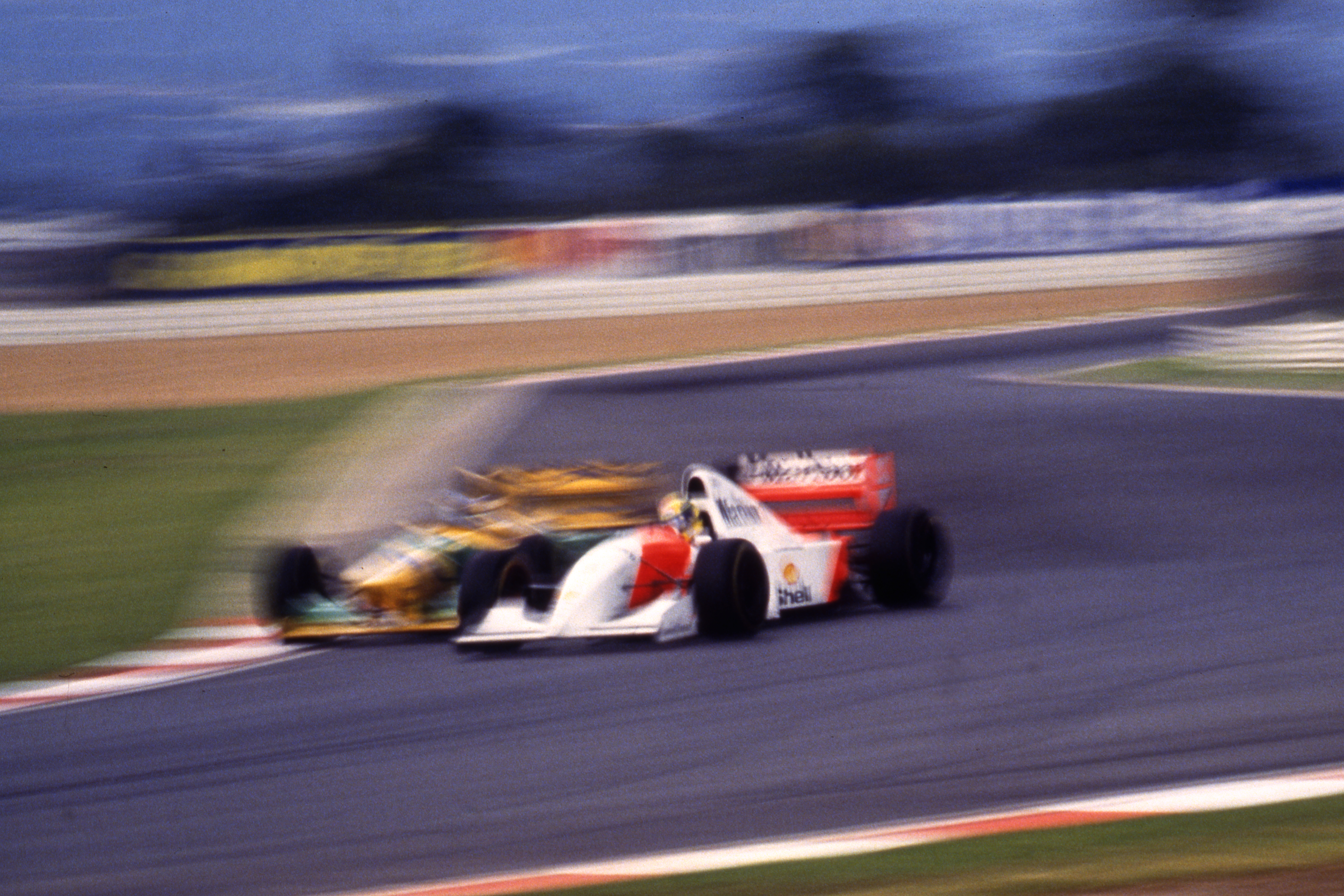 F1's last visit to South Africa makes the list by virtue of being one of the very few Ayrton Senna vs Michael Schumacher vs Alain Prost head to head lead battles that ever unfolded.
Back with the all-conquering Williams after a year off following his acrimonious split with Ferrari, Prost had pole but fell to third behind Senna and Schumacher at the start.
The top three – two legends and a man who would soon smash their records – were soon circulating nose to tail in a tense train, with Prost taking 13 laps to get past the Benetton into second.
Senna had spent much of a dramatic winter vacillating over whether it was even worth racing the now Ford-powered McLaren against the Williams-Renault, and it was very clear as Prost and Schumacher pressured him that the McLaren was going into the season as a clear underdog.
Naturally Senna still wasn't going to let Prost past without a fight, and made it very difficult for his nemesis until almost one-third distance.
Prost was able to escape once ahead. Schumacher overtook Senna too, lost the place again immediately during tyre stops, and then ended up spinning out when a later bid to repass McLaren met with a stern Senna defence that left the young Schumacher highly disgruntled.
The race then ended with the added twist of a thunderstorm and huge downpour, meaning just five cars took the chequered flag. Mark Blundell joined Prost and Senna on the podium for Ligier, Minardi got a solid points haul in fourth with Christian Fittipaldi and Sauber scored on its F1 debut with JJ Lehto in fifth.
8. 1973 Argentinian Grand Prix – Buenos Aires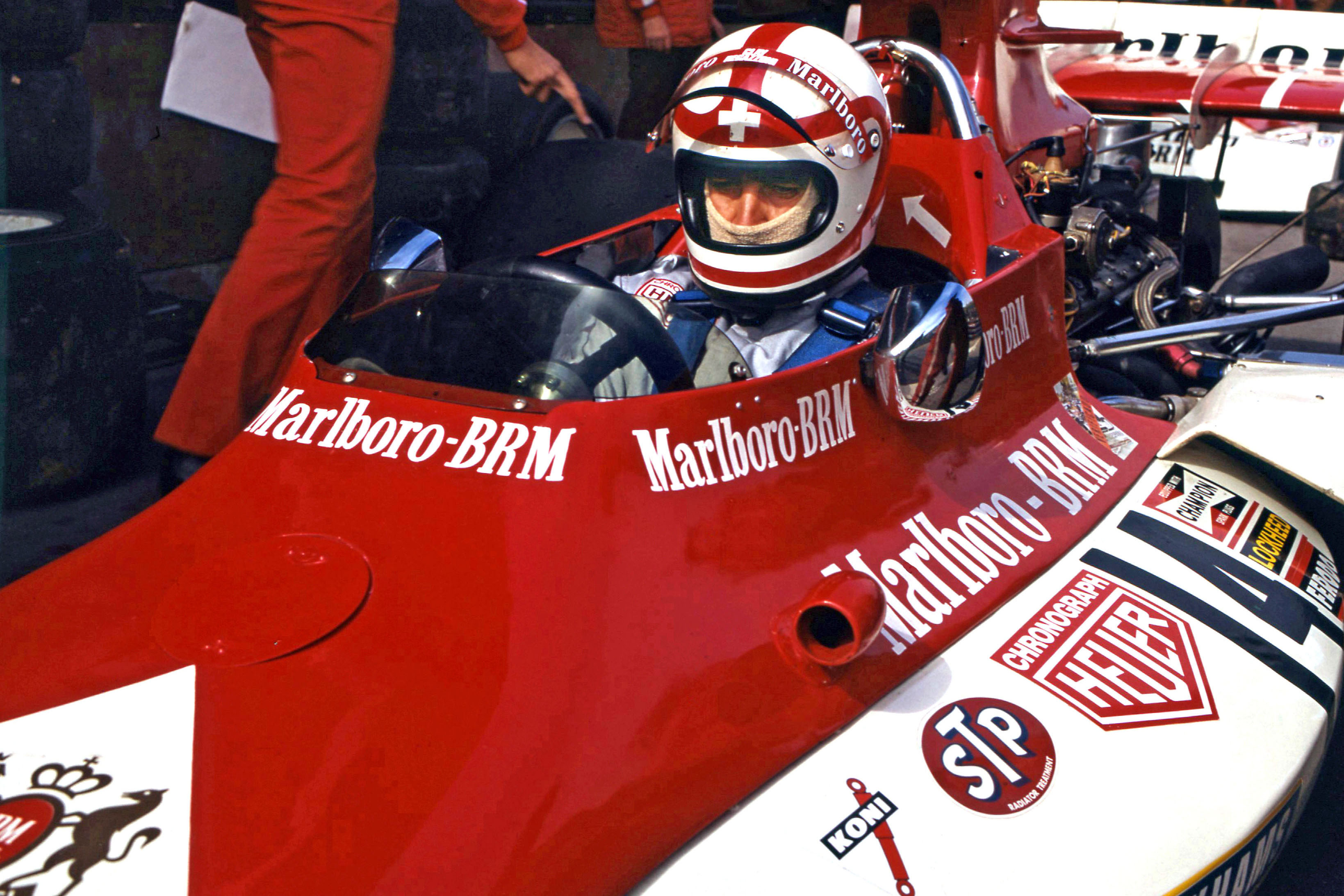 A Buenos Aires thriller only decided in the final laps, with five potential winners from three different teams.
Tyrrell's rising star Francois Cevert outmuscled BRM-driving poleman Clay Regazzoni (pictured above) and reigning champion Emerson Fittipaldi of Lotus initially but Regazzoni rapidly repassed him and held on up front for the first quarter of the race.
Cevert was first to overtake the fading BRM, with Jackie Stewart making a characteristically effective rise up the order to then move into second in the other Tyrrell. Lotus pair Fittipaldi and Ronnie Peterson came along too.
With Stewart suffering from high tyre wear and Peterson's engine failing, it came down to an epic lead battle between Cevert and Fittipaldi that was only resolved in the Lotus's favour with a tight move 10 laps from the flag.
7. 1990 United States Grand Prix – Phoenix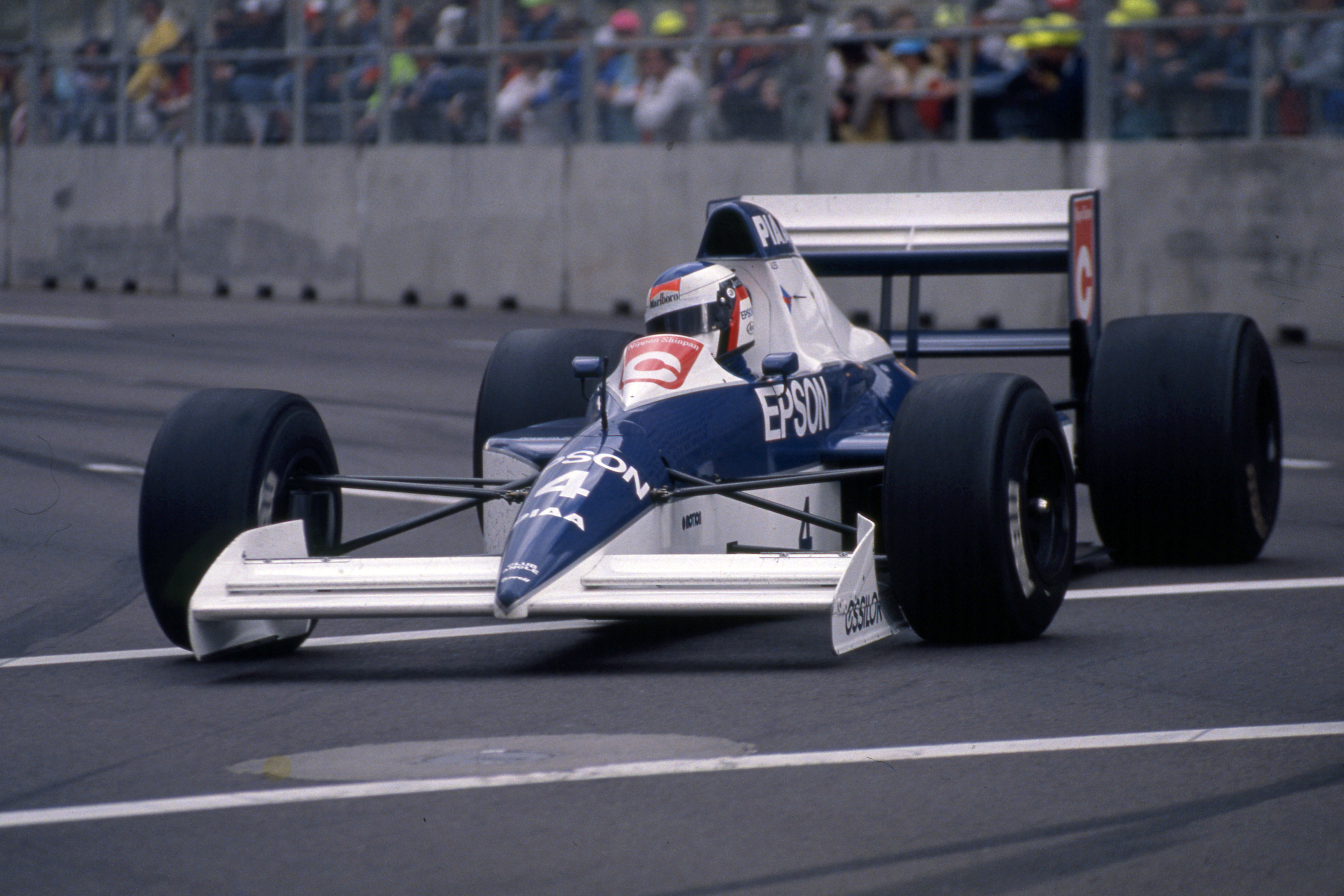 Few who watched this race would've believed that its hero Jean Alesi will only ever win a single grand prix. The way he took the fight to Senna on the US street track had made him look like a guaranteed future champion.
Shock rain in qualifying and surprise single-lap pace from the Pirellis used by many midfield teams led to a barely believable grid. Gerhard Berger was a logical polesitter on his McLaren debut, but he was joined on row one by Pierluigi Martini's Minardi.
Andreas de Cesaris' Dallara in third and Oliver Grouillard's Osella in eighth were similar upsets, with Alesi's Tyrrell starting fourth just ahead of world champion Senna's McLaren.
Alesi hurled his car into the lead at the start, with Senna comparatively slow to get through the underdogs and up to second, while Berger crashed early.
Remarkably, Alesi held onto first place till almost half-distance. But it's his reaction when Senna passed him that caused the biggest stir. Far from accepting that the battle was lost, he hung on and repassed the McLaren into the next corner.
Senna grabbed the lead for good next time around and went on to win by eight seconds, as Alesi took an unchallenged second that seemed to promise so much.
6. 1961 Monaco Grand Prix
A tense thriller from the era when a race now generally a quarter of the way into a championship season often opened it.
Ferrari would dominate most of the 1961 season, but Stirling Moss managed to upstage it at times through sheer force of willpower in his Rob Walker-run Lotus – and Monaco was one of those occasions.
He beat Richie Ginther's Ferrari to pole but lost the lead to it at the start. No matter, by lap 14 of the 100-lap marathon Moss was all over the back of the Ferrari and made it ahead into Massenet.
He stayed there against the odds for the rest of the gruelling near-three-hour race, keeping first Ginther's team-mate Phil Hill at arm's length then resisting a resurgent Ginther late on as the pair pushed to the absolute limit to the finish.
5. 1997 Australian Grand Prix – Melbourne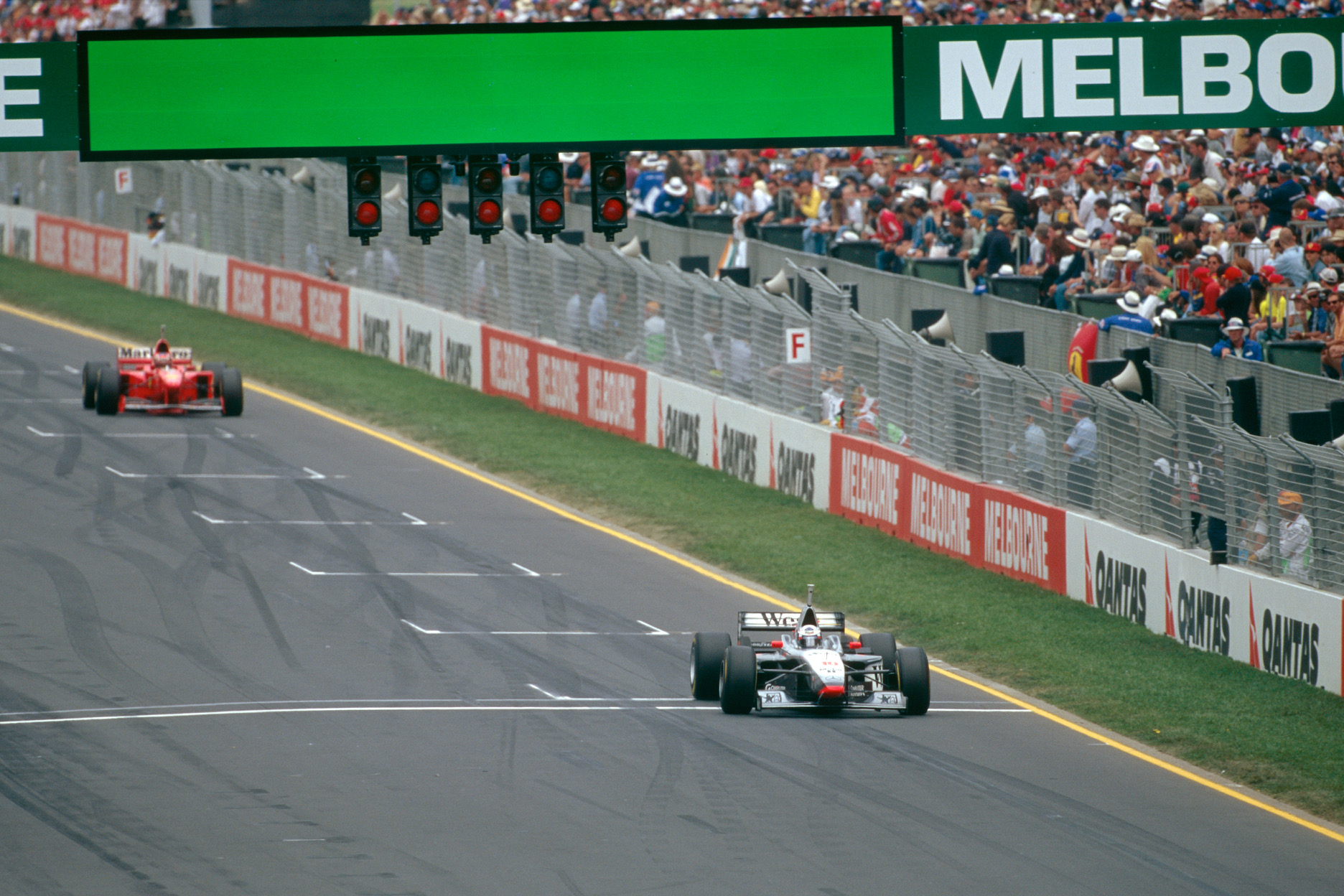 When Jacques Villeneuve put his Williams on Melbourne pole by a scarcely believable 1.7s, the idea of an unpredictable and close-fought race seemed ridiculous.
But then Ferrari driver Eddie Irvine's bold approach to the first corner ended his, Villeneuve and rapid Sauber underdog Johnny Herbert's races, and opened the door for an afternoon of surprises and a result that began a fallen giant's revival.
Villeneuve's new team-mate Heinz-Harald Frentzen appeared set to dominate following the first lap mess, but turned out to be on a two-stop strategy with pace not quite good enough to escape from one-stoppers David Coulthard and Michael Schumacher – especially given fading brakes and a slow second pitstop.
That meant Frentzen went into the closing laps in third, chasing Coulthard and Schumacher in what was brewing into a very tense finale.
Schumacher's Ferrari had to make an unscheduled late extra fuel stop, letting Frentzen onto the tail of McLaren driver Coulthard – only for the Williams's brakes to dramatically give up and pitch Frentzen off the road three laps from the finish.
Coulthard was therefore free to give McLaren its win first in three years, on its first race in the silver livery that would become synonymous with its next two decades. Schumacher stayed just ahead of the second McLaren of Mika Hakkinen and Berger's Benetton for second.
As with so many races on this list, there were some surreal touches too – including the non-qualification of the spectacularly underprepared Lolas on what turned out to be that ill-fated project's sole appearance, world champion Damon Hill's Arrows breaking down before the start and Alesi retiring because he forgot to bring his Benetton into the pits for fuel.
4. 1977 Argentinian Grand Prix – Buenos Aires
Another shock debut win for a team is next in our list. Wolf had technically first entered F1 the previous year, partnering with Frank Williams to race a former Hesketh design. But 1977 was the first proper year for Walter Wolf's shortlived F1 project – as he went his own way, kept ex-Hesketh designer Harvey Postlethwaite on board and added former Lotus team manager Peter Warr and former Tyrrell driver Jody Scheckter.
Scheckter only qualified 11th at Buenos Aires but was soon making forward progress. He was helped by the early frontrunners hitting trouble too – John Watson led for Brabham, but fell back with tyre blistering. Reigning champion James Hunt moved ahead for McLaren, only to crash due to broken rear suspension. Rear suspension problems then hit Watson too after he had inherited the lead back, putting his team-mate Carlos Pace in front.
But Pace was struggling in the searing heat and began to fade, with Scheckter passing him five laps from the finish to take a remarkable win. The barely conscious Pace just held onto second as the chasing Carlos Reutemann's Ferrari ran low on fuel.
3. Brazilian Grand Prix 1989 – Rio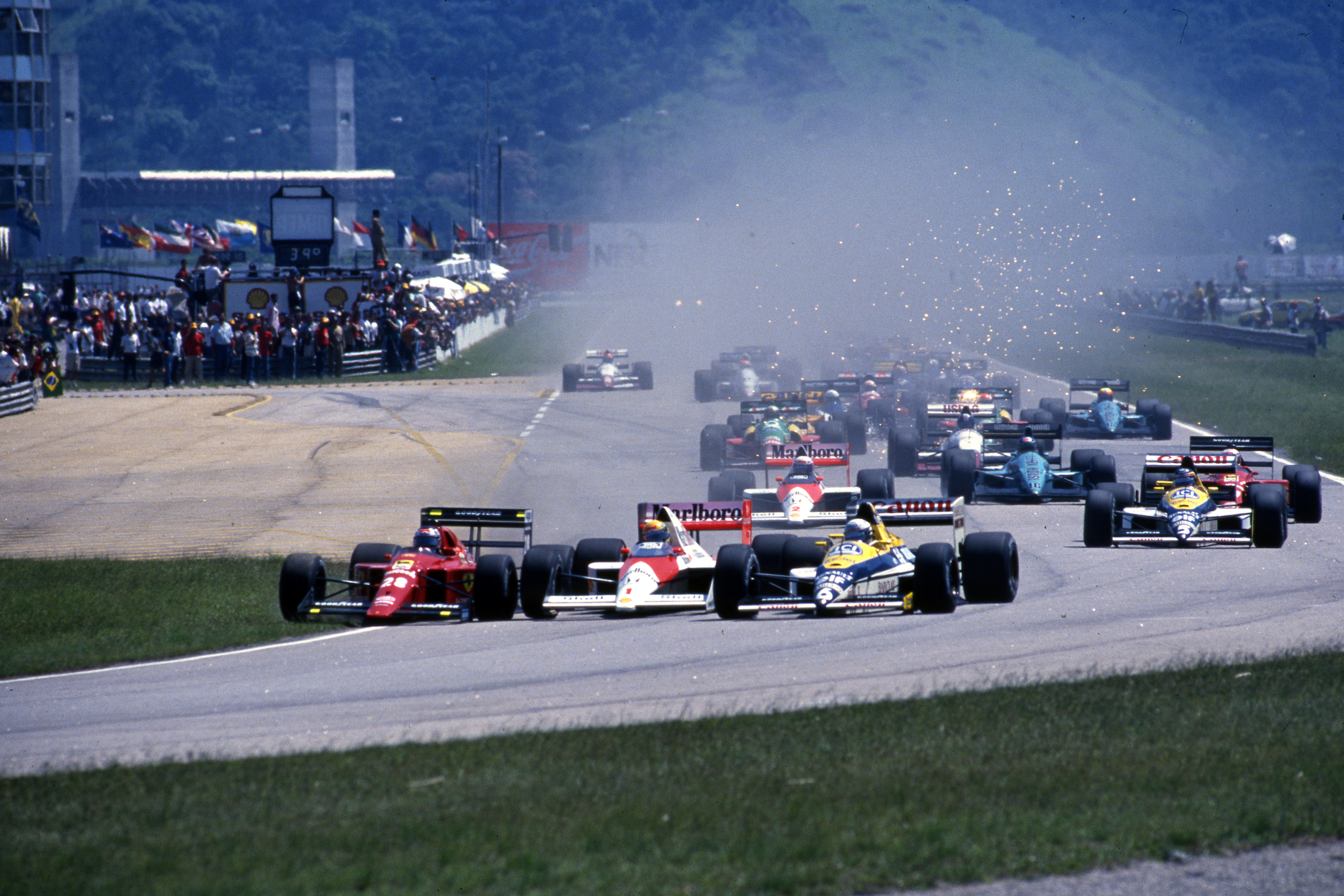 A race where the winner famously thought he had no chance of finishing. Ferrari's gorgeous 640, which pioneered semi-automatic gearshifting in F1, had been so fragile in testing that the team's new signing Nigel Mansell was fully expecting a very early retirement in the opener at Rio.
Instead, he ended up winning.
Home hero and reigning champion Senna effectively being eliminated at the start helped – the McLaren damaged in a three-way tangle with Berger's Ferrari and Riccardo Patrese's Williams.
Patrese emerged unscathed and led team-mate Thierry Boutsen in a Williams 1-2, but with Mansell closing in before overtaking them both.
But with Ferrari planning two tyre stops to Williams's one, and the second of Mansell's stops requiring the change of five wheels – with a new steering wheel fitted too to combat a gearshift issue – he twice had to charge from behind to retake the lead.
Prost also had a spell up front for McLaren, but was having to drive an ailing car without a clutch. That made it relatively straightforward for Mansell to overtake him as he finally secured the race lead for good with 14 laps to go. And to his amazement, the Ferrari kept running for those 14 laps.
This race also had the classic season-opener ingredient of underdog stars – Mauricio Gugelmin hassled Prost's half-functioning car to the flag as he took a shock podium for March in his home race, and Herbert began his F1 career with a heroic fourth for Benetton while still recovering from the devastating leg injuries he had suffered in his Brands Hatch Formula 3000 crash the previous summer.
2. 1982 South African Grand Prix – Kyalami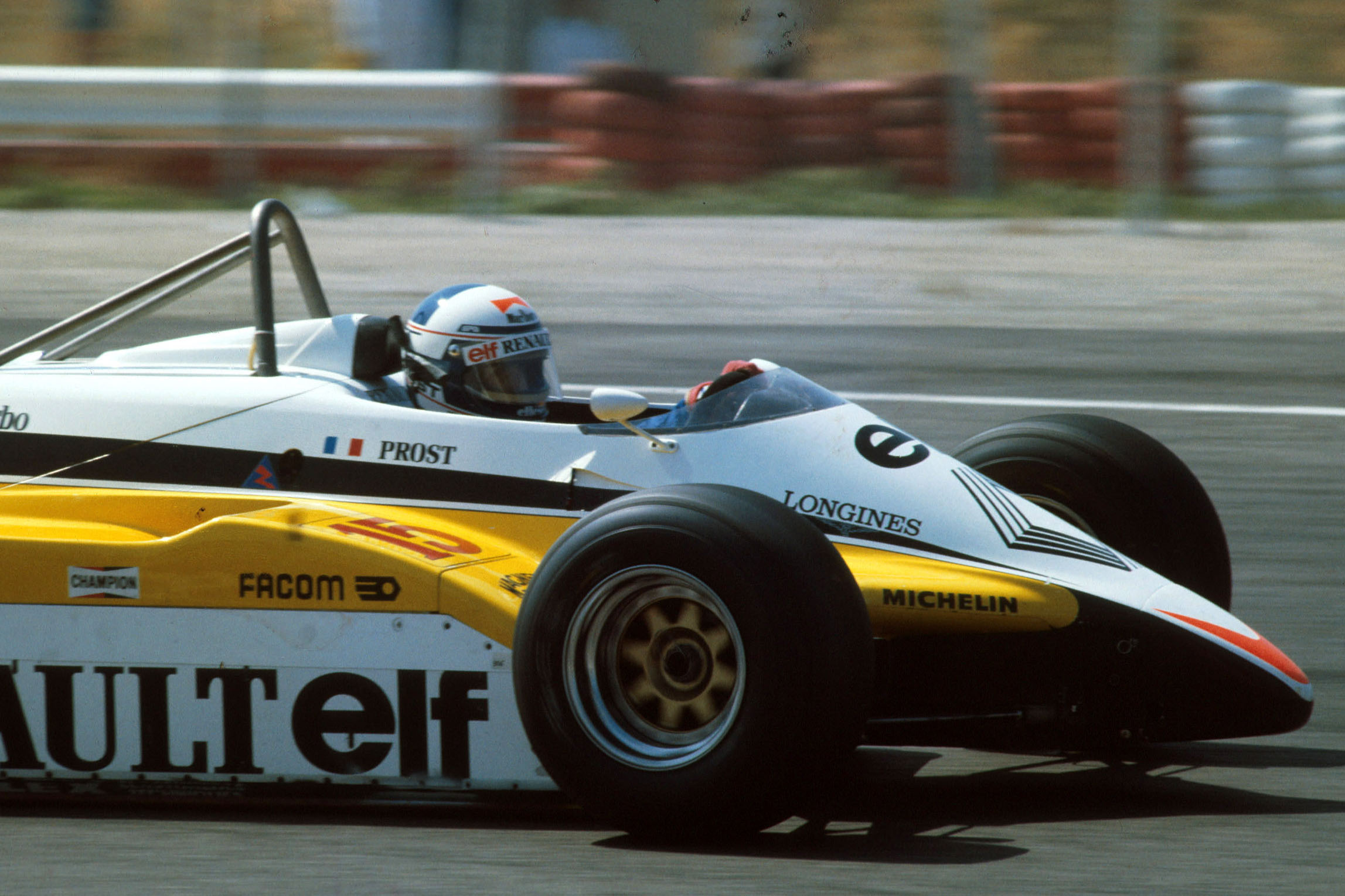 Prost is generally regarded as the master tactician and cautious player of percentages. Kyalami 1982 is the greatest evidence of his ability to be a flat-out hard-charger when he needed to be.
The race earned a bizarre place in F1 history even before it started when the drivers held a strike to oppose new licence conditions they felt were unfairly weighted in teams' favour, and the grand prix only went ahead when a last-minute compromise was negotiated. Fines and suspended bans were still imposed on all involved, but later reduced.
Prost had qualified fifth, but jumped to second behind Renault team-mate Rene Arnoux at the start.
As Arnoux began to suffer a tyre vibration, Prost took the lead after 14 laps and began to pull away. An easy, and not especially entertaining, Renault 1-2 looked assured for the next section of the race.
Then, just after half-distance, Prost's left-rear tyre burst. By the time he had nursed the car back to the pits and received repairs, he was a lapped eighth and seemingly totally out of contention.
What followed was one of the greatest comeback drivers in F1 history.
Fresh rubber helped, and problems for some of those ahead didn't hurt – Arnoux's tyre vibration still plagued him and long-time second-place man Didier Pironi's Ferrari was misfiring.
But the biggest factor in what followed was sheer raw pace from Prost, as he unlapped himself and relentlessly hunted down every car ahead.
Just 27 laps after disaster had struck, he was repassing Arnoux to move into a lead he wouldn't lose again.
1. Australian Grand Prix 2003 – Melbourne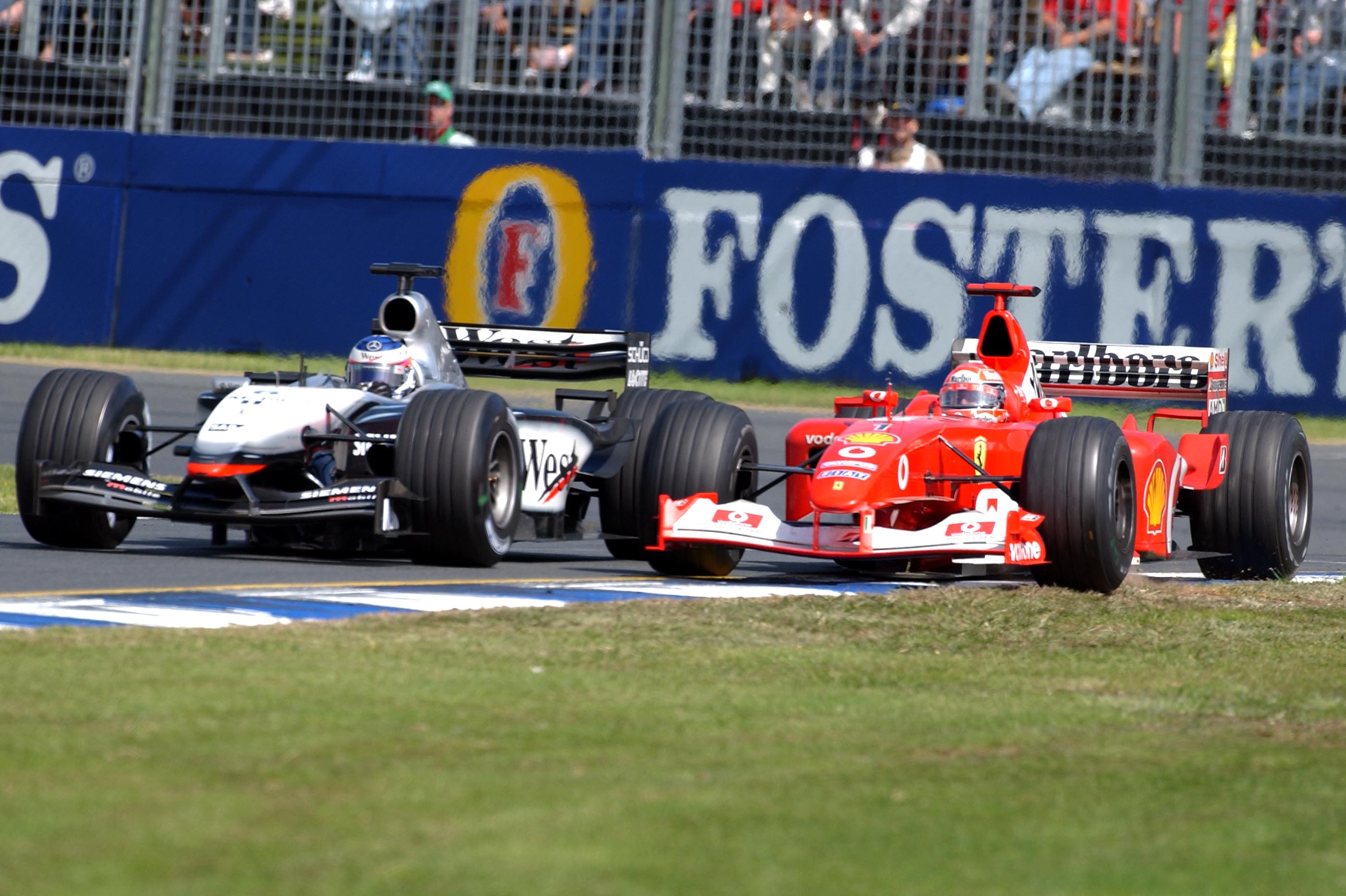 This race edges to the top of this list partly because of how refreshing it was. As Ferrari had dominated 2002, it looked like it might be years before any other F1 team had a sniff of a title – and with the team hierarchy structure at Ferrari meaning Rubens Barrichello tended to only win when Michael Schumacher let him, a bleak run of predictable championships seemed in prospect.
The switch to one-shot qualifying using race fuel loads was supposed to spice things up, but it was still an all-Ferrari front row with third-placed Juan Pablo Montoya nearly a second off their pace.
Then pre-race rain threw all that pessimism out of the window. Barrichello jumped the start then crashed out early. Kimi Raikkonen, who had started only 15th after a qualifying error, Schumacher and Montoya all chose dramatically different times to switch to dry tyres and ended up in a constantly swapping race-long battle as their consequent strategies unfolded, with Schumacher never able to get back into the commanding position expected pre-race.
His challenge was ultimately broken when a bid to go around the outside of Raikkonen at the first corner ended with the Ferrari slewing over the kerbs and grass and picking up pace-hampering damage.
Raikkonen looked set for the win, only to have fractionally broken the pitlane speed limit.
So the race appeared to fall back into Montoya's hands, until he unfathomably spun at the first corner with 10 laps to go as the stealthy David Coulthard's McLaren closed on him.
Montoya very swiftly rejoined and resisted the recovering Raikkonen and Schumacher for second, but Coulthard clinched an utterly unexpected final grand prix win in a race that set the tone for a far more open and competitive season.