Red Bull's list of Formula 1 drivers will grow to 20 this year, when Sergio Perez makes his debut for the senior team and Yuki Tsunoda drives for AlphaTauri.
Across Red Bull Racing and AlphaTauri (formerly Toro Rosso), the company has given opportunities big and small to a lot of drivers in the last 16 years.
| | | | |
| --- | --- | --- | --- |
| | RED BULL STARTS | RBR | TR/AT |
| Daniel Ricciardo | 139 | 100 | 39 |
| Sebastian Vettel | 138 | 113 | 25 |
| Mark Webber | 129 | 129 | 0 |
| Max Verstappen | 119 | 96 | 23 |
| Daniil Kvyat | 110 | 21 | 89 |
| David Coulthard  | 71 | 71 | 0 |
| Pierre Gasly | 64 | 12 | 52 |
| Jean-Eric Vergne | 58 | 0 | 58 |
| Carlos Sainz Jr | 56 | 0 | 56 |
| Sebastien Buemi | 55 | 0 | 55 |
| Jaime Alguersuari | 46 | 0 | 46 |
| Alex Albon | 39 | 27 | 12 |
| Vitantonio Liuzzi | 39 | 4 | 35 |
| Christian Klien | 28 | 28 | 0 |
| Scott Speed | 28 | 0 | 28 |
| Sebastien Bourdais | 27 | 0 | 27 |
| Brendon Hartley | 25 | 0 | 25 |
| Robert Doornbos | 3 | 3 | 0 |
Some didn't last long; others became team legends. In the wake of Red Bull's latest driver switch, signing Sergio Perez to replace Alex Albon, and the arrival of another exciting protege in Yuki Tsunoda, our F1 journalists Edd Straw and Scott Mitchell rank all 18 drivers to have raced in F1 for its teams so far.
As usual with our ranking of all a team's drivers, this is about what they did for that team (or in many cases here teams plural) rather than their outright potential or achievements in their whole F1 career.
18. ROBERT DOORNBOS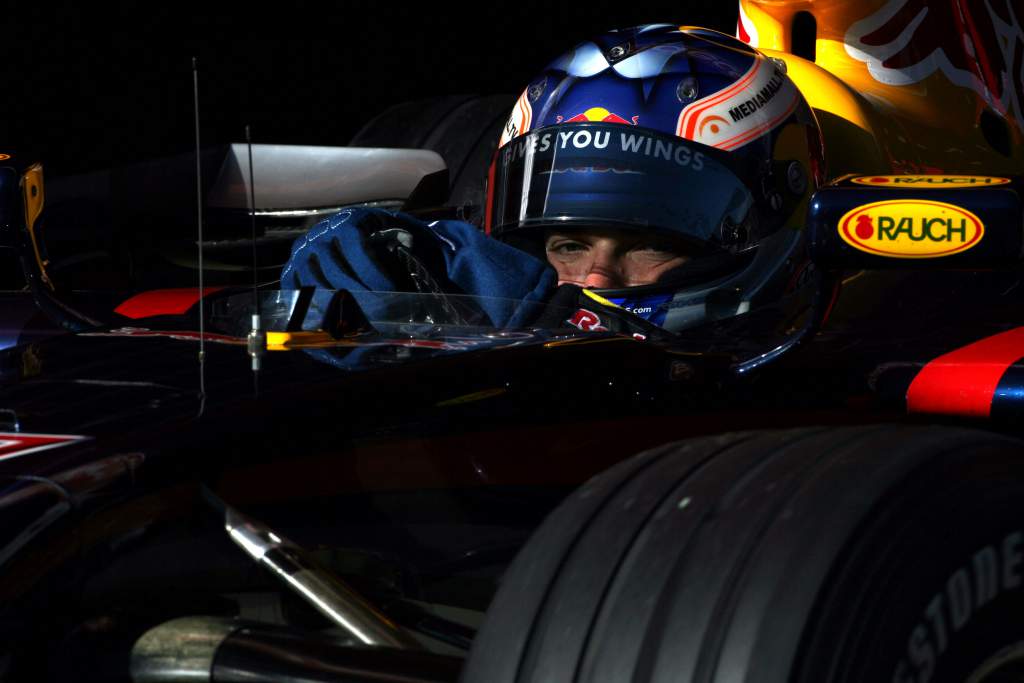 Doornbos had raced for Christian Horner's Arden team in F3000 with Red Bull support in 2005.
After stints as a test driver for Jordan and Minardi (graduating to a race seat with the latter in the second half of 2005) he became Red Bull's Friday driver for the following season.
He was given a three-race stint at the end of 2006 in place of the axed Christian Klien, qualifying strongly for his debut in China and finishing all three races.
But despite the promise shown, there wasn't space for him in any of Red Bull's four race seats the following season and he headed off to Champ Car.
17. SCOTT SPEED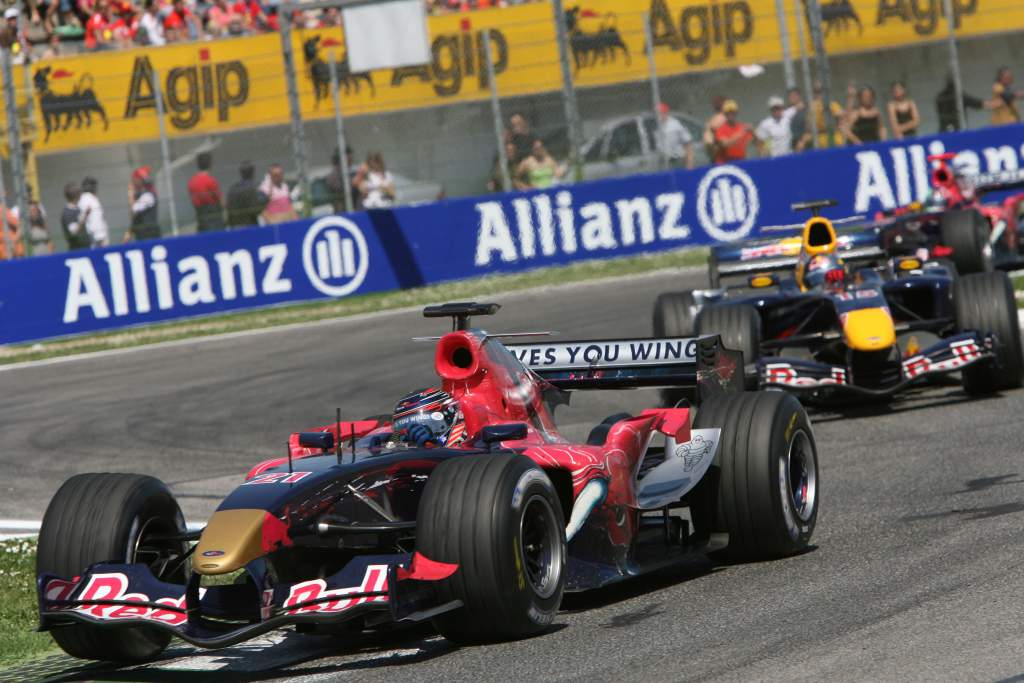 Speed was one of a quartet of American drivers who won the inaugural Red Bull driver search in 2002, but health problems set him back in 2003 and he had to rebuild his career in the Formula Renault Eurocup before moving up to GP2 in 2005.
Through that period, he retained Red Bull support and was the logical choice for a race seat when Red Bull acquired Minardi and turned it into Toro Rosso.
In a season-and-a-half there, he failed to score a point and didn't endear himself to the team with his approach, leading to his departure after a falling out with team principal Franz Tost at the 2007 European GP.
But he retained Red Bull links and went on to race for its NASCAR team.
16. SEBASTIEN BOURDAIS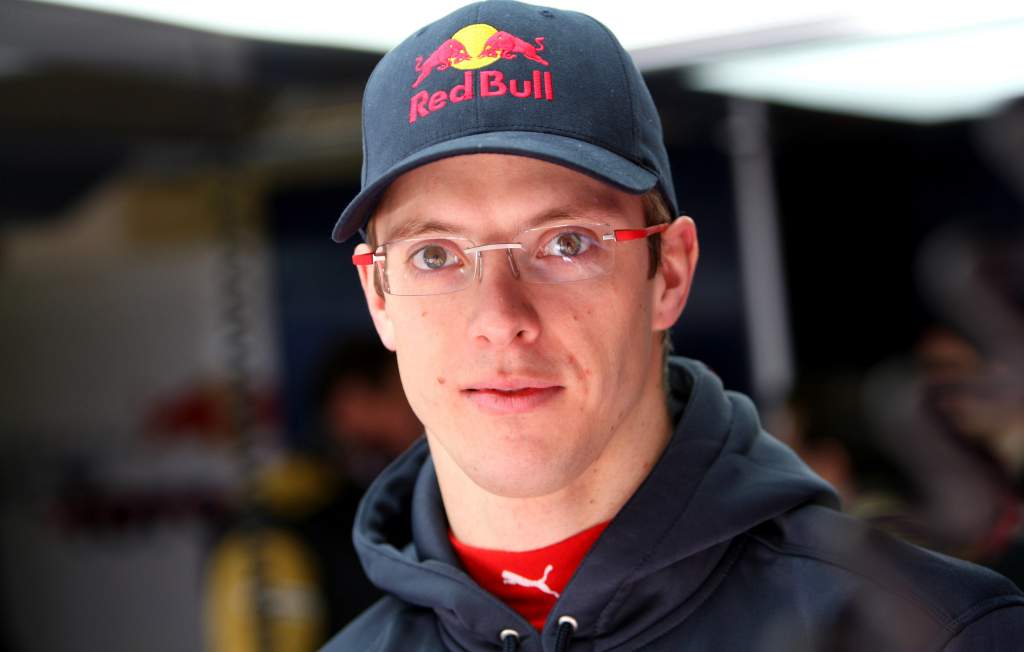 A rare recruit from outside the Red Bull driver scheme, Bourdais was signed for Toro Rosso in 2008 off the back of dominating the American Champ Car scene from 2004-2007.
Given his performances there and prior success in F3 and F3000, expectations were high.
But it never quite clicked for Bourdais during his season-and-a-half with the ex-Minardi team. He struggled to get the car feel to his liking and was outperformed by Sebastian Vettel despite a strong start with points for seventh on his F1 debut in the 2008 Australian Grand Prix.
Some potential good results eluded him in 2008: when he stalled from fourth on the dummy grid at Monza, at Spa where he briefly held a podium position late on and also after colliding with Felipe Massa when he came out of the pits at Fuji.
Overall, despite Bourdais' talent it never really clicked and he was dropped in the middle of 2009 to make way for Jaime Alguersuari.
15. BRENDON HARTLEY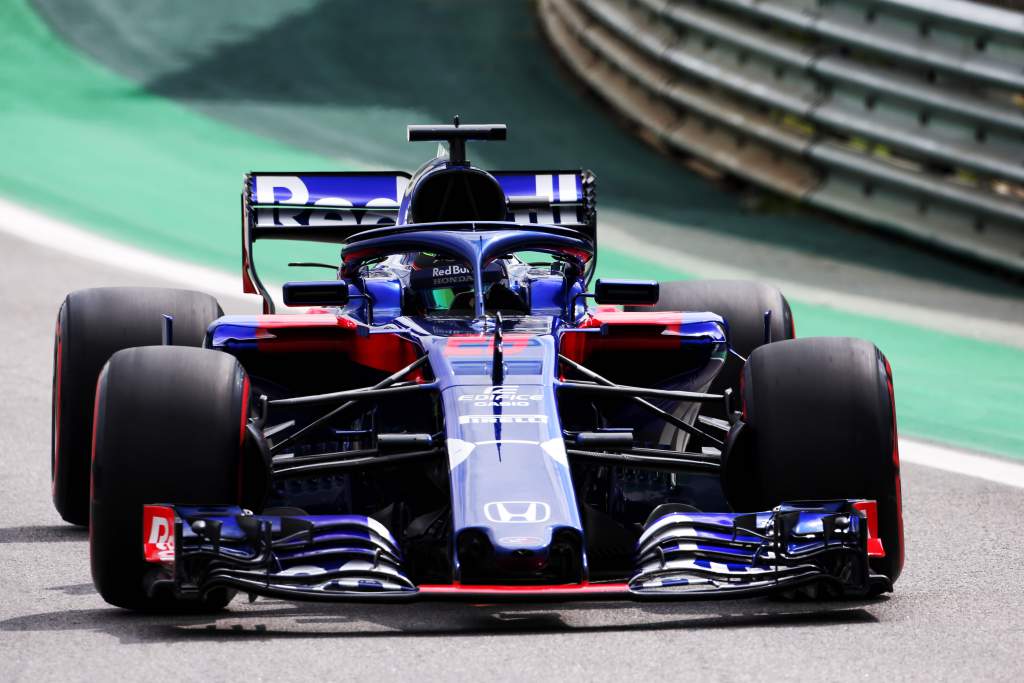 It's to Hartley's credit that he kept himself in a position where he was even an option for his hugely unexpected single-seater comeback, plucked from sportscar racing to fill Toro Rosso's race seat gap in late-2017 and then for the entire 2018 season.
To be fair to Hartley, he did well in the circumstances. And it was a fun story.
But he tended to find ways not to thread complete weekends together and he lacked a bit of overall pace compared to his fellow rookie Pierre Gasly. And he took an increasingly dim view of Red Bull/Toro Rosso's approach too.
By the end of the year was completely at odds with the team over on-track matters and off-track ones, so it was no surprise to discover he would be replaced for 2019.
14. CHRISTIAN KLIEN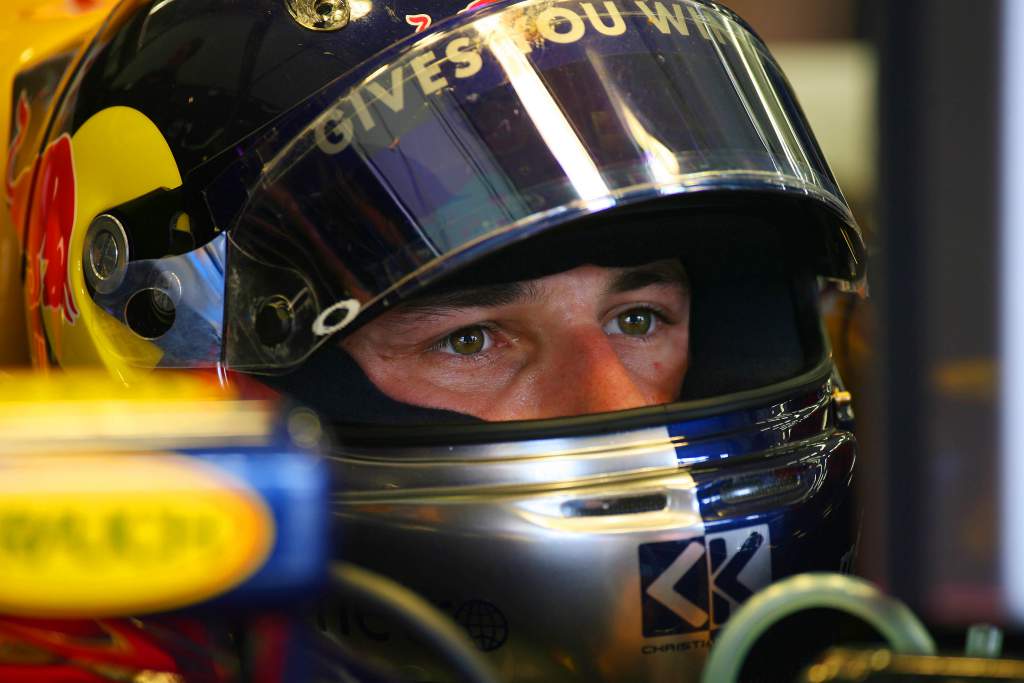 While Red Bull effectively inherited Klien from Jaguar, its sponsorship had facilitated his place at the team in the first place.
Initially, the idea was for him to share the 2005 seat with Vitantonio Liuzzi, but after splitting the first four weekends Red Bull gave it to Klien on a permanent basis.
The Austrian had his moments, with a best result of fifth in China in 2005. But despite showing promise at times he was never able to deliver consistently and couldn't match team leader David Coulthard. His seat was given to Doornbos for the final three races of 2006.
13. VITANTONIO LIUZZI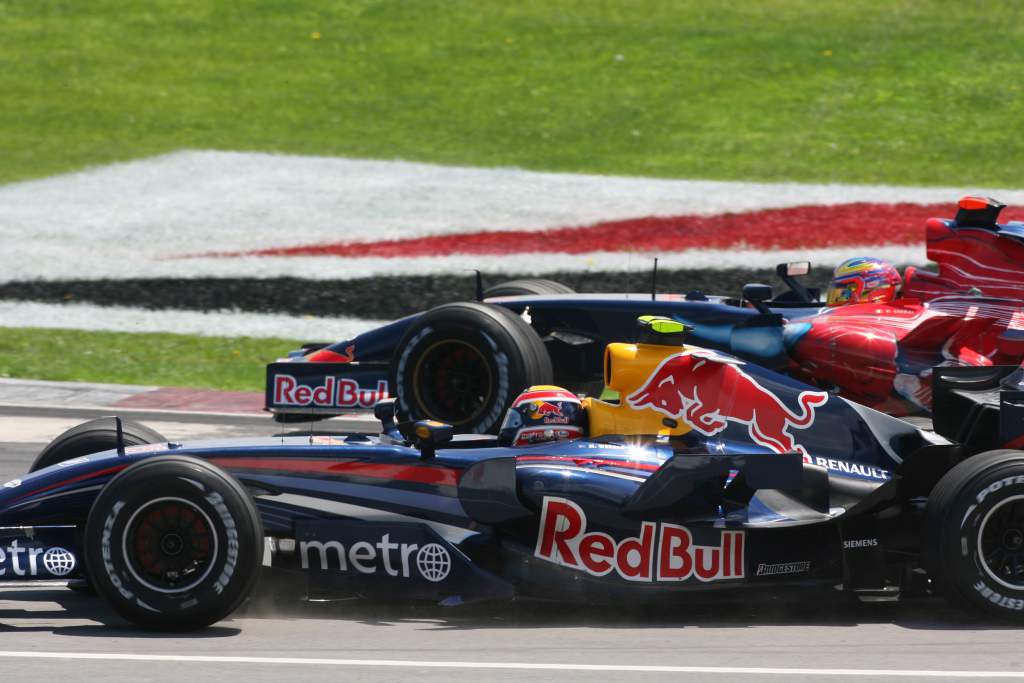 After initially graduating to F1 in what was intended to be a ride-share with Klien at Red Bull in 2005, Liuzzi made only four starts that season before being sidelined.
But he had a full-time drive with the newly-rebranded Toro Rosso in 2006 and did a good job in his two seasons, outperforming Speed over the first 18 months then faring decently against newcomer Vettel before being dropped to make room for Bourdais.
He later drove for Force India and HRT before fading out of grand prix racing.
12. JAIME ALGUERSUARI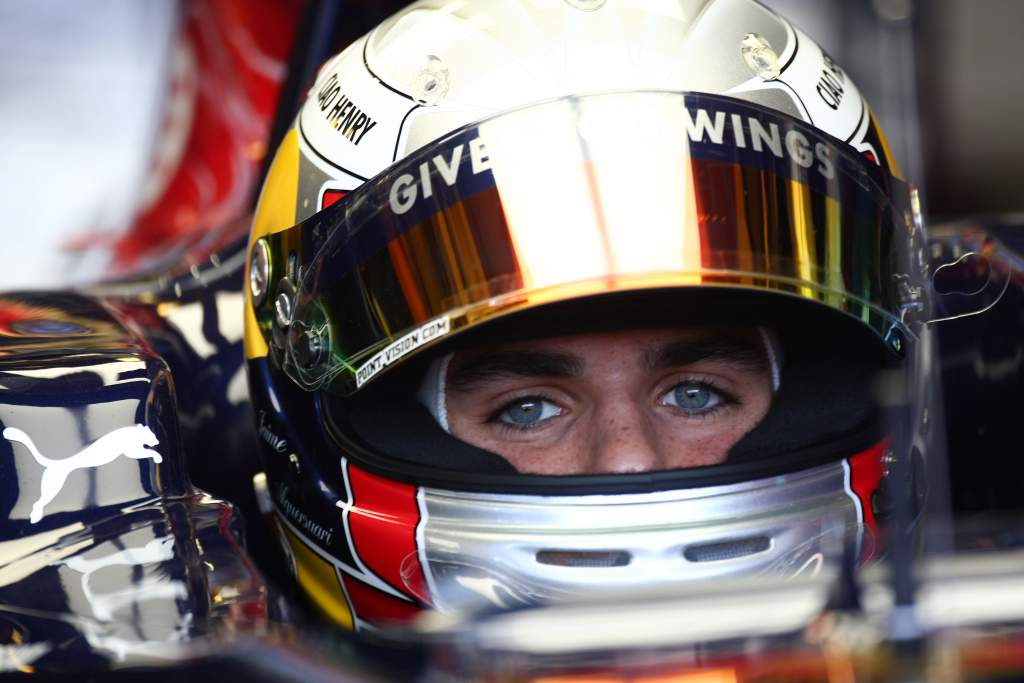 Alguersuari was thrown into F1 action with no testing in the middle of 2009 as a 19-year-old, which was a tough ask.
But he was also a driver of prodigious potential, which started to show through in his first full season in 2010.
His best season was in 2011 when he stacked up well against team-mate Sebastien Buemi and became a more regular points scorer.
But there were concerns about his consistency and approach, which tempered the undeniable high points.
Like Buemi, he was told he would continue in 2012 before a late decision – understood to have been triggered by Dietrich Mateschitz rather than Helmut Marko – led to both being dropped to accommodate Daniel Ricciardo and Jean-Eric Vergne.
11. JEAN-ERIC VERGNE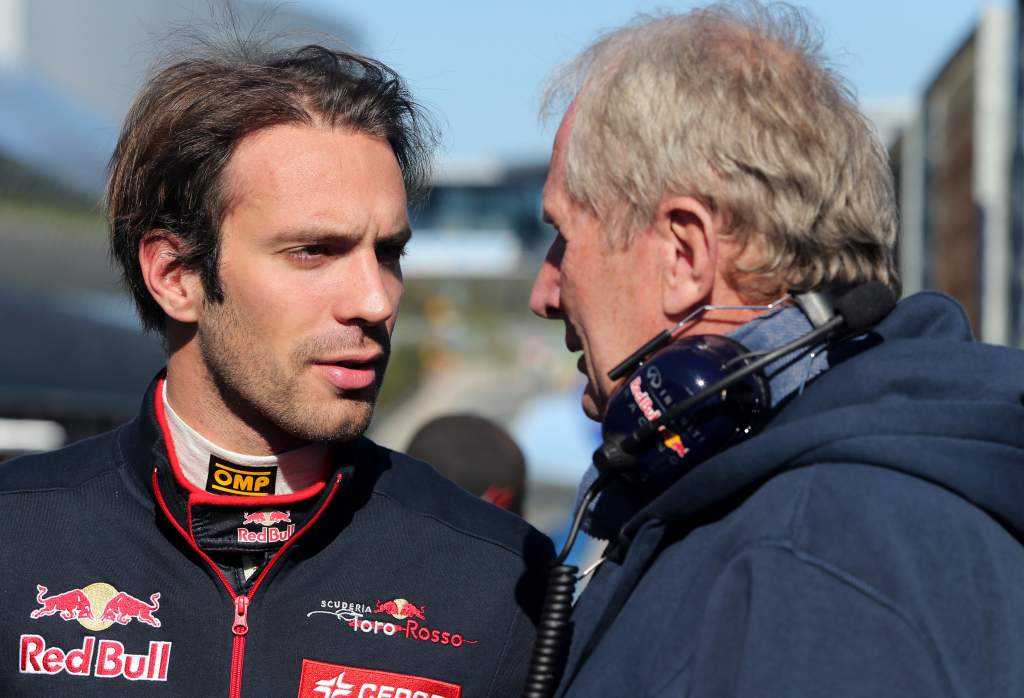 Had things gone a little differently in 2013 Vergne could have had a very different Red Bull career, and therefore a very different career as a whole.
A contender for a Red Bull Racing seat in 2014, as Mark Webber's replacement, Vergne was viewed by some as having more potential than his Toro Rosso team-mate Ricciardo.
But Vergne, only in his second season in F1 in 2013, wasn't picked and got handed a third year at Toro Rosso instead.
He wasn't considered ready for Red Bull – but a year later, when he outscored but didn't blow away unexpected rookie team-mate Daniil Kvyat, that status was changed to not good enough for Red Bull.
Kvyat got the Red Bull Racing call-up when Vettel moved to Ferrari and Vergne was dropped to make room for an all-new 2015 line-up of Max Verstappen and Carlos Sainz Jr.
What JEV has gone on to achieve in Formula E shows the cracking potential he always had. But he needed to escape F1 to find the maturity/mentality to untap it.
10. ALEX ALBON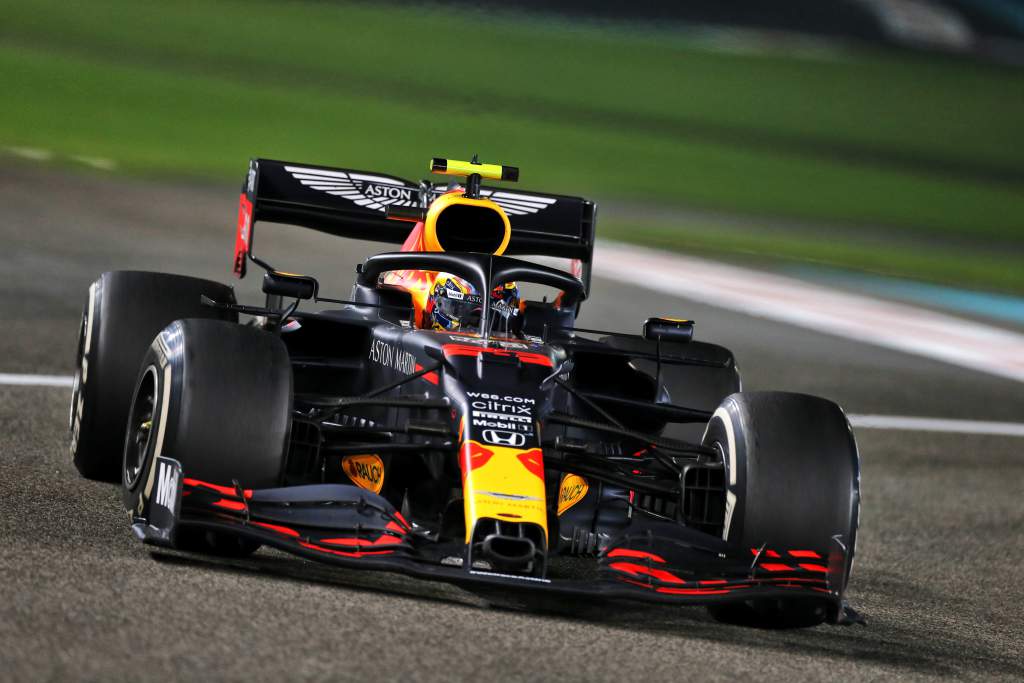 As a two-time podium finisher and a driver for both Red Bull teams in just two seasons in F1, Albon might appear low in this list.
But while there were signs of greater ability, Albon never quite cracked it. Which is why he has lost his Red Bull Racing drive for 2021.
Albon was a beneficiary of Red Bull's driver pool drying up, which facilitated an unexpected F1 call-up in 2019 to race for Toro Rosso.
He did very well given his limited preparation, so well that when Pierre Gasly was dropped by RBR mid-season Albon was suddenly driving for the senior team.
He never did enough to make that seat his own though, as his progress quickly stagnated.
While Albon stood on an F1 podium twice for Red Bull, both were after races in which retirements helped his cause.
His Red Bull/F1 career is not completely dead though, as he remains a Red Bull reserve and development driver in 2021. Perhaps a comeback in 2022 could shift Albon's position in a future version of this list.
9. DANIIL KVYAT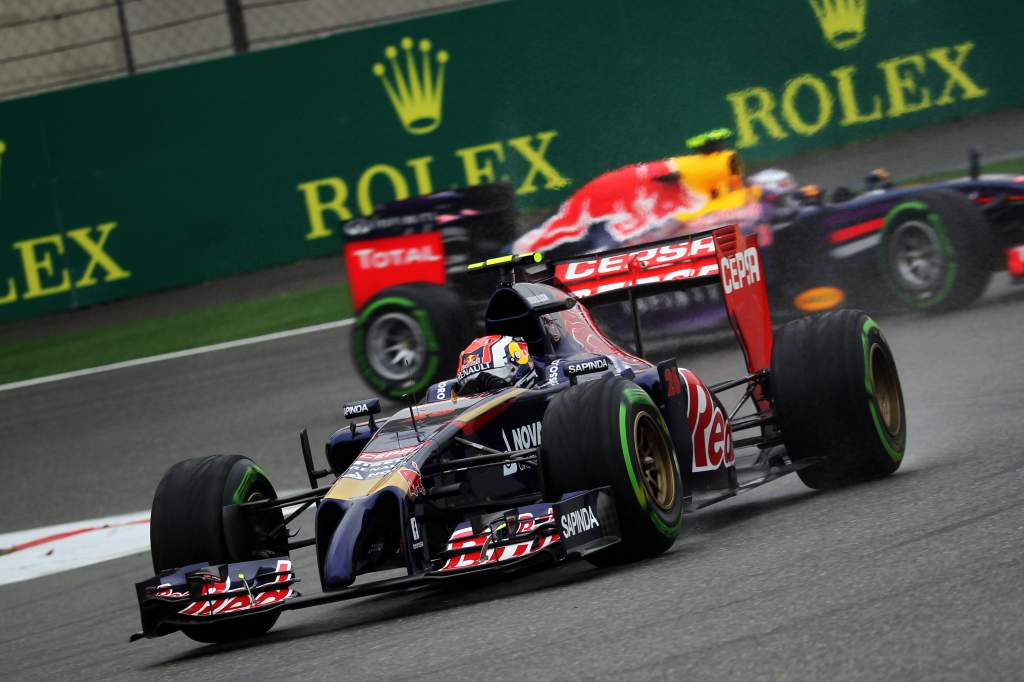 Kvyat's promotion to Toro Rosso in 2014 came to the surprise of many, as did his immediate elevation to Red Bull Racing in 2015 after a solid rookie season alongside Vergne. Aided by Ricciardo having a challenging season, Kvyat actually finished that year as Red Bull's top scorer.
Like Albon he scored two podiums, although these were earned on merit – unlike his 'torpedo' nickname from Vettel.
But Kvyat never got chance to prove that because he was unceremoniously replaced after just a few races in 2016 to make room for Verstappen, who Red Bull opted to throw its weight behind entirely.
Kvyat's career since then has been a piecemeal attempt to rebuild his F1 reputation.
He slumped completely over the rest of 2016 and 2017 back in Toro Rosso alongside Sainz, to the point he was released before the end of the '17 season.
But little over a year later Kvyat was being recalled to drive for the junior team again for 2019 given Red Bull's dearth of options (again).
He was solid but nothing else alongside Gasly, capitalising on the madness of the 2019 German GP to grab a surprise third career podium. And he ended 2020 in decent form, indicating he still had a bit more to offer F1.
But Kvyat's chance of showing the full extent of what he was capable of probably died with his demotion in early 2016.
8. SEBASTIEN BUEMI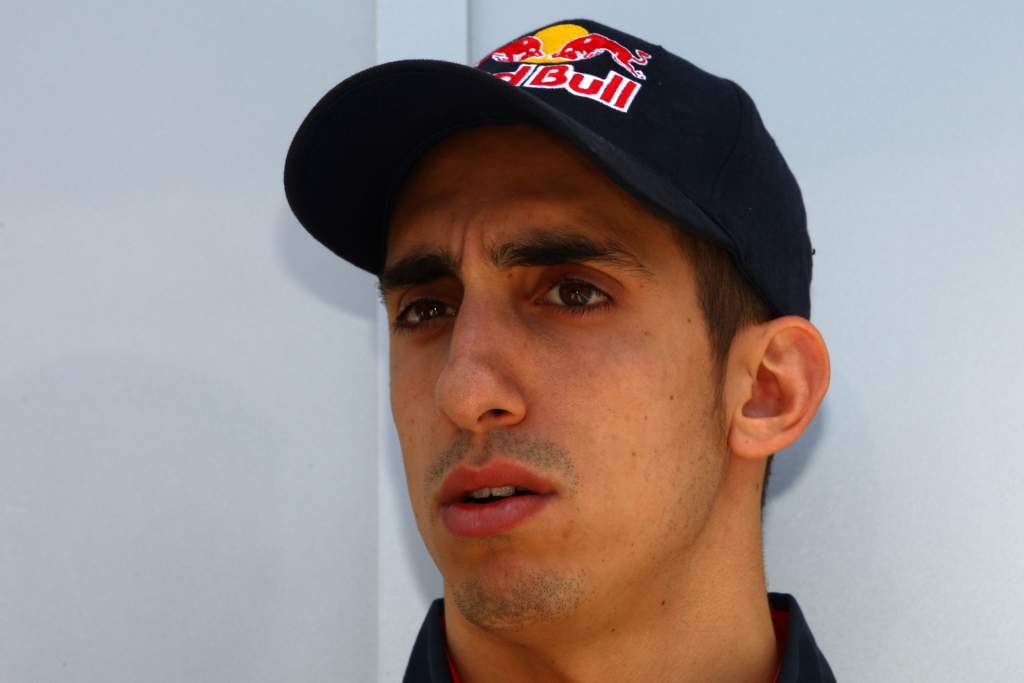 Buemi spent three season in F1 with Toro Rosso from 2009-2011, which was a difficult time for the team as it had to re-establish itself as an independent constructor after successfully using Red Bull designs before.
But he made good progress and built a good reputation with his approach and consistency, while never managing to convince Red Bull that he was worthy of a seat with its a-team.
He was unexpectedly dropped ahead of 2012 and switched to sportscars with Toyota, a team that was interested in signing him for F1 in 2010 before the plug was pulled.
But he did retain an F1 role with Red Bull, which selected him over Alguersuari for a test position, with his most recent outing coming in Abu Dhabi last year.
7. CARLOS SAINZ JR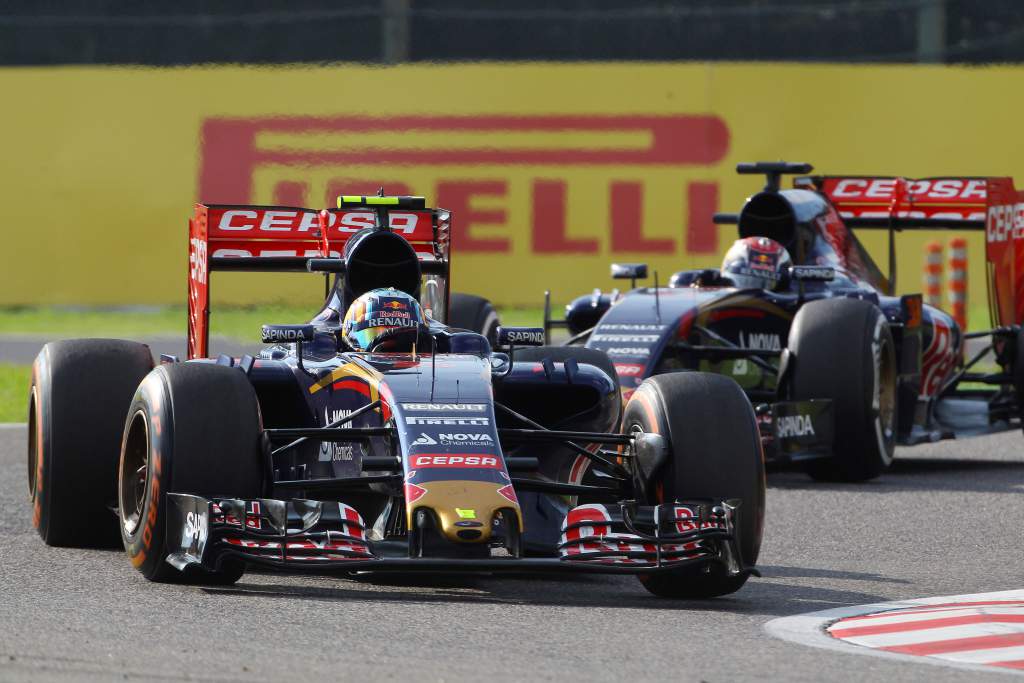 Sainz was marginally overshadowed by whirlwind fellow rookie Verstappen in their first year in F1 at Toro Rosso in 2015 and again at the start of 2016. But Sainz was not completely blown away.
Once Verstappen was out of the Toro Rosso picture, Sainz began to truly blossom.
Several big results – a hat-trick of sixths in 2016 for example, and a peak of fourth in Singapore 2017 – offered very strong hints of the quality of driver Sainz could become in a better team.
Few drivers (maybe only Vettel) have left Red Bull completely by choice. But Sainz opted to take his future into his own hands by pushing for an exit in 2017, knowing that his path to the top with his then-current employer was blocked by Verstappen and Ricciardo.
He was able to engineer a move to Renault, which came before the end of the season.
His performances at Toro Rosso, plus what he has done since then, mark Sainz out as a modern-day 'one that got away' for Red Bull.
6. DAVID COULTHARD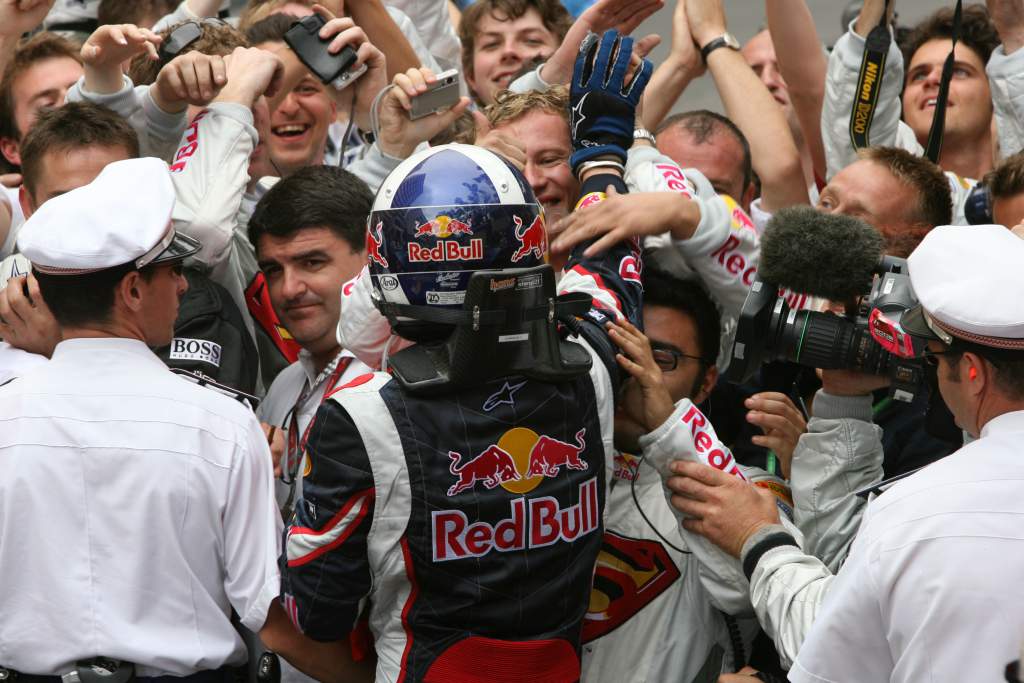 Coulthard's four-year stint with Red Bull is often forgotten given he didn't reach the heights of his Williams and McLaren peak.
But having joined the team for its first season in 2005 and finished fourth in its first race, he played a crucial role in building the foundations for the success that followed.
Along the way, he claimed Red Bull's first F1 podium at Monaco in 2006 – having been denied a potential third place by a drivethrough penalty at the Nurburgring the year before – with a second in Montreal two years later in his final season in F1.
Not only did he play a big part in getting the team to the front, but he remains a Red Bull ambassador to this day.
5. PIERRE GASLY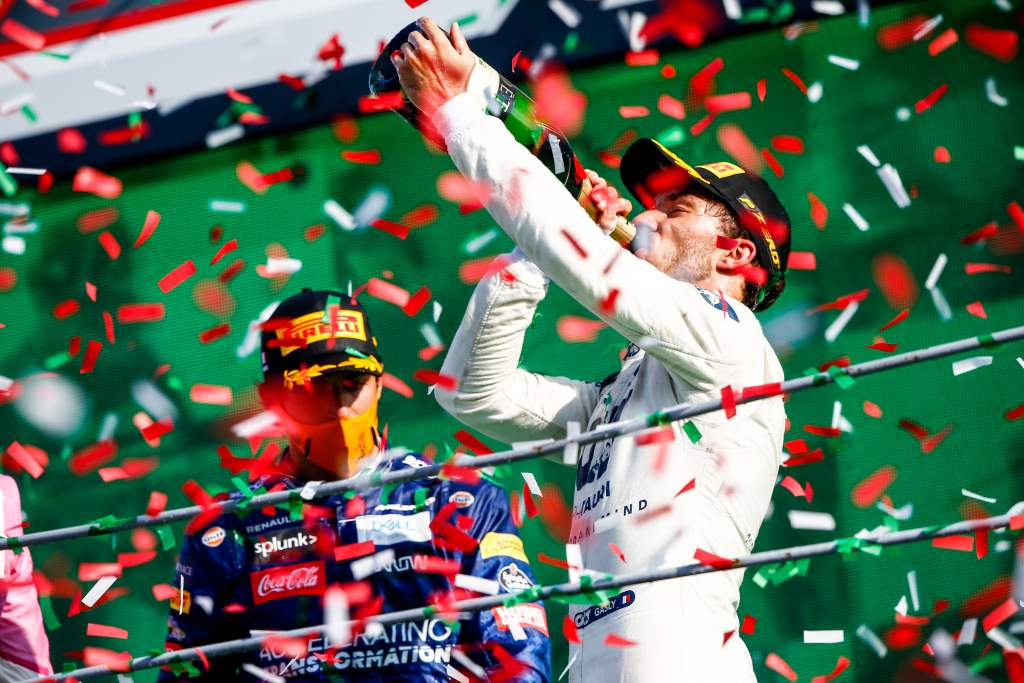 It's testament to Gasly's rollercoaster couple of years that his place in this list would have been very different at the end of 2018 and 2019.
In each year of his F1 career he has commanded a spot in each third of the ranking!
Red Bull has never seemed 100% convinced by Pierre but he was an integral part of Toro Rosso's strong first year with Honda power in 2018, and fully merited a call-up to the senior team in 2019 as Ricciardo's replacement.
But he was demoted after just half a season having struggled massively alongside Verstappen.
Red Bull's own weaknesses played a part but so did Gasly's approach and his on-track performances, and he spent the second half of 2019 back at Toro Rosso.
Since then Gasly has rebuilt his confidence and reputation, and taken it to new heights.
His first podium came in Brazil 2019, his second came in Italy last year – when he won in shock fashion at Monza.
That is enough to lift Gasly into the top five of this ranking, as one of the few drivers to win in F1 for a Red Bull team.
4. MARK WEBBER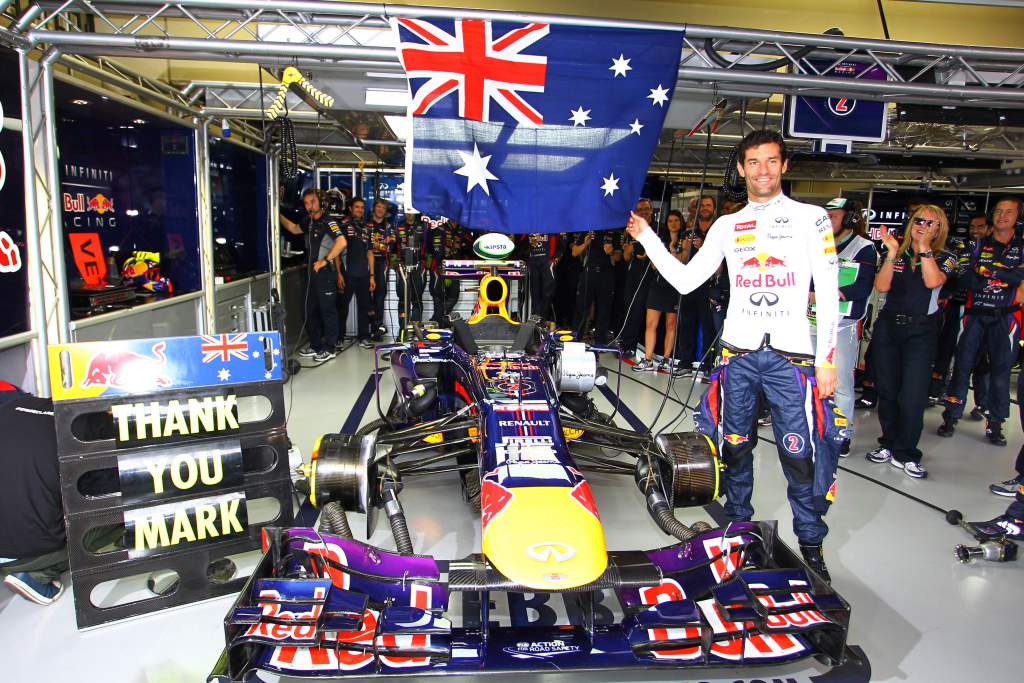 Webber's move to Red Bull in 2007 was something of a homecoming given his stint with the team in its Jaguar guise. And he instantly established himself as an integral part of the team.
His long-awaited breakthrough win came at the Nurburgring in 2009, the first of two wins that season and he came close to winning the world championship in 2010 after an occasionally-fractious battle with Vettel.
But that was to be his peak and despite some strong performances in his final three seasons with Red Bull, netting a further four wins, he was never again a title threat.
He retired from F1 at the end of 2013 to move to sportscars.
3. DANIEL RICCIARDO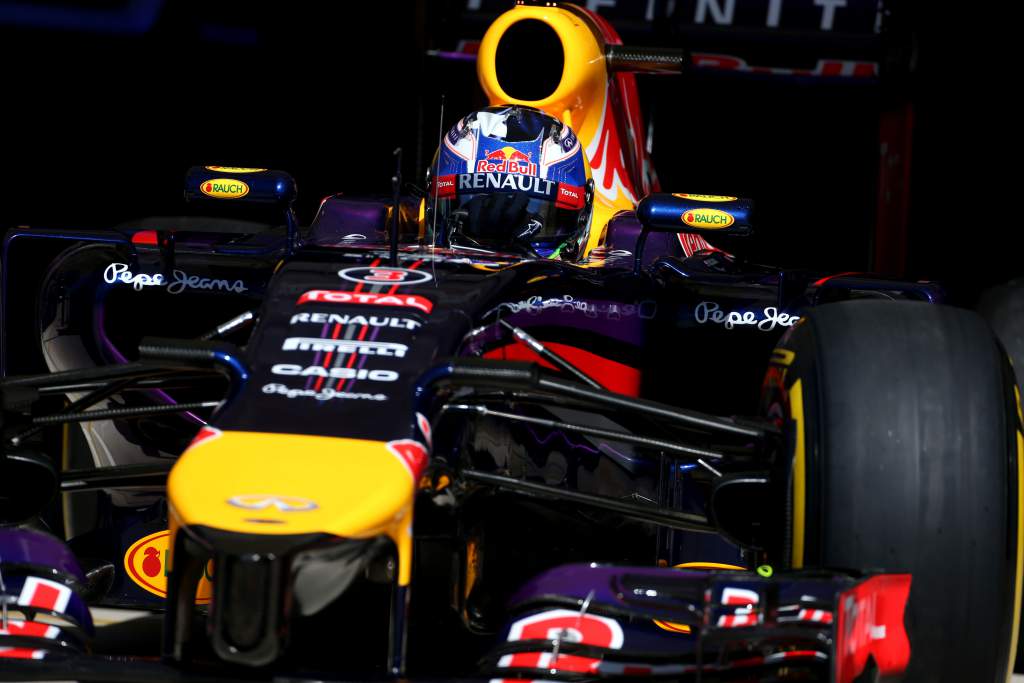 After eventually asserting himself at Toro Rosso, where Ricciardo realised he needed to toughen up in F1 to make his mark, the smiling Aussie got the nod to replace countryman Webber at Red Bull in 2014.
And he outclassed four-time world champion Vettel immediately.
Vettel left after just one season as Ricciardo's team-mate and for a short while Ricciardo looked the ready-made successor the team sorely needed.
Given Red Bull had been behind his rise to F1 and his big opportunities within it, Ricciardo departing never seemed a likely option – unless a Ferrari or Mercedes came calling. This looked a partnership that could go the distance.
But Verstappen's arrival in 2016 and Ricciardo's concerns about Red Bull's plan and Honda's potential a couple of years later prompted him to leave after 2018, bringing a hugely successful partnership to an end before it had ever had chance to fight for the title that seemed realistic, though never inevitable.
On reflection, the numbers are not extraordinary. But Ricciardo can shoulder very little of the blame for a few underwhelming statistics.
2. MAX VERSTAPPEN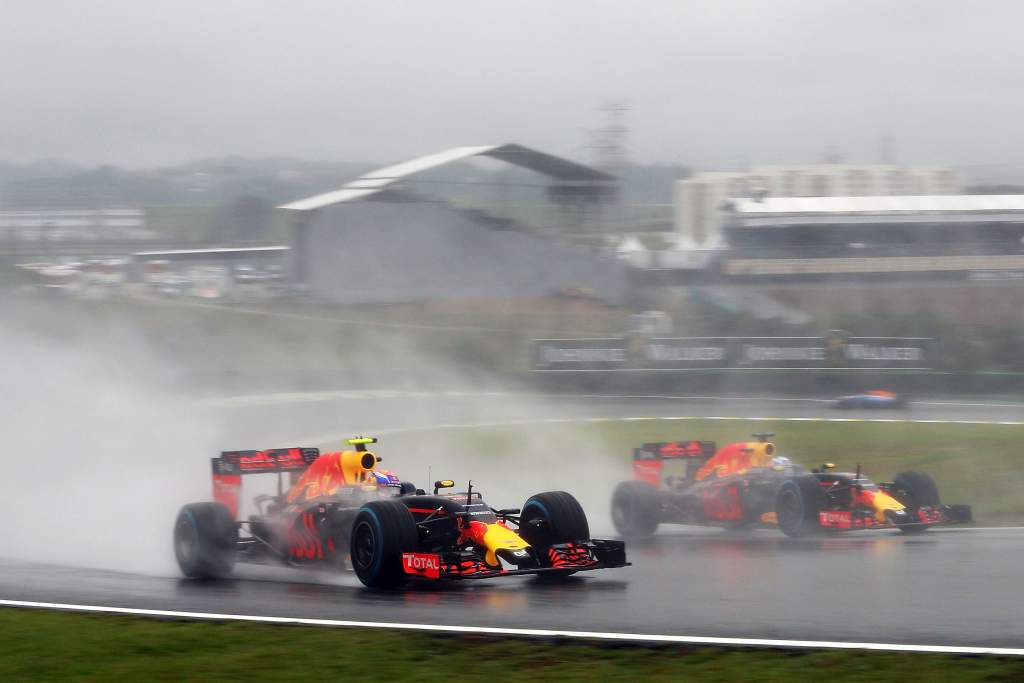 The bridesmaid for now, but only on achievements. There will be people reading this list, and within Red Bull, who believe Verstappen is outright the best driver to race for the brand in F1.
So far he's not had a car to match his prodigious talent and that means in terms of success, he remains second-best for now.
But if Red Bull ever recaptures its 2010s form we can be sure that Verstappen will make up ground quickly.
From the moment he drove for Toro Rosso in free practice at Suzuka in 2014, Verstappen has looked at home in F1. He has thrived in every new situation and, sooner rather than later, conquered every challenge he has faced.
Winning on his Red Bull Racing debut in Spain in 2016 earned him an immediate place in the team's history, and etched him into F1 folklore for good measure.
1. SEBASTIAN VETTEL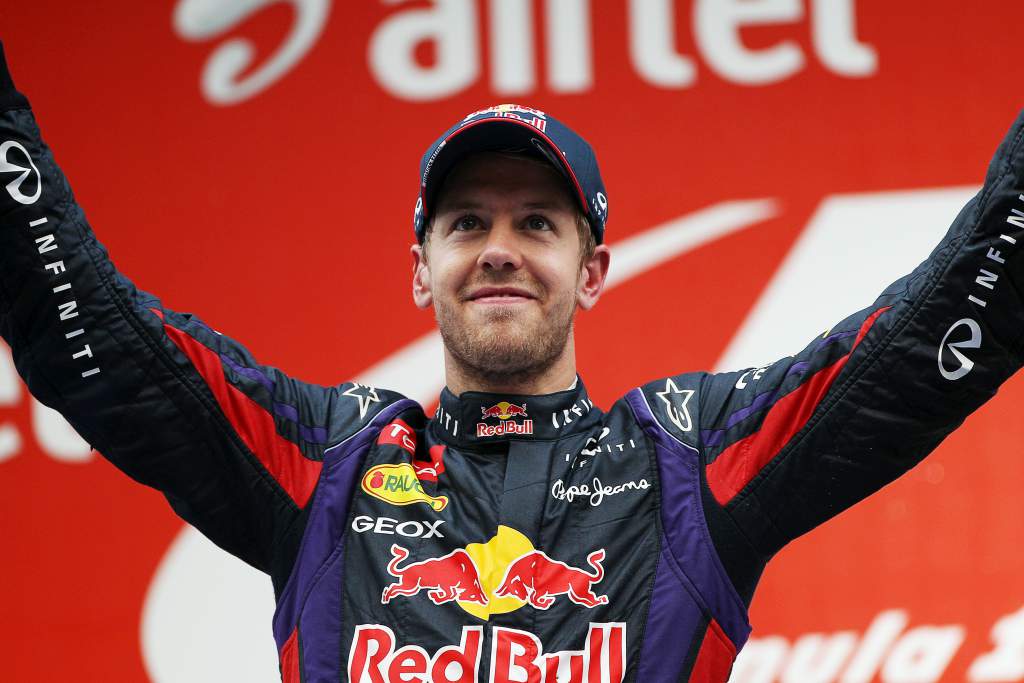 With four world championships, 38 victories and 138 starts, Vettel is unrivalled as Red Bull's most successful driver.
After making his F1 debut with a one-off outing for BMW Sauber at Indianapolis in 2007, he soon took Speed's place at Toro Rosso and went on to take a sensational victory at Monza the following season.
His arrival with the Red Bull A-team in 2009 coincided with it breaking through as a race winner, with Vettel leading a one-two in China.
After grabbing the 2010 title in the Abu Dhabi season finale, he added three further crowns before his time as a seemingly-unstoppable dominant force came to an end in the winless 2014 season that prefaced his move to Ferrari.