Ferrari's signing of Carlos Sainz Jr polarises opinion.
There's a group that believes he has all the qualities of being a top operator in a top team (which The Race is apparently part of given the outcome of our 'ranking the 2021 driver line-ups' piece!).
And there's a group that has doubts, believing him to be a good midfield driver but nothing more.
It's clear which group Ferrari's part of. In signing Sainz to partner Charles Leclerc, Ferrari is backing him to be a more effective team member than a four-time world champion in Sebastian Vettel.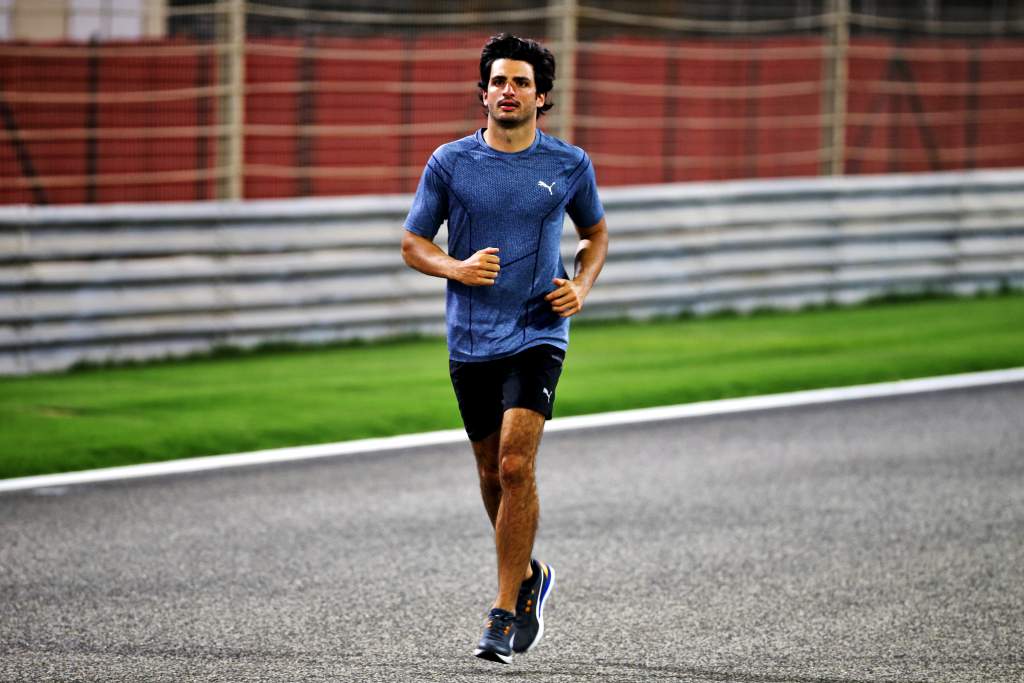 For the first part of Sainz's F1 career he did appear to be a good rather than great driver in the making.
McLaren has been the making of Sainz and his bigger reputation, with a few starring drives in particular. But those highlights go back further, to when he was still an aspiring Red Bull protege.
Here are a range of Sainz performances, from before his Ferrari contract was signed and afterwards, which outlined the qualities Ferrari saw in him and justified its decision to make a move.
WHY FERRARI WAS INTERESTED
FLOURISHING OUT OF VERSTAPPEN'S SHADOW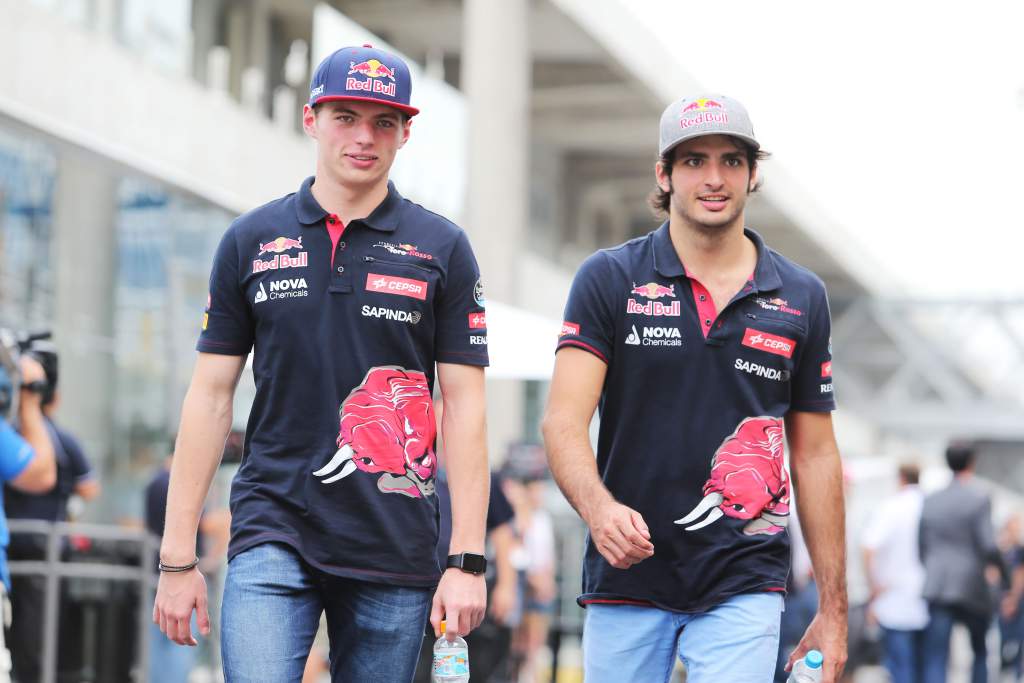 Sainz actually fared quite well against Max Verstappen in their year-and-a-bit as Toro Rosso team-mates across 2015 and early '16 – qualifying fifth for his first home grand prix was an early stand-out performance – but it was really once Verstappen got promoted to Red Bull that Sainz seemed to properly find his feet.
He obliterated the limping Daniil Kvyat over the rest of 2016 and 2017 and that three-year period (well, a few races short of three full seasons) with Red Bull's junior team featured plenty of highlights.
We're focusing on a hat-trick of sixth-place finishes in 2016 here, in his second year in F1, as each had something quite special about it and played a part in the first proper elevation of Sainz from 'just another Red Bull junior' to 'hang on, there's something special here'.
He atoned for the shortlived nature of his Spanish GP qualifying heroics in 2015 by acing a brilliant start at Barcelona a year later to anchor a sixth place that then stood as the best result of his career. Then he repeated the feat twice in three races at the end of the season.
In the United States, Sainz was absolutely jubilant with a "top, top, TOP result!!" after rising from 10th to sixth, despite Toro Rosso's simulations of the race suggesting he would struggle to even finish in the points.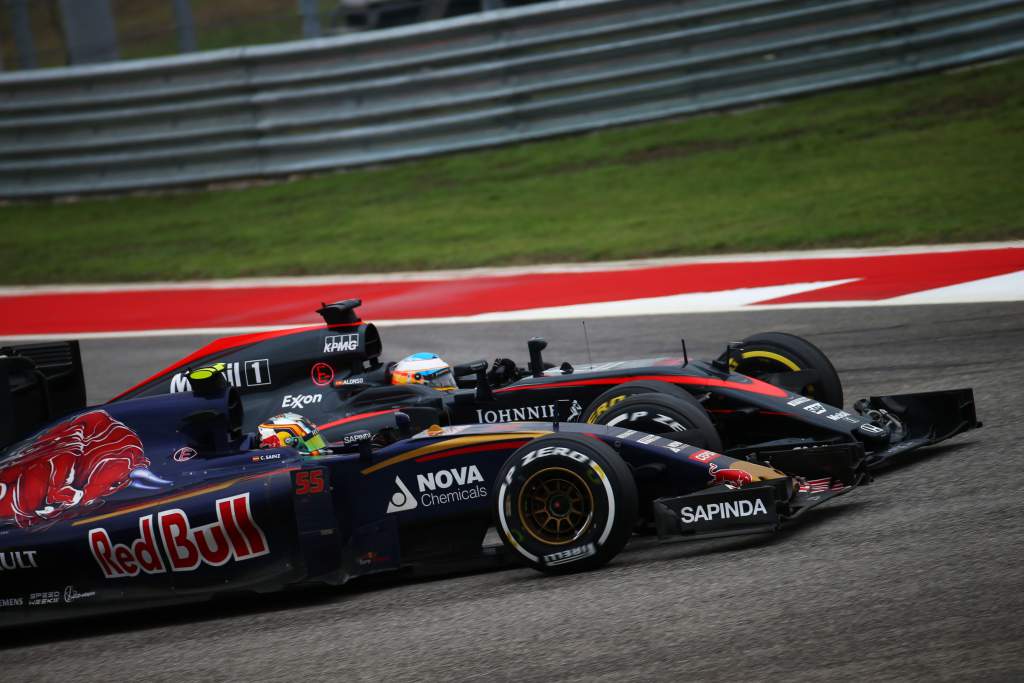 A well-timed VSC helped but Sainz battled gamely to keep his childhood hero Fernando Alonso in a McLaren behind, and while that ultimately failed finishing just a couple of seconds adrift was nothing to be sniffed at.
Two races later Sainz was charging through the field in the chaotic, rain-hit Brazilian Grand Prix. He didn't want to pit for intermediate tyres at any point and asked his team to leave him to it, which proved exactly the right call – and allowed Sainz to exhibit serious wet-weather prowess.
HIS BEST DRIVE AS A RED BULL PROTEGE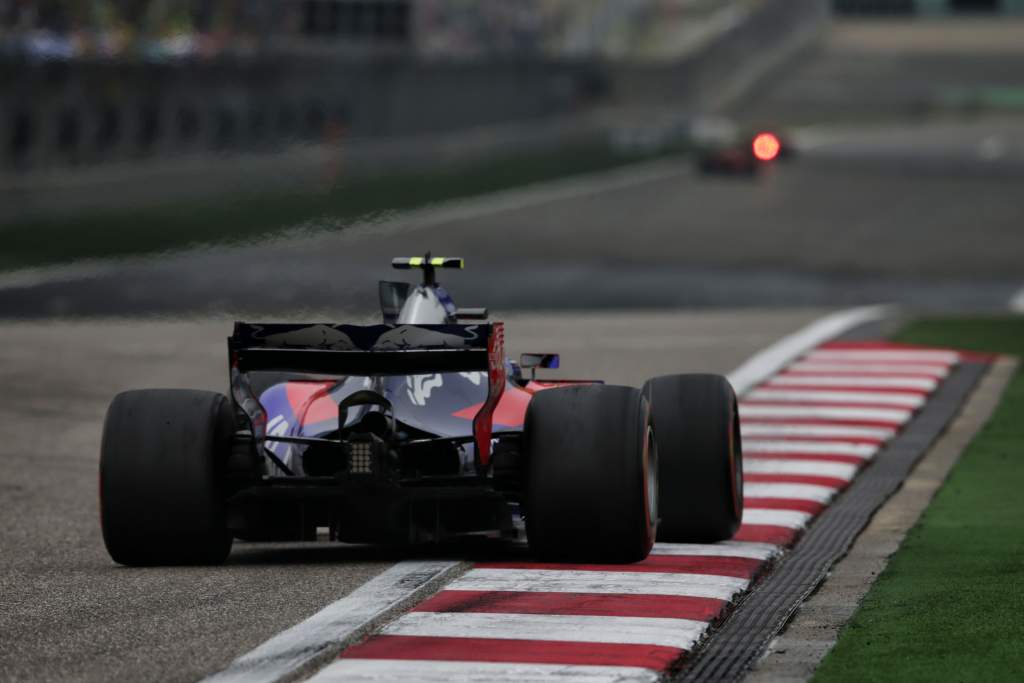 Sainz's final year as a Red Bull junior always looked like being exactly that, as he grew frustrated with a lack of opportunity in that stable.
But it was packed with strong performances including an excellent sixth in Monaco and sensational fourth – his career-best to that point – in Singapore.
"WOW! What a race, I just don't have words to describe it!" :: Carlos Sainz Jr
The greatest drive though was in China. In fact, the 2017 Chinese Grand Prix probably still stands as Sainz's most impressive as a Red Bull protege.
Headline results and opportunistic performances are always eye-catching. Achieving anything without outside help is difficult in a midfield team, but this is an example of Sainz's raw performance in a straight fight (once things had gone his way) being most impressive.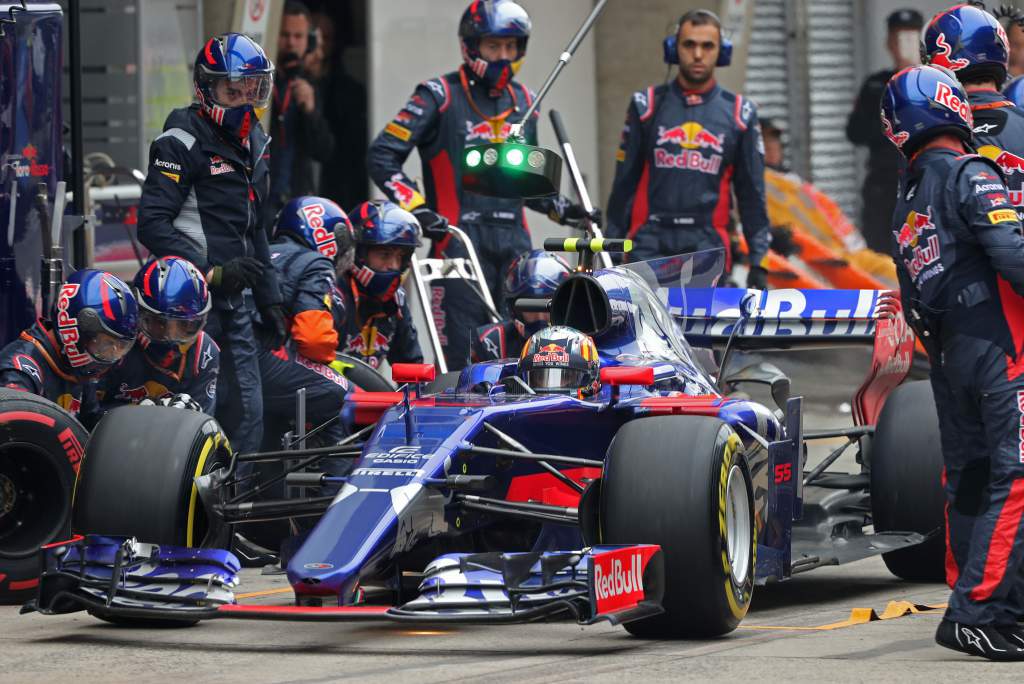 In China, Sainz made the bold decision – one he admitted afterwards looked "mad" when he realised nobody else had done the same! – to start on slick tyres with the track still damp in places. And though he had to sacrifice a few process he survived the treachery of the opening lap, then cycled up to seventh as everyone else pit to change to dry tyres under an immediate virtual (then full) safety car.
His strategic play created an opportunity but what happened after that was all Sainz. He quickly cleared Alonso and then proved to be the absolute class of the midfield and the only driver outside the top teams to remain on the lead lap.
Sainz's appraisal was quite simple: "WOW! What a race, I just don't have words to describe it!"
STUNNING RENAULT DEBUT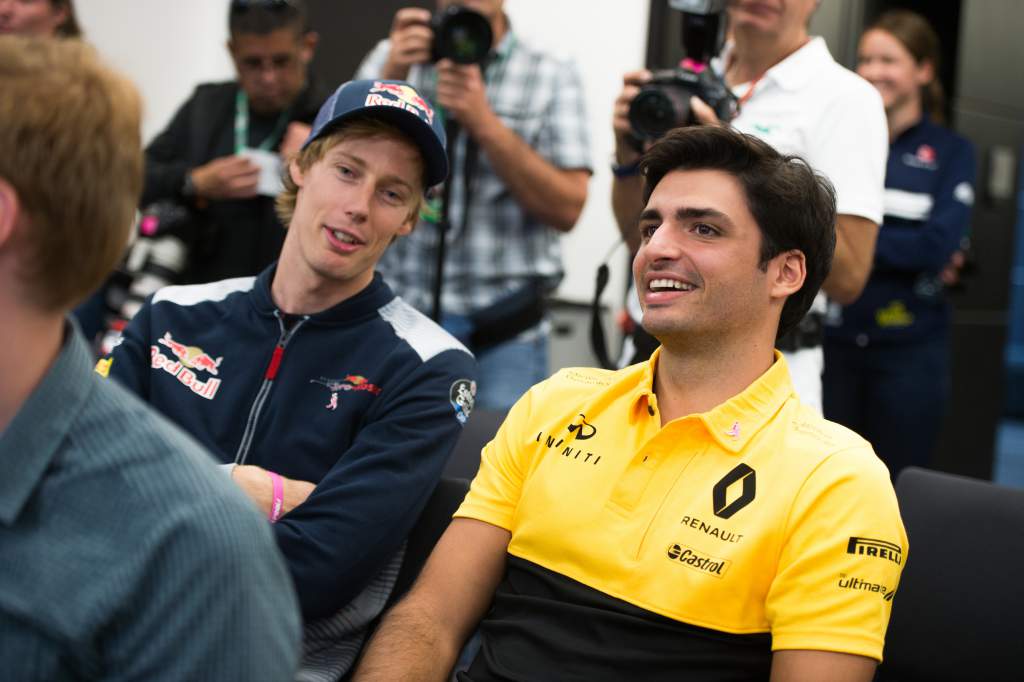 Sainz's late-2017 swap to Renault is one of the quirkiest driver moves in recent years, and on the basis of his debut for his new employer you would never have thought he would be shunted aside by the team after just one full season little over 12 months later.
Adjusting to a new team is difficult but it's a characteristic of the most exciting drivers that they nail it right away: think Verstappen at Red Bull in Spain in 2016 or George Russell in Bahrain last month with Mercedes.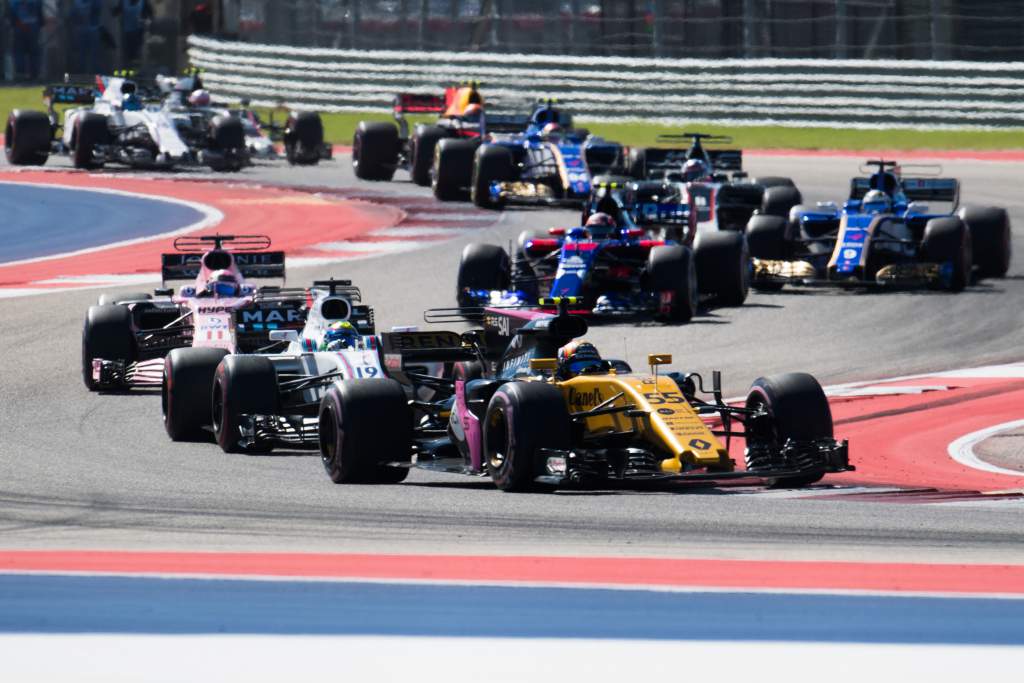 Sainz swapping midfield teams to join Renault was never going to create exactly the same possibility but he did a superb job at Austin nonetheless to produce a top result straight out the box, making it into Q3 at the first attempt and qualifying seventh.
Had he nailed his Q1 lap and saved a set of tyres he might have been able to outqualify and outrace Force India's Esteban Ocon and finish as best-of-the-rest in sixth not his eventual seventh.
But this was a noteworthy performance from Sainz to overcome the unknowns and prove instantly that he belonged in a manufacturer team.
ENGINE PENALTY SETS UP CHARGE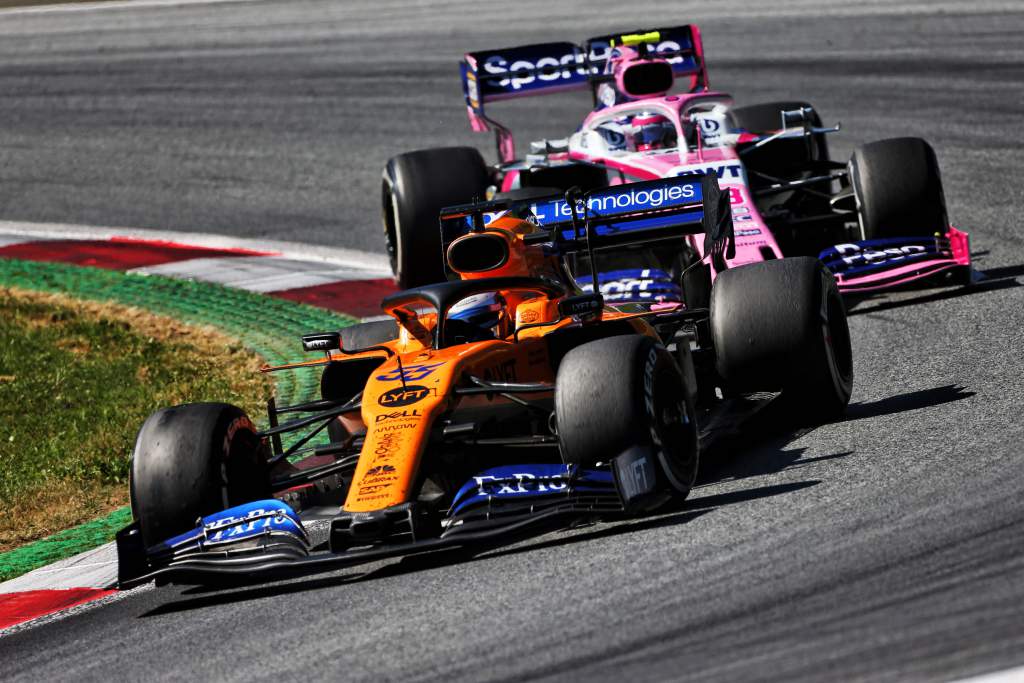 In Austria in 2019, Sainz had to start from the back because of an engine change. From there he produced a battling drive that netted an eighth-place finish in a race with no retirements.
He passed six cars during the opening stint and another five in his second. Front wing damage picked up despite Sainz making no clear mistake stymied his charge and cost him what he felt would have been seventh place, but he also avoided any errors with the disturbed aero balance and didn't lose any positions either.
Eighth place was a fine reward for one of his most mature performances to date.
HIS FIRST PODIUM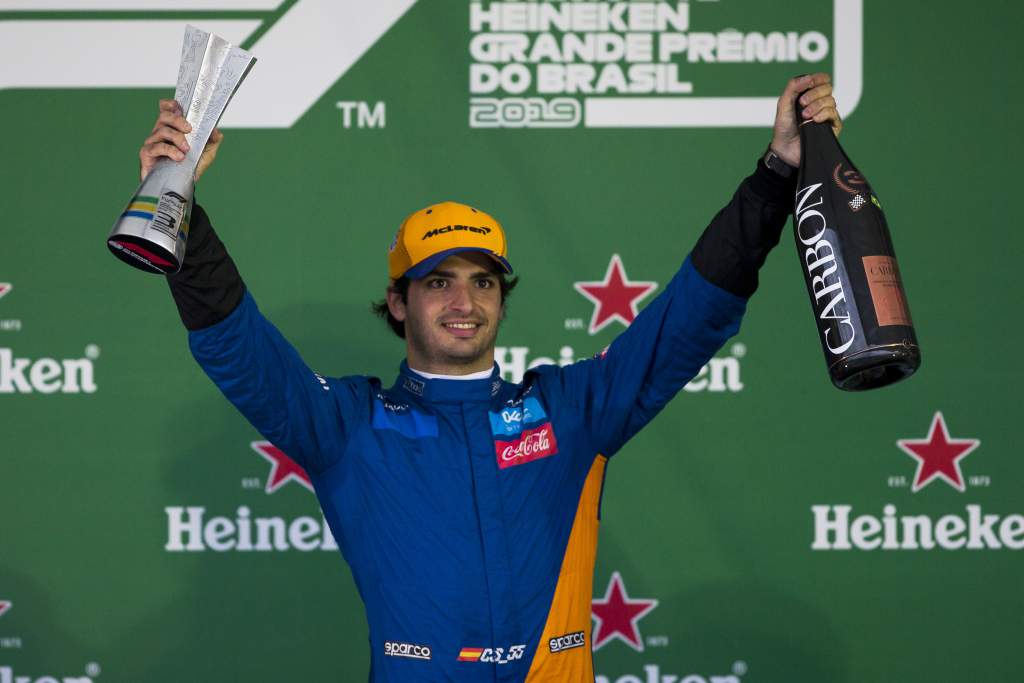 There's so much to enjoy about Sainz's 2019 Brazilian Grand Prix performance that it's easy to forget he actually had to come through the field from the back of the grid to finish fourth on the road, then inherit a maiden podium finish when Lewis Hamilton was penalised.
However, this drive was important for a few reasons.
First it was one in which Sainz did most of the legwork himself: three of his places were gained through strategy, another three from retirement, but EIGHT were on-track passes.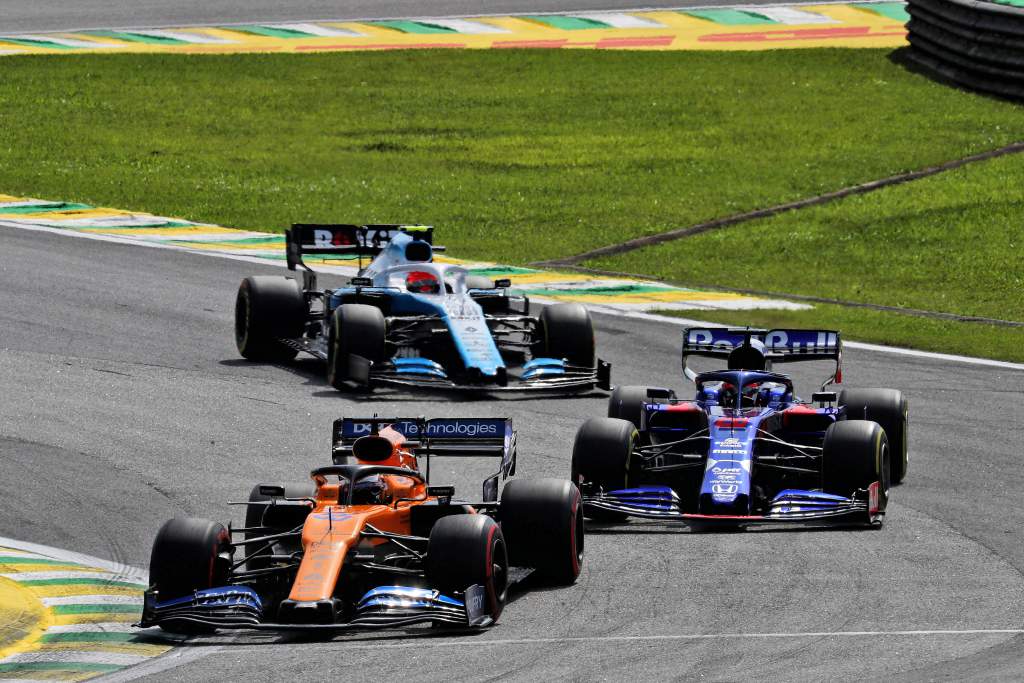 Second, it required serious tenacity and judgement late on as he defended from a gaggle of faster midfield cars on better rubber after the final safety car. Maybe he was lucky it was 'just' Kimi Raikkonen behind him, but not being swallowed up by that pack was outstanding.
Thirdly, it solidified Sainz's bid to finish best of the rest in the championship, which was a huge marketing boost as it identified him as statistically the best driver outside the big three teams in 2019.
WHY FERRARI'S CHOICE WAS JUSTIFIED
QUALIFYING FLARE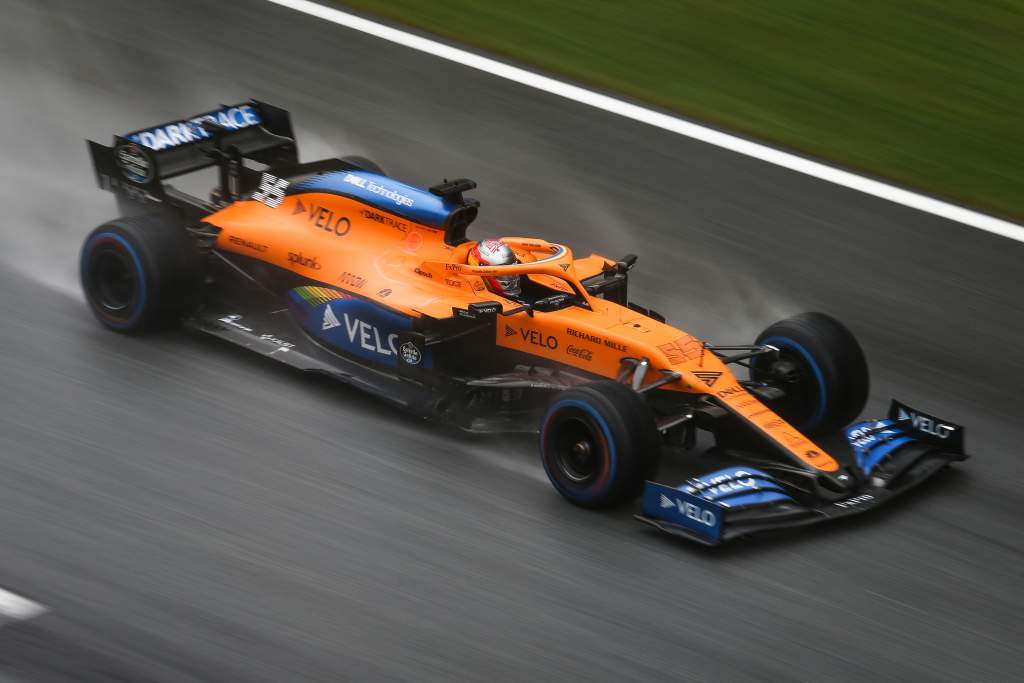 Sainz had been slightly unfortunate not to beat McLaren team-mate Lando Norris in the season opener in Austria last year.
While Norris's last-gasp charge to the podium won the headlines it shouldn't be forgotten that before those heroics he'd had a scruffy few corners and very nearly lost out to Sainz, only avoiding that by getting his elbows out.
Sainz was briefly and slightly aggrieved but it was the second Red Bull Ring race he really felt hard-done-by in.
A mega qualifying lap in awful conditions in the wet earned him third on the grid and he was tracking for a strong fifth place behind the two Mercedes and two Red Bulls until a slow pitstop dropped him into the pack.
He burned through his tyres and battery trying to recover, but couldn't.
This performance makes the list for what qualifying showed – that Sainz is capable of those special moments, rather than just being a steady performer – and the controlled race he was putting together before circumstances conspired against him.
OPPORTUNISM UNREWARDED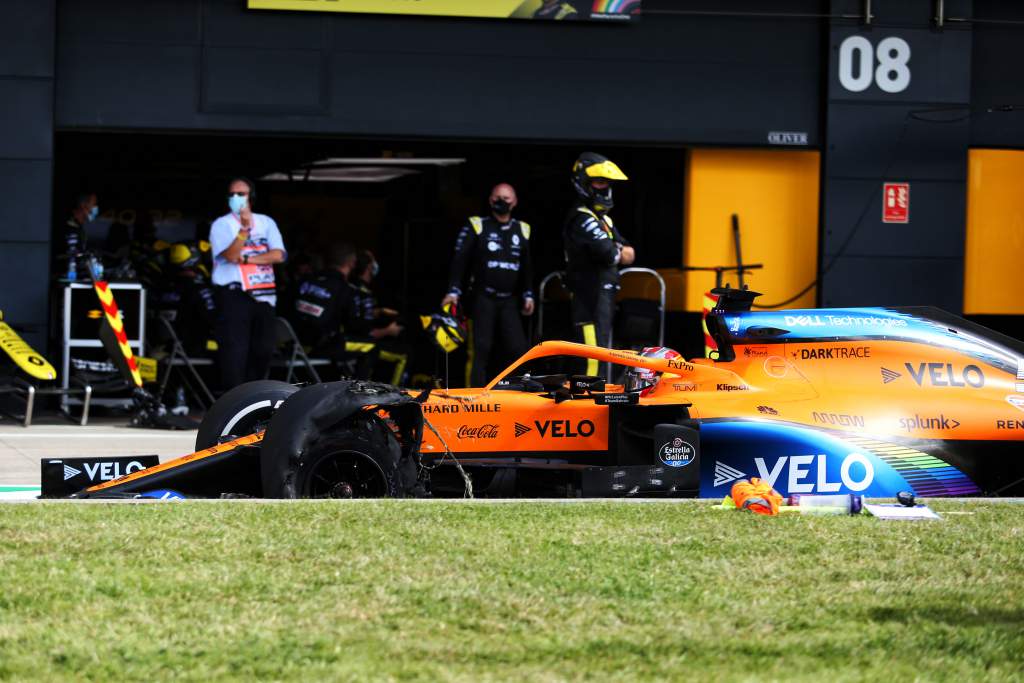 The heartbreak of Sainz's British GP last summer is well-known given he was one of the high-profile late tyre failure victims.
It cost him a hard-earned fifth place that typified the quality of his Sunday performances, especially in 2020.
Sainz didn't qualify superbly and started seventh, but he transformed his race in the space of two corners on the opening lap.
A nice move inside Lance Stroll into Brooklands was underrated given it came in a big queue of cars, but Sainz wasn't satisfied with that and pounced on team-mate Norris by sweeping round the outside of him at Luffield after Norris had locked up in the previous corner.
Sainz even had a run on Charles Leclerc exiting Luffield, such was the momentum he took through the corner, but had to settle in behind the Ferrari.
Thereafter Sainz withstood race-long pressure from Daniel Ricciardo and should have been rewarded for a very polished performance – but wasn't.
A NEAR-MISS AT MONZA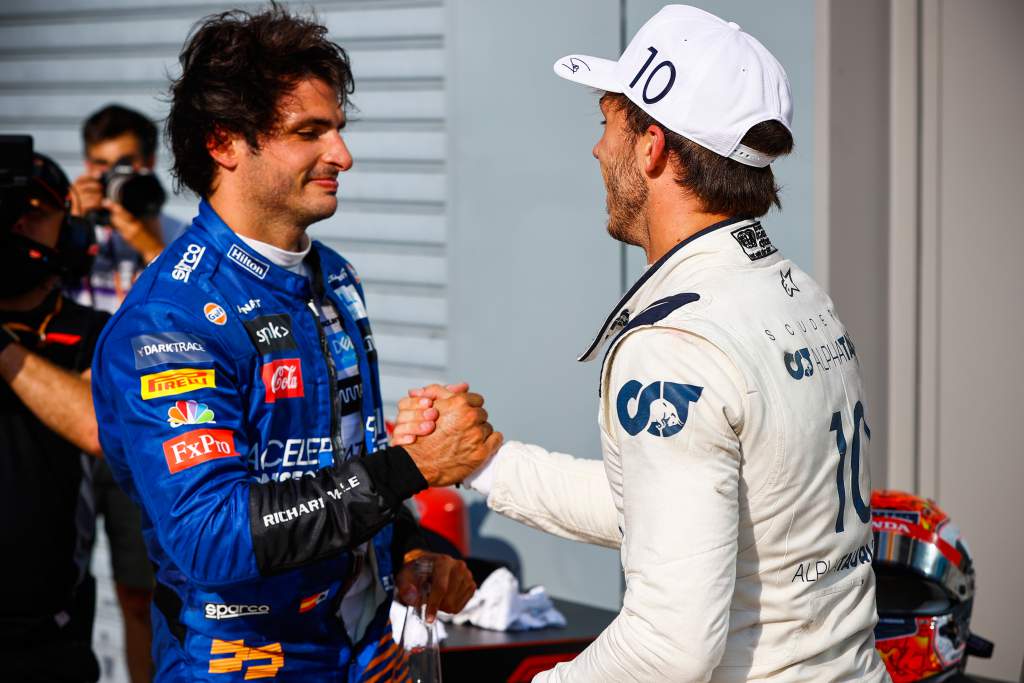 The Italian Grand Prix was arguably Sainz's best performance of 2020, perhaps even his F1 career.
Not because he only missed out on a win by half a second but because he would have been second without the race's unexpected variables anyway and would have won if others hadn't benefitted from those variables more.
Sainz settled into a controlled second place behind race leader Lewis Hamilton early on and looked under no threat from behind.
With regular podium finishers Verstappen and Valtteri Bottas unable to make progress within the gaggle of cars behind, this had all the makings of Sainz being the race's standout performer.
He was still one of the stars. But the timing of the safety car and subsequent red flag period lifted too many other cars ahead of him, which meant Hamilton serving a stop-go penalty was not the path to victory it should have been.
Sainz did very well to keep calm and make his way up to second, and pile the pressure on eventual race winner Pierre Gasly, to score a career-best finish.
And while it wasn't a victory it was the strongest evidence so far that Sainz is capable of performing at the very front. Silver linings.
PASSING BOTH MERCEDES TO LEAD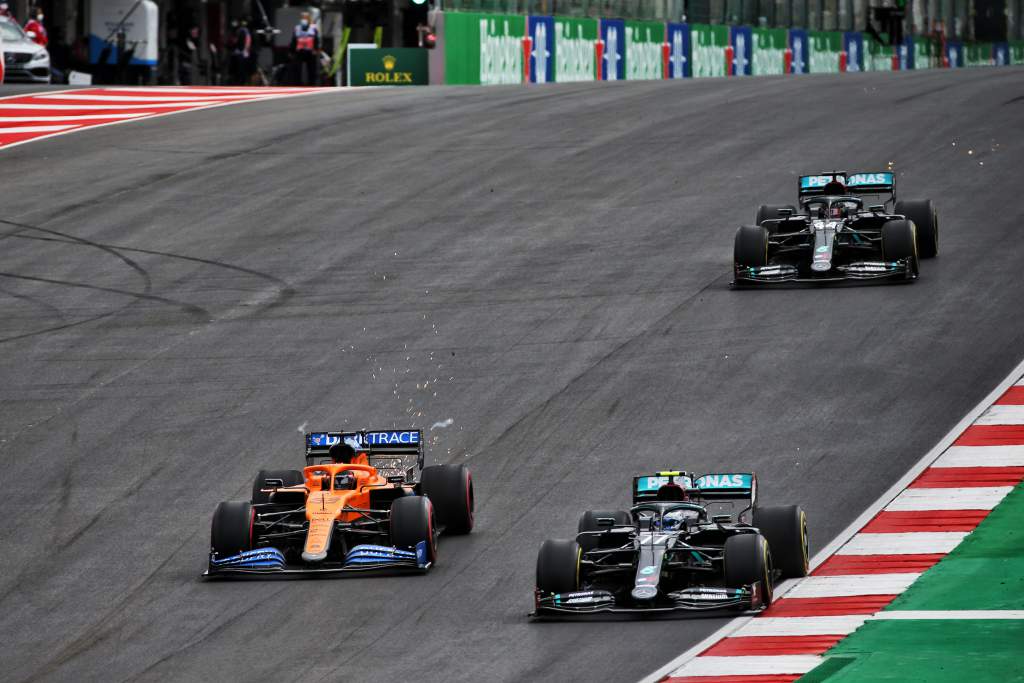 Drivers not in the best car can often only have fleeting moments in the spotlight. How they handle that opportunity, however brief, can say as much about their qualities as an entire grand prix.
That's what Sainz's opening couple of laps in the Portuguese Grand Prix did.
He'd skated wide at Turn 1 and inherited a place when Sergio Perez got hit into a spin by Verstappen, but then quickly passed the Red Bull on merit and made short work of both Mercedes drivers as they struggled on their medium tyres with a low-grip track and rain in the air.
It was a feisty, opportunistic display that launched him into a shock race lead, making great use of his McLaren's ability to generate tyre temperature quickly.
It's hard to say if that was too much, too soon and Sainz himself contributed to the graining that then hurt the middle part of his race.
But that was likely a secondary consequence of the car characteristic that facilitated his early charge.
Easy come, easy go? Maybe. But it's telling that Sainz used the positive aspect of that trait to such quality effect – then managed to recover from the negative part to still finish a fine sixth.
TWO DIFFERENT RECOVERIES THAT LOOK IDENTICAL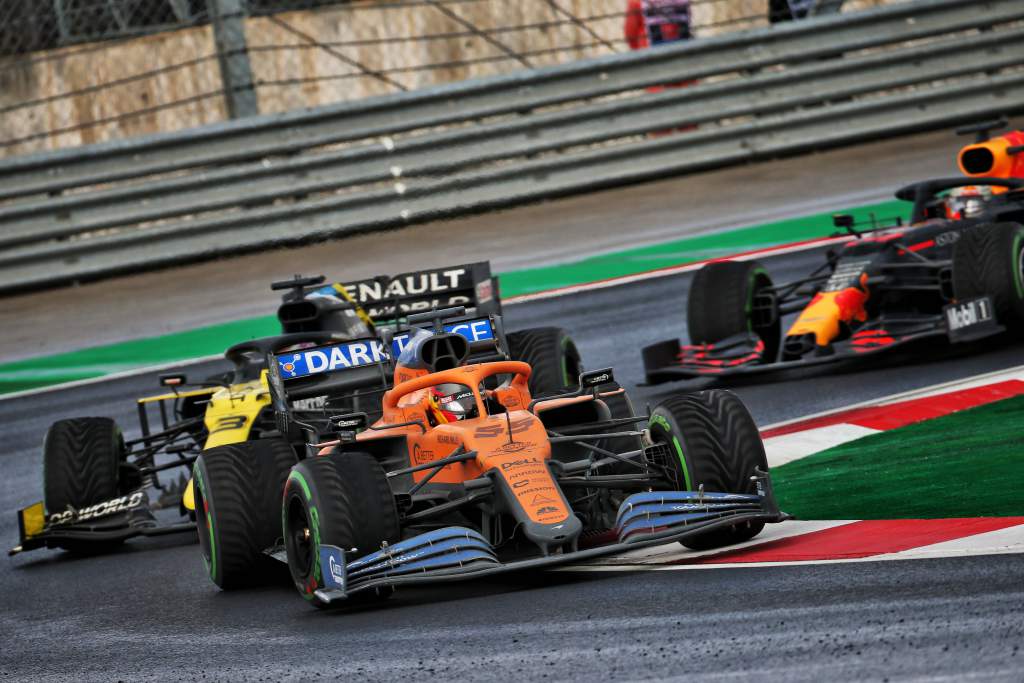 Two races in which Sainz started 15th and finished fifth brought together a lot of the qualities displayed in other grands prix in this list.
He never looked like getting 'stuck' in either race, made things happen when the opportunity arose, and had the speed and tyre management to take that to the very end of the grand prix.
For F1's bizarre Istanbul weekend, the McLarens were unexpectedly slow in the wet – despite the car's tendency to work the tyres well – and Sainz also copped a grid penalty for impeding in qualifying.
But he picked up six places on the chaotic opening lap and used that as a springboard to piece together a very effective drive, crucially avoiding overworking the tyres and managing to beat both Red Bulls in what he called one of the hardest races of his career. Finishing so close to the podium places was just reward for a very fine effort.
Sainz then cut a very frustrated figure after qualifying for the first of F1's two Sakhir races. A brake failure suffered in Q2 condemned him to a 15th-place start for the second grand prix in a row.
But he dusted himself down on race day and put together a brilliant first stint, getting into the points almost immediately, then up to seventh, and then clearing the two Renaults in the second stint.
OK, he needed Bottas and Perez to suffer a bit of bad luck to finish as high as fifth, but this was another very strong recovery drive.