With its spec chassis and entertaining format creating scintillating racing, it's no surprise IndyCar is on the up – or that it's always a destination that escaping Formula 1 drivers and personnel are linked with.
Red Bull's new recruit Sergio Perez, the IMSA SportsCar Championship-bound Kevin Magnussen and the recovering Romain Grosjean were all linked with a move into America's top-tier single-seater racing series in 2021 at different times in recent months.
But what is it really like moving from F1 to IndyCar? What are the challenges of adapting to life in and outside of the paddock, and does it motivate people who have been working at the highest level motorsport has to offer?
The Race, intent on finding out, sat down virtually with ex-Sauber and Alfa Romeo F1 driver turned Ganassi IndyCar racer Marcus Ericsson; Josef Newgarden's Team Penske engineer Gavin Ward, formerly of aerodynamic, electronic and race engineer roles at Red Bull; and 'me shoes', otherwise known as Lando Norris's former McLaren F1 race engineer Andrew Jarvis – who now works with the Arrow McLaren SP IndyCar programme.
The trio have all moved to the States within the last three years and offer different perspectives of what leaving F1 for IndyCar is really like.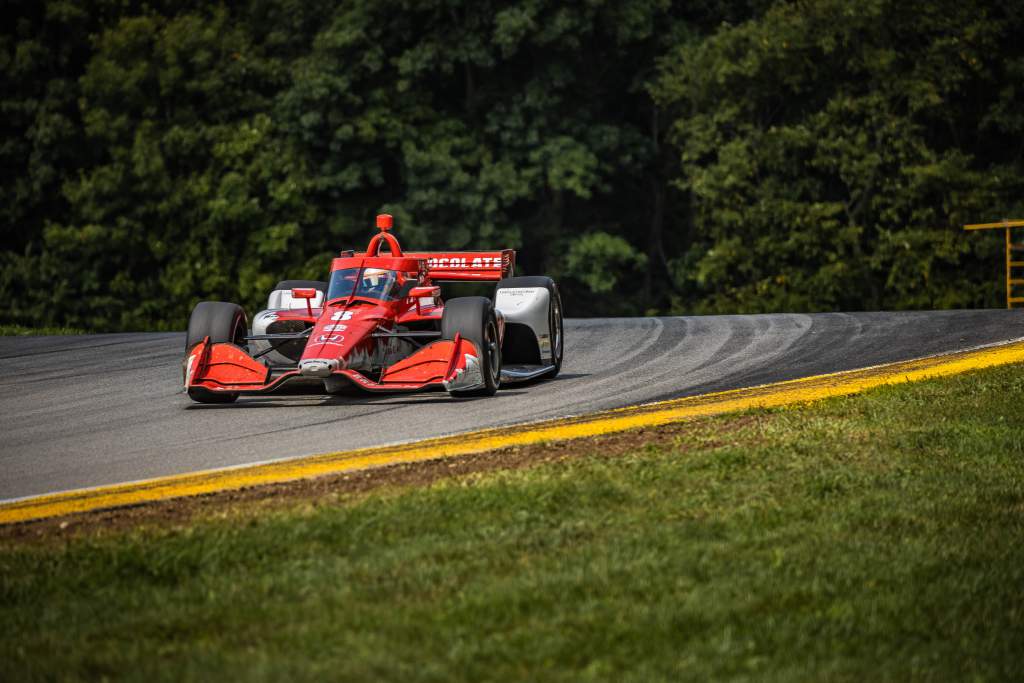 Ericsson moved to Schmidt Peterson Motorsport for the 2019 IndyCar season before joining Chip Ganassi Racing alongside eventual champion Scott Dixon the following year.
He's now renewed that deal for 2021 – after a season that showed a lot of promise but very little fortune.
When Alfa Romeo signed Kimi Raikkonen and Antonio Giovinazzi for the 2019 season it brought to an end to a five-year F1 career that never reached the potential Ericsson hoped it had.
However, with IndyCar offering a more even playing field than F1, the move has had a re-motivating effect on Ericsson because, for the first time since 2013, he can realistically win races. It's within his control, and this can be a really attractive proposition for exiting grand prix drivers who have been stuck in the midfield rigmarole of F1.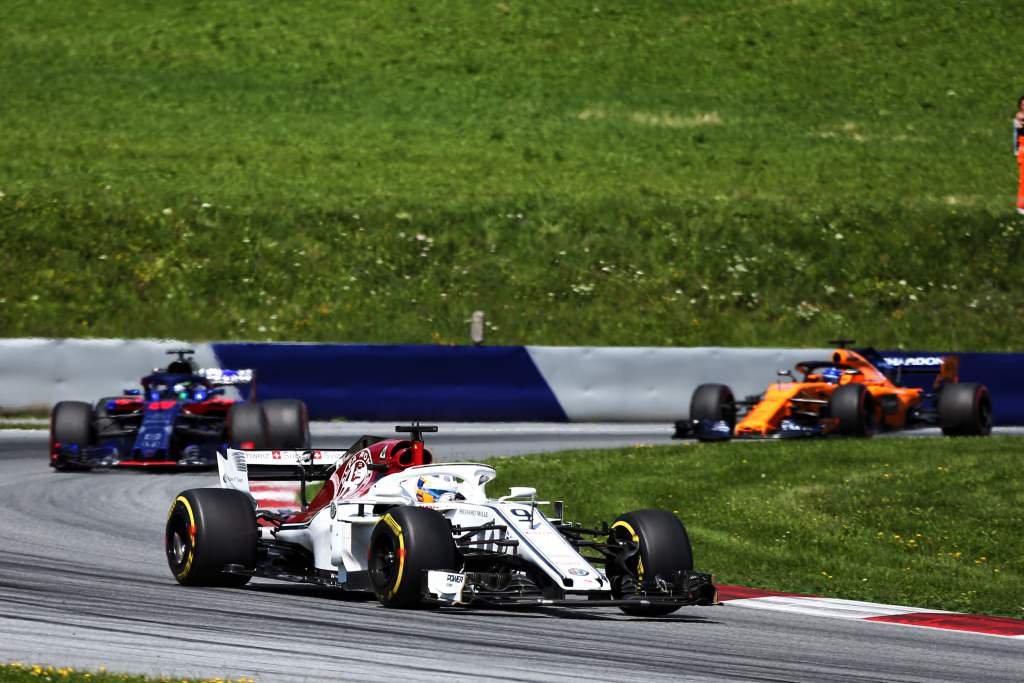 "You go through your junior career and every weekend your aim is winning, and you're used to winning, and then you reach your dream in Formula 1 and you realise you don't have that opportunity," Ericsson tells The Race.
"It's a bit of a tough one mentally to accept.
"But then obviously you have other goals when you're in smaller teams to score points and so on, but it's definitely something that I've found very exciting here in the States [the chance to win] and it's still something that drives me here now.
"I want to win my first race in IndyCar, I feel like I'm getting closer and closer to that first win.
"It's definitely fun to know that at the end of the day, we're all at this level. You have to have winning instincts to even get to this level of motorsport and to have the chance to win again, it's something that I've enjoyed a lot."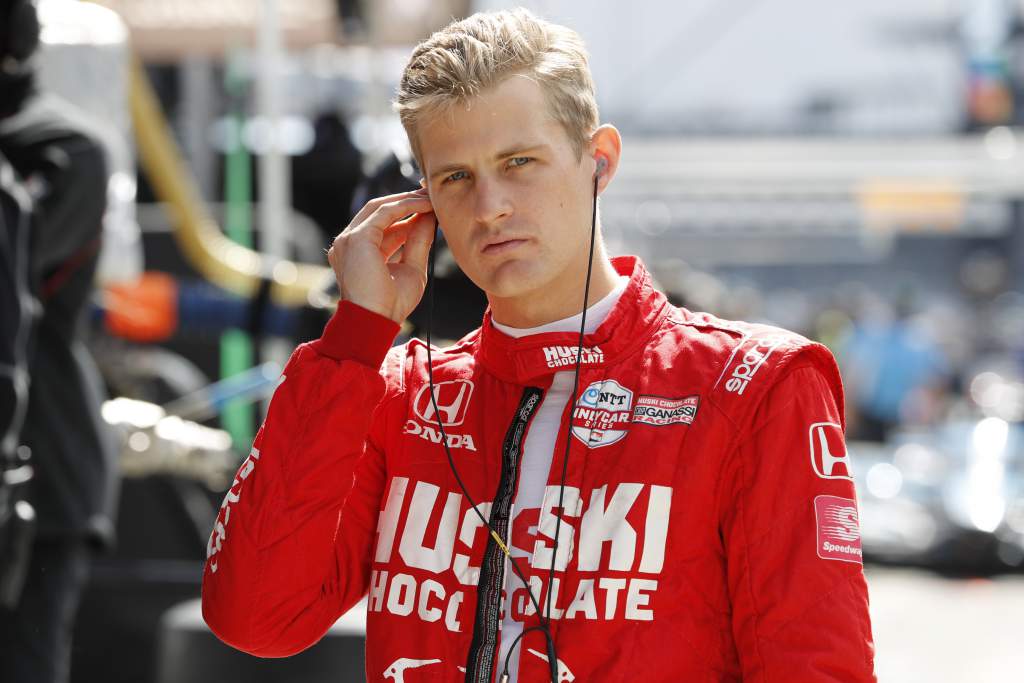 Ericsson says that the country is "pretty easy to get settled in" and that the people are "open and welcoming". But it's adapting to the series' challenges that has been the most difficult part for the Swede, and it's one of the reasons moving from F1 to Indy is so attractive.
Alright, the ultimate standard isn't going to be as high. The teams are a lot smaller in the States and that relative lack of people will have an impact on what's possible, and F1 has a slightly higher calibre of drivers overall. There's also less media demand, less pressure and more freedom.
But as Ericsson has shown, there's no guarantee you can walk into IndyCar and win immediately.
The cars have less downforce and are driven on a knife edge, which makes them fantastic to watch but difficult to control. Strategy in the race is imperative as you can do everything right and finish 15th because a caution came out at the wrong moment and spoiled your day. And unlike F1, the top teams can field four or five cars. Imagine the state of F1 if Mercedes fielded four full-time entries?
That means that, although in some ways IndyCar isn't and could never be on the level of F1, it still has incredibly difficult elements that make being a consistent contender extremely difficult.
So it's easier to win in IndyCar than it would be with an Alfa Romeo in F1, but not so easy that it means F1 drivers come in and dominate in the series. Ericsson being a case in point.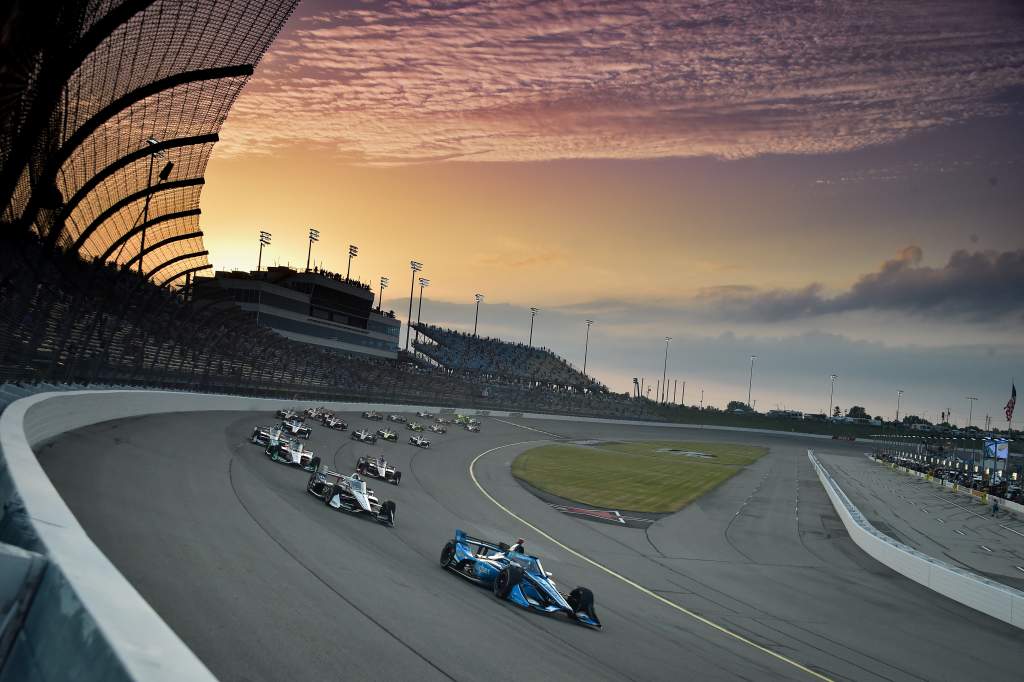 One big area drivers have to be willing to adapt to, not only on a driving level but a psychological level, is oval racing. It's relentlessly fast, mentally straining and at times, dangerous. It's somewhere Ericsson has felt immediately at home but for others coming from F1 it's not as simple. And not just for drivers.
Adapting to life in America may have been easier for Canadian Gavin Ward than for most who have spent their whole lives in Europe. Ward saw an advert for a university course at Oxford Brookes on the Arrows F1 team website, which instigated a move to the UK in the 2000s.
After a placement year he was already tapped up to work for Red Bull before finishing his degree, and he worked there for more than a decade before joining Penske in 2018.
Ovals were a big issue he needed to contend with straight away, having only worked on Formula Fords in Canada and watched his hero Greg Moore in CART on TV for experience before heading to the traditional circuits of F1.
It was a challenge Ward was ready for, having done everything from designing electronic systems and front wings for Red Bull – the latter while reporting to Adrian Newey himself – to working as a performance engineer with Mark Webber and Daniel Ricciardo.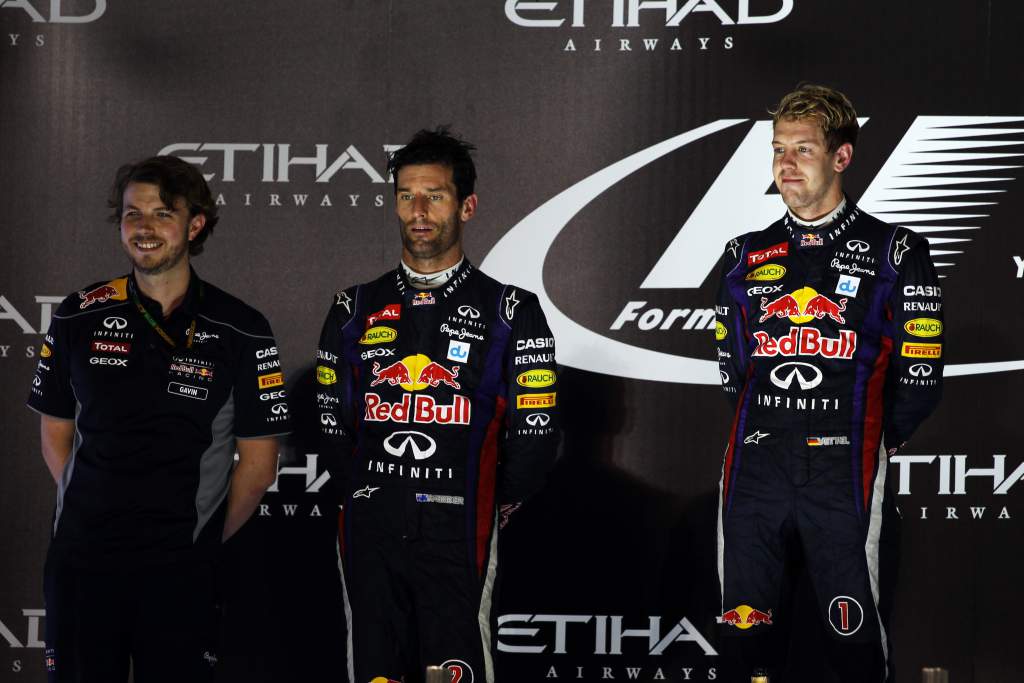 "The technical challenge of ovals I've always found fascinating, when you remove the constraint of the car needing to turn both ways – what you would do – it's always been really interesting," says Ward, who won the IndyCar title with Newgarden in his first full season as his engineer in 2019.
"But for sure I'd never done any oval racing before I came here, and I was lucky I had a year of shadowing underneath Josef's previous race engineer Brian Campe before I took the reins.
"So I got some exposure, but the first oval race event that I engineered an IndyCar for was the 2019 Indy 500!
"Going into the biggest oval race in the world as your first-ever oval was pretty daunting! It's definitely something [where] I had to learn a different terminology, ways to set cars up.
"Set-up stuff is still the same physics so you can still kind of figure it out, but you've just got different tools you can play with to manipulate things.
"But definitely like learning the effects like banking and all that sort of stuff, the nuances of the different tracks and how they're different, it's actually a lot more to it than maybe I thought."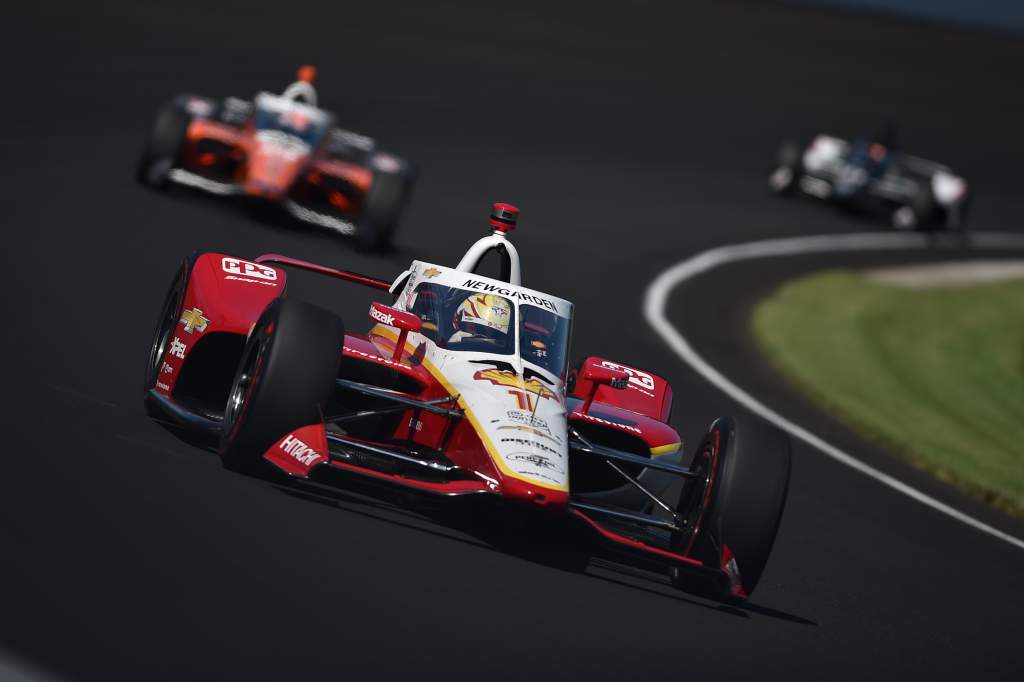 The oval element is something Jarvis has had to work on, too. His wife comes from America and they wanted to move to start a family on the West Coast, something which wouldn't have been possible with a 23-race F1 schedule with McLaren. IndyCar is around 16 or 17 races in a normal year, another attractive proposition compared to F1.
Luckily for Jarvis, McLaren was entering IndyCar with the rebranded Arrow McLaren SP team (formally Schmidt Peterson) and Gil de Ferran offered Jarvis a work-from-home role that meant he didn't have to live near the factory, enabling him and his family to be based in San Francisco. Not a bad outcome for Jarvis who made the move to the States official before even discussing any sort of IndyCar role with McLaren.
Jarvis has worked as a conduit for the team with its new-to-IndyCar structure which involves having a small team back at McLaren's Woking factory pick apart data and offer advice to the IndyCar team on the ground.
Therefore Jarvis has not only been learning about the complications of racing in IndyCar for himself, but for the McLaren team back at base new to the championship as well.
View this post on Instagram
"I didn't know what to expect, to be honest, like any of it," Jarvis recalls to The Race.
"I never worked in other motorsport formulas, I only ever went from university to Formula 1, so I didn't have an expectation of how different engineers and mechanics operate in different formulas.
"So I didn't really know what to expect.
"I think getting to IndyCar has definitely been a pleasant surprise, and particularly in that the engineers, mechanics are all working on the same things. It wasn't like I got there and they're all talking in a different language.
"Obviously Americans talk differently in terms of – the weirdest one was, they would always talk about the car being 'on top of the road'. I was like, what does that mean?! I've never heard that before.
"But at the end of the day we're all looking at the same stuff and the quality of engineers and mechanics are all up there.
"It's just one set of engineering mechanics that come through the American ranks and one set came through the European ranks.
"So it's quite similar, but there are things that we learn from each other. 100% that's part of the project: learning from them. And for the IndyCar team to try and learn from the F1 team as well."
Jarvis probably has it best in the fact that his team is most like a Formula 1 team, because it is the only IndyCar squad to have that F1 expertise working concurrently in the McLaren factory on race weekends just like it would for Norris and now Ricciardo at grands prix.
But even if that element is the same, the approach to the car is totally different. Sometimes F1 teams are bringing new parts to each race, meaning their performance needs to be correlated against the simulator in practice and then the engineer faces a race against time to adapt those parts in the set-up to please the driver.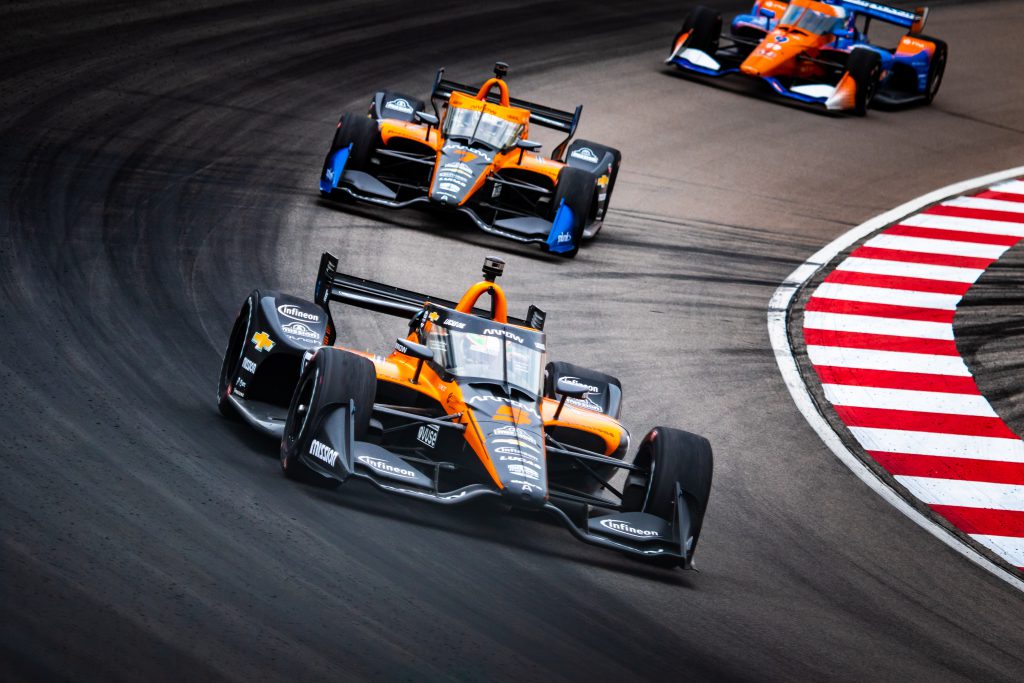 With a spec chassis, there's none of that in IndyCar as the car stays similar year on year. There's a bit of freedom with choice of parts but things are much less flexible round by round. The gains come in adapting to the conditions and maximising parts that you already know for a tiny difference that adds up to crucial gains.
"F1 is a constant development race between the teams – every year there's a new car, every weekend you're bringing new bits to the car," Jarvis adds.
"Part of practice is to try and figure out what those bits are doing, you're trying to learn as much as you can.
"IndyCar, you're still very much trying to learn about things there's still certainly change with aerodynamics and a lot you can change with the set-up.
"Particularly on the ovals, like Indy, you can get very slight variations in parts and that can affect things.
View this post on Instagram
"Indy is much more [about] the details of the set-up in a way because, like you say, they have developed [set-ups] over the years and you're kind of getting to the point where you think you've nailed it but then you get caught out by things and you've still got to make changes.
"So it's much more in the details of the set-up in IndyCar, whereas in F1, because you're always bolting new bits to the car, you bolt the new bits to the car – see if it works – and if it does, you try and rebalance around that. So they are quite different challenges."
Obviously the size of the team is a massive difference stemming from that. With all the R&D necessary in F1, the teams are broken up into sub-divisions and sometimes members of the team won't even know other people who work in the factory such is the scale and the disconnect.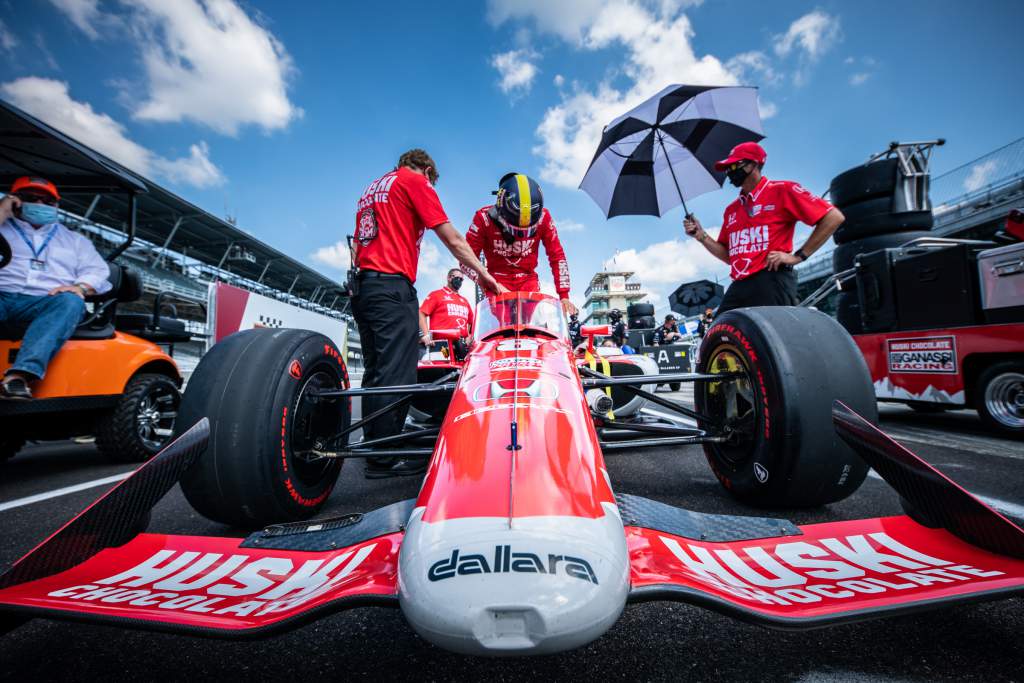 With smaller IndyCar teams, Ericsson feels he has found a positive in his new surroundings.
"In Formula 1 you have hundreds of people in every team, or even thousands, so it's a big difference," he says.
"In IndyCar teams here are a lot smaller, and you generally work with less people. You have your lead engineer and assistant engineer, and then some damper engineers and stuff like that, but it's not a lot more than that.
"Whereas in F1, in the debrief you have like experts of every area of the car and it's a lot more complex in that way.
"In some ways, it's nicer to have a smaller group of people, and you sort of bond more with them. And it's a bit easier, I would say, in that respect, compared to F1 when there's so many people involved, it's more difficult to sort of get a close relationship and understand each other."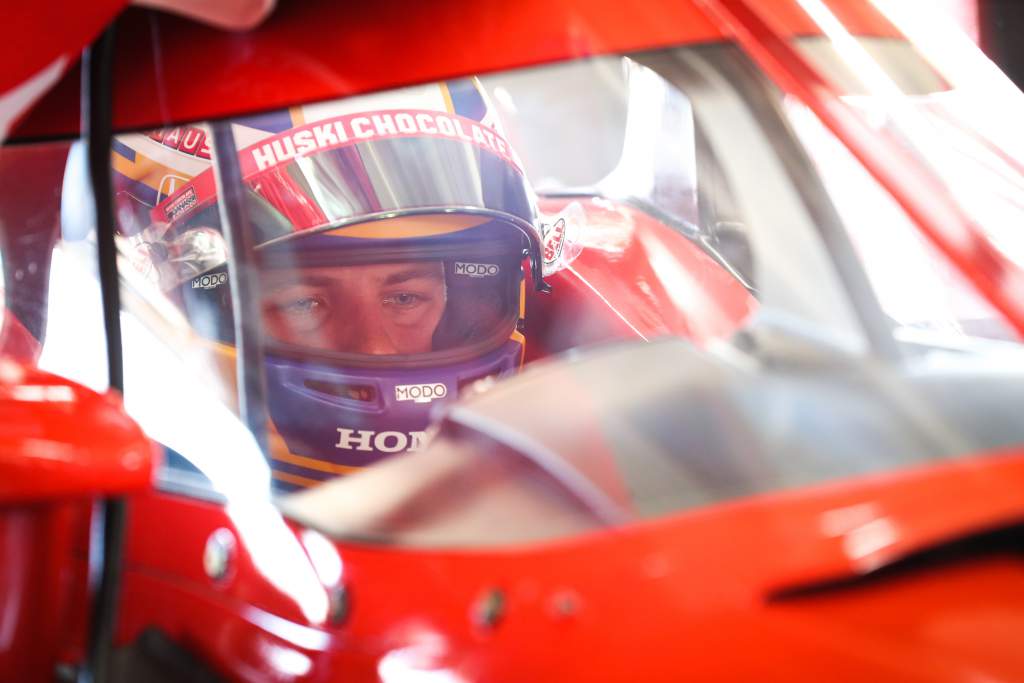 The IndyCar paddock is one of the most welcoming but if you think that coming from F1 automatically qualifies you for preferential treatment or guarantees instant success, you couldn't possibly be more wrong.
Ericsson – a very able F1 driver – has shown how hard it is to win in the series, as has Ward, who believes that he and Newgarden actually had faster cars in 2020 despite ultimately losing the title they'd won the previous year.
Jarvis and Ward have shown that being some of the brightest minds at the pinnacle of motorsport isn't enough alone to create the fastest IndyCar either. Of course, their experience and talent helps but it's not a golden ticket to success even though the cars are a spec-chassis.
Ericsson is fully focused on a first win, having finished 12th in the standings in 2020 in his first year at Ganassi.
Ward (below) has become almost obsessed with the Indy 500 as the main thing he and Newgarden are yet to win in IndyCar.
He's also desperate to win the Triple Crown as well, having won at Monaco in F1 with Red Bull – so a move to Le Mans for that and even an F1 return is not out of the equation for the uber-ambitious talent.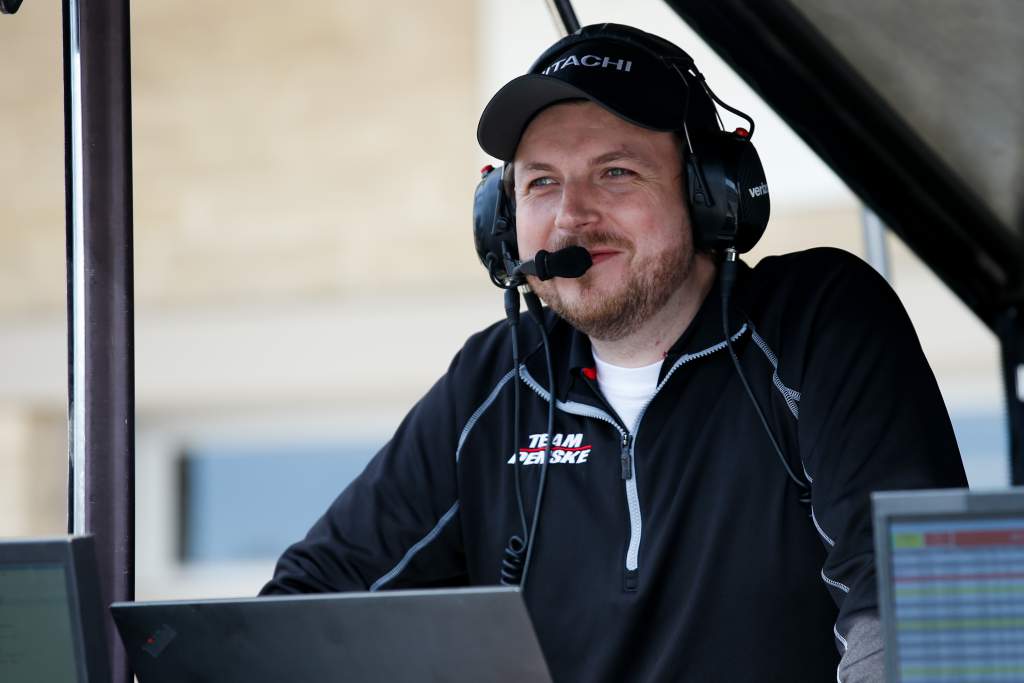 Jarvis will have a more defined role in an Arrow McLaren SP team that will look to take advantage of a second season of its new structure, meaning it has all the resources to step up and challenge the top three IndyCar teams in Andretti Autosport, Ganassi and Penske.
We purposefully chose this trio as three people for this feature as they all moved to IndyCar for different reasons. But all have settled well and happily recommend the move to others while asserting they would make the same switch again.
The challenge is great for anyone making the change, but with the right approach and motivation IndyCar is a tough but fair place to challenge for silverware after Formula 1.