When a Formula 1 season ends the final standings are the most obvious way to judge who did well and who didn't. Numbers don't usually lie, because things often have a way of balancing out over the year.
However, what the final figures will rarely reflect in isolation is the narrative of a season – and that leads to the reality of a driver's effort being overlooked.
Carlos Sainz Jr is the pre-eminent example of that from F1 2020.
Sixth in the championship represents an almost paradoxical championship finish for the McLaren driver. Given what he was forced to sacrifice during an often luckless-season, it's short of what he deserved. Given where he was with just a few races left in 2020, it's a fabulous result.
In a kinder year, Sainz may well have finished fourth by a comfortable margin. It was only a colossally effective final seven races that salvaged his season, one that was otherwise being undermined by a series of setbacks almost entirely out of his control.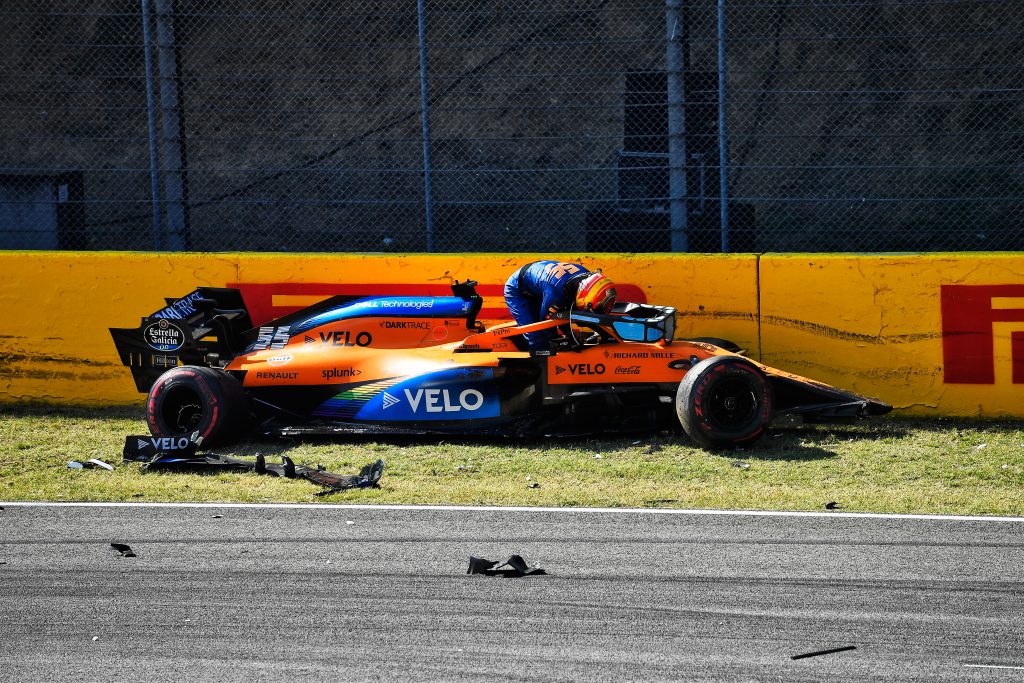 "Yeah, first of all, thanks for noticing!" Sainz says when that's put to him by The Race towards the end of the 2020 season.
"Because in such a long season, sometimes towards the end you just look at the standings and you see who's had a good year, who's had a bad year and you base – or at least I do sometimes base myself – too much on the points.
"But actually, when you look at the details, what happened in every single race, I felt I've actually had a very strong season, and I feel like I'm driving well, and driving even better than in 2019."
Across the opening 10 races of the 2020 season, Sainz dropped more points (51 by even our most conservative count) than he scored (40). Even if we discount the potential sixth place finish he cost himself with his foolish Russian Grand Prix error – slamming into the wall after misjudging his approach to the bollard-chicane in the controversial Turn 2 run-off on the opening lap – you can easily identify 43 points that went begging in just nine grands prix through factors outside of Sainz's control.
---
Styrian Grand Prix
Started: 3rd
Finished: 9th
What happened? Sainz ran fifth through the opening stint but a slow pitstop dropped him into the pack, after which he burned through his tyres and his battery trying to recover. A likely eight points lost.
HUNGARIAN GRAND PRIX
Started: 9th
Finished: 9th
What happened? Sainz never had chance to capitalise on a strong start, which would have put him in the P6-P8 fight, as he lost out in the early flurry of pitstops because a busy pitlane meant he had to be held in his box, costing him track position. Two points, maybe as many as six, lost.
BRITISH GRAND PRIX
Started: 7th
Finished: 13th
What happened? A late Valtteri Bottas puncture should have elevated Sainz to a hard-earned fourth place, but Sainz had his own last-gasp tyre failure that dropped him out of the points entirely. We'll eliminate both those tyre problems (as they were identical) and say this was 10 points lost.
70th ANNIVERSARY GRAND PRIX
Started: 12th
Finished: 13th
What happened? Sainz had a disappointing qualifying session, struggling with an undiagnosed cooling problem prompting McLaren to run compromised bodywork, but was piecing together a good, long first stint and was tracking to finish ahead of eventual seventh and eighth place drivers Nico Hulkenberg and Esteban Ocon before another slow pitstop undid his hard work and dropped him into the pack yet again. A probable six points lost.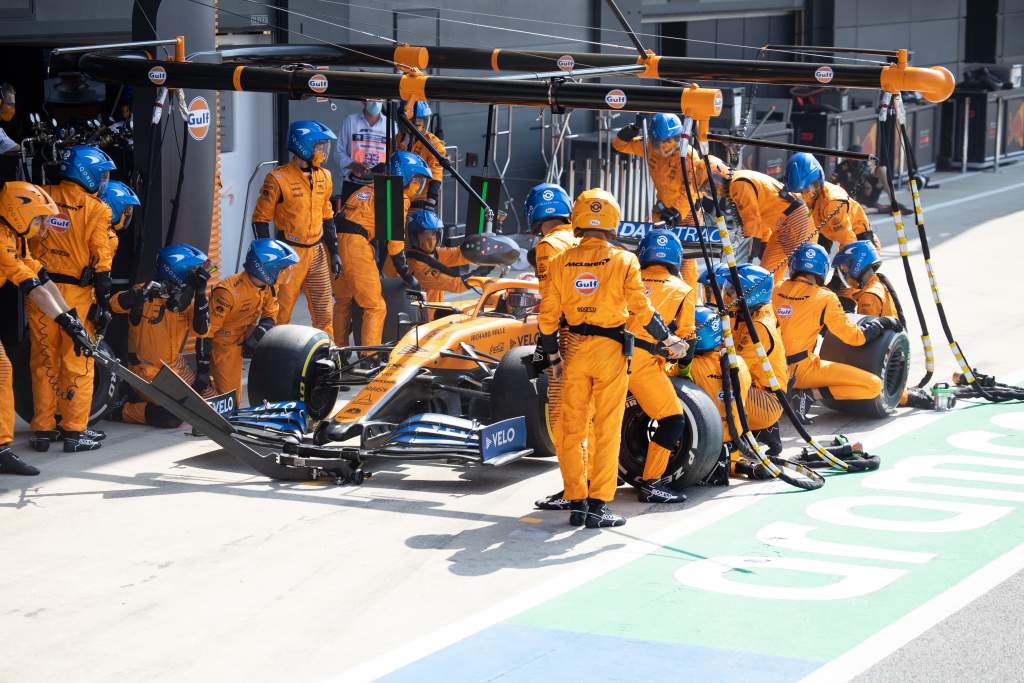 ---
Sainz points to the two big setbacks in the Styrian and British GPs as setting the tone for his season.
"That's already 20, 22 points gone and those races would have put me starting the year immediately in a much better position and in the fight," says Sainz. "And not having to play catch-up the rest of the year.
"It's been a weird season, difficult to get momentum going. But if you just analyse weekend by weekend I think I've been driving well and especially from race five onwards I think quicker in quali.
"I think the first three races I struggled a bit to understand this 2020 car, compared to the 2019 car, and then I changed a few things and I started to pick up the pace also in quali and that helped my Sundays."
But Sainz raising his game was futile while fate remained firmly against him.
---
BELGIAN GRAND PRIX
Started: 7th
Finished: DNS
What happened? Another race at Spa, another non-score. And in this case, a non-start. Sainz's grand prix ended on a reconnaissance lap to the grid after a power unit problem originating in the ignition triggered an exhaust failure. He should have started seventh and reckoned that was the lowest he'd have finished, too. Six points, at least, lost.
ITALIAN GRAND PRIX
Started: 3rd
Finished: 2nd
What happened? This one still stings for Sainz even though it was a career-best finish. Sainz was a comfortable second-best behind early race leader Lewis Hamilton and should have been in position to profit from the Mercedes' penalty. But a safety car/red flag combination boosted a few midfield rivals, which meant instead of inheriting a maiden win Sainz had to fight back to second. And scored seven fewer points than he should have.
TUSCAN GRAND PRIX
Started: 9th
Finished: DNF
What happened? Desperately unlucky twice in one grand prix, Sainz was spun out of sixth place on the opening lap due to contact with Lance Stroll. That cost him a top-six finish but he should still have climbed back into the points – if he wasn't one of many victims of the startline pile-up at the first safety car restart. So, depending on how much misfortune he misses out on, this DNF was worth anywhere from two to eight points.
RUSSIAN GRAND PRIX
Started: 6th
Finished: DNF
What happened? Included in this list as it capped a largely luckless 10-race run that left him just 11th in the standings – but different from the others in that this was entirely self-inflicted. After diving for the bollard-marked chicane in the controversial Turn 2 run-off, Sainz misjudged his approach completely and crunched into the wall, ending his race on the spot and costing him a probable eight points.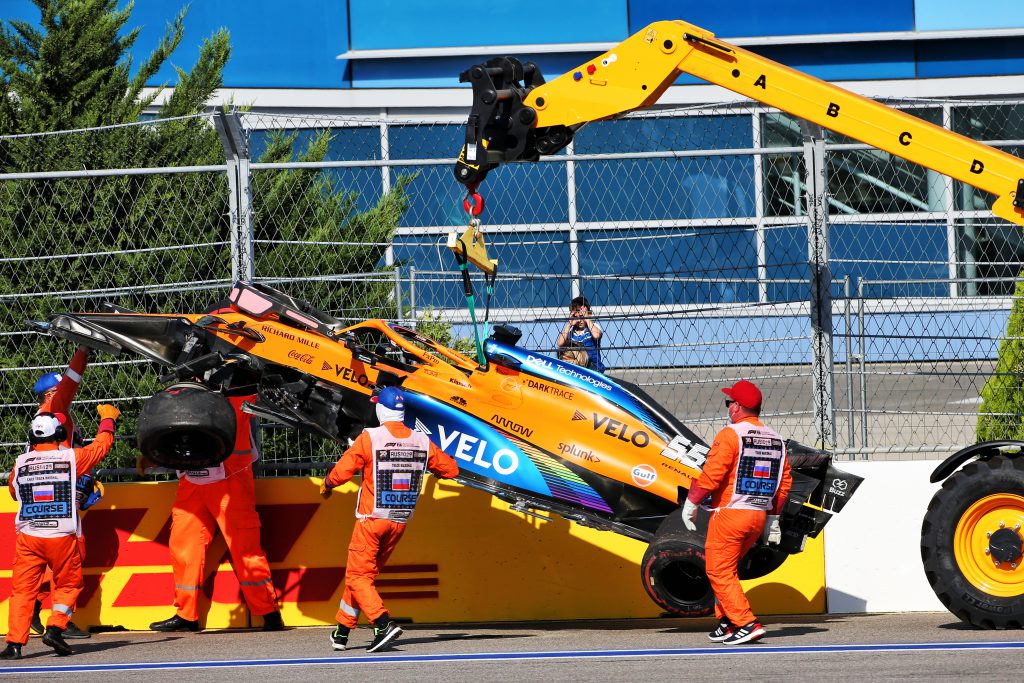 ---
"Probably the most frustrating bit was that run of [three in four] races where at Spa I qualified P7 and didn't even get to start the race, in Mugello, I was sixth around Turn 2, spun and then had the crash with the safety car, and then my big mistake in Russia," says Sainz.
"So those were three almost-consecutive zeros there in the middle of the season when I was wanting to get a bit of momentum.
"Those really held me back."
It meant he was meandering towards a very middling season, lying 11th in the championship after 10 races.
TOP 12 AFTER 10 RACES IN 2020
| | | | |
| --- | --- | --- | --- |
| Pos. | Driver | Team | Points |
| 1 | Lewis Hamilton | Mercedes | 205 |
| 2 | Valtteri Bottas | Mercedes | 161 |
| 3 | Max Verstappen | Red Bull | 128 |
| 4 | Lando Norris | McLaren | 65 |
| 5 | Alex Albon | Red Bull | 64 |
| 6 | Daniel Ricciardo | Renault | 63 |
| 7 | Charles Leclerc | Ferrari | 57 |
| 8 | Lance Stroll | Racing Point | 57 |
| 9 | Sergio Perez | Racing Point | 56 |
| 10 | Pierre Gasly | AlphaTauri | 45 |
| 11 | Carlos Sainz Jr | McLaren | 41 |
| 12 | Esteban Ocon | Renault | 36 |
Sainz had averaged just 4.1 points per race, even with his tally inflated by that second place at Monza. If he'd picked up the points we've outlined above, his score would have more than doubled.
Fortunately for Sainz, his year hit its rock-bottom in Russia. He was in the points in each of the remaining seven grands prix and never finished lower than seventh. The turnaround was so monumental that the two halves of his season are almost laughably juxtaposed.
Sainz's return from the run-in was spectacular. He scored 64 points over the final seven grands prix, returning 9.1 points per race on average – almost exactly what the first 10 races of the year should have produced.
POINTS FROM LAST SEVEN RACES
| | | | |
| --- | --- | --- | --- |
| Pos. | Driver | Team | Points |
| 1 | Lewis Hamilton | Mercedes | 142 |
| 2 | Max Verstappen | Red Bull | 86 |
| 3 | Sergio Perez | Racing Point | 69 |
| 4 | Carlos Sainz Jr | McLaren | 64 |
| 5 | Valtteri Bottas | Mercedes | 62 |
| 6 | Daniel Ricciardo | Renault | 56 |
What makes that even more remarkable is that, based on raw performance, McLaren's brightest spell had ended. Racing Point had established itself as the third-fastest team, Renault had built strong momentum and Ferrari was showing impressive peaks as it piled on development parts.
Across the first 10 races, when his luck was at its lowest, Sainz's average grid position was 7.1. Across the final seven, it was just 10.1. This is skewed slightly by 15th-place starts in Turkey (bizarre conditions and a three-place grid penalty) and Bahrain (where a brake failure eliminated Sainz in Q2), races in which Sainz charged to fifth. But the underlying point remains: McLaren slipped back a bit on Saturday as its rivals came to the fore.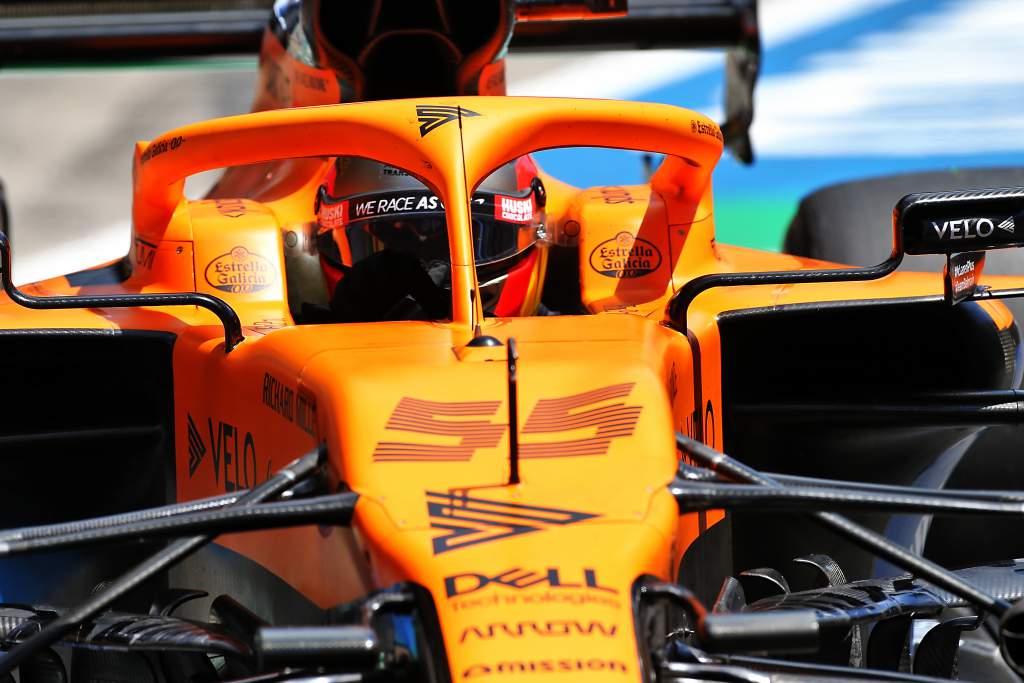 It's a testament to Sainz's quality and his mental resolve that he did not let the first part of the year blunt his McLaren farewell entirely, and that he was able to realise the potential of his missed opportunities even when circumstances arguably became tougher. It also shows Sainz didn't need the fastest car to execute excellent race drives, a trait that has made him such a formidable opponent in F1's ultra-tight midfield.
Grabbing sixth place in the championship at the very end, beating a Red Bull no less (on countback, but it still stands), was the minimum Sainz deserved. It matched his 2019 result with McLaren and at least polished up a campaign that had been dragged through mud far too often. And without that epic run-in, McLaren would not have grabbed third in the constructors' championship either.
FINAL CHAMPIONSHIP STANDINGS
| | | | |
| --- | --- | --- | --- |
| Pos. | Driver | Team | Points |
| 1 | Lewis Hamilton | Mercedes | 247 |
| 2 | Valtteri Bottas | Mercedes | 223 |
| 3 | Max Verstappen | Red Bull | 214 |
| 4 | Sergio Perez | Racing Point | 125 |
| 5 | Daniel Ricciardo | Renault | 119 |
| 6 | Carlos Sainz Jr | McLaren | 105 |
| 7 | Alex Albon | Red Bull | 105 |
| 8 | Charles Leclerc | Ferrari | 98 |
| 9 | Lando Norris | McLaren | 97 |
| 10 | Pierre Gasly | AlphaTauri | 75 |
| 11 | Lance Stroll | Racing Point | 75 |
| 12 | Esteban Ocon | Renault | 62 |
"The season just doesn't look as spectacular or as good as 2019 but I actually feel like in 2020 I've had a better season," he says.
"I think if you take out my mistake in Russia, which was clearly my mistake and a thing that I'm going to try [to make sure] doesn't repeat itself again, then the rest of the races, I was most of the time inside the points whenever something happened and I've had a few top-seven, top-six finishes.
"So I'm happy with my driving, happy with the season. It's obviously mentally tough to look back and see that with maybe a bit more luck and with things going in the right direction this year I could be fighting for P4 in the drivers' championship."
But he admits that prospect is "amazing" in itself, given it was well beyond McLaren's expectations for 2020 back in February in (the first, pre-coronavirus) pre-season.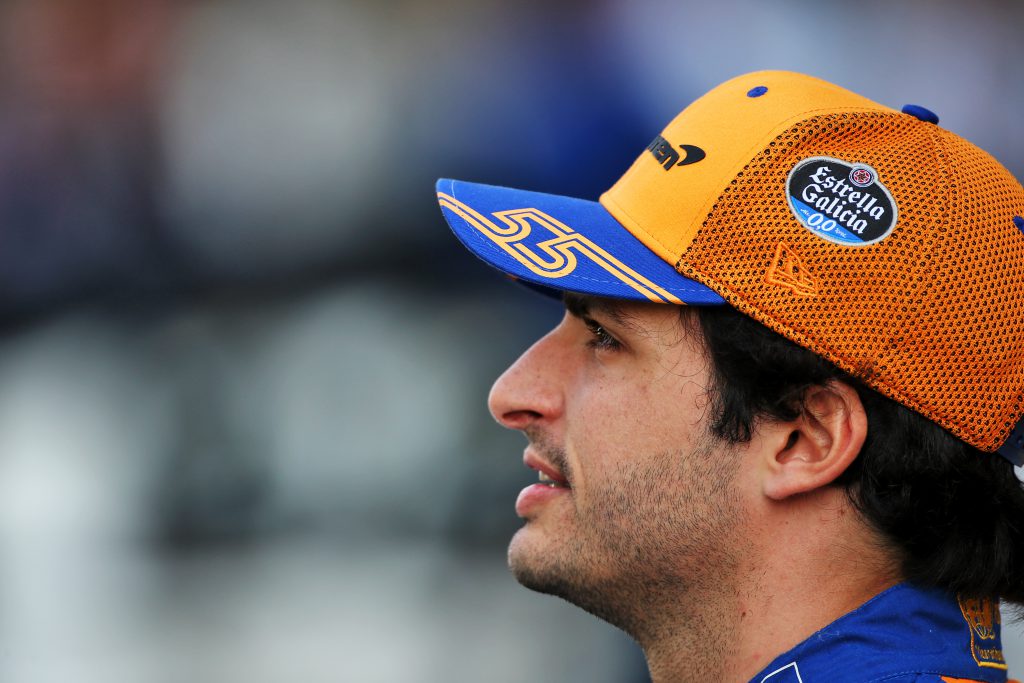 Therein lies the paradoxical nature of Sainz's season: great but frustrating, above expectations but below what was deserved.
Finishing sixth is still nothing to be sniffed at, and marks Sainz out as one of the year's top performers. So the numbers don't lie. But on their own, they also don't quite do a gritty, persistent, high-class campaign total justice.