What might prove to be Daniil Kvyat's last qualifying lap in Formula 1 could also have been his finest, with the AlphaTauri driver telling Sky Sports F1 straight after qualifying that it was "probably the best F1 lap I did".
Kvyat qualified seventh at the Abu Dhabi Grand Prix, 0.717s off pole position and two places – and 0.279s – clear of team-mate Pierre Gasly.
"I don't go to sleep making a ranking of my best qualifying laps, but certainly it's one of them" :: Daniil Kvyat
It's only the fourth time Kvyat has outqualified Gasly this season, although it rounds off a strong end to the year for him having also been the faster AlphaTauri driver at last weekend's Sakhir GP.
It all appears to be too little, too late to save his drive – with Formula 2 ace Yuki Tsunoda set to be confirmed in that seat for next year – but Kvyat is determined to sign off from F1 on a high with a view to a return in 2022.
While it's not unusual for drivers to make bold claims about the quality of their qualifying laps, Kvyat was genuinely delighted with his Q3 effort, which came on his only run with fresh softs in the top 10 shootout.
When he was told he was seventh in a radio message accompanied by applause, he pumped his fist in celebration. He was so happy with it that he started shaking his first – first the left and then the right depending on the steering requirements at the time – to celebrate again later in the lap while saying "I enjoyed that so much".
Asked later if he really believed that was his best F1 qualifying lap, Kvyat replied: "Perhaps, yes – it is certainly one of the best ever.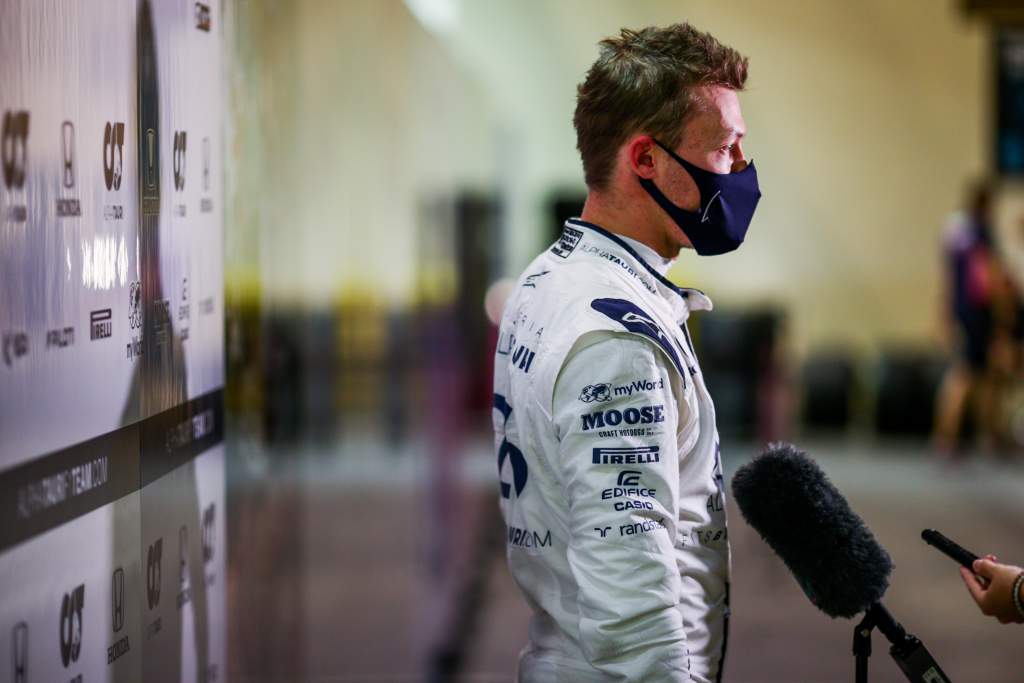 "I don't go to sleep making a ranking of my best qualifying laps, but certainly it's one of them and I'm very happy that it came today.
"It was very clean, very strong.
"We understood a few more things about the car with my side of the garage. The car was working exactly how I like it.
"This wasn't easy, a very clean and challenging lap, a lot of moments were very on the edge but I really enjoyed it."
A look at the onboard footage of his lap backs Kvyat up.
He's visibly confident on turn-in and able to carry good speed through the corners with a minimum of adjustments.
He was a little scruffy on the brief run out of the Turn 5/6 chicane as he pulled the car to the right for the hairpin, but this is often an untidy part of the lap given the need to get the car repositioned.
Last year in Abu Dhabi (pictured below), he was much more constrained by the loose rear end of the car than team-mate Gasly, but this time he looked genuinely at one with the car.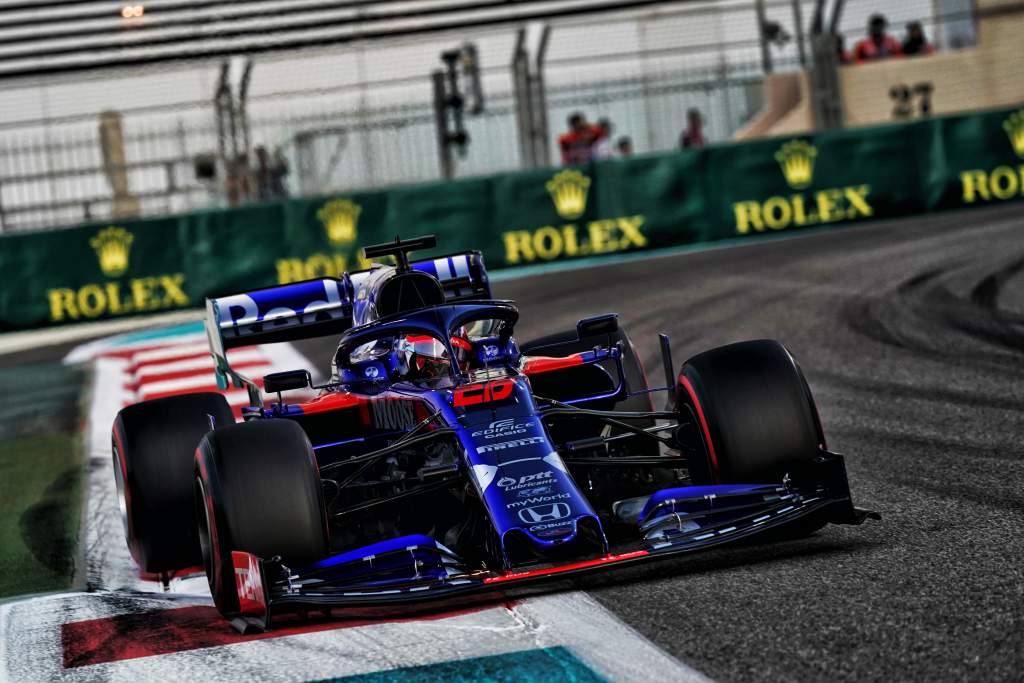 Perhaps most impressive was the speed he carried into the fifth-gear Turn 20 right-hander at a point where the rear tyres will have been at their hottest – although grip levels will have been helped by the fact he largely mitigated the wheelspin in the twisty last sector.
Much of his advantage over Gasly – 0.184s of the 0.279s – was in the final sector, indicating that not only was Kvyat confident with the car but he was also in control of the all-important rear tyre temperatures. That's probably the biggest challenge at the Yas Marina circuit.
"When I feel the taste of blood and a little bit of a better position, I always tend to perform better" :: Daniil Kvyat
"Abu Dhabi is a very tricky circuit for that," said Kvyat when asked by The Race about his final-sector pace.
"Of course, sector one and two are important, but it's not really where you can lose or gain a lot of lap time – that's sector three.
"It can take you many years to really figure it out and only now, more or less, I really clicked with this track.
"It's the longest sector with the most corners and that's where you make most of the lap time."
Kvyat was confident with the progress made with the car through the weekend and admitted that "when I feel the taste of blood and a little bit of a better position, I always tend to perform better".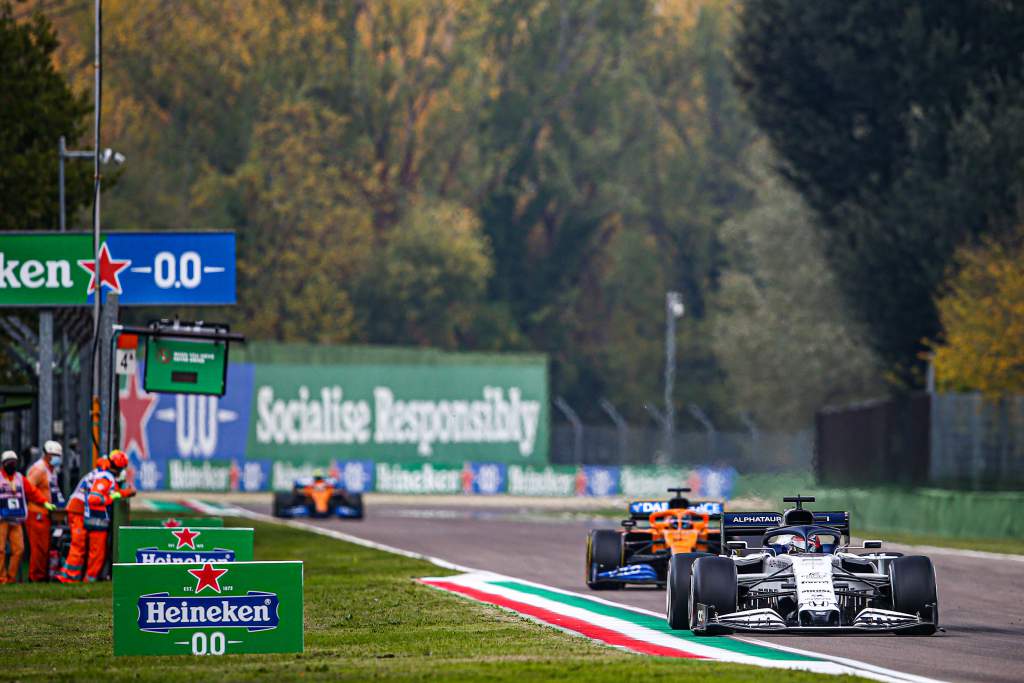 This is part of an ongoing process which has peaked with his best performances of 2020 late in the season – notably finishing fourth at Imola after passing three cars following the late-race safety car restart then what he called his best all-round weekend in the Sakhir GP.
If the race goes as hoped – and having to start on softs due to the effort required to get through Q2 might compromise it – Abu Dhabi might yet become his best weekend of the year.
Much of this improvement lies with the feel of the steering, which has boosted his confidence since progress started to be made at Spa.
This was not simply about a change of set-up philosophy, but required changes to be made to the power steering system. The team worked to improve the weighting of the Red Bull-supplied system to suit Kvyat, which worked well.
There have also been slight tweaks to the suspension geometry for him, with the resulting rebalancing giving Kvyat a car he has grown happier with as the season has progressed.
Always a driver who struggles if the rear end is not stable mid-corner, he is now able to commit to the corner and carry the speed through the apex thanks to having the sensitivity he has been asking for.
The steering and suspension change came earlier in the season, the aerodynamic refinement followed and the ongoing improvement is simply about him becoming more and more at one with the car and improvements in the way he works with his side of the garage.
"Very early in the year, the first two, three races, we didn't get the car quite to his liking and we made some mechanical changes on the steering," said technical director Jody Egginton. "Then we got that into play and he's been chipping away at it.
"The last three or four events probably stand out as strong performances but he probably has been building up to it.
"But there's nothing specific that, late-season, has got him more comfortable.
"He works with his engineers on the set-ups and they are refining what they are doing but there's been no single eureka moment. It's just progress and it's come good."
Gasly, by contrast, enjoys a more lively rear end and has been more constrained by understeer recently.
This perhaps explains the closing of the gap in performance, even though Gasly has clearly been the stronger driver over the season as a whole as the qualifying battle and the points difference – 71 to 32 in his favour – proves.
When The Race put it to him that earlier in the season he looked more limited on corner entry and couldn't attack as he hoped, Kvyat replied: "yeah, correct".
He continued: "Without a good feeling with the car on brakes or on steering, you can't do it because you don't trust it and it can result in the costly mistake.
"Now, I have this confidence thanks to the better feeling from the entry until let's say the end of the corner.
"It's the feeling I like and also the car is able to take what I asked from it in the corner entries."
This was evident in his qualifying laps, particularly the final one in Q3. There was no hint of a lack of confidence on turn in and mid-corner, the adjustments were minor – as you would expect for a lap on the limit in qualifying.
While Kvyat's F1 future is now up in the air and he has admitted that he's not expecting to be on the grid next year, he has said he is determined to find a way back in 2022.
His progress as a driver has perhaps not been as significant as hoped since an impressive debut campaign in 2014, but this qualifying performance is a reminder of the ability that is there and has been unleashed only sporadically.
The setback of his early promotion to Red Bull in 2015 followed by his sudden demotion back to what was then called Toro Rosso after four races in 2016 (pictured below) hasn't helped and it took him a long time to recover from it.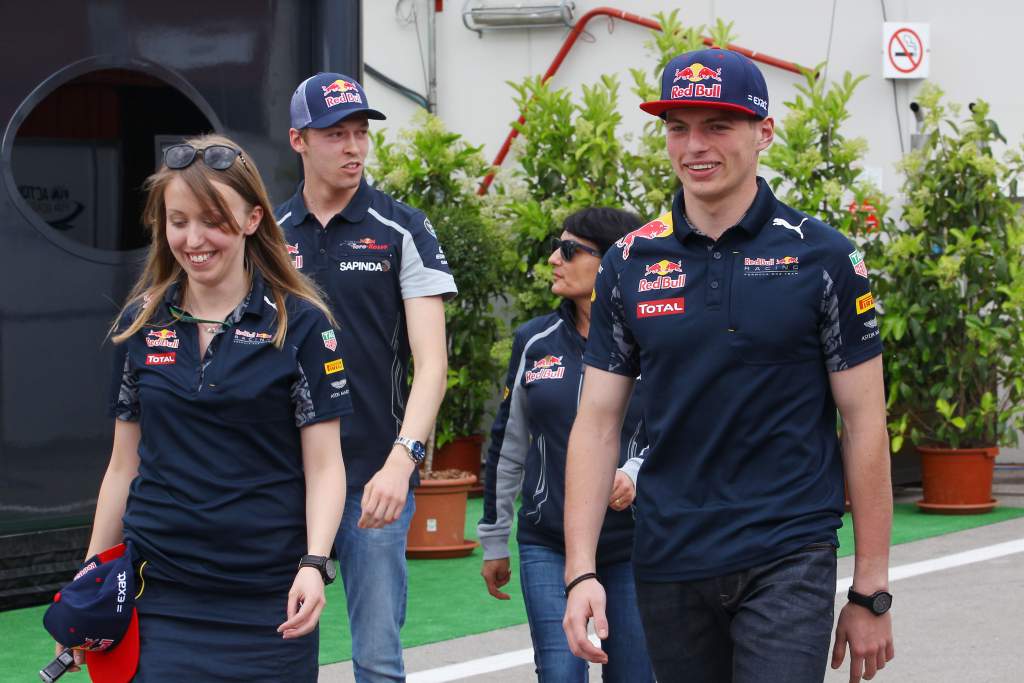 On his return last year, he stacked up well against Alex Albon but it's fair to say he has clearly been outperformed by Gasly.
But this late season run of form shows what he's capable of when things are right – even if it also exposes that perhaps he didn't have a wide enough operating window to get the best from himself consistently.
So if this was one of his best laps, what else stands out for Kvyat?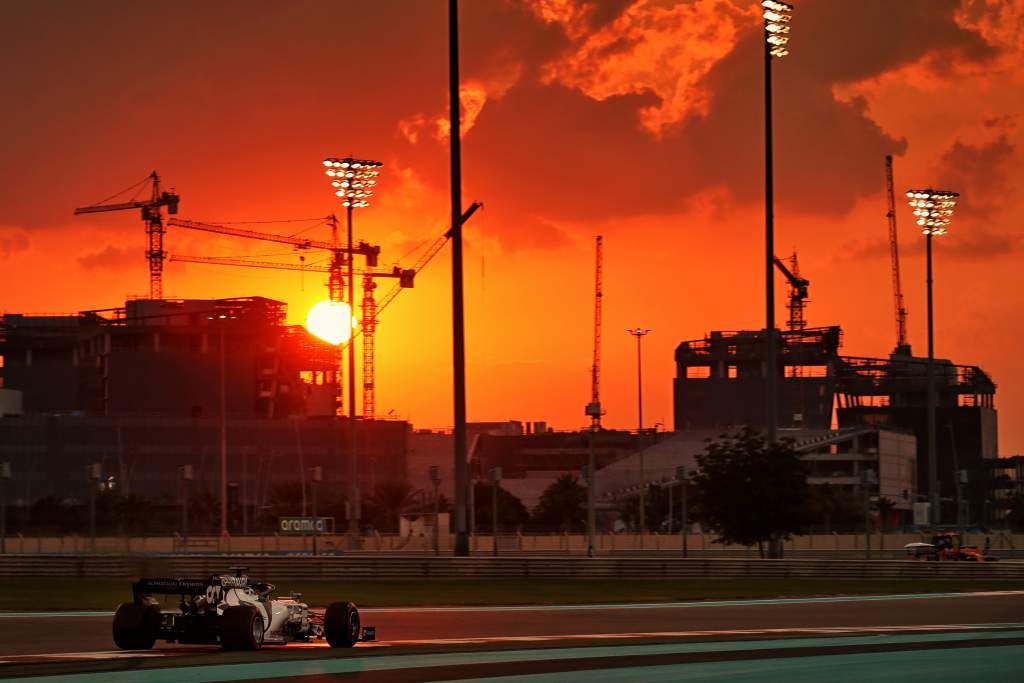 Like many drivers, he struggled initially to pick out his the best prior to this weekend, but did warm to his theme.
"It's hard to go back now in time, but actually these last two I would rank them definitely up there," he said when asked by The Race about his best qualifying laps.
"It's quite cool to say that because it's the last two races. It means I managed to progress as a driver.
"Another lap that stands out, last year Barcelona Q2 was a very strong lap and Monaco was also very good. In Red Bull maybe Mexico 2015 was quite good."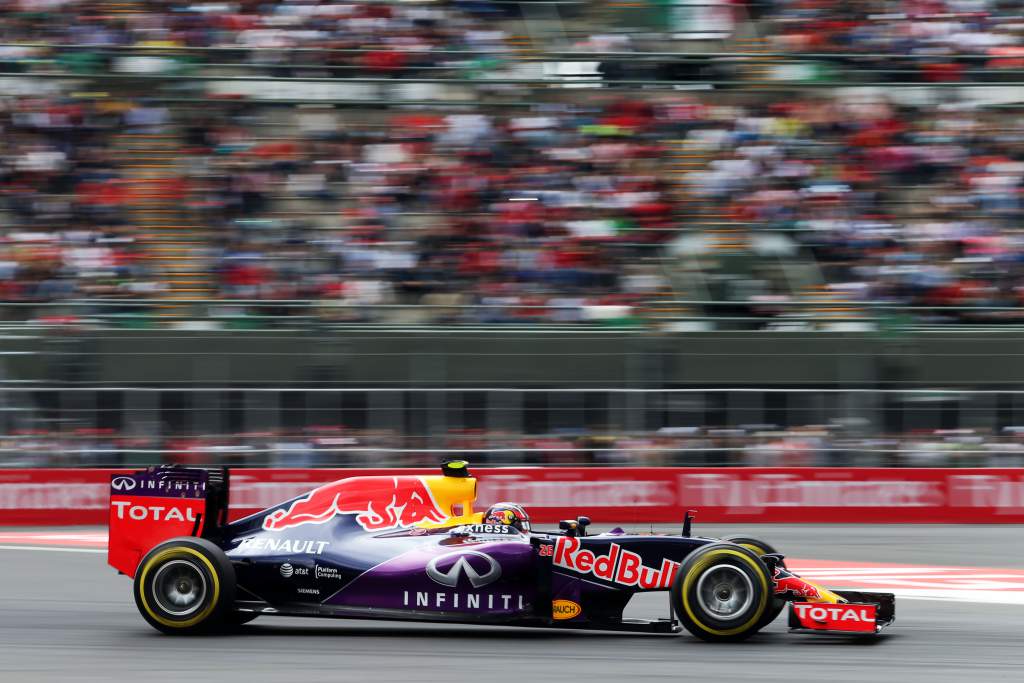 That Mexico weekend, where he outqualified and outraced team-mate Daniel Ricciardo to finish fourth, is another example of Kvyat at his best. It was a best that F1 just hasn't seen enough.
And with his future uncertain, Kvyat's best chance of finding a way back into F1 after another year in the wilderness is to leave having made a positive impression.
This lap certainly achieved that, even if it's difficult to see him getting another shot in F1 after what will be his 110th start.