Petronas SRT Yamaha team boss Razlan Razali recently caused a stir with a hint that he might fight to stop his 2019 rookie sensation Fabio Quartararo leaving to replace Valentino Rossi in the factory Yamaha team for 2021 despite a contract being in place.
In an exclusive interview with The Race, Razali has clarified his stance on Quartararo's future, reiterating that he would only expect to keep hold of the young Frenchman in the absolute worst-case scenario for the series.
Stunning the paddock in his debut year last season with seven podiums from 19 races, Quartararo was quickly snapped up by the factory squad as Rossi's 2021 replacement before even the scheduled March start of the 2020 season.
However, with the championship now on an indefinite hiatus thanks to the coronavirus pandemic, Petronas team principal Razali has been open in admitting his desire to keep Quartararo on board should the season be dramatically shortened.
Marc Marquez recently mooted a 'contract freeze', under which riders continue with their 2020 teams into 2021 if little or no racing takes place this year.
Asked for his view on such a plan, Razali made clear that he doesn't want to hold Quartararo back but indicated if the 2020 season effectively didn't happen then its line-up ought to "carry forward" into next year.
"Dorna and the FIM need to make the call," he told The Race, "whether the current season is null and void or not.
"Fabio would of course rather go to Yamaha with a lot more money" :: Razlan Razali
"There are a lot of implications on their side with that, with broadcast and promoter rights.
"In theory, if everything is cancelled then it could all carry forward.
"But it's not as simple as that, because it would benefit some more than others.
"Fabio, for example, would of course rather go to Yamaha with a lot more money. No matter what I say he'll be pissed off because he wants more money and I don't blame him!
"That's the absolute worst case for if we have no races, but then everyone is in serious trouble. We need some form of racing, but it has to be a credible number of races too. It can't be five races.
"As much as we're already in a difficult position as an independent MotoGP team in all three classes, that would be an even bigger headache for Dorna."
MotoGP's current aim is to begin its season with two closed-doors races at Jerez in July, but its plans beyond that are uncertain.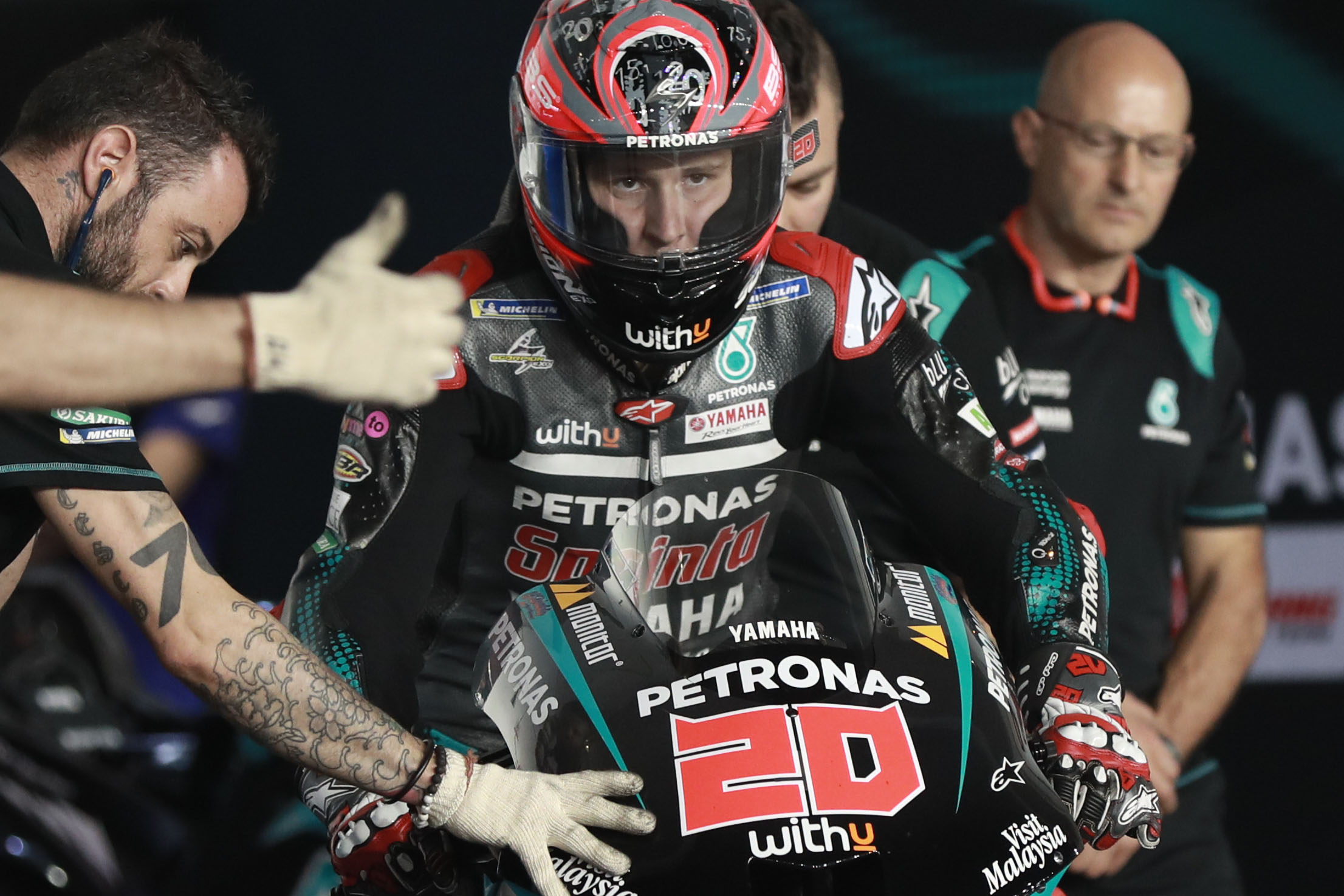 Fellow team boss Herve Poncharal of Tech3 KTM (whose team used to be Yamaha's satellite) told The Race that he sees both sides of the argument too.
But, playing devil's advocate when the question of Razlan keeping Quartararo was put to him, Poncharal admitted that despite commiserating with Petronas, he believes that regardless of what happens to the season, the chips will fall in favour of the factory squad.
"I can understand Razlan's frustration because he's invested in a full-factory bike for 2020, and I'm sure he feels like he was ready to have an incredible season; maybe winning races and maybe even winning the championship," Poncharal said.
"Everything was possible on paper. Now he's maybe going to lose all those ingredients and go into the unknown in 2021 because maybe he doesn't have the budget anymore for a full-factory bike and he doesn't know what rider will be on it.
"A contract is a contract and Fabio is a factory Yamaha rider for 2021, but I have a lot of sympathy for Razlan and the incredible job he's done these past few years, to build this organisation, to have an incredible season in 2019 with both Fabio and Franco [Morbidelli].
"Unfortunately, though, this is part of life and no one inside MotoGP is responsible for it but everyone is suffering.
"I really like Razlan, he's a good friend of mine. Since we've been working with Hafizh Syahrin we've worked very closely together, and I like his personality, the way he moves and what he has done for MotoGP in South East Asia. but I'm also good friends with [Yamaha team boss] Lin Jarvis, and everyone has their own point. We'll see what happens at the end of the day."