If 2020 turns out to be Valentino Rossi's final MotoGP season, he'll have already contested his last ever Qatar Grand Prix thanks to this weekend's race being cancelled.
When MotoGP first went to Losail 16 years ago, the event instantly went down in motorcycle racing infamy thanks to a classic Rossi controversy. It was the sort of tale – amid the sort of intense rivalries – that played such a huge part in his rise to global superstardom, taking MotoGP along with him.
That was Valentino's first Yamaha year, and this was the height of his rivalry with Max Biaggi and in particular Sete Gibernau.
I can remember coming out of Le Mans, the fourth round that year, with Gibernau leading the championship, Biaggi second and Rossi 15 points back in third. I left the commentary box after the French Grand Prix going 'bloody hell, this is going to be one hell of a season'. You just knew it, it was one of those once-in-eight-or-nine-years seasons that just sparkled.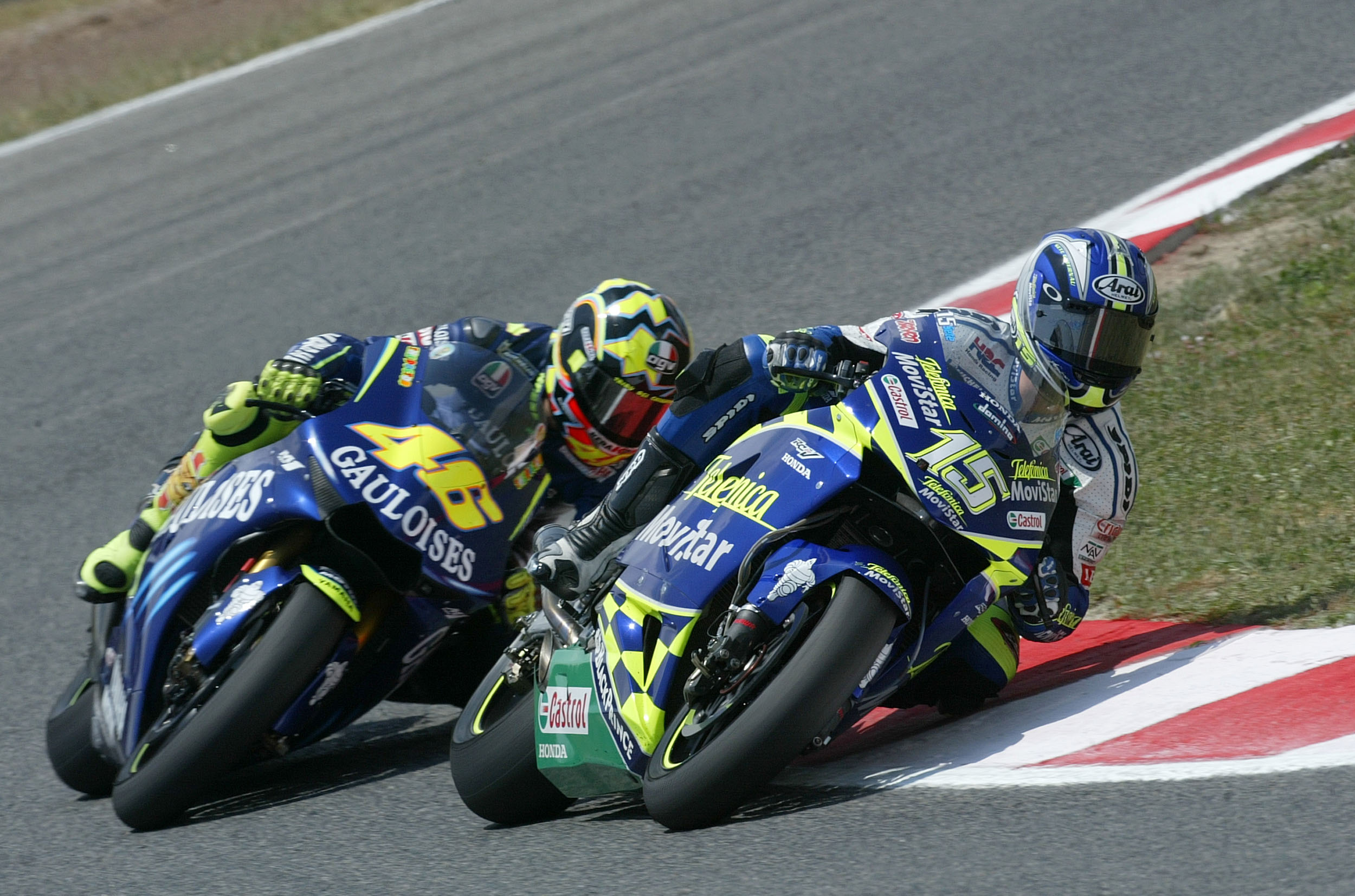 It came down to Rossi versus Gibernau, and by the time we came to Qatar Rossi had managed to pull out a 39-point lead over Gibernau and was starting to look more comfortable.
The biggest hoo-haa for the paddock going into Qatar for the first time was 'there won't be any alcohol!'. And the women were very worried about how they should dress. It was, for us, a complete step into the unknown because so many people in MotoGP hadn't been to a Middle Eastern country at all and there was a lot of talk of 'how strict are they? What rules do we have to adhere to?'. People were saying 'I don't want to get thrown out of the country!'. With hindsight, you'd have to do something pretty stupid to get thrown out… But we were very conscious that we were going somewhere that had some different rules.
It was an eye-opener. And it was hot. Very, very hot. Back then it was a daytime race. One of the photographers had a black baseball cap and by the Sunday night it was grey – the UV rays had utterly screwed it in four days. That was a realisation that it was pretty strong out there.
He was riding angry, he was riding with red mist – and I don't blame him
Rossi only qualified eighth for the race, with his Yamaha team-mate Carlos Checa on pole, Gibernau third and Biaggi 12th. There were concerns about the dusty track making it hard to get a good start, and both Rossi's Yamaha crew and Biaggi's Pons Honda team took steps to try to make life a bit easier for their riders.
A very murky picture exists, taken from within the press office behind the glass, looking into the dark of the racetrack showing what was going on. Yamaha team members had been busy with a scooter trying to lay down rubber on Rossi's grid slot, and dust had been swept off Biaggi's position.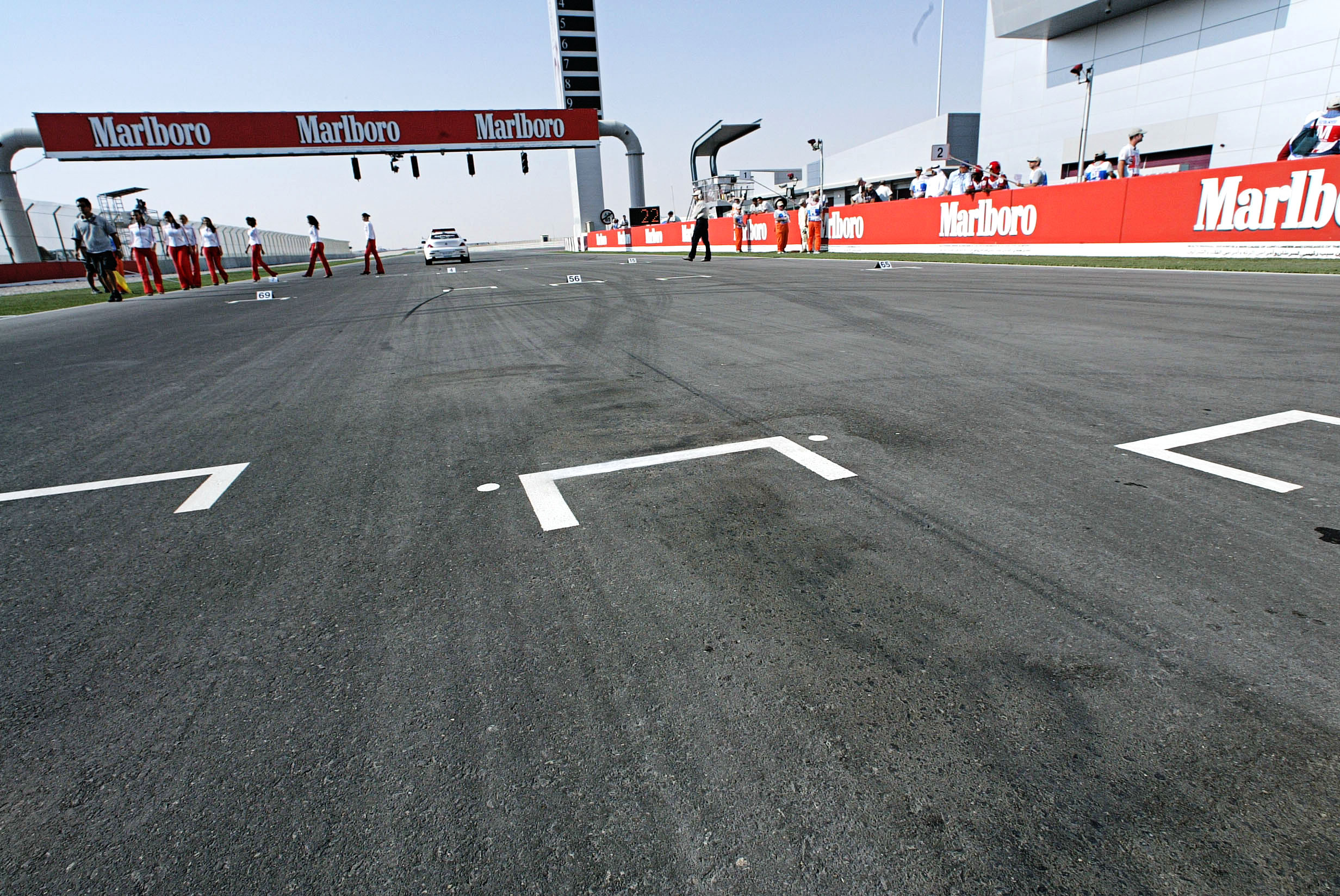 When we got to the track on race day, this kerfuffle blew up about 'doctoring' the track. It said in the rules that you must not 'alter the racetrack' between the beginning and the end of the event.
During wet races people had got towels out and contact cleaner and all that kind of stuff, like the F1 teams do. That was still technically not allowed but there was a blind eye turned.
But this was blatant. Another team saw the doctoring of the grid slot and alerted race control with a protest. I think the picture from the photographer was the straw of evidence that ultimately broke the camel's back.
They threw the pair of them to the back of the grid. Rossi and Biaggi had both been complaining about the other and it felt like the officials took a view of 'alright, you can both get to the back… You're both as bad as each other'. And actually that was the right answer.
The race was a Gresini Honda 1-2 – Gibernau ahead of Colin Edwards. I have a memory of Colin being able to win, but did he throttle back? I never asked him about it. Now I will.
In his fightback from the back of the grid, Rossi rose from 21st to fourth within just four laps… and then he fell off at the last corner. He clipped the astroturf and went down, after all that work. He was riding angry, he was riding with red mist – and I don't blame him. With Gibernau winning the race, you couldn't have scripted it any worse for Rossi – or any more dramatic for the championship.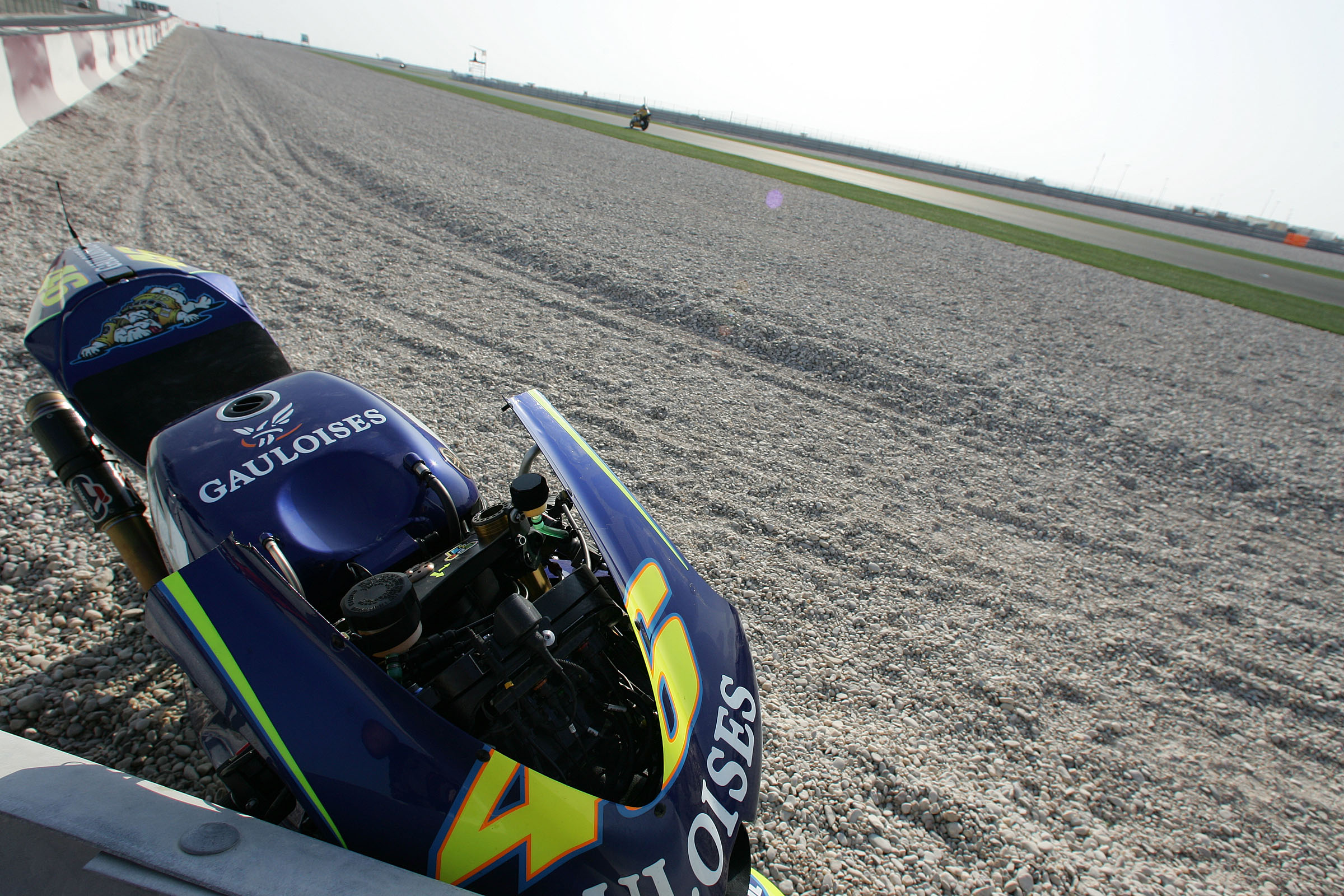 Rossi then did an interview with Italian TV. He'd hurt his little finger, really mashed it up, in the crash. And he famously said "I will make sure Gibernau will never win another race because of this".
We've all got a soft spot for Valentino, and I can remember thinking 'oh God, I wouldn't have said that if I were you. I really wouldn't have said that…'
But he was right!
Gibernau started another 38 MotoGP races after that day in Qatar, and never triumphed again. Rossi won the season's final three races, taking the title by beating Gibernau in a last-lap move in Australia at the penultimate round.
We went to Jerez the year after for the season opener, and the race came down to the last corner with Gibernau leading. Rossi seemed to go 'I can't let him win' and that was also all a little bit questionable as he dived up the inside and hit Gibernau, taking the victory…
You've got to brave to declare that somebody will never win another race, but he was right. Gibernau carried on getting pole positions, but there were no more wins.
And that was a shame, because I had a lot of time for Gibernau. Well-educated and intelligent – maybe too much so to do something as mad as being a motorcycle racer – a lovely, polite, well-brought-up gentleman who amazingly turned out to be one of the fastest motorcycle racers in the world for three or four years. In the first five years of MotoGP – the 990cc era – he was second only to Valentino in the statistics.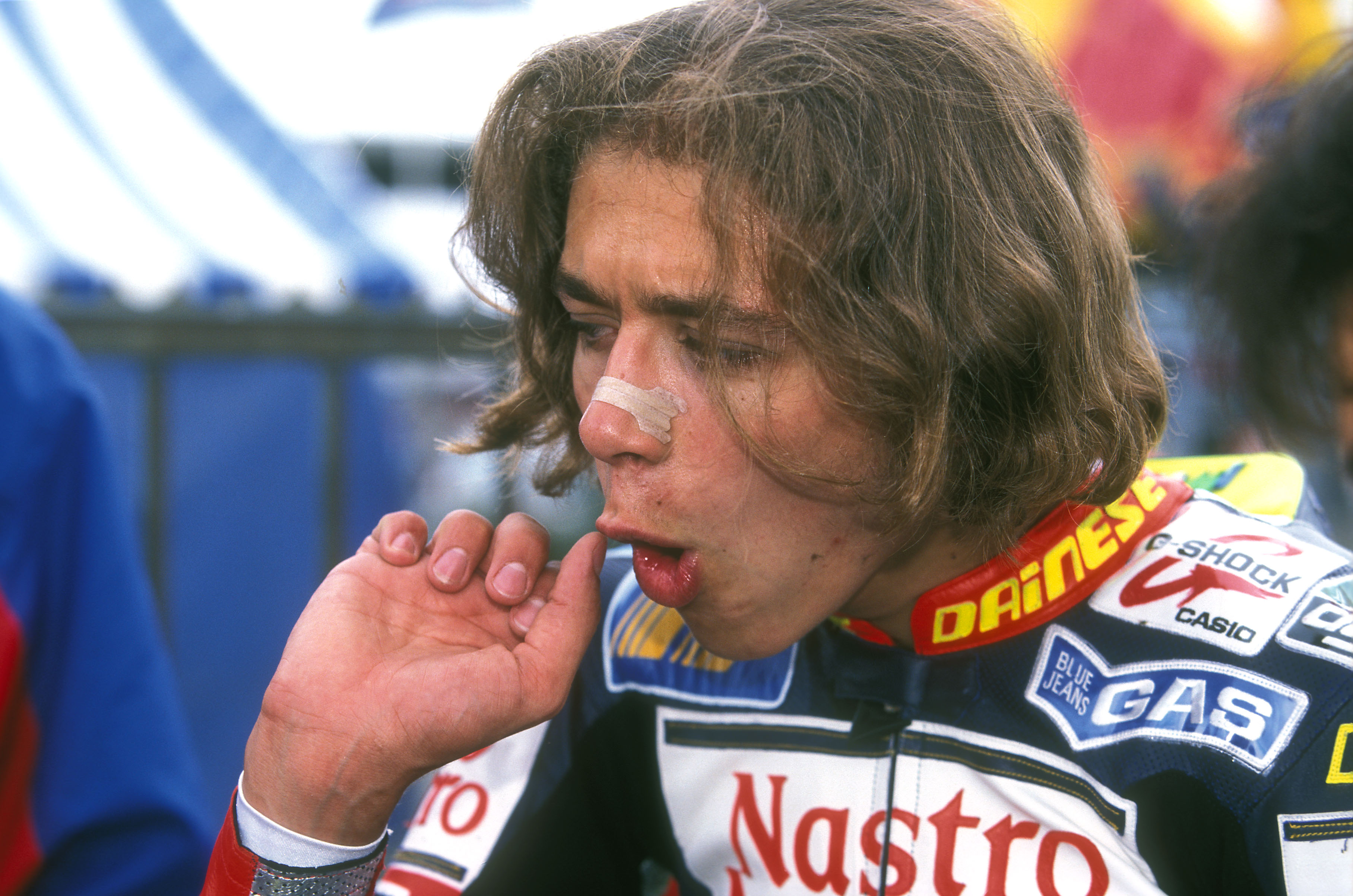 Qatar 2004 was one of the best examples of Rossi's rivalries coming to a head. It was up there with him turning up to Mugello in 1997 with a blow-up doll with 'Claudia Schiffer' written on it because there were rumours that Biaggi was going out with Schiffer's fellow supermodel Naomi Campbell. And that was when Biaggi and Rossi weren't even facing each other on track – Valentino still on his way to the 125cc title while his countryman was a step ahead in 250cc.
Then there was Suzuka 2001 in 500cc, when Biaggi elbowed Rossi onto the grass out of the last corner. Rossi gave him the bird as he was tipping the bike into the next turn!
Later that year Biaggi fell off while leading at Brno as Rossi was chasing him. I was part of a group that ended up in a bar and then in a pool with Valentino that night, and he was beyond on top of the world. He was on the moon. He would've been happy just beating Biaggi, but for Biaggi to crash… It was the result that set Rossi on course for his first premier class title, too.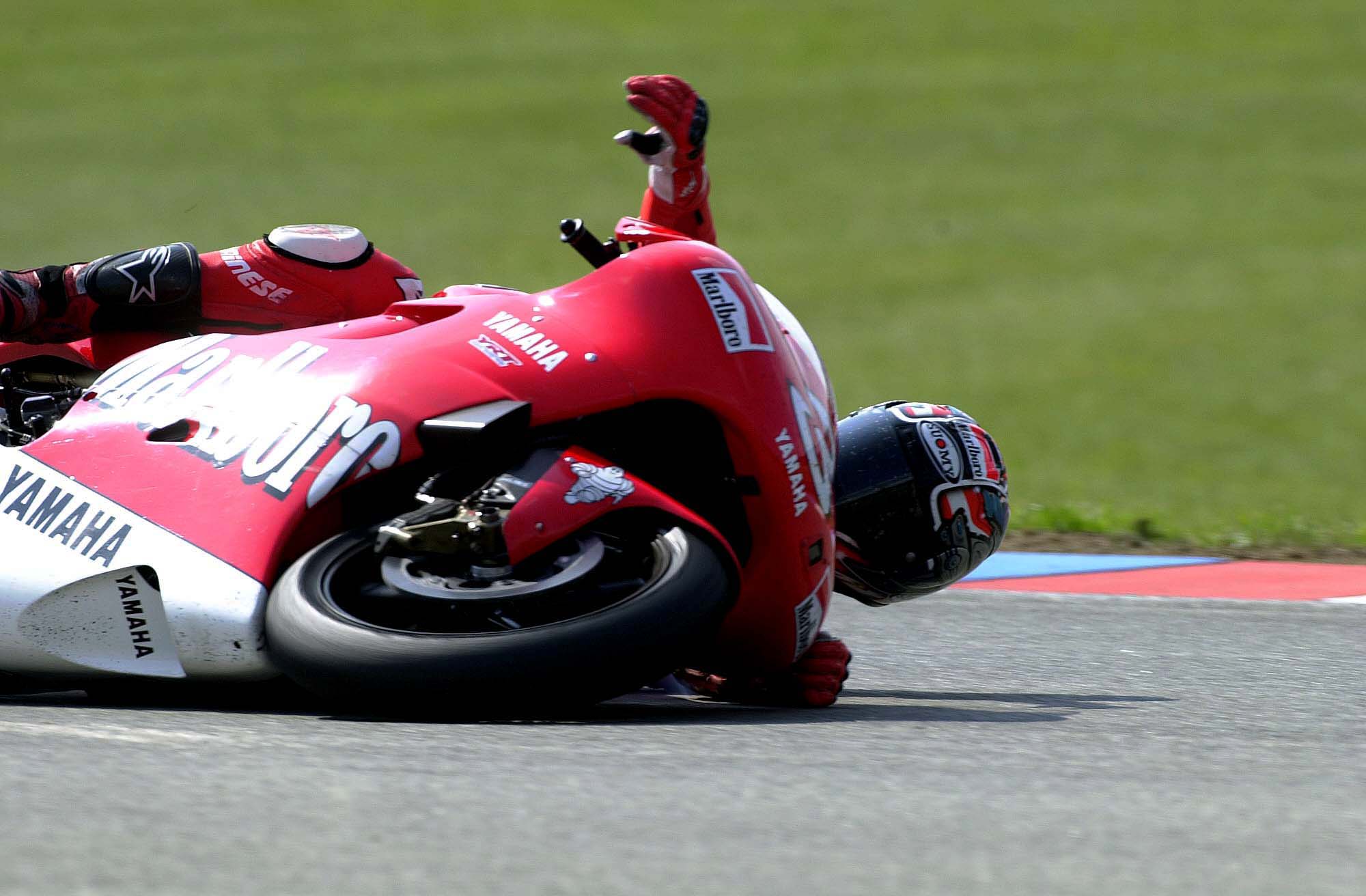 Casey Stoner was an edgy rival for Rossi, but they never came to blows because Stoner was too polite. It was only Laguna Seca 2008 where that really flared up, where in parc ferme Stoner said he'd kept his bike on the track while Rossi took to the gravel to overtake him. Rossi retorted with something like 'that's racing, Casey'. Stoner, bless him, was too nice. He wasn't a gun-slinger.
As much as we all love Rossi and he's got this universal following, when it comes to it the mask will sometimes slip. Michael Schumacher had that too, think about the incidents with Damon Hill in Adelaide in 1994 and Jacques Villeneuve at Jerez in 1997 – with the title on the line, he had his rival off.
Rossi just needs to go out with a final fairytale, not a crappy press conference in a sweaty room in Valencia
People turn a blind eye to the win-at-all-costs side of Rossi's character because he's so likeable and because he absolutely revolutionised the sport of motorcycle racing. It also revolutionised itself with the move to four-stroke engines – the two-strokes were going utterly nowhere – as that opened the floodgates to more manufacturers overnight. Ducati and Kawasaki arriving gave it a leg-up, but it was Rossi that elevated things another level. He won with Schumacher-style regularity, but he was fun.
Think about his victory celebrations – you never knew what he had up his sleeve. When he put the guy in the chicken suit on the back of his bike to celebrate winning in 250cc at Barcelona in 1998, I got the giggles so badly I was still hoarse for the following 500cc race.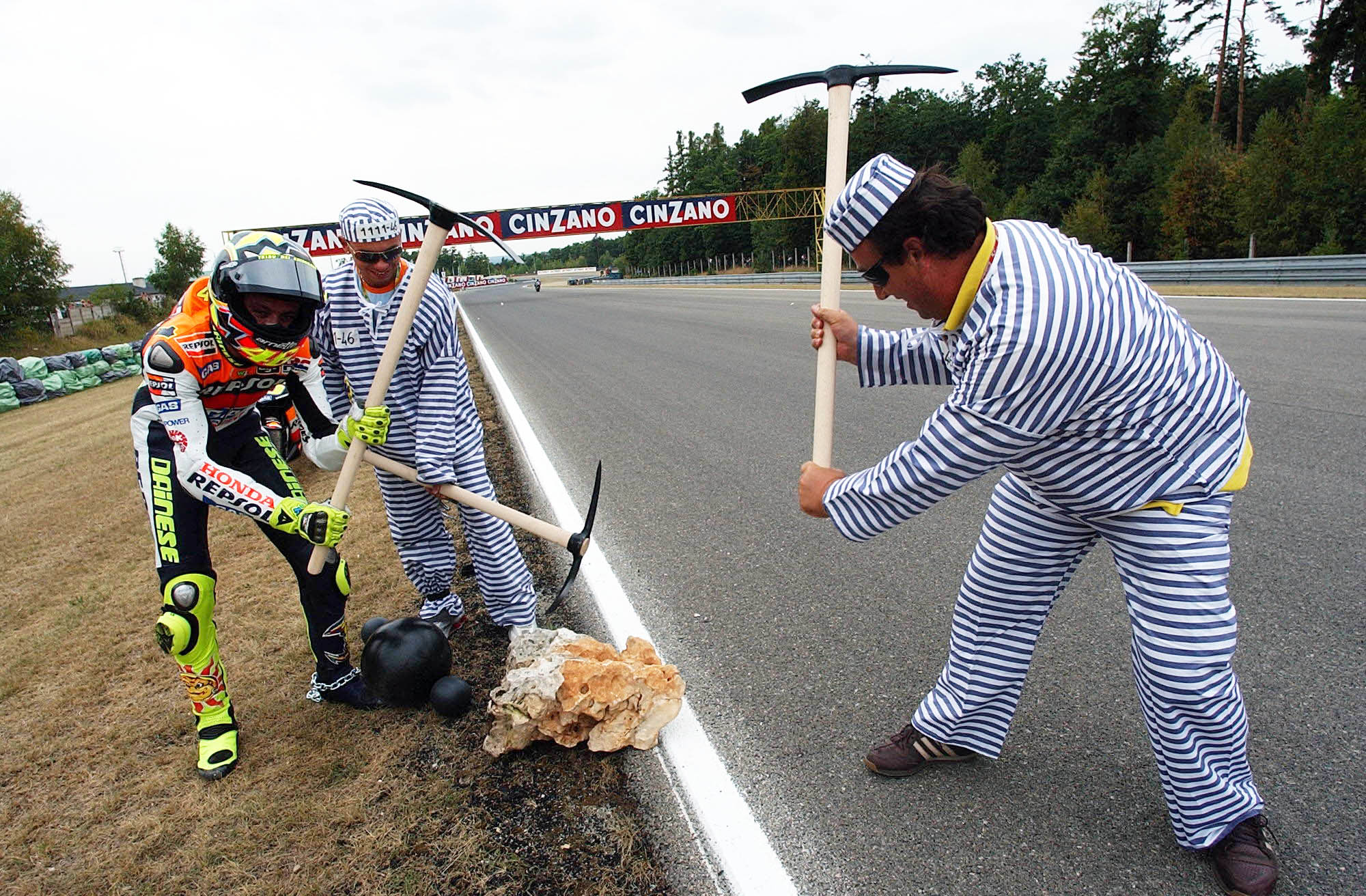 Other people have tried to do similar celebrations – look at Jorge Lorenzo in his early years and Marc Marquez when he wins a championship – but it's never the same and really, they shouldn't bother, no one cares now. Rossi's had more than the cake there – there's none left for anyone else. He was so original.
There was one celebration that they never did: for the 2006 championship victory that was lost when Rossi crashed at Valencia. They had a celebration lined up and had to hide it.
So what was the celebration? They had actually driven the altar from the church in Rossi's home town Tavullia to Valencia in a van, and brought the vicar too! Apparently he was a bit doddery and didn't really know what was going on, and then when Rossi fell and Nicky Hayden won the title it was a case of 'the plan's changed, you're going home!' and the altar was quickly put back in the van!
I'm not one of those people who believes MotoGP will never be the same again when Rossi's gone. It will be, in a different way. It's just the end of one era. People who say 'I'm never going to watch it ever again after Rossi' will watch it and they're fools for saying that, they'd be poorer themselves for not watching a race without Rossi in it.
He will surely still be involved in MotoGP somehow anyway. I've long told Yamaha boss Lin Jarvis that he should be forwarding Rossi's salary bills onto Dorna… Rossi's got his junior team, but he also needs a bit of time off after 25 seasons of racing. As well as all the races, he's had all the PR, the trips to Japan for Yamaha, working with the team. He needs a bit of free time to just enjoy himself.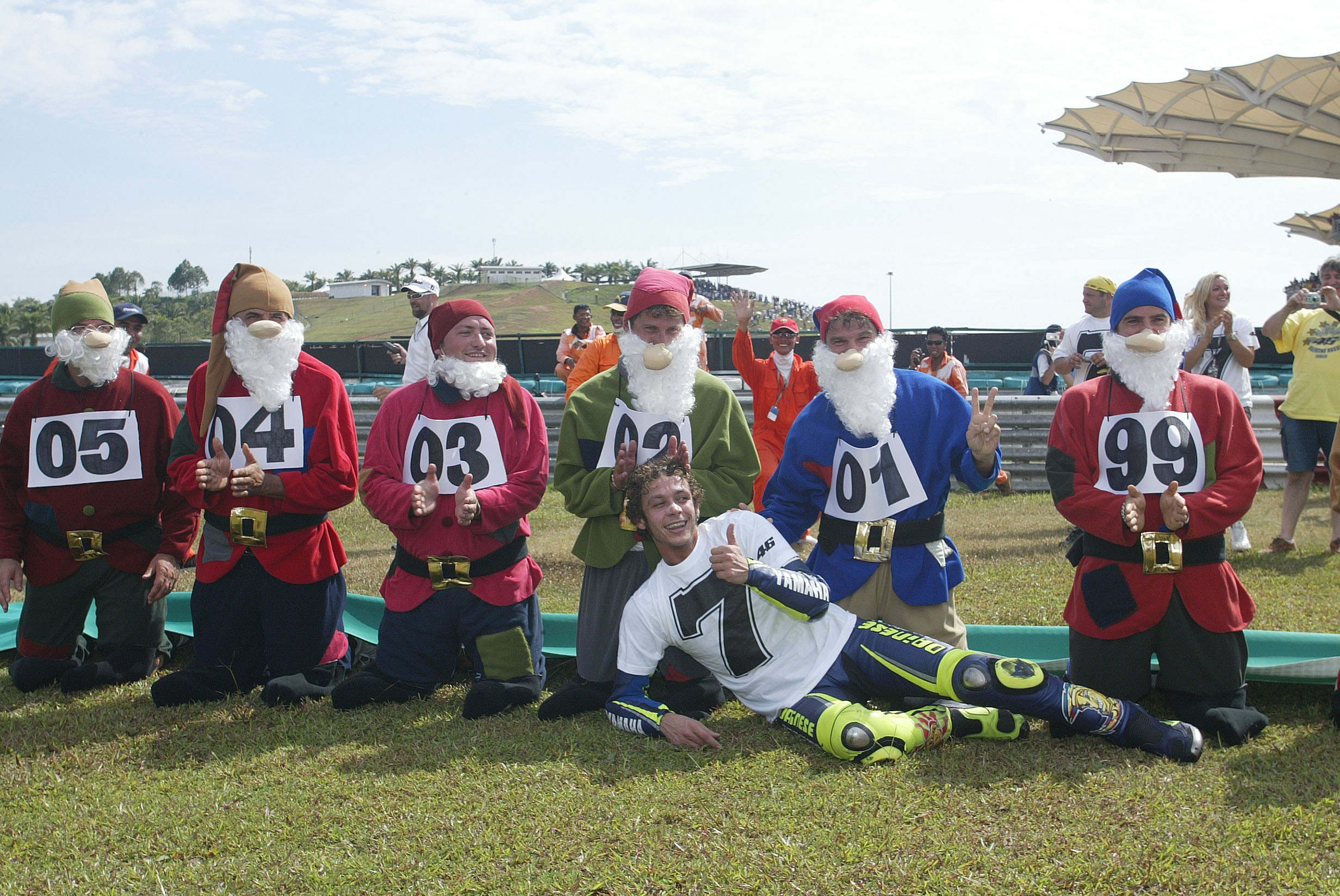 There will be somebody else. They won't be the same as Rossi. They won't be better or worse, they'll just be different. Like Marquez – a man with Schumacher levels of metronomic dominance, but with a bit of rallying in his style.
And Rossi last won a race two and a half years ago, remember. I've always hoped Valentino wouldn't hang around too long or end up hurting himself. I didn't want him to race into his 40s then his career end with some silly innocuous accident in the wet in a Friday morning practice session or something.
Wouldn't it be wonderful if he won at Mugello or Misano, got on the podium and said 'that's it' and stopped right then?
He's always written his own fairytales, and he always comes up trumps. There's just one more page of that very thick book remaining.
He just needs to go out with a final fairytale, not a crappy press conference in a sweaty room in Valencia on a Thursday afternoon. And he will, I hope, recognise that.