Over Christmas our writers are picking some of their favourite content from The Race's 2021 season to share again. Matt Beer always loves a backmarker tale…
Normally when the PR agency representing UK MotoGP broadcaster BT Sport puts its pundits up for interview, it's expecting the chat to be about opinions on the current season.
But when we had chance to interview Neil Hodgson, my colleague Val Khorounzhiy had the genius idea of getting the tale of Hodgson's own fraught career in the MotoGP midfield instead. The result – first published in August – was glorious.
---
"I'm sat next to Rossi, trying to look cool, and then obviously my bike's on fire, so I'm there [putting it out] with a water bottle, just thinking 'oh my god, this is so s**t'. It's funny."
According to Neil Hodgson himself, that's the story he always whips out when asked for a tale about his sole season as a MotoGP rider.
It's Sunday at Qatar's Losail International Circuit in 2004 and he's the reigning World Superbike champion – but not defending the crown, which will be claimed by James Toseland a day later.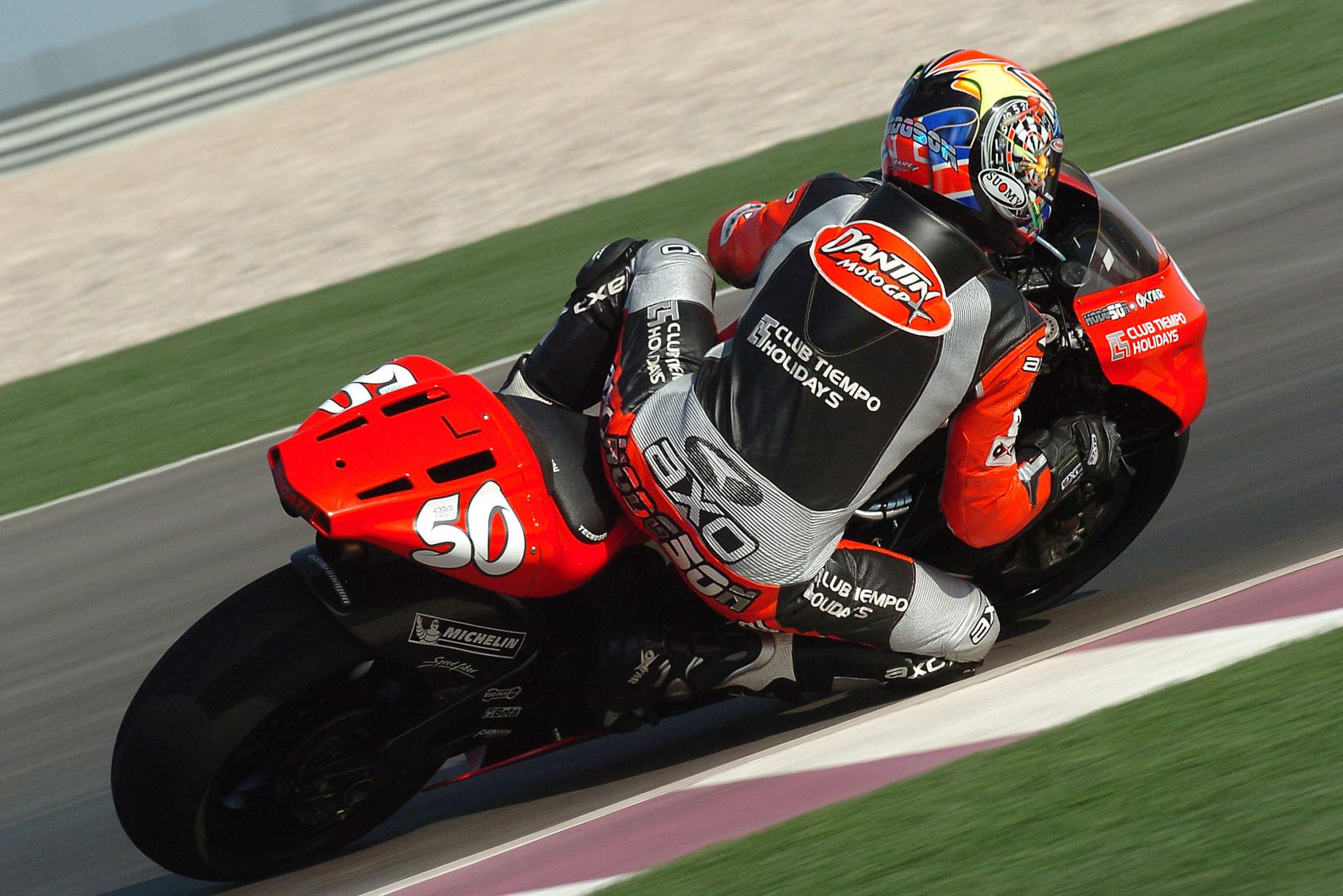 Hodgson is instead in motorcycle grand prix racing's premier class, about to start his 13th race as a d'Antin Ducati rider. The inaugural Qatar race is a glamorous event – there are several quite famous football players in attendance, with the TV cameras picking up one Pep Guardiola, with a relatively full head of hair, a couple of years away from beginning a glistening managerial career.
The sun's out and giving the riders what for, with air temperature reported to be around 41°C. But it's a different source of heat that's of bigger concern to Hodgson.
"You at least want a level playing field. Just give me a chance, give me an opportunity" :: Neil Hodgson
"Basically, before the start of the race, when I was sat in the garage, my mechanics started the bike, and both mechanics walked away from the bike, the bike just fell over and it broke the clutch lever," Hodgson recalls to The Race.
"And then they replaced the clutch lever, but that meant I had to start from the back of the grid. So then I rode round to the grid, and parked up next to Valentino Rossi, who'd been demoted to the back.
"And as I was sat there, I was thinking 'well, I'm next to Rossi on a MotoGP grid, life isn't too bad'. And then my bike set on fire. True story."
For a bike that Hodgson says was so hastily-extinguished, the Ducati did propel him to as high as ninth in that race, before he pulled over, "feeling uncomfortable and a little unsafe".
"Honestly, there were so many situations like that – it's funny now but at the time you could imagine I was like 'what am I doing here?'."
Rossi was a rare guest at the back of the grid that Sunday, his Yamaha team having been pinged for using a scooter to lay down rubber on what should've been his grid slot.
Nowadays, there is of course very little novelty value in any MotoGP team, whatever its factory status, having its riders be close to Rossi on the grid. That his results have declined is a big part of that – but it's something that's been enabled by a very high level of baseline performance all throughout the modern MotoGP grid, from its front to its very back.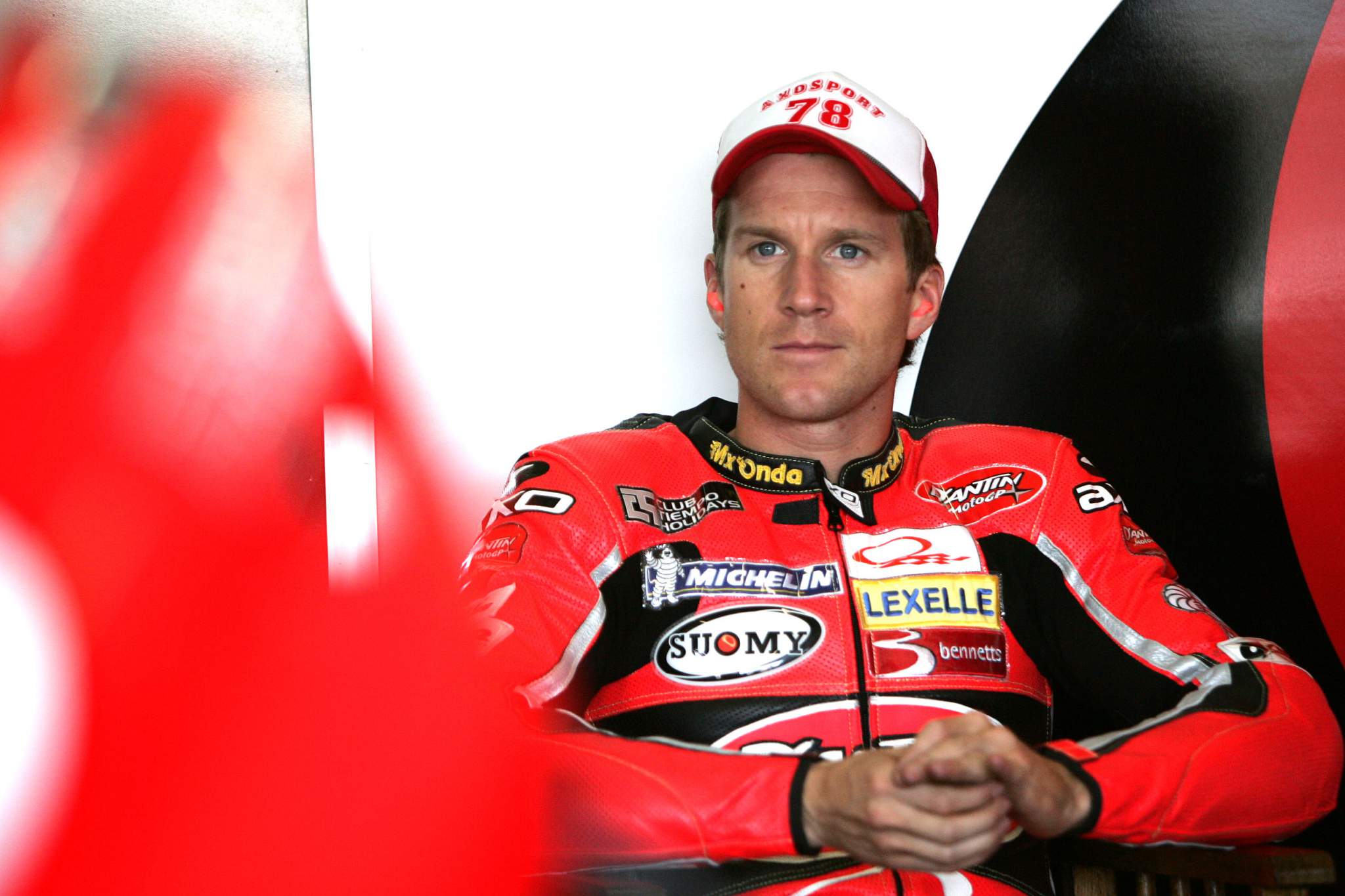 That, Hodgson is adamant, was not the case back in 2004 – and it's something that frustrated him doubly given his status as World Superbike champion created a certain level of expectation.
"It's just never quite what people think," he recalled. "You get an opportunity to race in MotoGP, obviously you're going to race against the best riders in the world. You at least want a level playing field. Just give me a chance, give me an opportunity.
"But, in the defence of the team – I rarely say this – the team lost a sponsor before the season started."
The target sponsor was Visa, according to Hodgson, and the deal falling through left d'Antin with "no money" – with Hodgson claiming he had to pay his mechanics out of his own pocket.
"Honestly, it was a disaster."
Hodgson would finish no higher than eighth in any of that season's races, and probably the most memorable moment of his campaign wasn't in a grand prix – but rather in practice, Hodgson crashing into the back of a slowing Max Biaggi and then running across the track and into the pits to give him a piece of his mind.
"I was enraged as you can imagine. I went to find Max, went into his garage, all his team around him, and I'm going like 'you f**king idiot!', and afterwards everybody was saying 'you should've punched him'.
"And well, I thought about it, but I thought this would be a huge fine. And everybody was saying 'if you had done it, the whole paddock would've paid €5 [towards the fine] each'. It was quite funny, really."
Less funny was a multi-bike Le Mans crash with John Hopkins and Norick Abe, although it did create the surreal scene of an enraged Hopkins – "obviously a great lad, I like John a lot" – picking up gravel and chucking it in the general direction of Hodgson while the Briton was on the ground, having sustained what would turn out to be broken ribs and vertebrae and a torn rotator cuff. "He [Hopkins] apologised afterwards."
All in all, the season was "a horrible experience" – and though he was occasionally linked with a MotoGP stay for the following years, Hodgson knew he "just wanted out", to return to Superbikes.
"It was like, 'I've got no interest in that', I was 31 years old, I knew where I was, where my place was.
"I had some good [MotoGP] rides. A couple, not many, but there were some really good rides. I got off the bike and thought 'that was as good as any World Superbike win I've had' and I'd finish wherever I'd finish, 12th or 11th.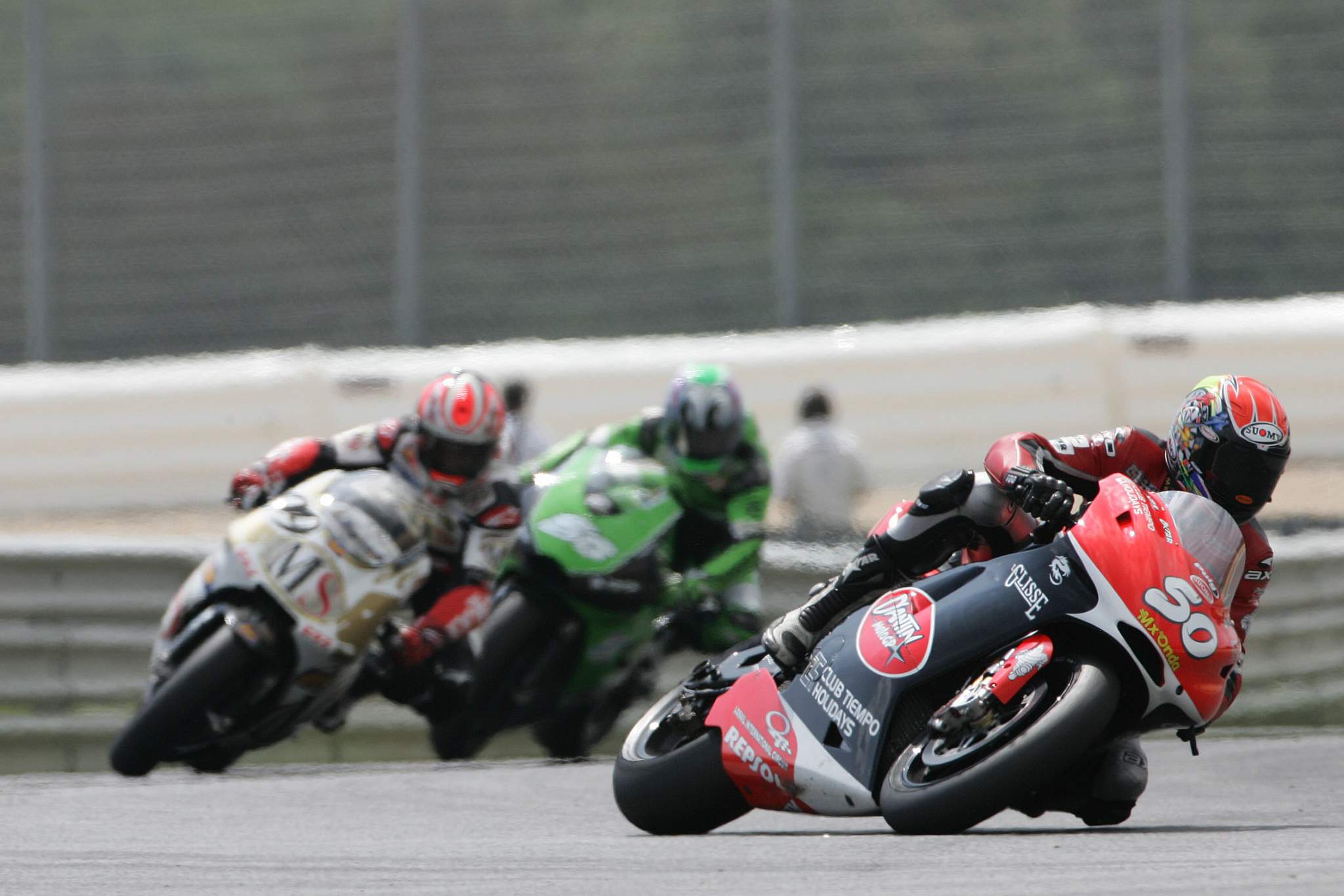 "That's what people don't understand. You can finish 12th in a race and have the race of your life, and think 'wow, I've walked on water there, I'm amazing', but everyone's going 'ah, 12th, unlucky'. And you're like 'unlucky? No one could've done what I just did'. So that's why I left."
"When people say 'oh, the good old days' – it wasn't. I loved it, don't get me wrong. But now, everything's so much closer, so you've got an opportunity" :: Neil Hodgson
Hodgson's MotoGP career was over after a single season. His premier-class career, by extension, was over too – but that had actually begun a whole decade prior, with a one-off campaign on a privateer WCM Yamaha in 1995, when he was one of the youngest riders on what was a bigger 500cc grid.
Hodgson's average gap to the winner in representative races that year was 1m18s, compared to 54s in the d'Antin MotoGP season. Yet just like 2004 is a different world to modern MotoGP, 1995 500cc was something else entirely – and Hodgson had "the most amazing year ever".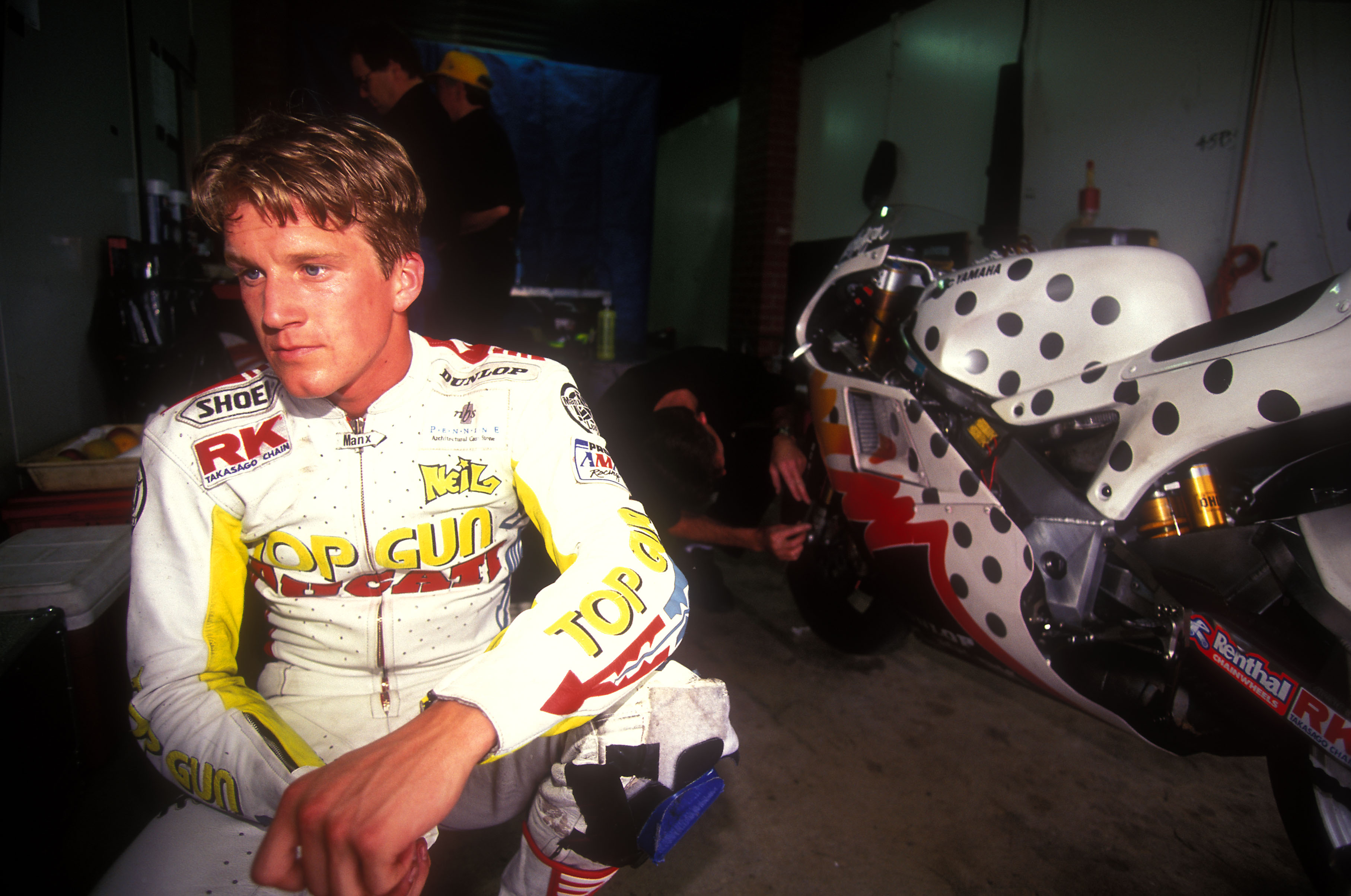 "I was 21 years old, I was obviously a young lad from England who never really expected to be racing in 500s, I had a really good team, I had good people around me. Mike Webb [current MotoGP race director] was my crew chief. And Mike was fantastic. We had such a good season."
Hodgson loved that Yamaha – "I wish I owned it, I wish I could take that out on a track day now" – but a successful race for a privateer meant something different in those days, in which the factory-backed leaders navigating a swarm of lapped traffic was a regular sight.
"I got lapped at the first race in Australia, but I never got lapped again, just to clear that one up, I didn't get lapped a lot," Hodgson chuckles.
"But what was funny, when you were racing then, again, we talk about gaps between machinery, if you saw the [Honda] NSR 500 [Mick] Doohan had compared to the bike I was riding, we're talking light years' difference.
"And also you had different tyre specs. Which was, that's why, when people say 'oh, the good old days' – it wasn't. I loved it, don't get me wrong, I was 21, I was living the dream. But now, everyone's got the same tyres, everything's so much closer, so you've got an opportunity."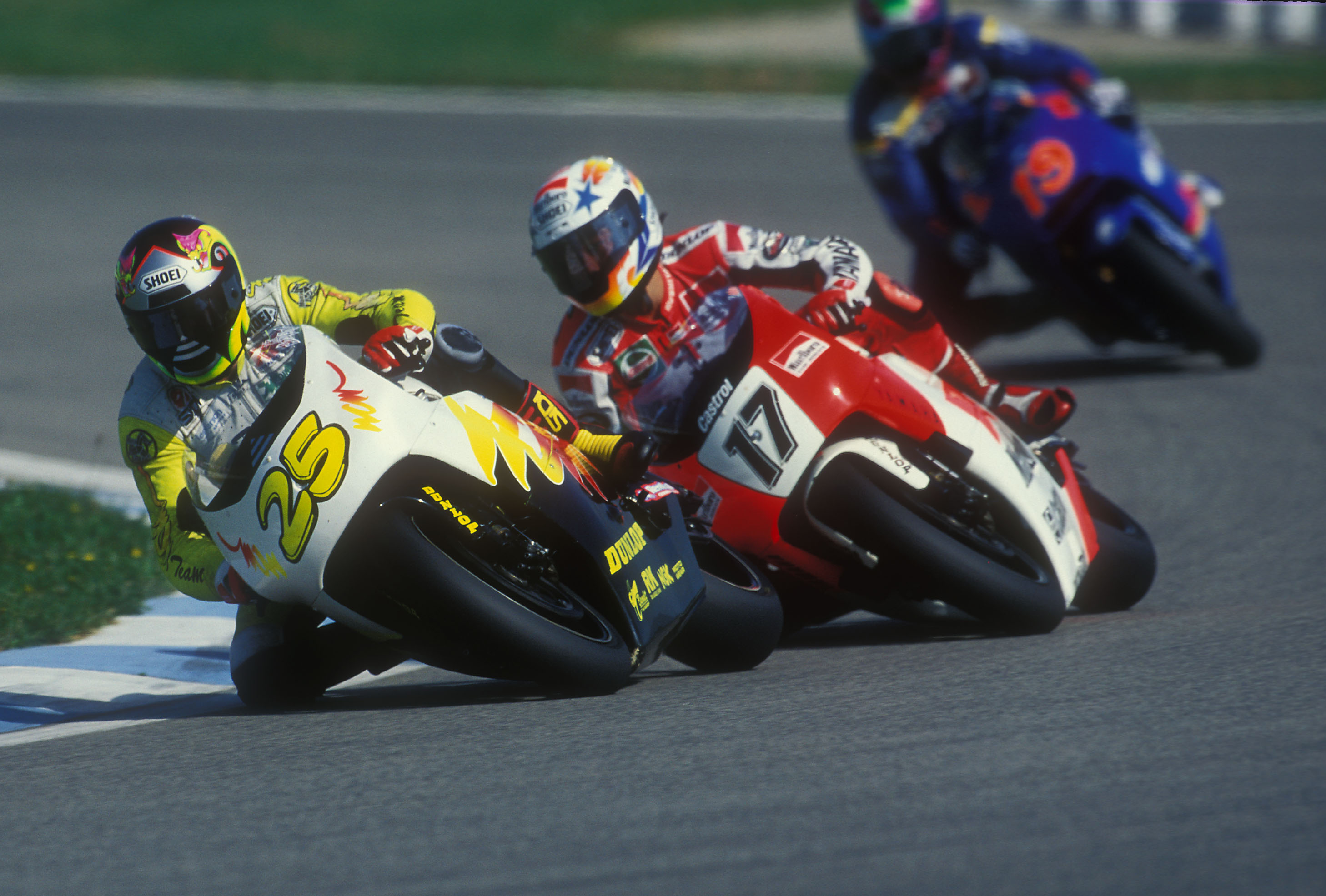 If Hodgson had stayed after 1995, perhaps he would've gone on to become a premier-class staple. But there were no factory opportunities in grand prix racing, while Superbike racing offered just that. "It was the right decision to take at the time – but actually looking back I wish I'd stayed still in the 500s."
So this is how Hodgson, now a long-serving MotoGP pundit for UK broadcaster BT Sport, ended up in the unique position of having had two snapshots of grand prix racing in such vastly different eras. And if there's anyone who's well-placed to comment on how the premier class has evolved, especially with its non-factory teams, it's him.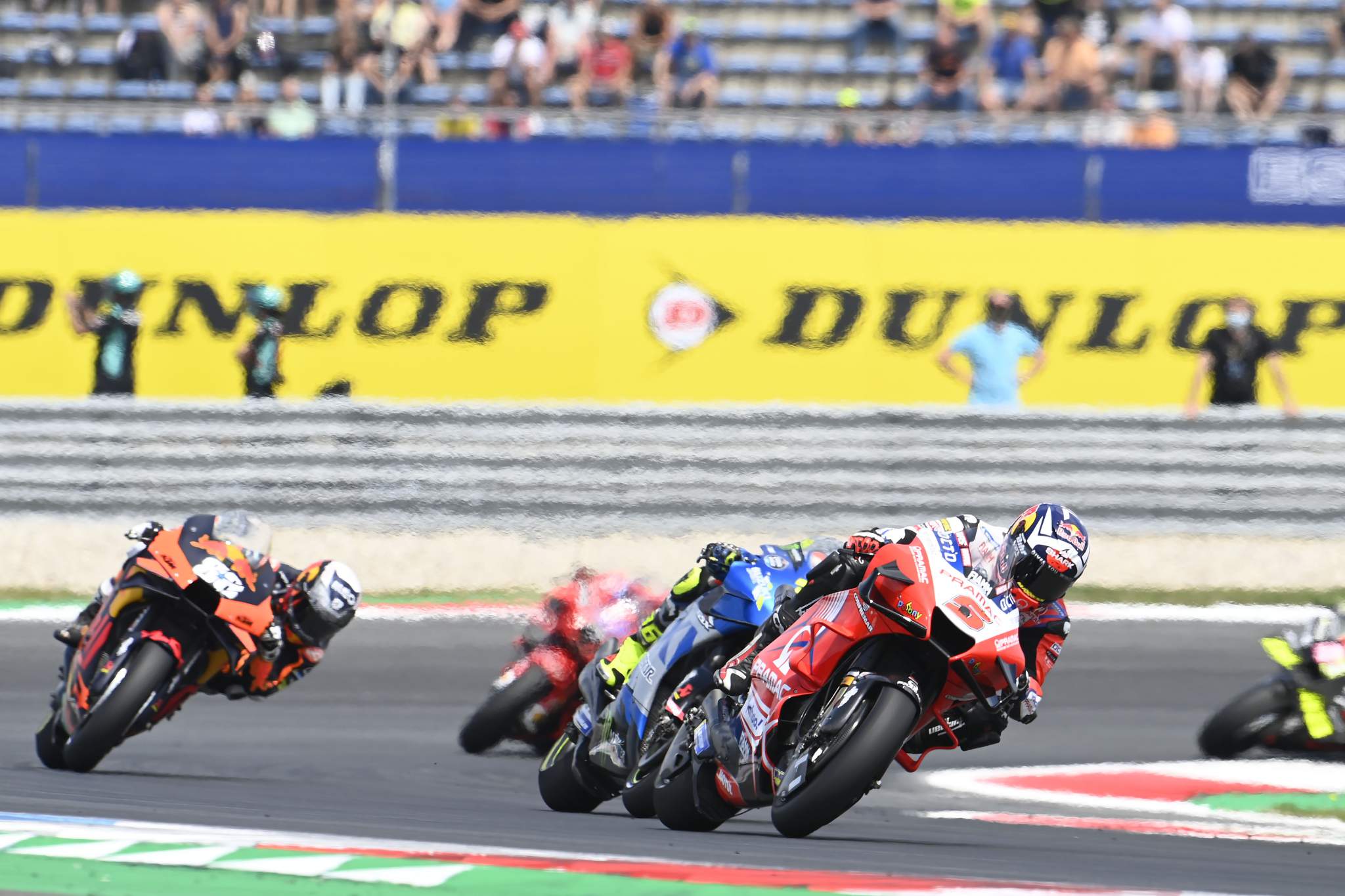 "What [promoter] Dorna have achieved, the format, what they've created, it's pretty sensational, isn't it? If you think about it. Because you think, 20 years ago, it was actually really amateur, because of the gaps between the teams.
"Back then, back when I raced, it was probably three teams, really, that you wanted to be on. Six bikes on the grid that really could win.
"And the rest of you were all trying to impress, so you might get an opportunity to get one of those bikes. It's way better now, but it's also more difficult because there's nowhere to hide. It's stunning now. It's never been better."
Satellite teams won more MotoGP races last year than factory teams. This year that's corrected a bit, but a Pramac Ducati rider – Johann Zarco – is second in the standings, a legitimate title contender.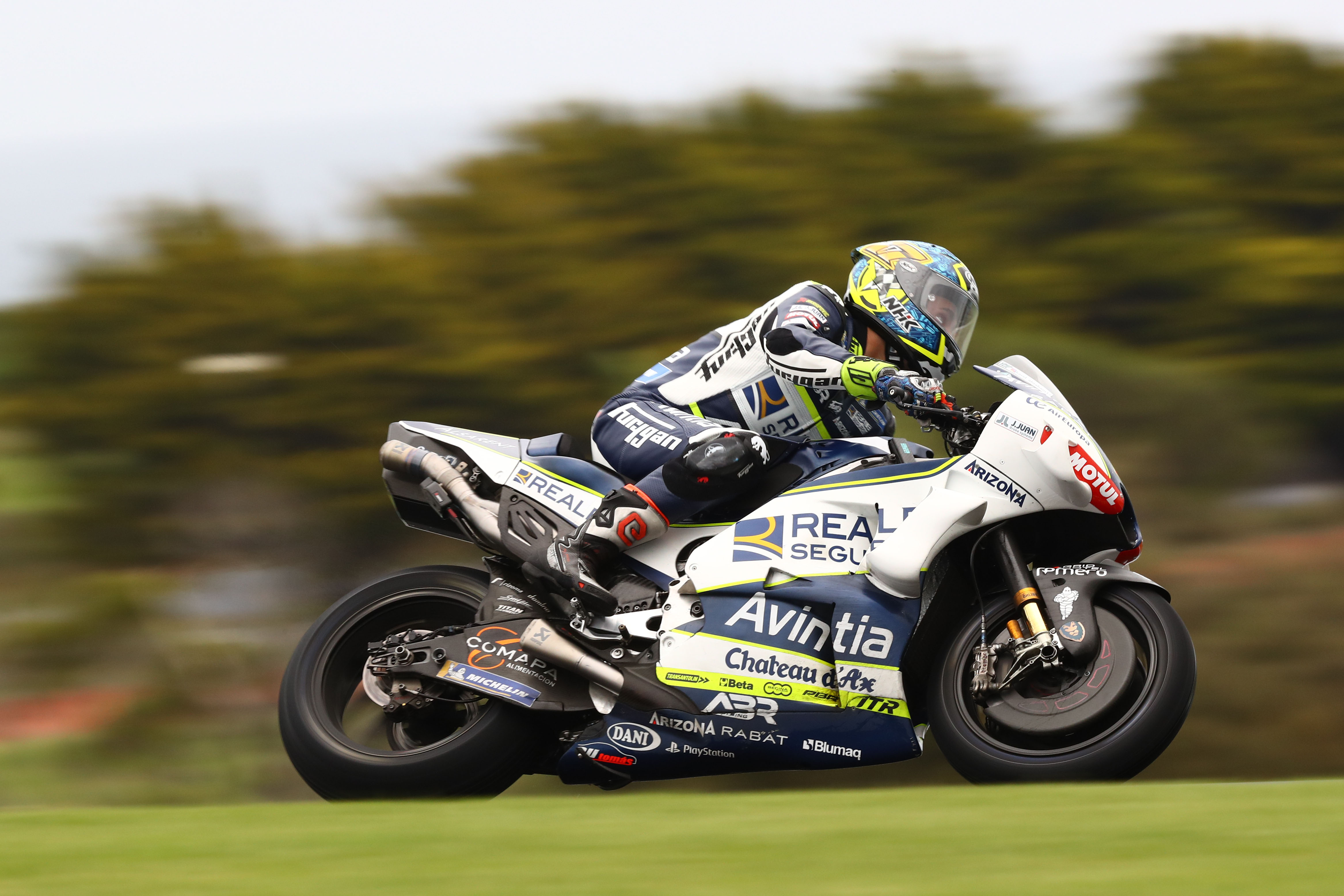 But whether MotoGP still has actual privateer entries is a different question. A couple of years prior, Avintia Ducati rider Karel Abraham deemed his team to be the last true privateer on the grid – and soon after he would lose his ride to a Ducati-backed Zarco, as the Avintia outfit transitioned closer to satellite status.
And now, Avintia – which, coincidentally, has as its team boss Hodgson's former d'Antin team-mate Ruben Xaus – will drop off the grid entirely, replaced in the Ducati camp by VR46 and Gresini, two outfits that will clearly enjoy a much closer relationship with the manufacturer than privateer teams did in the past.
Will MotoGP miss some of that privateer romance? "I know exactly what you're saying, but I can only look at it from a rider standpoint," Hodgson says. "And [before 2020] nobody wanted to ride the Avintia, really.
"I remember Zarco walking through the paddock at the last round of 2019, in Valencia, and he had the opportunity, there was talks, Ducati wanted him to ride for Avintia, and his first comment was like 'no way'.
"And then [Ducati chief] Gigi Dall'Igna convinced him, 'no, we'll give you better machinery' – and as it turned out, it's the man who's lying second in the world championship we're talking about now. How funny how it's turned out.
"And he actually went the Avintia route so it did actually work for him. But normally you didn't want to ride for Avintia."
Hodgson admits he does feel a bit of "envy and regret" that it wasn't that way in his time.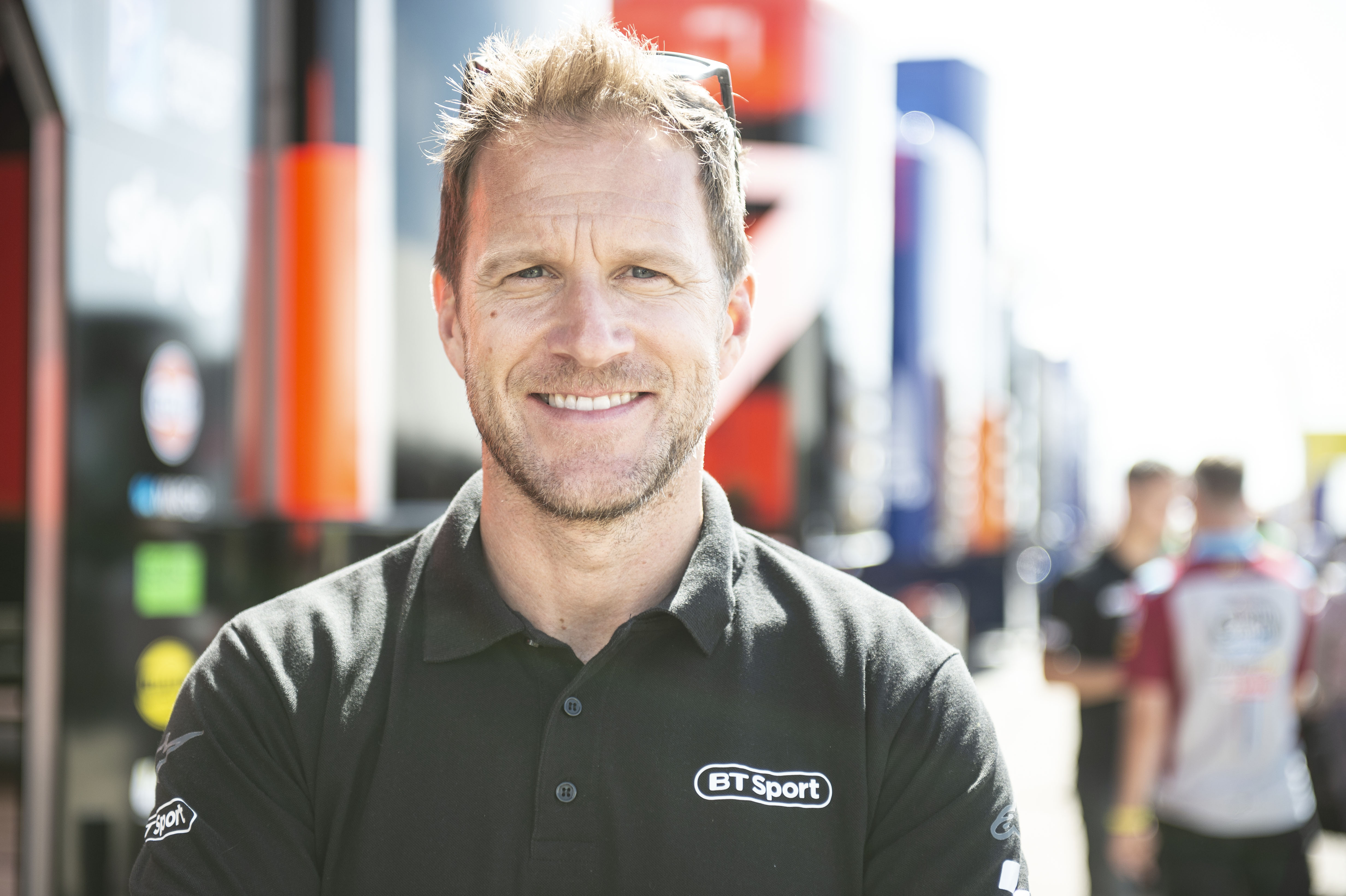 "But what I definitely want to clear up by answering it that way is, yes, but I don't lose any sleep over it. I'm one of these ex-riders who's going 'life's good, I did OK'."
And while he's convinced the increased standard of MotoGP is good for everyone involved, he admits there's been something of a trade-off.
"The professionalism of it all, the seriousness of it all – it doesn't look like there's a lot of people having beers on Sunday night, it doesn't look like there's lot of parties going on in motorhomes, does it?
"And actually I genuinely – and I know I sound old saying this – I feel slightly sorry for them, that that element of racing, which was always there throughout my career…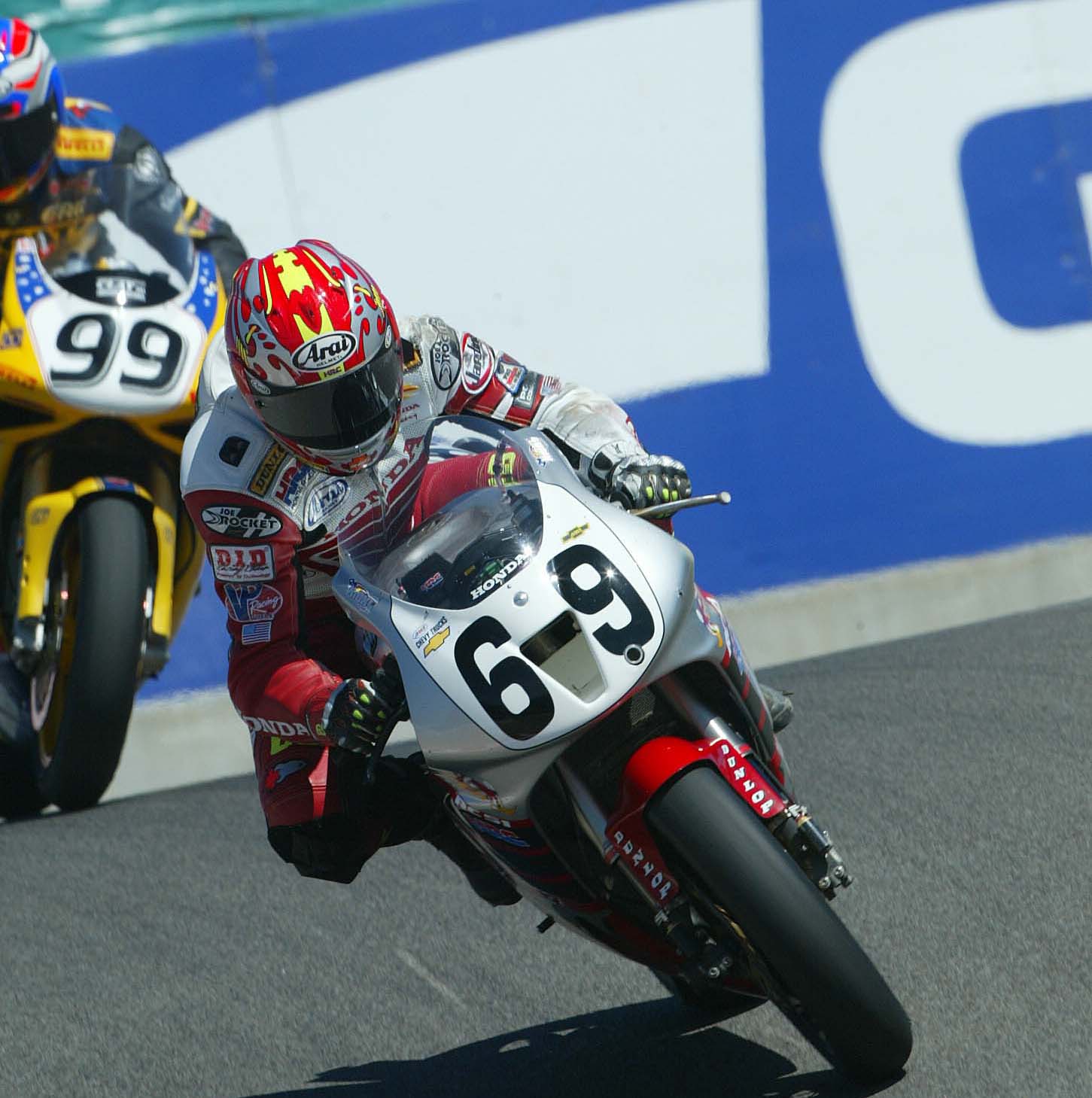 "It's weird, I was thinking about it today, I was looking on Facebook and I saw a picture of Nicky Hayden, and it made me smile, and I thought, 'wow, I remember that big night we had in Monterrey when he was a wildcard in the Superbike race [in 2002], and he'd done really well'. We all went down into Monterrey and everyone got drunk.
"And I'm just thinking – thinking more of Nicky – how important those nights were with what's turned out, in obviously [him] dying so young. And I'm like 'wow, what a special time that was'.
"Now it's a little bit too clinical but it is what it is, isn't it? And you can't have one without the other.
"It's like this dead serious sport, but you can't have everyone getting drunk as well."
Tune in to BT Sport for coverage of the Styrian Grand Prix at the Red Bull Ring, starting from 8am UK time on Friday, August 6, as MotoGP reconvenes after its summer break.