Factory Aprilia MotoGP racer Aleix Espargaro says that the overseas leg of the 2023 championship has led him to reconsider his whole MotoGP future.
Originally planning to retire at the end of 2024, something he admitted to The Race earlier this year, he says that a different strategy for the overseas races has reinvigorated his passion for the sport again and might just keep him around a little longer.
Espargaro has four top-10s in six races and lies sixth in the championship, ahead of Maverick Vinales as the top Aprilia rider so far.
Coming to the end of an intense 10-week period with six races in the books and two more to go, Espargaro has adopted a different strategy to his rivals in order to cope better with the travel, basing himself in Bali and taking life easier than he has in the past.
Not only surrounding himself with his family on the Indonesian island during the break but also hanging out with MotoGP rival Jorge Martin and up-and-coming star Fermin Aldeguer during the time, he says the move has paid off for him.
"I was very worried last year when I saw the calendar," Espargaro admitted, "because last year I arrived completely destroyed after Valencia.
"But this year is completely different for me.
"I don't know if I had a different approach, travelling with my family, disconnecting in Bali with Jorge and Fermin, but for me I'm enjoying it a lot more this year.
"I think this is actually the year that I'm enjoying more than ever, and I think for me to get close to really young riders like Fermin or Jorge gives me vitality.
"I'm really enjoying it a lot, and I don't feel like it's a hard calendar like for sure my team and my mechanics feel it."
Something that's very familiar to anyone who listened to similar comments made by Valentino Rossi in the twilight of his career as he surrounded himself with the young riders of the VR46 Academy, it's something that's unintentionally paying off for Espargaro and may, he says, even end up changing his whole career plans after next year.
---
Most premier-class grand prix starts, all-time
1. Valentino Rossi - 372
2. Andrea Dovizioso - 248
3. Alex Barros - 245
4. Aleix Espargaro - 235
5. Dani Pedrosa - 220
Most premier-class grand prix starts, current grid
1. Aleix Espargaro - 235
2. Marc Marquez - 167
3. Pol Espargaro - 164
4. Maverick Vinales - 158
5. Jack Miller - 155
---
"Before, it was really difficult to disconnect after a race," he explained.
"I was really depending on the result of the day before. But now, not any more. You know how I am - I crashed five times in Malaysia and I always give 100%.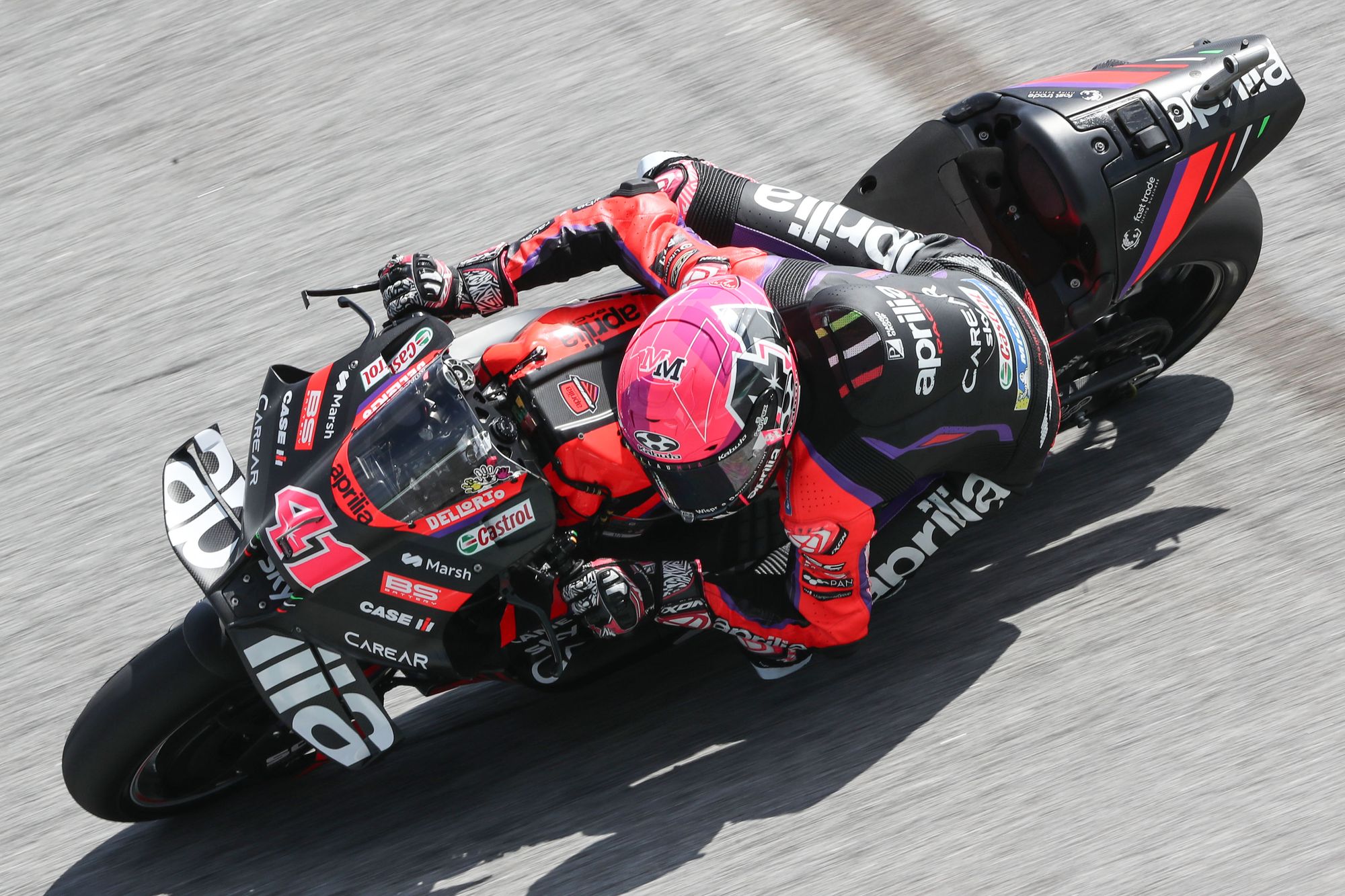 "But if I finish 10th or 11th in Malaysia because that's all that we had, and no one else from Aprilia finishes ahead of me, then I'm able to go to dinner with my family.
"I was super professional all weekend but able to disconnect and have fun with them.
"The last year when I arrived in Qatar, I spent every day in the gym, going cycling, but this year I went with the water bikes with Fermin and Jorge, went out for dinner a couple of days. It's nice to find the balance.
"It makes me think that I can race a little bit longer, if I can maintain this approach to the races and Aprilia is still improving.
"I feel less pressure than ever, these last three months, and maybe I can race one or two years more."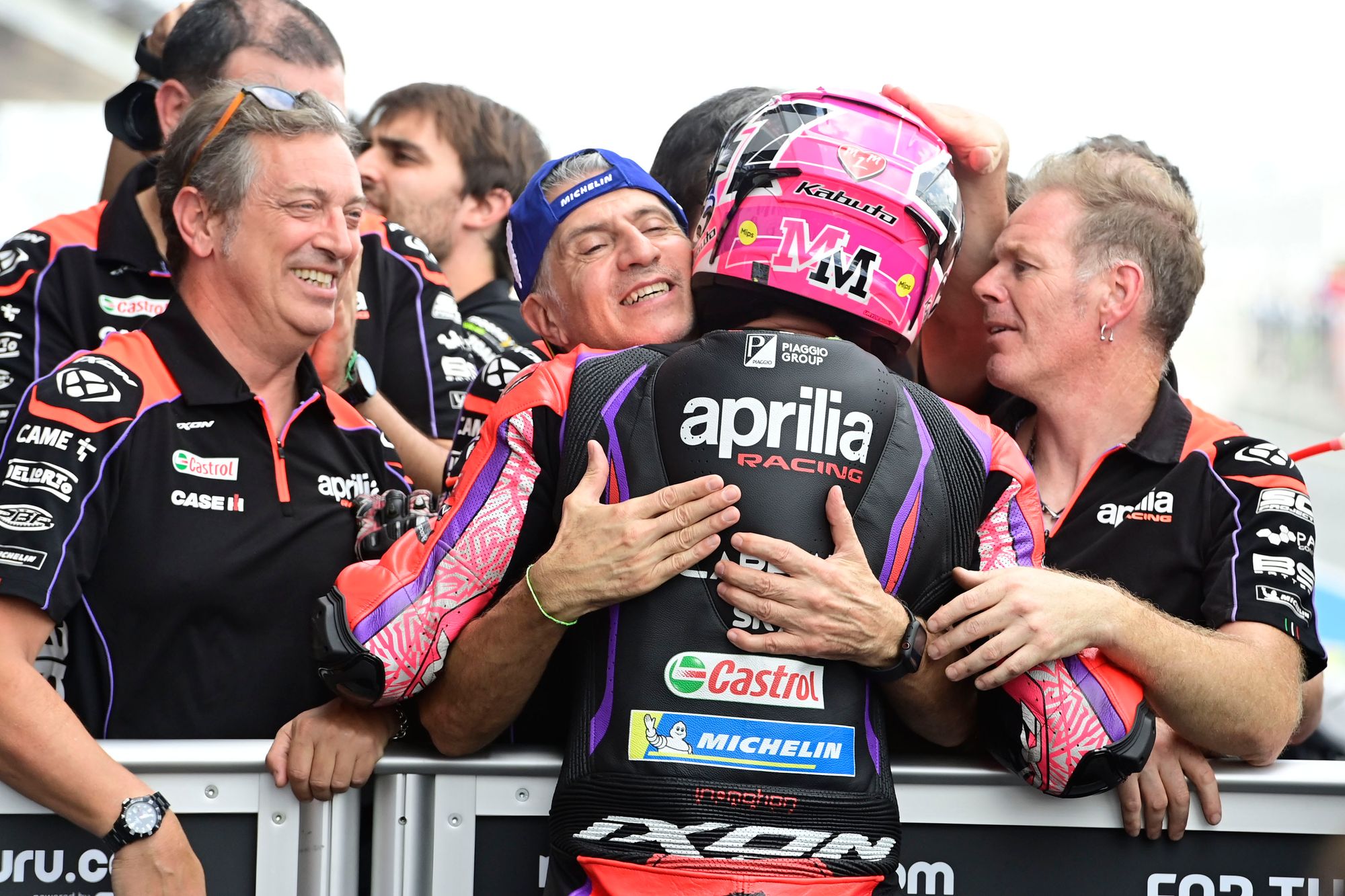 But while Espargaro might have had a fulfilling overseas leg so far (even if it's not been the best for Aprilia), he's adamant that there's still more to come before the season wraps up in Valencia in 10 days' time - with this weekend's round at Lusail somewhere that he's specifically been targeting for success since the beginning of the year.
"I know that the normal answer for all the riders is 'let's see how it goes', but no," he said.
"I want to win here. I want to fight for the podium right away.
"I've made a big effort in all the races outside Europe and, except for Malaysia where we were very slow, in the others we've been very competitive and close to the podium."