For a rider who seems to be having the rug pulled out under him on a near-weekly basis when it comes to securing a MotoGP 2024 future, Gresini Ducati rider Fabio Di Giannantonio was in wonderful form facing the media ahead of what very well could end up his second-to-last outing as a MotoGP full-timer.
"Wait, I do the questions," he bantered on Thursday at Qatar's Lusail track. "I'll guess, I'll try. 'Are there some news about the future?' Is it good?"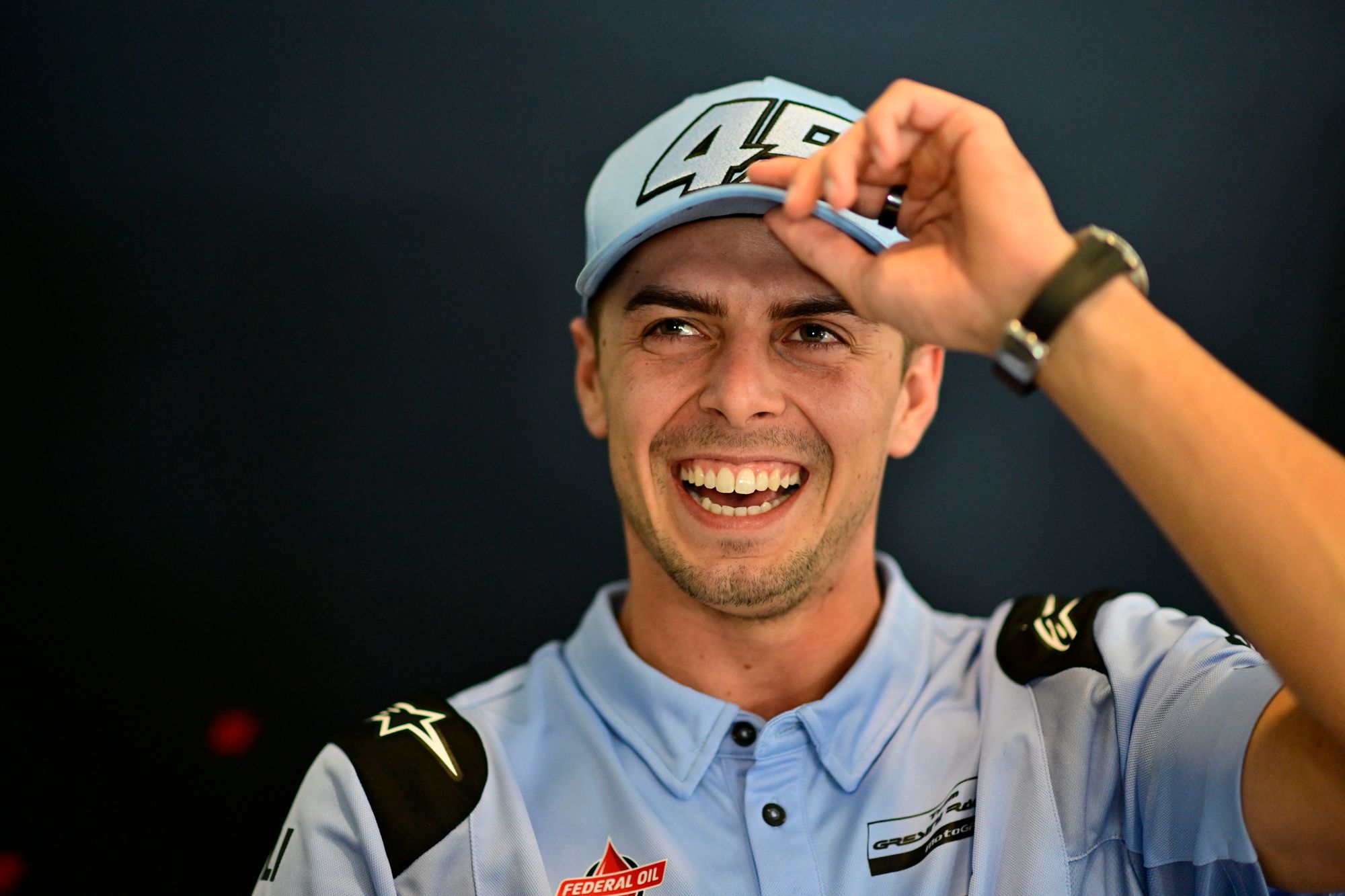 "No news, guys, no news," he insisted as laughter from the attendant media subsided. "No particular news, I think now it's two-three places in MotoGP that are still [open], I think in a few hours we will know everything. I have asked strictly to, whatever it is, not to know it until Sunday. Because I want to just, for real, I want to just think about racing, because it's too stressful every time.
"Every time it's like a surprise. So, just on Sunday we will know I think everything, and in Valencia when you will do again the question I will reply with something concrete, I hope."
Solidly competitive as of late - Di Giannantonio is currently at five consecutive top-10 finishes and counting, having never strung more than two together before in MotoGP - the 25-year-old Italian will cede his Gresini ride to living legend Marc Marquez next year.
He had his sights set on the Honda ride this move freed up, but this now looks to be going to Luca Marini - who, while he has remained relatively cagey on the subject, did acknowledge to British broadcaster TNT Sports on Thursday that talks were indeed ongoing (and that they were having to take place at a higher pace than he would've preferred given the temporal proximity of the Valencia post-season test).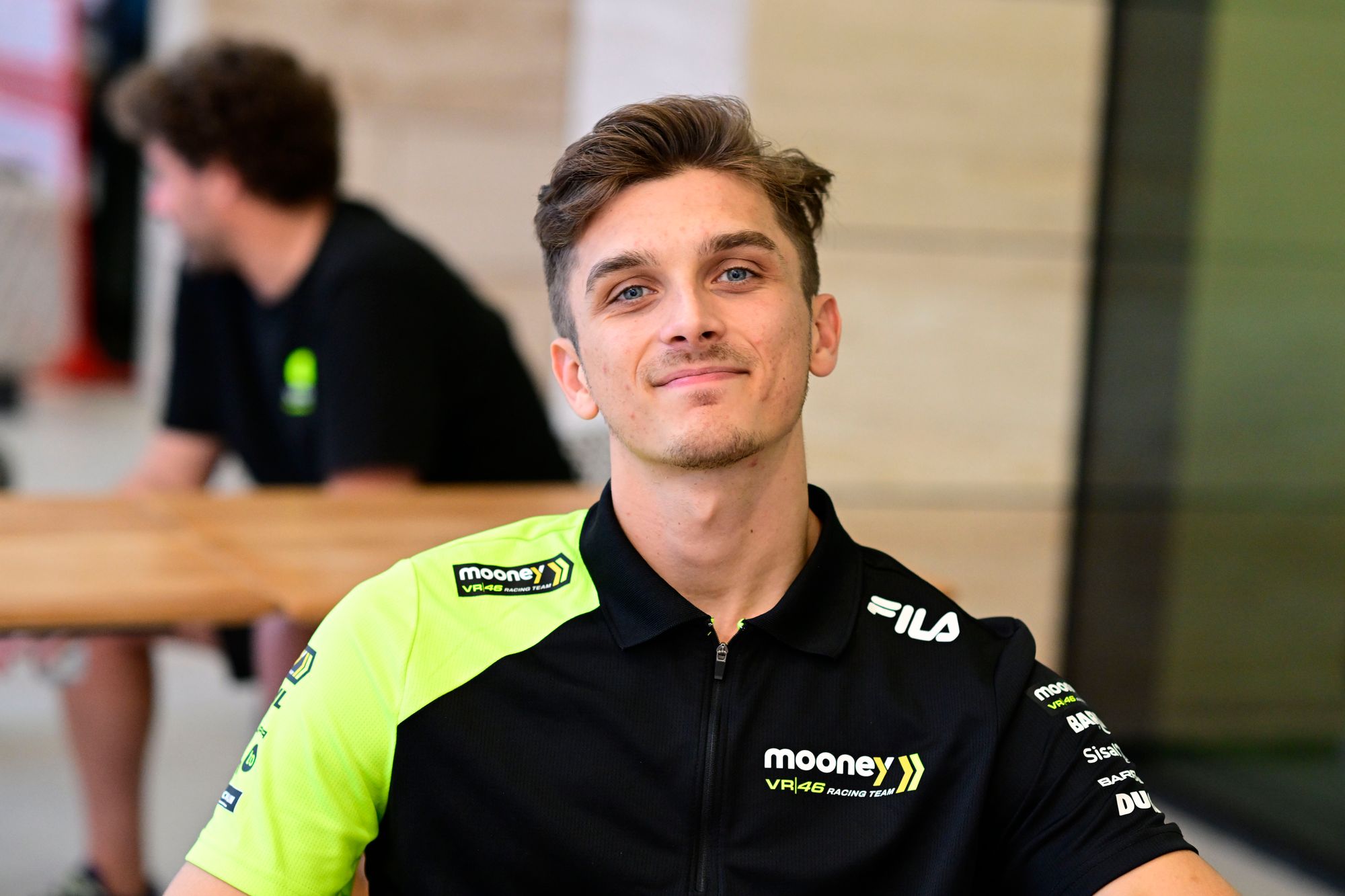 Naturally, this then frees up a VR46 Ducati seat. And it has been speculated in the paddock - and corroborated by The Race's sources - that Di Giannantonio has a keen interest in that one, too, and that he went back to Italy recently seeking a potential deal.
Di Giannantonio, for his part, insisted the return to Italy was just because "I did five weeks off, and I really needed to put my ass in my bedroom at home". And one of his answers did suggest that he's very aware that Moto2's form man Fermin Aldeguer might just be VR46's preference instead.
A MARQUEZ-TRIGGERED 'SNOWBALL'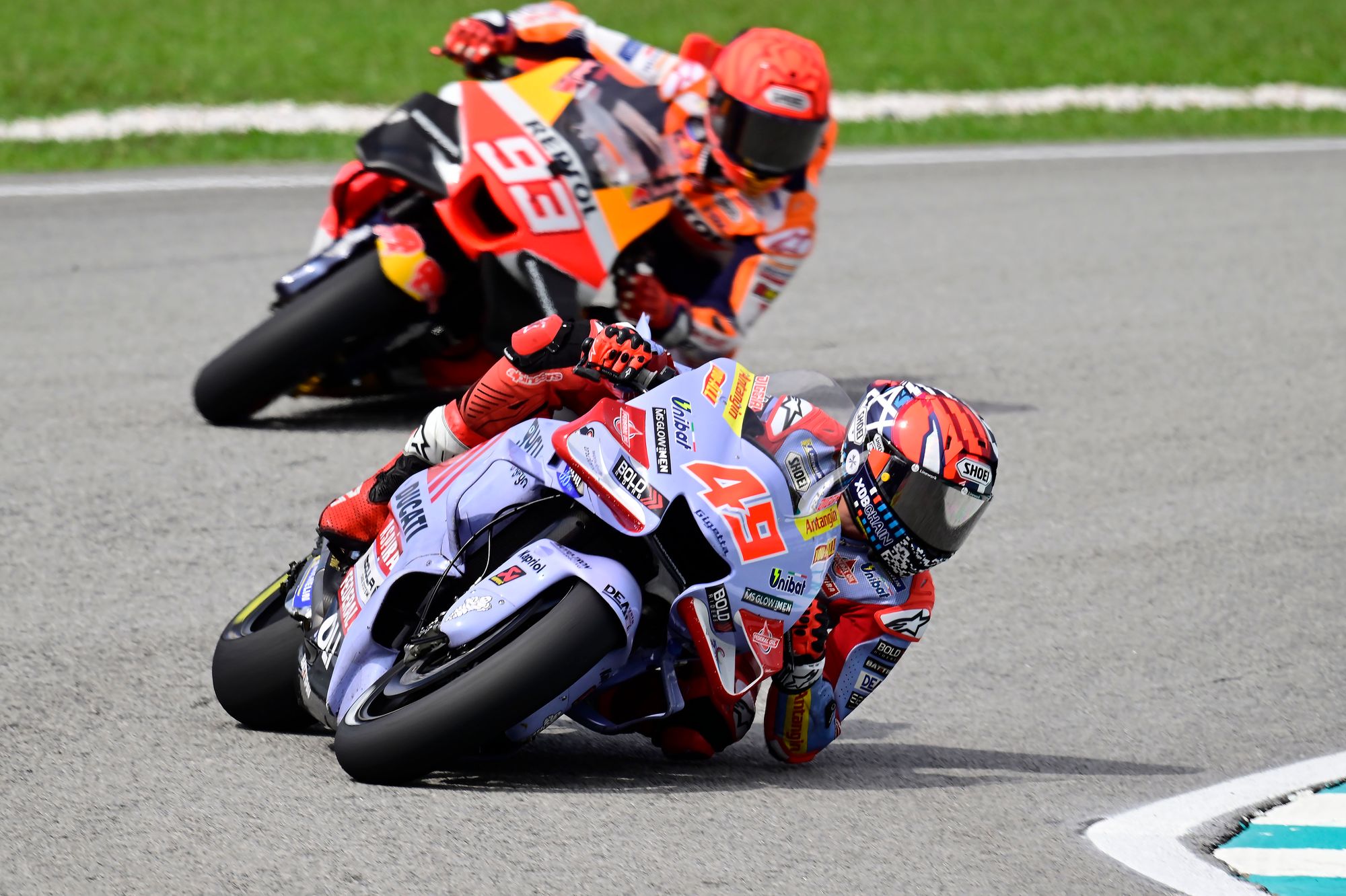 "For sure it has been like a domino, let's say," Di Giannantonio said of the sequence of events that will potentially leave him on the sidelines for 2024.
"For sure the Marc thing, it was completely unexpected for, I think, everybody. Because Marc at the end left Honda after 11 years with them. They stopped the most successful relationship ever, to join my team, a private team, in my place. So for sure this has been the first domino.
"Then okay, there was the Honda seat, and at the moment it seems they want another rider. So... we were close, but they want another rider. So, it's a second domino.
"Now the last place that for me obviously would be an amazing place, because I have a lot of respect for the VR46 team, for the [VR46] Academy, for what they do. Seems they want another rider, so it's the third domino.
"And so, the places are finished. So it's like... for sure Marc started everything, and it's been like a snowball that went bigger and bigger and bigger."
NO (FOR NOW) TO MOTO2 AND WSBK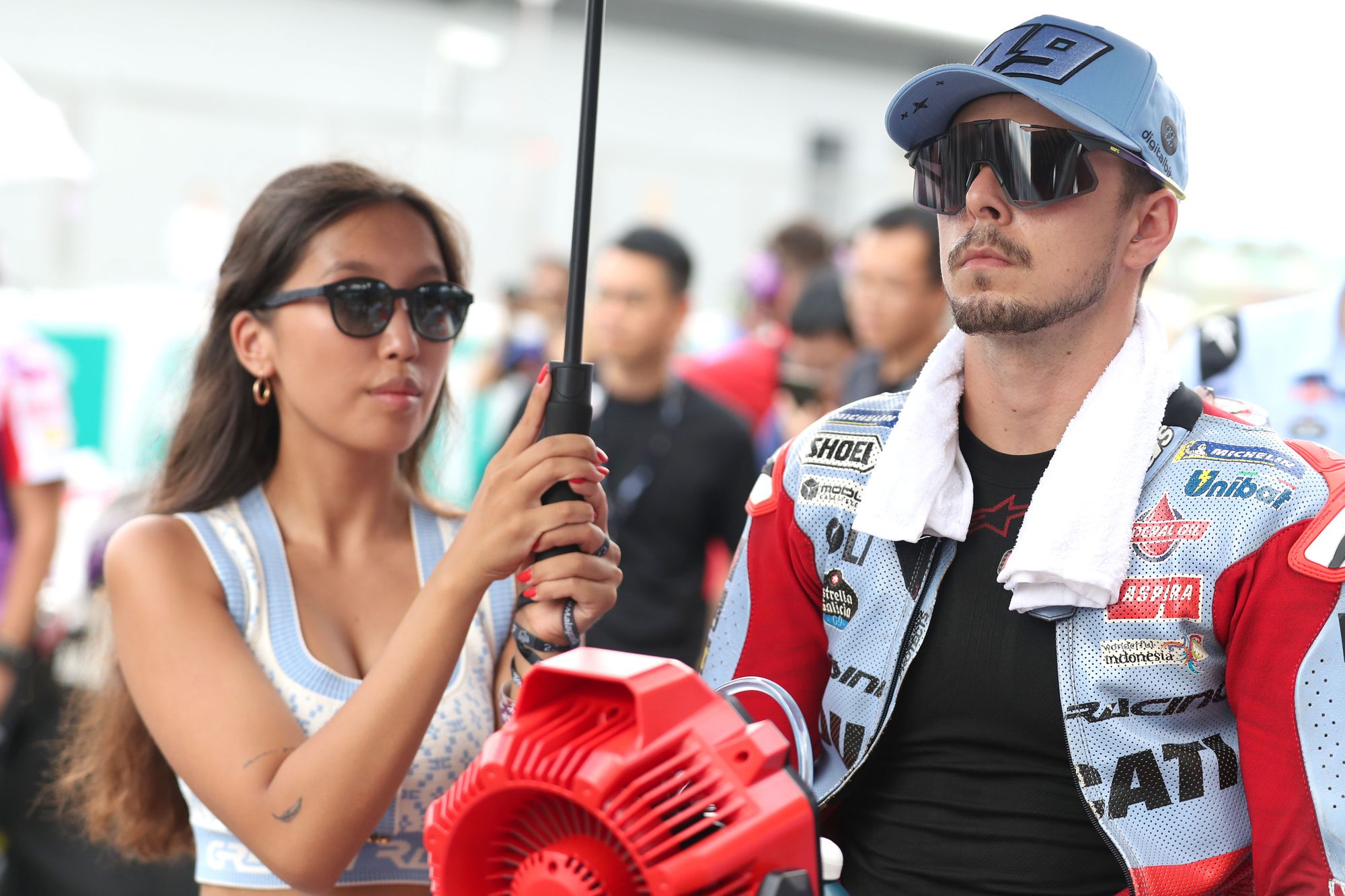 The idea that it that it was Marquez's decision that left Di Giannantonio scrambling seems to run against conventional wisdom, considering that before the Marquez option arose Gresini looked to be mulling the likes of Franco Morbidelli, Tony Arbolino and Jake Dixon - and that Marquez suddenly indicating he might be available is potentially what stopped the Italian team from committing to a Di Giannantonio replacement sooner.
At the same time, his progress from the start of the season to its final rounds has been unmistakable, and it has left Di Giannantonio with a confidence that he has done enough to warrant at least a third season in MotoGP.
This is also why a return to Moto2 - even if Aldeguer might be freeing up a seat at the very Speed Up team that Di Giannantonio already rode for in the intermediate class - just doesn't appeal.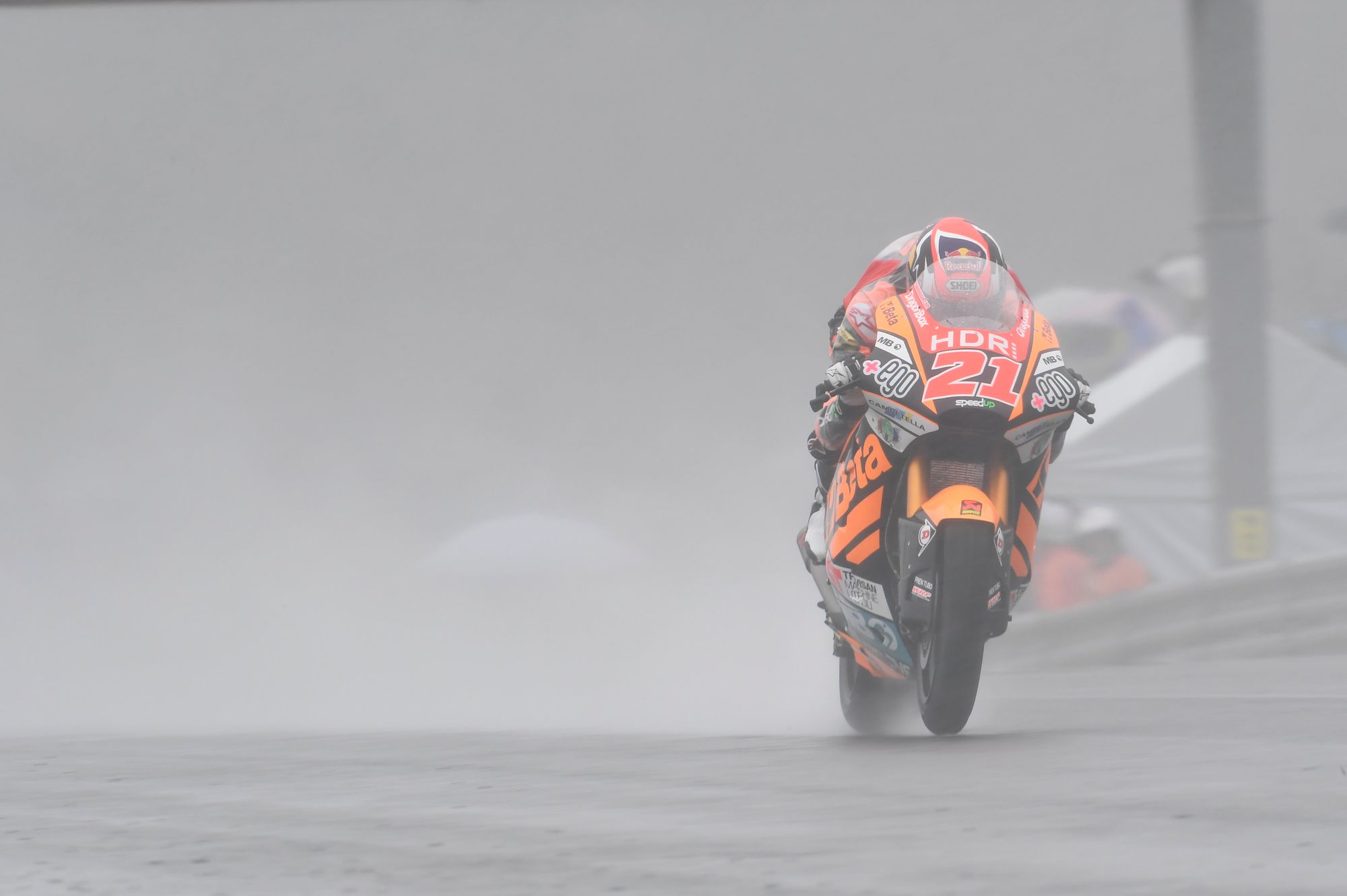 "At the moment no. Maybe next weeks, maybe, but at the moment it's not an option.
"And I don't want this as an option, because... I fully deserve MotoGP. I fully deserve to be a MotoGP rider.
"And I think this situation has been quite strange and, yeah... let's say 'strange', because everything happened, really everything happened. And I'm a bit angry with this situation because I don't deserve it. In my second year in MotoGP, I have all the results in my side to stay.
"So at the moment a Moto2 bike would be just, I think, a lose-lose situation for me. And as I'm a person, and I [feel that] don't deserve this, at the moment it's not an option."
Ditto for a switch to World Superbikes, which he feels "is not logical for me at this age". And ditto for a sabbatical, because "if you stop, you stay at home".
SUPERSUB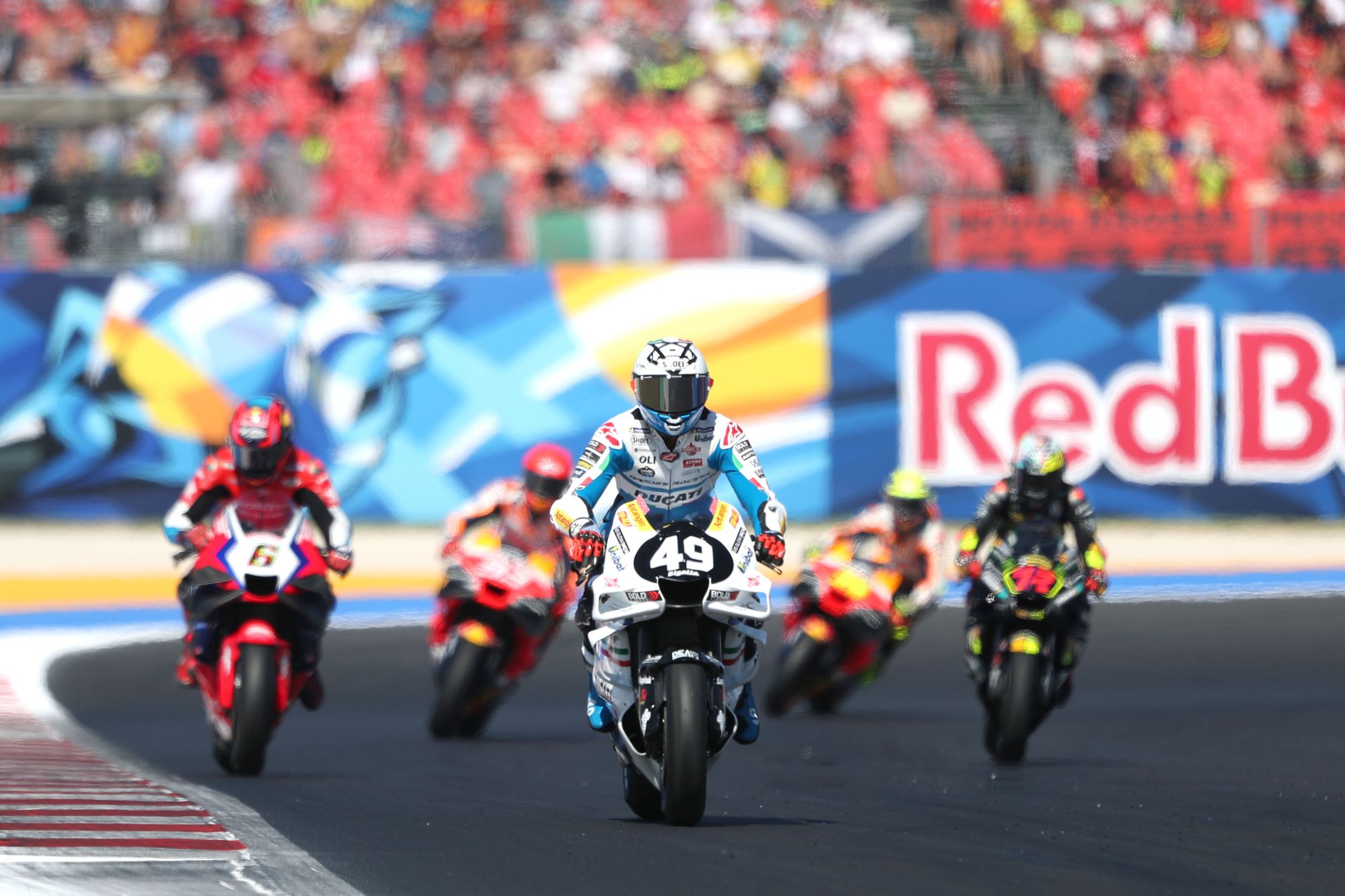 Normally, this would suggest he has exhausted and turned down all options. But Di Giannantonio is aware, like everyone else who has followed MotoGP this season is, that the extended calendar, addition of sprint races and other less-obvious factors have meant that replacement riders are suddenly much more in demand in the premier class.
As many as 31 riders have started a grand prix this year, 25 doing so six times or more.
"Let's say that basically I don't like in any way this situation," said Di Giannantonio of the prospect of being a drop-in substitute in 2024.
"Also test rider, for sure it's an option, but it's not a thing that I really like. Because I think that, as I said, I fully deserve to stay.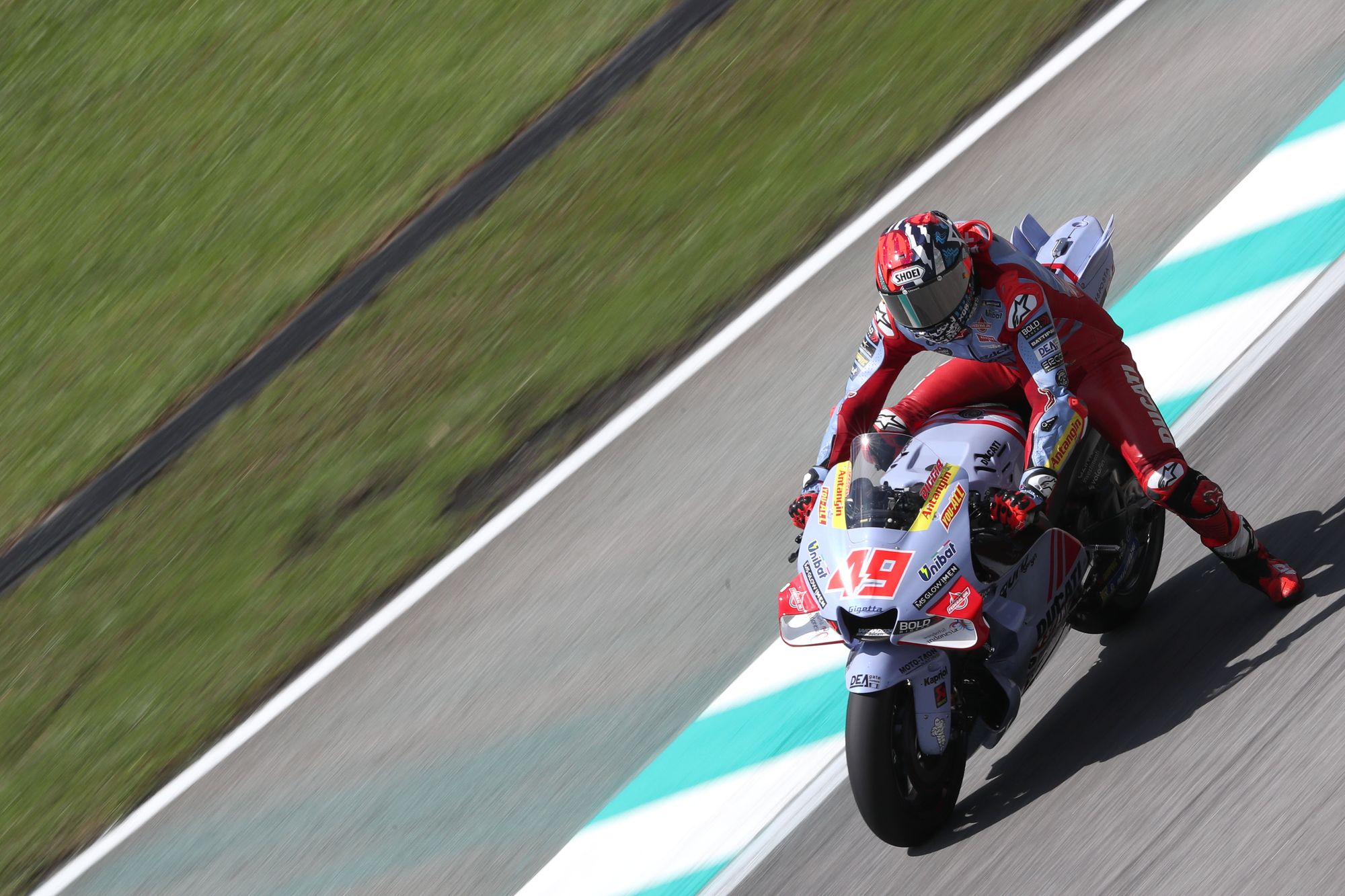 "But yeah, for sure if it has to be the situation, and I really want that you all understand that it is a Plan B! - because I don't want to see tomorrow [headlines that] Plan A is to go be a test rider, no. But if it has to be, for sure it's an option.
"Because as we saw, unfortunately this sport is dangerous and there are many races, many contacts. So, you can have a sort of card to play that if you do a race replacing a rider, you can do a good job and make you shine for the future.
"And it's better for sure [than] to be back in Moto2 or be in another championship. So, for this we are considering it at the moment."
GO FOR GLORY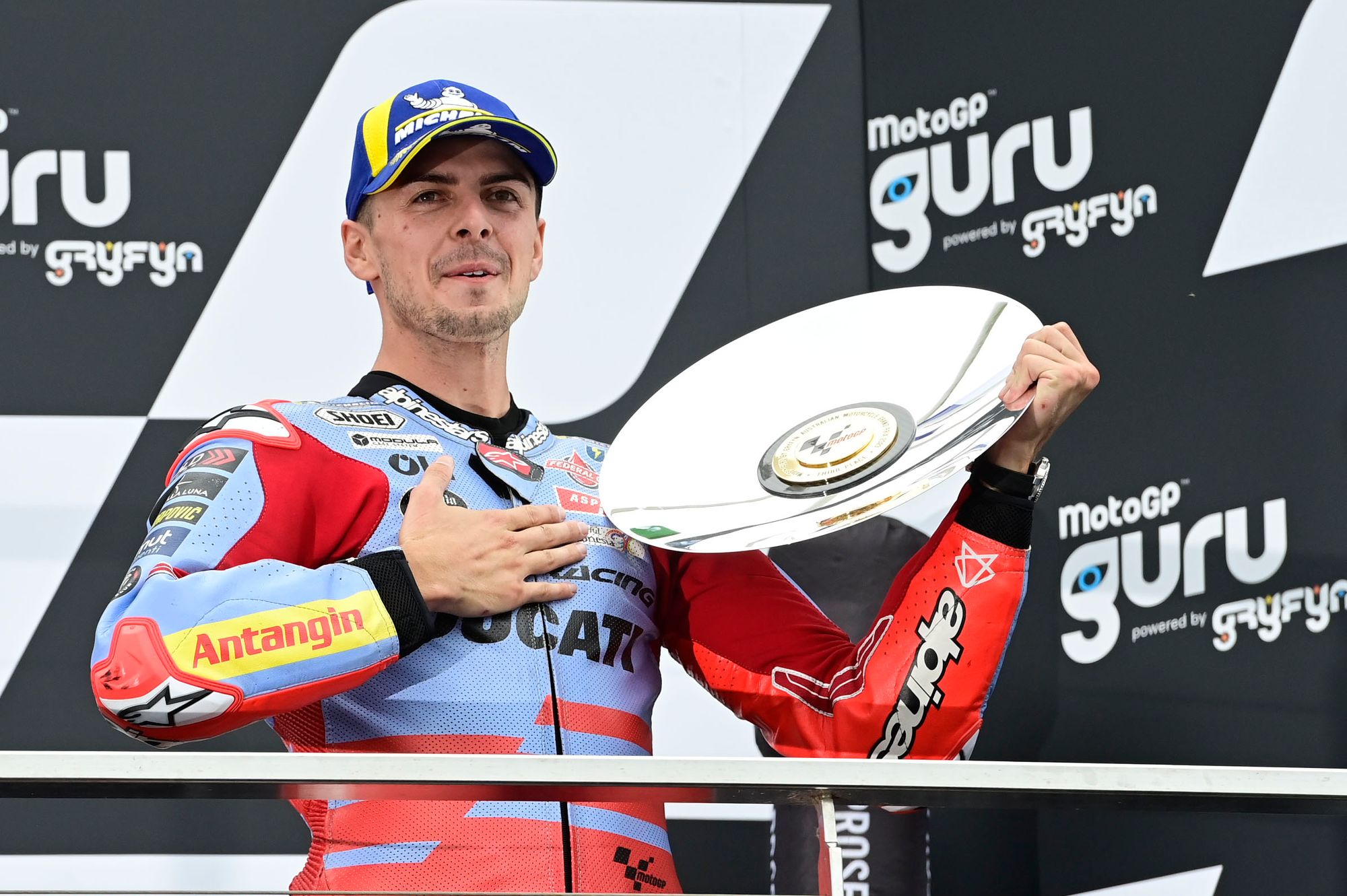 In the meantime, Di Giannantonio has his sights set very high for the final two rounds of the season.
His ambition may well seem unrealistic - and maybe it is - but after a Phillip Island race in which the Italian didn't just finish on the podium but was an honest-to-goodness, no-doubt-about-it victory contender, it's not as preposterous as it may have sounded earlier this year.
"The goal... honestly in my mind there is only the win.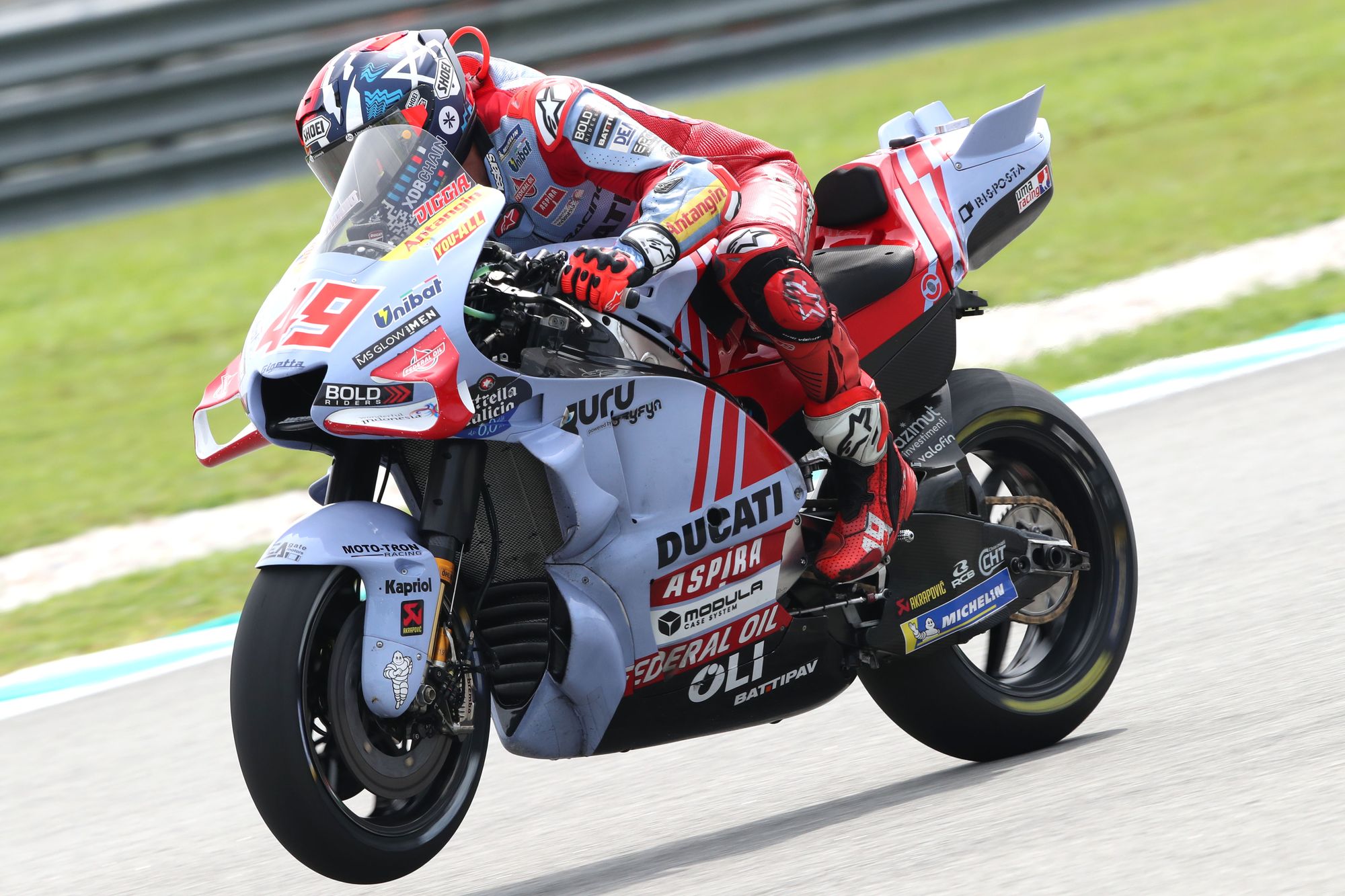 "Honestly, for sure this year has been tough. And at home also we were discussing with friends, family. So, yeah, it was a moment that I said 'guys, if this has to be my last-last-last season in MotoGP, I have to make a podium. I want to live with a podium in my belt'.
"And I did a podium. But now we are two races [to go] and I did the podium already. So, now my goal - it's possible I don't do it! - but the main goal is to win. So for sure I will give it my all."