Back before the current 'gold rush' of simracing, before I'd completely given up any pretenses that I could one day be a decent online racer and before rFactor 2 was a thing at all, I remember deriving some simple and fleeting joys from sampling a wide range of motorsport categories on its predecessor.
From the Formula 3 Euro Series class of 2005 to CART's 1998 field, the community-driven rFactor 1 could be paired with an array of mods that of course weren't officially affiliated with the series they were recreating but were nonetheless clearly faithful and loving representations.
Thing is though, the authenticity always took a back seat to entertainment value, and my fondest and also prevailing memory of rFactor 1, rather than being any sensible circuit race, is taking the fleet of 2005 Formula 1 cars and letting them loose on a fictional all-gravel rallycross track someone made called Karelia Cross.
If that sounds stupid to you, that's because it was. Those cars could not handle that track. The AI pathfinding would regularly throw a fit. Most would not finish. It was perfect.
Amid the rather gloomy current times, I was reminded of that absurd spectacle by a series of tweets from MotorSport Vision press officer Tom Arron, who envisioned a beautiful alternate universe in which major series raced on tracks you could never imagine them racing on in our reality.
I'm sure you all remember when, in the late '80s, a small typo in the regulations led to Group C rather than Group B cars taking part in the Brands Hatch Rallycross Grand Prix. pic.twitter.com/X3but26C4d

— Tom Arron (@norramot) March 29, 2020
Arron has run NASCAR Cup cars at Monaco and Bathurst, IndyCars on the Monza oval and at Knockhill, and Group C sportscars on a rallycross track. He has has had sportscars share the track with F1 during the same race.
All of these would be unconscionable in the real world, for a variety of reasons including but not limited to safety, logistics, absurd repair costs and entirely questionable sporting merit.
But with the coronavirus pandemic causing motorsport competitors and spectators to stay at home en masse and therefore turn to online racing, a lot of the barriers have disappeared.
Nearly every motorsport championship under the sun has established a virtual alternative for its pro competitors during this time. Some – like IndyCar, NASCAR, Formula E and Supercars – have followed their real-world racing templates as closely as could be reasonably expected (with some extra circuit creativity appreciated on the Supercars side), while others – namely F1 and MotoGP – have forgone realism in the pursuit of entertainment.
All these efforts are appreciated, and have yielded some stellar virtual motorsport competition. But though the virtual circuits are a decent stand-in for the real thing, they also provide the opportunity to explore some more outlandish scenarios for the purposes of entertainment while retaining the sense of friendly competition.
For example, the NASCAR iRacing series that concluded this weekend was superb, but what a draw it would be to see the game developers organise something like a Formula Renault 3.5 or a Dallara F317 race at the tiny Bristol Motor Speedway oval, and invite all sorts of professionals across NASCAR and open-wheel racing. After all, we are never going to see those cars grace the actual venue.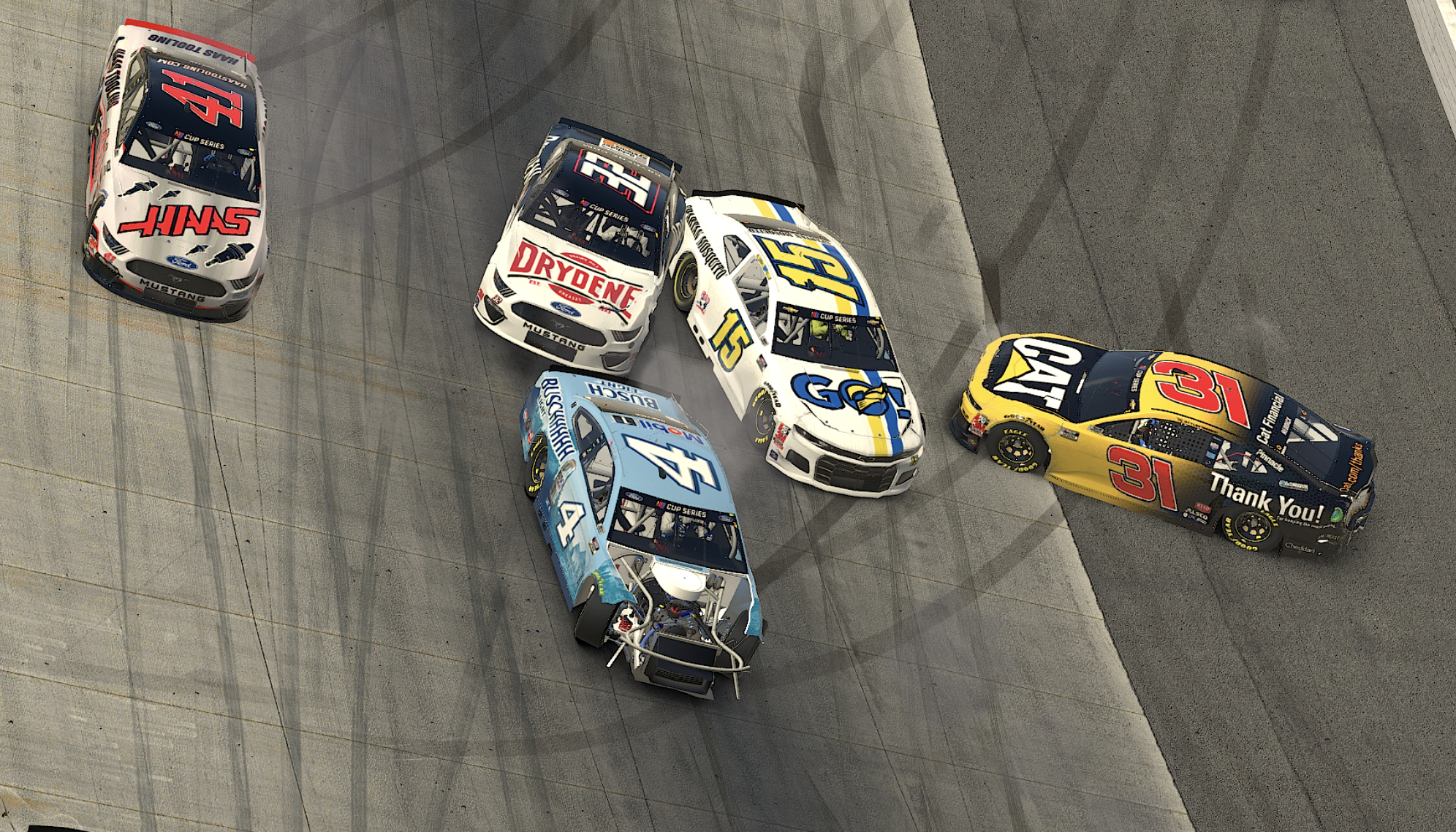 We are never going to see a NASCAR Cup race at Silverstone, but the championship could surely decide to just hold one of the rounds of an esports series there, and get a ton of eyeballs on the spectacle. It's not the real thing, no, but you don't need to worry about track homologation, travel arrangements and having to come up with a local crowd.
Imagine rallycross cars at Eldora, perhaps tackling it at the same time as the usual NASCAR Trucks or Late Models. How about a multi-class race at Interlagos with LMP1s and IndyCars? How about an all-McLaren MP4/13 race on one of those made-up retro tracks in rFactor 2?
Some of these pitches might ring a bell to the followers of the American virtual racing scene (there have already been multi-class events, crossovers and most memorably – although not for the reason you would've wanted – that 60-car 'Monza Madness' event organised by Landon Cassill) or to those who have been watching F1 drivers goof around racing lawnmowers on their Twitch stream.
You could use some equivalent to Mario Kart's Rainbow Road, recreate the Targa Florio but with F1 cars, add some loop-de-loops to Suzuka
But involvement from major series and broadcasters that would up the stakes for such novelty races is still lacking, at least certainly on the European side of the equation.
The limits are different when it comes to virtual racing, but much of the current offering appears somewhat shackled by the demands placed on the real-life alternatives. It was jarring, for instance, to see the online Supercars series make use of safety cars in the very same round that featured this piece of commentary: "Wow, was that Rick Kelly helicoptering off the bottom of the front straight?"
Absolute madness! 😂#VASC pic.twitter.com/WhixyYdLlY

— Supercars (@supercars) April 8, 2020
This is not to say safety cars are bad to have in an online race – even if their main raison d'etre vanishes, they can still aid the entertainment factor. But there's no dire need for it, and there's no need for any other safety considerations and limitations, because nobody can get seriously hurt.
Though its selections are no doubt dictated by what's available in iRacing, Supercars has got off to a great start with its use of F1 and US classics like Monza, Spa and Watkins Glen in its All Star Eseries so far, and one of the rounds on its schedule is a Talladega/Daytona double-header, which sounds mesmerising.
But much more can be done. If you're setting up your virtual racing entertainment series, you could use some equivalent to Mario Kart's Rainbow Road, recreate the Targa Florio but with F1 cars, add some loop-de-loops to Suzuka, experiment with all sorts of corners and layouts – the latter could even come in handy for future real-world track design.
For a variety of reasons – not just the draw of personalities – this is something you'd ideally do with the more-relaxed pro drivers rather than professional simracers, for whom serious online events are of course their bread and butter.
And mind you, this is not at all a plea to take the 'pro racer' competitions less seriously. That argument would rightly not be massively welcomed in the post-IndyCar iRacing finale climate. Rather, it is simply the desire to see organisers get a little more creative.
Racing VIPs could stand to be challenged in some unique and curious ways. Getting them into gimmicky novelty races maybe wouldn't be particularly valuable from a sporting point of view, but it would sure be entertaining – and their competitive natures are bound to break out anyway.