With only one round left to run in The Race All-Star Series powered by ROKiT Phones, both Sim Masters championships are still up for grabs.
Mathematically anyone in the top 16 could win the drivers' championship as the drivers have only one normal and one reverse-grid race remaining.
It's only the top five drivers though who are within 40 points of championship leader Bono Huis, and only the top four have over 200 points.
Remarkably Huis has the most points despite not winning any of the previous eight races.
But he's been a consistent performer as his lowest finish in a race has been 15th, which is impressive given the reverse-grid races and that there are over 30 drivers taking part in the championship.
In the most recent round around the Indianapolis Road Course, Huis gained 17 positions in the seven-lap reverse-grid race to see the chequered flag in 13th place.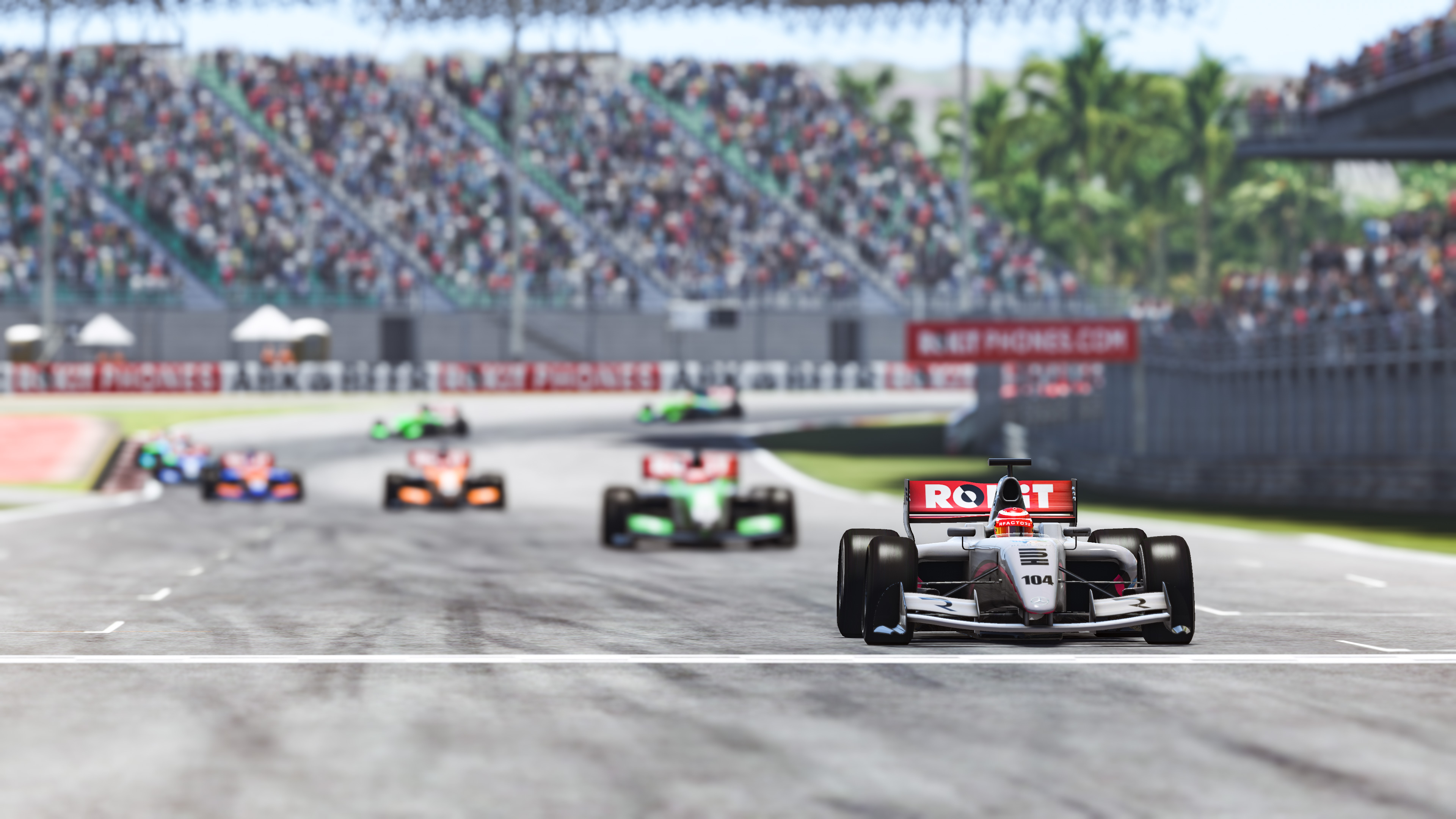 He's been one of the best at consistently carving his way through the field, but he believes a lot of his reverse-grid race success has been down to luck.
"Every race there's always a bit of trouble ahead and incidents that you have to avoid and it's trying to predict it," Huis told The Race.
"Choose where you want to be in certain corners and where you expect people to end up when they do crash, so you can anticipate it a bit but a lot of it comes down to luck as well.
"In Malaysia I took a really careful approach but that just ended up with me getting caught up in the crashes.
"So from Estoril onwards I've just been trying really aggressive moves to try and get up the field and it seems to be working.
"There's been a couple of moments where I was really close to going off the track and losing everything but it's just about being calculated with your risks and just going for it."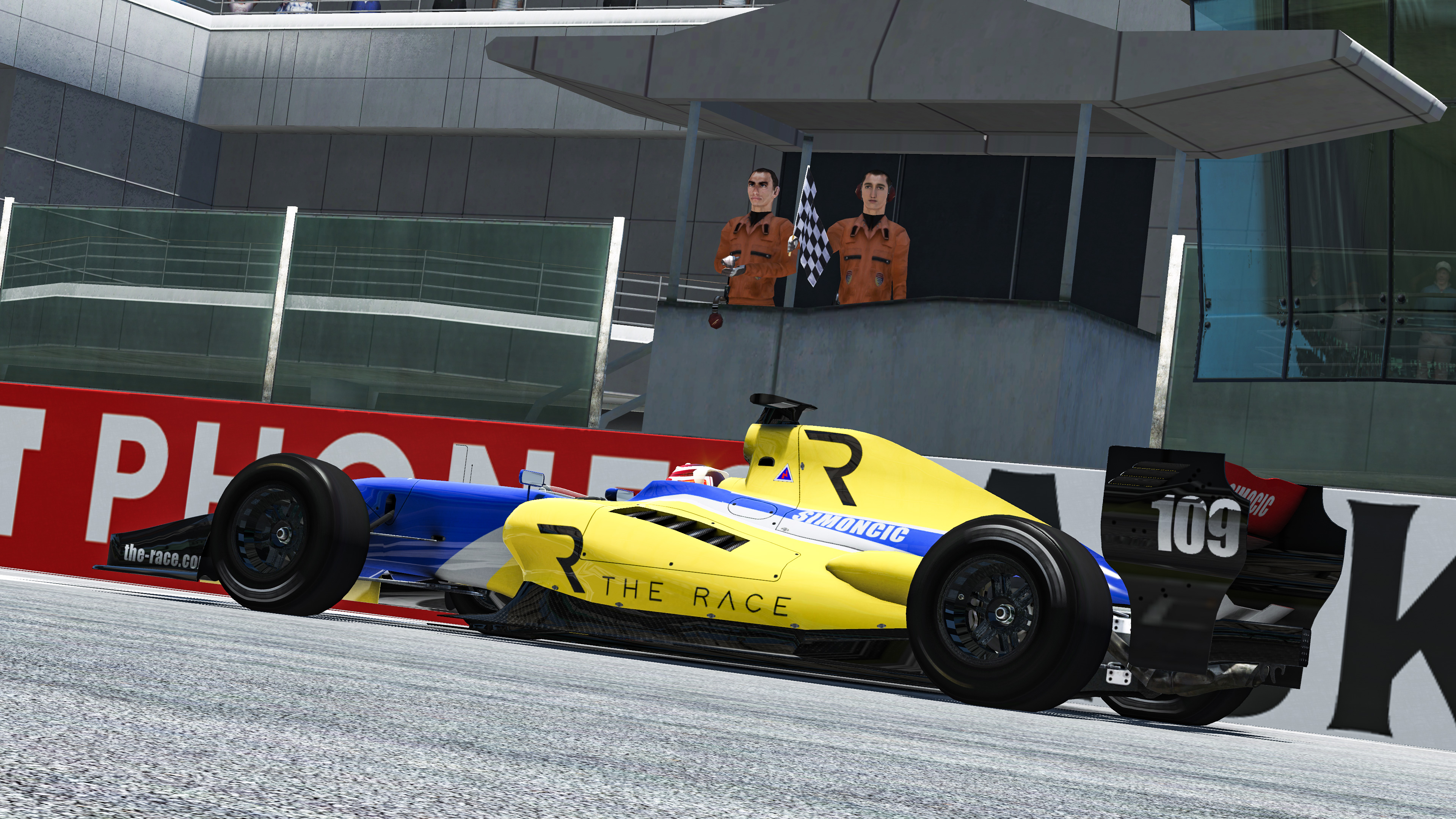 Other championship contenders who have been strong in qualifying and scored the majority of their points in the first races include third-placed Jernej Simoncic, who won the first Sim Masters race in Malaysia and finished second at Estoril, but a comparatively poor performance around Zandvoort with eighth place meant he lost the championship lead.
Rudy van Buren, who currently sits fourth in the drivers' championship, took pole position and won both of the qualifying-based races in the two most recent rounds.
Alex Siebel is also firmly in championship contention despite only claiming one podium finish to date.
He's also had better results in the first races, with a third place, two fifths, and a sixth, meaning he's sixth in the championship and only 42 points behind Huis.
There are others who have sacrificed their chances of glory in the first of two races in order to get an advantageous starting position for the reverse-grid race.
Kevin Siggy in fifth is one of them, achieving a best finish of 19th in the normal races, but then eighth-, fourth-, second- and first-place finishes in the reverse-grid races.
The most successful driver to have deployed this tactic is Kuba Brzezinski as he's balanced out a best result of 13th in the opening races with podium finishes in every reverse-grid race and a win in the most recent event.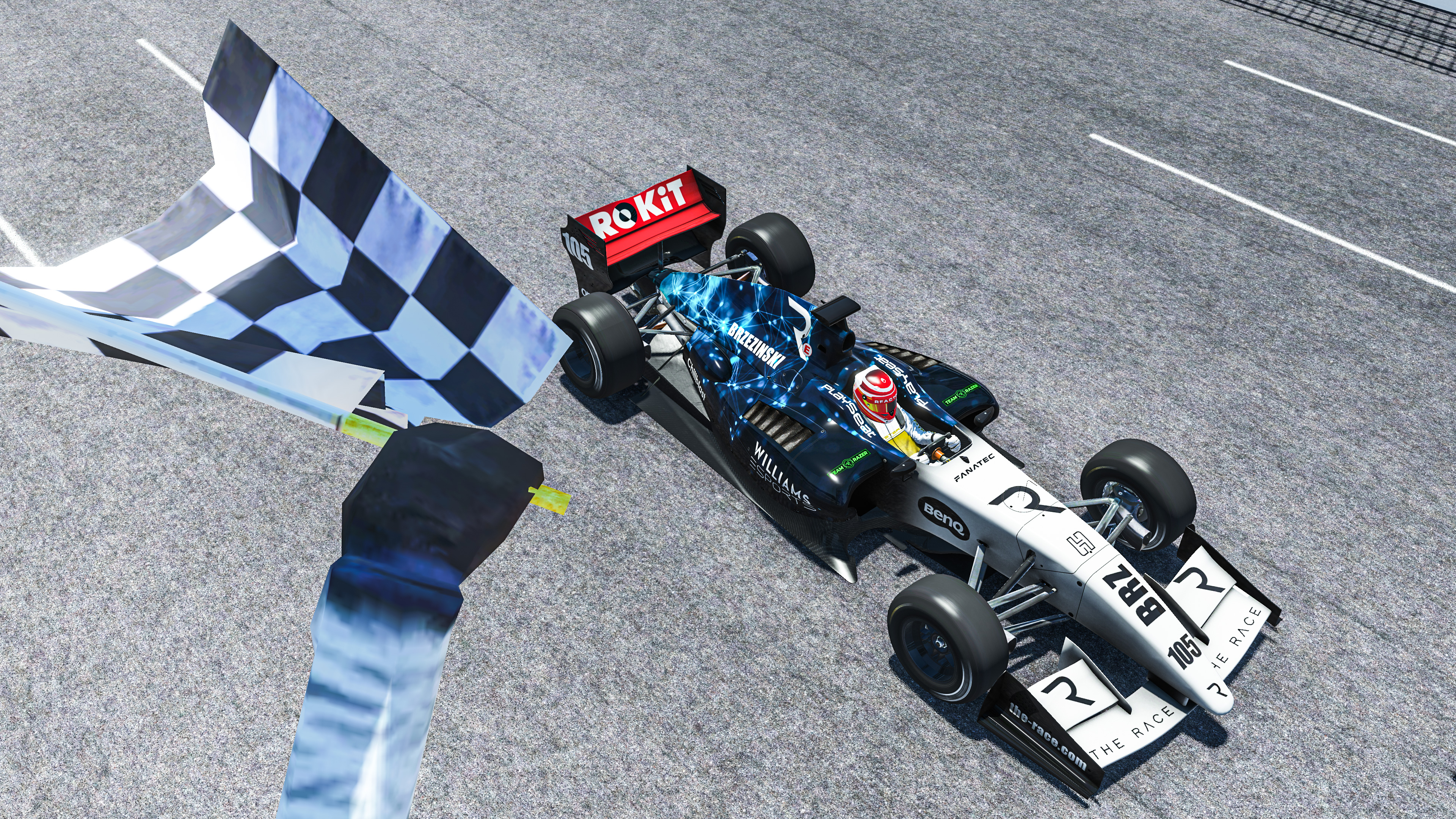 Brzezinski is sitting second in the Sim Masters championship and only five points behind leader Huis.
Meanwhile, the nearest driver behind him is Simoncic, who trails him by 18 points.
Brzezinski has deliberately optimised his qualifying results in order to guarantee a front starting position for the reverse-grid races, a tactic he admits he isn't the most satisfying.
"Starting at the back compared to getting pole is more advantageous because you'll be racing, in theory, slower guys," Brzezinski told The Race.
"It's nothing I'm proud of and I don't think I even deserve to be in championship contention.
"But you need to race to the rules that are presented to you and if that's my best opportunity to score points then I'm going to take advantage of it obviously."
With Brzezinski's reversed-grid race results improving at every round, you would assume that he would be confident in his chances of winning the Sim Master's drivers' championship.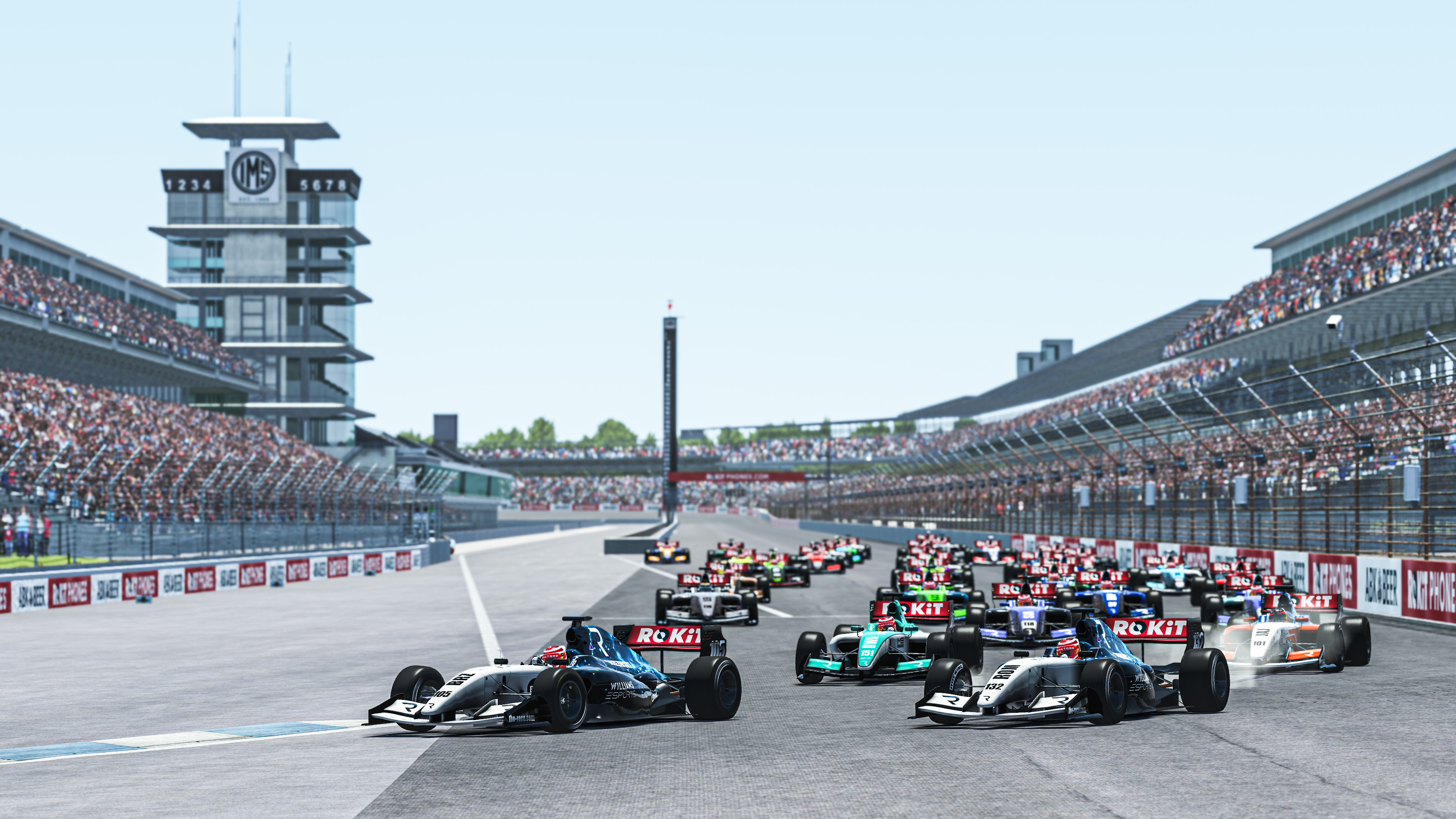 However as he's travelling to go to a friend's wedding, he'll have minimal practice for the final round and will be using his friend's equipment.
"I need to travel on the weekend of the last race so racing will be very difficult for me," Brzezinski said.
"I might race from my friend's place with pretty bad equipment so I don't think I'm really in championship contention, I'm just going to drive around and just try to finish the races.
"The friend of mine has a really cheap wheel and the PC isn't that great either and I'm not going to get any practice pretty much because I'm going to travel all of Saturday so I'm basically just going to show up to the race and do my best but I'm not expecting anything great.
"So Bono Huis has pretty much won it, I think, because I'm not going to be able to compete but I guess he deserves it a lot more than me so I'm not too upset about that."
With drivers kept in the dark on the track and car set-up until the last moment, it's not just Brzezinski who will have very limited practice before each race.
"You can't really go flat-out in your preparation because everything will change on race day anyway," Huis explained.
"So there's not much you can do except focus on the track and learn how to take certain corners but then everything has to be perfected on Saturday with the actual set-up."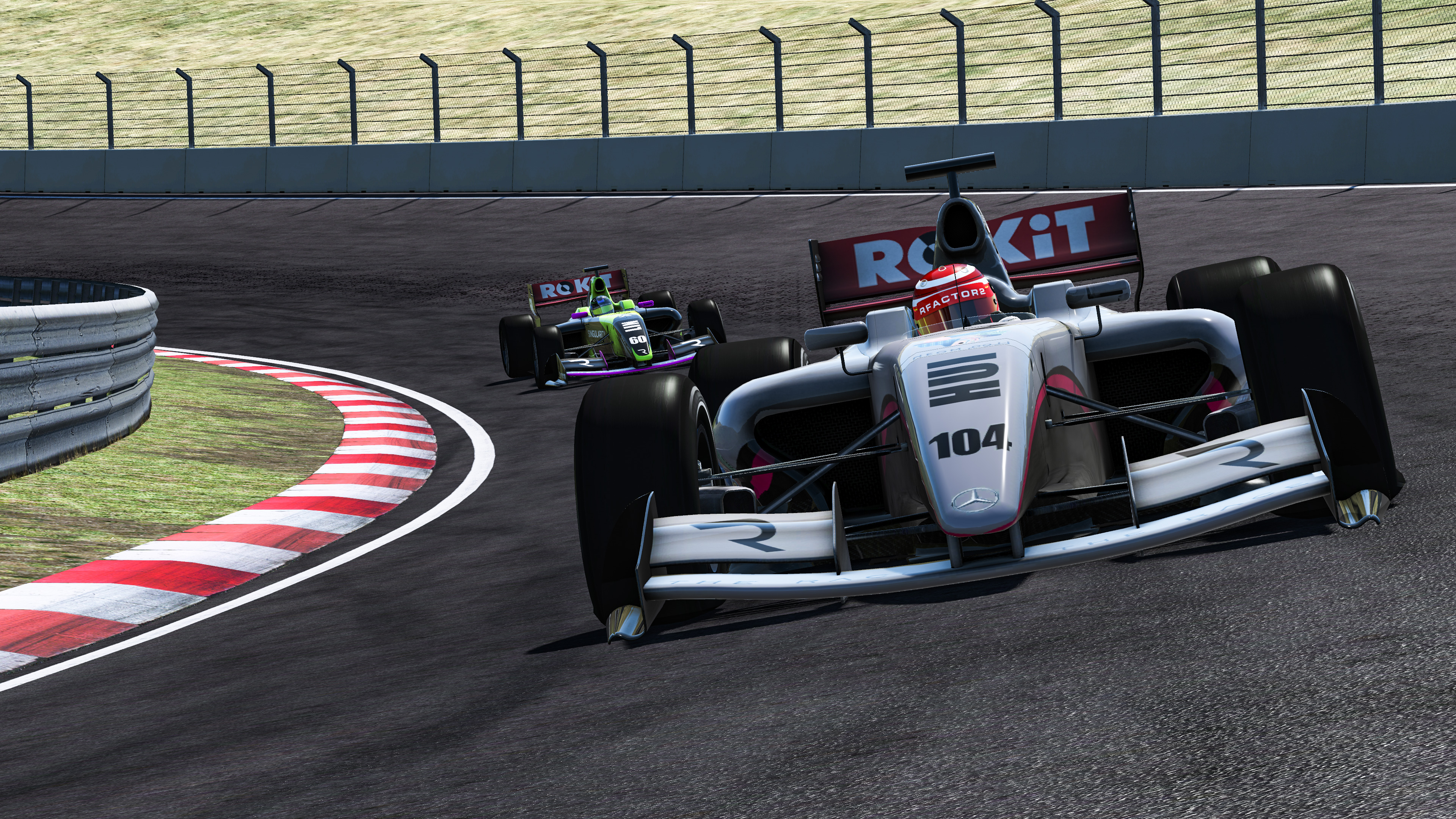 With Huis' championship chances resting on not only a strong qualifying and result from the first race, but also a decent finish in the reverse-grid race, he's hoping for a circuit that offers plenty of overtaking opportunities.
"I don't know about the tracks yet for this weekend's race, that's gonna have a major impact because there does seem to be some tracks I perform better at and some that suit me a little bit less," Huis said.
"Zandvoort was pretty much impossible to overtake [at], if you're in a train especially.
"Estoril was quite difficult as well to follow in the last sector so that was quite frustrating, especially in the reverse-grid race, not being able to make any moves.
"In Indy that was possible, the massive straight, and we were definitely making some moves in the reverse-grid race, starting from the back of the field and finding a way through.
"It's going to be tight, I only have a couple points advantage so every position matters, so I'll keep doing what I'm doing and try and win."
Drivers' standings (top 16)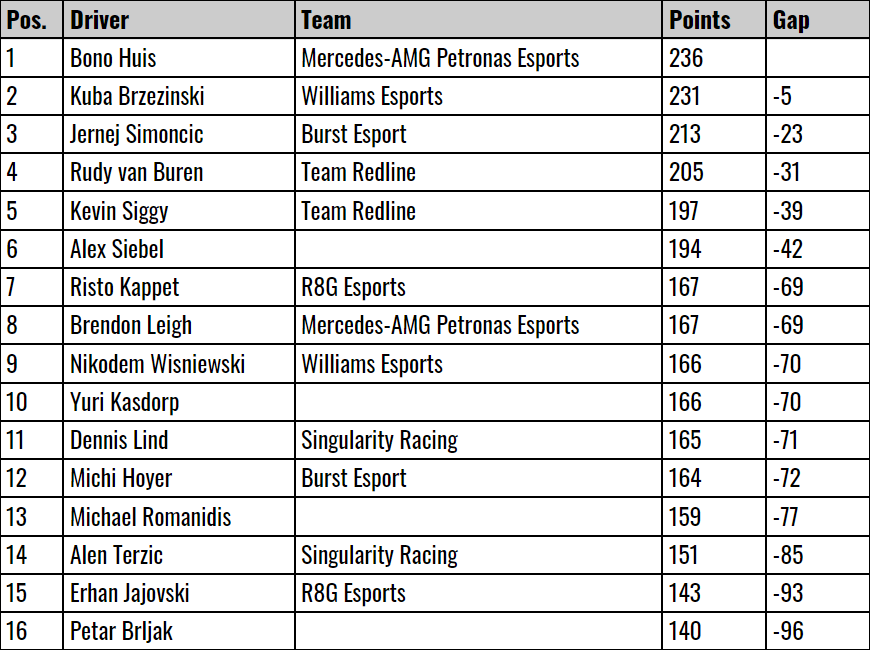 The teams' championship is also far from decided as a mere six points separate the top three teams.
Mercedes-AMG Petronas Esports leads the way courtesy of Huis and double F1 Esports champion Brendon Leigh.
Whilst Huis has been consistently strong in the first races, half of Leigh's best finishes have come from the normal races and the other half from the reverse-grid races.
Both drivers just going about their own races has contrasted with the approach of the two nearest teams, Williams Esports in third with 397 points and Team Redline in second with 402 points and only one point behind Mercedes.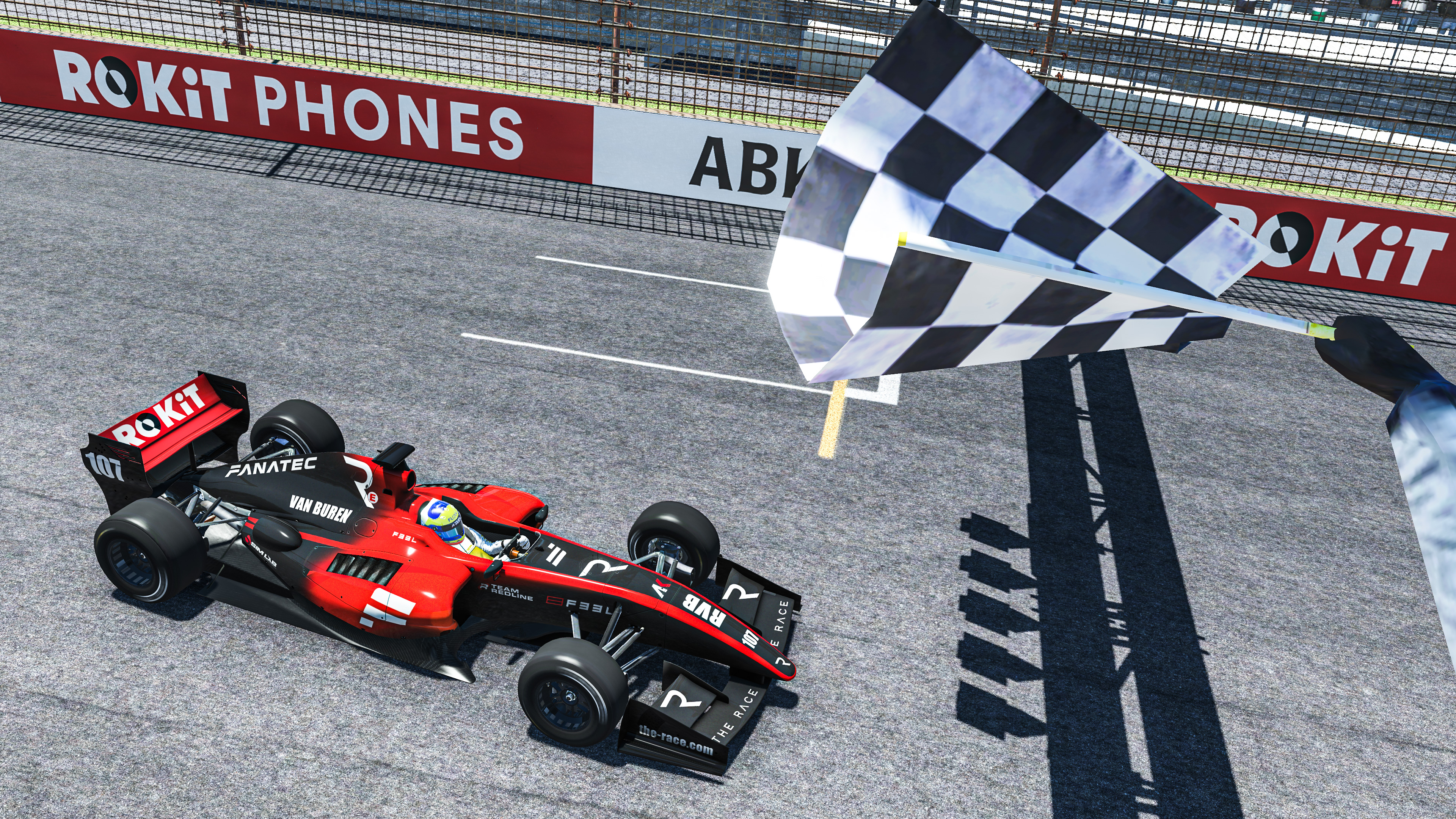 They've tactically had one driver start at the front in the first races and the other towards the front once the grids were reversed.
Team Redline, the long-running esports team which Max Verstappen and Lando Norris are also a part of, has had van Buren take two race wins for the team in the normal races, while Siggy won the reverse-grid race during the third round.
It means Team Redline has more race wins than any other team, helped in part by winning both of the races at Zandvoort.
Williams Esports, meanwhile, has had Brzezinski scoring the majority of his points in the reverse-grid races and Nikodem Wisniewski excelling in the initial races.
Wisniewski didn't have the best start in the championship, scoring only four points from the first round after ending the first race in 31st and failing to finish the reverse-grid race.
Since then he won in Estoril, finished second around Zandvoort and fourth at Indianapolis.
Teams' standings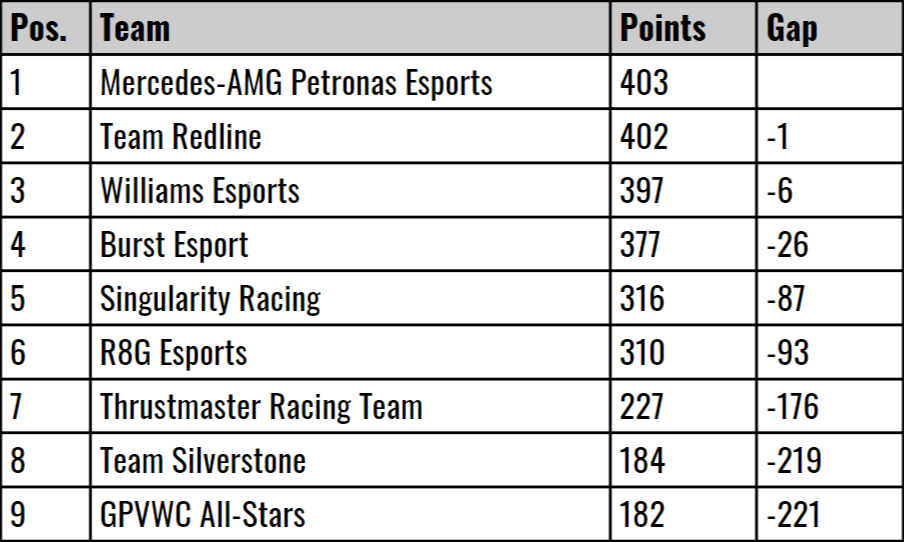 The final round of the All-Star Series' second season will take place on Saturday at 4pm GMT, and will be streamed on this website and The Race's YouTube channel.