A huge group of motorsport greats will make their oval racing debut this weekend in The Race Legends Trophy's Indianapolis Motor Speedway event.
But how is oval racing on a sim different to real life, and to what they've been used to in the Legends Trophy's road course rounds? What can they learn from IndyCar's recent controversial iRacing Challenge, and how is the rFactor 2 platform used by The Race Legends Trophy different to iRacing?
IndyCar's reigning rookie of the year Felix Rosenqvist – a simracing regular who made his debut at Indy in real-life last year and contested the iRacing Challenge event – gives us some vital IndyCar tips as a veteran of both rFactor and iRacing, but a relative newcomer to IndyCar.
Our second racer turned agony aunt is IndyCar driver Sage Karam, a beta tester for the original iRacing game and member of the reputable Coanda Simsport team. He's become 'Sage Karam – simracing guru' in this period as reputable drivers have approached him for equipment advice and, incredibly, even driver coaching. Mario Andretti had Karam set up his sim ready for this weekend.
"He got a sim a week or two ago, he asked me to come over and check to see if it's all good with it," Karam tells The Race. "I did some laps on it. Just a couple of laps to see what it's like and help out my neighbour, Mario!"
Who better than Mario Andretti's Pennsylvania IndyCar neighbour to give us advice on this weekend's race?
Don't stick your nose in!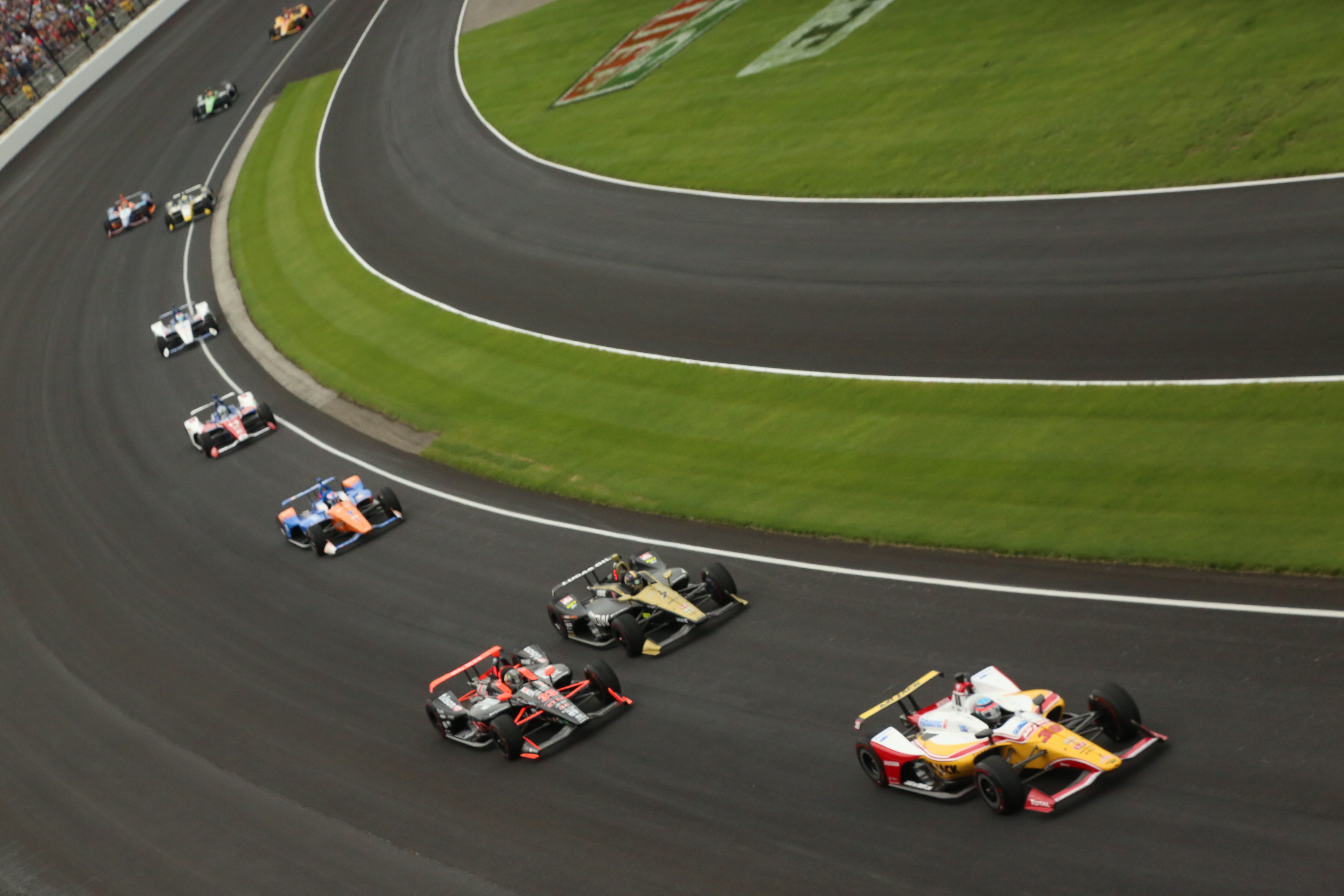 For those of you who watched the IndyCar iRacing Challenge race at Indianapolis, you'll know that it ended in complete mayhem. With drivers intentionally wrecking each other at various points, it made a mockery of the event which had all the ingredients to be an Indy classic, even if it was held on a sim and not on the real bricks.
The most important way for The Race Legends Trophy to avoid a similar issue will be to race Indianapolis differently to any other track in racing…
"I think at Indy – whether you're on the sim or not – you try to respect it a bit more," says Rosenqvist. "It's very easy to just put your nose down the inside – which you would do in the same scenario on a normal track – [but] if you start putting your nose in everywhere at every opportunity you get, you might be responsible for causing a lot of incidents.
"For example if there's two cars going into Turn 1, and you add a third car to line up three-wide, that's your responsibility. Normally when you go three-wide that's bad news!
"There's so much communication that needs to be done through the spotters and all the drivers have to make sure they leave room for each other. It's like 10x more chance [of a crash] if you go three-wide.
"That's what I see most people who haven't done the ovals before doing."
Respecting fellow racers is important, and that's always difficult to expect in practice for one-off sim events like the Legends Trophy where drivers aren't racing each other in real life, risking the lives of their fellow competitors with dangerous moves. Moves like that don't have much consequence in simracing, but you have to believe a field with so many champions will afford each other a bit of extra room – and respect – to stay in the race rather than just trying stupid moves to risk it all.
Hug the apron – the grip is down low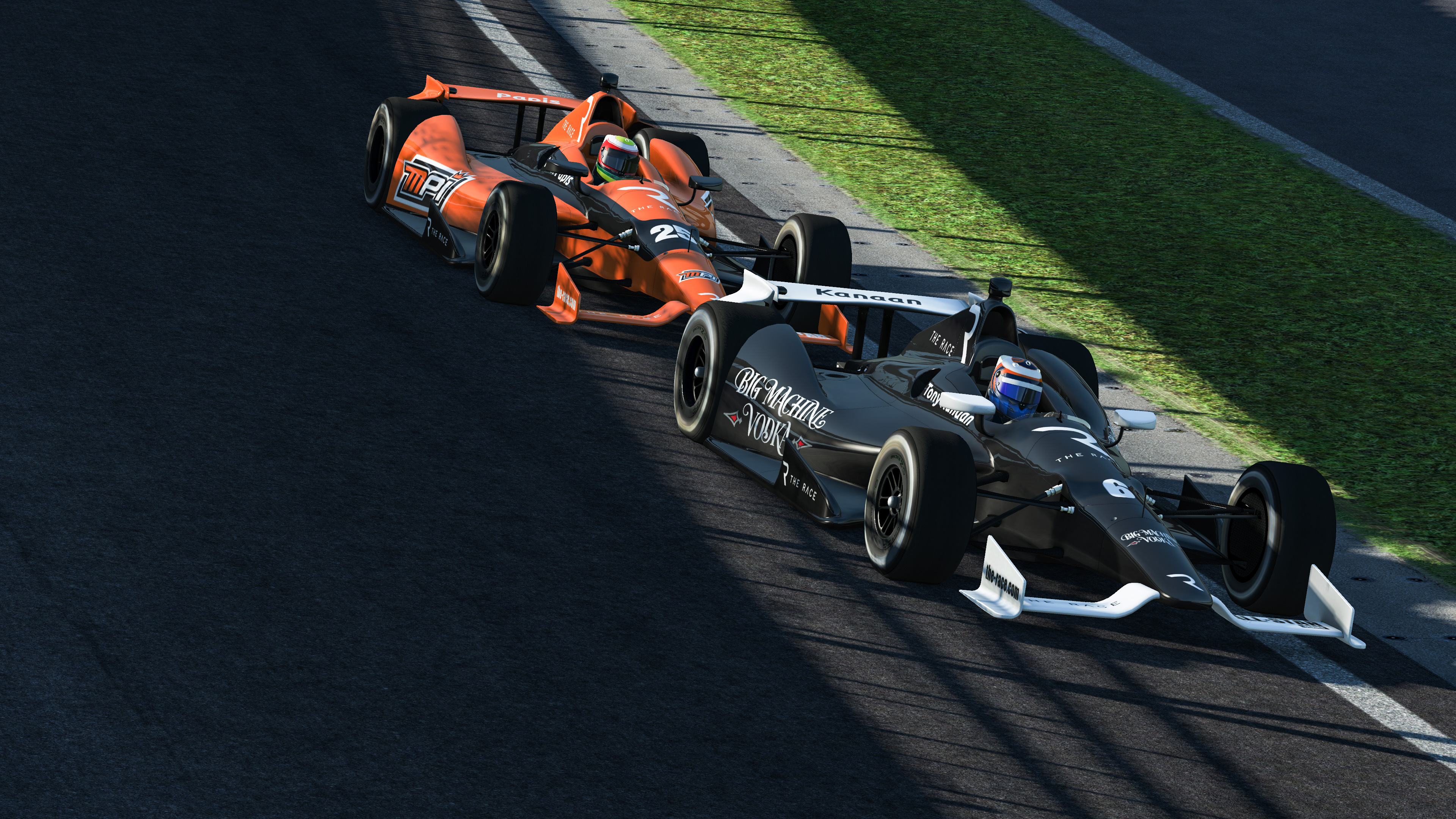 If a sim is doing its job, it should replicate the Indianapolis Motor Speedway's low line, where rubber accumulates along the bottom of all four corners. This is where the grip is, and moving higher up the track usually means understeer and, potentially, a very big accident indeed.
For this weekend – unlike the recent IndyCar iRacing Challenge event – tyre wear will be off for drivers, but in rFactor that low-line will still be where the grip is. Moving higher up will be possible momentarily – hopefully allowing a spectacular overtake or two – but not something that can be done lap after lap.
"The last thing you want is understeer because that's usually what kills you when you're running in traffic and so on and you over-slip the tyre, you're a passenger into the wall," says Rosenqvist. "When it's really rubbered-in, if you go half a car too wide there's just no grip at all."
With no tyre wear, keeping in the groove and on the racing line lap after lap consistently will be key to having a chance. If you lose the tow at Indy – and there are no pitstops in the Legends race, which would have allowed chance for people to run an alternate strategy – staying with the lead pack is going to be vital. A small mistake will be fine, but repeated errors and getting out of the groove could see drivers dropping back.
Karam adds: "Whether it's iRacing, rFactor or real-life, the track is narrow, you have to be super-smooth and it follows the same trend.
"I think it's going to be interesting with the Legends race because you are going to have guys who have raced Indy in different eras, so I think the track might look different to when some of the guys have run it in real life."
As well as no tyre wear, the set-ups of the cars will remain the same too. This helps to alleviate a set-up arms race with the most intelligent or sim-adept driver stealing a march. So this weekend, the drivers just have to focus on the driving. A tantalising prospect for a field of this quality.
Listen to the little voice in your ear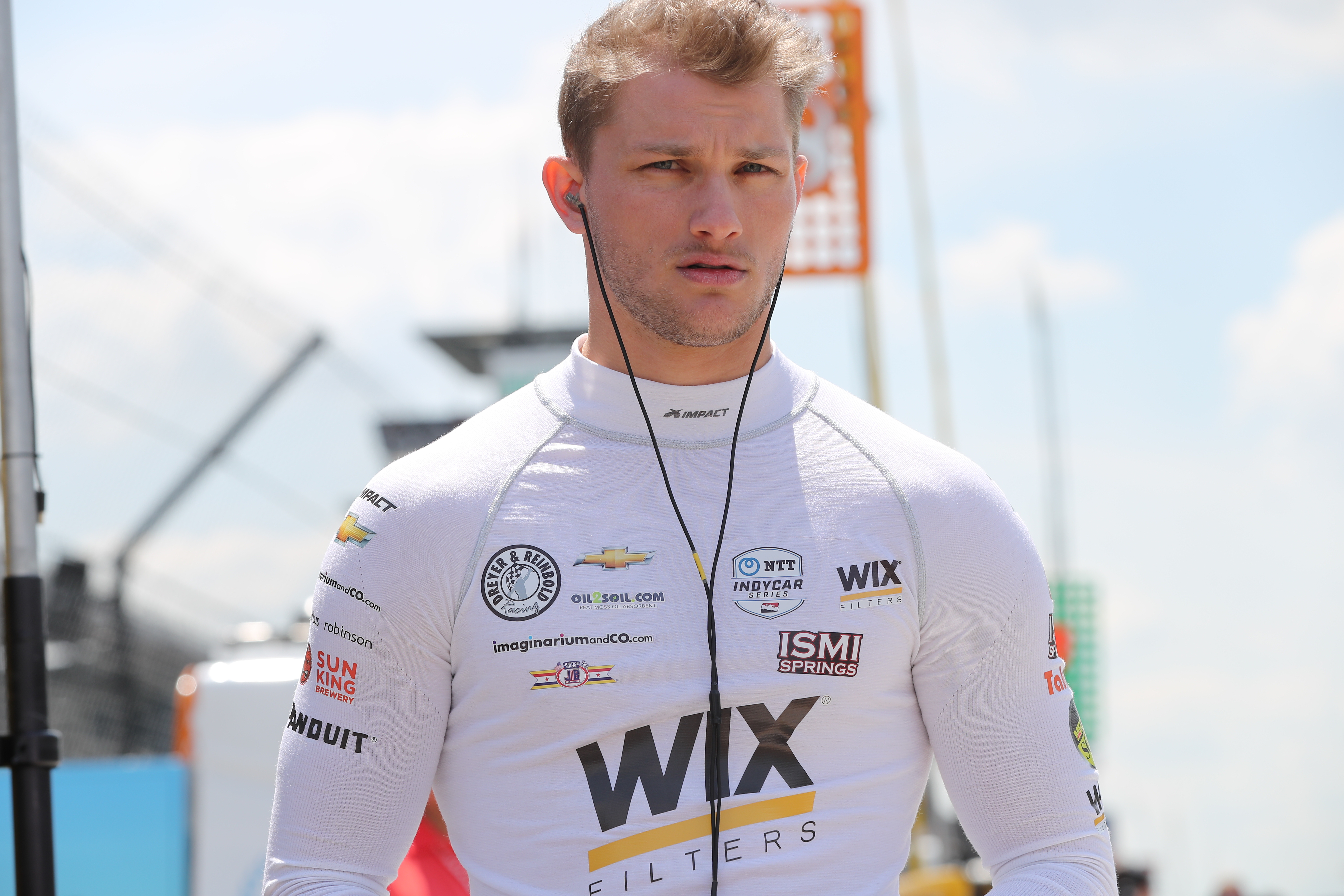 The Indy regulars will have no problem adapting to the regular sound of a spotter's voice in their ear – and neither will Petter Solberg thanks to his rallying background! – but some of the drivers who haven't raced on an oval before may take a while to adapt to a continuous voice in the ear.
Motorsport is littered with examples of drivers getting angry when they deem engineers to be talking too much on the radio, so how are the rookies going to cope with that?
"I'm one of those drivers – if you just randomly talk to me during a qualifying lap I would like immediately lose two or three tenths because I would just be really annoyed with it," laughs Rosenqvist.
"But then on the ovals you kind of want all the feedback you can get in a different way. It's like in a rally car when you have your co-driver – that communication going all the time – that's something you really rely on and it's like an extension of your own senses.
"You blindly trust your spotter.
"You know what's going on around you [with spotter's help] and when you get used to it it's really good.
"Sometimes you really don't see. If you're three-wide for example there's really no way to know that, you think you're two-wide. Sometimes there's a blindspot as well, it's quite easy to clip down on someone. That will help a lot for sure."
For the drivers that do have Indy experience, the spotter will still be a grey area. While rFactor's spotter is good, it's never going to work as well as a living and breathing human being. That's why in the recent virtual IndyCar races, drivers used their own real-life spotters.
Stay out of trouble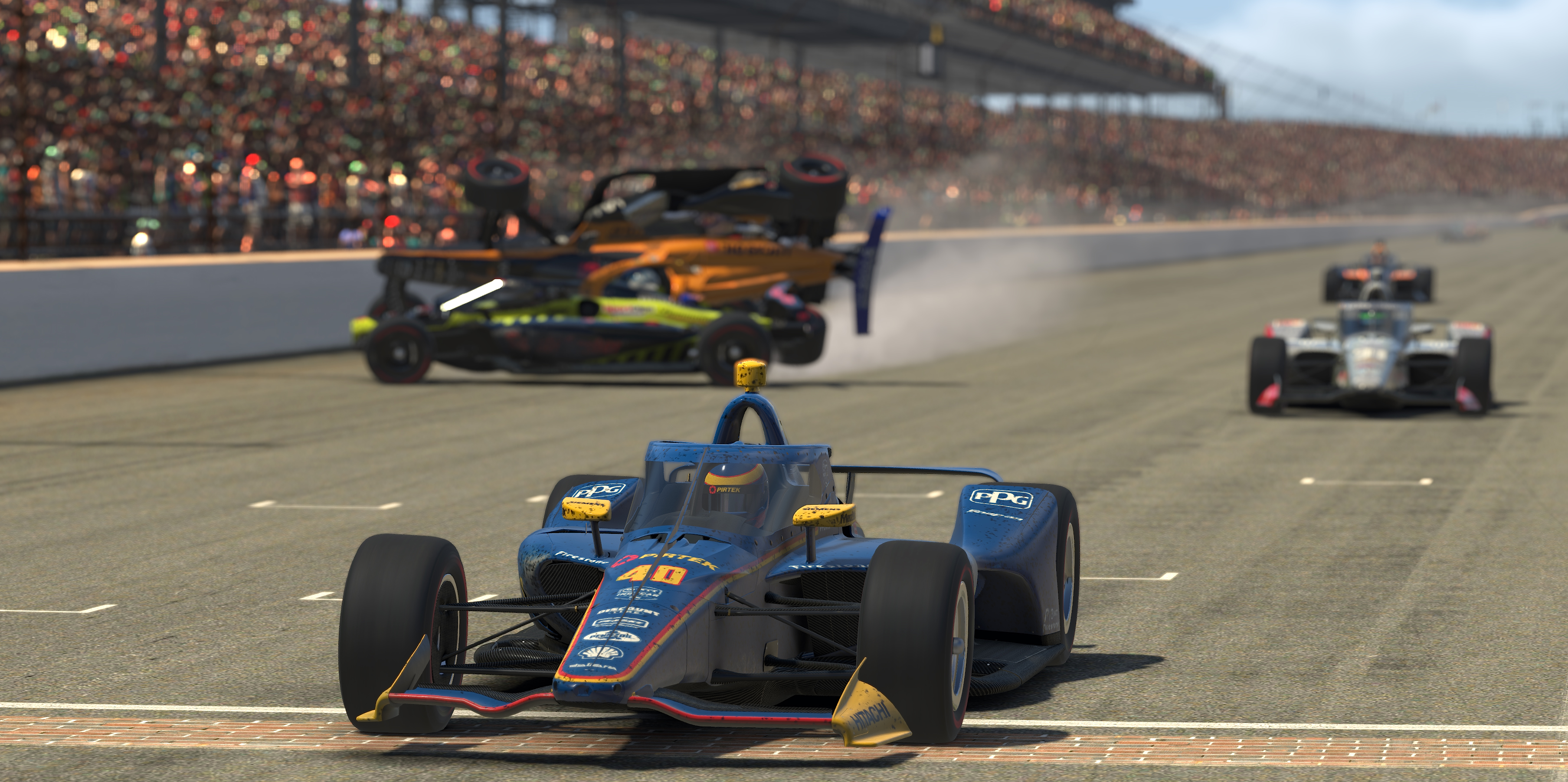 There are going to be incidents in this weekend's Legends Trophy race this weekend – it would be naive to think otherwise. One of the most important things this weekend is going to be just staying in the race, staying in contention as the race closes.
"Usually at Indy you can pass really good, you don't need to qualify first," says Karam. "Usually the guy who qualifies first doesn't win! Things happen and you have to be patient.
"The thing about Indy is, it's about timing the runs off of Turn 2 and 4, and that all starts with getting through 1 good and 3 also. It's kind of like a big mental game at Indianapolis. It will be interesting to see if the guys who don't have real-life experience or experience in different areas will be at an advantage because if you're used to running there in different cars or different eras like when the apron was in play, maybe that's going to be a disadvantage. I think it's going to be cool."
With no pitstops, any big issues are likely to put drivers out of contention, so staying out of trouble is going to be even more important than in recent simracing events. But these drivers are pros and know races aren't won by having aeroplane accidents.
"The oval even on the sim is always different depending on how the grip level is ," adds Rosenqvist.
"If you can race two- or three-wide then it's all about being on the inside on the final lap, hooking the inside and hoping that you're going to win.
"If it's more of a normal race, you have to put more thoughts into your overtakes, you maybe have to lift a little bit, leave a gap and try to get a really good run out of Turn 3 or Turn 4 so you can get the slingshot.
"You want to be so close that you almost understeer off the track – but at the exit of the corner! Setting up the overtake on the guy in front. That's how it is in reality anyway and that's how we work the whole month to try and get a car that you can follow very close in Turn 3 and 4."
Don't go for every overtake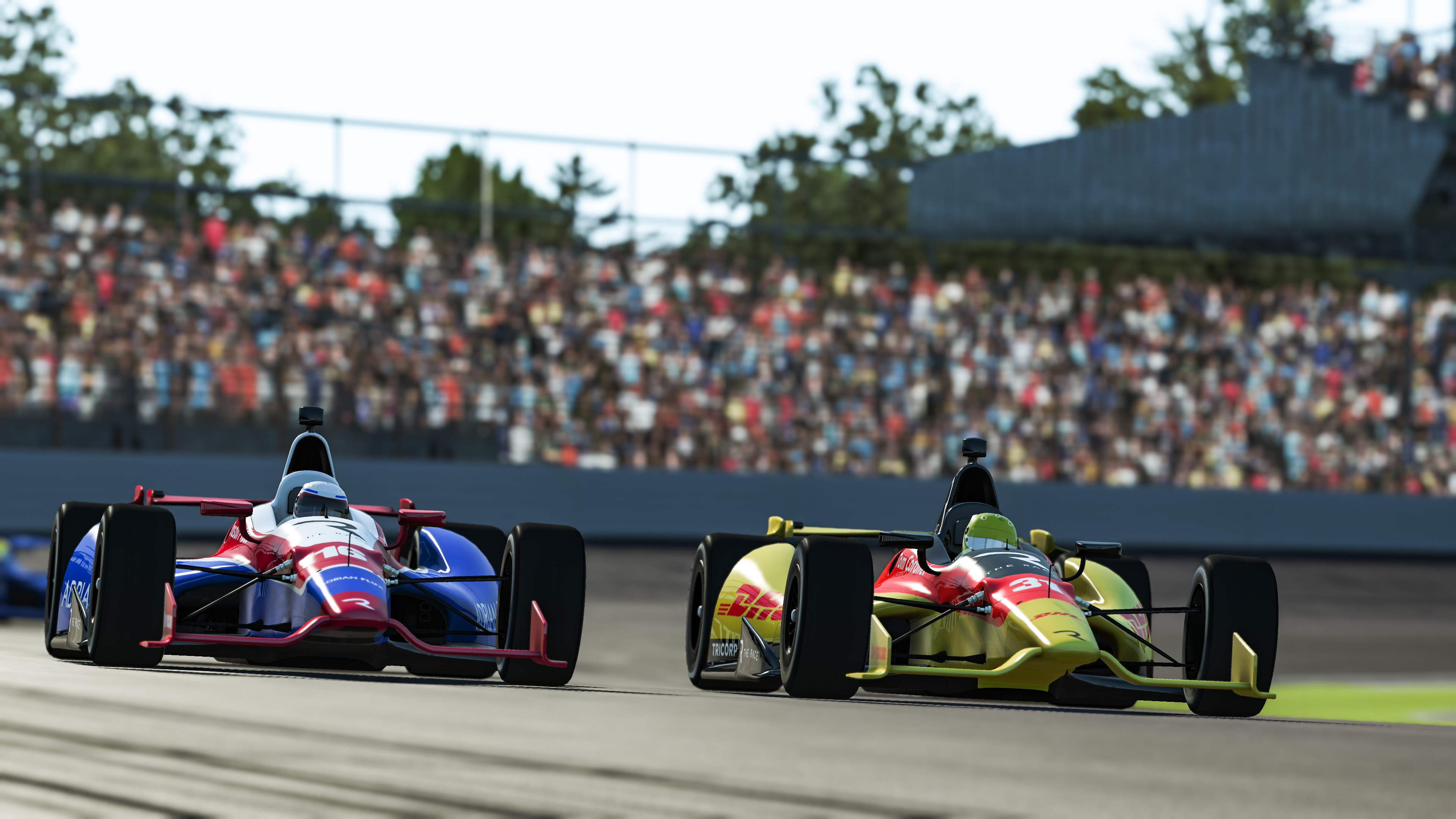 The drivers have been practicing this week and will at least have a bit of experience of how things are going to play out come Saturday.
With all of the advice above, combining all of that should mean you're good at pack racing. But the draft itself is one thing that some of the newer drivers will have to get their heads around.
"If you're second, you don't want to try to overtake every time because you're just going to slow down the guy in front and yourself," says Rosenqvist. "The guys behind will catch up. If you're top three in the early phases of the race, then you just want to kind of hang out there."
"Just hanging out there" and not making a move every time a gap presents itself are two things that should be completely alien to a racing driver.
But as Rosenqvist explained earlier, trying to pass every time a gap opens up is going to cause big accidents. Patience is key.
Although on most tracks, drivers should, could and would overtake each other at every opportunity, Saturday's racers have to make an instinctive decision. If you fail to complete a pass you can fall back to the rear of the field if you get out of sequence. It's all part of the Indy intricacies.
Follow all of the advice above, and you might be on course for success. Or you might get taken out by somebody else's crash on the first lap! That's Indy, and part of what makes it so exciting.
Watch the Legends Trophy take on the Indianapolis oval as part of The Race All-Star Battle powered by ROKiT Phones, which will be streamed live on this website and on The Race's YouTube channel beginning at 4pm GMT this Saturday.