Formula E has fitted a healthy amount of fractious rivalries into its short history so far.
As the countdown to its first season as the ABB FIA Formula E World Championship continues, Sam Smith picks the best of the long-running spats – one of which still has plenty of life in it.
5. Vergne vs Da Costa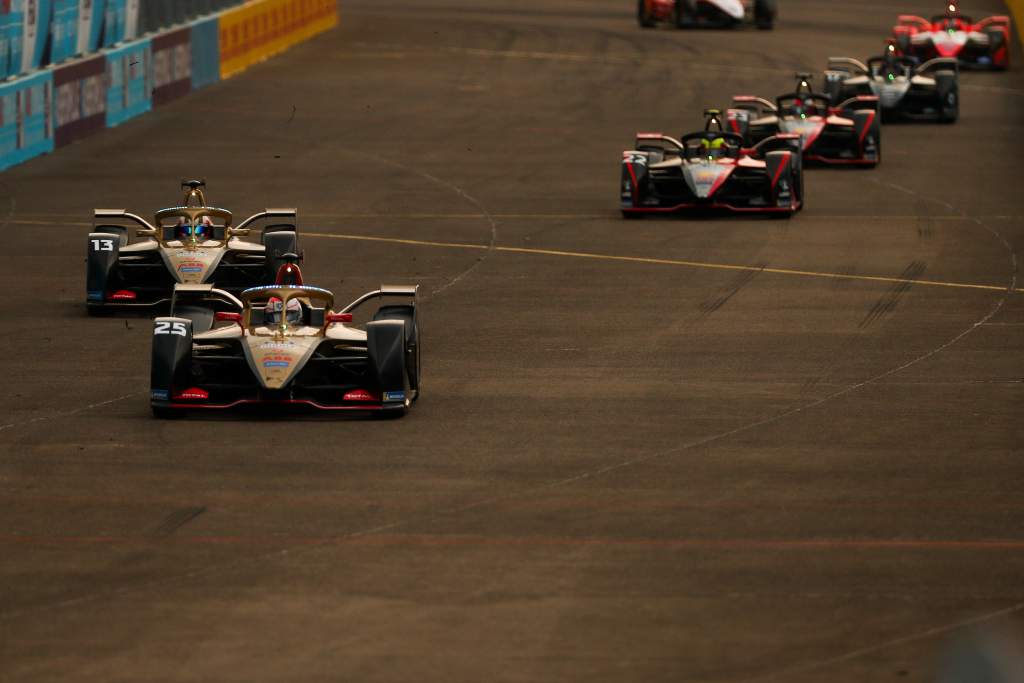 This, the most recent of rivalries, has been extensively analysed on The Race over the last year. But perhaps the most engaging chapters of this multi-title-winning opus are yet to be written.
Jean-Eric Vergne and Antonio Felix da Costa have known each other for over a decade and were first professional rivals in 2010 when they competed briefly in GP3 together.
Vergne got his F1 chance via Red Bull, while da Costa didn't. That's been well documented. And then they both realigned their careers in Formula E during its first season.
When Vergne effectively replaced da Costa at the former Team Aguri (Techeetah) squad in 2016, the balance of prospects for the pair changed against all odds, and soon it was Techeetah and subsequently DS Techeetah that wrapped up wins and titles.
In the summer of 2019, when Andre Lotterer opted for the exit door after a lengthy period of deliberation on whether he should move to Porsche, Vergne was joined by Techeetah's team principal Mark Preston and commercial guru Keith Smout in attempting to lure da Costa away from BMW.
For da Costa that team swap was a rebirth, and despite a tetchy start in Saudi Arabia in November 2019, he came alive and swept to the title.
In doing so he jolted Vergne on several occasions and the French firebrand was forced to rearrange his established furniture in the team for the final races in Berlin.
But the feng shui got disturbed again when his team-mate blitzed all he saw before him to wrap up the title at somewhat of a canter.
Initially Vergne didn't take it well at all. But the champion's poise returned, which in itself means the rivalry and respect is in good health – for now at least.
4. Di Grassi vs Piquet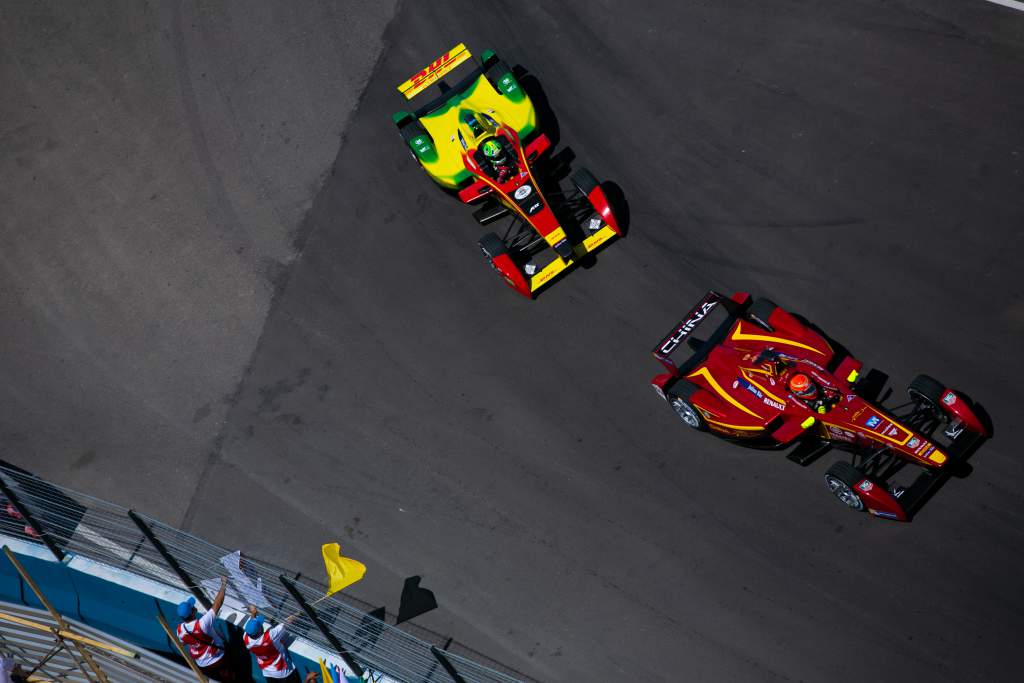 A curious one this. Not least because, although Lucas di Grassi is a year older than Nelson Piquet Jr, the pair were generally a season apart in the opposite direction in their run up through the junior single-seater ranks, as Piquet made good on successful F3 and GP2 seasons.
Was their differing rates of progress perhaps the organic fuse that lit an antipathy which had its roots in Formula 1 opportunities but then extended to a more open loathing of one another in Formula E?
Back in 2004 a fresh-faced di Grassi raced in British F3 for the first time. It was on the same grid as Piquet, who already had a rookie campaign under his belt in 2003.
Piquet claimed the title in '04 and immediately promoted himself to GP2 for the following year. But it was his famous duel with Lewis Hamilton in 2006, in which he was beaten by just 12 points, that furthered his reputation as a quick and intense professional.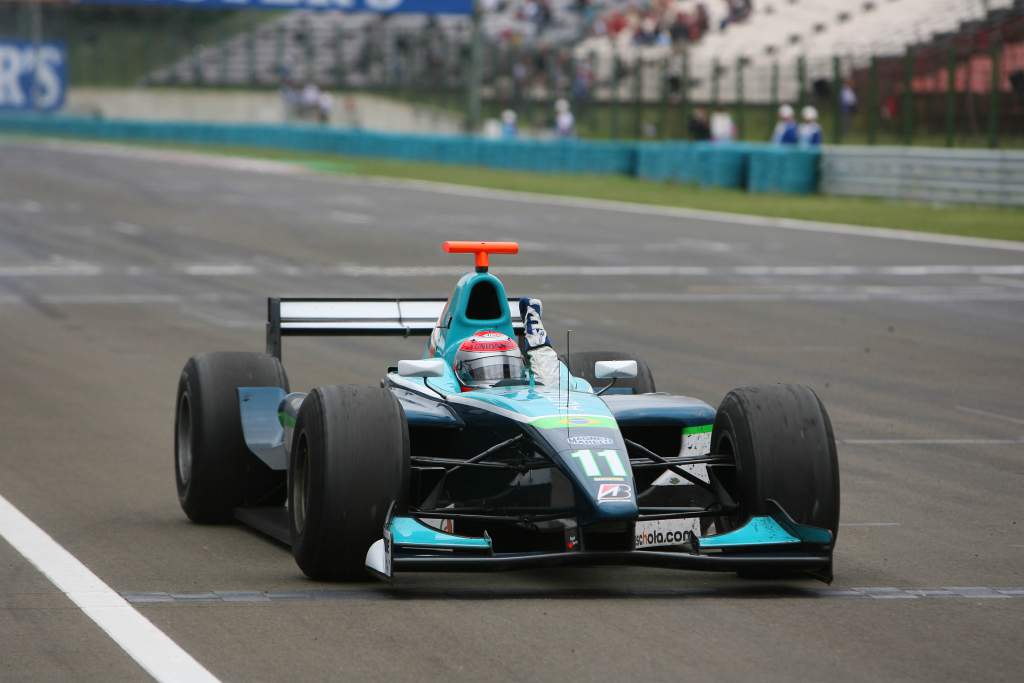 That year was also di Grassi's first crack at GP2, but with a dilapidated Durango team he could only muster a fifth place at Istanbul as a highlight.
While Piquet went on to a difficult and contentious stint in F1 with Renault, di Grassi tasted success in GP2 and came close to the title in both 2007 and '08.
Crucially, the two Brazilians' stars aligned slightly again, in that di Grassi was on Renault's books too and became an F1 test and reserve driver from 2007 onwards.
The stories abounded, mainly from a fervent Brazilian press, that throughout the latter part of the 2008 season di Grassi had eyes on Piquet's seat for the following year.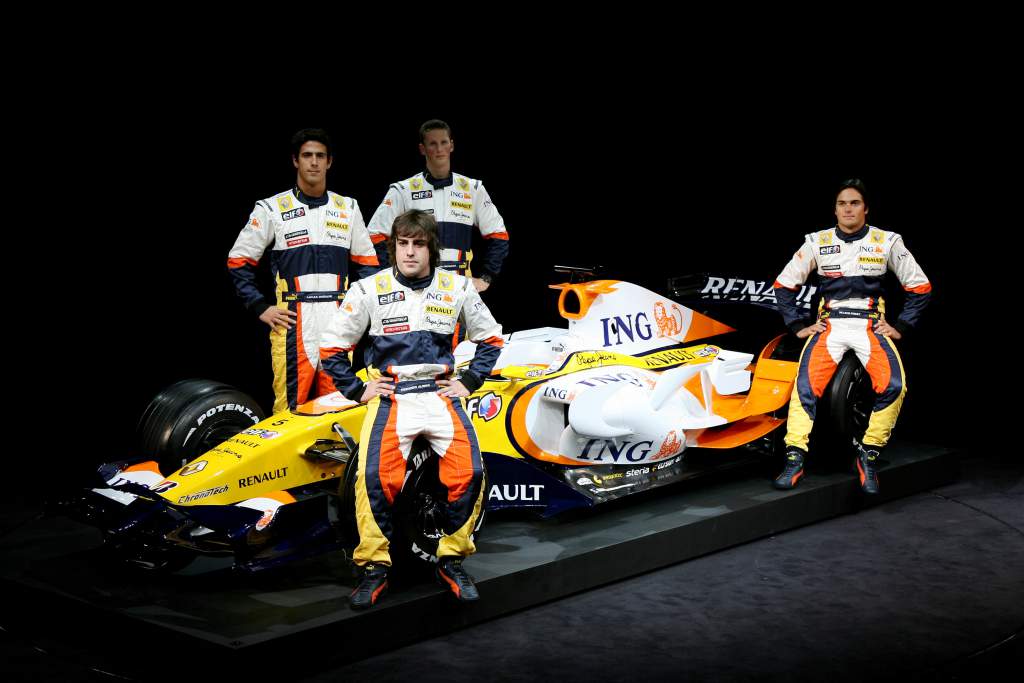 It didn't happen, and although he was retained as a reserve and almost got a chance when Romain Grosjean was struck down with food poisoning at the 2009 Singapore Grand Prix, di Grassi had to wait until 2010 to make his F1 debut with the new and uncompetitive Virgin Racing entity.
By this time Piquet had left F1 in a fug of controversy following the fall-out from the infamous Singapore 2008 deliberate crash scandal that led to team bosses Flavio Briatore and Pat Symonds being temporarily banned from F1.
Even by this stage there was little real hostility between di Grassi and Piquet, who shared very little in terms of personality or background, and indeed very little at all apart from nationality. And even this isn't straightforward, as Piquet was born in Germany and grew up initially in Monaco before moving to Brazil when he was eight years old.
It was in the principality that what is perceived to be an irreversible rift grew in May of 2015. That was when Piquet felt di Grassi baulked him during his qualifying lap for the inaugural Monaco E-Prix.
In reality, the ill-feeling had merely been incubating. The often erroneous and ill-thought demonisation of Piquet's enforced role in the Singapore GP debacle of 2008, plus suggestions of him apparently being blocked from Formula E by some factions before the championship had begun, acted as a powder keg that also amplified Piquet's existing poor relationship with di Grassi.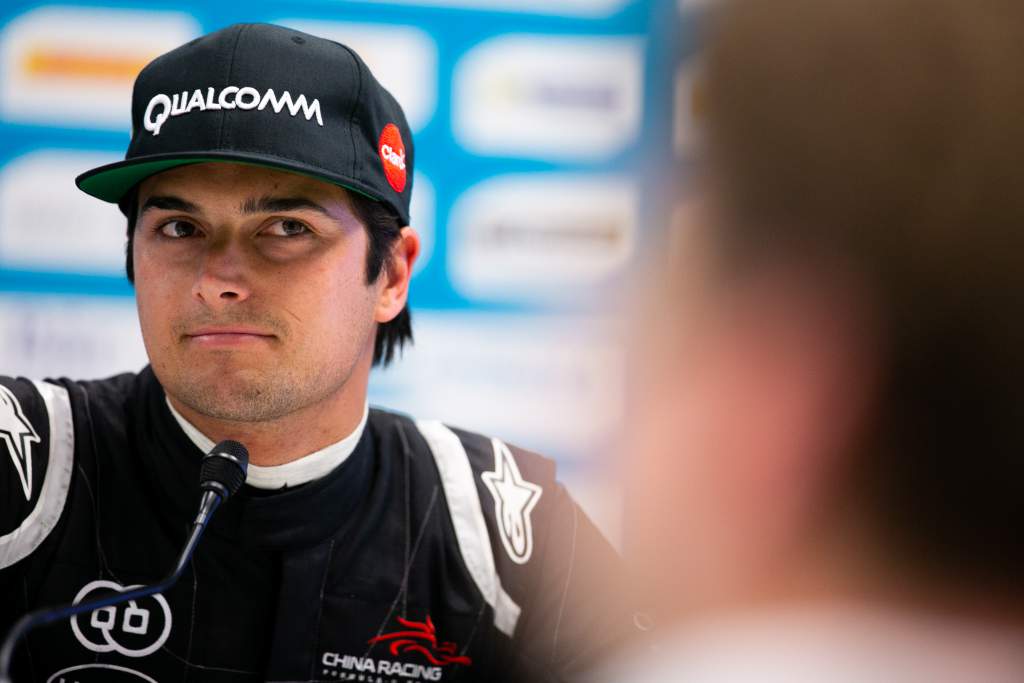 The attempts at ostracisation meant Piquet was initially not 'invited' to the original FE drivers' club pool of potential entrants and then he lost out on potential drives at e.dams, Venturi and Amlin Aguri. A pattern emerged.
What fed the blaze between the two Brazilians was also, in part, an element of pantomime. As Formula E jockeyed to fan the flames to help cultivate rivalries that were great for publicity and fan interest, it did so without any subtlety.
So when, against all the odds Piquet took the first FE title with the unfancied Campos-run China Racing outfit, vanquishing many more fancied runners, several noses were put out of joint. And Piquet was able to silence many of the critics and conspiracy theorists.
3. Nissan vs everyone else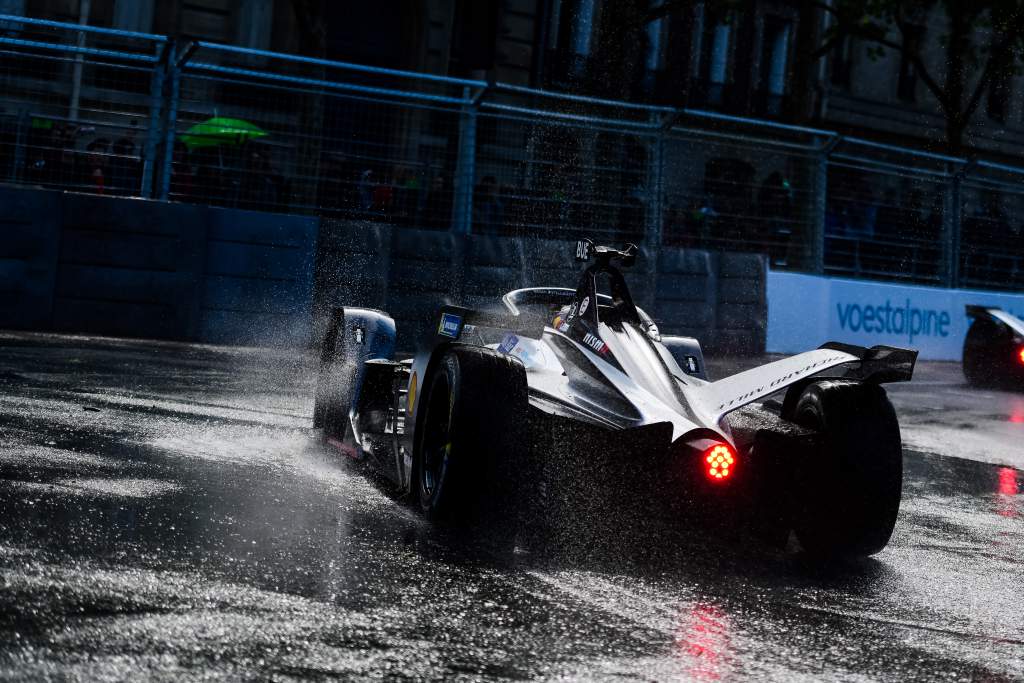 It was a complex, twitchy and tense spring in 2019. That was when Formula E's biggest technical drama played out in darkened rooms at several races during the first season of Gen2 competition.
It was also Nissan's first season after the e.dams entry that had represented Renault so far morphed into the firm's alliance partner. That change ensured that the seller of the world's most popular EV (the Nissan Leaf) was now represented in the burgeoning championship.
With Oliver Rowland as a late replacement for Alex Albon, and a new deal for 2015/16 champion Sebastien Buemi, Nissan had an almost perfect start amid the continuity of technical and operational knowledge that multiple teams' champion e.dams maintained.
A good proportion of that success came from the inspired mind of its technical leader Vincent Gaillardot. It was his powertrain design which netted back-to-back teams' titles in 2015/16 and 2016/17 when Renault e.dams was at its collective peak.
The former Renault F1 engine guru then got creative for Nissan's first powertrain and utilised two MGUs in a way not even fully understood outside the team to this day.
The first inkling that Nissan had something different came in the third race of the season at Santiago. That was where this writer and The Race's co-founder Andrew van de Burgt spent time at the medium speed flick of Turns 6 and 7 during a free practice session.
The Nissan cars were pushing out of the corner in a visibly different manner to the rest of the field. That was until Buemi crashed on entry as something clearly very wrong occurred, spearing him off and into the barriers.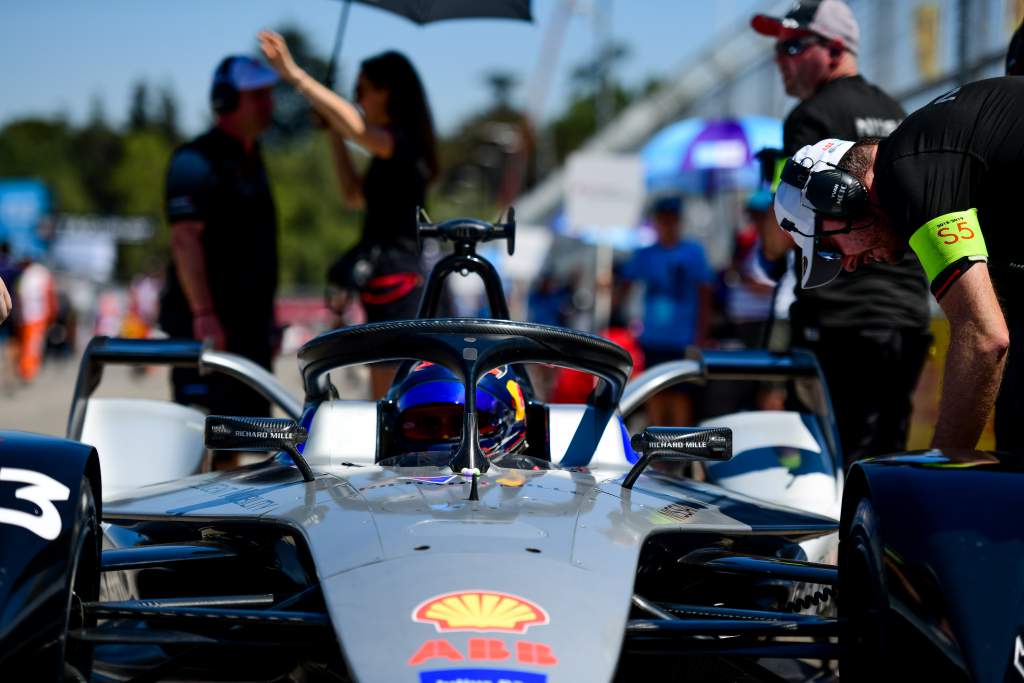 While Buemi whispered something about something not working on the car, deliberately staying vague, other drivers commented about how quick the Nissans were at certain parts of the circuit.
By the Asian leg in March, at Hong Kong and Sanya, the whispers became open paddock chatter even before a very tense technical working group convened.
Over the months of April and May, both Nissan and the FIA were heavily lobbied to outlaw the use of two MGUs. It was allowed in the rules, but there was, according to who you spoke to, a kind of sporting agreement for it not to be exploited in such a fashion.
What is still only presumed is that Gaillardot and his team used the two MGUs in different sizes. This is believed to have been applied on the track using an epicyclic gear, abridging the two motors.
The advantage appeared to lay in the driver being able to receive electric torque from the larger motor powered by the battery and some torque housed in the smaller motor, effectively giving a significant power advantage.
Once reliability was eventually licked and Buemi and Rowland ran up a series of pole positions then threatened to win races in Sanya and Paris, the FIA acted.
In essence it presented Nissan e.dams with a fait accompli and outlawed its innovative system for the following season onwards.
The rivalries, off track at least, were over and the case closed. It didn't leave any particular rancour, although Nissan e.dams was ultimately very hard done by.
Its late founder and leader Jean-Paul Driot made that very clear with a spirited and highly memorable final ever press conference appearance at the Bern E-Prix.
2. Alejandro Agag vs the abyss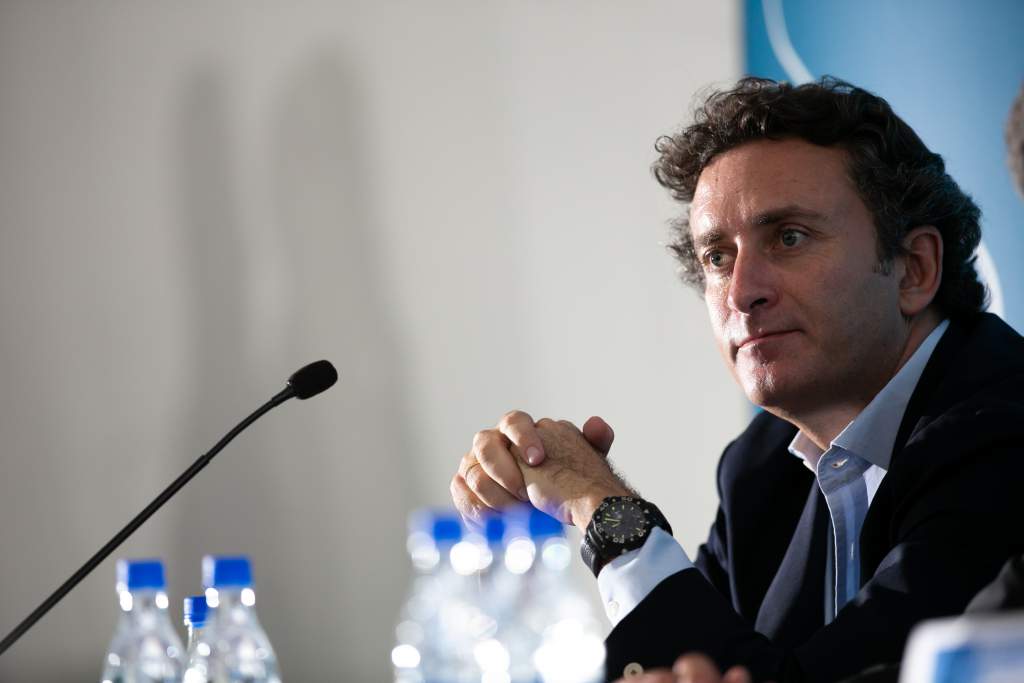 In December 2014, Alejandro Agag was walking Argentinian supermodel Valeria Mazza down the Punta del Este grid as a full field of cars readied for a glittering third ever Formula E race.
On the surface it seemed like an idyllic few moments as the cars reflected the Uruguayan sunshine and scenic Atlantic ocean in an otherworldly and glamorous setting for a motor race.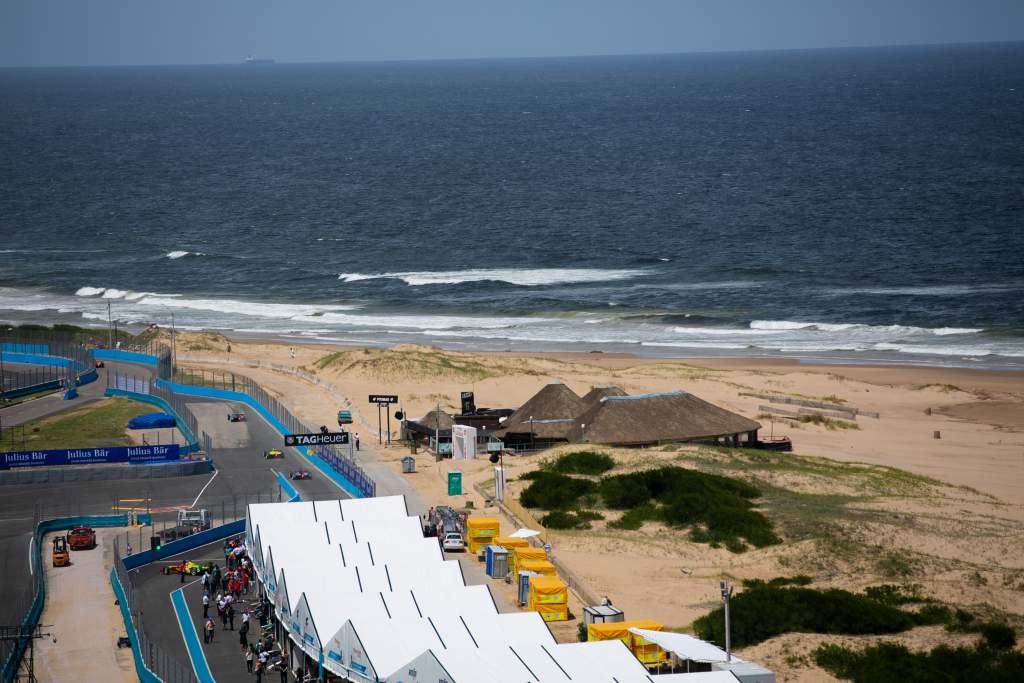 But it was a dream-like façade. The reality was that the money had run out, Agag was facing having to transport the cars on to Buenos Aires with his own savings and the imminent collapse and bankruptcy of the championship seemed a formality.
As he was digesting this, Agag radiated the classic swan on a serene surface look, hiding skilfully some flailing legs amid a volatile current.
The morning after the race came what appeared to be the final nail in the coffin. Agag was sacked by his own partner Enrique Banuelos.
"Effectively, Enrique then fired me," Agag told The Race last year.
"We had received two offers, while we were in Punta del Este, from two people who wanted to come in with capital. So we were not dead and there were plenty of people who wanted to put money into Formula E."
But Banuelos seemingly didn't want to take them because, according to Agag, "he would lose control."
"So it was a very, very simple situation. I said to Enrique, 'listen, you can fire me, you now have more than 54% of the company, so you can fire me if you want', and of course he fired me, and that's it," recalled Agag.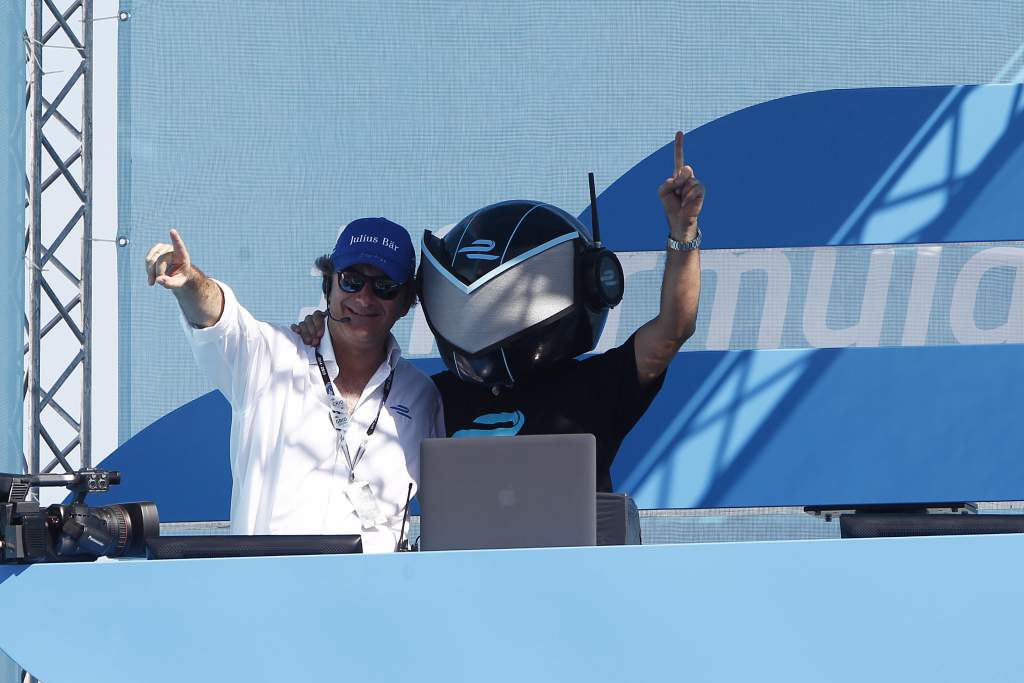 He stayed calm and added "but if you fire me, and I go out there to the paddock and say I'm not here anymore, you can expect half of the teams, or all of the teams, will leave, all the sponsors will also leave, and there will be no championship."
Banuelos considered the words carefully. What he decided to do was take Agag's executive powers from him and put what Agag called "a guy" in his office, effectively benching the series' co-founder.
But Agag officially had to stay as CEO because his mandate of clinching investors depended upon it.
"I got back from Punta, I moved out of my office, and a guy goes into my office," recalls Agag.
"After two days this guy calls Enrique, and says 'you better get Alejandro back here now, there is no money in the bank, I don't want to sign any documents, this company is going bankrupt'."
Agag was called back in, and "Enrique gave me all the powers back."
Just after his office furniture had been reapplied, modern Formula E was born. In Agag's own words: "I was back, and a few days later I did the deal with Liberty, and fixed it."
The abyss had been stared out!
1.Buemi vs Di Grassi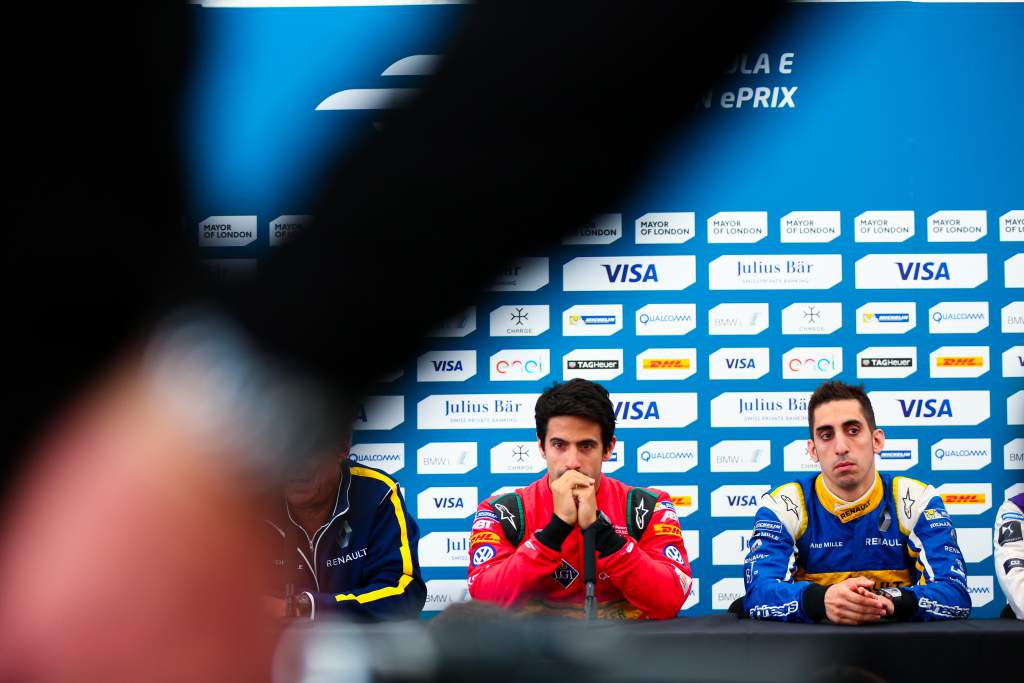 It's Formula E's very own Celtic v Rangers clash. A pair so different in external temperaments, personality and outlook that a major flashpoint wasn't a matter of if but rather when.
It just so happened that the two consistent standout performers of the first three seasons of Formula E clashed in the biggest and most public way possible at Battersea Park in July 2016.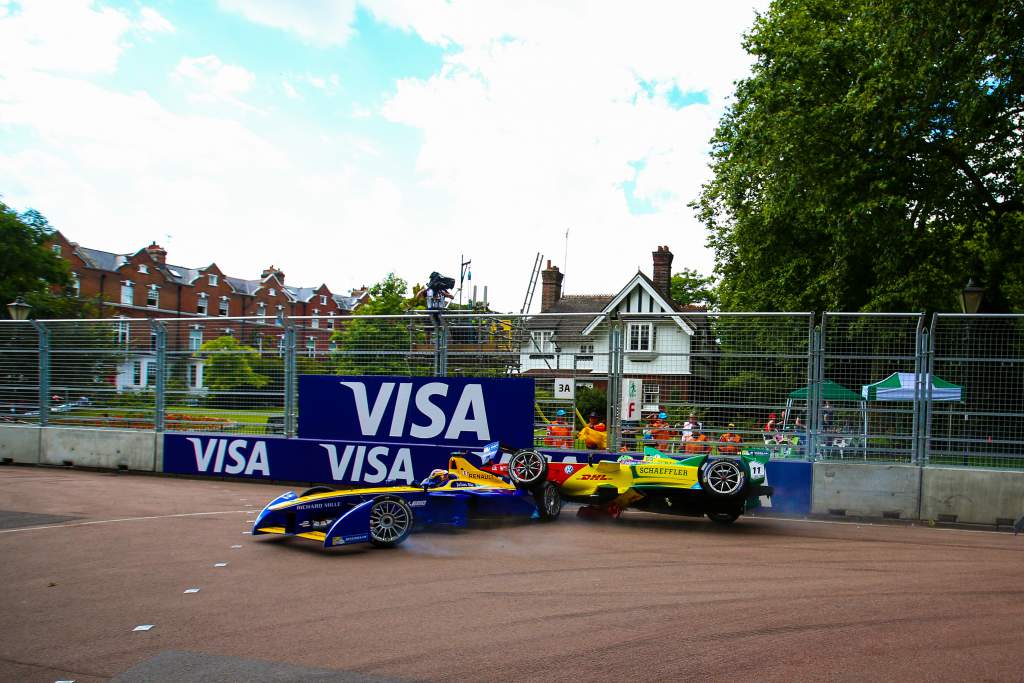 When di Grassi drop-kicked title rival Buemi into the escape road and almost into the bar of the adjoining Prince Albert pub, it merely underlined a permeating wariness of each other which had occasionally flared up in both Formula E and in the Toyota vs Audi fights in the World Endurance Championship for several years.
Just seven weeks earlier Buemi and di Grassi had run side-by-side in the 6 Hours of Spa with di Grassi completing an outrageous move using the grass with the pair inches apart at 190mph!
While the Battersea debacle was at much lower risk to life and limb, it still set off a bitterness between the two, which had Buemi not triumphed that day in the title stakes would have become nuclear.
Instead it became more of a festering distrust which ran through the entirety of the following season, when di Grassi eventually took the title.
That came in more dramatic circumstances, as he fought back from a stress-fracture to his leg. That came after, of all things, a misguided tackle in a charity football match at Stamford Bridge!
While di Grassi had to sacrifice Le Mans for Formula E, he made it to the New York City double-header. The vital significance of this was heightened when a previously dominant Buemi, who had taken six wins from the previous eight races, was forced to sit out the action in the Big Apple due to a Formula E and WEC clash at the Nurburgring.
The Swiss ace's sense of humour started to fall apart significantly when his Toyota ground to a temporary halt in Germany on the warm-up lap.
Across the pond, di Grassi made decent inroads in Buemi's once seemingly unassailable points lead and when the Renault e.dams driver crashed viciously in free practice in Montreal it unfurled a wretched series of events which bordered on the self-destructive.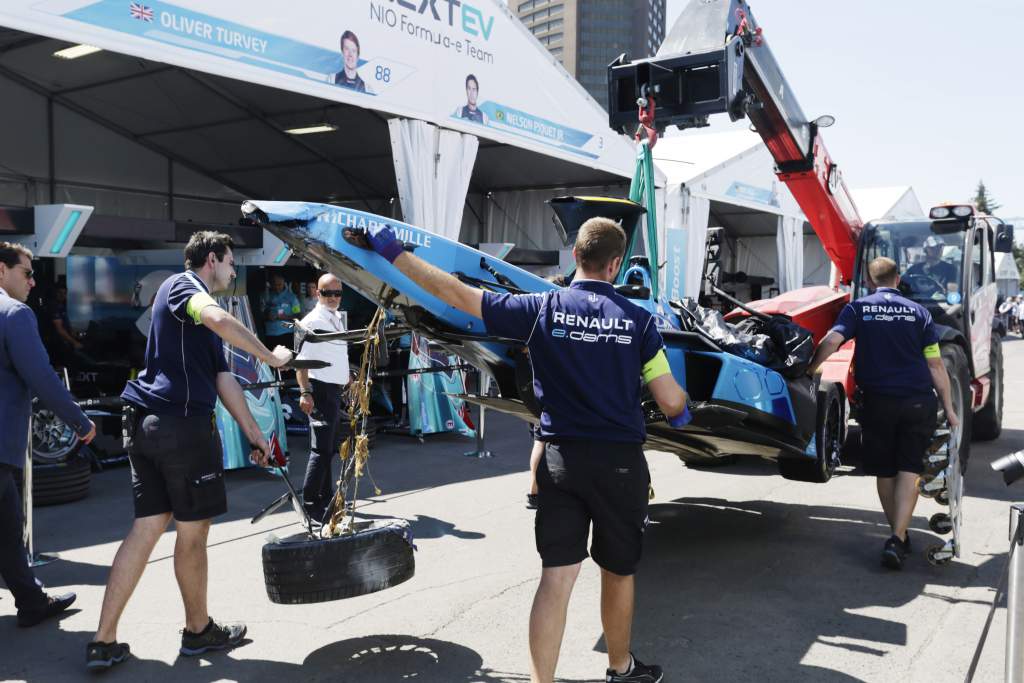 Buemi's subsequent brilliant recovery drive to fourth is sadly only remembered for his astonishing and indiscriminate post-race fury towards a bemused Robin Frijns and Daniel Abt.
When his re-tubbed car was found to be underweight after his Renault e.dams team's rushed rebuild, Buemi would have been forgiven for diving into the St Lawrence seaway.
There was a long stew for Buemi that summer after di Grassi triumphed. Even to this day Buemi shudders over how, in his eyes, an easy title lost was lost through two championship administrators' inability to communicate on their respective calendars.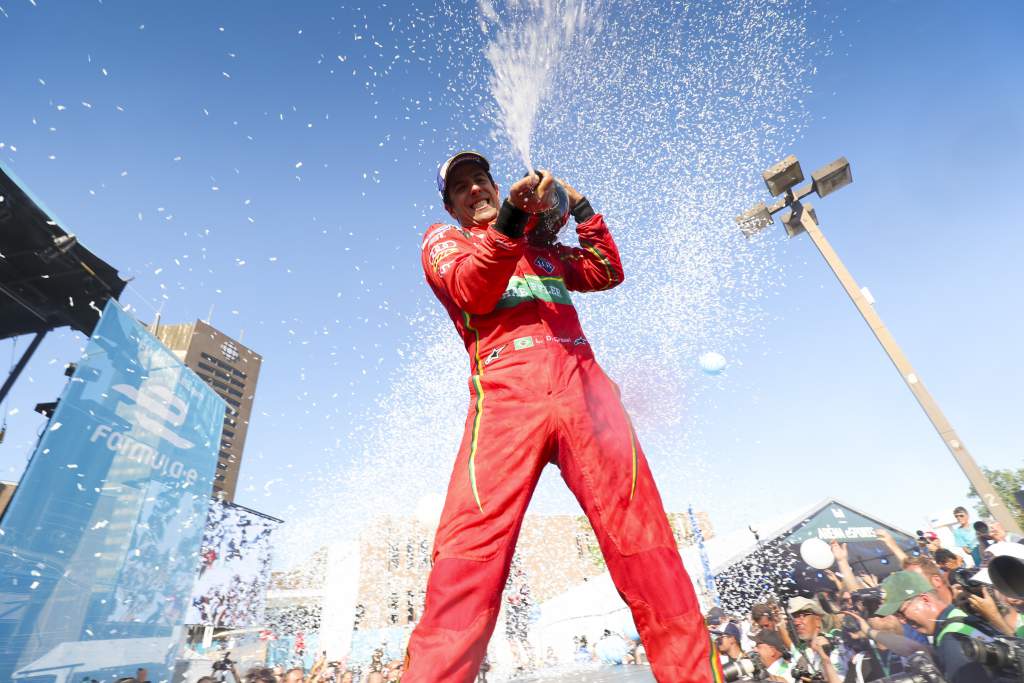 As for his relations with di Grassi of course, the events of that season did little to dilute the inherent dislike between them.
That said, their relationship has since been returned to at least talking terms. But there is always a touch of unease when the two are in close proximity on track, and as time passes it has the feeling of two old boxing warriors spoiling for one last bout.