Max Verstappen's three Formula 1 world championships have been won in very different ways.
The extraordinary street fight of 2021. The calmer but still close opening to 2022 that then became a serene cruise.
And then 2023: the absolute crushing domination that's a clear step ahead of even late-2022 in superiority terms.
Through all that, Verstappen has retained the raw pace and aggression that's made him look so sensational throughout his F1 career and before.
But there have also been elements of evolution that have made his scale of 2023 dominance possible.
Those were among the many topics analysed on this week's special episode of The Race F1 Podcast that delved into Verstappen's performances and mindset, with special guest Erik van Haren from Dutch newspaper De Telegraaf joining Mark Hughes and Edd Straw to explore the now triple champion's particular brand of F1 greatness.
Here are three interlinked ways in which Verstappen has got even better heading into and during 2023.
HAD A SETBACK? CRUSH THE FIELD NEXT TIME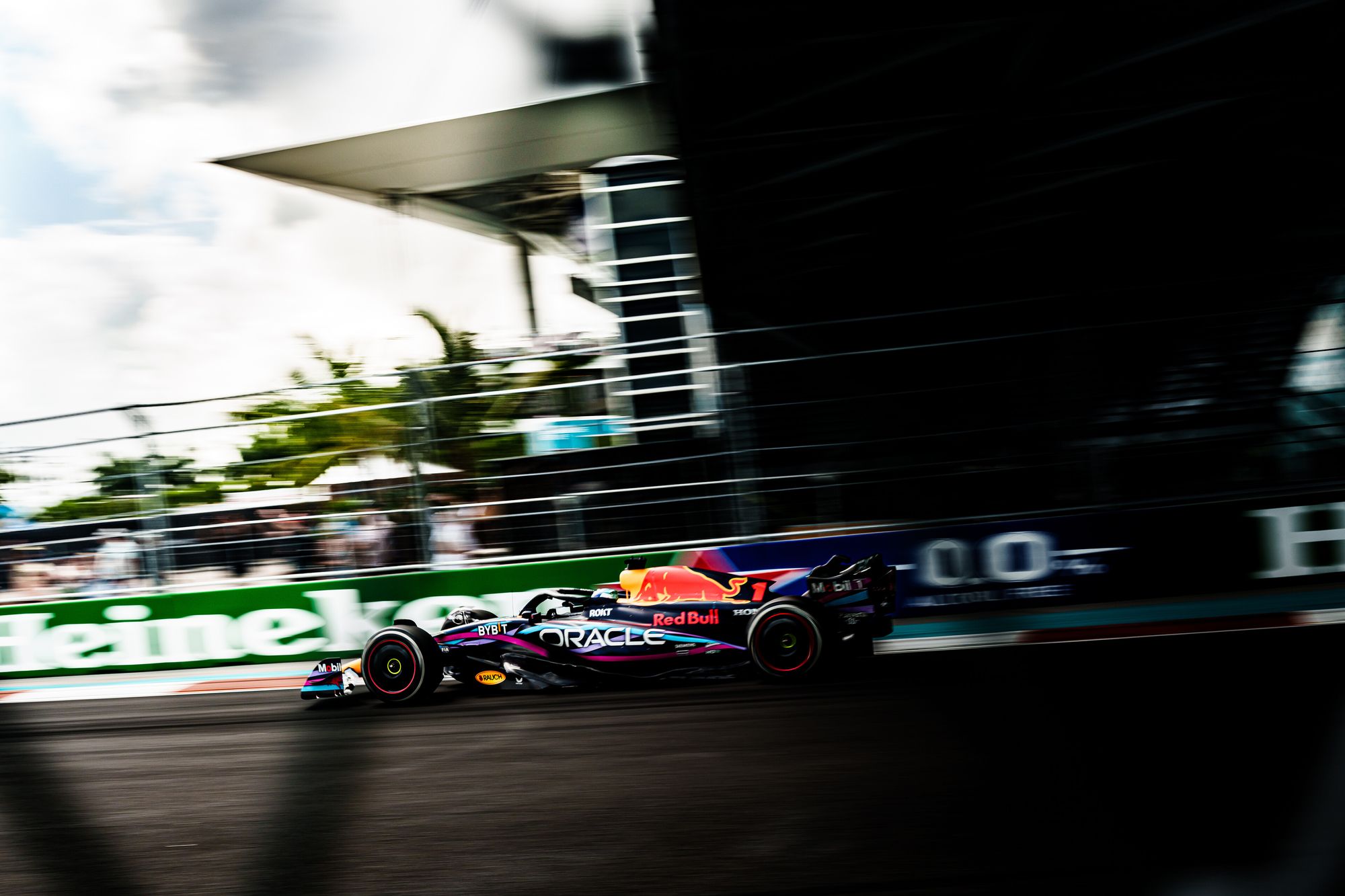 There haven't been many blips in Verstappen's 2023. But how he's responded to them has particularly stood out to Van Haren.
He cited the Miami Grand Prix weekend, when a mistake on what turned out to be his only run of a truncated Q3 left Verstappen ninth on the grid while Red Bull team-mate Sergio Perez - fresh from his Azerbaijan double win and within reach of the championship lead - took pole.
Verstappen duly came from row five to defeat Perez next day.
"Then he is able to create a mode in his head that he wants to crush the whole field" was Van Haren's description of how Verstappen now reacts to setbacks.
"You see it every time he has a bad result - the week after, he is there, he is more loaded than ever.
"That Miami race he won on Sunday and that was the beginning of the end for Checo this season. Max won 10 races in a row after that from Miami onwards."
That element was also evident more recently after Verstappen and Red Bull's Singapore GP defeat. Next time out in Japan, Verstappen set about demolishing his rivals from the very first lap of opening practice.
As this season so quickly became a foregone conclusion, it would've been fair to wonder if Verstappen - such a fierce wheel-to-wheel racer - might actually get a little bored with dominating and pine for some closer competition.
But though he's not said it explicitly, the pursuit of absolute domination spurs him on just as much.
"He doesn't leave anything on the table, he wants it all," said Red Bull team principal Christian Horner after Verstappen claimed title number three.
"That drives and motivates the team internally. He is relentless in his pursuit of performance, and he doesn't just want to win, he wants to dominate.
"I think you see that in any great sportsman, their pursuit of excellence and pursuit of not just wanting to beat but totally dominate their opposition is again a hallmark of what makes him such an exceptional talent."
THAT RAW SPEED'S NOW ALWAYS ON TAP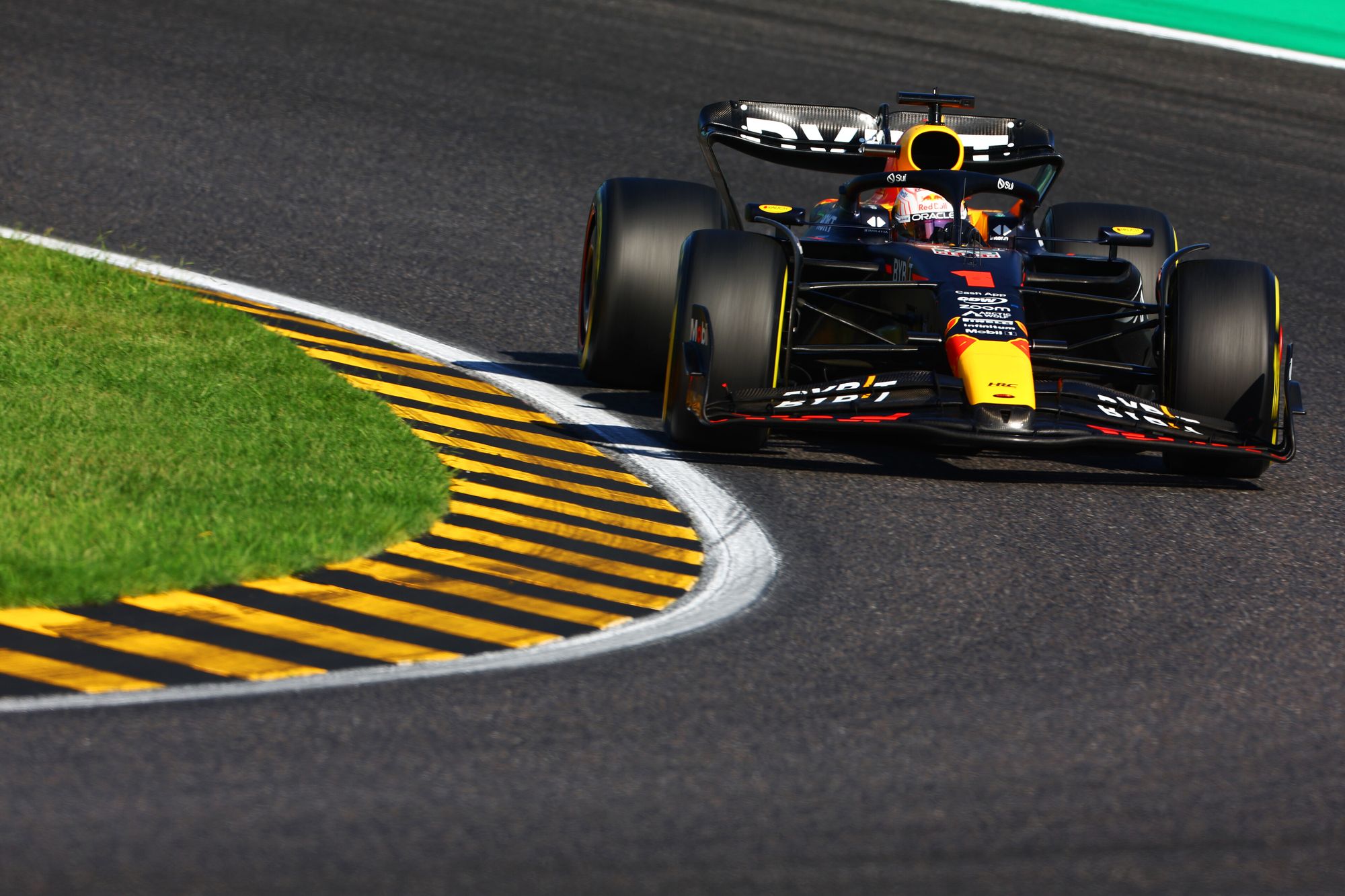 But you can't crush the field unless you've got a good car - and especially a good car that suits your driving style.
This is where the Verstappen and Red Bull relationship has combined to impress Hughes this year. Verstappen undoubtedly has the best car, but he's played his part in both making sure it's the best car and tailoring it to what he needs.
"It's his consistency of raw speed that I find so impressive," Hughes explained.
"We have to give credit to Red Bull as well (and also Max of course), but if you have a car which you're not in tune with, you won't access your best stuff.
"We saw in the early parts of both this year and last how when he got the car to do what he wanted it to do, he stepped up his level.
"You see it in other places - Charles Leclerc and Ferrari this year, Lewis Hamilton and Mercedes in the last two years, they haven't been able to give their drivers cars which do the things they [the drivers] need them [the cars] to do to access their best stuff.
"Occasionally they do and you see the devastating Leclerc pole lap in Baku or the Hamilton pole in Hungary, but Red Bull has been able to not only deliver a car of huge performance but also one that behaves the way Verstappen needs it to to get these extraordinary levels of personal performance.
"And the personal performance and the car traits are always intertwined, and he really has had a fantastic hit rate of amenable cars from Red Bull.
"For sure he's part of making that happen, but a driver alone can't make that happen, the team has to buy into it as well.
"I think the team buy totally into whatever Max tells them and have the ability to incorporate that into development."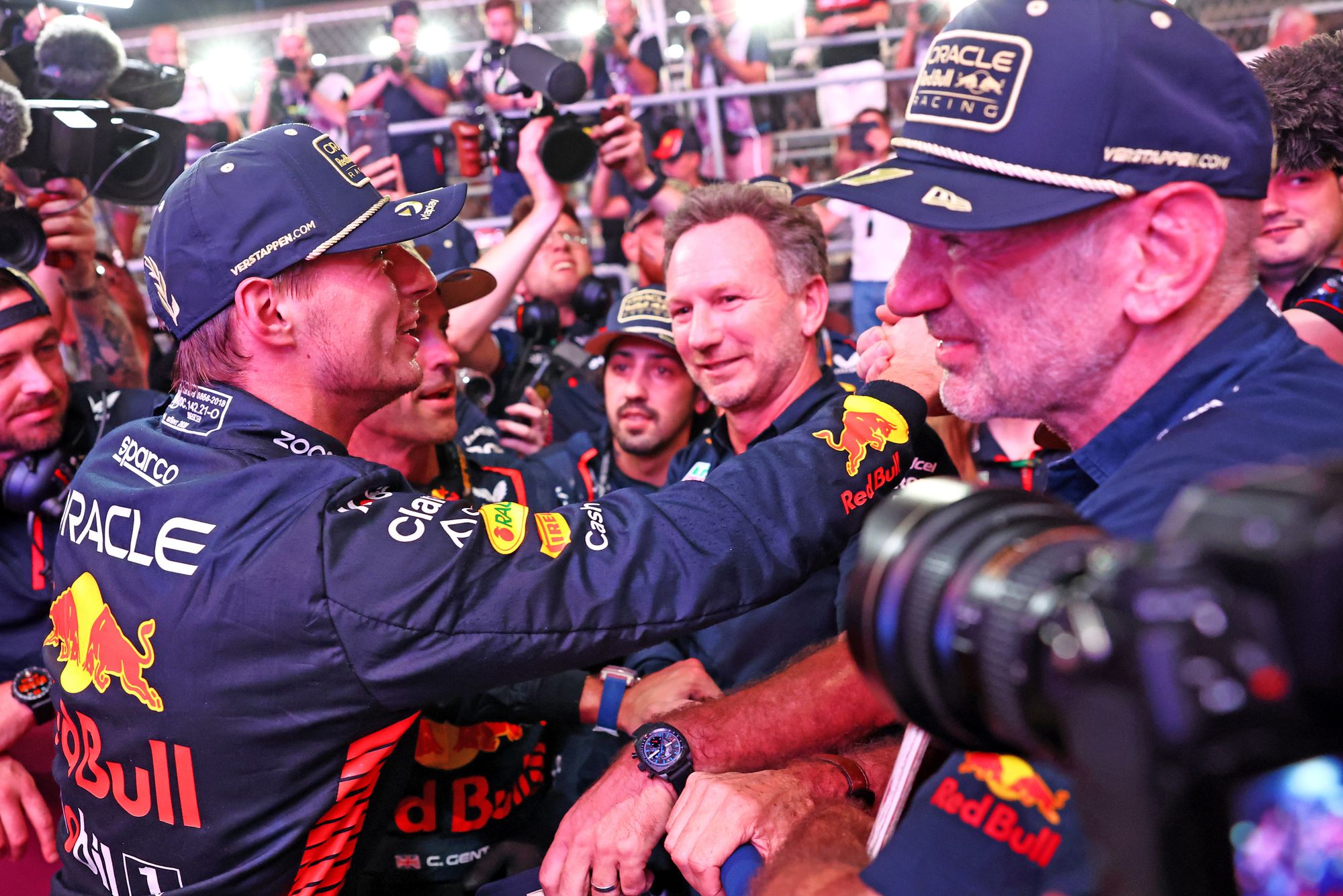 Horner gives plenty of credit for this to Verstappen, particularly in terms of how reliably - and instantly - he can deploy maximum performance. To Red Bull, this is unprecedented in a driver.
"His ability to adapt and extract the most out of a car, the confidence he has in himself, his belief and determination he has, you see that time and time again whether it's on an outlap, whether it's on an inlap, whether it's the first lap of a grand prix, or changing conditions, his ability to adapt and be at one with the car is beyond anything we've ever seen before," said Horner.
HE'S PATIENT NOW TOO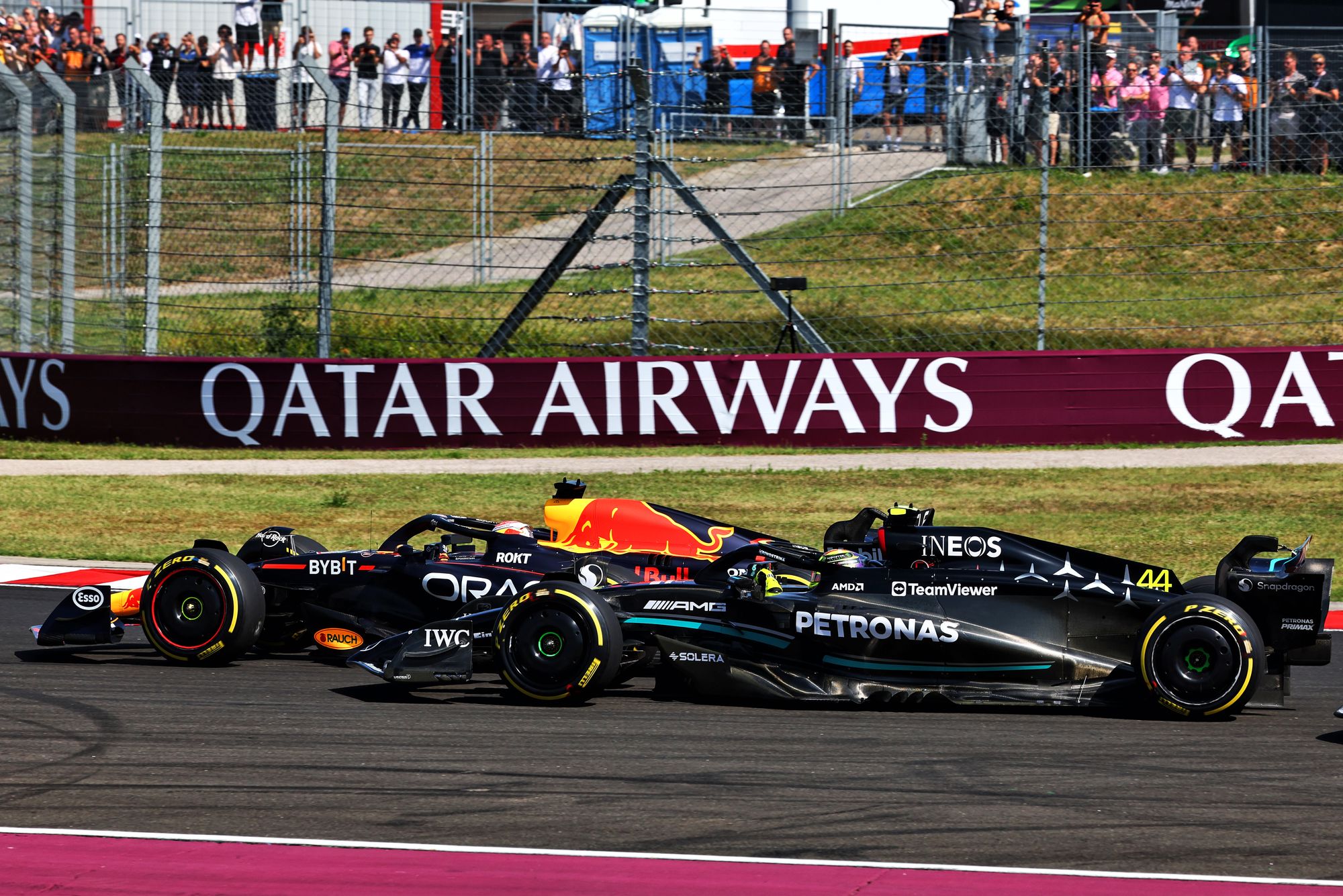 Straw describes whether Verstappen would develop the patience to know when to stay out of trouble in racing situations as "one of the big questions about him a few years ago" and one that "he's answered very, very well".
Hughes sees that as "part and parcel of just having a very fast car", pointing out that Verstappen has "even said a few times when he's been behind 'I know there was no big hurry because I know my car's quick' ".
Van Haren acknowledges that the Red Bull's superiority plays into that, but also believes there's a flipside that used to play against Verstappen - that many of his errors were due to having to over-reach in a less competitive car.
"You see now when he goes into Turn 1 he's not taking all the risks he did a few years ago, when he had to because he didn't have the car that Mercedes and sometimes Ferrari had, so you have to take more risks and if you take more risks there's a bigger chance of a DNF, especially at the start," he said.
"I think it's really impressive if you can handle that in a split second and sometimes lift or be away from the problems.
"And then of course he knows in the back of his head that he'll be able to get the guys in front of him a few laps after."