Carlos Sainz Jr is believed to be the Ferrari Formula 1 team's favoured replacement for Sebastian Vettel, a move that could push either Vettel or Daniel Ricciardo to McLaren.
Ferrari and Vettel have opted not to extend their contract beyond 2020, making this season the last of Vettel's six with the Italian team.
Sainz, Ricciardo and Ferrari protege Antonio Giovinazzi have long been viewed as the most likely contenders to replace Vettel, even though the prospect of him leaving appeared slim.
Ricciardo is on a big-money Renault contract and would be the most expensive option for Ferrari, even if he is willing to reduce his pay to secure a potentially career-defining move.
The Australian held out for a Ferrari move when he assessed alternatives to Red Bull in 2018, and although that never materialised and he moved to Renault, it has been suggested he struck a pre-agreement with Ferrari for 2021.
However, if Ferrari once had serious interest in Ricciardo, it may not act on that now given its circumstances have changed considerably since the summer of 2018.
John Elkann and Louis Camilleri have succeeded the late Sergio Marchionne at the top of the company, while Mattia Binotto is now team principal, and all three have thrown their weight behind rising star Charles Leclerc.
Ferrari marked Leclerc out as its future by signing him to a long-term deal last December, after a stellar first season with the team in which he claimed seven poles and won two races, including Ferrari's home Italian Grand Prix.
Although he is only 22, it appears Leclerc has convinced Ferrari that he can be counted on to lead the team, which reduces the need for a high-profile Vettel replacement. And as a multiple race winner, Ricciardo may also represent a more disruptive option to pair with Leclerc.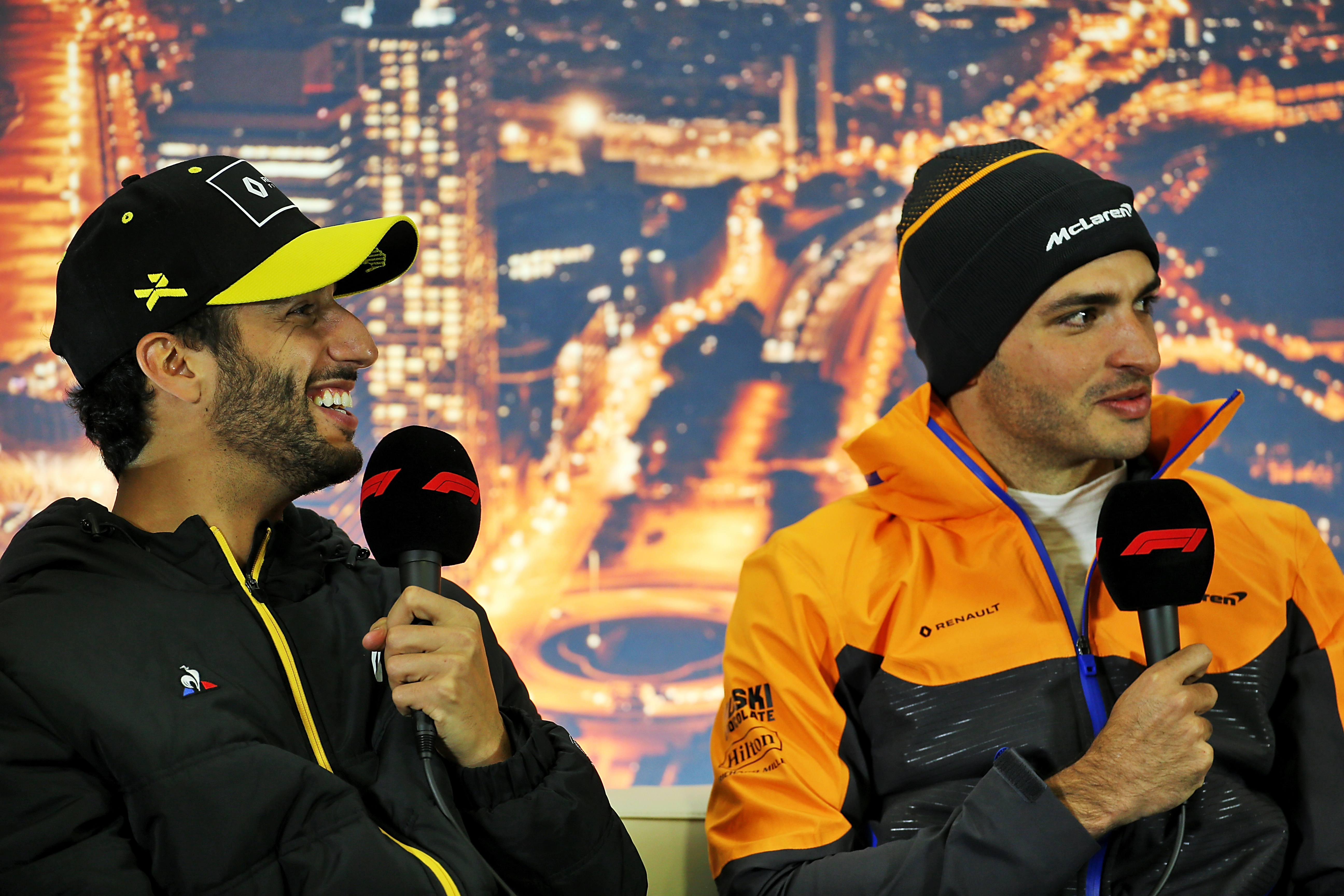 Sainz is potentially less unsettling, although his spell as team-mate to Max Verstappen at Toro Rosso did include friction behind the scenes.
The Spaniard has struggled to gain a foothold in the F1 driver market after bouncing between Toro Rosso, Renault and McLaren a result of being shunned by Red Bull and Renault.
But he proved his ability in an impressive McLaren season in 2019, when he scored a podium in Brazil and finished the best-placed driver behind the Mercedes and Ferrari drivers, and Red Bull's Max Verstappen.
Though Sainz and McLaren have previously expressed a desire to continue beyond the end of 2020, when his contract is due to expire, this was based on McLaren being Sainz's best option.
It is understood that discussions first took place between Ferrari and Sainz's team earlier this year, and that the prospect of a deal looked good in the unlikely event Vettel left.
According to reports in Italy, Spain and Germany, now that talks with Vettel have broken down Ferrari has moved to advance discussions with Sainz's team.
Sainz's father, two-time World Rally champion Carlos Sr, has told Movistar in Spain that "things are accelerating and teams are not going to wait for the season to start", but did not comment specifically on the prospect of a Ferrari move.
Though Lewis Hamilton was linked with Ferrari last year and Fernando Alonso's pseudo-retirement from F1 was always conditional on a top seat not opening up, neither are believed to be candidates.
Signing either of them would destabilise Ferrari's long-term plan for Leclerc for a short-term gain, Hamilton may not wish to leave Mercedes anyway, and Alonso is currently in his second year out of F1.
At the other end of the scale in terms of pedigree, a driver like Giovinazzi has not proven he is ready for a Ferrari seat in his one season with Alfa Romeo.
Will Vettel replace Sainz at McLaren?
As for Vettel, it is unclear whether he wishes to remain in F1 with another team.
Mercedes boss Toto Wolff has acknowledged his exit from Ferrari but Wolff's priority is retaining Lewis Hamilton alongside incumbent Valtteri Bottas, or turning to Williams driver George Russell.
Red Bull is known to have retained a strong relationship with Vettel but it has secured Max Verstappen for the long-term on what will be a lucrative deal, which likely prices it out of re-signing Vettel and eliminates the need for another leading driver as well.
Swapping seats with either Sainz or Ricciardo should they replace him at Ferrari is an option, but McLaren and Renault are financially vulnerable and may not be able to meet Vettel's salary demands.
If Vettel wishes to continue regardless of a reduced financial package, having made it clear in his Ferrari exit that money was not a factor, McLaren would likely be the favoured destination.
It has strong momentum from 2019 under the leadership of Vettel's ex-BMW colleague Andreas Seidl, and believes F1's reduced budget cap and new technical rules can facilitate a return to fighting for wins and titles.
However, if Ricciardo misses out on a Ferrari move, McLaren may be his only route out of Renault should he wish to leave the French manufacturer.
McLaren and Ricciardo had discussions when Ricciardo wanted to leave Red Bull in 2018, and this interest could be renewed if Sainz does join Ferrari.
Whether Vettel or Ricciardo would be preferred by McLaren is not known. McLaren said it does not comment on speculation when approached by The Race.
Should Ricciardo take Sainz's place at McLaren, it would open the door for Vettel to move to Renault.
Earlier this year Renault boss Cyril Abiteboul reportedly refused to rule out moving for Vettel should he be available and Ricciardo opt to leave.
But he has also stated that drivers from Renault's roster of proteges, including Formula 2 racers Guanyu Zhou and Christian Lundgaard, would also be under consideration.