Not many Formula 1 races in which a Ferrari and a McLaren work together spring to mind. Had Carlos Sainz and Lando Norris not adopted an unorthodox cross-team collaboration, though, they would each have had worse results in the Singapore Grand Prix.
A key part of Sainz's cerebral victory was using Norris as a buffer to the two Mercedes drivers charging up to them both on fresher, softer tyres, and making sure Norris was close enough to be able to use the drag reduction system to defend his own position.
Whether Norris held on or not, he might at least be able to delay the two real threats for the win. Otherwise, in Sainz's own words, the leading Ferrari would have been "dead meat".
McLaren team boss Andrea Stella also feared it was inevitable the two Mercedes cars would make it all the way to the front. He was even half-preparing for that eventuality.
"When I saw them going on the two sets of brand new mediums, I thought they're going to pass us," Stella admitted.
"It was tense, but I was not very optimistic! I was just waiting for it to happen and be ready to say 'don't get too disappointed, they had the mediums, it really played well into their hands with the virtual safety car, and we tried our best'."
But Stella, like most people watching, did not count on Norris getting a key helping hand and it working quite so perfectly.
Norris said Sainz was "generous" in giving him the DRS, especially when Norris had just managed to rebuff George Russell's only real attack but lost a lot of ground in doing so. That required Sainz to properly back off to let the McLaren catch back up and was the moment Norris recognised Sainz "most helped me out" as he would have been extremely vulnerable to Russell otherwise.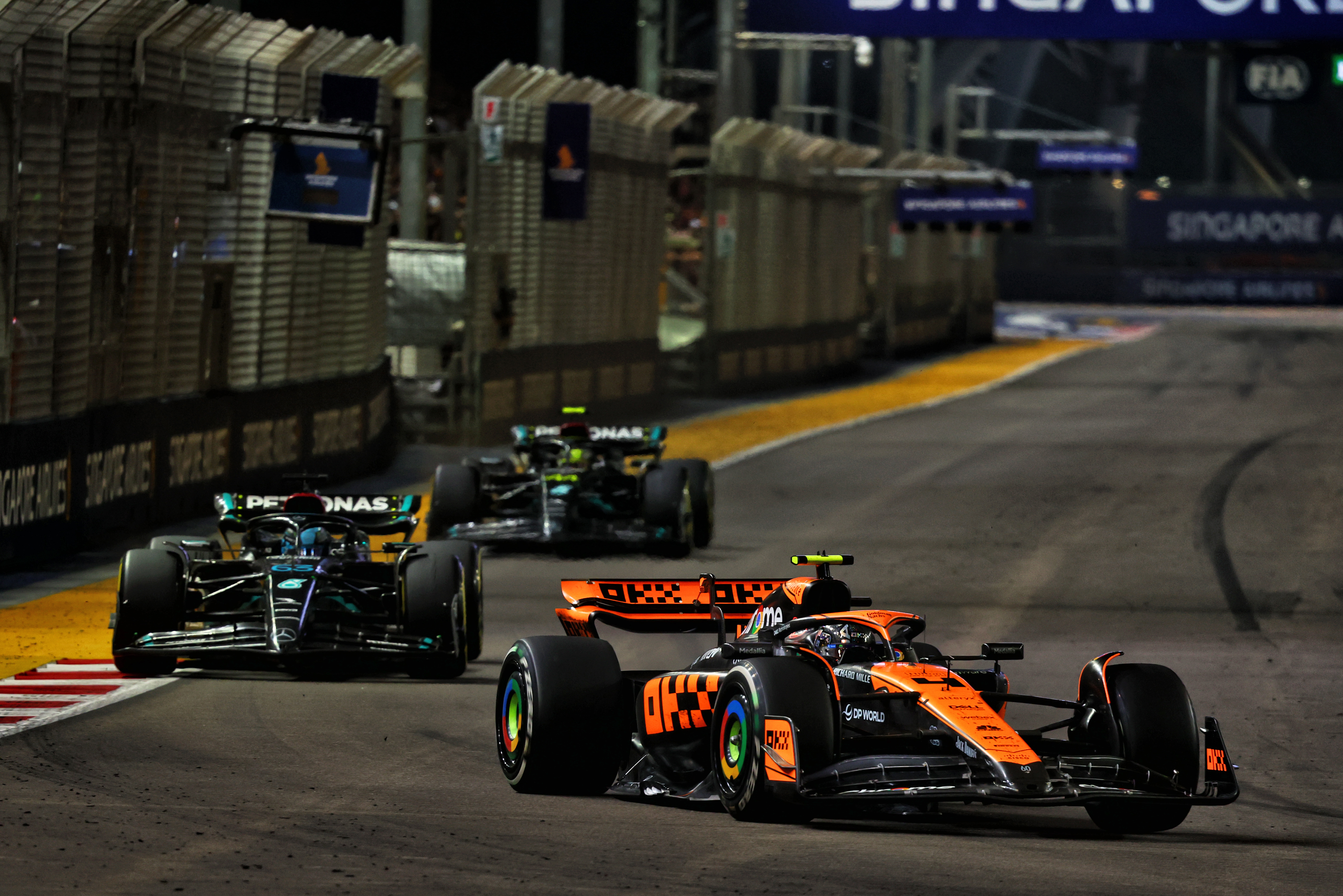 Had Russell got ahead in that moment, Norris was not going to get back past him. And Russell would have swept past a DRS-less Sainz.
Instead, Norris held firm when Russell launched his strongest attack. Then Sainz was sharp enough to hold back and give Norris the DRS, which also benefitted both.
"We together played it in a smart way to get the Mercs to stay behind us," Norris said.
It was a perfect, if unorthodox, example of mutually beneficial strategic driving. Sainz's choice not only won him the race it was also key to Norris finishing second because it gave him a fighting chance of not just delaying Russell and Lewis Hamilton but fending them off entirely.
And while Norris obviously had Sainz to thank for helping him out with the DRS use, Norris also deserves attention and praise for the defensive move that meant he needed that assistance.
"I don't think, obviously, we would have done it without the collaboration with Carlos," said Stella.
"Let's call it like this, 'collaboration'. Because Carlos, in his own interests, he wanted to have Lando within the DRS. At the time when Lando lost it in trying to defend, Carlos actively kind of waited for longer to get DRS.
"It was a bit of teamwork between two previous team-mates, for a great result for both teams."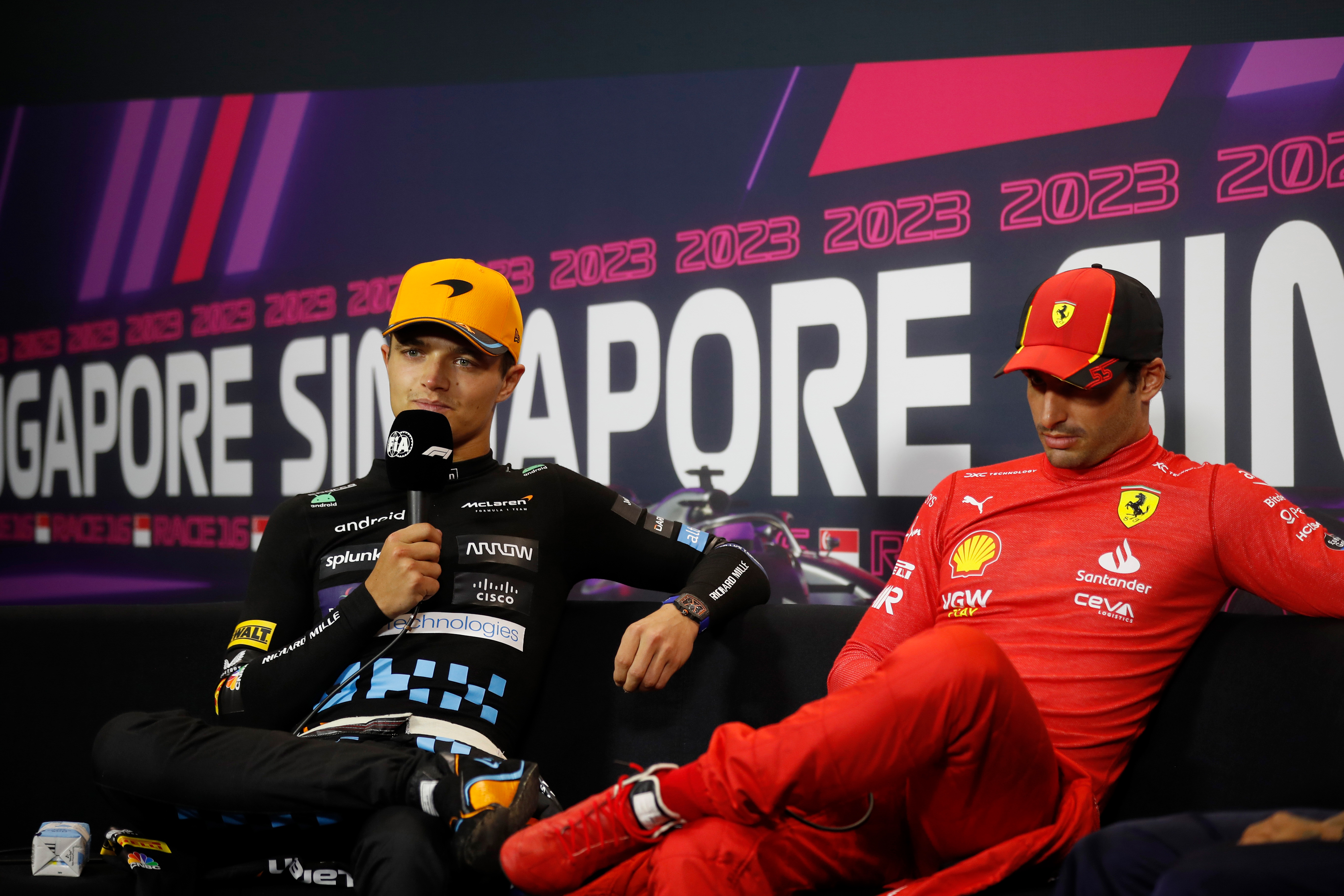 Sainz and Norris had driven extremely intelligently in tandem even before this. Once the Mercedes drivers dived into the pits under the virtual safety car to play their ace card – they were the only frontrunners with another set of mediums to switch to – Norris could have gone overboard attacking Sainz. Or Sainz could have pushed too hard trying to make sure the two Mercedes didn't catch so quickly.
Instead, they circulated in close proximity but with management the main priority. Stella reckoned that both drivers easily had pace to burn but not so much that it would have stopped Russell and Hamilton descending on them before the finish – and then neither Sainz nor Norris would have had enough left to defend.

"Both could have gone a few tenths faster," said Stella. "But if you go a few tenths faster, then at the end of the race, you may go a few tenths slower.
"And I'm not sure that they would have been able to keep the Mercedes behind.
"So, Carlos and Lando, I think they were just masters. They really mastered it."
Sainz and Norris needed to trust each other in that final stint. Sainz knew that Norris was not going to make a stupid move to try to win (although you can bet Norris would have launched an attack if he had a genuine sniff). And Norris knew that Sainz couldn't afford to drive overly slowly, otherwise they would be caught with plenty of time for the Mercedes drivers to pass them, and it wouldn't be helpful to put Sainz under too much pressure otherwise he could start making mistakes and they would lose time that way.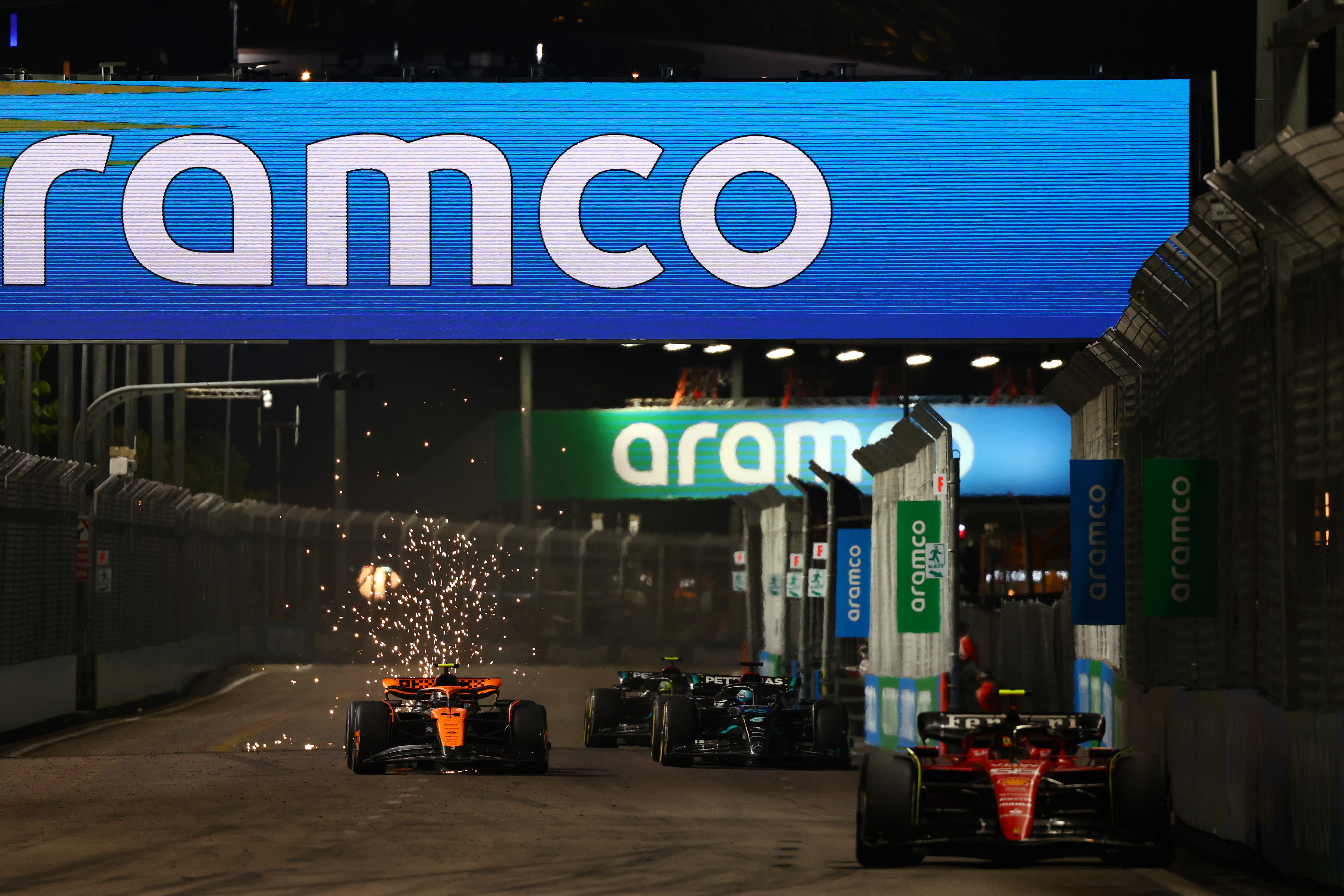 That's why, close as Norris was to that elusive first grand prix victory, his focus was more on consolidating second. He had to pick his battles and the big threat was Russell.
"The more I attacked him [Sainz], probably the more vulnerable I would have been from both the guys behind," said Norris.
"And we wouldn't be on the podium if I played it differently.
"It was about not making a mistake. I knew with George, he was going to pressure me a lot. He did and I had to defend quite a bit.
"And with a couple of those attacks from George, I think he just put his tyres a little bit over the edge. And he didn't attack me as much after that main attack."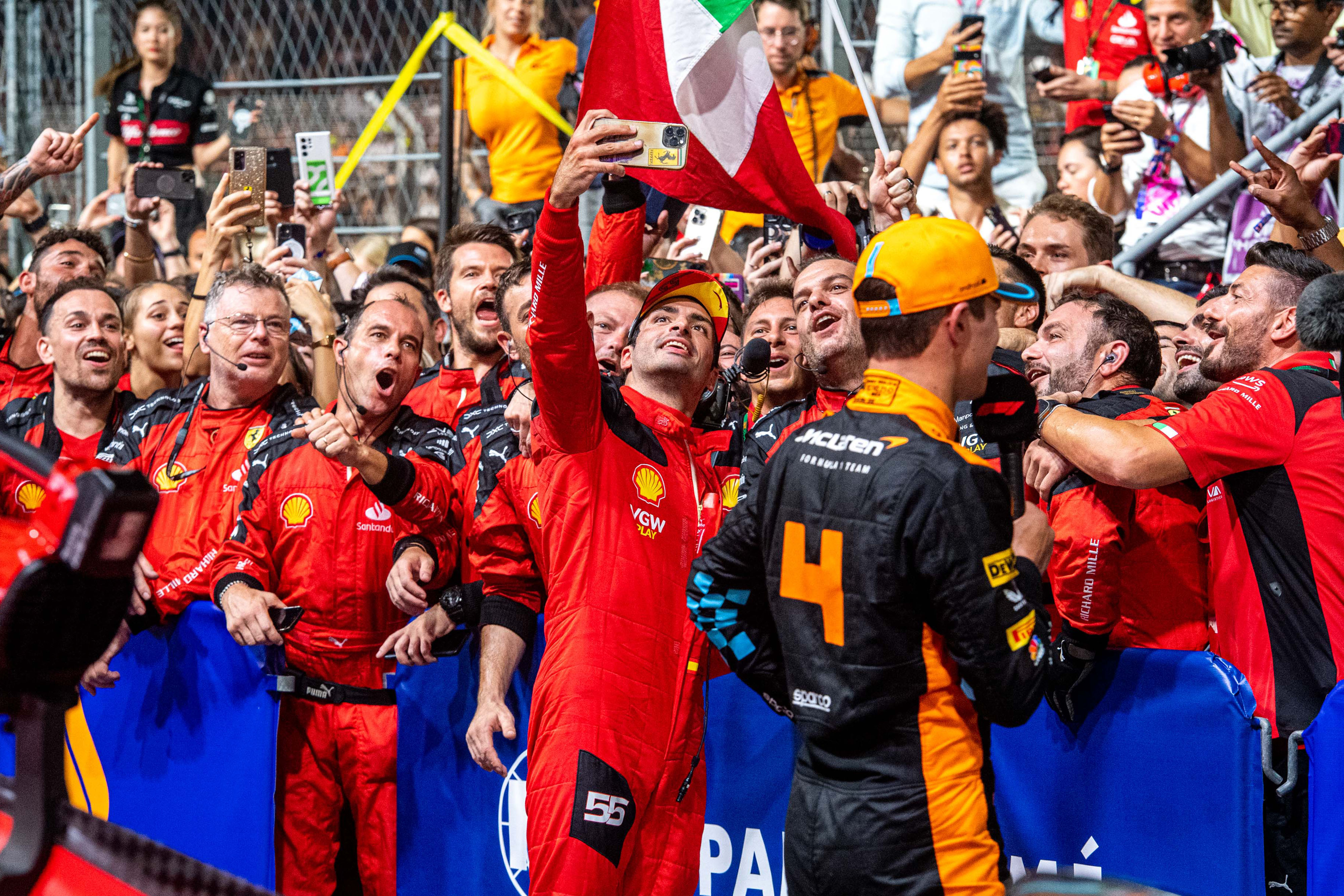 That could have been Russell just losing the edge in traction he needed after using the tyres so much closing the gap. His pace and grip advantage was still apparent but had faded enough that, in the end, he only had one shot to get in front. And Norris held firm.
There was a slight scare for him with a brush of the wall on the last lap, fractions of a second before Russell thumped it much harder and ended his own race so dramatically. But that was Norris's only notable error in that final stint and he was able to laugh it off afterwards.
---
The Race's comments section is changing – find out more here
---
"I hit it with the front so I kind of panicked a bit, thinking maybe I just messed it all up," said Norris.
"It damaged the steering, in terms of it was just off-centre. But luckily, it wasn't anything more than that.
"So, an amazing race, a stressful race from start to finish. A lot of management, but perfectly executed."
Not just by Norris, but by Sainz. Any other race and Norris would likely be cursing a perfect drive from the person who denied him a victory.
In Singapore, the two old team-mates knew they each had something to thank the other for.