Esteban Ocon's failed Alpine hydraulics brought this race alive. The lap 44 virtual safety car his stopping on track triggered mixed-up the strategies between the five quick cars at the front of the Singapore Grand Prix, with Carlos Sainz's Ferrari having narrowly led from pole throughout.
A decisive call by Mercedes in bringing both cars in had George Russell and Lewis Hamilton catching the Ferraris and Lando Norris's McLaren by two seconds a lap or more, building the race to a perfect crescendo. One with intrigue and drama.
The intrigue of two guys from opposing teams – Sainz and Norris – combining their efforts to thwart the challenge of two Mercedes on tyres so much faster that they'd otherwise have gone through them like a dose of salts. The drama of Russell, apparently on the cusp of challenging for this win all evening, blowing it all on the last lap. It was desperate, nail-biting stuff finding out which of them was finally going to break the sequence of Max Verstappen victories.
With the Red Bulls starting 11th and 13th after their desperately bad qualifying, that sequence always looked like coming to an end around Singapore, a track demanding the second-highest pace difference of the season to pull off an overtake – and in a car which was just plain not as fast as the Ferrari, Mercedes and McLaren.
And yet… had Logan Sargeant not brought out the safety car on lap 20 by hitting the wall and leaving a debris trail in his wake as he returned to the pits, a very different race, with a very different Red Bull result may have played out.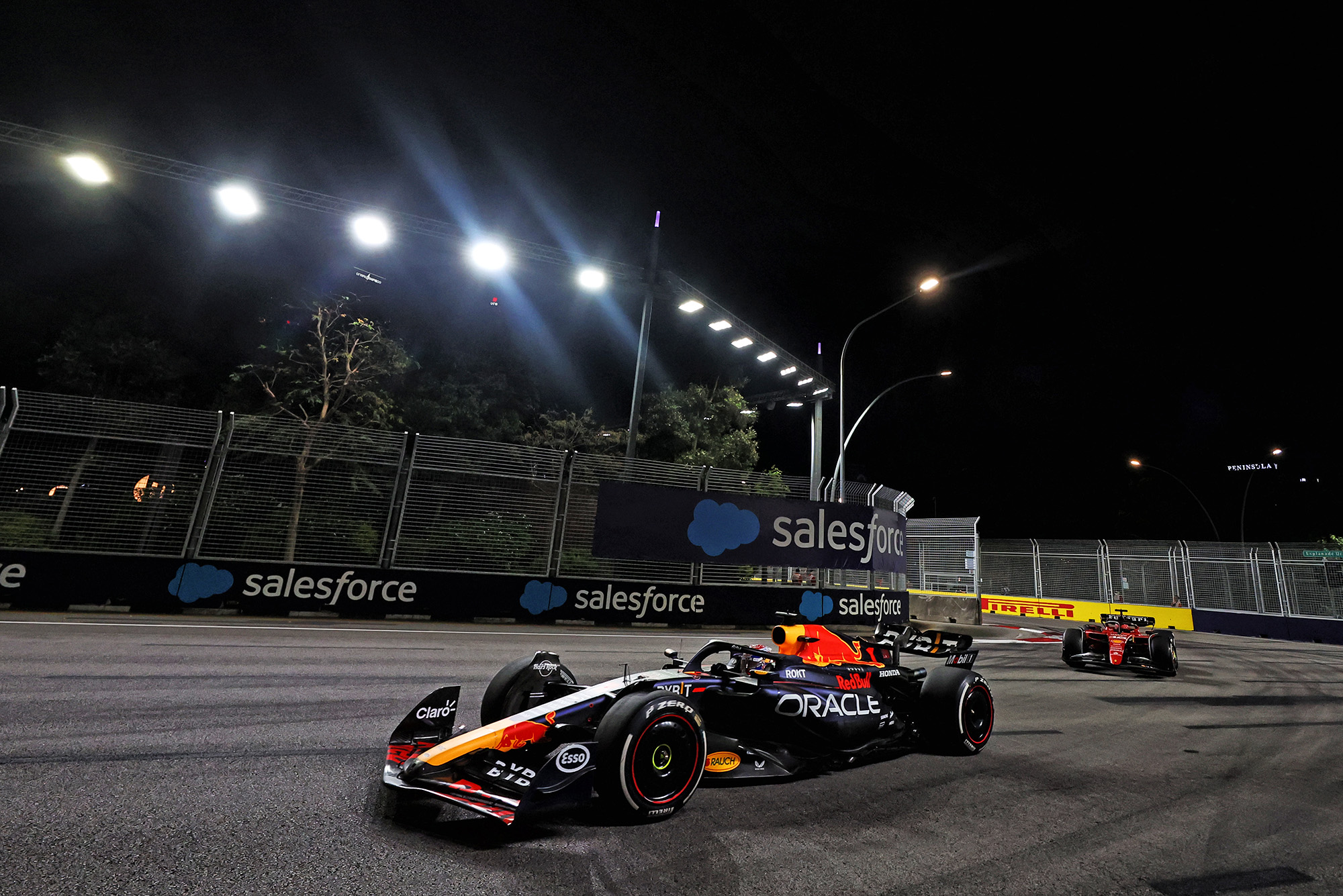 Verstappen lost around 29s to the frontrunners as a result of how that safety car punished Red Bull's inverted strategy of starting him and Sergio Perez on the hards in combination with the free stop the others got. It could not have come at a worse time.
In fifth place at the end a couple of tenths behind Charles Leclerc's Ferrari, he was just 21s behind the victorious Sainz. In the straight running of the race, without any safety car or VSC, Verstappen would have been in the thick of the action in the late stages, on newish medium tyres against the old hards of the Ferraris, Mercedes and Norris.
It would have been artificial though, only made possible by the super-slow pace Sainz had imposed on the field from the start. That would have melded with Red Bull's strategy perfectly. It's not that the Red Bull reverted to being its usual rocketship in the race – but it was much better than in qualifying and fast enough that with that strategic help from Sainz's artificially slow pace, it could have been in the mix for victory.
The thing was, although Ferrari came to a high-downforce track with a car working far better than it had at Zandvoort, good enough for Sainz to come out narrowly in front of Russell's Mercedes for pole, its tyre degradation wasn't great. That's normal and the Friday long runs had confirmed it. Sainz and Leclerc had been only seventh and ninth fastest respectively of those who had made their runs on the medium C4 tyre. They did not have the tyre usage to run the race aggressively.
But around Singapore, just like at Monaco if you qualify well, there was still a very feasible route to victory, given the track position bought by that pole and the overtaking difficulty.
Where it could have gone wrong was if the Ferraris' pursuers were able to punish their tyre deg by undercutting them, even to the extent of switching to a two-stop (which Mercedes was itching to try, given that it'd saved an extra set of new mediums for both drivers). To prevent that, and also to keep from stressing his tyres, Sainz had to run at the slowest pace possible, no faster than the midfield, sometimes no faster than the tail-enders, and in that way there would never be a gap for the pursuers to drop into.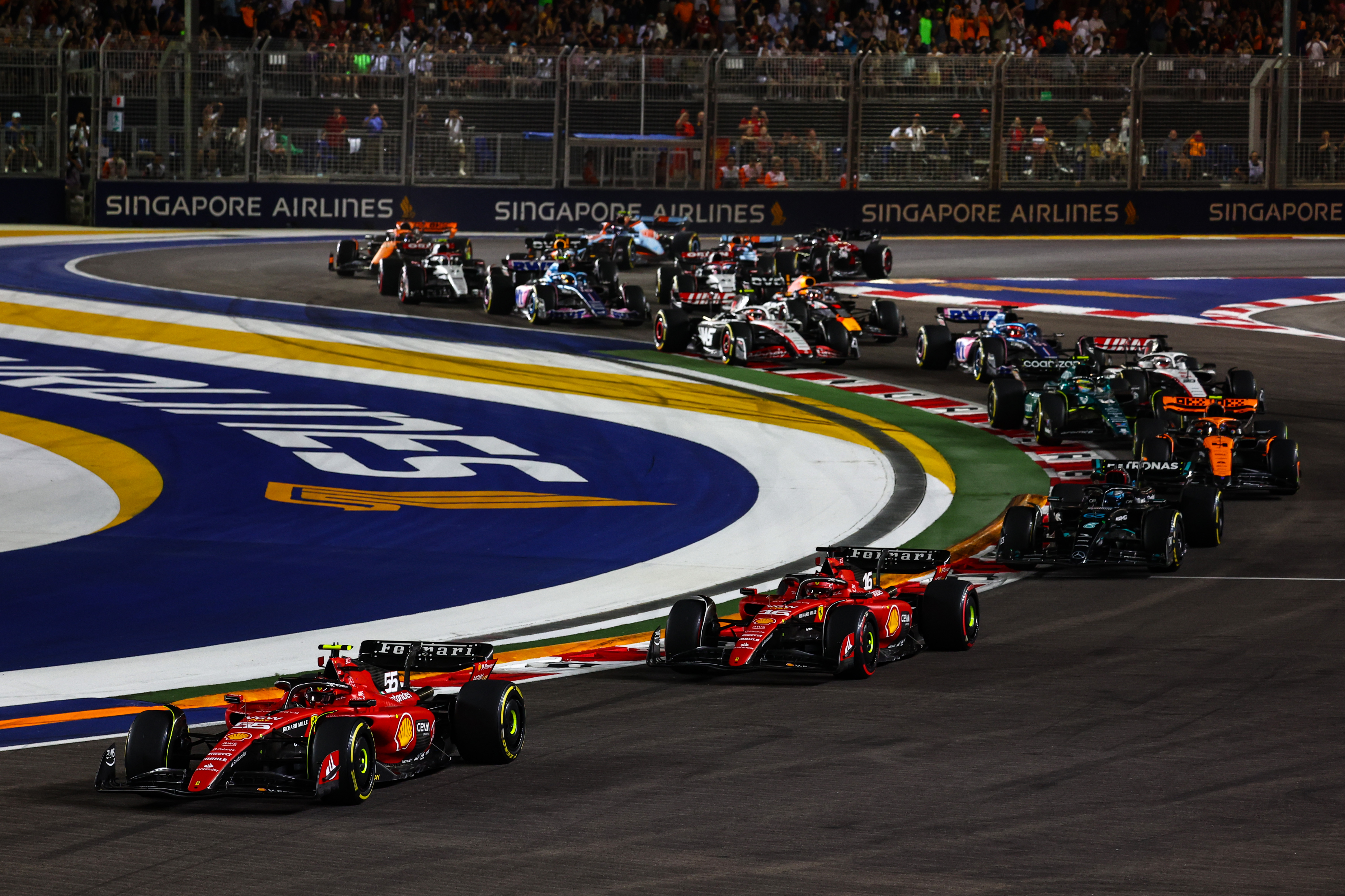 Not only did Sainz have track position, he also had the support of Leclerc, third on the grid and, uniquely among the top 10, starting on the soft and not the medium. With softer tyres and the grippy side of the grid, Ferrari hoped Leclerc could vault up to second at the start (he did) and in that way be a perfect tail gunner for Sainz. It's not a role he relished but he accepted it.
"It was up to me to do a better job yesterday in order to be in a different position…" said Leclerc. "Since this morning things have been very clear."
Ferrari, with the tantalising prospect of being the team to break Red Bull's unbeaten record, was not up for letting its drivers fight it out like at Monza. That it didn't have the tyre performance to make that feasible was just one reason. Once the grid positions were decided, because of the special circumstances of this race, Ferrari planned it almost as a military operation and Leclerc was designated a soldier's role. This was far more important than deciding which of its drivers would be the distant podium finisher to two Red Bulls. This was for a highly symbolic victory. This was important. It was Leclerc himself who volunteered to start on softs, a strategic disadvantage, but critical in his passing Russell off the grid.
Sainz and Leclerc played their parts perfectly in this first phase of the race. Russell – in third place once Hamilton had handed him and Norris back the positions he'd gained over them by taking to the run-off at the first turn – kept up an exasperated tirade about how slow a pace they were running. Even Sainz mentioned it – "I could run all day at this pace". It was much the same pace as that being run by Sargeant's Williams at the back, just an 18-car bunch not really spreading out. It was extreme – and Sainz's only chance.
So there was a phase of stalemate as Leclerc backed away from Sainz, delaying Russell and the others even further. But also ensuring that when he stopped to change his softs, which would inevitably be earlier than Sainz could run on his mediums, he didn't 'inadvertently' undercut Sainz. He was playing the perfect support role, as he admitted with resigned candour afterwards.
"I cannot hide my disappointment that I was in this position in this one opportunity for us to win," he said again in reference to his qualifying performance. "My first stint was all about protecting Carlos."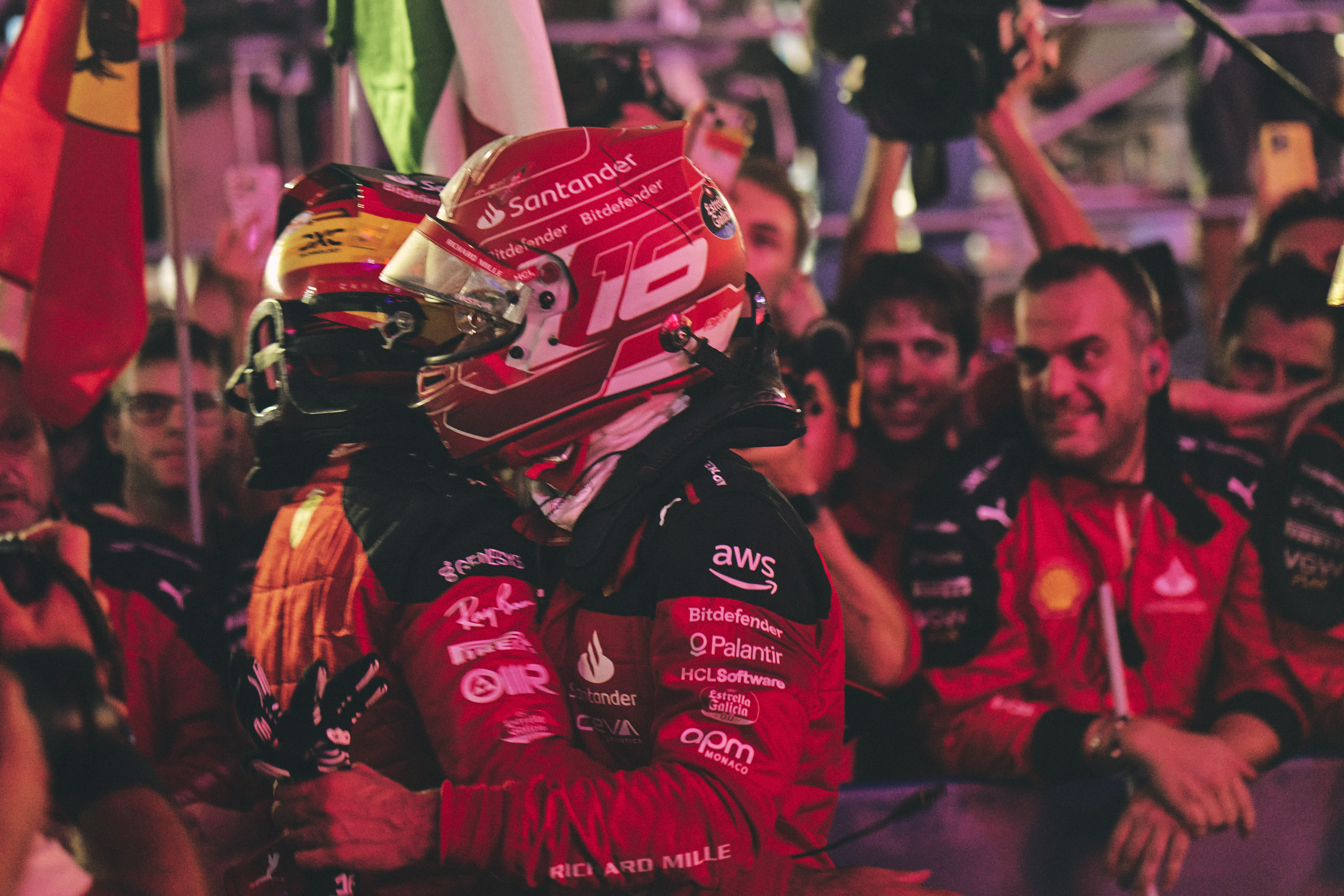 Without Leclerc completely buying into his support role here, Ferrari may well not have won this race. He may have thought back to 2019 when he was on-course for victory here until team-mate Sebastian Vettel was accidentally sprung into the lead by defending from the threat of an undercut and finding his own undercut much more powerful than Ferrari had calculated. Vettel had taken that opportunity and ran with it, much to Leclerc's disappointment then. He showed no sign of trying to emulate Vettel's strategy this time when it would have been very easy to have undercut his way past.
Leclerc's race then took a nosedive. He was just a couple of laps away from making his planned stop from the softs to the hards when the safety car came out for the Sargeant incident. Ferrari – and everyone else in the top seven positions – pitted to get off the mediums and onto the hards.
This meant Leclerc having to be stacked and that delay escalated further as he was held. In all, it cost him around five seconds which in the tightly-packed group meant he was jumped by Russell and Norris and, struggling to get the hards up to temperature on the restart, he would be mugged by Hamilton. He would never get those places back and once he'd lost them he backed off to keep his worrying power unit temperatures under control.
But if the safety car was bad news for Leclerc, it was disastrous for Red Bull. Verstappen and Perez had started on the hard and lap 20, with 42 still to go, was way too early to fit mediums, so they were obliged to stay out and not take advantage of the free pitstop. The old hard tyres proved reluctant to wake up upon the restart losing them further time and positions.
The only way for their race to be rescued from there was if there was another safety car. They stayed out long, ever-slower, being overtaken by car after car until there was literally no tread left and still that safety car didn't come. They surrendered on lap 39 (Perez) and 40 (Verstappen). Verstappen lay 15th, Perez 17th, 43s and 54s respectively behind Sainz.
They were now on much faster tyres of course and Verstappen in particular was able to scythe his way through the slower cars. The RB19, with some tyre temperature, and pressures which relieved the worst of the bottoming-out of qualifying, was far more competitive than on Saturday.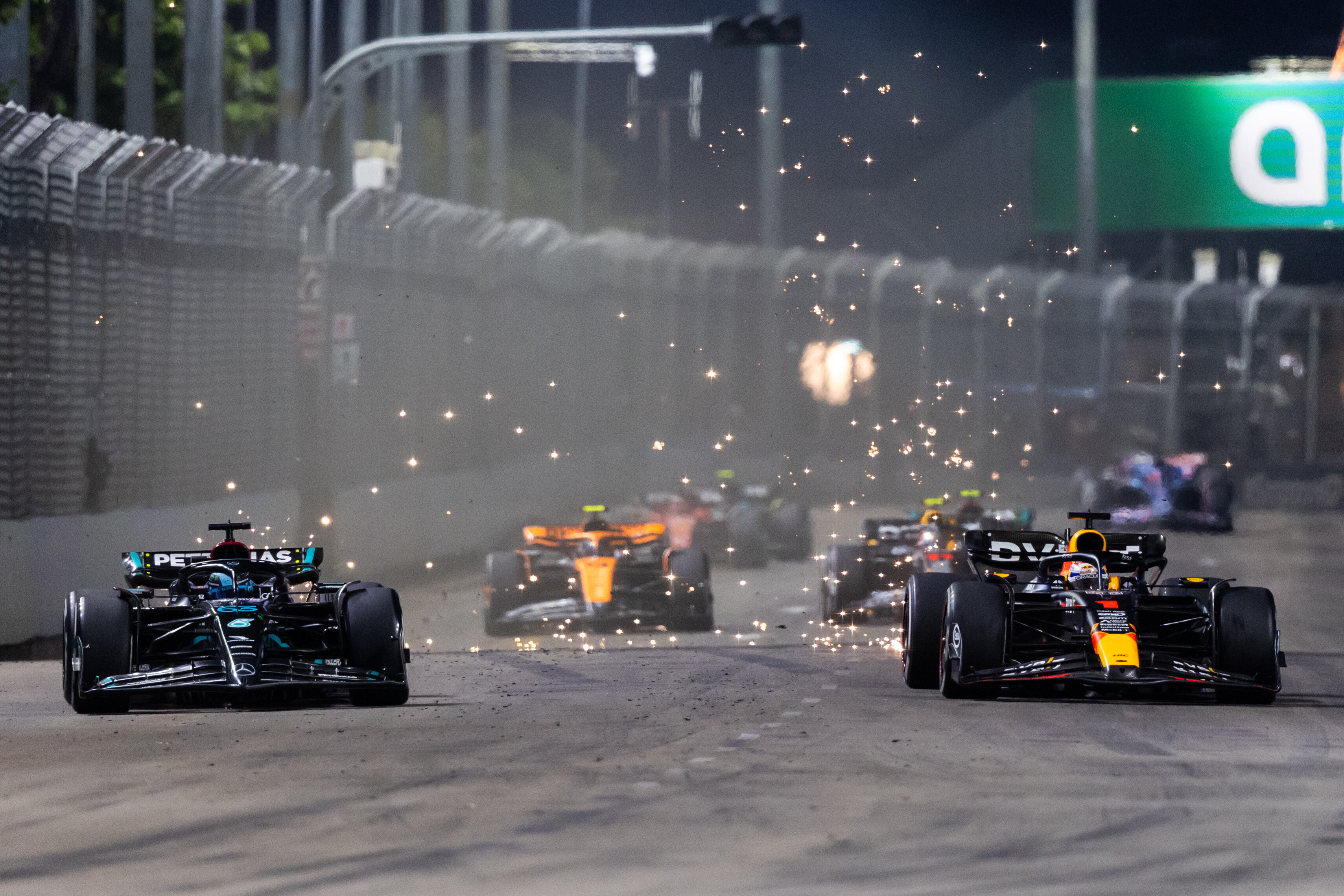 But the Ocon VSC five laps after Verstappen had pitted, which allowed the two Mercedes to pit for fresh mediums, gave almost a straight Mercedes vs Red Bull pace comparison, as Russell, Hamilton and Verstappen were all pushing hard to make up ground.
When in clear air Verstappen was lapping within 0.3s of the Mercedes. So it's not as if the Red Bull had suddenly reverted to the car it usually is, but it was OK. Certainly fast enough that without the safety car he could have been with the Mercedes in chasing down the older-tyred Ferraris and Norris.
When Verstappen had been on his old hard tyres and the Mercedes (on softer tyres 20 laps newer) had managed to overtake him quite comfortably, it informed Mercedes that if it could get the new tyre offset on Sainz, it would be able to pass. So it was a no-brainer for it to pit both cars under the Ocon VSC. It surrendered Russell's second, but on the same tyres he wasn't going to find a way past Sainz.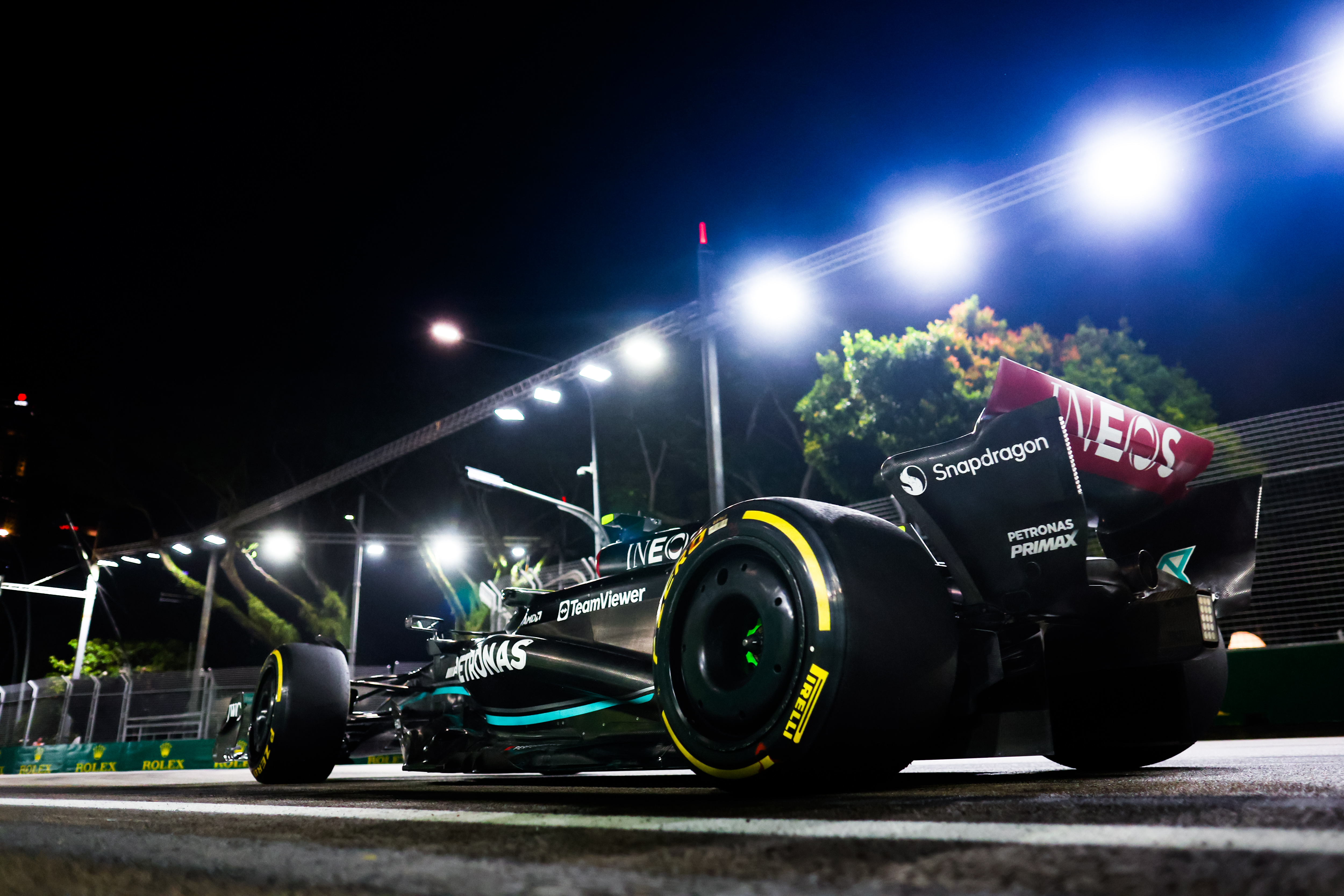 As they returned to the fray on their new mediums with 17 laps to go, Russell set a super-fast out-lap and first flying lap. Hamilton brought in the tyres more gently and as they quickly caught the limping Leclerc and his overheating engine, Hamilton was taking between 0.3-0.5s per lap out of Russell and resetting the race's fastest lap. By lap 54 they'd cleared that Ferrari and had only Norris between them and the race leader Sainz just ahead of him. The McLaren was 6.5s up the road but around two seconds slower.
"Norris is in your DRS," Sainz was warned. "Yes, it's on purpose," he replied. Smartly, he'd worked out that allowing Norris the DRS out of Turn 7 would help keep the advancing Mercedes off his back for as long as possible.
There was a moment on lap 59, as Russell got a run on Norris out of the tight right-hander, Turn 14, leading onto the back straight, where the destiny of the race hung in the balance.
Norris was desperately trying to get the power down on his worn rears and slid out wide. Russell got out of there better and with the DRS activation point approaching looked like he might have got it done. But in making Russell go the long way around the flat-out kink by how he placed his car, Norris stayed ahead. Had he made it past the McLaren there, Russell would surely have devoured Sainz who had no DRS with which to defend.
The battle with Russell had lost Norris his DRS to Sainz but Carlos was careful to ensure he picked it up again later in the next lap. Russell seemed to have used up the best of his tyres now and he never got as close again. In fact, Hamilton was radioing that Russell should up his pace and at this stage of the race Hamilton was definitely faster, forcing Russell to watch his mirrors more than looking ahead.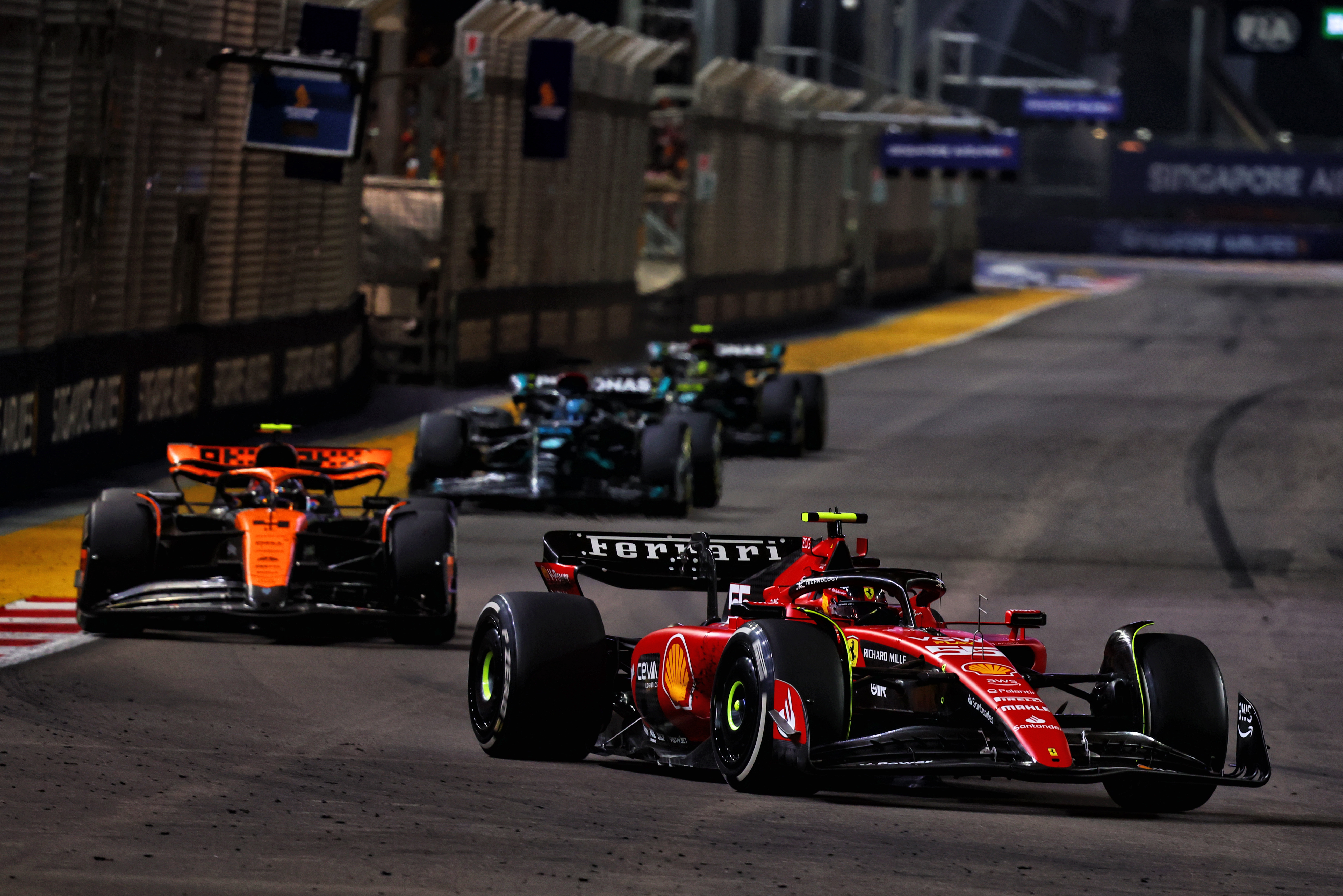 Like that, they went into the last lap and on the entry to Turn 10 Norris brushed the barriers with his front-right wheel, enough to knock the steering off-centre. Russell, tight behind him, hit that same barrier with his rear wheel, spinning him up the escape road and into the barriers.
It was a brilliantly composed victory for Sainz. Norris seemed almost as delighted with second. Hamilton seemed quiet and lost in thought. Later, he talked about how he should have been on pole and from there he could have won the race. Yet he'd been nowhere near pole, over 0.4s adrift of Russell. It seemed to be troubling him.
Leclerc hung on from Verstappen, Pierre Gasly, Oscar Piastri in the previous-spec McLaren, Perez, the impressive Liam Lawson and Kevin Magnussen.
"We have had one chance to win this year and we did it," summarised Sainz, still on a high. "Letting someone into your DRS zone comes with some risk but sometimes it's good to trust your instinct, which is what I did here and what I did at Monza."
---
The Race's comments section is changing – find out more here