Given everything which happened behind the scenes over Formula 1's United States Grand Prix weekend, how Red Bull was in the eye of a storm amid the passing of its founder and benefactor Dietrich Mateschitz, it seemed only fitting that Max Verstappen should seal the team's first constructors' world championship in nine years with a dramatic victory.
Aside from the emotional significance of the timing, it had all been shaping up to be a routine race – with Verstappen pulling away uncontested, once poleman Carlos Sainz's Ferrari had been spun out at the first corner. Even with the first stops of a two-stop race completed Verstappen was under no apparent threat. A couple of closely-spaced safety car periods changed that complexion.
Suddenly Verstappen was no longer controlling the chasing Mercedes of Lewis Hamilton. Those safety cars – one to collect Valtteri Bottas's Alfa Romeo from the Turn 19 gravel, one to clear up the mess from a Lance Stroll/Fernando Alonso collision on the back straight on the restart lap – not only wiped out Verstappen's 3.5s gap but as the stint went on so the Mercedes looked increasingly better than the Red Bull on the hard tyre.
The chase was on as Mercedes pushed aggressively up to an early second stop and forced Red Bull to do the same. This race was coming alive.
Mercedes was not, in reality, suddenly a Red Bull match. This was a tyre thing. Just like qualifying had been, when the Ferraris had found a better resolution for the preparation laps than the Red Bull which fell between the two stools of not being able to get a new set of softs up to temperature by the start of the first lap but running out of sector 3 peak grip if they ran an extra prep lap or a scrubbed set.
With the Ferraris taken out of the race day equation by Charles Leclerc's 10-place grid penalty for a new power unit and turbo and Sainz's Turn 1 spin and retirement (with damaged radiator after a hit from George Russell), the Red Bull/Mercedes comparison seemed briefly to have relevance to the outcome.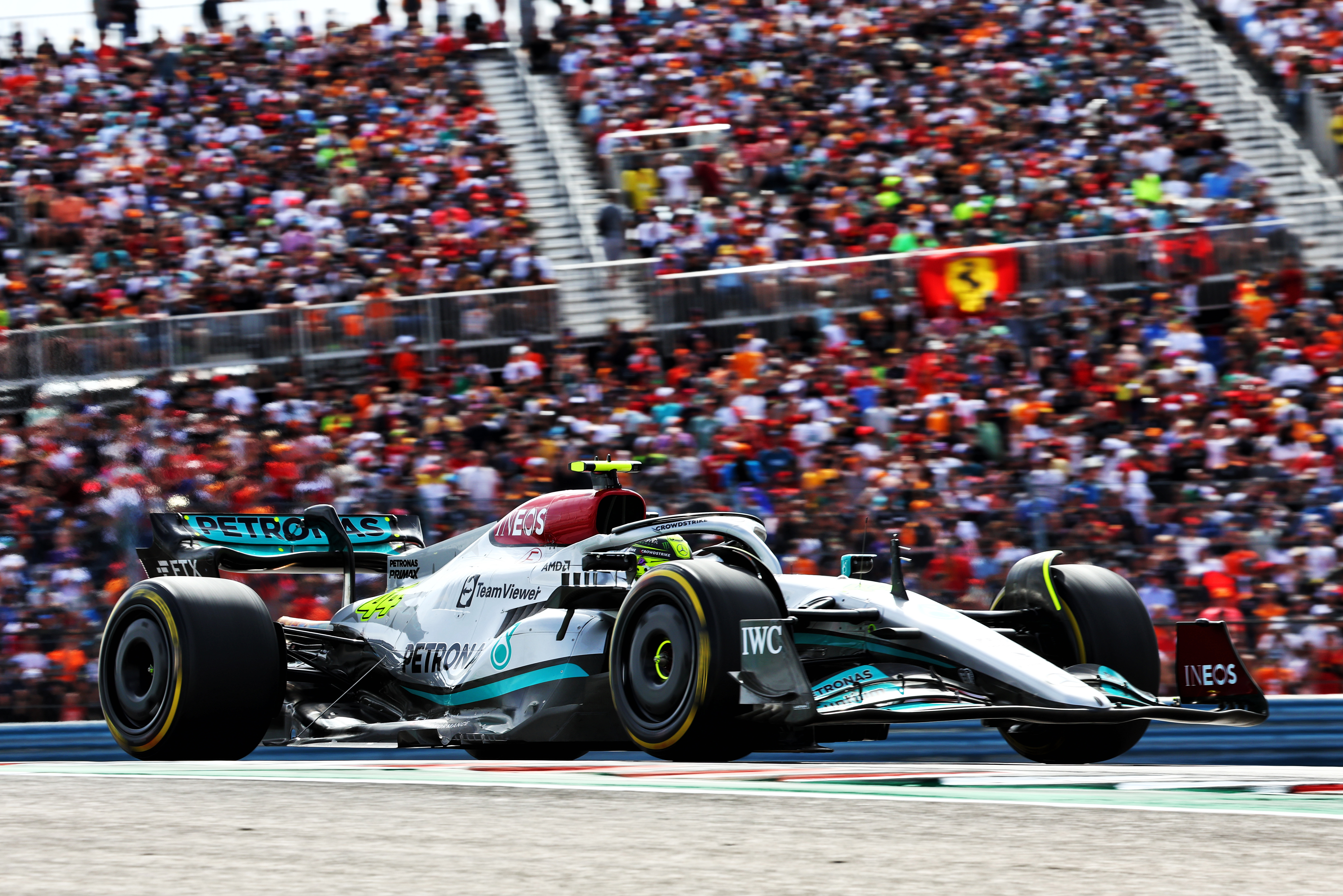 It hadn't looked like that at all in the first stint as Verstappen had stretched his lead over Hamilton to over 3s in the first eight laps. Once he'd passed Stroll's Aston Martin, Russell's wing-damaged car ran third, thereby keeping the also wing-damaged Sergio Perez – who'd had to find a way by both Aston Martins – off Hamilton's back. Making Hamilton's race much simpler.
Hamilton had initiated the first round of stops, but from over 4s behind was no threat to Verstappen who reacted on the next lap, with both having exchanged their mediums for hards. Leclerc, Sebastian Vettel and Alonso had still to stop when the Bottas safety car came on lap 18.
Their cheap stops boosted Leclerc past Russell, Vettel past Stroll – and Alonso up to ninth on the back of Stroll and Pierre Gasly. Having passed Gasly immediately, Alonso was hard into Stroll's slipstream on the backstraight. He moved left, Stroll eased left, Alonso appeared to begin trying for a dummy to the right – but too late.
As the Alpine reared over the rear of the Aston Martin, it wheelied for a long distance at an angle of around 30-degrees, nose pointing to the sky but landed with its wheels still on and good to continue to the pits for a new nose and change of tyres. Which was more than could be said for the Aston Martin. Hence the second safety car immediately after the first and hence Hamilton's unexpected new opportunity.
In qualifying and race, the Mercedes were the quickest things around through the high-speed esses in sector one. No one could touch them there all weekend. They have great high-speed downforce. But they were slow on the straights and horribly unpredictable into the slower speed sections.
The Red Bull sinks low on its soft rear suspension at speed, reducing its drag. There have been suggestions that it has a trick linkage that locks down above a certain speed (like Mercedes' last year) but it's almost certainly not that, as the current regulations make that close-to-impossible.
It seems the Red Bull is simply able to tolerate a softer rear suspension, allowing it to be set higher than everyone else when static, but lower at speed, without triggering the aero-bouncing resonance which would normally be a corollary of that.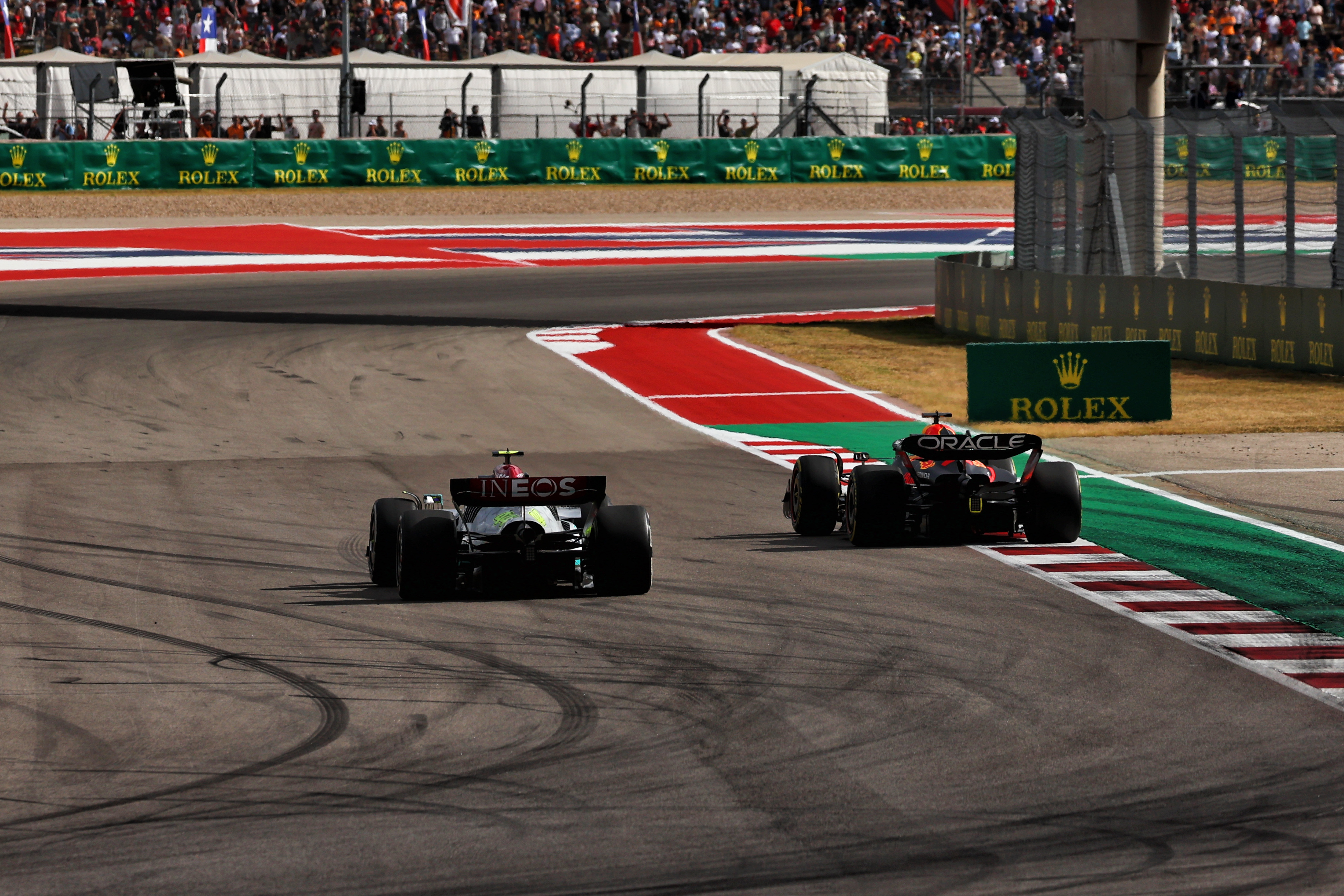 The straightline differences and the Mercedes' slow-speed behaviour ensured Red Bull was still much the faster car – to the tune of around 0.4s per lap. Hamilton describes finding the W13's braking and turn-in limit as like seeing how close to the back of a horse you can get before it kicks you. That's just how it is in its current state of development, as earlier problems have been resolved but not without compromises.
Hamilton is dealing with the trait better than Russell at the moment and for a while, he can sometimes even drive it at something close to a tyre-compromised Red Bull pace – and that is what was happening in the lead-up to the second stops. The Red Bull was not happy on the hard tyre they'd each changed to at the first stops, particularly towards the end of a stint. The Mercedes was.
Hamilton had the gap down to 1.6s as he was called in on the 34th lap. Even without the subsequent wheel gun failure at Verstappen's stop on the following lap, the Red Bull was destined to have lost the place. It would have been close but his in-lap pace on the wilting rears was not enough to counter Hamilton's new-tyred out-lap. Maybe Max could have then pounced, using DRS into Turn 12, and retaken the place that way. But that became immaterial after he was delayed by over 8s as the faulty gun was changed.
"Beautiful, just beautiful," came the sarcastic reply from the cockpit, as Verstappen took on board having lost a place not only to Hamilton but also to Leclerc – who had made a great recovery from that penalised grid slot, and after that time-cheap first stop had made a superbly-judged late-braking move into Turn 12 on Perez. Added to that, the Ferrari was looking after its tyres well for once.
With a bit of a calm-down from engineer Gianpiero Lambiase, Verstappen regained his composure and set about righting what was now a two-place and 6s deficit to Hamilton, with 20 laps left. Like Leclerc, he was now on the medium tyre, with Hamilton on his fresh set of hards.
Mercedes had no new mediums it could have fitted. But that was because it had chosen the hard, believing it better suited to its car. Without the inherent pace to get through qualifying on just three sets of softs and therefore have the luxury of two sets each of hards and mediums available for the race (like Verstappen and the Ferraris had been able to do), it opted for the hards. For Mercedes, it was quicker over a stint than the medium – as it held onto its performance well. For Red Bull, the medium was faster, as it more quickly spent the rear hard.
The only time a set of softs were seen in the race was when Russell took a free pitstop from fifth to set the fastest lap near the end. It was otherwise unsuitable as a race tyre with excessive front graining and overheating rears.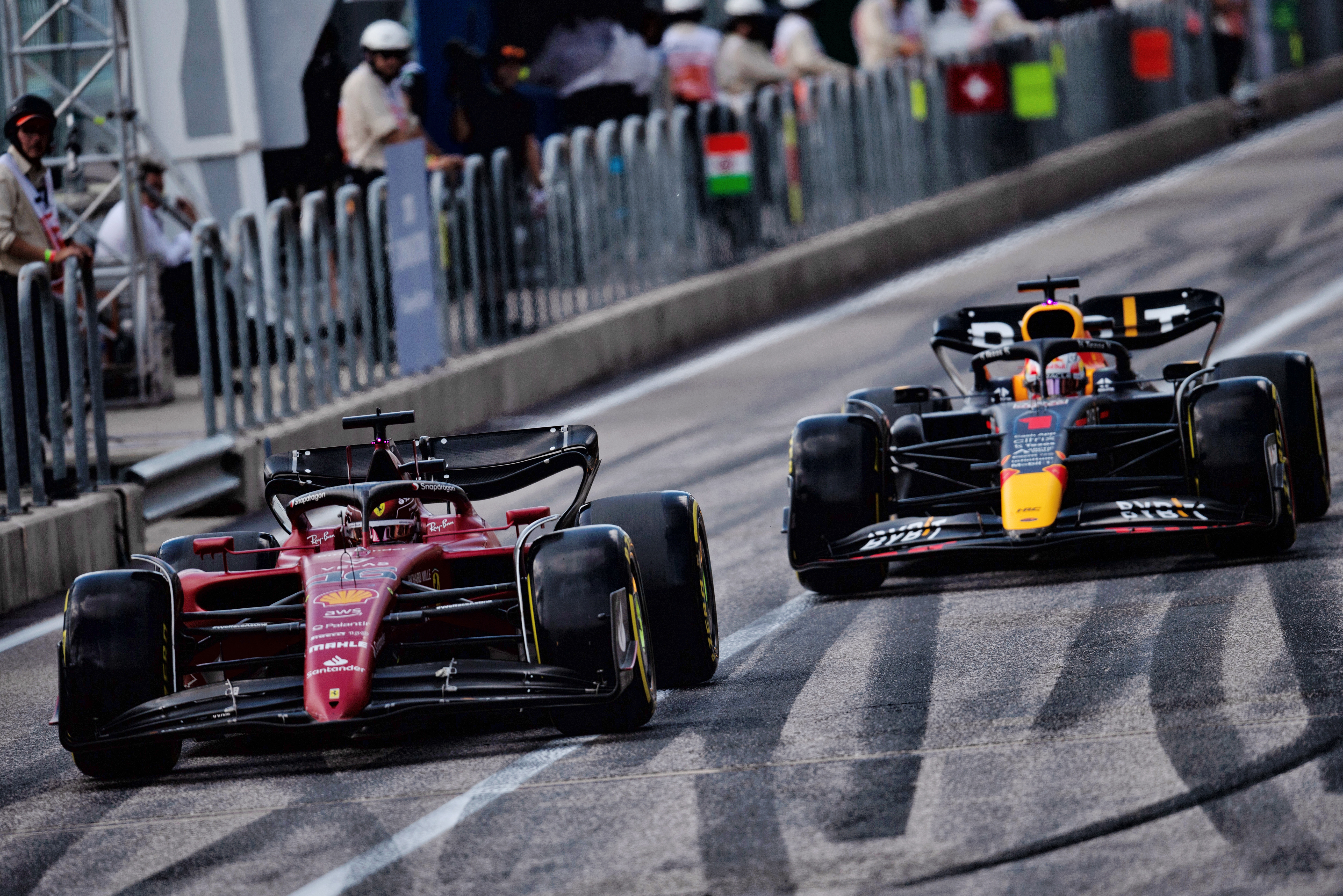 Once the later-stopping Perez, Russell and Vettel had stopped, Hamilton was leading the nose-to-tail Leclerc and Verstappen by 4s and there were 16 laps left. Verstappen DRS'd himself past Leclerc at Turn 12 (having tried but failed at Turn 1) on the next lap.
The Ferrari hung on for a time but ultimately didn't quite have the Red Bull's pace. On his medium tyres Verstappen was initially half a second faster than Hamilton, but the latter was pushing like crazy to minimise the damage, creeping up to the rear of that horse and hoping not to get kicked.
After five laps of this chase, with the gap down to 2.5s, the difference between the tyres was beginning to reduce. But the windy gusts through Turns 1, the Esses, 11 and 12 spread their favours between each of them in turn. That could make a difference of up to 0.7s over a lap, and it would hit first one, then the other on different laps.
That's why the gap between them was see-sawing. But it made it look as if Hamilton had a chance of stabilising things. He didn't. The Red Bull's performance edge had returned with the change of tyres and eventually – on laps 46 and 47 – Hamilton's pushing of a car which just refused to be driven that hard without locking up into the slow corners lost him a total of 0.7s. Which put Verstappen into his slipstream and thence into his DRS zone.
Hamilton knew he was coming. There were five laps left – five laps too many for him. He knew it was going to be into Turn 12 at the end of the back straight's DRS zone. But he didn't know exactly where the Red Bull was – for his mirrors were vibrating like crazy. He was asking Verstappen afterwards if he did the same. "No," Max replied. "They used to but we replaced the plastic ones with glass."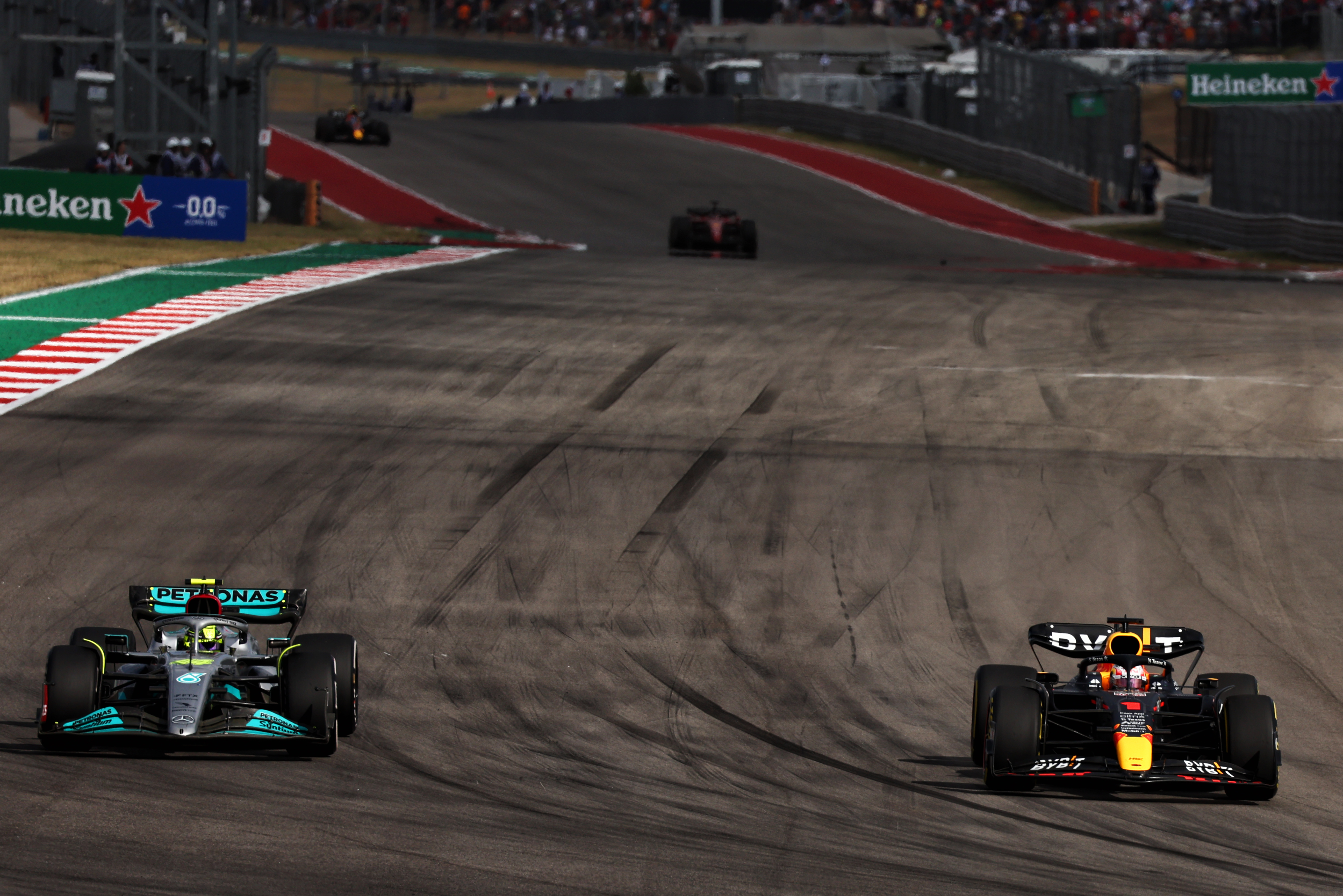 With the benefit of DRS and Hamilton's power unit de-rating at just that moment, the speed difference was 40km/h as Verstappen dived down the inside. Hamilton moved left but not with any commitment, because of the visibility problem, and Verstappen was through. They each toyed with the track limits as Hamilton kept up the chase and each got black and white warning flags for it, before Hamilton's tyres gave up the ghost for the last three laps.
Like that, Verstappen took his symbolic 33rd victory and sealed Red Bull its constructors' title. Hamilton, Leclerc, Perez and Russell completed the top five. Lando Norris DRS'd his way past Alonso for sixth on the last lap but even that seventh place result was remarkable – even if a hefty post-race penalty would drop him well outside of the points. 
Alonso had started a penalised 14th, and was attempting to take eighth from Stroll when he got airborne and crashed, rejoining from his stop last – and making it all the way back up there, helped by how the safety car had compacted the pack, allowing him to slice back through it.
Vettel got past the one-stopping Haas of Kevin Magnussen on the last few corners of the race with a great on-the-limit dice for eighth ahead of Yuki Tsunoda's AlphaTauri.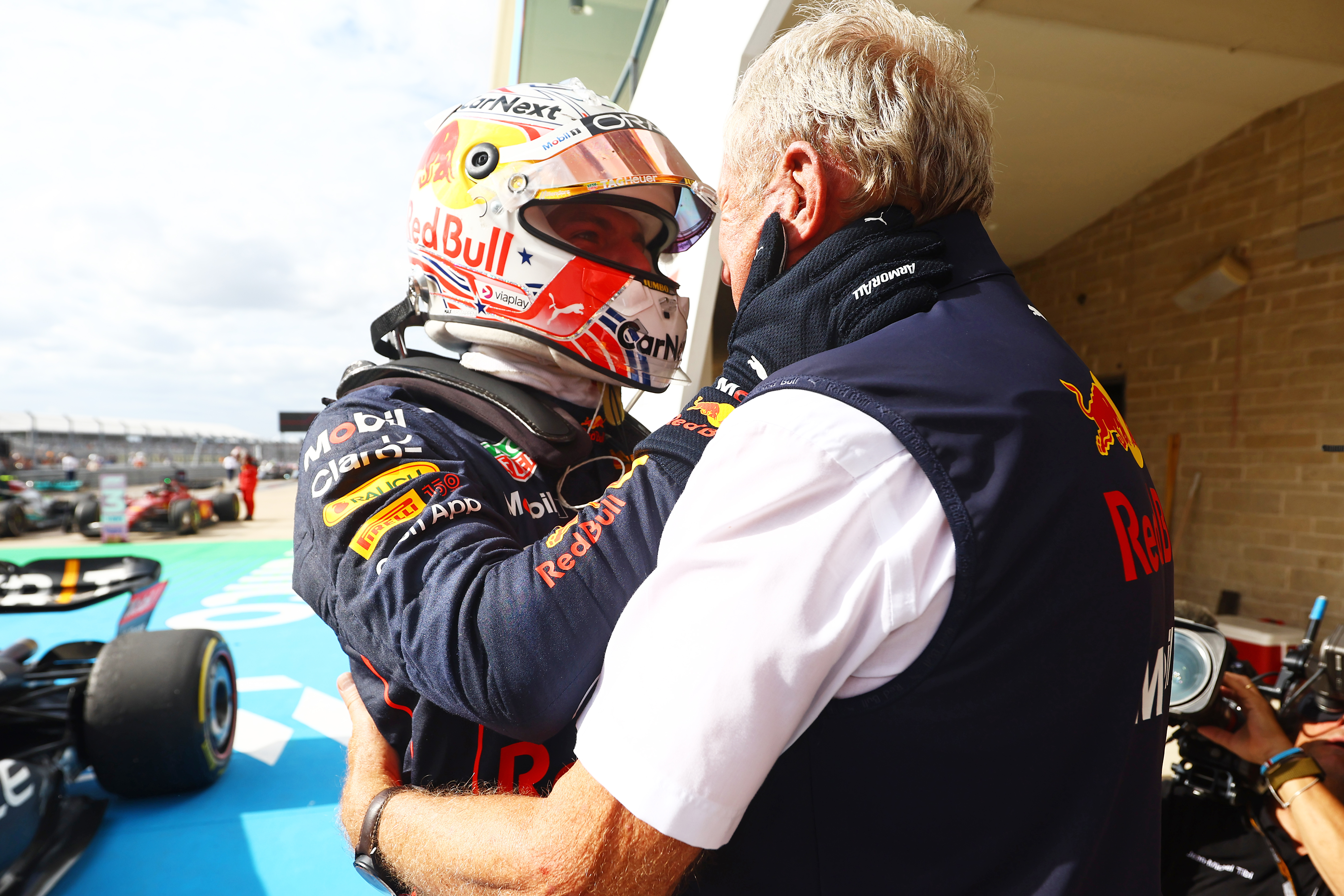 The race winner stepped out of his car and gave Helmut Marko a big hug. They both knew what it signified – and so did the watching world. A big picture of Dietrich Mateschitz looked down on them, with the words, 'Danke Didi'.