Lance Stroll says he left his 2023 Formula 1 team-mate Fernando Alonso "plenty of room" before they collided in dramatic fashion midway through the United States Grand Prix.
Stroll was running in seventh place behind his current Aston Martin team-mate Sebastian Vettel ahead of the first safety car restart at Austin.
After a tardy restart he found himself with Alonso's Alpine on his tail as they approached the back straight.
Alonso was in the slipstream of Stroll before he jinked to the left of the Aston Martin only for Stroll to also move left and into the path of Alonso, whose front wing slammed into the rear wheel of Stroll.
Onboard with Alonso during that collision with Stroll

Both drivers are ok and, amazingly, Alonso has managed to get going again #USGP #F1 pic.twitter.com/xyAHqiDry9

— Formula 1 (@F1) October 23, 2022
The contact ended Stroll's race, sent Alonso briefly airborne, splattered debris everywhere and caused the second safety car of the race.
Alonso was able to return to the pits for a new front wing and recovered well to seventh at the chequered flag with a long final stint.
But it was clear from team radio Alonso was left unimpressed by Stroll's late change of direction.
Stroll defended his driving though and says he left Alonso "plenty of room on the left" of him – a logic the stewards disagreed with as it handed him a three-place grid penalty for Mexico. 
"I definitely moved late but there was a big difference in speed, so I was judging more or less, thinking where he is behind me," Stroll explained after the race.
"It's not like I hit on the side of his car, impact was still his front wing to the rear of my car.
"I gave him plenty of room on the left of the track so it's not like I squeezed him against the wall or anything like that.
"He could have moved earlier and gone more to the left, he didn't have to get so close to me either.
"A lot of different ways you can look at the incident."
LAP 21/56

Contact between Stroll and Alonso at the restart

⚠️ SAFETY CAR ⚠️ is immediately recalled #USGP #F1 pic.twitter.com/dD0thqgqTW

— Formula 1 (@F1) October 23, 2022
The stewards will be seeing Alonso and Stroll after the race to discuss the incident.
"We'll have to deal with in the stewards, not sure what will happen," Stroll said when asked if he was expecting a penalty.
"There was plenty of room on the left so he could have moved earlier and given himself more room.
"He didn't have to move so close to me."
Stroll played down the significance of him colliding with his future team-mate – saying "I don't look at it that way" when asked if Alonso was the worst driver he could have collided with.
He also downplayed the impact with Alonso as "not that big" and called it a "shame" to miss out on a points finish that likely would have allowed Aston Martin to jump Alfa Romeo for sixth place in the constructors' championship.
For his part, Alonso called it a "racing incident" and revealed it wasn't him who was pressing for Stroll to be punished in the stewards' office.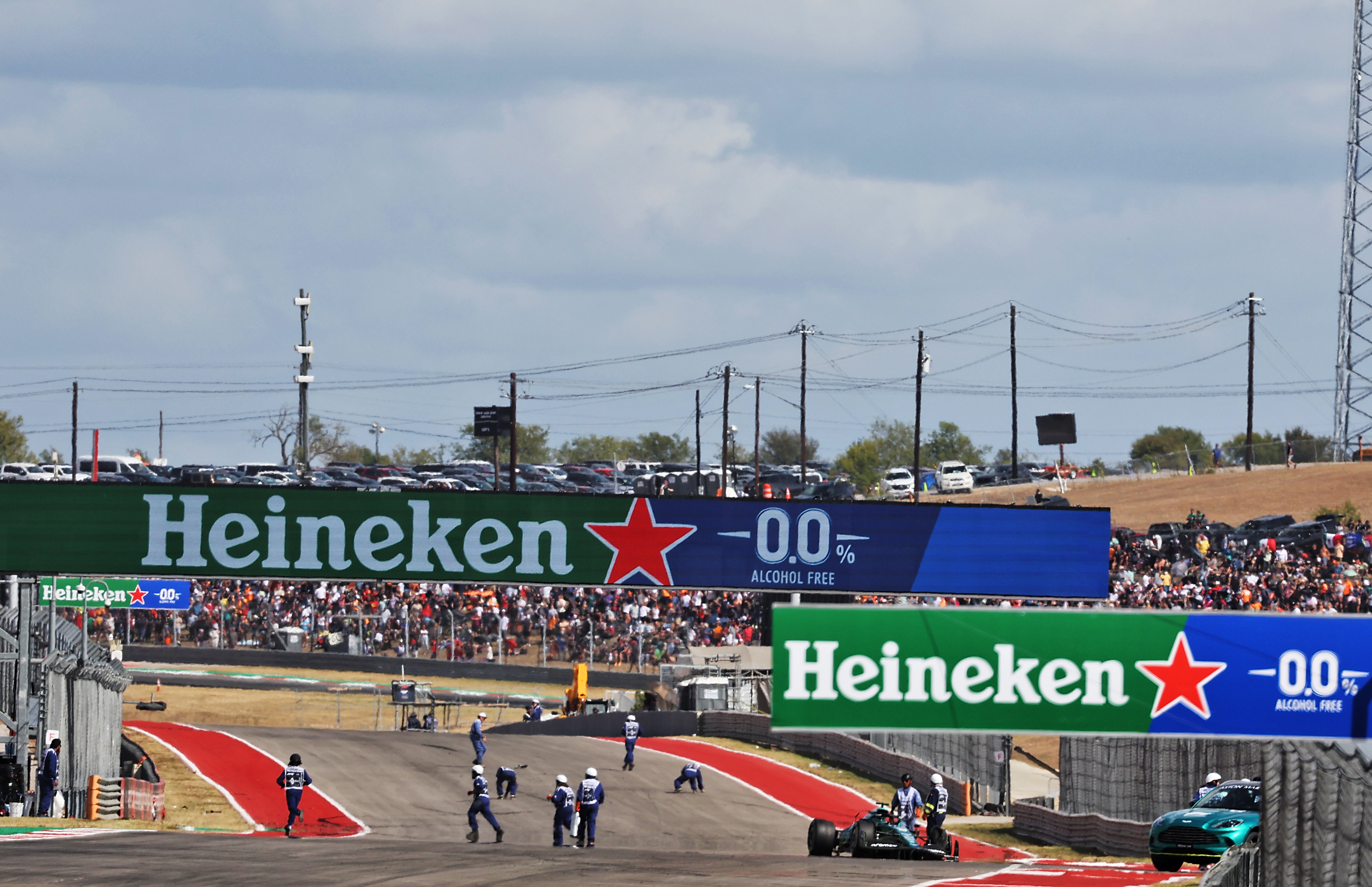 "When you see thing on TV, I think it's racing incident to be honest, we move basically at the same time to the left, and that was the trigger of everything. So I think it was a very unfortunate moment," Alonso said after the race.
"We know each other for a long time, we were OK in the stewards' room, it was more between our sporting directors than between us. I think we saw the incident the same, our sporting directors were seeing it in completely different eyes [ways].
"When you're at 300kph, those movements, one tenth of a second you move 200 meters, so if you see slow motion and go frame by frame, he will move a little bit later than me, if you go normal speed, you see more both cars move at the same time. So that's why after looking on TV, I think there's nothing you can do differently."
Alan Permane serves as Alpine's sporting director while Andy Stevenson occupies that role at the Aston Martin team Alonso will join in 2023.