Kevin Magnussen's crash halfway through the Mexican Grand Prix and the red flag it brought gave a handy punctuation point for a significant proportion of the crowd to go home, disappointed as they were by the elimination of their hero Sergio Perez within seconds of the start.
It was one of those moments laden with poignancy and significance, Perez getting a fantastic start from fifth to be neck-and neck on the outside approach to Turn 1, with Charles Leclerc and Max Verstappen to his inside – and him poised to go past them both, 200,000 people willing him on with bated breath.
It was not dissimilar to Lewis Hamilton's Turn 1 Qatar situation, except this was Mexico and this was Perez. All the pressure he's been under of late, all the speculation, and here he was poised for something, if he could pull it off, potentially magnificent.
On the line he was on, he might have swept past them both and assumed the lead. But it would have required Leclerc's co-operation, would have needed him to have been intimidated into braking early to avoid contact.
Leclerc is as hard a racer as anyone out there in such situations. There was no mercy. He held his ground, braked just as late as Checo and the Red Bull right-rear clipped the Ferrari front left and took its floor-destroying flight. It was about five seconds into the race and the people had no-one to cheer for.
VERSTAPPEN'S TWO-STOP CHALLENGE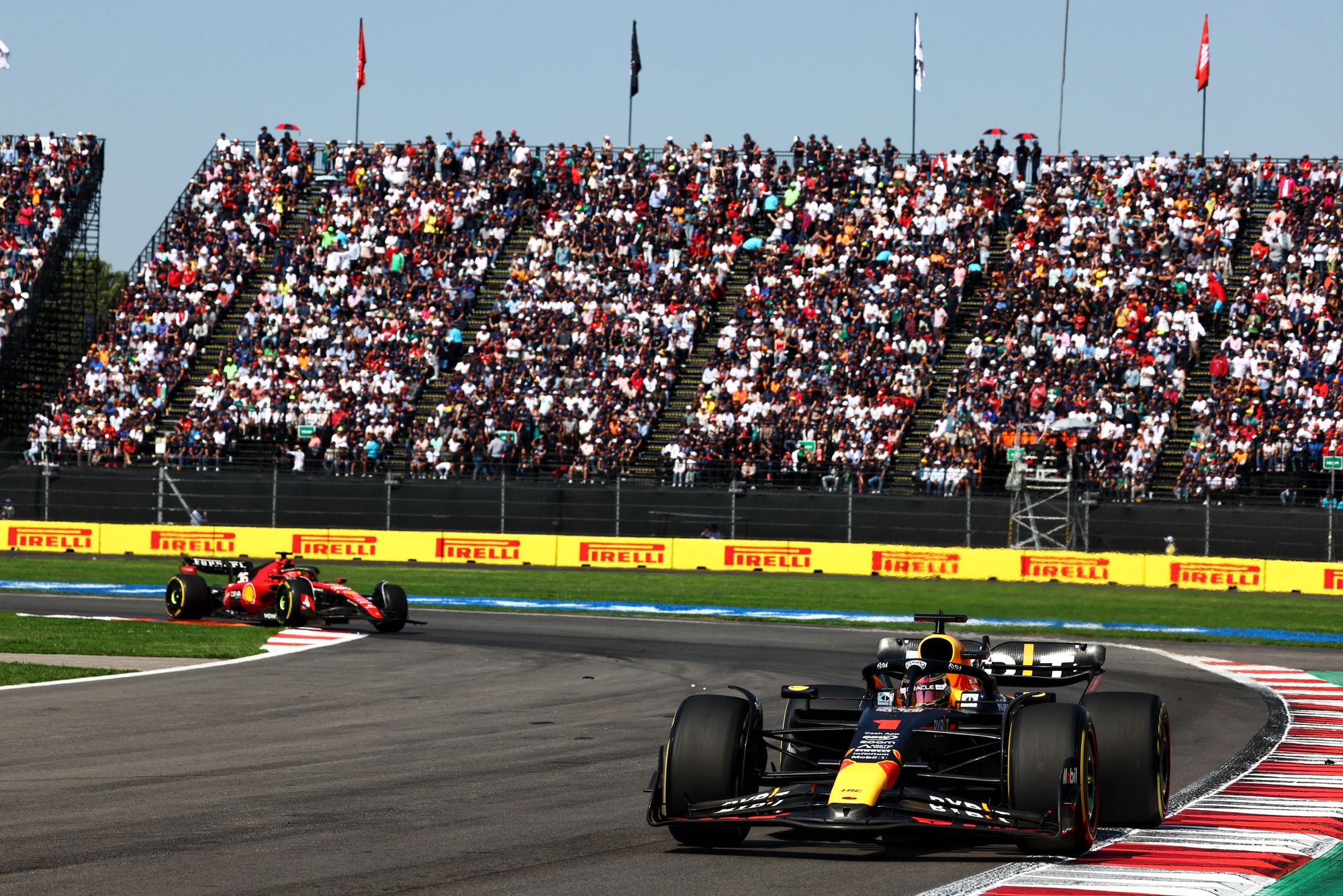 But those who stayed got to see a pretty good race – the one which unfolded behind the dominant Verstappen at any rate. It would have been better still if not for that red flag – for Leclerc's one-stop and Red Bull's commitment to a two-stop was set to mean Verstappen came out behind the Ferrari after his final stop. The fun would have been seeing how he then got by.
Instead, with everyone getting onto fresh tyres for the restart, there were no more stops, strategy battles neutralised. Which allowed Verstappen to disappear unopposed and the race which kept up the interest was for distant runner-up, between Leclerc and Lewis Hamilton's Mercedes.
HOW MERCEDES PULLED OFF A SURPRISE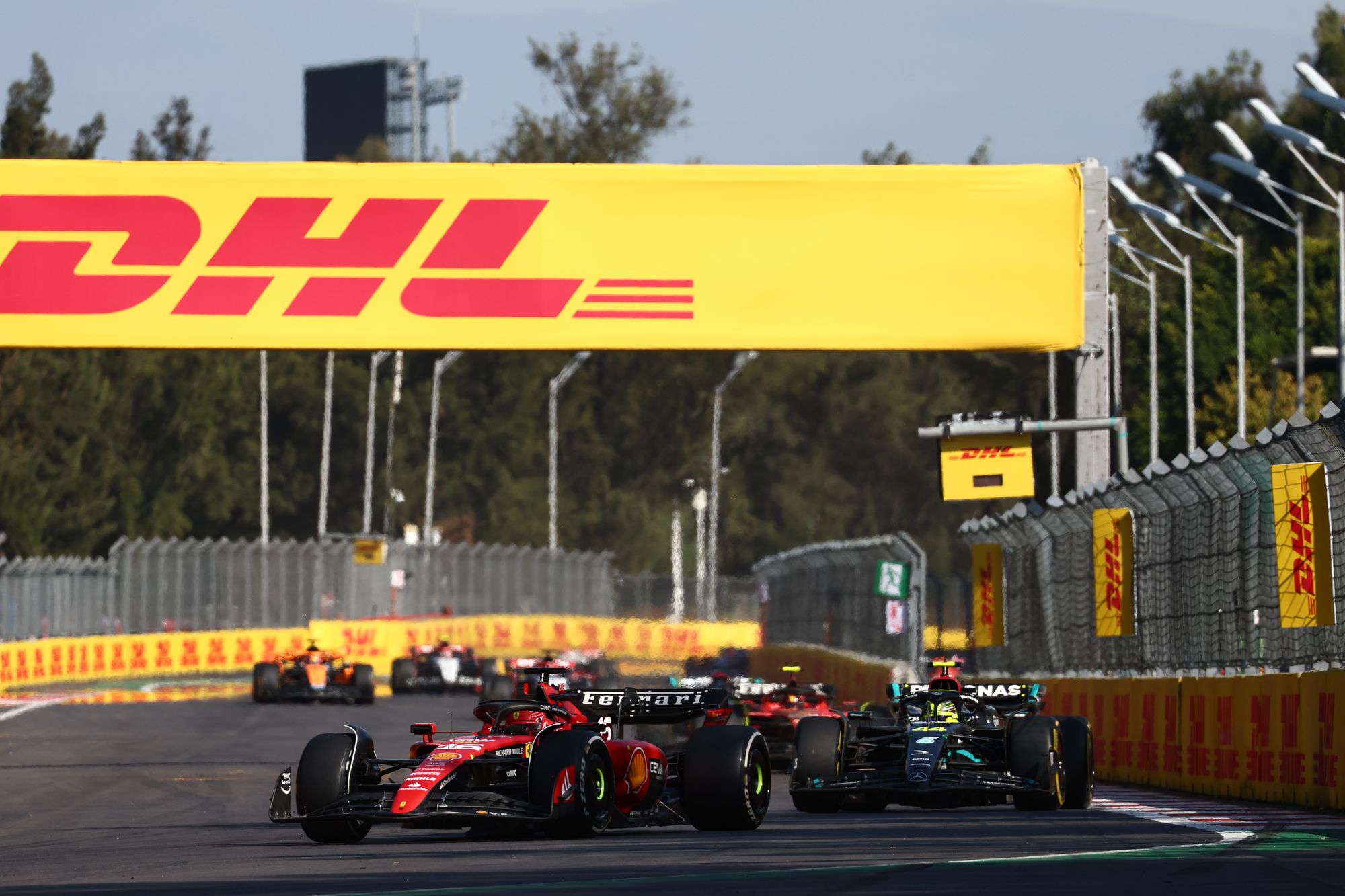 Prior to the red flag Leclerc was under no real threat from the Mercedes. He'd stopped seven laps later and exited still ahead, so was going to have a tyre advantage in a likely one-stop contest between them.
Even if the Mercedes was better on the tyres than the Ferrari and didn't require quite as much lift-and-coasting to keep the brake callipers alive, it wasn't quick enough in a straight line. As we saw later when George Russell with DRS was unable to pass Carlos Sainz without it. At high wing levels the Mercedes is quite aerodynamically inefficient relative to the opposition.
But Hamilton was given another bite at the Leclerc cherry by Magnussen's Turn 9 accident. The left-rear toe link of the Haas (probably damaged by KMag's previous lap off-track excursion out the final turn, though the team's initial suggestion was that it was "heat related") appeared to snap, turning him hard left at high speed.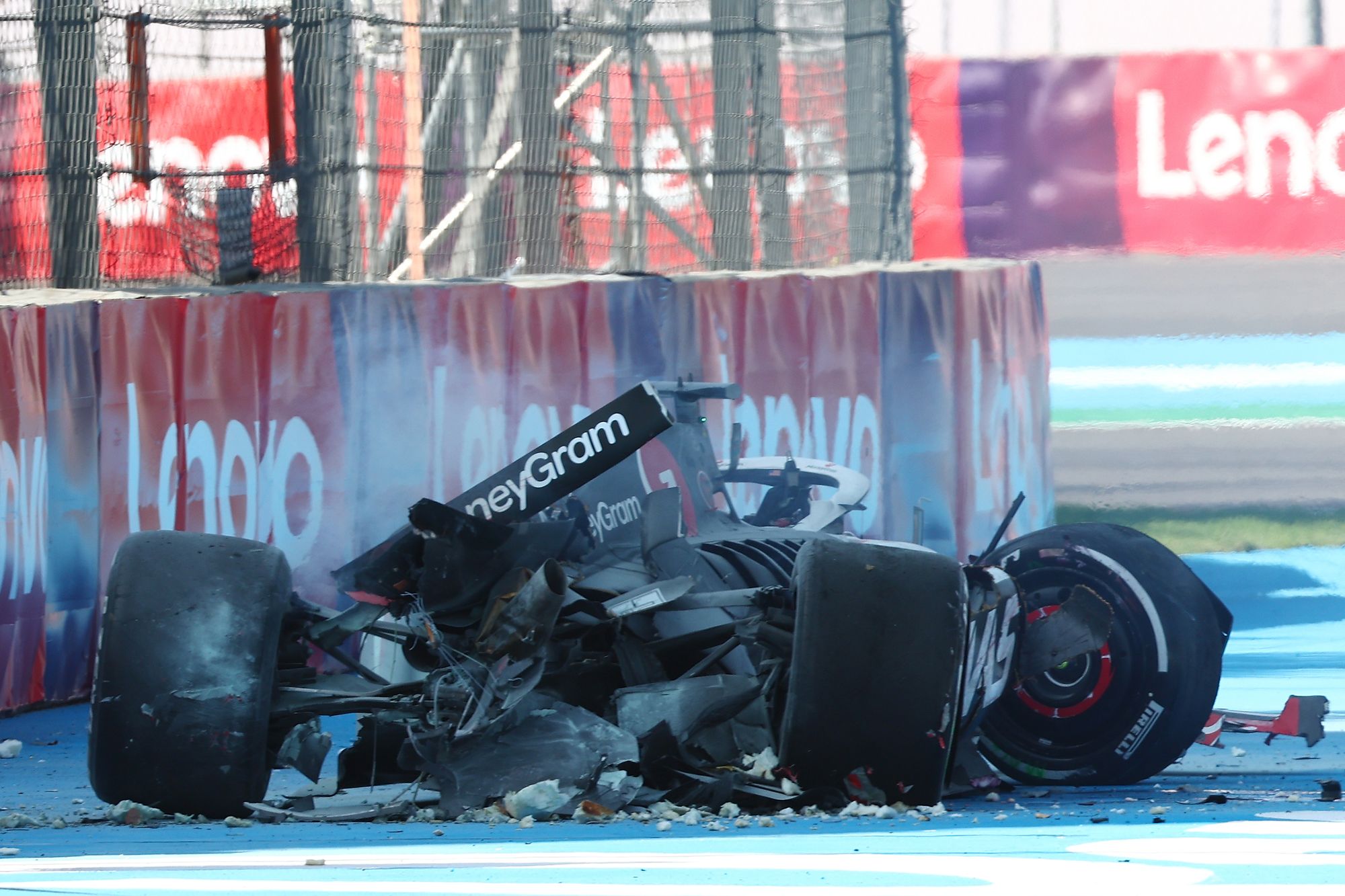 The red flag and restart allowed Hamilton to switch to a set of mediums. With Ferrari opting to keep both its cars on hards for the remainder of the race, it was a match race of tyres.
The mediums for sure would be quicker initially and the front hards would take a few laps to reach full temperature (even on a 43-deg C track). So Hamilton's tyre advantage would be very significant for at least the first five laps – and that defined his task.
He had to get past within that window of time before the lower degradation of Leclerc's hards told. And with a straightline disadvantage against a driver who, as he'd already shown with Perez, does not give an inch.
Hamilton did it – with as committed a move as any he has ever pulled, a dummying move down the long straight, and a wheel on the grass as Leclerc tried to deter him.
Verstappen was 3s up the road and even in cruise mode was able to lap a consistent 0.3s faster than the Mercedes. Notwithstanding Hamilton's fastest lap of the race on the final lap, something which probably surprised Verstappen.
Team numbers had suggested that the hard would become the faster tyre after 15 laps and so there was the prospect of Leclerc coming back at Hamilton. But Leclerc was far too heavily into lift and coast, desperately trying to keep the brakes and power unit alive, to even think about trying that. And, in the steadily cooling track and on a second-half fuel load, the medium actually turned out to be the better tyre.
WHAT IF NORRIS HAD STARTED WHERE HE SHOULD HAVE?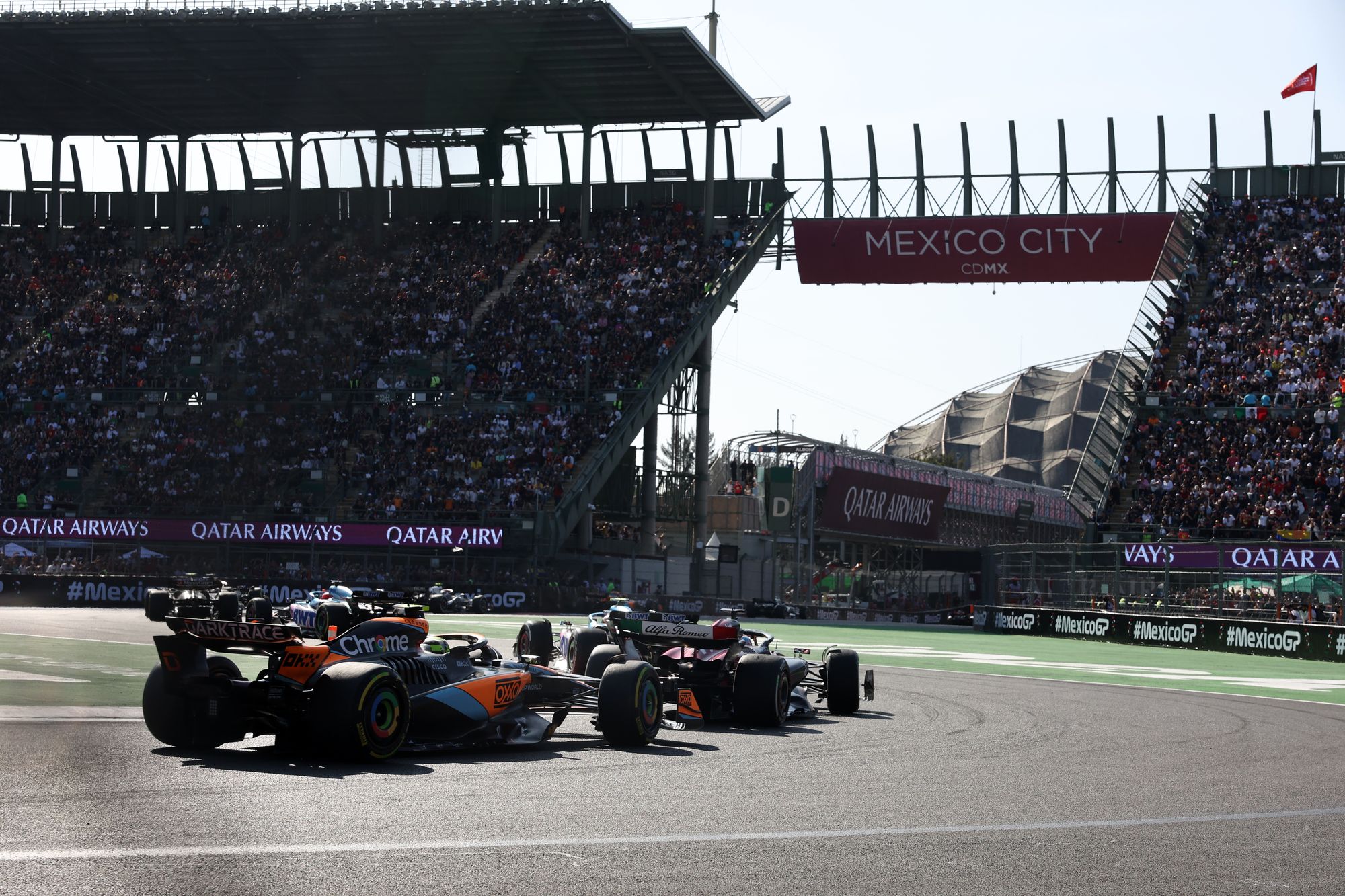 Lando Norris showed Hamilton-matching performance as he scythed through the field in his McLaren from his 17th place grid start and 15th place after the first lap of the restarted race, depriving George Russell's Mercedes of fifth before the end.
He was unable to quite reach Sainz in fourth, but with a few more laps would surely have been past, such was the pace difference.
This was a remarkable performance in that it involved Norris having to pick off 10 cars on-track yet still keep his brakes alive in the thin air.
"That was one of the best driver performances I have ever seen from any of the drivers I've worked worth," said his boss Andrea Stella, the former engineer of Michael Schumacher and Fernando Alonso. "It reminded me of Valencia 2012 [Alonso]."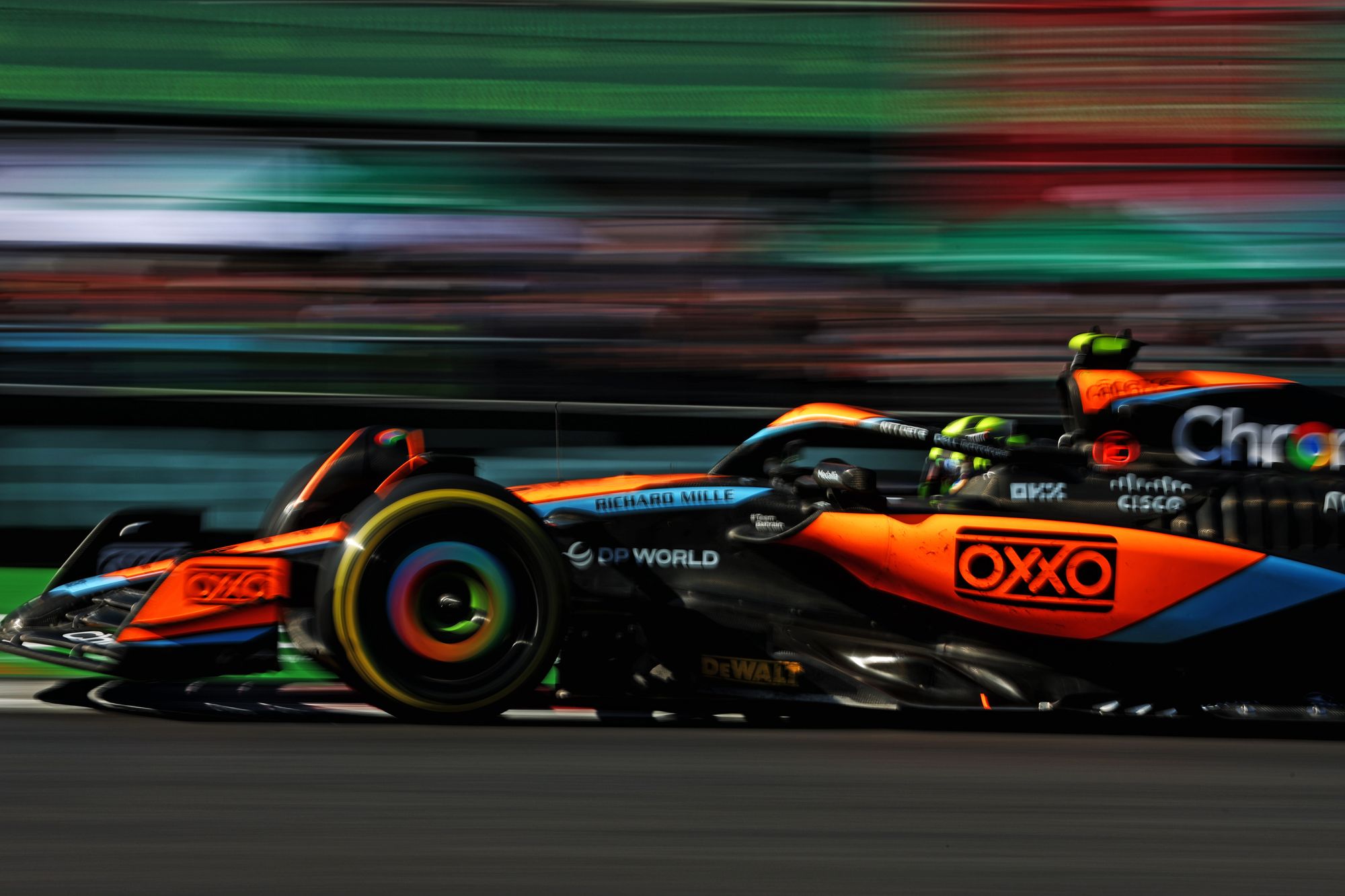 If only he'd not messed up his Q1 lap, if only there hadn't been a fuel system issue which caused him to be called in from a lap which would have got him through.
Taking the tyre offsets into account, both McLaren and Mercedes reckon it was impossible to split Hamilton and Norris for speed. But quite how Norris made those passes without killing his brakes was remarkable. His tyres were also found to be in great shape afterwards.
Russell had no sooner been passed by Norris than he was being attacked by Daniel Ricciardo, in an AlphaTauri which he's taken in a new very productive set-up direction, finally unleashing the potential of its powerful Singapore upgrade.
He didn't quite make it past the Mercedes but it was a sparkling performance, just ahead of Oscar Piastri whose McLaren had taken 0.3-0.4s-worth of bodywork damage fighting with Yuki Tsunoda. He allowed Norris through under team instruction along the way.
Alex Albon (his Williams super-fast on the cooler track of Friday and FP3) and Esteban Ocon (the Alpine losing a lot of performance to the heavy cooling it required) filled out the points scorers.
PEREZ'S CHANCE TO BEAT VERSTAPPEN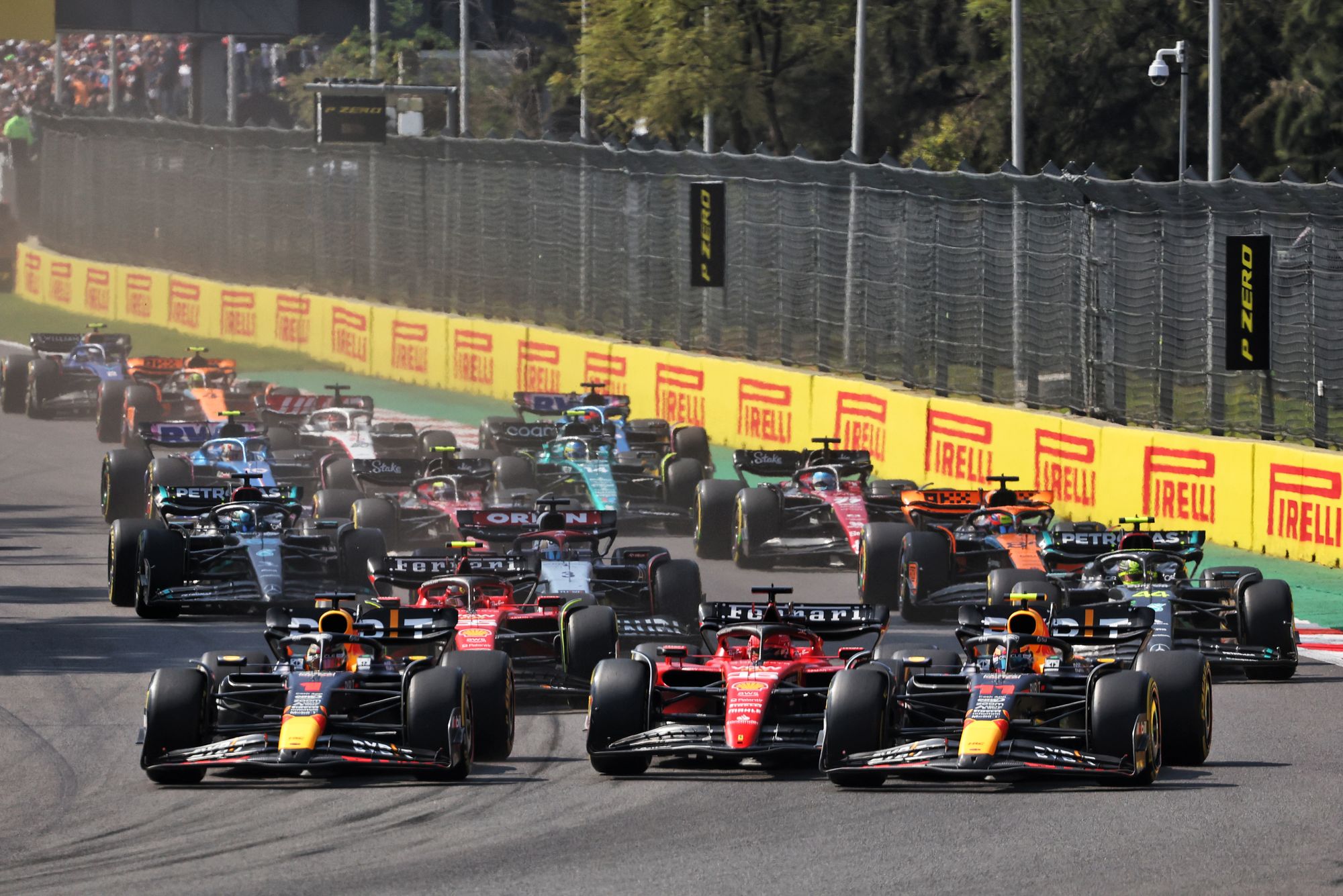 So that was the race which panned out. What might we have seen if Perez had pulled off that Turn 1 move to take the lead. What would have been his chances, with track position over Verstappen and in the same car?
"It would have been a straight fight between the two of them," said Christian Horner. "It could have been an interesting afternoon. Checo had good pace this weekend.
"That was my fear going into the race, actually, that he might get mixed up in something."
But that worry was based upon Perez's third-row starting position. No one imagined he'd be vying for the lead.
Up until the moment where Perez was forced to turn in, things could not have gone better for him. The initial launch was superb – as was Verstappen's from the second row, enough for Max to shimmy around Leclerc for the lead even before the braking zone, with Perez going the other side of the Ferrari in a Red Bull pincer movement. Three into two just wouldn't fit. Not without someone compromising a lot.
Red Bull came into the race fully committed to two-stopping. Everyone else reckoned it a slower strategy than a one-stop, but only by a theoretical 6-8s. Red Bull was confident enough in its inherent race pace superiority that it preferred the security of a two-stop.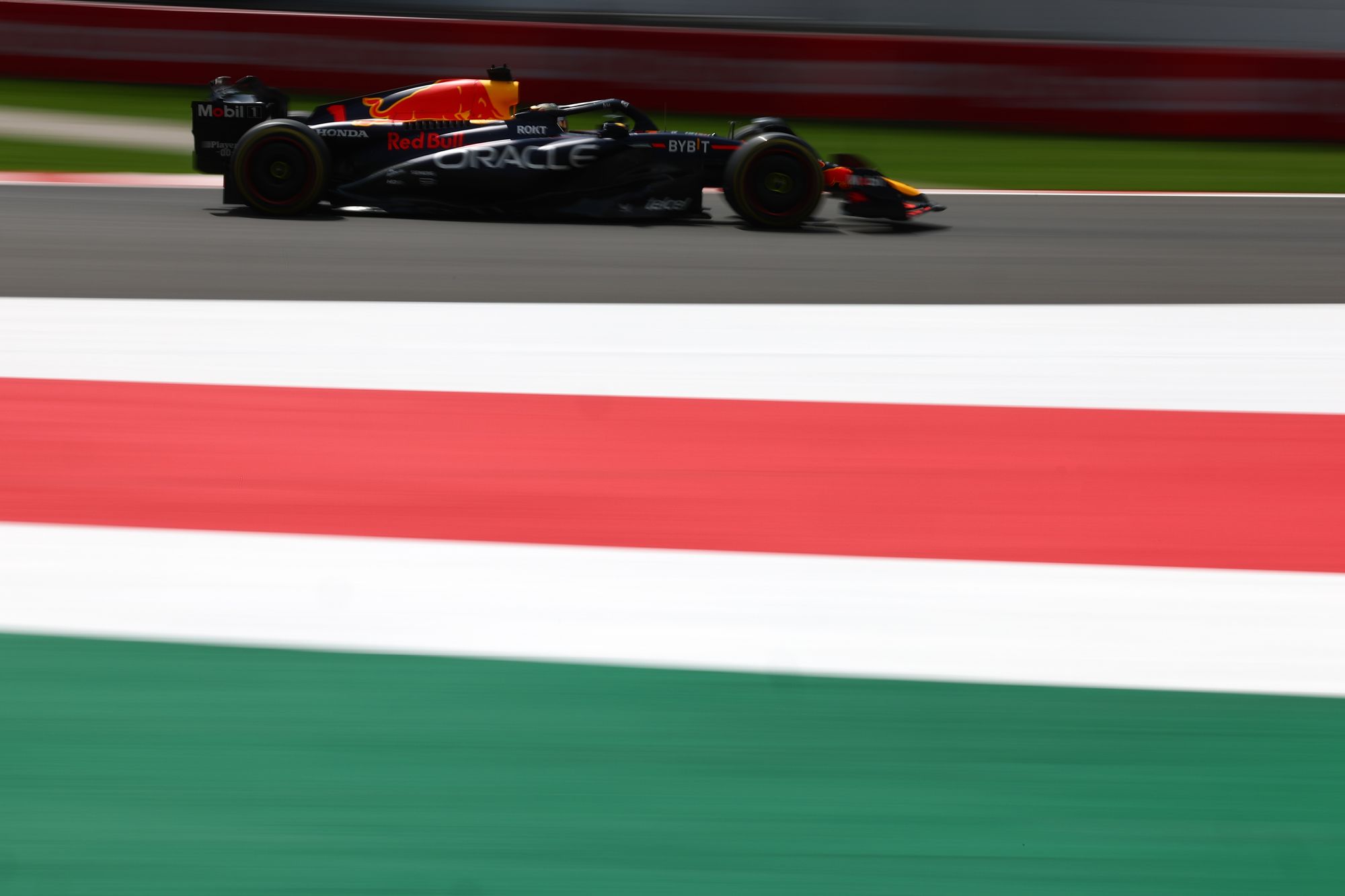 It planned accordingly right from Friday practice and went into the race with Verstappen having two new sets of hards (plus one medium), Perez two new sets of mediums (plus one hard). Everyone else up front, planning to one-stop, had just one of each.
"We went aggressive," confirmed Horner. "The compounds were softer than last year and a one-stop felt like you would be hanging on a bit and we thought we'd attack the race.
"Max was very keen to do that even if he conceded track position to be on the right tyre. That was the plan from Friday. And Checo's new medium would have put him in good shape at the restart."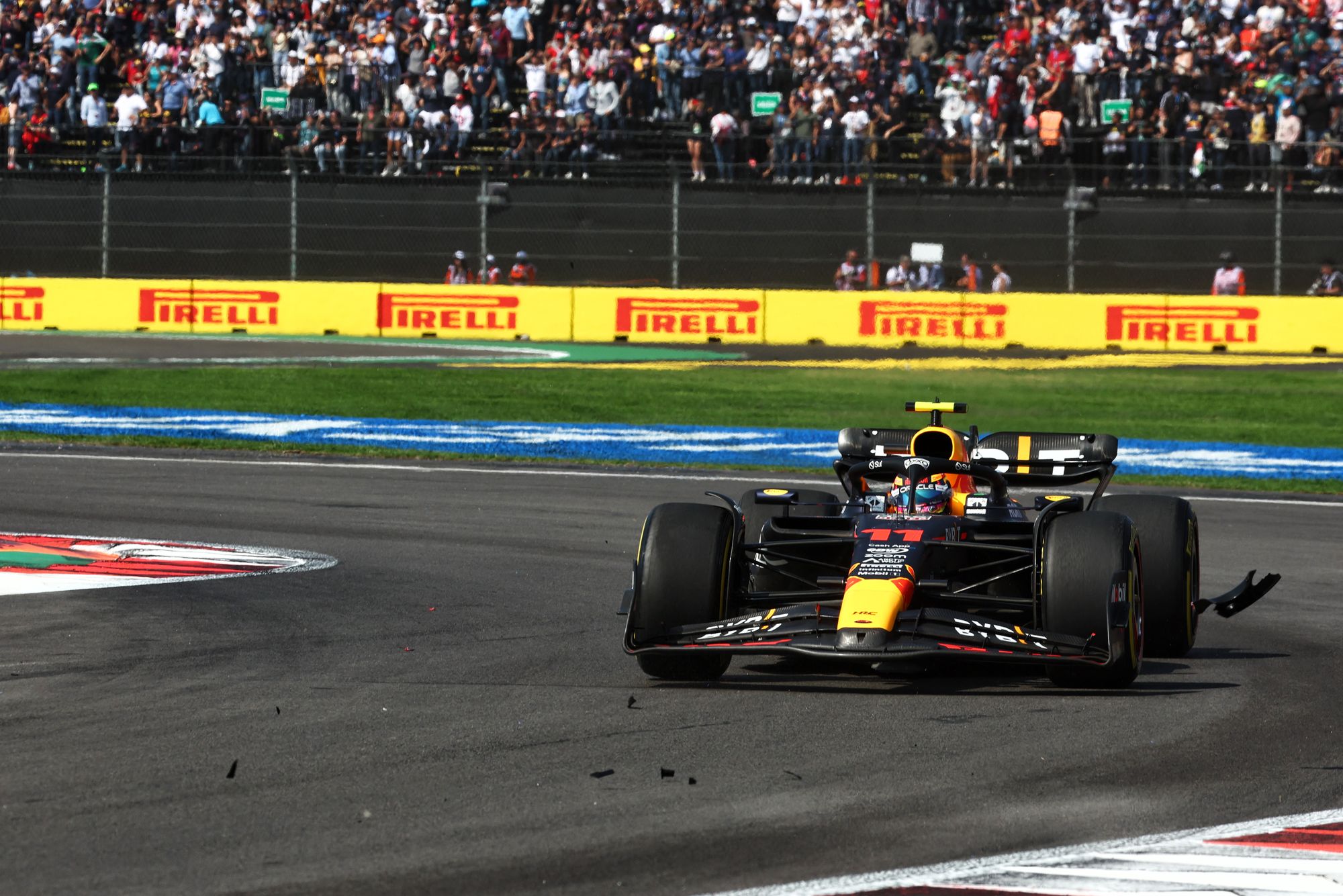 So there are several what-if races to ponder, especially if there'd been no red flag and the Verstappen two stop vs Leclerc one-stop would have meant the Red Bull having to chase the Ferrari down and pass it on track for the win. Doable but exciting.
Then there's the what-if of Perez taking the lead at the start. Assuming Verstappen did not overtake (not a safe assumption, of course, but it would have been extremely challenging with the same car, a weak DRS effect and the unfeasibility of sitting close behind for long), Perez would have had pitstop priority and switched to his second set of mediums (as the hards would have been too slow to warm and made him vulnerable to a Verstappen overcut).
Verstappen would accordingly have switched to hards and thus gone much longer to the second stop and thus rejoined behind but on much faster tyres.
Everything would have been about the gaps – and you'd not bet against Verstappen making it work. Would the red flag have come before Verstappen had made his second stop?
These are imponderables but if we are to believe they'd have been given equal opportunities the fascination would have been in watching it play out.
But fairytales rarely come true.