The question suggested itself as Lando Norris went fastest in Brazilian Grand Prix Q2 yesterday, then set pole in the Saturday sprint shootout: was the McLaren genuinely a Max Verstappen Red Bull beater at Interlagos?
Certainly no one else was.
On raw pace around Interlagos it has only ever been about this pair all weekend and it was only McLaren's tactical error of not getting a good place in the pitlane queue as the storm approached which has left Norris starting the grand prix from sixth, which would have been seventh without George Russell's penalty.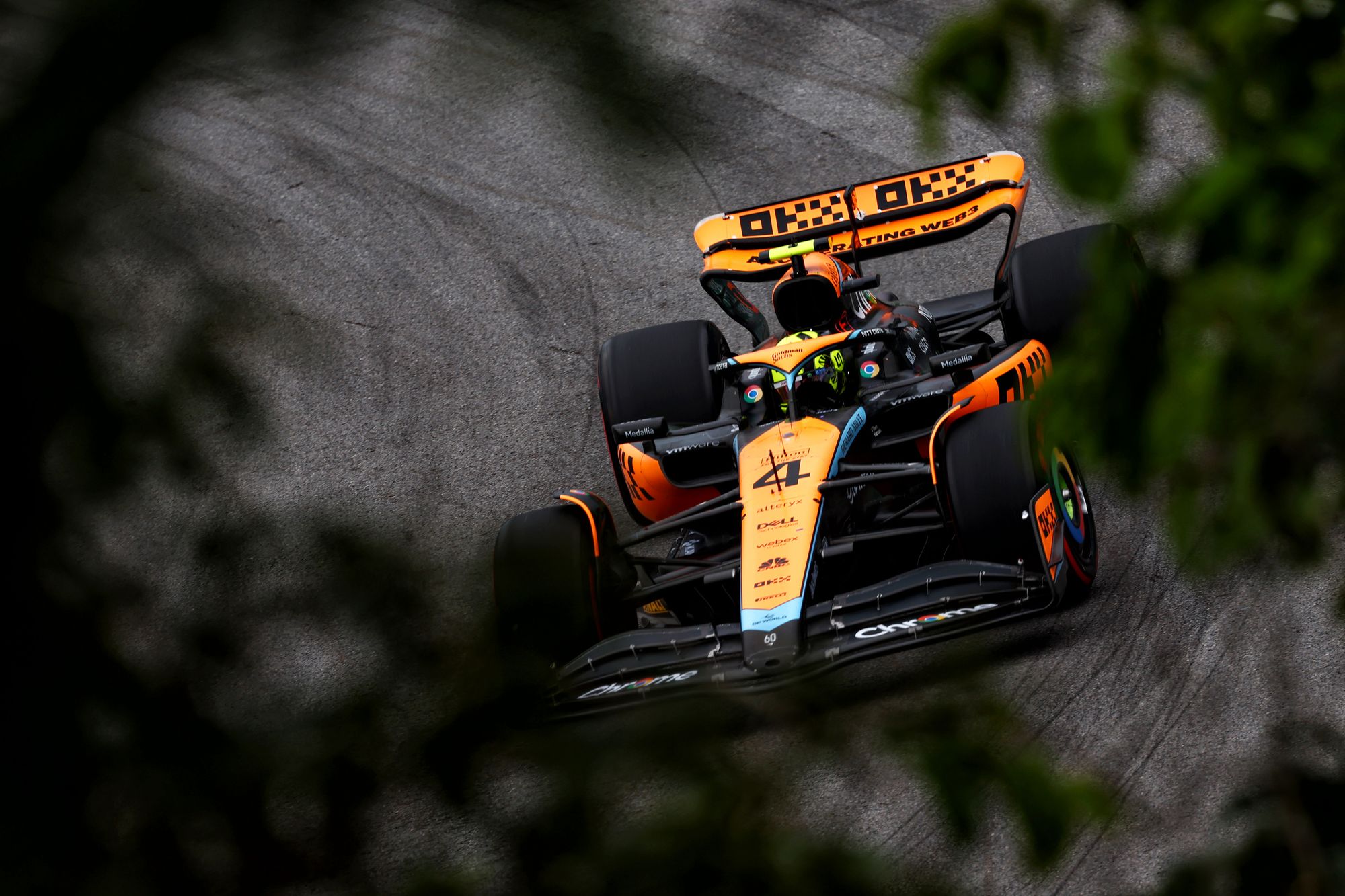 Sure, that was a lost opportunity for McLaren but the 24-lap sprint race – with Norris on pole from Verstappen - was going to offer a read on that intriguing question. Had Red Bull finally been caught?
Even when it has dominated, the RB19's pace advantage in qualifying has invariably been less than on race day. Red Bull deliberately configured this car (and its predecessor) around the demands of the race, on the logical basis that if overtaking was going to be easier, qualifying's importance was surely reduced.
But where we have usually seen that skew manifest is in the early part of a qualifying lap as the Red Bull and its super-stable and balanced platform doesn't give the best combination of front tyre temperature and theoretical peak grip.
In other words, by the time the fronts are fully up to temperature a few corners into the lap, the tyre's potential peak grip has already been under-utilised.
But that was not the pattern around Interlagos – compared to Norris' McLaren, at least.
Comparing their shootout laps, Verstappen is quicker early in the lap, with Norris clawing it all back – and a little more - through the high-speed sequence between Turns 4-8.
The McLaren has always been super-fast in high-speed sections. Norris reckons it's still not good in slow corners. But there wasn't much evidence of that here. It looked good everywhere - over a single lap in Norris' hands at least. Strong on every speed of corner and edging out a Red Bull seemingly not struggling for front tyre temperatures, could qualifying be fully representative for once?
Was this a reflection of Red Bull's curtailed development and McLaren continuing to increase its understanding of that major mid-season upgrade? It's been the second-fastest car since that time. Was it now the fastest? Around Interlagos at least.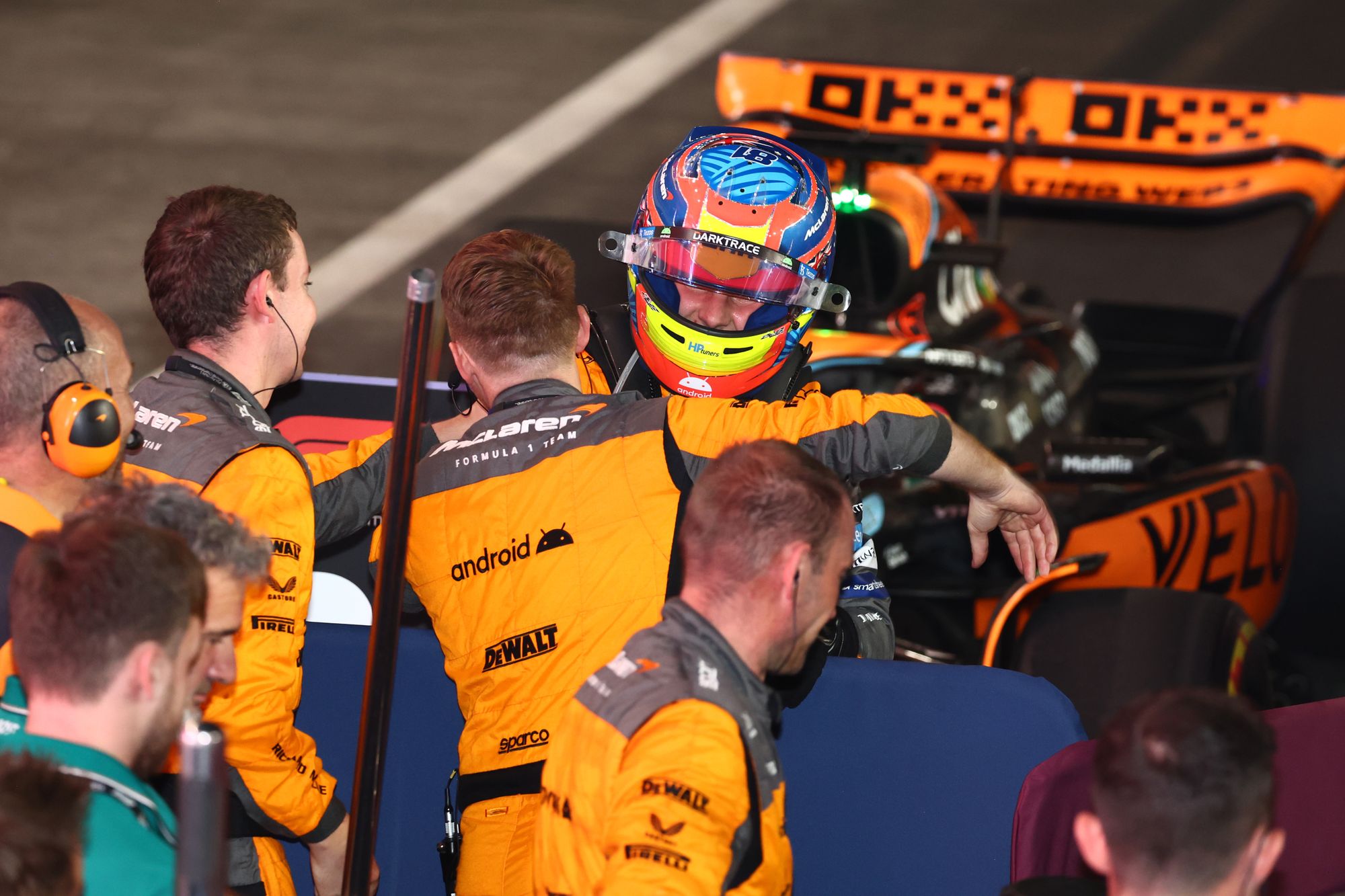 Sure, Oscar Piastri had beaten Verstappen in the sprint in Qatar, but that was about Verstappen being delayed by the softer-tyred Ferraris and Mercedes before he could get to Oscar. This was potentially a much straighter comparison and therefore a sterner one for McLaren.
With almost everyone starting on the soft tyre and a track temperature above 50 degrees C, the sprint was always going to be race about managing the rear tyre temperatures. It was exactly the sort of challenge which should have suited the race day bias which has been designed into the Red Bull. So a very representative test of McLaren's comparative race pace.
Verstappen won the start. Which potentially clouded the picture, especially as Norris had to waste a lap or two of tyre life in getting back ahead of the Mercedes of George Russell, who had caught him napping into Turn 8 on the opening lap.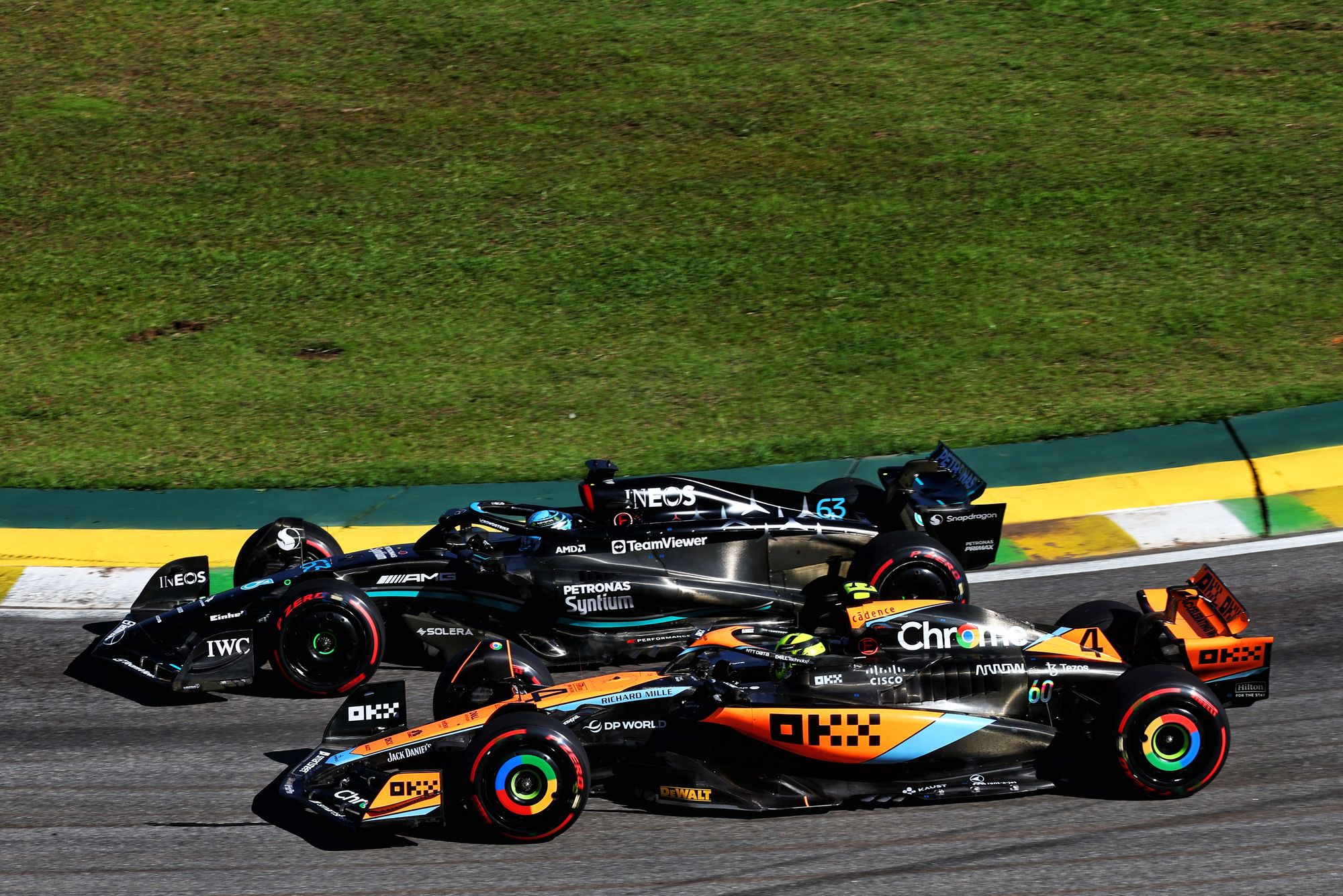 But once Norris got himself back up to second, Verstappen's 1.7s gap began to come down. A little each lap, with both constrained by the rear tyre temperatures but pulling easily away from the rest and by the 12th lap the McLaren was lapping a couple of tenths faster.
Halfway through the race and Verstappen was concerned as the McLaren got perilously close to being in the 1s DRS gap.
"We need to make a decision here," barked Verstappen to his race engineer Gianpiero Lambiase. "Are we pushing in the high-speed?"
In other words, he'd been saving the tyres in the long high-speed curves where they are under the greatest stress and was now requesting permission not to. Otherwise Norris was surely going to pass.
Here was the moment of truth, as 'GP' gave Max the go-ahead in typical style. "Yes, we have to push in the high-speed! I've been telling you that for the last three laps! Norris is faster through Turns 6 and 7."
That sixth-gear section was indeed where the McLaren was doing the damage, Norris taking a quarter-second out of Verstappen there as he was able to stay longer on the gas before braking – meaning he was hitting 240km/h (149mph) at a point where Verstappen was at 224km/h (139mph).
So now Verstappen stepped it up. This is where we'd get the answer to our question. Would that destroy his tyres? He had no other choice but to find out, otherwise the papaya car was going to be pulling itself along in his DRS and surely set to pounce.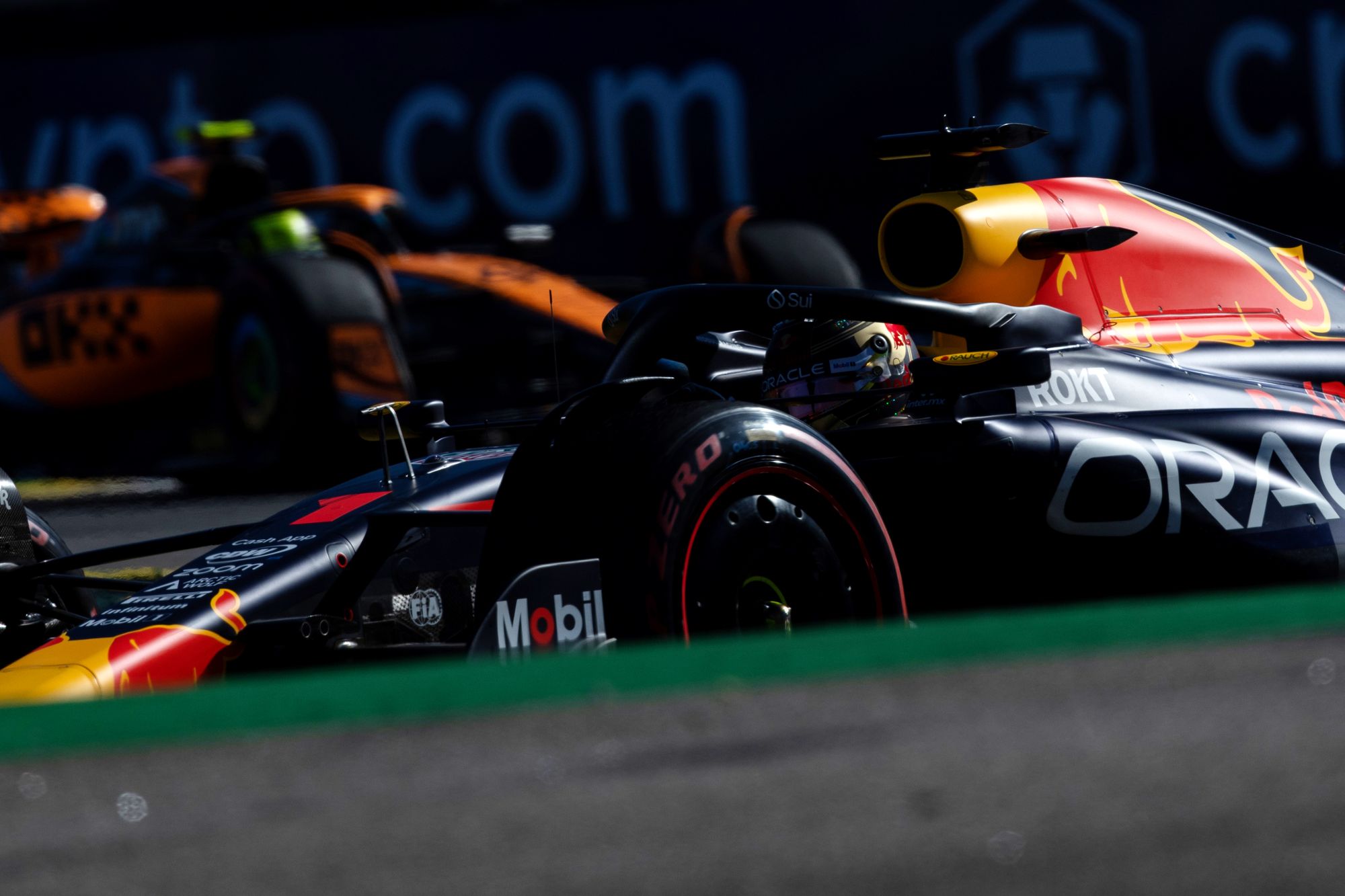 It was lap 16 and Max pushed hard through there, setting the fastest lap of the race so far, but only 0.1s faster than Norris. He was still slower through Turns 6-7 but only by 0.15s this time. The rest of it he made up on acceleration out of Juncao (Turn 12), suggesting he'd eaten into his battery reserves to do it.
Had he just given himself a temporary respite? Was he going to have to pay back the energy store he'd used to keep himself out of DRS reach? Would his rear tyres begin to fall away faster than Norris'?
No, the chase had spent Norris' tyres first. As Verstappen maintained a hard pace for the next three laps, Norris dropped 0.1s, then 0.2s, then 0.5s. This race was Verstappen's. Normal service had been resumed. But he had to work for it.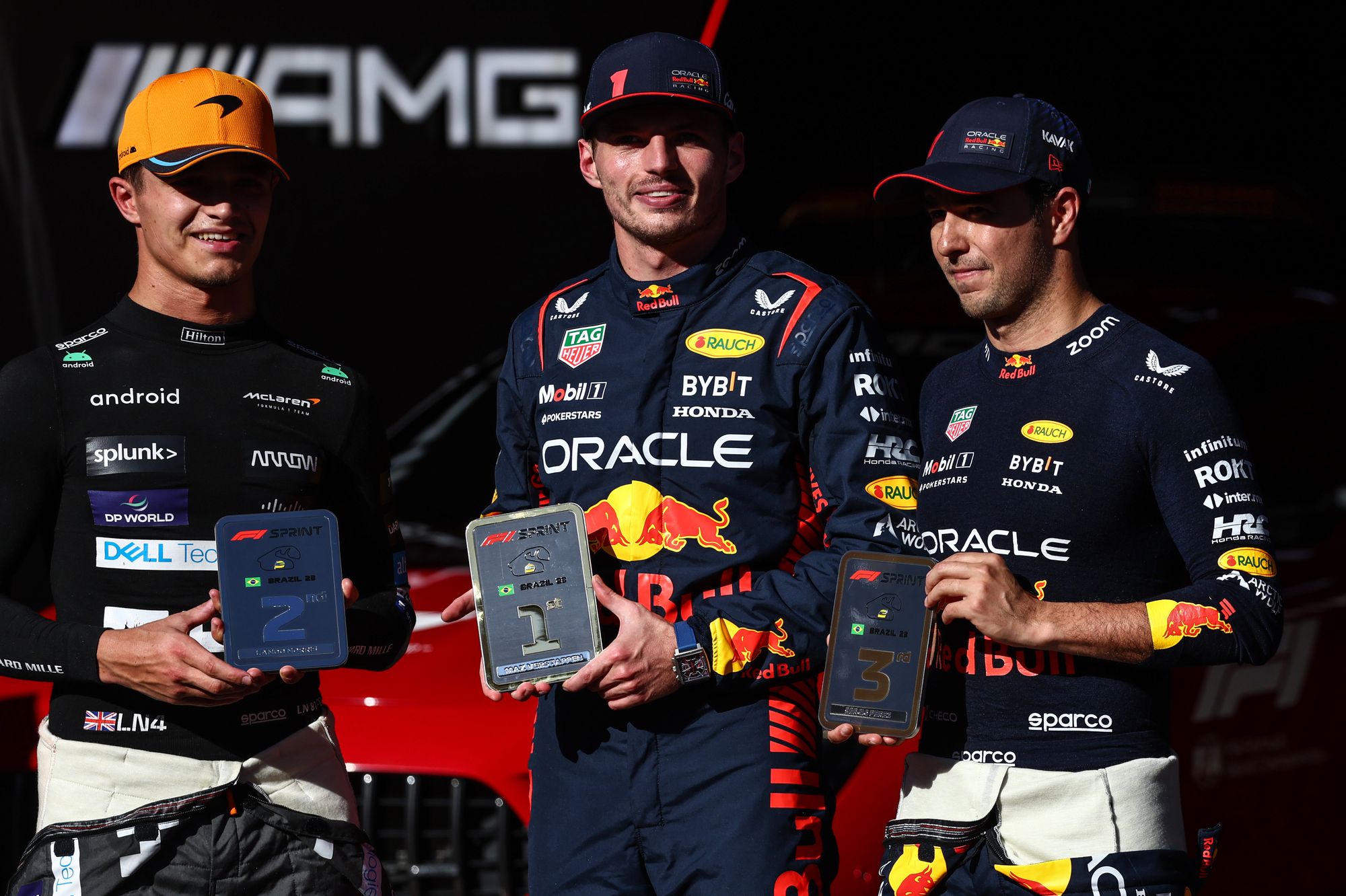 For sure Verstappen had driven with something in reserve. But he had no way of knowing, until he responded to the threat, whether Norris had more.
He joked afterwards about teasing Norris as if with a piece of candy he then pulled out of his reach. But in the next breath acknowledged that hadn't been the case.
He will surely be grateful that the McLaren is starting six places behind him for the grand prix, with slower cars in between them.