One of Formula 1's ideas for its sprint format in the future is to create a separate 'championship' from the results – and were it to exist already, unsurprisingly, Max Verstappen would have won it in 2023.
Verstappen scored his fourth sprint victory of the season in Brazil, the last of six such Saturday races of the year.
After collating the points from these sprints into a standalone, unofficial championship, it will shock nobody to discover that 2023 world champion Verstappen dominates these standings as well.
Sergio Perez narrowly completes a Red Bull 1-2, the result the team is extremely keen Perez locks down in the real championship, with Carlos Sainz possibly the only surprise by racking up the third-best set of Saturday results.
Unofficial 2023 'F1 Sprint championship'
(difference to actual current championship position in brackets)
1 Max Verstappen 45 (=)
2 Sergio Perez 25 (=)
3 Carlos Sainz 22 (+1)
4 Lando Norris 21 (+2)
5 Charles Leclerc 21 (+2)
6 George Russell 18 (+2)
7 Lewis Hamilton 17 (-4)
8 Oscar Piastri 15 (+1)
9 Fernando Alonso 8 (-4)
10 Pierre Gasly 8 (=)
11 Lance Stroll 6 (=)
12 Yuki Tsunoda 3 (+2)
13 Nico Hulkenberg 3 (+3)
14 Alex Albon 2 (-1)
15 Esteban Ocon 2 (-3)
Ties settled on countback to best result, then second-best where needed
Perez and McLaren's Oscar Piastri are the only two drivers besides Verstappen to have won a sprint race in 2023.
But the 'podiums' have been shared out a lot more frequently, with Sainz, Charles Leclerc, Pierre Gasly, Lando Norris and Lewis Hamilton all recording top-three finishes on Saturdays.
Norris, Piastri and Leclerc also have sprint race poles to their name this year, although only Piastri was able to convert that into a win.
Fifteen drivers across nine teams earned points – with Alfa Romeo the only team that did not register a single score.
GAINS AND LOSSES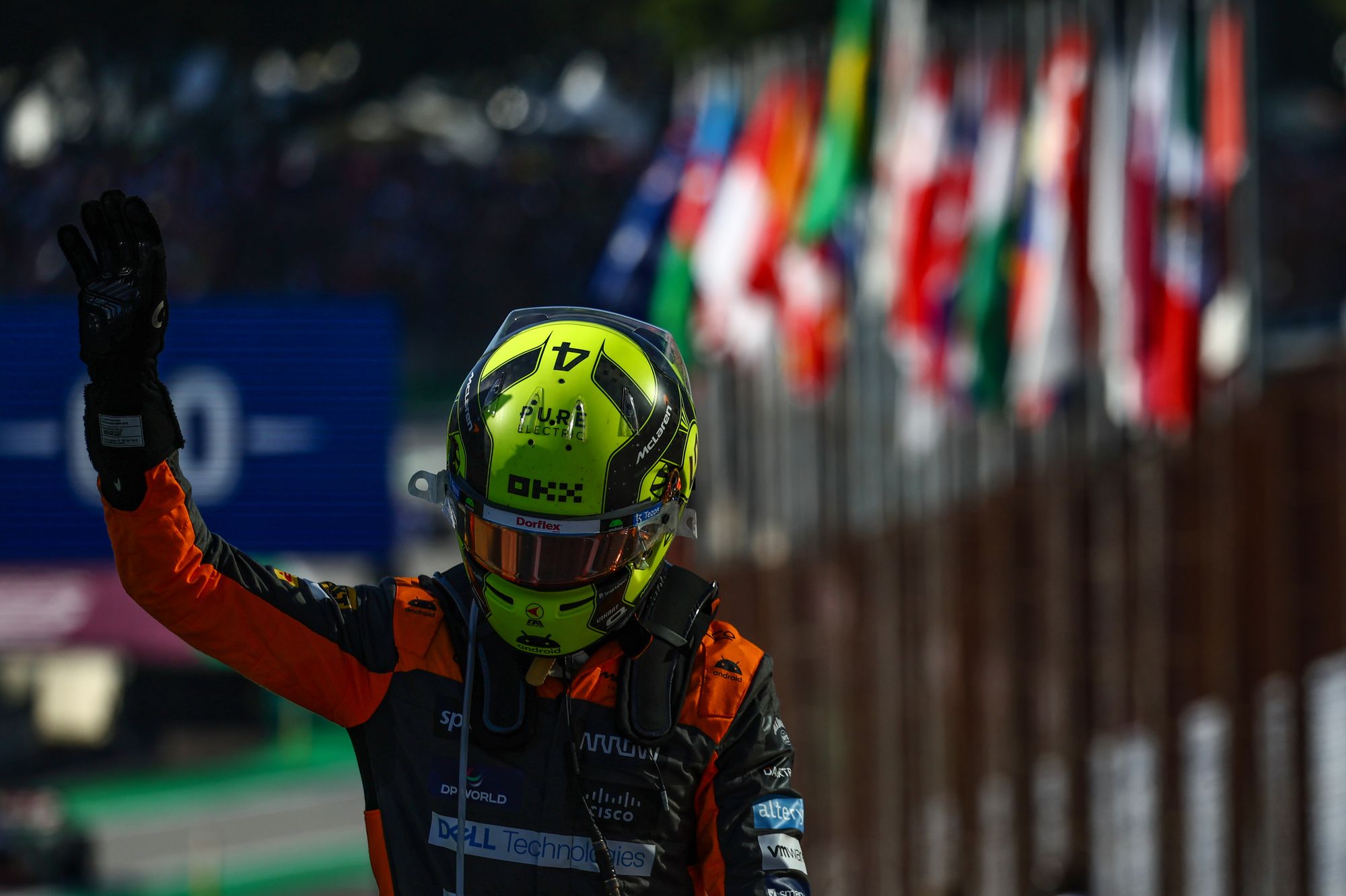 The sprints being more frequent in the second half of the calendar (three of the six were in the last four race weekends, and only two happened pre-summer break and just one of them before July) helps elevate the McLaren drivers (up two for Norris and one for Piastri) and causes a dramatic four-place drop for Aston Martin's Fernando Alonso. McLaren's late-season rise and Aston Martin's late-season slump are very evident in sprint points.
As a qualifying specialist in a car prone to fading over race distances, it's little surprise that Leclerc gains two positions in the sprint standings relative to the actual championship.
Hamilton being four places lower in this championship is notable too. He's historically not fared that well in sprints, and this year his Spa penalty for colliding with Perez and disappointing shootout qualifying results in Azerbaijan and Qatar plus Mercedes' poor Austria pace have all played into that.
SPRINT STATS 2023
Wins
Verstappen 4
Perez 1
Piastri 1
Poles
Verstappen 3
Leclerc 1
Piastri 1
Norris 1
Podiums
Verstappen 6
Perez 3
Leclerc 2
Piastri 2
Norris 2
Sainz 1
Gasly 1
Hamilton 1
Teams' points
1 Red Bull 70 (=)
2 Ferrari 43 (+1)
3 McLaren 36 (+1)
4 Mercedes 35 (-2)
5 Aston Martin (=)
6 Alpine 10 (=)
7 AlphaTauri 3 (+1)
8 Haas 3 (+2)
9 Williams 2 (-2)
10 Alfa Romeo 0 (-1)