Lando Norris will start Formula 1's final sprint race of 2023 at the Brazilian Grand Prix from pole position after a session disrupted early on by a strange crash.
Norris defeated Max Verstappen to grab pole for the sprint at the end of a session that featured a lengthy delay for barrier repairs thanks to former team-mates Esteban Ocon and Fernando Alonso colliding in the first segment.
McLaren driver Norris had been frustrated in Friday's main qualifying session, having felt his car was good enough to fight for pole.
He was at least able to prove that by claiming bragging rights for the sprint, while Verstappen's team-mate Sergio Perez also rebounded from a disappointing result on Friday by taking third – despite having to use an older set of softs while the eventual top two had saved a new set.
Norris is among several drivers who have been summoned to the stewards for a delta time breach - but this is an increasingly-familiar post-session procedure and is yet to yield a penalty for any of those investigated.
Bizarre Ocon/Alonso crash
The first segment of the shootout came to a slightly premature end thanks to a bizarre collision between two old warring team-mates.
Ocon and Alonso came to blows here in their Alpine days but this was a much more dramatic, and strange, clash.
Alonso was on a slow lap exiting the Senna S, and kept to the right – though not as far off-line as he could have.
Ocon then had a big moment on the exit kerb, with his Alpine mildly fishtailing and then spearing to the right, hitting the front left of Alonso's Aston Martin.
That damaged Alonso's car and sent Ocon spinning into the barriers, with both drivers unsurprisingly blaming the other on team radio.
The incident, which was predominantly caused by Ocon's loss of control although was obviously impacted by Alonso's positioning as well, was noted by race control and will be investigated after the session. It was also followed by Ocon heading to the circuit medical centre as a precaution; Alpine says he has since been "cleared".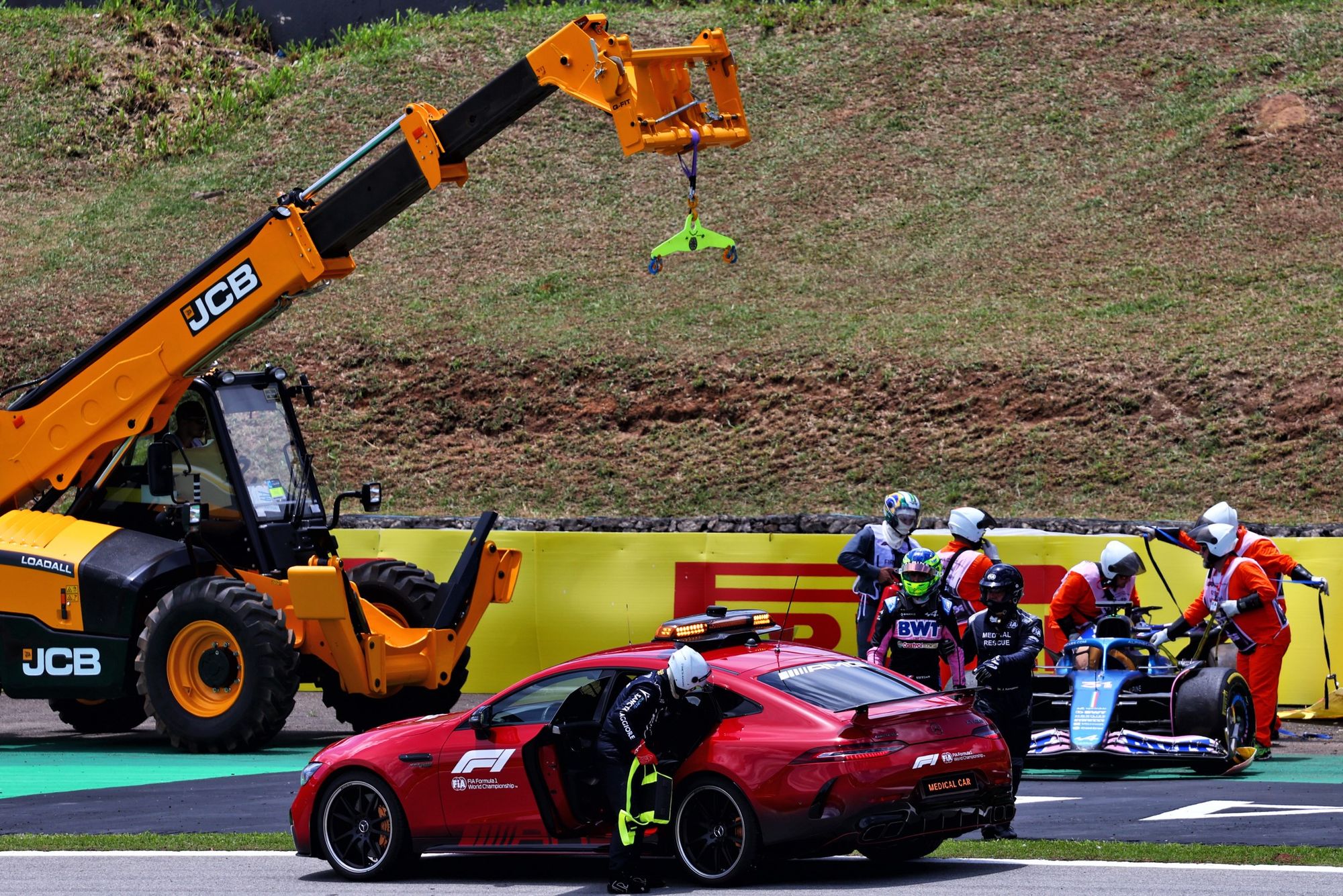 With the red flag coming so late, SQ1 was not resumed – and the stoppage confirmed eliminations for Ocon (who wouldn't have been able to keep running even if he had progressed), Friday qualifying star Lance Stroll, Zhou Guanyu and both Williams drivers.
Alex Albon looked in the best place to try to escape the drop, as he was nip-and-tuck with 15th-placed Yuki Tsunoda when the session was suspended with him in the final sector.
Instead, he will start the sprint in 19th, ahead of team-mate Logan Sargeant, who was livid with Haas driver Kevin Magnussen for what he felt was blatant impeding in the middle sector.
Norris makes amends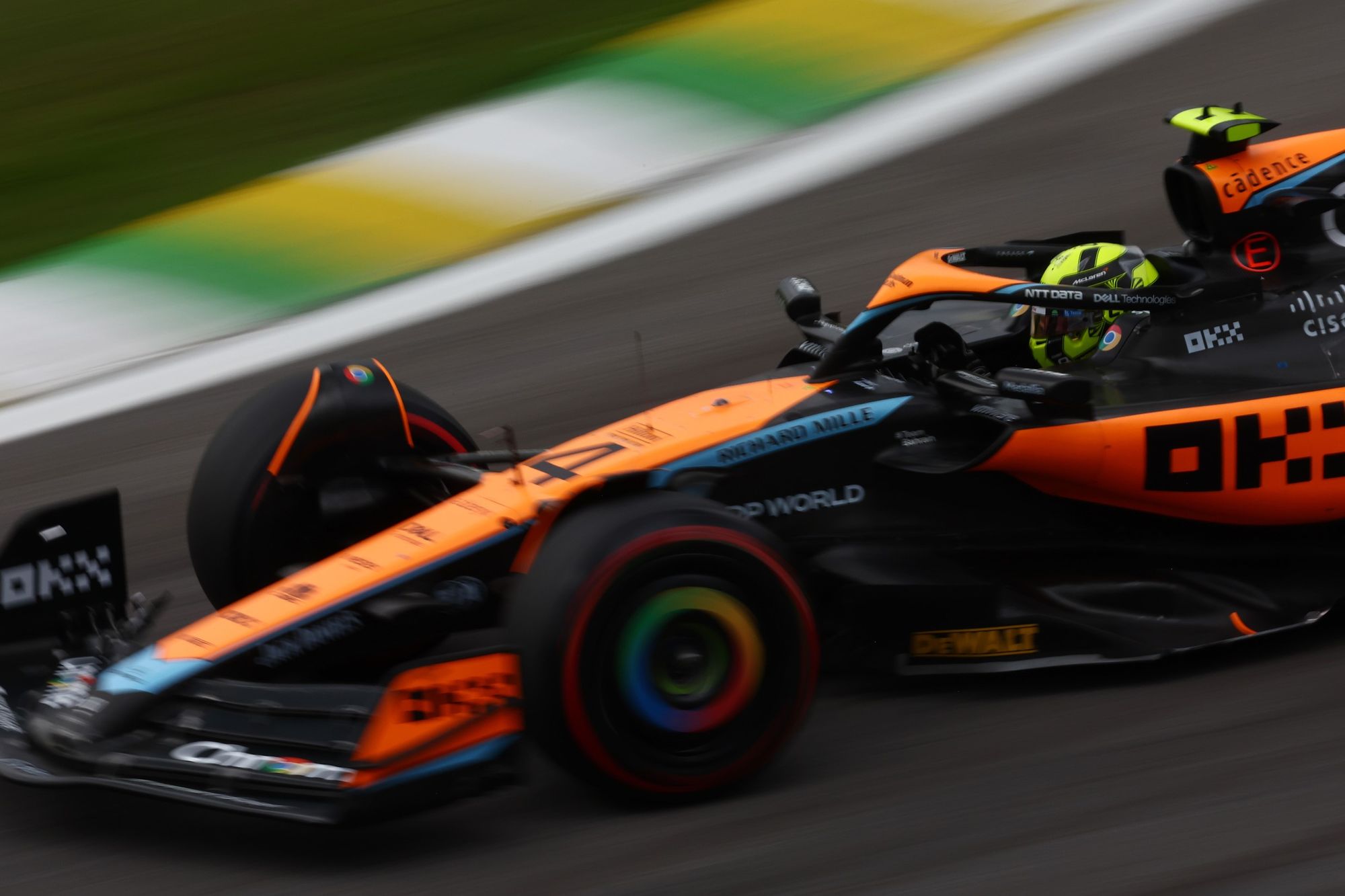 When the session resumed, Alonso was not part of it because his car was too badly damaged. That left four other elimination places to be filled in SQ2.
Daniel Ricciardo, Tsunoda, Valtteri Bottas and Pierre Gasly all opted to do just one run at the end of the segment, while the rest used fresh mediums at the start then did a second run on the same set.
That paid off for the two AlphaTauris as Ricciardo progressed easily in fourth, while Tsunoda just held on in 10th.
But Gasly and Bottas were only 13th and 14th, behind the two Haas drivers, Kevin Magnussen and Nico Hulkenberg, who did not improve on their second runs – unlike both Mercedes drivers and Norris, whose first laps were disappointing but who improved enough running again to progress to SQ3.
The final shootout, with soft tyres, boiled down to single flying laps across a mixed of new and used sets.
Sunday poleman Verstappen, Norris, both Mercedes and both AlphaTauris had new softs while the Ferraris, Perez and Oscar Piastri had a used set.
Norris pipped Vestappen by 0.061s to grab sprint pole with the world champion lamenting a "s**t start to the lap", while Perez did a fine job on used softs to beat the Mercedes drivers to third.
George Russell was less than a tenth quicker than Lewis Hamilton, while Ferrari's used tyres opened the door for Tsunoda to grab sixth ahead of Charles Leclerc, as Ricciardo also outpaced Carlos Sainz and Piastri.
That puts the AlphaTauris in position to fight for valuable points in the sprint after a disappointing qualifying session for the grand prix.
Qualifying Results
| Pos | Name | Car | Q1 | Q2 | Q3 |
| --- | --- | --- | --- | --- | --- |
| 1 | Lando Norris | McLaren-Mercedes | 1m11.824s | 1m11.221s | 1m10.622s |
| 2 | Max Verstappen | Red Bull | 1m11.888s | 1m11.262s | 1m10.683s |
| 3 | Sergio Pérez | Red Bull | 1m12.218s | 1m11.230s | 1m10.756s |
| 4 | George Russell | Mercedes | 1m11.976s | 1m11.516s | 1m10.857s |
| 5 | Lewis Hamilton | Mercedes | 1m11.870s | 1m11.476s | 1m10.940s |
| 6 | Yuki Tsunoda | AlphaTauri-Honda RBPT | 1m12.358s | 1m11.676s | 1m11.019s |
| 7 | Charles Leclerc | Ferrari | 1m12.107s | 1m11.473s | 1m11.077s |
| 8 | Daniel Ricciardo | AlphaTauri-Honda RBPT | 1m12.175s | 1m11.423s | 1m11.122s |
| 9 | Carlos Sainz | Ferrari | 1m11.796s | 1m11.491s | 1m11.126s |
| 10 | Oscar Piastri | McLaren-Mercedes | 1m12.356s | 1m11.648s | 1m11.189s |
| 11 | Kevin Magnussen | Haas-Ferrari | 1m12.058s | 1m11.727s | |
| 12 | Nico Hülkenberg | Haas-Ferrari | 1m12.136s | 1m11.752s | |
| 13 | Pierre Gasly | Alpine-Renault | 1m12.229s | 1m11.822s | |
| 14 | Valtteri Bottas | Alfa Romeo-Ferrari | 1m12.303s | 1m11.872s | |
| 15 | Fernando Alonso | Aston Martin-Mercedes | 1m12.224s | | |
| 16 | Esteban Ocon | Alpine-Renault | 1m12.388s | | |
| 17 | Lance Stroll | Aston Martin-Mercedes | 1m12.482s | | |
| 18 | Guanyu Zhou | Alfa Romeo-Ferrari | 1m12.497s | | |
| 19 | Alex Albon | Williams-Mercedes | 1m12.525s | | |
| 20 | Logan Sargeant | Williams-Mercedes | 1m12.615s | | |