Lando Norris feels "the most on top of the car I ever have been" and, after being masked at times in recent Formula 1 races, it is in full view at the Brazilian Grand Prix.
Norris was bitterly disappointed to have missed out on a chance at pole position at Interlagos in Friday's qualifying session when McLaren's timing at the start of Q3 left Norris in a poor position as the weather turned and track position proved a decisive factor. It came after Norris set the fastest time of anyone in Q2, just over a tenth clear of Max Verstappen.
He, and McLaren, felt that was made up for by an excellent Saturday, as Norris earned pole for the sprint race then finished a comfortable second behind winner Verstappen in his typically dominant Red Bull.
Though Norris lost the lead to Verstappen at the start and admitted he was "caught sleeping a little bit" by George Russell on what was a "tough opening lap", his drive thereafter was exemplary. He repassed Russell and pulled away from Sergio Perez with ease even after the chasing Red Bull had moved past Russell as well into third.
Over one lap and over a stint, which is effectively all a sprint race is, Norris has been in outstanding form this weekend – with a substantial advantage over team-mate Oscar Piastri. This version of the MCL60 is clearly a very competitive beast but the gap between the two drivers in Brazil shows the difference Norris can make at his best.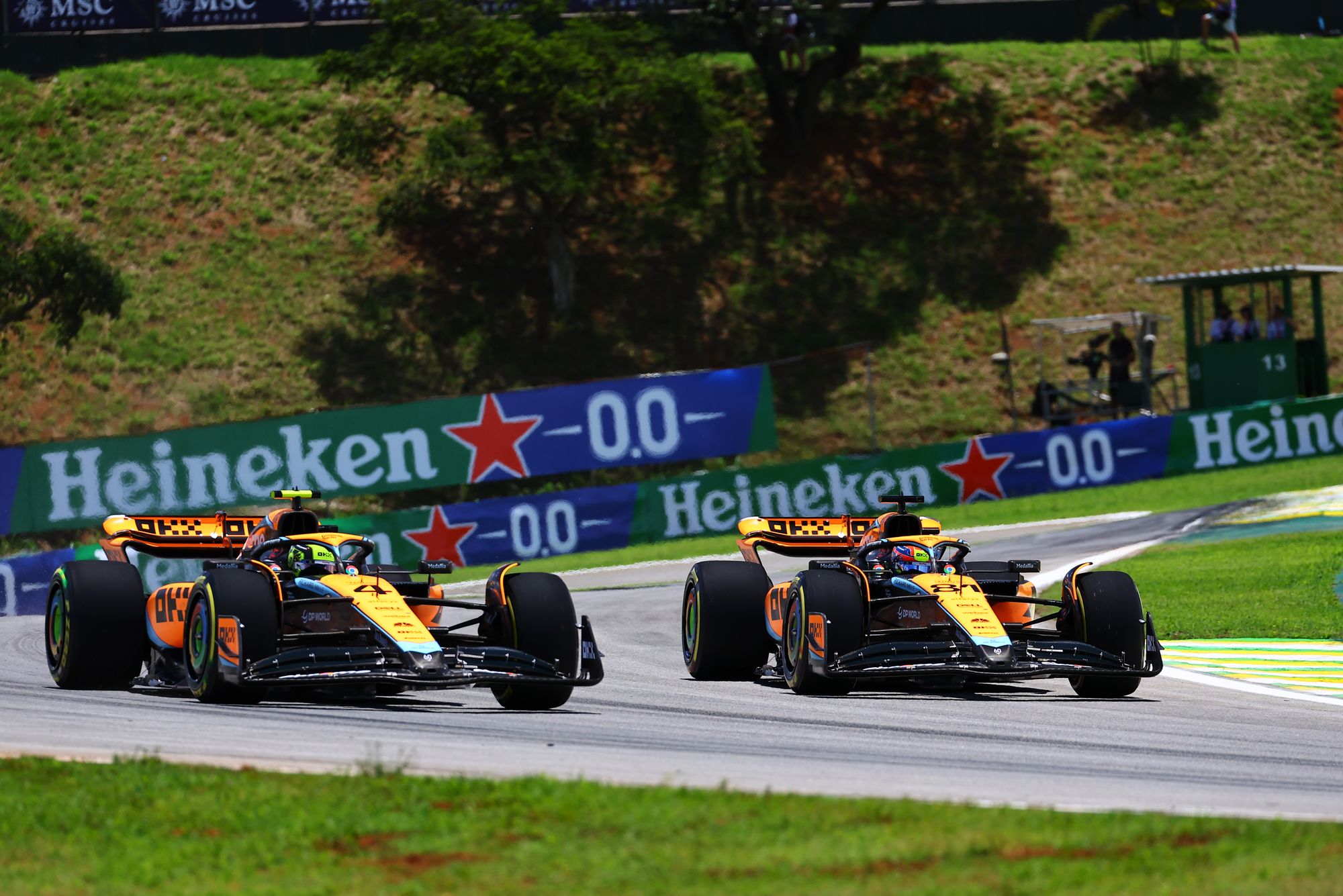 While Piastri has regularly shown the full extent of his own exciting potential, for example with his qualifying performance in Japan and his Qatar sprint race win, his form is naturally more erratic as a rookie. Whereas since McLaren's mid-season upgrade, Norris has tended to be at the upper limit of what the car is capable of – the second big package in Singapore, for instance, sparked a run of four consecutive podiums.
"My last few weekends have been very strong," he said after the Brazil sprint race.
"I'd say the last four or five weekends have been my strongest in terms of absolute pace and extracting the maximum out of the car.
"I just made those silly little mistakes here and there in qualifying. But a lot of these times the pace was probably some of my strongest, and the best I've been driving, if it wasn't for these little things."
There is something paradoxical about Norris claiming he's been extracting the most out of the car while making errors but that might be explained by him talking about different things. As there is a clear contrast in the balance of power between Norris and Piastri in qualifying and the race.
Since the summer break, Norris has been inconsistent in qualifying – it's actually 4-4 between them now for grand prix qualifying in the last eight races, and that run includes Norris having a race's headstart on the last big upgrade.
But in terms of grand prix results in the same span, Norris is 6-1 to the good (Qatar being the only time Piastri was the first McLaren home). That difference can be explained by a few things – Piastri's ability to overcome his inexperience more in qualifying, Norris needing to tidy up his Saturdays (or Fridays on sprint weekends), and Norris excelling more on Sundays.
"The last two, three weekends, I feel like I've been on top of things a lot more," Norris said.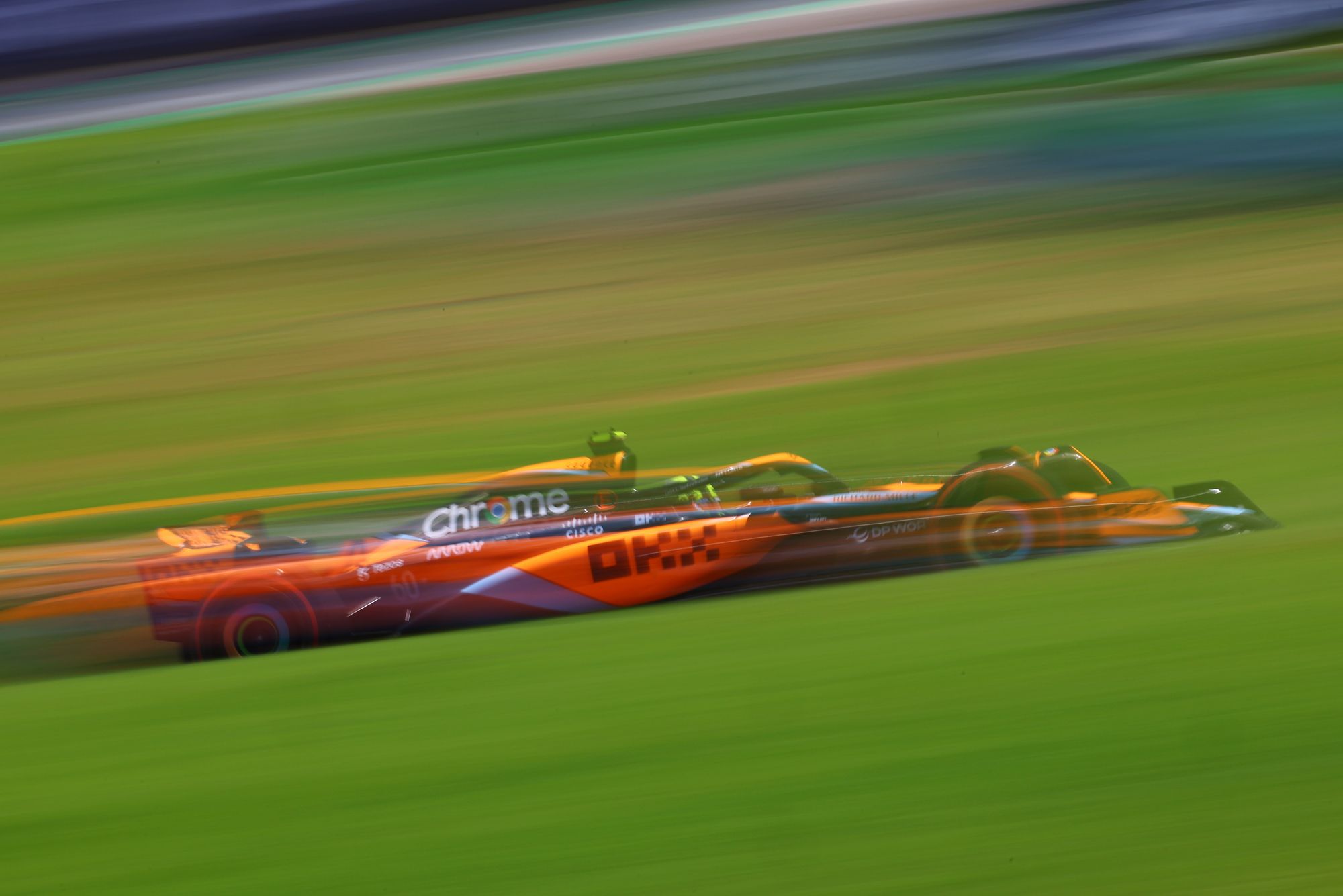 "And I have felt very comfortable.
"There's still a lot of things which I'm not comfortable with but I definitely feel the most on top of the car than I ever have been.
"Some of that is figuring out weaknesses that I have with the car and just things that I'm struggling with. And some of it is just confidence and putting things together and executing laps and executing good races and things like that.
"I don't think it's just this weekend or anything's suddenly changed. Here, Mexico, Austin, Qatar, Suzuka - all of these have been some very good races, very good performances, extremely good pace, probably in every single one.
"But just a few too many of these little mistakes."
Those errors are now well established. Norris maintained his podium run despite qualifying badly in Qatar, but it ended in Mexico after a silly error got him eliminated in Q1.
He at least responded, again, with a charging drive to fifth on Sunday that was supremely good. And now we come to Brazil, where what happened on Friday has left Norris sixth on the grid for the grand prix, which - while hardly a disaster – may well continue the theme of some of Norris's best races being more complicated than they need to be.
"Of course, I'm disappointed at times, and I always say I should have been on pole or I should have been second," he said.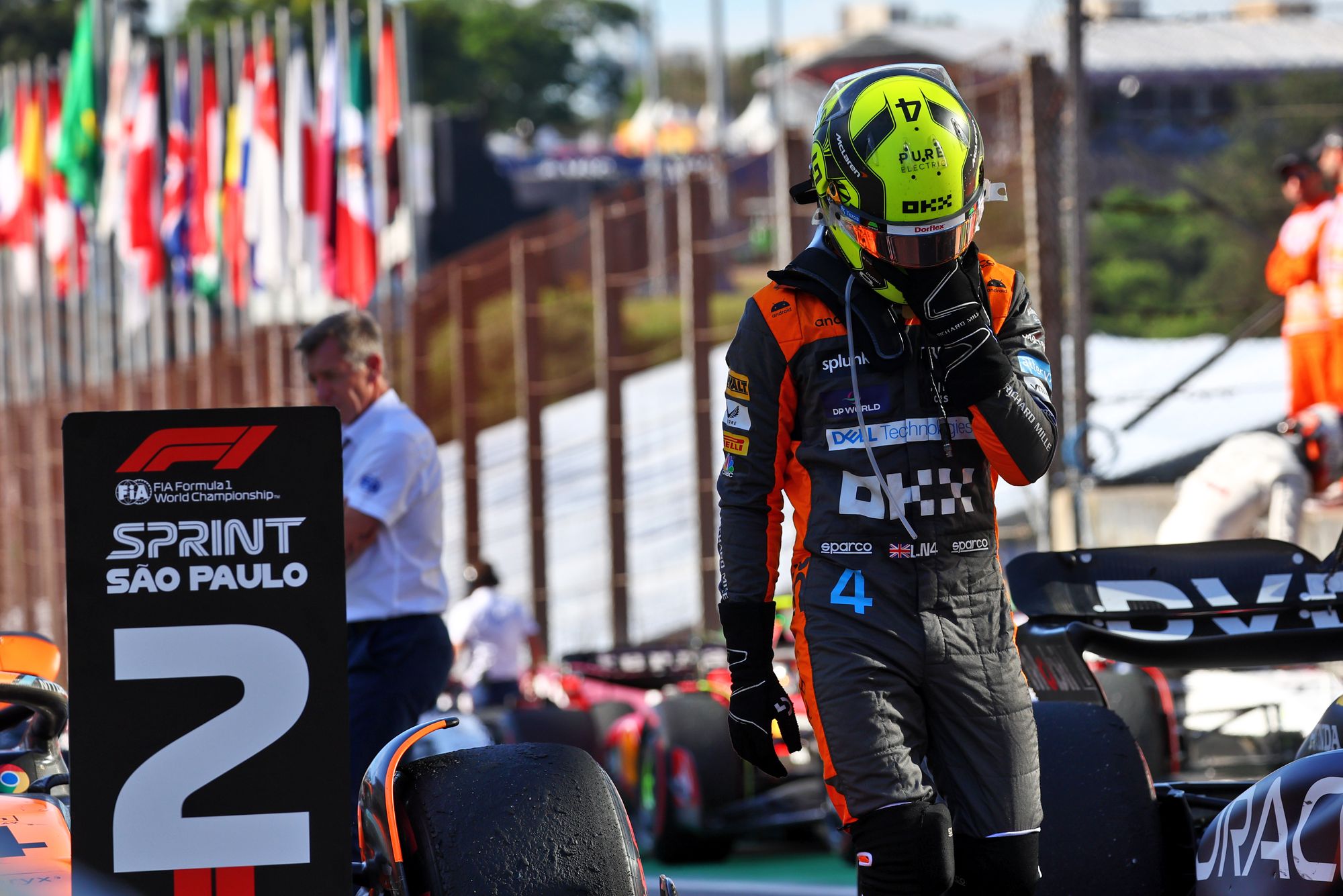 "There just have been a lot of shoulda, woulda, couldas. But it's because it's the truth. Today [Saturday] we proved it, but yesterday we probably should have been on pole if we did as good of a job as we did today. The same goes for us in Qatar."
There, Norris's pain was compounded by the fact Piastri did a better job. And got the bigger results, including the sprint win. But while Piastri has definitely made Norris sweat more than once this season, this weekend is not such an occasion.
There has been a gap of anywhere from a couple of tenths to half a second between over one lap and, thanks in no small part to the vastly different circumstances of their sprint races, Norris was half a minute ahead of Piastri at the flag.
The sprint format has done Piastri no favours. It has slashed his practice running to a third of what it would normally be and meant the Saturday race was his first long run of note. This, combined with the difference in experience, has hurt him relative to Norris.
"It looks like, together with the Singapore upgrade, we have also been able to cash in some improved capability to limit tyre degradation," said McLaren team boss Andrea Stella, when asked to explain why Norris would feel more comfortable in the car of late.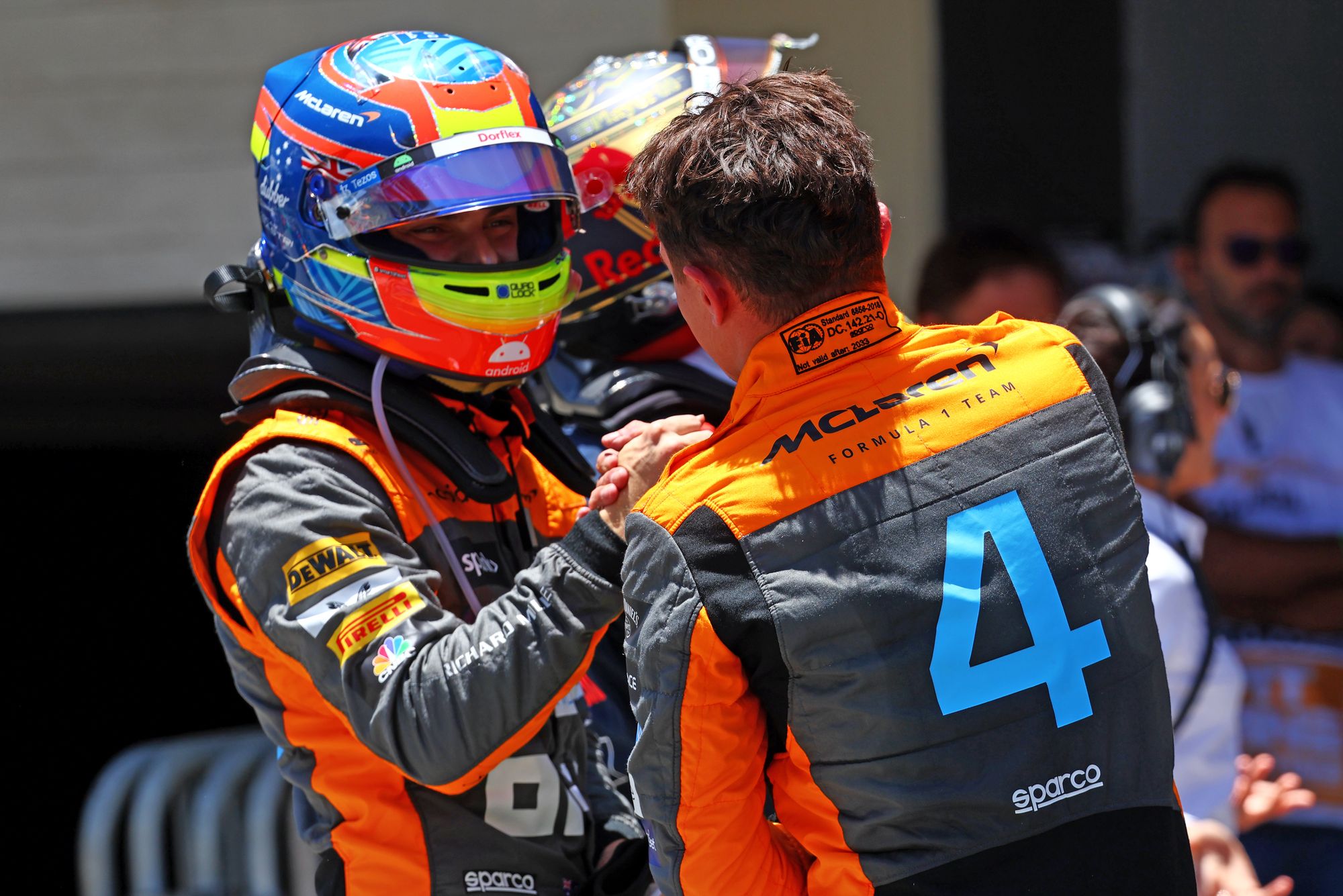 "We have observed this behaviour for enough races to say that it is a consistent pattern. So I think partly this [Norris's form in races] is coming from the car.
"At the same time, Lando having a car that allows him to do a little bit more of what he wants, he's taking advantage in order to stress the tyres less.
"The main enabler was the development of the car. And then as soon as the car allows you to do something the drivers understand how to get further advantage out of that."
McLaren feels Piastri has not quite maximised this the way Norris has, for the aforementioned reasons. It is now expecting a clear step from Piastri in Sunday's grand prix based on what he learned from the sprint.
But it would be a surprise if it is enough to take Piastri all the way to where Norris is operating this weekend. Because when Norris is in tune with this car, his own performance level is extremely high.
That's why, even though it is another compromised event in some way, another podium finish can hardly be discounted.