Toto Wolff cut a disconsolate figure at the end of Formula 1's Brazilian Grand Prix sprint race.
Mercedes was the joint second-highest scoring team after Red Bull, but the alarming drop-off from both cars as the 24-lap race wore on led Wolff to declare "today wasn't good".
And he was right, of course. After two of the 24 laps, George Russell and Lewis Hamilton were running second and fourth respectively.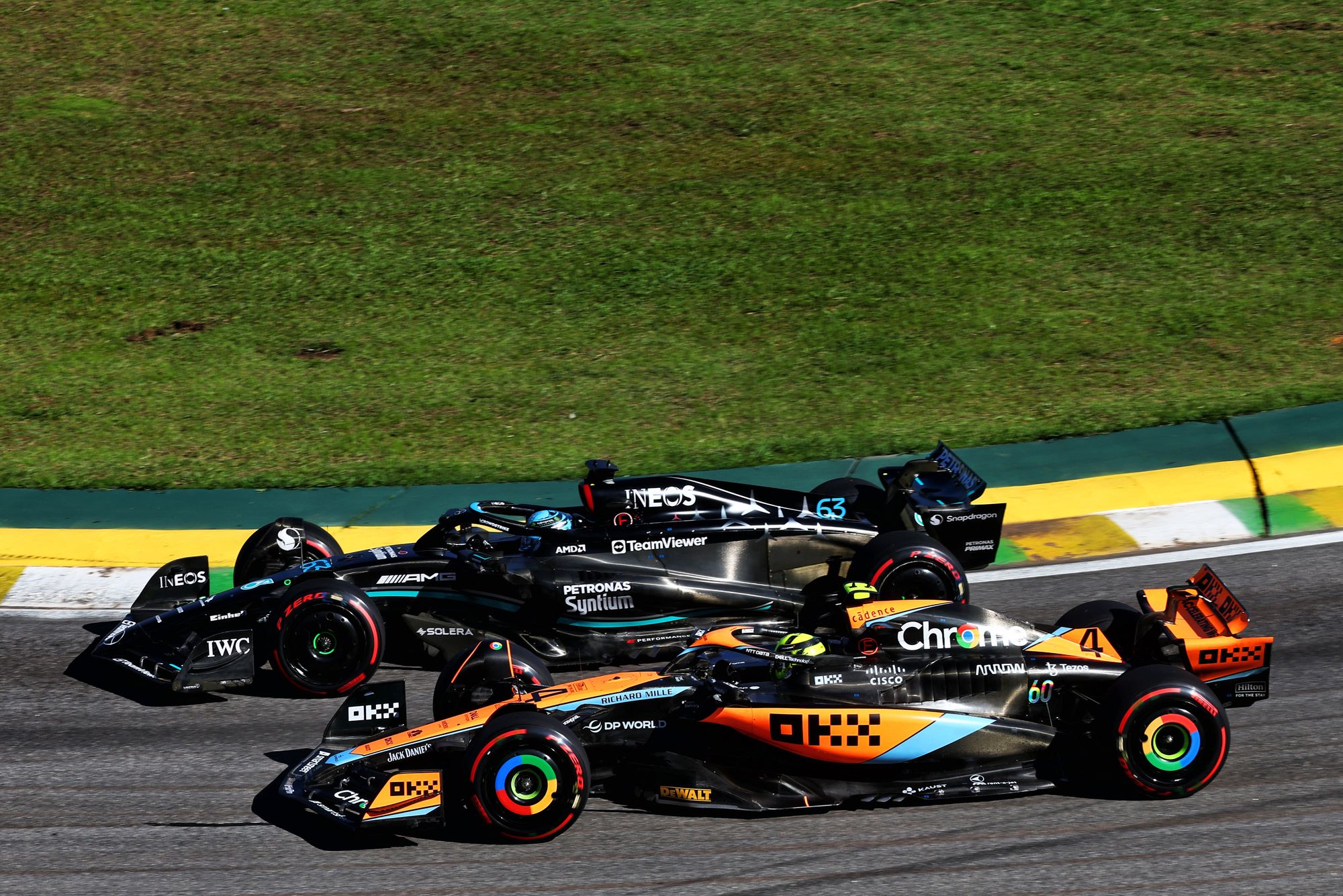 Both had fought their way past Sergio Perez's Red Bull, Russell had also overtaken McLaren's Lando Norris, and Russell was running less than seven tenths of a second behind leader Max Verstappen's Red Bull.
But by the end of the race Russell had slipped back to fourth, nearly 26s behind Verstappen, while Hamilton was overtaken easily by Yuki Tsunoda's AlphaTauri and finished seventh, almost 35s off the win. That works out at almost 1.5s per lap off the Red Bull's pace - the sort of deficit, incidentally, that Hamilton says Mercedes had to Red Bull at the start of 2023.
"It was horrible, it was not enjoyable whatsoever," Hamilton told Sky Sports F1 afterwards. "It's one of those circuits that's challenging for tyres but that's the worst deg I've ever had here.
"A lot of understeer, snap oversteer and tyres just dropped off."
Hamilton suspected Mercedes "probably got the set-up wrong" for Interlagos, while Wolff felt the cars had "too weak a rear end" which meant "the car was not balanced right, rears sliding and that killed the tyres".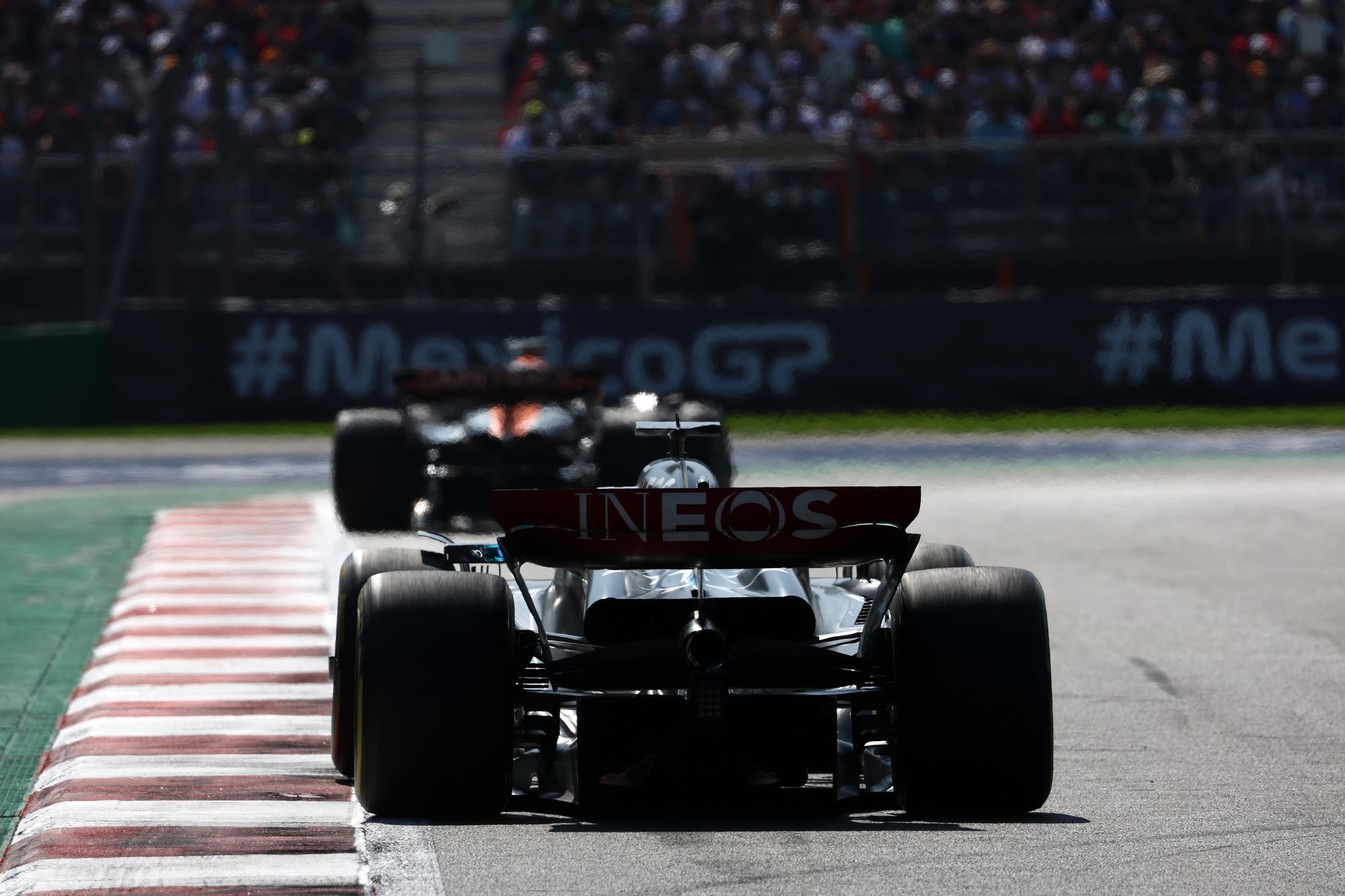 He said this was "what happened to George in Mexico" when Russell fell away badly in the final stint and was eaten up by Norris and almost beaten to sixth by Daniel Ricciardo's AlphaTauri, objectively a much slower car ordinarily.
Hamilton seemed puzzled, because "the last couple of races we've been excited that we've been progressing, it's been really positive to see and we come to another track and then you have the worst deg that you've had for ages - so it's like you don't know what to expect.
"But only a couple more races with this car then it's gone so I'll be happy."
Interlagos isn't quite as rear-limited as Mexico City was, but it's a punishing circuit for tyres generally speaking and all drivers were having to do some tyre management to make it through even the sprint race.
Ordinarily, tyre management is a major strength of the W14 (and it doesn't have many), but the past two races have been more challenging in that regard.
The main difference is that Hamilton was able to run in clean air in Mexico after aggressively passing Charles Leclerc's Ferrari (on the grass) for second just a few laps after the red flag restart. Once into that space behind Verstappen, Hamilton's pace was extremely strong.
Russell couldn't pull off a similar move on Carlos Sainz and then suffered from overheating brakes, which snowballed into a big loss of tyre temperature that Russell simply couldn't get back.
But on the same C4 compound used for that Mexico stint, in Brazil both cars were nowhere near the pace through this 24-lap sprint race, despite both not really being bottled up behind other cars for most of it. Even the badly overheating Ferraris looked faster.
Hamilton and Russell "pushed very hard at the beginning", so Wolff said, which took a lot of energy from the tyres when they were at their most delicate. Russell has fallen foul of this before, in Singapore notably, but still was able to maintain decent pace for most of a very long stint there. Here, neither car looked fast at any stage apart from those opening few laps.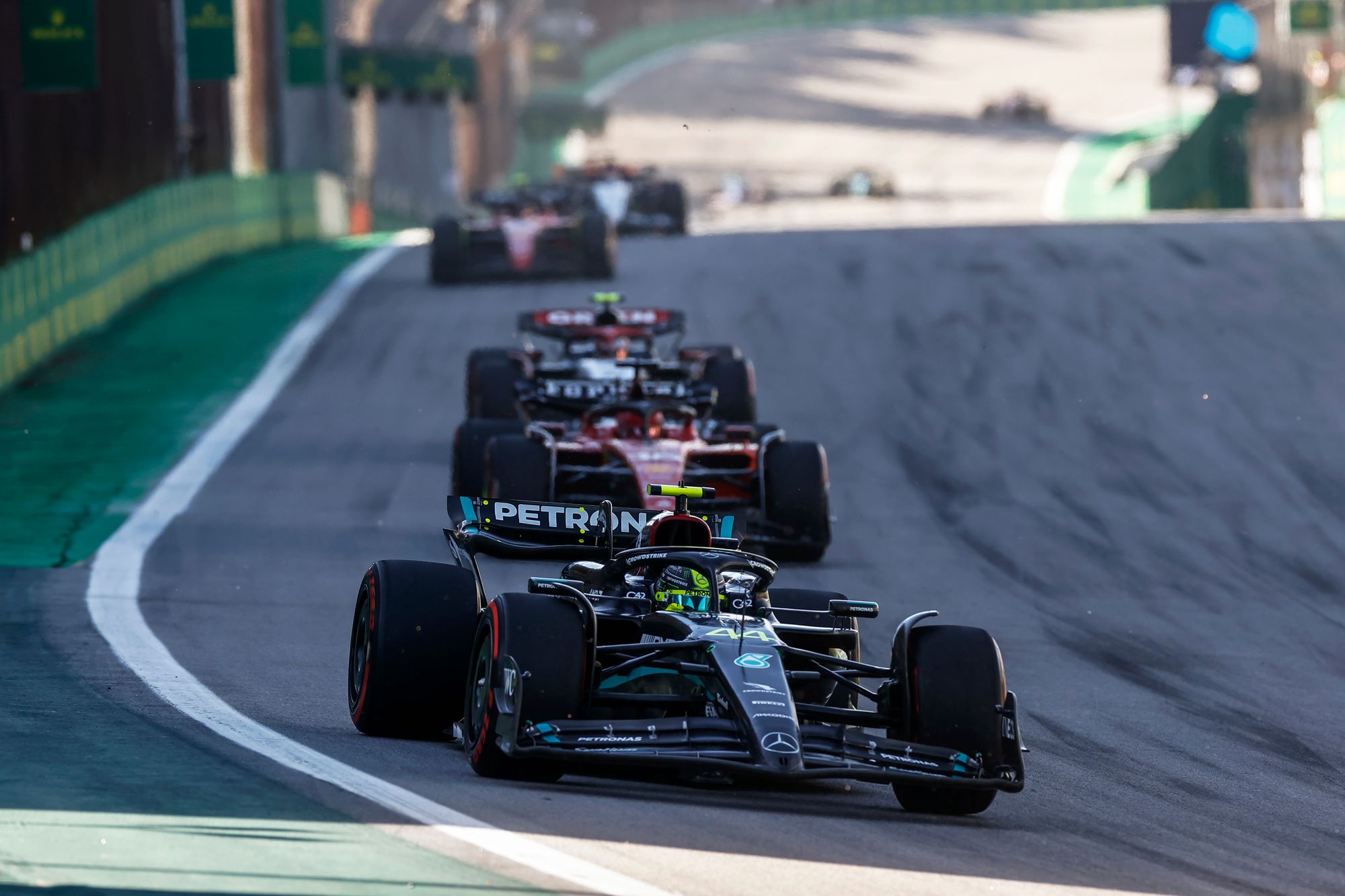 The Mercedes is known to be a draggy car that lacks straightline speed, and we know it has also suffered from a weak rear end for the majority of this season.
But Hamilton sounded encouraged after Austin a fortnight ago that Mercedes was on the right track with its revised floor that's meant to be a big part of setting the development direction for 2024.
Here the car looked like it had gone into reverse.
"Really unexpected," was Russell's verdict. "We didn't expect to be the fastest, we thought we'd be a couple of tenths behind Max, maybe similar pace to Lando, but clearly we got something wrong.
"We're the slowest on the straight at the moment so we're very vulnerable if anybody gets DRS behind us. We knew that was going to be the case, but that wasn't the reason for our lack of pace.
"If anything, being on probably a bit more downforce than everybody else, we were expecting to have less tyre deg. We really need to understand what went wrong."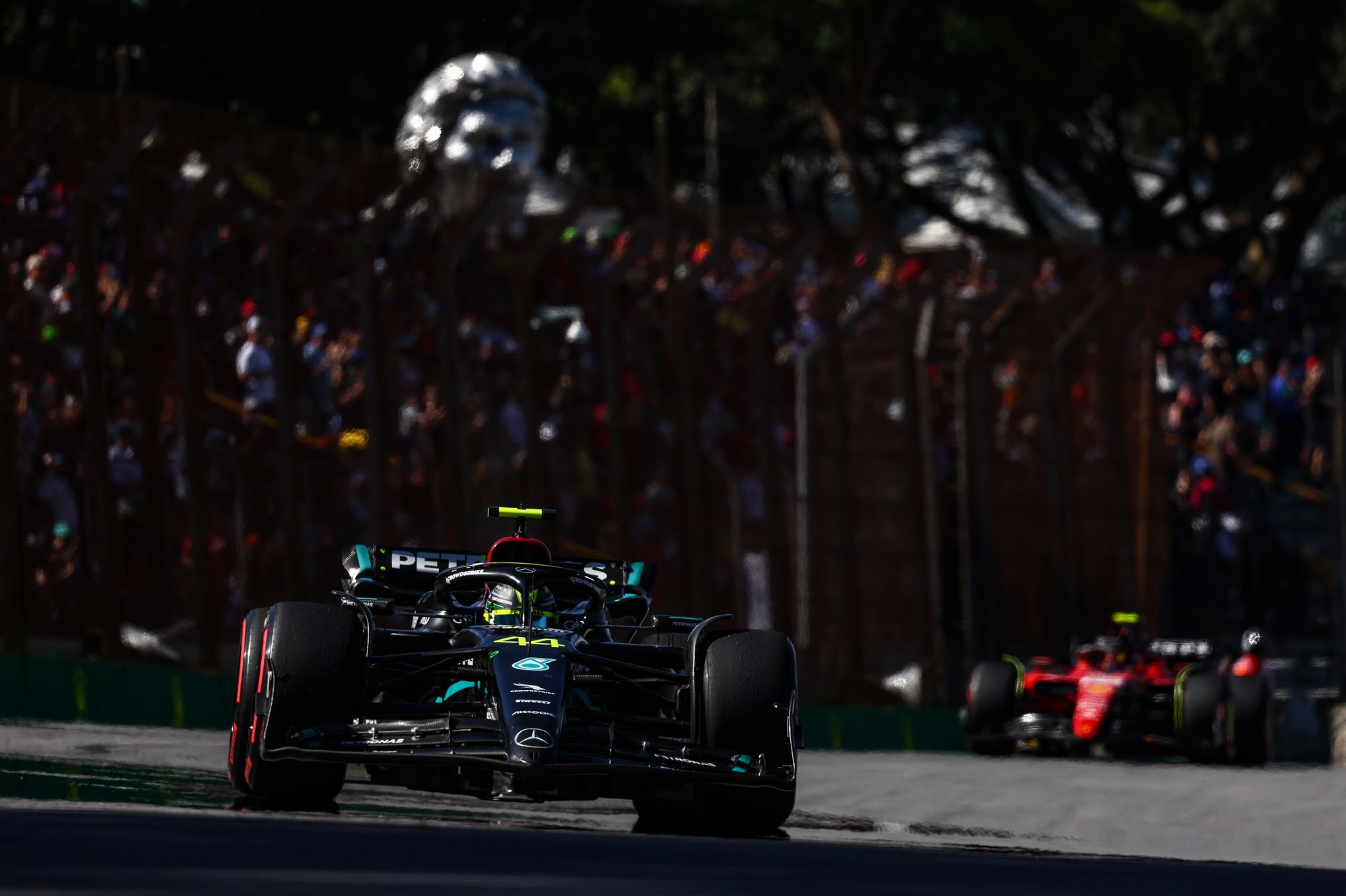 Most likely a fundamental set-up problem you would imagine, compounded by the lack of free practice running on a sprint weekend severely limiting the opportunity for all teams to nail the right compromise between one-lap pace (reasonable for Mercedes) and long-run pace (looking terrible on the basis of 24 laps on the soft compound).
Most long runs (such as they were) on Friday were conducted on the hard (C2) compound, on a track that was much dustier and lacking grip compared to Saturday.
Mercedes will hope for better on that and the medium (C3) tyre, which are meant to be the favoured choices for the race.
The soft that all but three drivers fitted for the sprint was never likely to be considered much more than a qualifying tyre on such an abrasive surface, so maybe Mercedes doesn't need to panic.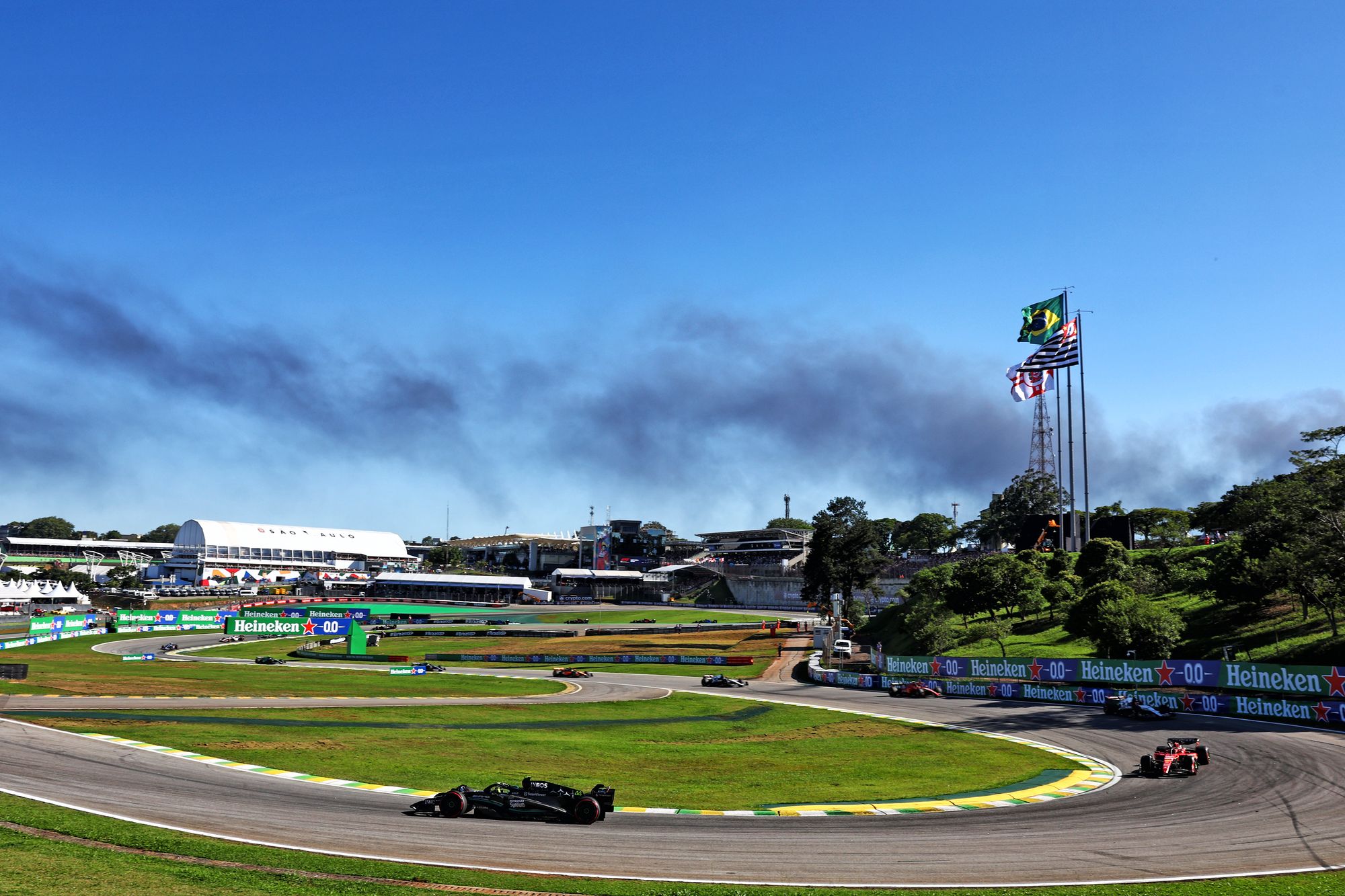 But nevertheless the signs are still worrying for a team that usually prides itself on extracting consistent race-stint performance from the Pirelli rubber, regardless of the compound and track surface. This fell someway short of that usual high standard, which is no doubt why Wolff sounded so perturbed.
And if a big set-up issue is to blame, parc ferme regulations mean there isn't much Mercedes can now do to fix things for the grand prix on Sunday.
"I don't think there's a magic screw you can do and everything is fixed," was Wolff's verdict. "[It] was very hot. Everything went against us today. We need to really scratch our heads hard about what we can do for tomorrow and improve."
Much easier said than done.