While waiting for the 2020 Formula 1 season to start, we're revisiting some classic grands prix worthy of new attention. These will not be repeats of old articles, but fresh retrospectives of these events
If you wanted to pick a race to showcase Nigel Mansell at his best, there are few better than the 1991 Spanish Grand Prix.
The fighting spirit and determination to bounce back from the potentially devastating blow to his title hopes of the botched pitstop at Estoril the week before, the determination to triumph over adversity by overcoming a left-ankle sprain sustained in a Friday-night football match and the hard charge to climb from fourth to the lead added up to a famous win that kept his world championship bid alive.
And along the way, he ran wheel-to-wheel with his great rival, Ayrton Senna, on the main straight – an image we're unlikely ever to forget. This was pure Mansell: pure drama, pure spectacle, pure brilliance.
The hastily-completed Circuit de Catalunya near Barcelona, its debut race brought forward from 1992 to satisfy the whims of politicians ahead of the Olympic Games, proved popular with drivers despite resembling a building site.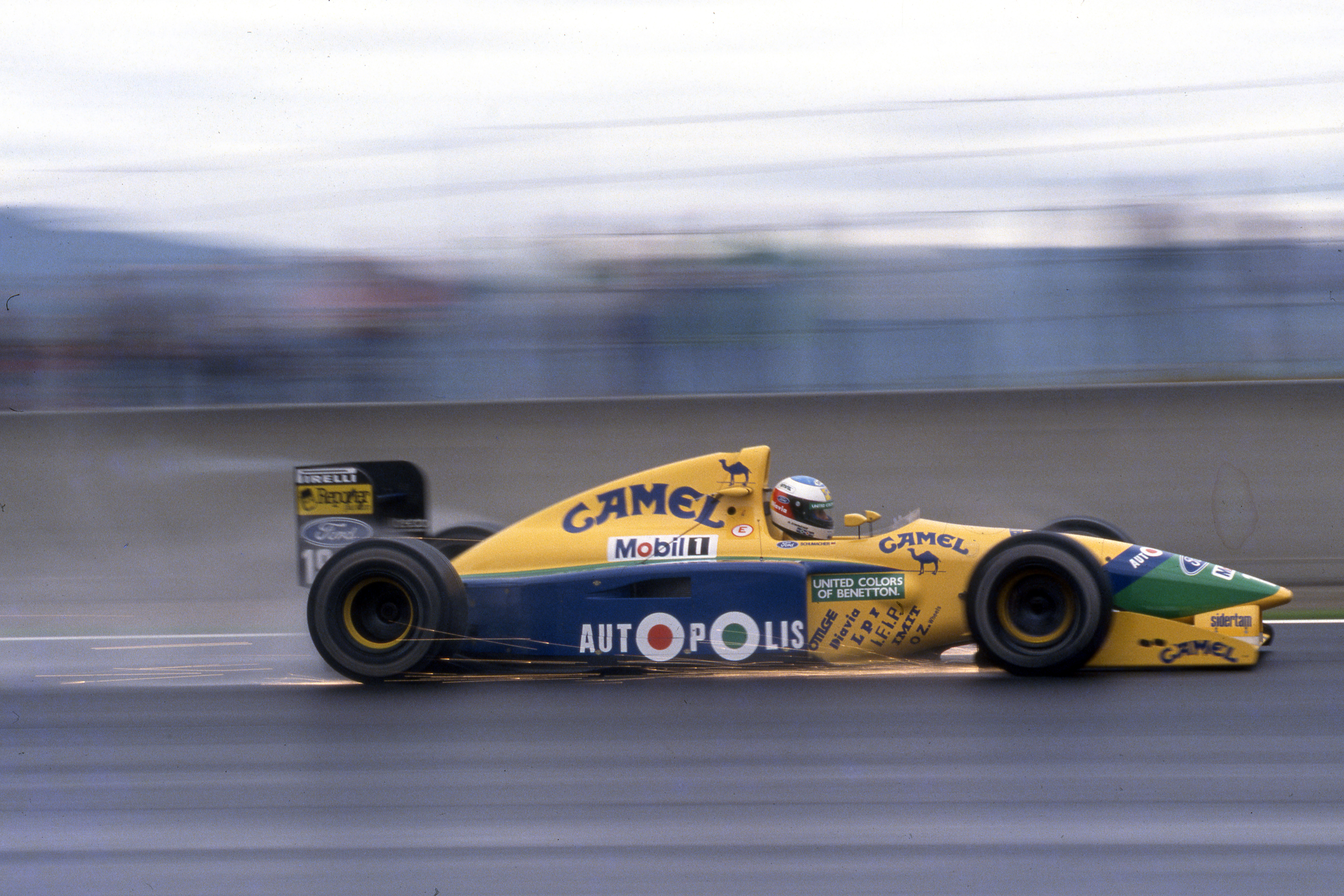 But it didn't produce a straightforward build-up to the race, with first Benetton driver Michael Schumacher's big accident in Thursday's second new-track acclimatisation session and then the low-grip surface causing all sorts of problems.
During Friday afternoon's first qualifying session, teams and drivers battled to find grip even on qualifying rubber. McLaren-Honda's Gerhard Berger topped that session, one of unusual run plans thanks to the struggle to maximise grips, after mixing and matching his two sets of used Goodyear tyres for his final run.
Rain on Saturday meant Berger looked a good bet to hold onto pole until team-mate Ayrton Senna, third fastest on Friday behind title rival Mansell's Williams-Renault but frustrated that his team failed to fit a similar tyre mix to Berger's and instead refitted his complete first set, made a slight improvement in his time – if not his position.
But Honda engine failure then put paid to Senna's session and, thanks to coating the track in oil, everybody else's. This brought out the red flag for 23 minutes and settled the fight for pole position thanks to the amount of cement dust used to clean it up making even more of the track slippery.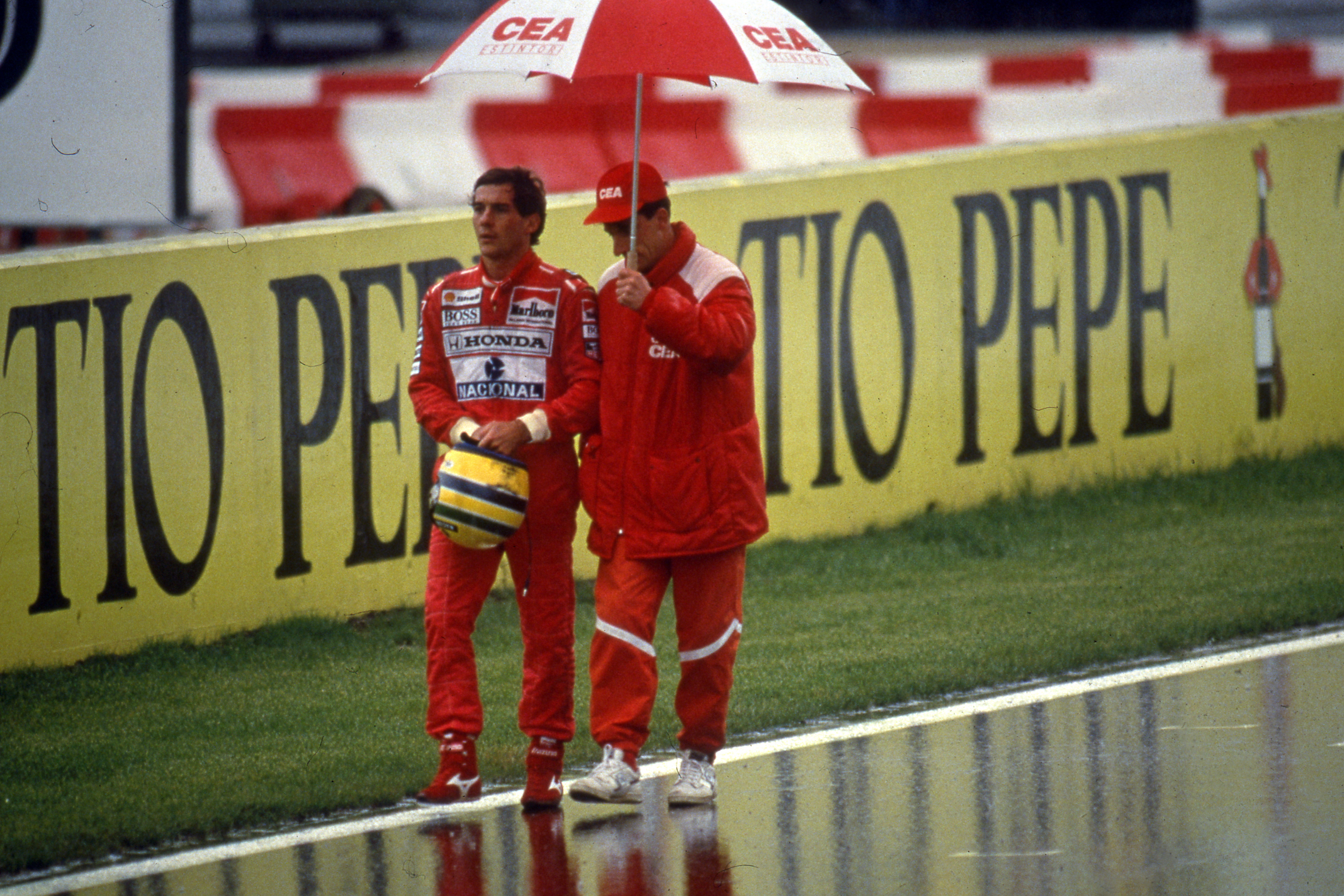 Berger had his first pole in 15 months, with the only significant change at the sharp end Alain Prost moving up a place to sixth on the grid behind the second Williams of Riccardo Patrese and Schumacher, and ahead of Ferrari team-mate Jean Alesi.
The big winner on Saturday was Ivan Capelli, improving from 14th to eighth. He had been forced to switch to the spare Leyton House-Ilmor on Friday after an engine failure and then stuck with it. He improved the set-up to earn his best qualifying position of the season ahead of the Scuderia Italia-run Dallara-Judd of Emanuele Pirro in ninth.
Watching Schumacher dice with titans Senna and Mansell, you forgot he was in only his fourth grand prix
More rain before the race made some of the frontrunners consider starting on slicks, but instead the early part of the race was turned into a sprint on wets up to the inevitably early tyre stops.
Those offline on the right side of the grid when the lights turned to green struggled to get away, which was good news for McLaren as Senna slotted into second behind Berger while Mansell and Patrese slid to third and seventh.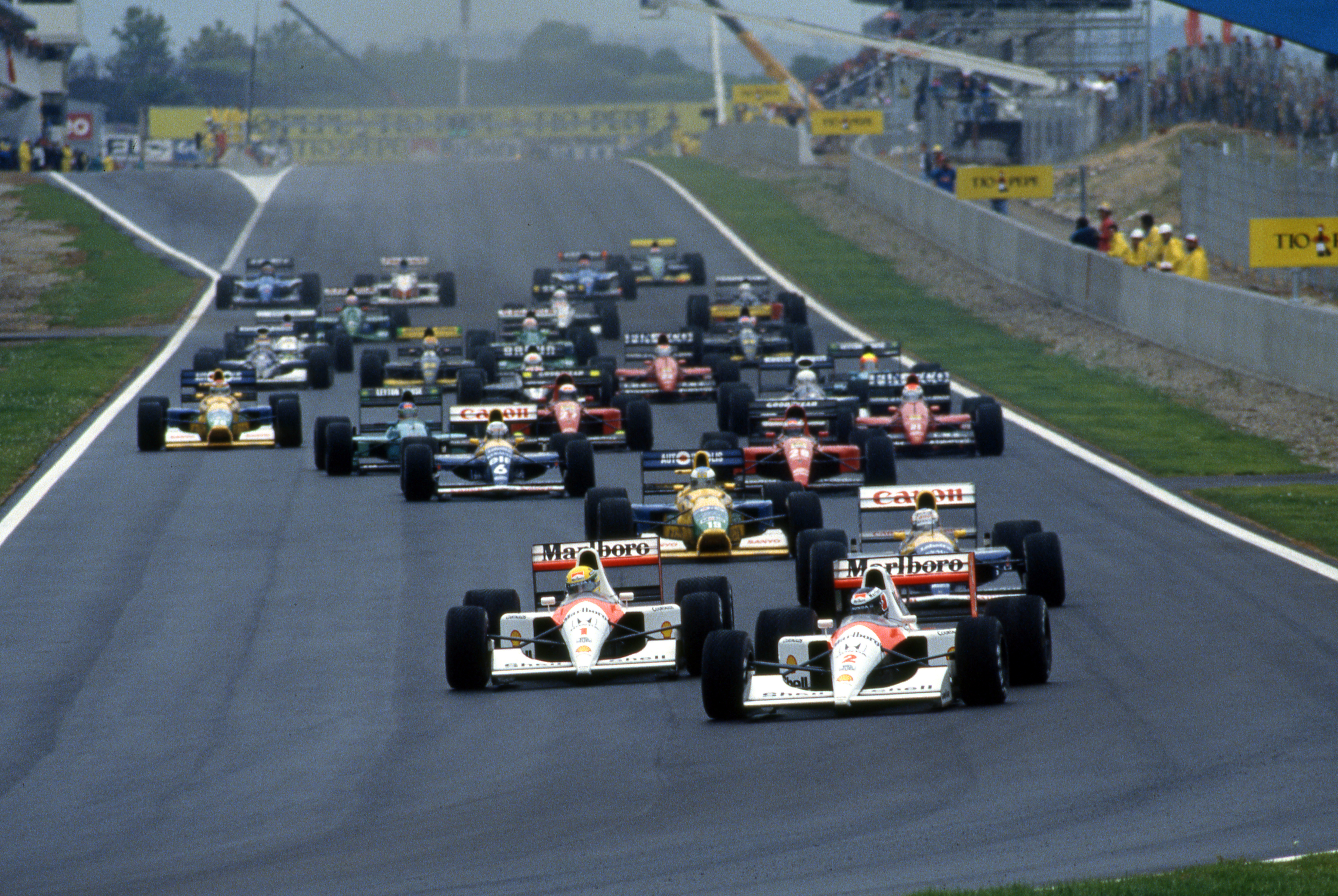 But while Berger built a lead of a second-and-a-half on the first lap, Schumacher was on the move.
Fourth initially, he scythed up the inside of Mansell at the Turn 5 left-hander to take third. He then came close to passing Senna, drawing alongside through the Turn 13 kink but not finding a way around the outside of the following right-hander. Although Mansell reclaimed third around the outside of Turn 14 second time around, Schumacher had made his point. Watching him dice with these two titans, you forgot he was in only his fourth grand prix.
With Berger almost four seconds clear in the lead after two laps, this was all about Mansell vs Senna.
At the start of the third lap, Mansell feinted to the inside before moving back to the left heading into Turn 1, forcing Senna to defend, but didn't attack. But at the end of the fourth lap, Mansell positioned his car to perfection to emerge from the fast final corner right under the rear wing of the McLaren.
Mansell pulled to the right just after the line, but the loss of the tow meant he could only match Senna once alongside as the Renault V10 and the Honda V12 wailed at each other.
The pair hurtled down to the first corner separated by millimetres with neither willing to give in. In the end, with Mansell still firmly alongside him and committed on the damp inside line, Senna had no choice but to cede the position.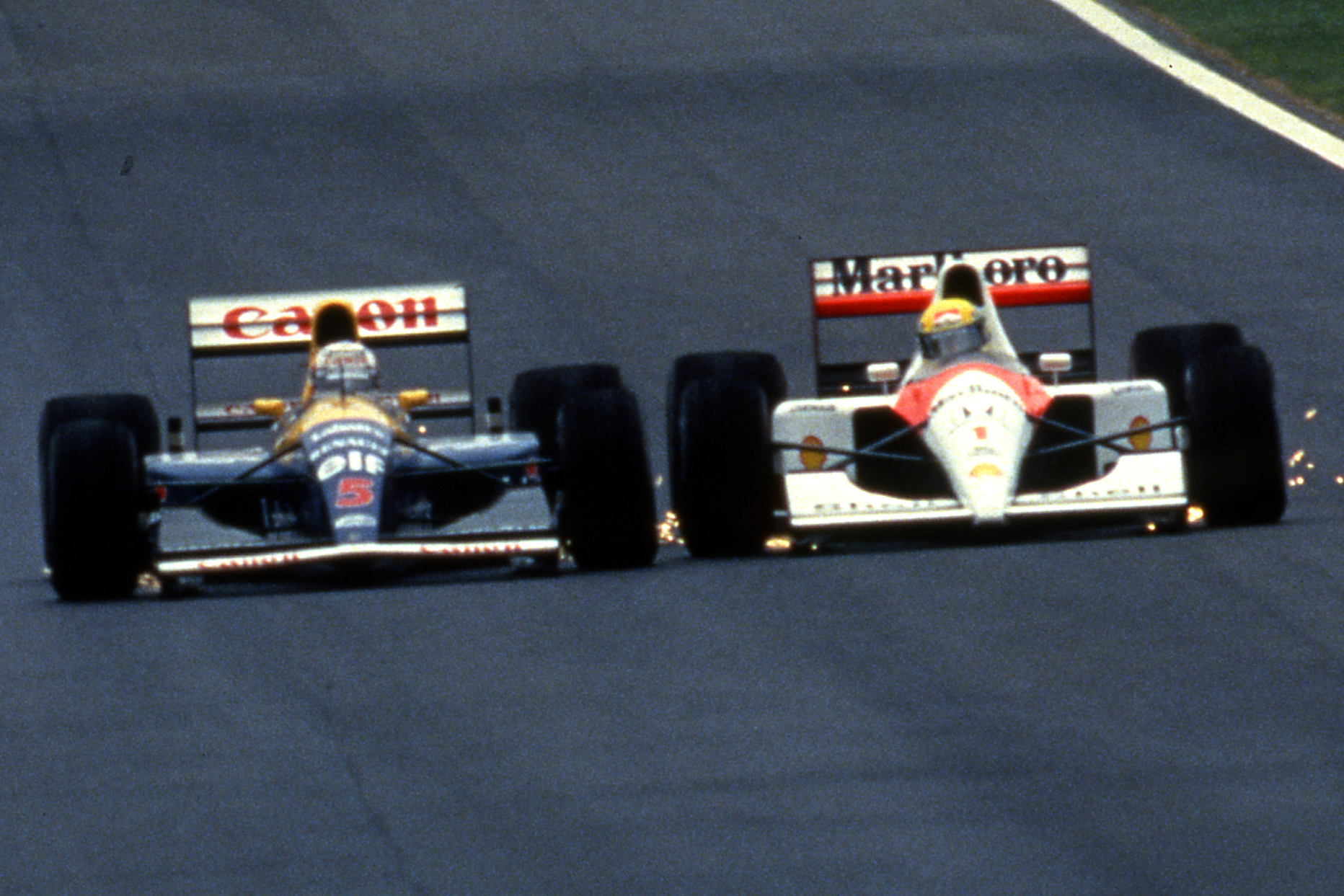 Mansell had a brief wobble on turn-in, meaning he ran a little wide. Senna tried to find a way past in the Turn 2 left-hander, but the position was gone and Mansell set off after Berger.
Mansell completed that lap nine seconds behind Berger, but started to take time out of him before the leader dived into the pits for slicks at the end of lap eight.
Prost, down in 10th at the time after losing momentum off the line when his team-mate swerved towards him – which earned Alesi a 10-second stop-go penalty – had been the first to take slicks on lap three with the Benettons of Nelson Piquet and Schumacher stopping on laps four and five respectively. So Berger could be confident he was on safe ground taking slicks as he was far from the first.
This was a performance well below what you'd expect of Senna, but there was a reason for it
Unfortunately, it took an age to get the cooling blanking tape removed from the front-right brake ducts of Berger's McLaren, meaning he was parked for almost 17s. When Mansell and Senna pitted in unison a lap later, it was inevitable they would jump him.
But it wasn't Mansell who took the de facto race lead, for while Senna was on his way after seven seconds the Williams crew took significantly longer, perhaps being overly-cautious after the Estoril disaster where they released their star driver without the right-rear wheel attached.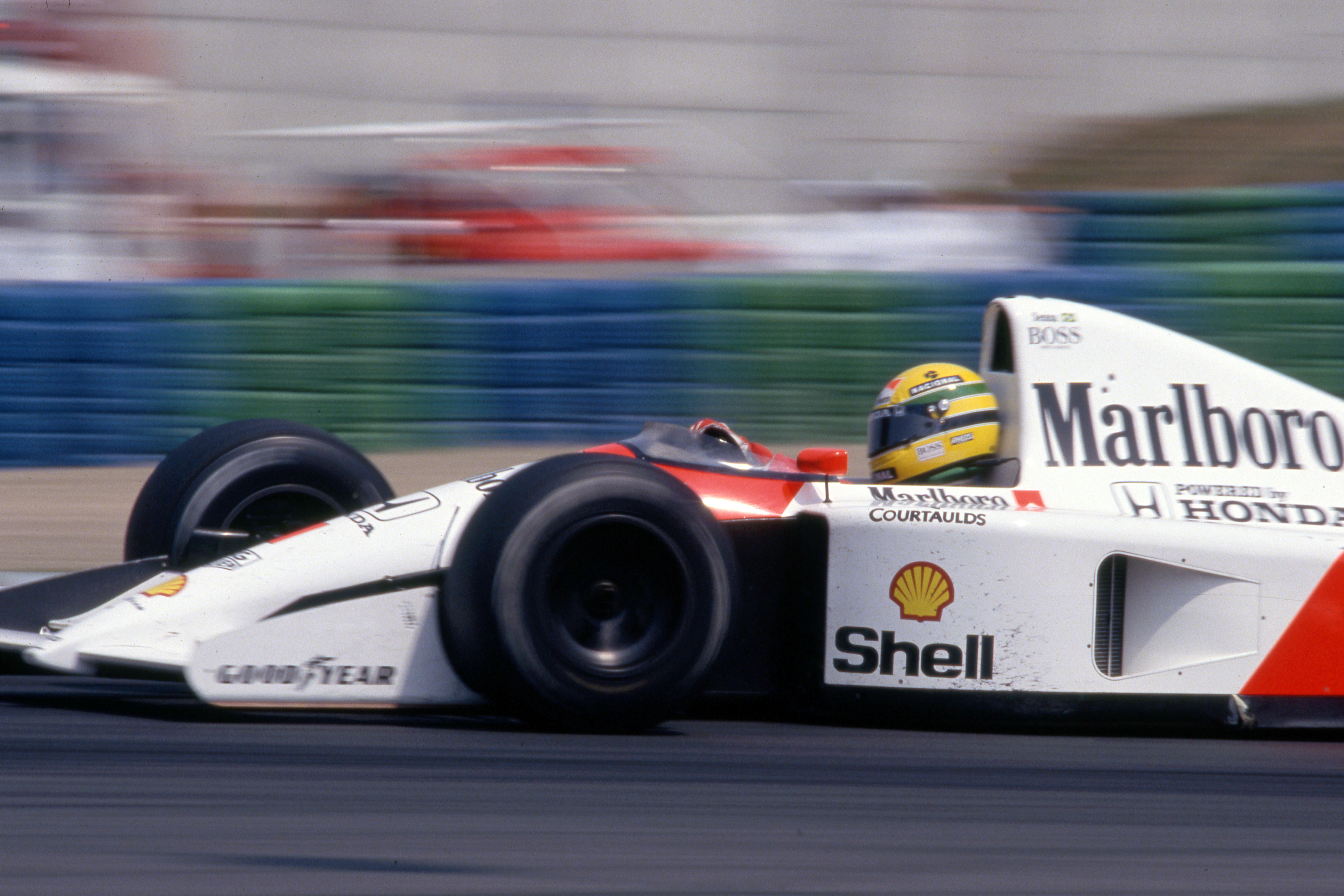 This gave Senna what became the lead once Patrese stopped a lap later, just ahead of Berger. But Senna was struggling and waved his team-mate through into Turn 1 at the start of lap 12.
Senna was clearly in trouble, which worsened at the end of the lap when he spun coming out of the final corner. Mansell and Schumacher avoided him, but he rejoined from the grass down in sixth place having also been passed by Prost and Piquet.
This was a performance well below what you'd expect of Senna, but there was a reason for it – albeit thanks to his own error. When the low grip of the track was recognised at the start of the four-day weekend, Goodyear had offered a softer selection of tyres but Senna had opted to continue to use the harder compound on the more heavily-loaded left side. He struggled to get these up to temperature, contributing to having to let Berger past then spinning.
Berger had a lead of 4.1s but Mansell's pace advantage was huge, a fact shrouded during Friday qualifying by his engine starting to shed oil on his best lap. Next time round the gap was 2.8s, then 1.85s then just 0.006s as Mansell crossed the line at the end of lap 16 alongside Berger. The McLaren had the straightline speed to inch back ahead before Turn 1 and Mansell had no choice but to be patient.
He waited until lap 21 when he had his chance as Berger struggled through Turn 2 and was a little slow through the long Turn 3 right-hander. Despite covering the inside, Mansell squeezed into a Williams-sized gap heading into the corner. Berger turned in but the rear stepped out on him, pitching him wide and allowing Mansell to complete the move through Turn 4.
"We both dived very deep into the corner," said Mansell. "We both got a bit out of shape and lost traction. It was pretty close but we just missed making contact."
Mansell was through, and never looked back. Aside from a little drama when he was held up by a gaggle of backmarkers later in the race, he controlled the race to the finish to cross the line 11.331s clear.
But it wasn't Berger who finished second. Having initially been threatened by Schumacher, who spun coming through Turn 7/8 while all over the back of the McLaren, Berger was holding the position and 12s up the road from Prost when he pulled into the pits with an engine failure.
This promoted Prost to second, which was a good result by Ferrari's 1991 standards but his frustration at not being allowed to start on slicks by Ferrari management was clear.
"I cannot win today except if I had the possibility to start on slicks," said Prost after the race. "I'd almost started on slicks but very often you don't take this decision when you drive for Ferrari because you don't want to do a mistake.
"But I think it was the right choice to start on slicks, that was the only way I could win the race."
He showed his confidence in the strategy with the early stop that allowed him to leap up to fourth once everyone had taken slicks, and that became second once the McLarens were out of the way.
Patrese came through to third, dispatching Senna for the position up the inside into Turn 1 on the way, with Alesi following him through to take fourth from Senna having lost time to his earlier penalty.
It was a great recovery from Alesi after the penalty, lapping consistently rapidly to salvage a decent result and finishing just over 22s down having been more than twice that after his unwanted pitlane visit.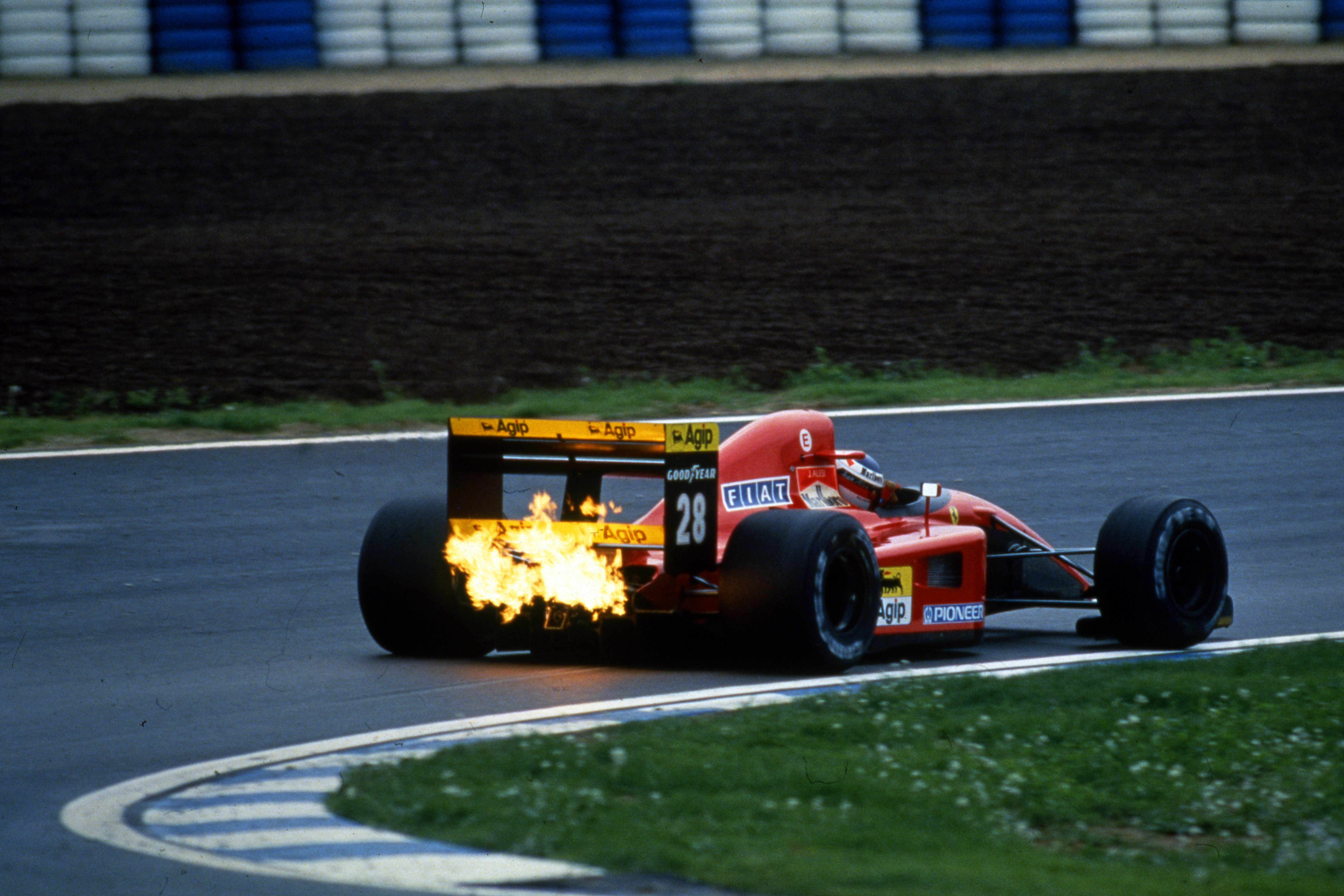 Senna eventually finished fifth, over a minute from the lead but ahead of Schumacher, whose inexperience showed not only with two spins but also by arriving unannounced for a tyre change – although he comfortably finished ahead of seventh-placed Mauricio Gugelmin's Leyton House.
Not only did the failure of pitstop etiquette cost Schumacher time, but it also delayed team-mate Piquet – who had to queue for his turn. Having run in the points early on, that combined with a full-wet set-up and an electrical problem added up to a distant 11th for Piquet.
There were others who might have taken those final points. Pirro and Capelli settled into sixth and seventh at the start, but their race came unstuck on the second lap.
Capelli looked to the inside into Turn 1, leading to the pair arriving side by side for the Turn 2 left-hander with the Leyton House just ahead. Pirro clipped Capelli, who spun into retirement – with Patrese narrowly avoiding him – but both had lost their shot at points.
Brabham driver Martin Brundle was also a points threat, boosted by a new specification of BP fuel that improved the performance of his Yamaha V10. He ran as high as sixth but a clash with the other Scuderia Italia Dallara of JJ Lehto and a later pitstop meant he ended up 10th. This was assisted by the two Minardis coming together late on.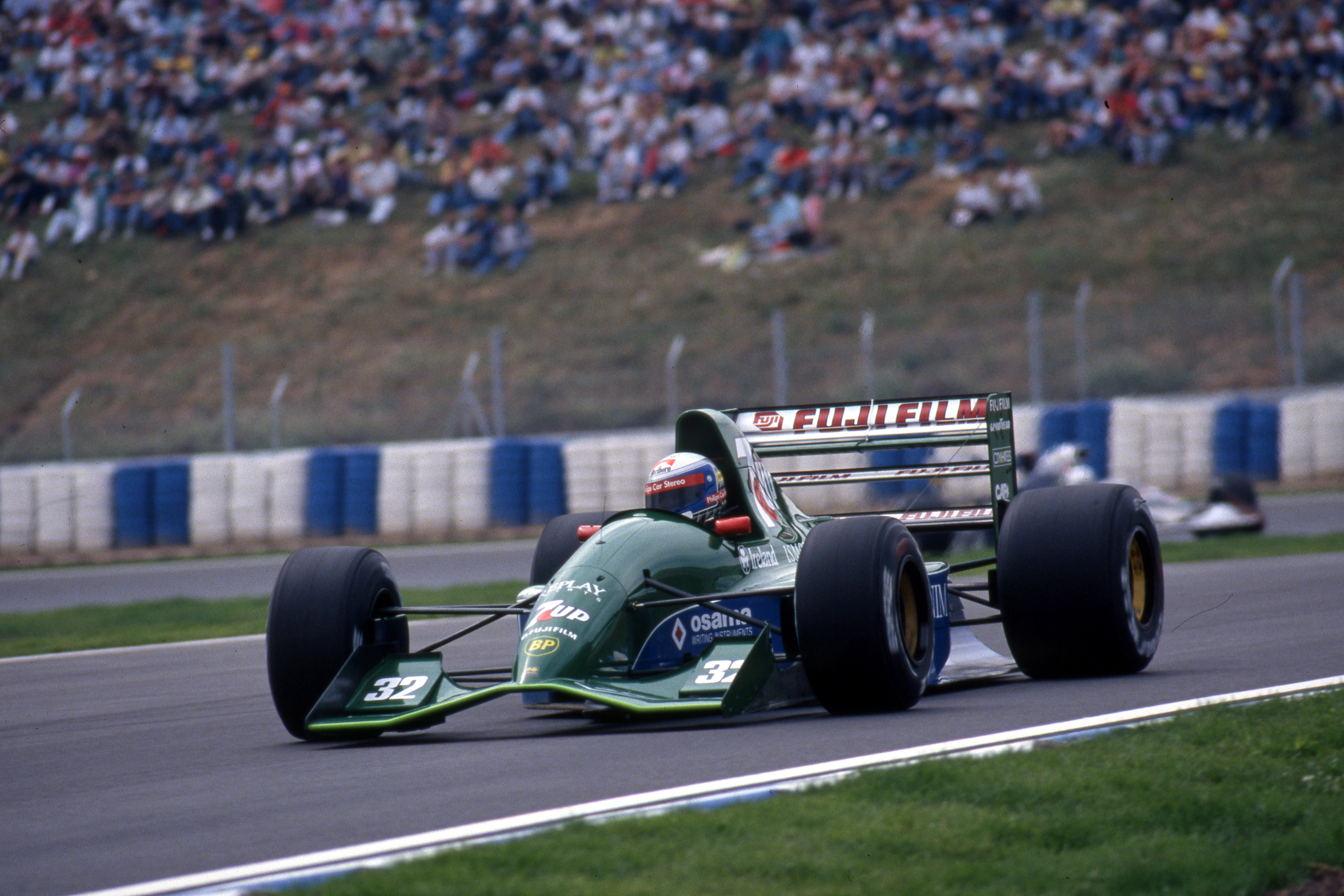 F1 debutant Alessandro Zanardi, who had taken over Roberto Moreno's Jordan, took ninth from Gianni Morbidelli only for the Minardi driver to try to repass him around the outside. They made contact, with the spinning Morbidelli collecting the right-rear wheel of team-mate Pierluigi Martini. The two Minardis ended up classified 13th and 14th.
Up at the front, Mansell was delighted with victory even though he realised it only gave him a long shot at the title. With just Suzuka and Adelaide to come and Senna 16 points ahead, he's a rank outsider.
But this is Mansell, and with the pace of the Williams-Renault FW14 anything is possible in the final two races of the season.